WellnessVerge is reader-supported. We may earn a commission when you make a purchase through the links on this page. Learn more about our process here.
Why You Can Trust Us
Every article and review on WellnessVerge is thoroughly researched and fact-checked by licensed health professionals. Our editorial team is made up of registered dietitians and medical doctors.
Every piece of content is also medically reviewed to ensure accuracy and alignment with sound scientific evidence and medical consensus. We only use peer-reviewed journals and reputable medical sources to form our conclusions and recommendations.
We operate with total editorial independence, and our editorial policies ensure that your well-being comes first. Based on our rigorous research, we only recommend products that are worth considering. We always disclose any ads or partnerships with brands featured on our site.
Immuneti Review: An Objective Look at Benefits, Ingredients, Safety, and More
Immuneti is a comprehensive supplement for immune support and overall health. The ingredients are well researched, but the dosing and potential side effects of certain ingredients may not be optimal.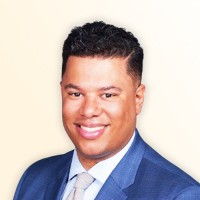 Medically Reviewed by
Anthony Dugarte, MD
Medical Reviewer
Anthony Dugarte, M.D., C.S.C.S. is a health and wellness writer and medical content reviewer. In addition to dedicating the last 8 years to medical research, Dr. Dugarte also has more than a decade of experience in strength and conditioning, nutrition, and rehabilitative exercise, as well as authoring and reviewing health and wellness-related content.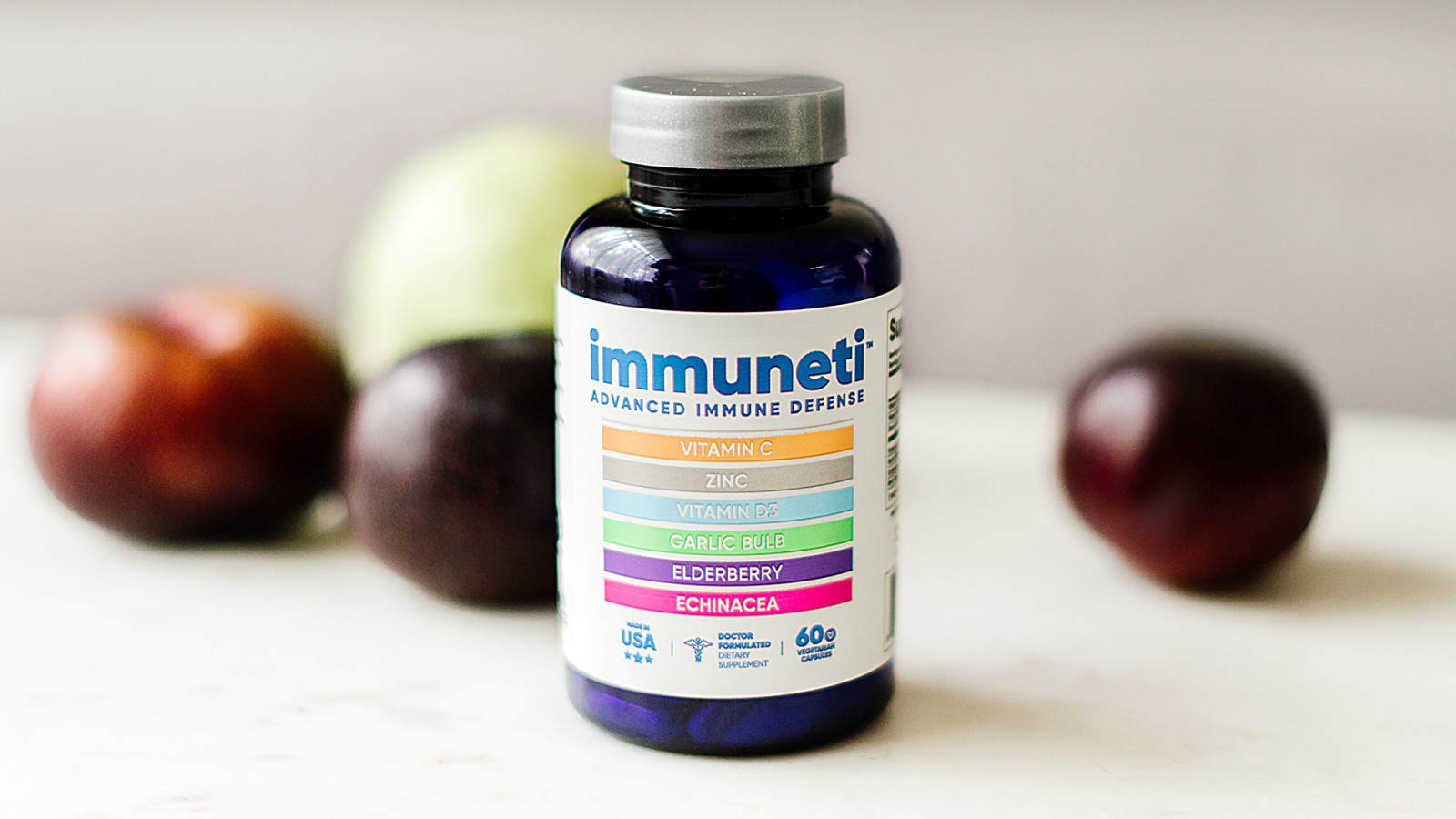 Pros

Allergy-free and gluten-free
Contains research-backed ingredients
Easy dosage size to take daily

Cons

Dosing amounts of some ingredients may not be high enough to provide benefits
Certain ingredients may cause side effects
What Is Immuneti?
Immuneti is a 6-in-1 comprehensive supplement designed for immune system support and overall health.
Its key ingredients include vitamin C, zinc, elderberry, echinacea, garlic bulb extract, and black pepper fruit extract.
Immuneti is easy to take – only two capsules daily, which can be taken orally with water.
The company that created Immuneti saw a need for a multifunctional supplement that contained key ingredients to support the immune system and improve overall health.
This supplement was formulated by Dr. Amy Shah, MD, a double board-certified medical doctor and wellness expert with a background in nutrition, immunology, and allergy from her medical training at Cornell, Harvard, and Columbia.
In addition to its immunity benefits, Immuneti is stated to support common cold and flu recovery, heart health, respiratory health, weight management, and skin health.
This supplement also provides essential nutrients (vitamin C and zinc) and antioxidants (vitamin C, elderberry, and zinc) as additional benefits.
Evaluation of Ingredients
Vitamin C (Ascorbic Acid), 330 mg
Vitamin C is an essential water-soluble vitamin our bodies use for a variety of functions. (1)
Collagen, a protein that helps the elasticity and health of our skin, is dependent on vitamin C for its production.
Vitamin C also has a function as an antioxidant which can help regenerate other antioxidants in the body so they can work longer.
While taking vitamin C supplements may not prevent the common cold, it may reduce the duration and severity of illness. (2)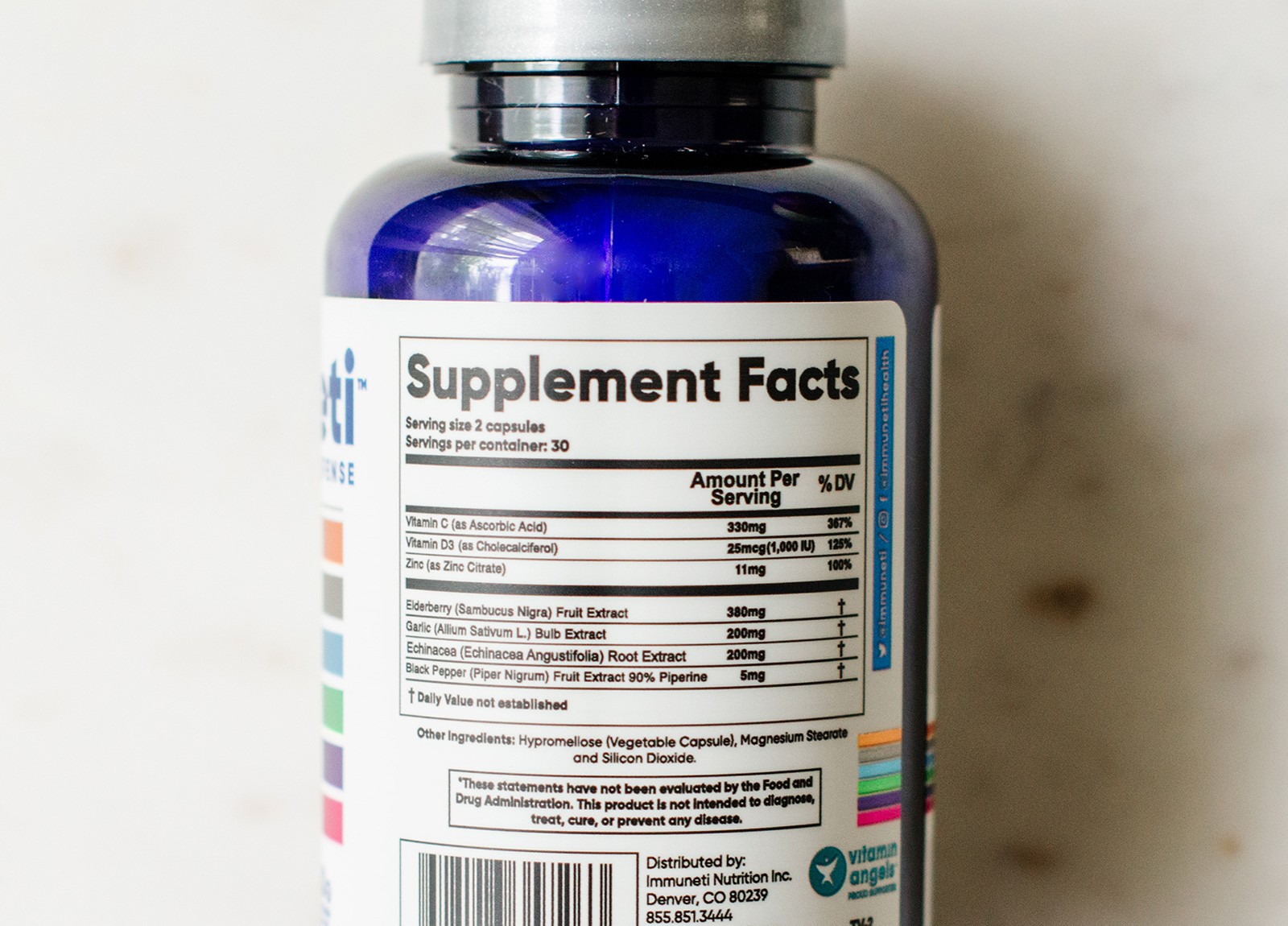 Vitamin D3 (Cholecalciferol), 25 mcg
Vitamin D is a fat-soluble vitamin that has many roles in the body as a vitamin and hormone. (3)
Among its many functions, it helps with calcium absorption and bone health, metabolism, reduces inflammation in the body, promotes proper cell growth, and promotes the function of the immune and neuromuscular systems.
Research supports supplementation of at least 10 mcg of vitamin D to prevent respiratory tract infections. (2)
Deficiency in vitamin D is thought to generally increase susceptibility and risk to infections or disease. (4)
Overweight and obese individuals who are deficient in vitamin D may experience an increased fat loss if taking vitamin D supplements. (5)
Zinc Citrate, 11 mg
Zinc supplementation increases innate immunity and adaptive immunity, improving your body's ability to react to pathogens that can cause disease.
Significant evidence exists showing zinc to be effective for reducing the risk of pneumonia, colds, and other respiratory tract infections. (2)
Adequate zinc intake is vital for the proper functioning of your body. (6)
Zinc is required for metabolism, normal growth and development, wound healing, and even your sense of taste and smell.
Elderberry Fruit Extract, 380 mg
Elderberry contains antioxidants including vitamin C, flavonols, polyphenols, proanthocyanins, and anthocyanins that help the immune system and protect the body from inflammation. (7)
One randomized trial found that overseas air travelers taking 300 mg of elderberry extract 2–3 times daily before, during, and after their travels had decreased cold symptoms compared to those who didn't. (8)
Garlic Bulb Extract, 200 mg
Garlic contains prebiotics like fructans and oligosaccharides, which feed the "good" bacteria in your gut. (9)
It also contains immunomodulating proteins that reduce inflammatory markers in the body and activate the immune system. (10)
One study found that taking 2.56 grams of aged garlic daily for 3 months helped reduce the severity of cold and flu symptoms. (11)
Garlic is also beneficial for heart health in reducing total cholesterol, low-density lipoproteins (the "bad" cholesterol), and lowering blood pressure. (9)
It may also help with other aspects of metabolic syndrome by increasing adiponectin, which breaks down fat in the body and may promote weight loss. (12)
Echinacea Purpurera Plant Extract, 200 mg
Echinacea is known as a medicinal plant that is beneficial for preventing cold and flu, and for its general health effects on the body.
Echinacea contains inulin-like fructans, prebiotics that acts as antioxidants, help gut health, and modify the immune system. (13)
Several randomized trials have found echinacea in combination with other antioxidants such as zinc, selenium, and vitamin C to be available in reducing symptoms of acute upper respiratory infections. (2)
Alone, studies find echinacea to have potential in helping treat respiratory tract infections and even reducing the development of complications associated with these infections.
Black Pepper (Piper Nigrum) Fruit Extract, 5 mg
Piperine, the main compound in black pepper, is found to have several immunity-supporting benefits to the body – it acts as an antioxidant, antitumor compound, and immunomodulating compound. (14)
Black pepper is also found to help brain function, gastrointestinal function, and the absorption of nutrients in the body. (15)
Support for Claimed Benefits
Below is our summary of the available evidence for the claimed benefits of Immuneti based on the available research:
Supports common cold and flu recovery

5

/5
Supports immune system

5

/5
Supports healthy heart

4

/5
Supports respiratory health

4

/5
Supports skin health

5

/5
Powerful antioxidants

5

/5
Provides essential nutrients

5

/5
Supports healthy weight management

2

/5
Side Effects and Safety Concerns
The makers of Immuneti report that their supplement is allergen-free, gluten-free, and made from natural ingredients.
If taking Immuneti, be mindful of other vitamin supplements that you may be taking that have high doses of vitamin C or zinc.
Long-term high doses of vitamin C or zinc can lead to nausea, diarrhea, stomach cramps, and can even affect the absorption of iron and copper. (16, 17)
For some, echinacea may have side effects, including abdominal pain, diarrhea, rash, sleeplessness, headache, and dizziness. (18)
Elderberry in its extract or syrup form does not appear to cause severe side effects compared to raw elderberry.
Due to a lack of robust research on safety and efficacy, elderberry is not generally recommended for women who may be pregnant or lactating. (19)
Before starting Immuneti, I recommend that you ask your doctor to see if it is safe and right for you.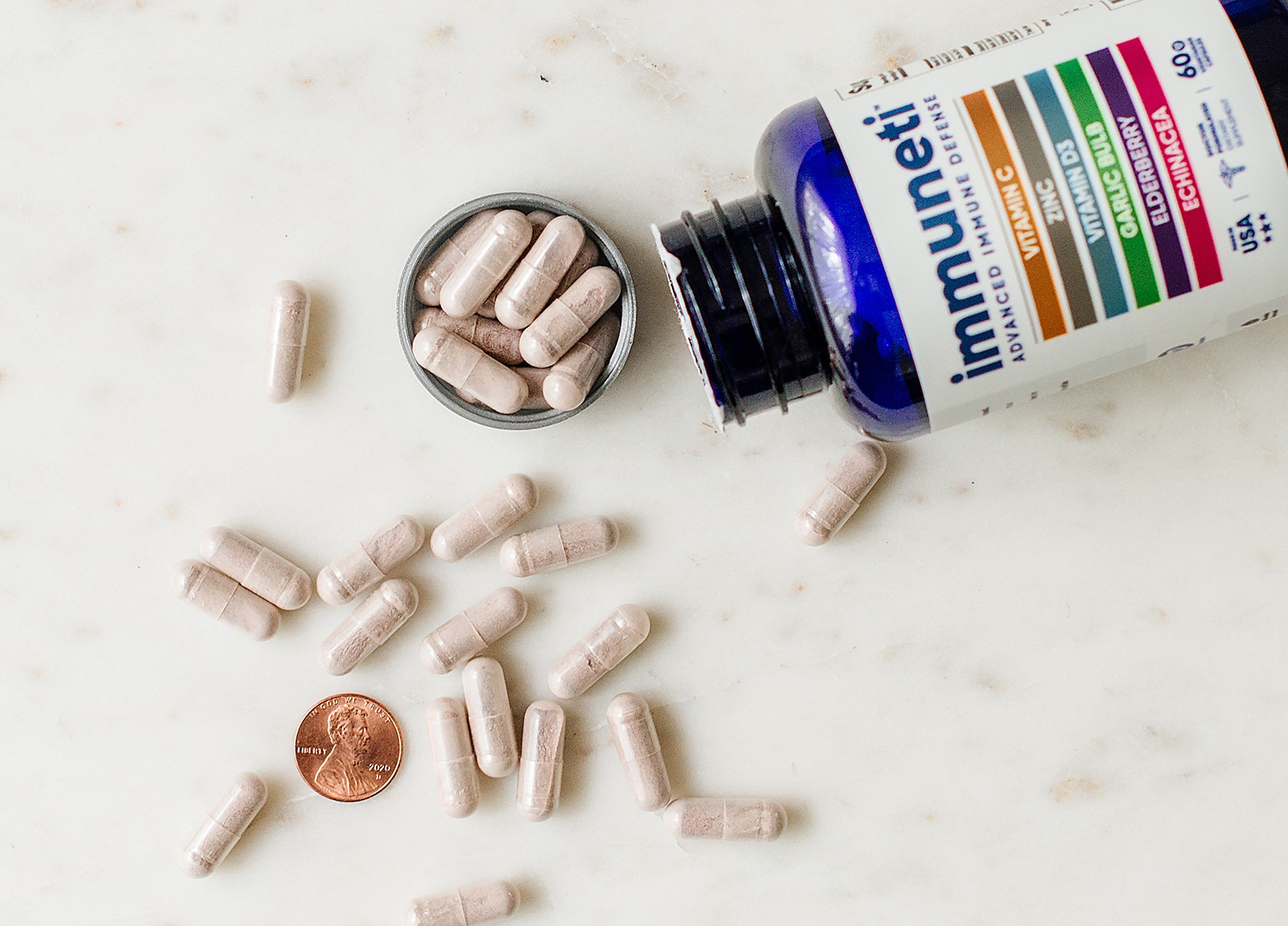 Cost and Where to Buy
One bottle (1-month supply) of Immuneti costs $29 from the manufacturer's website.
Discounts are available when you buy Immuneti in bulk options of 3-month or 5-month supplies.
The price on Amazon is $18.49 for one bottle directly from the brand's storefront. Additional discounts are available when you buy in bulk as well.
There is free shipping available and a 30-day, no-hassle, money-back guarantee if you're not happy with their product.
Depending on where you purchase this supplement, it can be significantly cheaper than other immunity-supporting supplements.
Comparison to Alternatives
Immuneti appears to be a good immunity-supporting supplement when compared to other brands.
Many immune support supplements contain fewer ingredients, primarily focusing on one ingredient as the "star" of the supplement (e.g., Emergen-C, Sambucol) and may have very small amounts of other supporting ingredients.
If you're only getting a 1-month supply of Immuneti at the manufacturer's price of $29, there are alternatives that provide much more at a similar price point.
Force Factor Immunity is an example of one of those products – it contains many of the same ingredients (some in higher doses) and includes other ingredients like turmeric, ginger, and probiotics.
However, if you are getting a subscription to Immuneti, it appears to provide more in terms of well-rounded vitamin and herbal immune support compared to competitors of the same price.
The Bottom Line
Immuneti is an immunity-supporting supplement that contains well-researched ingredients shown to help immune function and general health.
Some of its active ingredients may not be in high enough concentrations to provide therapeutic benefits alone but are likely supported by the presence of other ingredients with adequate doses.
I have some concerns about potential side effects from certain ingredients.
Also, using this product in combination with other oral supplements or medications could cause interactions.
If you do want to include Immuneti into your routine to support your immune health, I recommend speaking with your doctor first to help you make an informed decision about taking this supplement.
Next Steps
As a registered dietitian, I recommend cultivating a lifestyle that supports your overall immune health.
Some habits that you can take to support your immunity and overall health include:
Getting enough sleep at night
Having a diet full of various fruits and vegetables, whole grains, lean meat, and dairy (or dairy alternatives) to meet your body's nutritional needs
Thanks for your feedback!
In a few words, please tell us how this article helped you today.
Please let us know how we can improve this article by selecting your concern below.
Thank You! We appreciate your feedback.
*
Please select at least one topic:
Please Note: We cannot provide medical advice. This feedback will help us continue improving your user experience on WellnessVerge.
Please Note: We cannot provide medical advice. This feedback will help us continue improving your user experience on WellnessVerge.
At WellnessVerge, we only use reputable sources, including peer-reviewed medical journals and well-respected academic institutions.
Self-Care for Common Colds: The Pivotal Role of Vitamin D, Vitamin C, Zinc, and Echinacea in Three Main Immune Interactive Clusters (Physical Barriers, Innate and Adaptive Immunity) Involved during an Episode of Common Colds—Practical Advice on Dosages and on the Time to Take These Nutrients/Botanicals in order to Prevent or Treat Common Colds

:
https://www.ncbi.nlm.nih.gov/pmc/articles/PMC5949172/

Vitamin D and the Immune System

:
https://www.ncbi.nlm.nih.gov/pmc/articles/PMC3166406/

Vitamin D supplementation and body fat mass: a systematic review and meta-analysis

:
https://pubmed.ncbi.nlm.nih.gov/29563638/

Advanced research on the antioxidant and health benefit of elderberry (Sambucus nigra) in food – a review

:
https://www.sciencedirect.com/science/article/pii/S1756464614002400

Elderberry Supplementation Reduces Cold Duration and Symptoms in Air-Travellers: A Randomized, Double-Blind Placebo-Controlled Clinical Trial

:
https://www.ncbi.nlm.nih.gov/pmc/articles/PMC4848651/

Garlic Lowers Blood Pressure in Hypertensive Individuals, Regulates Serum Cholesterol, and Stimulates Immunity: An Updated Meta-analysis and Review

:
https://pubmed.ncbi.nlm.nih.gov/26764326/

Aged garlic extract supplementation modifies inflammation and immunity of adults with obesity: A randomized, double-blind, placebo-controlled clinical trial

:
https://pubmed.ncbi.nlm.nih.gov/29576354/

Supplementation with aged garlic extract improves both NK and γδ-T cell function and reduces the severity of cold and flu symptoms: a randomized, double-blind, placebo-controlled nutrition intervention

:
https://pubmed.ncbi.nlm.nih.gov/22280901/

Aged garlic extract improves adiponectin levels in subjects with metabolic syndrome: a double-blind, placebo-controlled, randomized, crossover study

:
https://pubmed.ncbi.nlm.nih.gov/23533302/

Fructans as Immunomodulatory and Antiviral Agents: The Case of Echinacea

:
https://pubmed.ncbi.nlm.nih.gov/31623122/

Piperine-A Major Principle of Black Pepper: A Review of Its Bioactivity and Studies

:
https://www.mdpi.com/2076-3417/9/20/4270

Black pepper and health claims: a comprehensive treatise

:
https://pubmed.ncbi.nlm.nih.gov/23768180/

Zinc Toxicity

:
https://www.ncbi.nlm.nih.gov/books/NBK554548/

Vitamin C Fact Sheet for Health Professionals

:
https://ods.od.nih.gov/factsheets/VitaminC-HealthProfessional/#h8

Review and Assessment of Medicinal Safety Data of Orally Used Echinacea Preparations

:
https://pubmed.ncbi.nlm.nih.gov/26441065/

Elderberry

:
https://pubmed.ncbi.nlm.nih.gov/30000895/