WellnessVerge is reader-supported. We may earn a commission when you make a purchase through the links on this page. Learn more about our process here.
Why You Can Trust Us
Every article and review on WellnessVerge is thoroughly researched and fact-checked by licensed health professionals. Our editorial team is made up of registered dietitians and medical doctors.
Every piece of content is also medically reviewed to ensure accuracy and alignment with sound scientific evidence and medical consensus. We only use peer-reviewed journals and reputable medical sources to form our conclusions and recommendations.
We operate with total editorial independence, and our editorial policies ensure that your well-being comes first. Based on our rigorous research, we only recommend products that are worth considering. We always disclose any ads or partnerships with brands featured on our site.
Best Apple Cider Vinegar Gummies of 2023, According to Dietitians
Apple cider vinegar has many potential health benefits, but drinking it raw is not for everyone. Gummies are a great way to take ACV without the vinegar taste. We give you our top picks for the best ACV gummies currently on the market.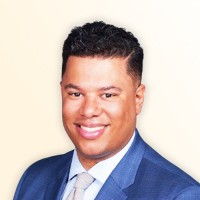 Medically Reviewed by
Anthony Dugarte, MD
Medical Reviewer
Anthony Dugarte, M.D., C.S.C.S. is a health and wellness writer and medical content reviewer. In addition to dedicating the last 8 years to medical research, Dr. Dugarte also has more than a decade of experience in strength and conditioning, nutrition, and rehabilitative exercise, as well as authoring and reviewing health and wellness-related content.

Note that most of the research on ACV uses raw vinegar. There is no research on the benefits of ACV in powdered, capsule, or gummy form.
Nonetheless, gummies are an option for those who cannot tolerate the taste of raw vinegar or prefer to consume it in a more convenient way, and here are a few of our top picks for the best ones currently on the market.
Summary of Our Picks
How We Chose These Brands
To pick the ACV gummies for this list, we evaluated each brand based on the following factors:
Brand Reputation: Does the brand have a good reputation in the industry? Are the products made in a certified Good Manufacturing Practices facility?
Professional Involvement: Are there healthcare professionals involved with the brand?
Supported by Research: Is the brand committed to research? Is the product designed with the latest research in mind?
Price: Is the price of the product comparable to other similar products?
Sugar and Added Ingredients: Is the product free of too much added sugar (more than 3 grams per serving), sweeteners, or artificial ingredients?
Best Overall: Goli Apple Cider Vinegar Gummies
Best Overall
Pros
Low in sugar
Contains many other beneficial ingredients
Contains the "mother"
Vegan and allergen-free
Cons
Not third-party tested
Not fully sugar-free
Not 100% organic
High dosage recommended, which may be unnecessary
Our Take
Goli Apple Cider Vinegar Gummies is a popular option. They contain additional beneficial ingredients, which increase the nutritional value.
Goli claims to be the first ACV gummy on the market — I could not verify if this is true.
Each Goli gummy contains 500 mg ACV, but the manufacturers recommend taking up to 6 per day. Some studies do use higher dosages, but the recommended amount is 500 mg or 2 tbsp. I do not recommend exceeding this amount.
Each gummy is 15 calories and only 1 gram of sugar.
I like that they contain additional beneficial ingredients, like beetroot, apples, and pomegranate, which add to the antioxidant content of the gummies. They also added some additional B vitamins and fiber, which everyone needs more of in their diet.
These gummies do contain the "mother," which means they may also have probiotics. Goli ACV gummies are vegan and free of common allergens.
The only downside of these gummies is that they are not third-party tested. While they use many organic ingredients, they are not 100% organic.
But Goli has many other quality certifications for their products like non-GMO certified, cruelty-free, and Kosher.
Goli can also be found widely at most grocery stores and pharmacies, making it easily accessible to most.
Price: $19 for 60 gummies ($0.32 per gummy), plus $4.95 shipping on the Goli's website. You can save money by buying in bulk, or subscribe and save 15%. Suggested use is 1–2 gummies, 3 times daily.
Best Organic: Mary Ruth's Apple Cider Vinegar Gummies
Best Organic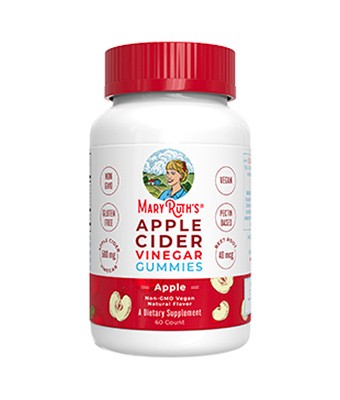 Pros
100% organic, vegan, and non-GMO
Other beneficial ingredients
Contains the "mother"
Cons
Not third-party tested
Not sugar-free
Our Take
Mary Ruth's ACV Gummies are a low-sugar, 100% organic choice when looking for a gummy product.
Mary Ruth's ACV Gummies met all of my criteria for a quality ACV gummy product.
Two gummies contain 15 calories, 2 grams of sugar, and provide 500 mg of ACV. They also contain the "mother," which may provide additional benefits and probiotics.
They are 100% organic, vegan, and non-GMO.
For sweeteners and coloring, Mary Ruth uses beetroot and pomegranate juice. These two ingredients add additional nutrients and antioxidants to the gummies.
While Mary Ruth's website talks about third-party testing of other products in their line of supplements, it does not seem that the ACV gummies have been third-party tested.
Lastly, they do offer a 90-day money-back guarantee if purchased through their website.
Price: $17.00 for 60 gummies ($0.28 per gummy) on Amazon. Serving size is 2 gummies.
Best Budget Pick: Zhou Nutrition Apple Cider Vinegar Gummies
Best Budget Pick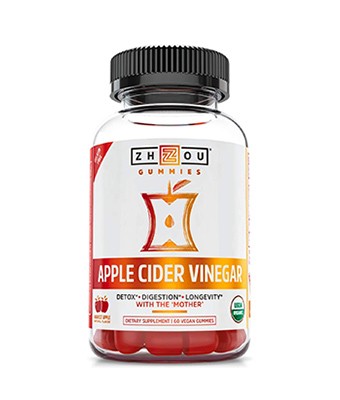 Pros
Less expensive than similar products
Organic, vegan, and non-GMO
Contains the "mother"
Simple formula
Cons
Slightly higher in sugar
Not third-party tested
Our Take
Zhou Apple cider vinegar gummies are a solid choice for a relatively inexpensive organic product. If you are concerned about sugar intake, I would recommend a product with less added sugar.
Zhou Nutrition ACV Gummies are some of the simplest of the products I reviewed and also the cheapest. They are organic, made with the "mother," vegan, and non-GMO. They are not third-party tested.
Zhou gummies contain 500 mg of ACV and do not have a lot of other added ingredients other than sweeteners.
They are slightly higher in sugar (3 grams of added sugar) and therefore also slightly higher in calories (20 calories for two gummies).
If you are taking ACV gummies for reasons other than blood sugar control, these can still be a cost-effective, solid choice.
Price: $12.39 for 60 gummies ($0.21 per gummy) on Amazon. Serving size is 2 gummies.
Things to Consider When Shopping for Apple Cider Vinegar Gummies
When choosing the right ACV gummies to add to your routine, look for gummies with these criteria:
Dosage: 500 mg for 1–2 gummies, or the equivalent of approximately 2 tablespoons of ACV
Calories: Less than 20 calories per serving
Added Sugar: Less than 3 grams per serving
The "Mother": Included
Artificial Flavorings, Colorings, or Preservatives: None
Allergens: Allergen-free
Other Beneficial Ingredients: Added probiotics, vitamins, or antioxidants
In addition to the list above, you might want to consider:
Gelatin: Some gummy products are made with gelatin, which means they are made from animals. If you are a vegan or vegetarian, you may want to look for a product made from plant-based gelatin instead.

Third-Party Testing: If you are concerned with the ingredients in the product, you may also want to consider a product that has been third-party tested. Third-party testing means that the company invested in having someone test their product to ensure accuracy and safety. Look for products that are NSF International or USP certified. We could not find ACV gummies that were third-party tested in our search, but they may exist.
What Are the Health Benefits of Apple Cider Vinegar?
Apple cider vinegar (ACV), made from fermented apples, has been used for centuries to flavor food and for its medicinal properties. (1)
The health benefits from ACV may be related to acetic acid, which results from the fermentation process and gives the vinegar its taste. ACV is about 5%–6% acetic acid.
Raw apple cider vinegar also contains probiotics called the "mother." This collection of bacteria and enzymes may be another reason behind the benefits of ACV, but there is not extensive research on the specific benefits of the "mother." (2)
While studies remain small, possible benefits of ACV include: (3)
Antimicrobial
Lower blood sugar
Reduces oxidative stress
Weight loss
Lowers risk factors of heart disease
Normalizes blood pressure
While raw, unfiltered ACV definitely has benefits, it can be difficult for some people to consume, because:
It doesn't taste very good, especially if you don't like the acidity of the vinegar.
When consumed regularly over time, the acid in the vinegar may cause tooth decay.
Although you have to drink quite a large amount for this to happen, as the saliva does protect the enamel of the teeth from acids, it is unknown how much ACV can be consumed before the enamel of your teeth starts to break down.
Why Take Apple Cider Vinegar in Gummy Form?
With all these potential side effects of drinking apple cider vinegar, many brands have started making ACV gummies as a tasty alternative for people to still get the benefits from it.
ACV gummies are dietary supplements in gummy form that contain a certain amount of ACV. Depending on the brand, they may also include other vitamins, herbs, or nutrients.
The goal with ACV gummies is to provide a more palatable way to consume ACV.
Unlike raw ACV, gummies usually contain calories and some type of sweetener, either sugar or an artificial sweetener. While the calories and sugar content are likely not terribly high for most brands, it may be a deal-breaker for some.
Also, some brands don't contain the beneficial bacteria of the "mother" found in ACV, reducing the overall benefits.
Frequently Asked Questions
Do ACV gummies work?
While there is some research on the benefits of drinking ACV, there is no research on using it in a gummy form. Any claimed benefits of ACV gummies are based on the research on raw ACV. Therefore, I would be hesitant to say ACV gummies "work" until research on ACV gummies is available.
When should I take ACV gummies?
ACV is usually recommended to take on an empty stomach, but there are no rules for when to take the gummies.
Some people take them with meals to improve digestion, whereas others use them to avoid snacking in the afternoon.
The best thing to do is take them consistently when you will remember to do so.
Always follow the directions on the bottle when taking any supplements.
Who should avoid ACV gummies?
While there is minimal research on side effects or even the benefits of ACV gummies, we do know some of the potential side effects of ACV.
ACV may slow gastric emptying, which can be problematic for those with a medical condition called gastroparesis. (4)
Slowing of digestion can also concern those with diabetes, as it can throw off the blood sugar spike that occurs after meals, lowering blood sugar too much.
Drinking vinegar may also cause nausea in some people, but it is unclear if this same side effect would apply to gummies. (5)
There is also one case of excessive ACV consumption causing low potassium levels and bone loss, but this may not be the case if you stick with the normal dosage. (6)
Overall, ACV gummies are likely safe for most people. You should avoid them if you are allergic to any of the ingredients in the product.
Always speak to your doctor before taking any dietary supplements.
What is the optimal dosage for ACV gummies?
Most gummies contain about 500 mg of ACV or the equivalent of about 2 tablespoons of vinegar. This is the standard dosage for general wellness.
One to two tablespoons seems to be the ideal dosage for blood sugar control, weight loss, and cholesterol levels. (7, 8, 9)
But since there are no studies available on gummies specifically, it is unclear if they have the same beneficial effect.
Gummies do likely offer more protection against tooth enamel damage that might occur from the acidity of the vinegar and may cause less nausea or reflux.
This may make them a better option if you want to try ACV for overall health.
Do ACV gummies help you detox?
No, probably not. ACV in liquid or gummy form doesn't have any specific detoxification properties.
The best way to "detoxify" is to stop putting toxins, like alcohol and processed foods, into your body and allow your detoxification organs to do their job.
Do ACV gummies help you lose weight?
Possibly, when paired with a healthy diet and exercise.
One small study found that adding 2 tablespoons of ACV helped lower body mass index, waist circumference, and blood triglycerides over a 12-week period. (8)
It is believed that ACV may help control appetite, reducing calorie intake.
But this study used vinegar, not gummies. So, it is difficult to know if these results will translate to gummies.
Consuming gummies is just adding additional calories and sugar to your diet. While 15–30 calories from a couple of gummies likely won't stall your weight loss, extra calories can add up.
Can ACV gummies improve digestion?
Maybe. The ACV gummies reviewed above do contain the mother, which provides probiotics, which could aid digestion.
Raw ACV does help slow down digestion, but it is unclear if this applies to gummies as well.
Do ACV gummies help control blood sugar?
ACV may help regulate blood sugar and improve insulin sensitivity. (10)
It may also slow digestion, which slows down the movement of carbohydrates into the bloodstream.
Acetic acid is also able to block enzymes that help digest starch, leading to a slower increase in blood sugar after eating. (11)
But does this translate to gummies? It is unclear since no research has been done on blood sugar control with gummies.
Some of the ACV gummies not only contain ACV but also added fiber. Both of these may help regulate blood sugar.
But on the flip side, most ACV gummies contain some sugar, even if it is just a small amount, which can raise blood sugar.
If you want to try ACV for blood sugar control, I would consider just taking a shot of raw vinegar or adding it to flavor salads and other dishes.
The Bottom Line
While ACV in gummies, capsules, or liquid may provide some benefits, the research is not all that convincing.
Adding ACV in any form to your diet is likely not going to change your weight, blood sugar, or digestion on its own without other lifestyle changes.
That being said, it is likely a safe supplement for most people, and there is little risk in taking it.
When choosing an ACV gummy, be aware of the sugar content, artificial colorings, and additional ingredients that may be harmful.
I see no harm in trying ACV gummies if you want, but it is my professional opinion that you would do better spending your money on raw apple cider vinegar, which would be cheaper and more versatile.
Thanks for your feedback!
In a few words, please tell us how this article helped you today.
Please let us know how we can improve this article by selecting your concern below.
Thank You! We appreciate your feedback.
*
Please select at least one topic:
Please Note: We cannot provide medical advice. This feedback will help us continue improving your user experience on WellnessVerge.
Please Note: We cannot provide medical advice. This feedback will help us continue improving your user experience on WellnessVerge.
At WellnessVerge, we only use reputable sources, including peer-reviewed medical journals and well-respected academic institutions.