Evidence Based Research
Our editorial team is made up of expert registered dietitians with extensive, real-world clinical experience who are highly trained in evaluating clinical research.
Amberen Menopause Review: A Detailed Analysis of Its Safety and Effectiveness
Amberen menopause is a supplement created to ease the symptoms of menopause. While Amberen has been the subject of at least three studies that show evidence of its effectiveness, more information is needed to verify its long-term safety.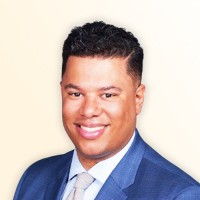 Medically Reviewed by
Anthony Dugarte, MD
Medical Reviewer
Anthony Dugarte, M.D., C.S.C.S. is a health and wellness writer and medical content reviewer. In addition to dedicating the last 7 years to medical research, Dr. Dugarte also has more than a decade of experience in strength and conditioning, nutrition, and rehabilitative exercise, as well as authoring and reviewing health and wellness-related content.
WellnessVerge is reader-supported. When you make a purchase through links on this page, we may earn a commission. Learn More

Pros

At least three studies are available specifically on Amberen Menopause to back product claims.
The main active ingredient in this product began studies in the early 1970s.
A nurse helpline is available for questions.

Cons

No third-party testing seal to verify content purity.
Long-term tests are needed to verify safety of the product.
Some clinical studies cited are not available in common research databases.
What Is Amberen Menopause?
Amberen Menopause (AM) is an over-the-counter menopause-relief supplement that claims to reduce up to twelve symptoms of menopause, including hot flashes, night sweats, mood swings, low energy, weight gain, stress, irritability, low sex drive, joint aches, sleeplessness, headaches, and difficulty concentrating.
AM also claims to help restore hormone balance, be clinically safe and effective, and be estrogen-free.
AM is marketed as an alternative therapy to conventional hormone replacement medications.
It claims to work by restoring hormone balance within 30 days but encourages customers to try it for at least 90 days for the best results.
Menopause is defined as the point in a woman's life when she has gone 12 months without menstruation, which generally happens in her 40s or 50s.
The life stage prior to menopause is defined as perimenopause, the beginning of which may be signaled by some of the above symptoms.
Perimenopause normally begins after age 35 and usually lasts for several years.
Amberen makes menopause and perimenopause products with very similar ingredients.
AM lists succinates, amino acids, minerals, and vitamin E as active, proprietary ingredients. The total amount of these ingredients is 400 mg per dose.
There is no indication of how much of each ingredient is in the supplement, which makes it impossible for medical professionals to be certain there is a safe or effective dose of each ingredient.
AM states that it does not contain soy, hormones, or herbal ingredients, but there is no seal on the product to indicate any third-party testing for purity.
Amberen offers a toll-free phone number or chat option to speak with a "menopause specialist" regarding their products, claiming to have an overseeing licensed nurse.
I tried the number and spoke with a knowledgeable representative who gave me a nurse's email address for questions she couldn't answer.
Clinical Studies of Amberen Menopause
The Amberen website's clinical history page shows a timeline of studies involving AM's ingredients.
However, many of the studies listed could not be found in common research databases. A representative told me that the only information available was already on their website.
A study in 2007 with Amberen involved both mice and a randomized control trial of 70 women. Results of the mice portion of the study showed favorable outcomes, improving skin, coat, and fertility. (1)
The human portion showed sharp increases in blood serum estradiol as well as favorable subjective changes, including fewer headaches, less irritability, improved sleep, and fewer hot flashes.
A 3-month randomized controlled study in 2016 involving 125 perimenopausal and postmenopausal women showed significant improvements in hormone levels, symptoms, anxiety. In addition, some women experienced decreases in waist circumference. (2)
Another 2019 review pooled the information from two identical 90-day studies, with a total of 114 postmenopausal women in the treatment group. (3)
Significant improvements were reported in 15 menopausal symptoms during the study.
One of the researchers in this study was a paid staff member of Biogix, Inc, the company that owns the rights to Amberen.
Summary:
While these four studies seem valid, I am concerned about why all of the studies listed on their history page are not available for review. More long-term studies are also needed to validate the safety and efficacy of long-term use.
Evaluation of Ingredients
While I found the above studies indicating Amberen's effectiveness as an entire supplement, evidence backing its individual ingredients varies.
Since they use a proprietary blend, it is not possible to know if Amberen contains an effective dose of each ingredient.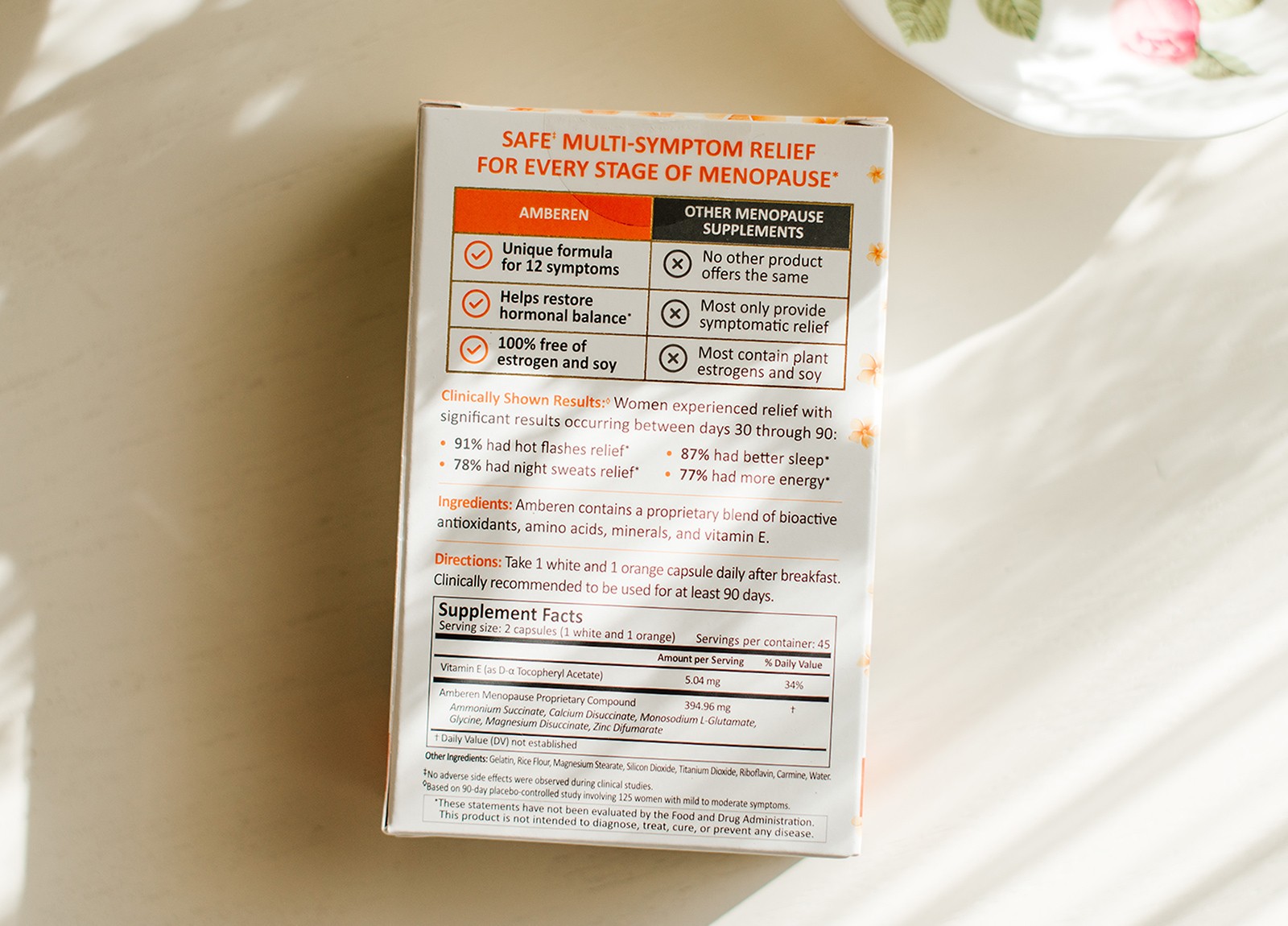 Ammonium Succinate
Succinates go by many names but are generally regarded as safe in small amounts by the FDA.
Succinates are made during our metabolism of carbohydrates, and there are succinate receptors found throughout our bodies.
Succinates are not well understood but are known to have a diverse role in many body processes, including as an antioxidant.
The AM clinical research page indicated that there were animal and human studies regarding succinates and their effectiveness on menopause symptoms.
While I was not able to unearth these studies, I found a research paper that describes the way succinates can positively affect the hypothalamus and the endocrine system as we age. (4)
The research included the discussion of easing several menopause symptoms via hormone balance.
Summary:
There is still a lot to learn when it comes to succinates, and until we better understand their mechanisms of action, it's difficult to recommend supplemental use.
Minerals: Calcium Disuccinate, Magnesium Succinate, and Zinc Difumarate
Calcium is a mineral that is needed in the body for many functions, including muscle movement and nerve messaging.
Calcium is stored in our bones and teeth and may be best known for its importance in bone structure.
While Amberen Menopause does not claim to increase bone density, osteoporosis is also a common problem during perimenopause.
Another mineral, magnesium, is needed for countless functions, including nerve and muscle function, protein and DNA synthesis, and blood sugar regulation.
A study of 46 elderly patients performed in 2012 showed magnesium's potential as a sleep aid. (5)
Results indicated that magnesium treatment not only improved subjective sleep quality but showed favorable blood serum changes in melatonin and cortisol levels.
Zinc is a mineral with many roles in the body, including immune function, DNA synthesis, and wound healing. (6)
Zinc is also being investigated for its impact on mood. A systematic review of studies in 2014 indicated that treatment with zinc may improve mood in people with depressive disorders. However, this review was screened specifically for pre-menopausal women. (7)
Summary:
While these studies show some promise in the ability of these minerals to ease menopause symptoms, AM does not disclose how much of any ingredient is in their blend. Therefore, it can't be determined if the doses are effective or safe.
Amino Acids: Monosodium L-Glutamate and Glycine
Monosodium l-glutamate is a component of glutamic acid or glutamate, a non-essential amino acid.
Glutamate is a neurotransmitter – a molecule that signals nerve cells use to signal other cells. Amino acids are sometimes thought to help ease menopause symptoms. (8)
This 2015 study of female mice indicated that glutamic acid had estrogenic and bone density increasing effects. The study also indicated that the glutamic acid suppressed body weight gain and vaginal atrophy. (9)
Glycine is another non-essential amino acid that is an important neurotransmitter.
Glycine is thought to aid in sleep, which is known to be affected by the dysregulation of body temperature.
In this 2015 rat study, glycine was shown to have a hypothermic effect, lowering body temperature, which improved the animals' quality of sleep. (10)
Summary:
Considering that the studies on glutamate and glycine are based on animals, more human studies are needed to validate their use.
Tocopheryl Acetate (Vitamin E)
Vitamin E is a fat-soluble vitamin that is thought to act as an antioxidant in the body.
It's also important to the immune system and helps the body avoid blood clots by widening blood vessels. Vitamin E can be found in foods like nuts, seeds, and oils.
Antioxidants protect against damaging free radicals by latching onto them, disabling their destruction.
Vitamin E is being investigated for its use to ease hot flashes, but the results of studies have been weak and mostly inconclusive. (11)
In a randomized control trial in 2009, patients found a 7–10% reduction of hot flashes. (12)
Nutrients like vitamin E, minerals, and amino acids are essential to everyone and can usually be obtained from a healthy diet.
Summary:
Because the results of these studies were inconclusive, the use of vitamin E in menopause supplements is questionable.
Support for Claimed Benefits
Below is our summary of the available evidence for the claimed benefits of Amberen Menopause based on the available research:
Relieves 12 menopause symptoms

3

/5
Helps restore hormone balance

3

/5
Clinically proven safe and effective

3

/5
100% estrogen-free

5

/5
Side Effects, Safety, and Dosage
The body's hormone regulation mechanisms are complex, and there is potential harm in using supplements that alter this process. Instead, these should be managed by a health care professional who is skilled in this area of study.
Consulting a doctor is especially important if you have a medical condition or have had a hysterectomy or oophorectomy.
In 2007, 2016, and 2019 studies I reviewed, patients reported no side effects while taking Amberen Menopause. (1, 2, 3)
However, because menopause symptoms last for years, longer-term safety needs to be established.
There was one 3-year observational study mentioned on Amberen.com's clinical study page involving Enerlit-Clima, Amberen's ingredient equivalent.
The study involved 245 women and implied that the ingredients were safe and effective.
However, the research is not available for review, according to the Amberen representative.
The directions instruct consumers to take one white and one orange capsule each morning after eating.

Cost and Where to Buy
A one-month supply of Amberen Menopause costs about $30 on Amazon. It is available widely at most national retailers. The cost varies between $30–$40 a month.
A $7 printable coupon is available at Amberen.com if you sign up for their promotions.
At about $1 per day, this may be worth the price for women to feel relief from symptoms of menopause, which can be severe and life-altering.
How Amberen Menopause Compares to Alternatives
While many other supplements claim to treat menopause symptoms, Amberen claims that no other supplements contain their proprietary ingredients.
I couldn't find any generic versions of the product.
Another popular menopause supplement on the market is Estroven Complete Menopause Relief. It uses only one ingredient – Rhapontic Rhubarb Extract ERr731.
Variations of this root extract have been used in Germany since the 1950s and are thought to work by mimicking hormones that may be reduced in women in menopause.
The effectiveness and safety of Estroven Complete Menopause Relief are documented in a review, with only 124 adverse reactions reported in a 20-year period (1993–2014) in Germany. (13)
Related: Amberen vs. Estroven: Which One Is Better for Menopause Relief?
The Bottom Line
While the effectiveness for Amberen Menopause seems to be conclusive, the bottom line is that safety should come first, and more long-term testing is needed before I would feel confident in recommending this product.
Women often suffer from menopause symptoms for years, not 90 days that the published trials represent.
In addition, hormone regulation is a complex process that warrants the attention of a skilled health care professional.
It's always best to consult your doctor before starting a new medication or supplement to ensure the product is safe for you.
A Word from Our RD
In our culture, as with many topics regarding the female reproductive system, menopause has been considered taboo for too long.
Women have been taught to suffer from ailments in silence, which has hindered the progress of finding relief from some very miserable symptoms.
I appreciate the awareness that results from the candid marketing of products like Amberen.
Good nutrition only increases in importance as we get older. A balanced diet helps ward off diseases, and if problems do present themselves, nutrients can aid in the recovery process.
Maintaining a healthy diet helps you feel your best through all stages of life.
Thanks for your feedback!
In a few words, please tell us how this article helped you today.
Please let us know how we can improve this article by selecting your concern below.
Thank You! We appreciate your feedback.
*
Please select at least one topic:
Please Note: We cannot provide medical advice. This feedback will help us continue improving your user experience on WellnessVerge.
Please Note: We cannot provide medical advice. This feedback will help us continue improving your user experience on WellnessVerge.