WellnessVerge is reader-supported. We may earn a commission when you make a purchase through the links on this page. Learn more about our process here.
Why You Can Trust Us
Every article and review on WellnessVerge is thoroughly researched and fact-checked by licensed health professionals. Our editorial team is made up of registered dietitians and medical doctors.
Every piece of content is also medically reviewed to ensure accuracy and alignment with sound scientific evidence and medical consensus. We only use peer-reviewed journals and reputable medical sources to form our conclusions and recommendations.
We operate with total editorial independence, and our editorial policies ensure that your well-being comes first. Based on our rigorous research, we only recommend products that are worth considering. We always disclose any ads or partnerships with brands featured on our site.
Amberen Menopause Review: Shown to Be Effective, But Needs More Safety Research
Amberen Menopause is a promising supplement designed to ease mild to moderate menopause symptoms. Its unique formulation has been shown in small clinical studies to be effective, but its long-term safety has not been studied.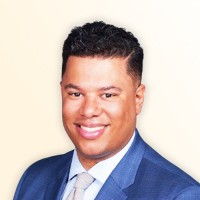 Medically Reviewed by
Anthony Dugarte, MD
Medical Reviewer
Anthony Dugarte, M.D., C.S.C.S. is a health and wellness writer and medical content reviewer. In addition to dedicating the last 8 years to medical research, Dr. Dugarte also has more than a decade of experience in strength and conditioning, nutrition, and rehabilitative exercise, as well as authoring and reviewing health and wellness-related content.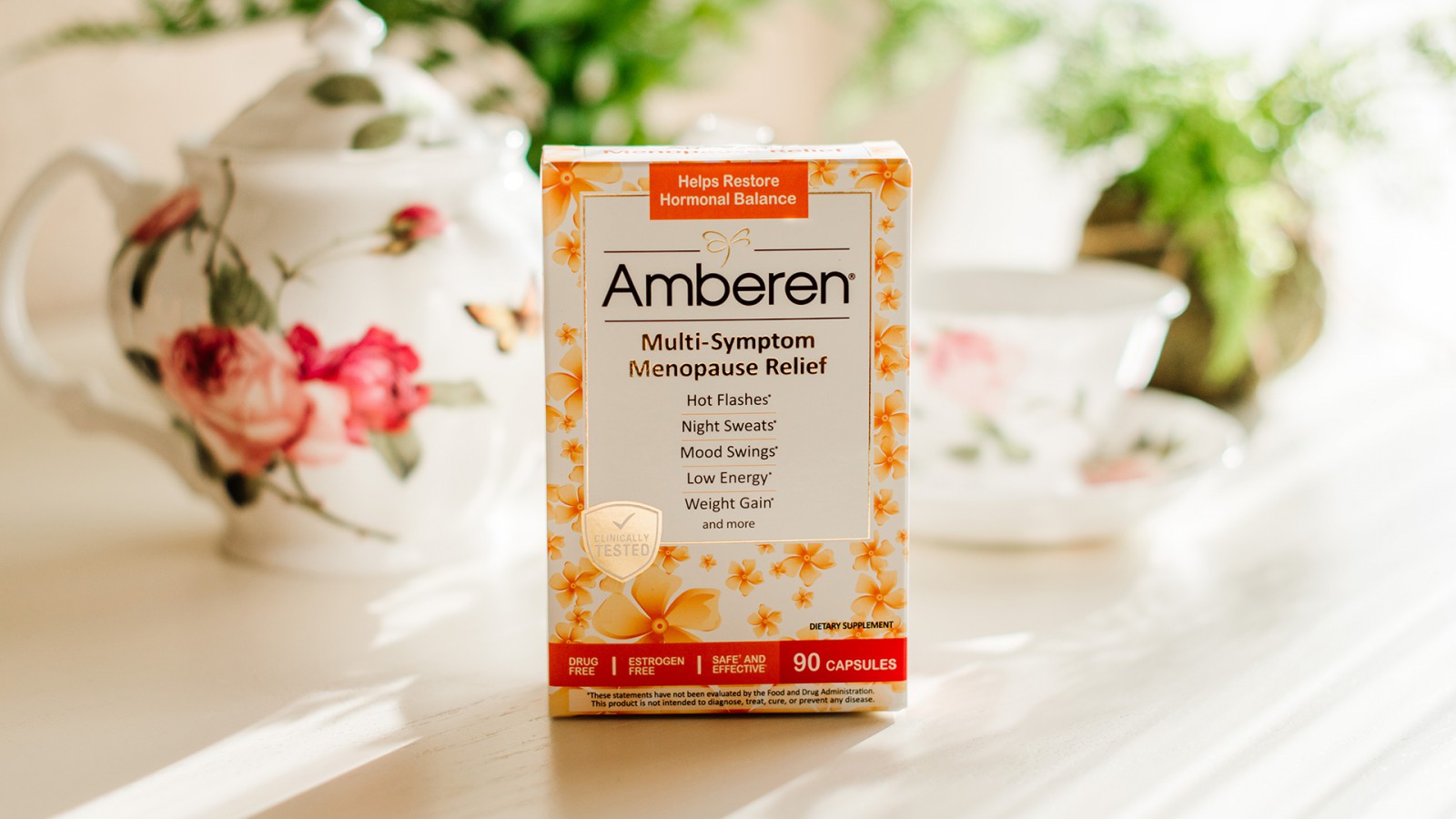 Key Highlights (TL;DR)
Amberen Menopause is a drug-free over-the-counter (OTC) product that uses a unique formulation of ingredients consisting of succinates, minerals, amino acids, and vitamin E.
Small clinical studies have shown Amberen significantly improving the symptoms of menopause, including irritability, hot flashes, sleep, night sweats, anxiety, and more.
The results of these studies are confirmed in thousands of customer reviews on Amazon, where Amberen is rated 4.3/5 based on 22k reviews, with users reporting much of the same relief.
The brand states that Amberen begins to work within 30 days but encourages patients to try it for at least 90 days to see results. In consumer reviews, some users report positive effects in as little as a week, while others say it took more than two months.
One major drawback of Amberen is the lack of long-term safety studies. All of the studies on this product have been 90 days long. And although no negative side effects were seen during these studies, women often suffer from menopause symptoms for years, not just 90 days. We believe that long-term testing of this product is required.
Although Amberen's box states it is safe, consumer reviews tell a different story. Some users report side effects, including nausea, stomach discomfort, and allergic reactions.
Hormone regulation is a complex process that warrants the attention of a physician. We recommend discussing this product with your doctor to see if it's safe and appropriate.
Things Amberen Gets Right
Amberen has been shown to be effective in three clinical studies.
The product is easy to take, requiring two small capsules once daily.
The brand offers free consultations with licensed nurses to assist with questions about using the product.
The company offers a 60-day money-back guarantee.
Important Considerations
It may not be safe for everyone, as consumers report various side effects.
Longer studies would help understand long-term safety.
It's not third-party tested for ingredient quality.
Contains some artificial ingredients common to supplements and medicines.
Amberen at a Glance
Amberen Menopause is an OTC menopause-relief supplement designed to reduce common symptoms, including hot flashes, night sweats, mood swings, low energy, weight gain, stress, irritability, low sex drive, joint aches, sleeplessness, headaches, and difficulty concentrating.
Amberen is claimed to work by helping to restore hormone balance and is marketed as a safe alternative to conventional hormone replacement therapy, which comes with serious health risks.
Amberen's active ingredients are succinates, amino acids, minerals, and vitamin E. It's free from hormones, drugs, soy, and estrogen (which we will discuss in a moment).
How to Take This Supplement
The instructions advise patients to take one white and one orange capsule daily with their first meal. Most users claim that the capsules were easy to consume.
The manufacturer states that users could notice an improvement in symptoms in 30 days. However, they recommend using the products for at least 90 days to determine if it works for you.
View Supplement Facts
Serving size: 2 capsules (1 white and 1 orange)
Vitamin E (as D-a Tocopheryl Acetate): 5.04 mg
Amberen Menopause Proprietary Compound: 394.96 mg (Ammonium Succinate, Calcium Disuccinate, Monosodium L-Glutamate, Glycine, Magnesium Disuccinate, Zinc Difumarate)
Other Ingredients: Gelatin, Rice Flour. Magnesium Stearate, Silicon Dioxide, Titanium Dioxide, Riboflavin. Carmine, Water.

Amberen Is Reasonably Priced
Amberen is available from the brand's website and popular retailers, including Costco, Target, Amazon, Walmart, Walgreens, Rite Aid, and CVS.
From the brand, it's priced at:
One-time Purchase (30-day supply): $29.99 + $7 shipping fee
Monthly Subscription (30-day supply): $26.99 + $7 shipping fee
Amberen offers a 60-day money-back guarantee, reducing the financial risk of trying the product. This applies only when purchased directly from the brand's website or official Amazon storefront.
Amberen's Clinical Trials
Clinical trials done on Amberen as a whole demonstrated that this supplement may relieve common menopausal symptoms. For example, a 3-month randomized controlled study in 2016 involving 125 perimenopausal and postmenopausal women showed significant improvements in hormone levels, symptoms, and anxiety. In addition, some women experienced decreases in waist circumference. (1)
Another 2019 review pooled the information from two identical 90-day studies with 114 postmenopausal women in the treatment group. Significant improvements were reported in 15 menopausal symptoms during the study. (2)
The Research Behind the Ingredients
Overall, Amberen contains well-researched ingredients that have been shown to help relieve the common symptoms associated with menopause. However, a few ingredients, including monosodium l-glutamate and glycine, don't have much human research and were done on rodents instead. Below, we'll discuss the individual ingredients used in this supplement and its supporting research for menopausal symptom relief.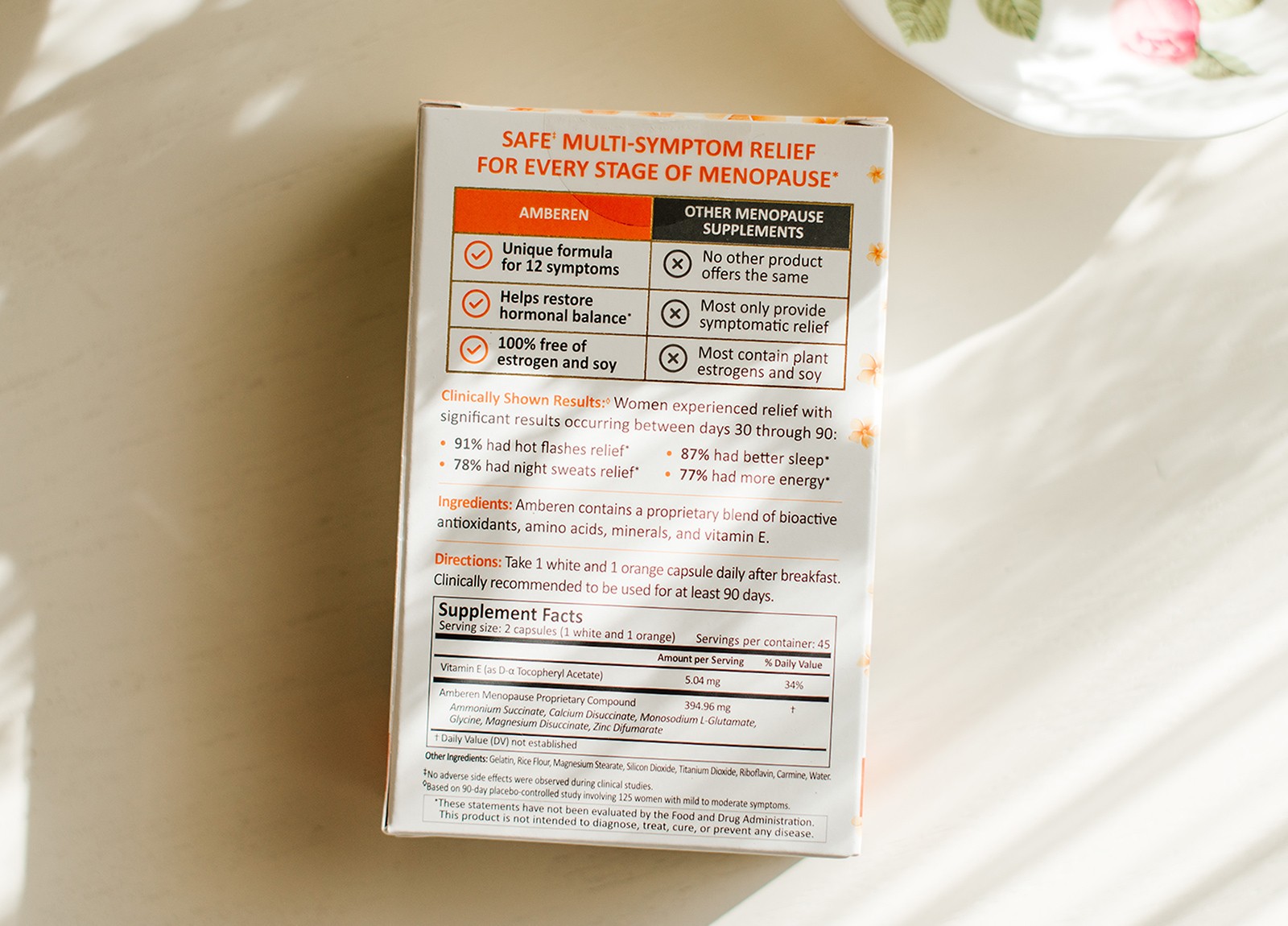 Ammonium Succinate
Succinates are not well understood but are known to have a diverse role in many body processes, including as an antioxidant. Many people turn to succinate supplementation to help alleviate symptoms of menopause, including hot flashes, night sweats, and irritability.
However, although there isn't much scientific research to confirm this (other than the clinical study on Amberen referenced above), one small study shows that succinate helped relieve hot flashes, headaches, and anxiety in menopausal women and mice with no side effects reports. (3)
Minerals: Calcium Disuccinate, Magnesium Disuccinate, and Zinc Difumarate
While Amberen does not claim to advertise to be able to support bone density, this is also a common problem during perimenopause (osteoporosis), as estrogen levels decline. Supplementation with magnesium and calcium may help with bone density and health but these ingredients were studied at much higher amounts than what's in this supplement. (4, 5, 6)
In addition, studies showed that magnesium not only improved subjective sleep quality but showed favorable blood serum changes in melatonin and cortisol levels (which means less stress). Small studies also demonstrated magnesium's ability to help reduce hot flashes. (7, 8)
Finally, research has shown that iron positively impacts mood and cognitive function, but the studies weren't done on menopausal women specifically. (9)
Amino Acids: Monosodium L-Glutamate and Glycine
There isn't much research on monosodium l-glutamate (MSG) and its direct impact on menopausal symptoms. It's been used to enhance the flavors and palatability of your foods. In addition, some studies show that it may help with digestion, including assisting the stomach with emptying food faster. (10)
Glycine may promote serotonin production and help cool the body temperature down at night, resulting in better sleep. However, the studies produced this effect in rodents, so more human research is needed. (11, 12)
Tocopheryl Acetate (Vitamin E)
Vitamin E has been researched over the years for its role in easing hot flashes, producing positive and mixed results. Studies have shown that while vitamin E may help reduce hot flashes, it is not considered as effective as estrogen therapy, and more solid research is needed. (13, 14, 15)
Long-Term Safety Is Unclear
No adverse side effects were reported in the 90-day-long clinical studies of Amberen. However, because menopause symptoms last for years, you will likely need to use this product for more than 90 days. That's why we believe that Amberen would benefit from long-term safety studies.
As mentioned, patients report side effects in their reviews, such as nausea, stomach discomfort, allergic reactions, and more.
Amberen Menopause is not intended for use by pregnant or nursing women or for people with severe hypertension. If you experience any side effects, discontinue use and consult with your doctor.
The body's hormone regulation mechanisms are complex, and there is potential harm in using supplements that alter this process. Instead, these should be managed by a specialist. Consulting a doctor is especially important if you have a medical condition or have had a hysterectomy or oophorectomy.
Amberen vs. Estroven
Another popular clinically-proven menopause supplement is Estroven Complete. It uses only one ingredient — Rhapontic Rhubarb Extract.
This product has been used since 1993 and works by mimicking hormones that typically reduce in women during menopause.
The safety of Estroven is well documented in clinical studies, with only 124 adverse reactions reported in a 20-year period (1993–2014). (16)
While both Amberen and Estroven have been shown in clinical research to reduce symptoms of menopause, we believe Estroven is a better choice because it has an established long-term safety profile. Estroven is also less expensive, at around $20 a month.
Thanks for your feedback!
In a few words, please tell us how this article helped you today.
Please let us know how we can improve this article by selecting your concern below.
Thank You! We appreciate your feedback.
*
Please select at least one topic:
Please Note: We cannot provide medical advice. This feedback will help us continue improving your user experience on WellnessVerge.
Please Note: We cannot provide medical advice. This feedback will help us continue improving your user experience on WellnessVerge.