WellnessVerge is reader-supported. We may earn a commission when you make a purchase through the links on this page. Learn more about our process here.
Why You Can Trust Us
Every article and review on WellnessVerge is thoroughly researched and fact-checked by licensed health professionals. Our editorial team is made up of registered dietitians and medical doctors.
Every piece of content is also medically reviewed to ensure accuracy and alignment with sound scientific evidence and medical consensus. We only use peer-reviewed journals and reputable medical sources to form our conclusions and recommendations.
We operate with total editorial independence, and our editorial policies ensure that your well-being comes first. Based on our rigorous research, we only recommend products that are worth considering. We always disclose any ads or partnerships with brands featured on our site.
Neuro Gum and Mints Review: A Dietitian's Expert Take
Neuro Gum and Mints are convenient energy-boosting nootropic supplements to help your attention, focus, stress relief, and mood. Their unique supplement blends appear to be a good purchase to support your brain throughout the entire day.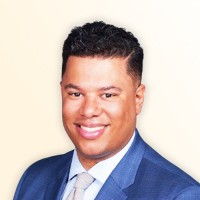 Medically Reviewed by
Anthony Dugarte, MD
Medical Reviewer
Anthony Dugarte, M.D., C.S.C.S. is a health and wellness writer and medical content reviewer. In addition to dedicating the last 8 years to medical research, Dr. Dugarte also has more than a decade of experience in strength and conditioning, nutrition, and rehabilitative exercise, as well as authoring and reviewing health and wellness-related content.

Pros

Products are NSF certified and WADA compliant
Most of ingredients are well-researched

Cons

Slightly pricier than other energy and focus gums and mints
Some of the ingredients are not in clinically-studied doses or don't have consistent research results
What Are Neuro Gum and Mints?
Neuro Gum and Mints were born out of an Olympian and Paralympian's desire to have a supplement that could provide clean and balanced energy at any time of the day.
If Neuro Gum sounds familiar to you, you may remember the co-founders, Kent Yoshimura and Ryan Chen, from their appearance on the reality show Shark Tank, where they actually rejected the Sharks' proposals.
Neuro's current product line consists of two products called Energy & Focus and Calm & Clarity, which are also available in a bundle called The Ideal State.
Energy & Focus gum and mints are designed to help you boost your attention and enhance focus. It contains 4 main ingredients: caffeine, L-theanine, vitamin B6, and vitamin B12.
Calm & Clarity mints are designed to help regulate your mood, ease tension, and add focus to your day. These mints contain 3 main ingredients: GABA, vitamin D3, and L-theanine.
These products are for anyone looking for an energy boost without the crash or a little extra focus during the day, which could probably describe all of us.
Taking Neuro's gum or mints is very simple and can be done at any time of day. A single serving of Energy & Focus or Calm & Clarity is two pieces of gum or mints.
The effects of Neuro's products are reported to be felt quickly due to the rapid sublingual (under the tongue) and cheek absorption of ingredients into the bloodstream.
Individuals may start feeling positive effects in as little as 5 minutes after use.
Neuro's products come in refreshing flavors that I find add to their appeal, and you can mix and match the flavors to your preference if you purchase The Ideal State bundle.
Energy & Focus comes in peppermint with a hint of vanilla or cinnamon with a pinch of chai spice.
Calm & Clarity is available in a ginger chai flavor or a honey lemon flavor.
Advertisement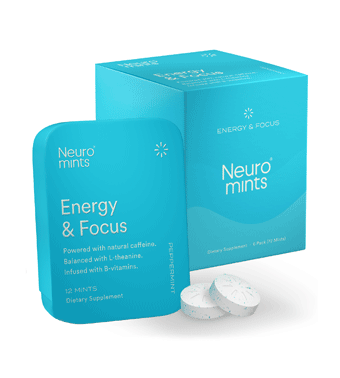 Shop Neuro Gum & Mints
Neuro Gum and Mints are convenient energy-boosting nootropic supplements to help your attention, focus, stress relief, and mood. The ingredients are well researched and may help accomplish your goals.
Evaluation of Ingredients
In this review, I will be covering the ingredients in both the Energy & Focus Mints and Gum and the Calm & Clarity Mints. Ingredient concentrations are listed by a full serving size of the gum and mints, which is 2 pieces.
Energy & Focus
Caffeine, 80 mg
Caffeine is the most widely consumed stimulant worldwide and is commonly found in food items like coffee, tea, and chocolate.
Caffeine boosts your mood and gives you energy through several mechanisms that improve brain function. (1)
It systemically increases energy metabolism (which also lends itself to its weight management benefits).
In the brain, caffeine activates the nervous system to become more attentive, increasing dopamine and noradrenaline activity, activating learning and memory processes, and reducing feelings of fatigue.
A 2016 review on the effects of caffeine on cognitive, physical, and occupational performance found that low to moderate doses of caffeine improve cognition, help with exercise function, and offsets declines in physical and cognitive function after inadequate sleep. (2)
Summary:
Low to moderate doses of caffeine in supplements like Energy & Focus can be effective in supporting energy production, cognitive function, and physical performance.
L-theanine, 120 mg
L-theanine is an amino acid commonly found in green tea and mushrooms, which has been studied for its ability to reduce stress and anxiety and increase relaxation.
A small 2018 study found that healthy men who took a solution of either 200 mg of L-theanine alone or in combination with 160 mg of caffeine improved attention and decreased mind wandering during a visual test compared to a placebo. (3)
A more recent 2021 study found that a single 100 mg dose of L-theanine reduced reaction time, working memory, and executive function in middle-aged and older adults with self-reported mild cognitive decline. (4)
Summary:
L-theanine alone or combined with caffeine can improve attention and cognitive function, both of which are featured in Energy & Focus.
Vitamin B6, 1.4 mg (70% Daily Value)
Vitamin B6 is a water-soluble vitamin found in various foods, including meat, fish, fortified cereal, bananas, legumes, and starchy vegetables.
This vitamin is necessary for metabolism, the production of brain chemicals, including GABA, serotonin, and dopamine, oxygen transport throughout the body, and more.
Deficiencies in vitamin B6 may negatively affect the brain through increased irritability, decreased alertness, cognitive decline, anemia, and depression. (5)
A 2020 review on the benefits of vitamins and minerals for energy, fatigue, and cognition found that supplementation with vitamin B6 in combination with other nutrients may help improve recovery from physical fatigue and anemia, reduce stress and anxiety, and preserve cognitive function. (6)
Summary:
Vitamin B6 is necessary for energy production, producing brain chemicals that can impact mood, supporting oxygen levels, and more. In combination with other vitamins and minerals, vitamin B6 is effective for improving mood, energy, and cognitive function.
Vitamin B12 (as Methylcobalamin), 12 mcg (200% Daily Value)
Vitamin B12 is a water-soluble vitamin primarily found in animal-based sources and fortified cereals and nutritional yeast.
Methylcobalamin is a natural and active form of vitamin B12 that has greater bioavailability than cyanocobalamin. (7)
Vitamin B12 has several functions in maintaining brain health, including the production of serotonin and dopamine, nerve regeneration, and metabolism within the brain (and the rest of the body). (8)
Deficiencies in vitamin B12 can result in mood and behavior changes, affective disorders, cognitive impairment and decline, anemia, and even dementia. (5)
While there are few studies on the effects of vitamin B12 alone and its impact on mood, a 2019 review and meta-analysis suggest that B-vitamin supplementation may improve mood in healthy individuals and individuals at risk for mood disorders. (9)
Summary:
Vitamin B12 has several roles in promoting brain health – serotonin and dopamine production, nerve regeneration, and brain metabolism. Supplementation in combination with other B vitamins may be beneficial for improving mood.
Calm & Clarity
Vitamin D3, 13 mcg (65% Daily Value)
Vitamin D3 (cholecalciferol) is a fat-soluble vitamin obtained through sunlight, fatty fish, fortified dairy, and eggs.
Cholecalciferol is a form of vitamin D that is produced by animals and is more easily utilized by the body.
Vitamin D is beneficial for brain health to support brain development, produce brain chemicals such as glutamine, dopamine, and serotonin, and maintain cognitive function in older adults. (10)
Individuals with Seasonal Affective Disorder (SAD), anxiety disorders, and depression tend to have low serum levels of Vitamin D.
A large longitudinal study published in 2020 of over 18,000 participants 50 years or older studied the effects of vitamin D3 supplementation on depression risk and mood in later life. (11)
Individuals who were given 2,000 IU of vitamin D3 and fish oil did not have a significant difference in the incidence of depression or mood compared to placebo, and vitamin D3 was not found to prevent depression.
However, all of the research is not consistent. Studies find that vitamin D supplementation may reduce symptoms in individuals with anxiety or major depressive disorder. (12)
Summary:
Vitamin D may improve symptoms of depression in individuals who either have deficiencies or existing anxiety and depression, but there's not consistent research if supplementation can prevent depression.
L-theanine, 130 mg
L-theanine is an amino acid with the potential to reduce stress and anxiety and promote relaxation.
A 2019 review on the effects of L-theanine on stress and anxiety management suggests that taking 200–400 mg of L-theanine daily may assist in reducing stress and anxiety in people exposed to short-term stressful conditions. (13)
More research needs to be done on whether L-theanine is useful for reducing stress chronically.
Summary:
Calm & Clarity contains slightly more L-theanine in its formula to promote relaxation and stress relief but may not be in a high enough dose to regulate mood and ease tension. However, the dosing may be enough to promote focus.
GABA, 130 mg
Gabba aminobutyric acid (GABA) is the major inhibitory neurotransmitter in the body.
It is known for its role in reducing stress and anxiety and is suggested to help visual attention.
GABA may help with focus by improving temporal attention, which is the prioritization of information at specific points of time.
A small 2018 study found that supplementation with 800 mg of synthetic GABA before a rapid serial visual presentation task improved temporal attention in college-aged adults compared to a placebo. (14)
However, GABA supplementation did not improve spatial attention in a visual search task.
A 2019 review on GABA supplementation on stress and sleep suggests that GABA intake may have beneficial effects on stress and sleep. (15)
However, there is little consistency in the current research to determine what measures of stress and sleep GABA improves.
The current research on oral GABA supplementation is limited, so more studies need to be done to figure out optimal doses and length of use to get full benefits.
Summary:
While GABA produced in the body can help with stress, anxiety, and attention, there is limited research on the benefits of supplementing with products containing GABA, such as Calm & Clarity. Oral GABA may be beneficial, but there are still many questions left to be answered in the scientific literature.
Support for Claimed Benefits
Below is our summary of the available evidence for the claimed benefits of Neuro Gum and Mints based on the available research:
Boost attention

5

/5
Enhance focus

4

/5
Regulate mood

4

/5
Ease tension

4

/5
All of the ingredients included in Neuro Gum and Mints had randomized control trials (RCT) to see if they were effective for their intended purpose.
RCT is the highest level of data to prove an ingredient is effective for what it is supposed to do.
While all the ingredients had quality data to support their use, the available studies were fairly small or contradicted by other studies for some of the ingredients, especially those for focus and mood.
Some ingredients were tested in mostly short studies lasting a few weeks, so it is difficult to determine the long-term benefits of these supplement ingredients.
As a result, these claims did not get our "Gold Star Evidence" rating.
Side Effects, Safety, and Dosage
A single dose of any of the Neuro Gum and Mint supplements is two pieces, which can be taken at any time of the day.
Be aware that Neuro Energy & Focus contains caffeine. If these gums and mints are your only source of caffeine throughout the day, it should be safe to take up to 10 pieces per day (each piece contains 40 mg of caffeine).
This can help you maintain sustained energy throughout the day without any significant ups and downs.
If you are sensitive to caffeine, you may want to take only one Energy & Focus mint or gum at first, then increase to the full dose of two.
While the amount of caffeine in a serving of Neuro Energy & Focus Gum and Mints is about as much as you'd get from an average cup of coffee, it's still important to keep an eye on your overall caffeine intake throughout the day.
The FDA recommends limiting your caffeine intake to 400 mg daily, roughly equivalent to having 3 to 4 cups of coffee in a day. (16)
Too much caffeine may lead to side effects, including nausea, rapid heart rate, elevated blood pressure, and agitation. (17)
Intake of caffeine of 1,000 mg or higher has been associated with seizures and death. (17)
Taking long-term high doses of vitamin B6 (close to 50 mg/day) is linked to the development of neuropathy. However, Neuro supplements contain a reasonable amount of vitamin B6 that should not exceed this limit. (18)
Neuro's products are dairy-free, nut-free, gluten-free, aspartame-free, and sugar-free.
If you're an athlete looking for a supplement to help your focus, but worried about meeting standards for drug testing, do not fear – Neuro's products are NSF International certified and WADA compliant.
Always consult your doctor first before starting a new supplement to see if it is safe for you.
Cost and Where to Buy
Energy & Focus and Calm & Clarity are available as six-packs and twelve-packs for your convenience.
Energy & Focus and Calm & Clarity Mints:
Six-pack, 72 pieces (36 servings): $21
Twelve-pack, 144 pieces (72 servings): $39
Energy & Focus Gum:
Six-pack, 54 pieces (27 servings): $21
Twelve-pack, 108 pieces (54 servings): $39
Ideal Bundle is $39 and includes:
Six-pack of Energy & Focus Mints
Six-pack of Calm & Clarity Mints
Shipping is free on orders over $35. In addition, monthly subscribers to Neuro can get a 10% discount on their purchases plus free shipping.
Neuro Gum and Mints are also available at retailers including CVS, Amazon, and Whole Foods, so if you don't want to commit to purchasing a 6-pack at once, you can give a single pack a try for $3.99.
If you're not 100% satisfied with your purchase, Neuro has a 30-day return policy for a refund when purchased directly from their website.
Neuro Gum and Mints are somewhat pricier than typical natural or organic mints and gum. However, they are at an average price for energy-boosting gums. For a better deal on your serving sizes, opt for the mints.
Comparison to Alternatives
Neuro's line of products stands out significantly when compared to its competitors for several reasons.
Most energy-boosting mints on the market are only focused on providing energy with ingredients like caffeine, B-vitamins, taurine, ginseng, or guarana.
Energy & Calm not only has caffeine and B-vitamins, but it has L-theanine to help with focus.
I could not find any other caffeine-free mints like Calm & Clarity on the market with scientifically backed ingredients to promote mood regulation and tension relief.
The only alternatives were homeopathic blends that didn't have well-researched ingredients.
Neuro also uses a patented cold-compression technology to maintain the full potency and bioavailability of all of its products.
While there are many nootropic supplements on the market for focus and energy, a majority of them are in bottles or packets that are meant to stay at home and are meant to be taken at a specific time.
I find it smart that Neuro Gum and Mints are in packaging specifically designed to be taken on the go and can be used at any time.
Neuro Gum and Mints provide unique formulations, fill gaps in the market of energy and focus supplements, and are convenient for any lifestyle.
The Bottom Line
Neuro Gum and Mints is a system of supplements made to support your brain health in a convenient way.
If you're looking for an alternative to coffee to boost your energy and focus, I think that the Energy & Focus gum and mints could be a good fit for you because of the research behind the ingredients.
While the research on the Calm & Clarity mints is a little bit shakier, I still think that it could be worth adding them into a holistic way to support your mood, stress reduction, and focus.
Purchasing the two supplements together in Neuro's The Ideal State seems worth it because each supplement focuses on a different state of mind.
You can have your Energy & Focus while you're at work or school, needing to concentrate on whatever tasks you may have during the day.
Then, during your time off, you can use your Calm & Clarity mints to relax and use your focus for hobbies or other activities you may enjoy.
I think this system is quite unique in what it offers, and it fills a niche for convenient brain support that doesn't require lugging around pill carriers.
Of course, as with any new supplement, speak with your doctor first before starting any of the Neuro Gum and Mints products.
Additional Tips
If you're reading this review, you're obviously interested in taking care of your mental well-being.
Having Neuro can be a great first step, especially if you feel too busy or unable to make other lifestyle changes to support your mental health.
Taking additional steps to optimize your mental energy, focus and mood don't have to be difficult.
Work on getting between 7 to 9 hours of sleep nightly, eating enough on a regular schedule, and focusing on whole foods to help your energy levels.
For stress management, finding peaceful activities, speaking with someone you trust, setting boundaries for your schedule, doing yoga and meditation, and using organizational tools can help.
To increase your focus, try eliminating distractions as possible (such as your phone, clutter, social media), use a Pomodoro app or lyric-free music (like lo-fi beats or classical music), and give yourself regular stretch breaks.
If you feel that your concerns about focus, mood, or stress management are more serious, I recommend speaking with a mental health professional.
They can help you identify what's going on in your life, strategies you can implement and get you connected to further medical support as needed.
Advertisement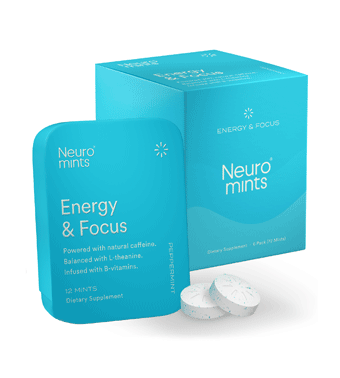 Shop Neuro Gum & Mints
Neuro Gum and Mints are convenient energy-boosting nootropic supplements to help your attention, focus, stress relief, and mood. The ingredients are well researched and may help accomplish your goals.
Thanks for your feedback!
In a few words, please tell us how this article helped you today.
Please let us know how we can improve this article by selecting your concern below.
Thank You! We appreciate your feedback.
*
Please select at least one topic:
Please Note: We cannot provide medical advice. This feedback will help us continue improving your user experience on WellnessVerge.
Please Note: We cannot provide medical advice. This feedback will help us continue improving your user experience on WellnessVerge.
At WellnessVerge, we only use reputable sources, including peer-reviewed medical journals and well-respected academic institutions.