WellnessVerge is reader-supported. We may earn a commission when you make a purchase through the links on this page. Learn more about our process here.
Why You Can Trust Us
Every article and review on WellnessVerge is thoroughly researched and fact-checked by licensed health professionals. Our editorial team is made up of registered dietitians and medical doctors.
Every piece of content is also medically reviewed to ensure accuracy and alignment with sound scientific evidence and medical consensus. We only use peer-reviewed journals and reputable medical sources to form our conclusions and recommendations.
We operate with total editorial independence, and our editorial policies ensure that your well-being comes first. Based on our rigorous research, we only recommend products that are worth considering. We always disclose any ads or partnerships with brands featured on our site.
SuperBeets Review: Clinically Studied, Excellent Benefits Behind Beetroot Powder
SuperBeets is a clinically studied, plant-based formula that offers a concentrated serving of beetroot. Its patented technology provides a convenient and tasty way to improve your heart health.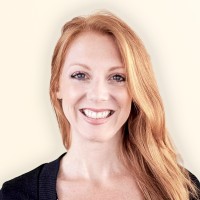 Medically Reviewed by
Natalie Olsen, MS, RDN, LD, ACSM-EP
Registered Dietitian, Certified Exercise Physiologist
Natalie is a registered dietitian, functional medicine practitioner and certified exercise physiologist with over 15 years experience in the health and wellness industry and holds a Master's degree in Human Nutrition and Functional Medicine through a collaborative program provided by the University of Western States and the Institute of Functional Medicine.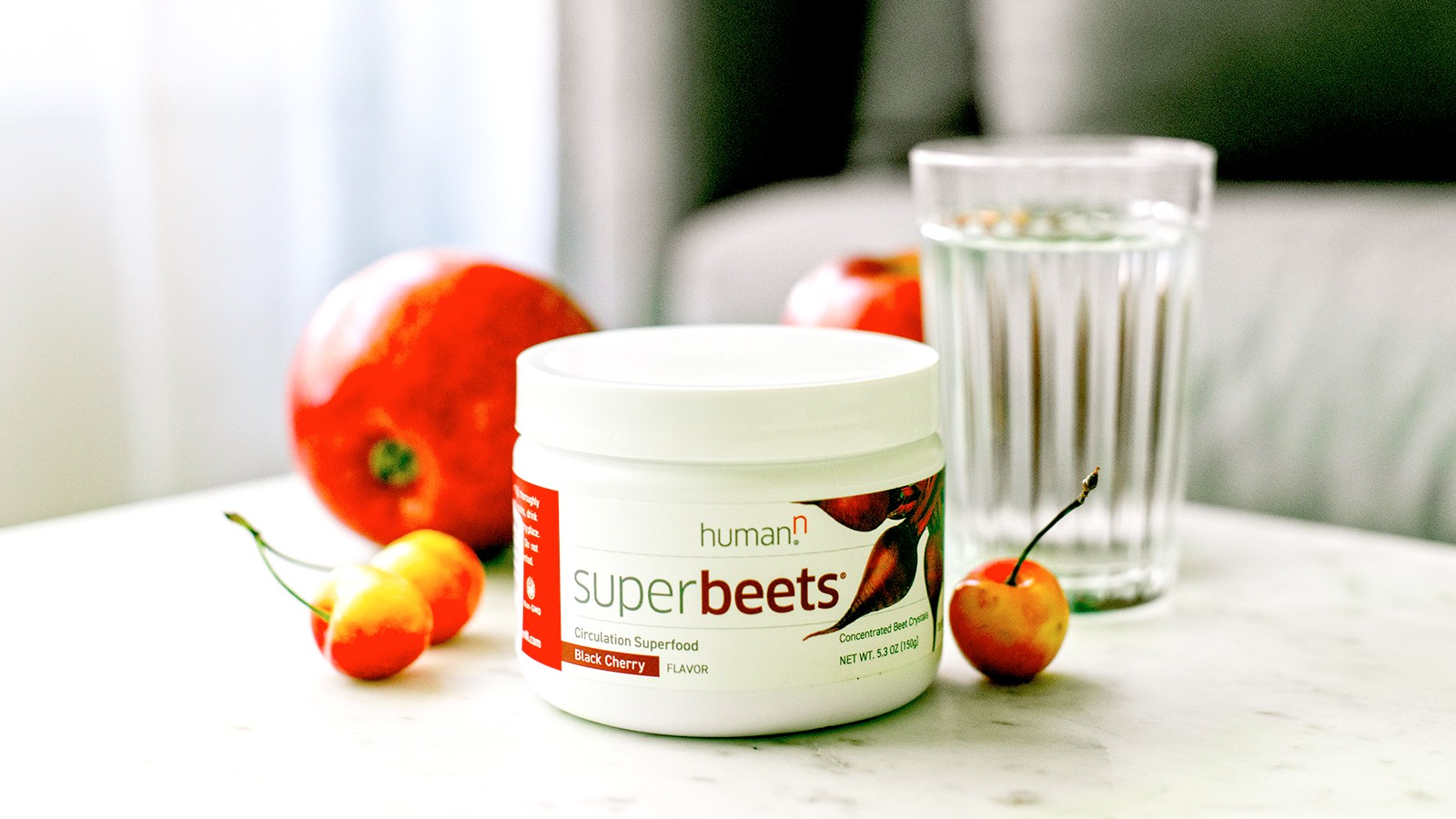 Key Takeaways (TL;DR)
SuperBeets is a clinically studied beetroot supplement that uses patented technology to increase nitric oxide and support heart health by lowering blood pressure, improving circulation, and enhancing performance.
SuperBeets is an excellent option for anyone looking to support their heart health with a more natural alternative. SuperBeets can be a great addition to your daily routine when combined with a healthy diet and lifestyle.
SuperBeets comes from a reputable brand, has a pleasant taste, and is considered safe for most people. Although it is more expensive than similar products, we believe that SuperBeets offers excellent value for the money.
SuperBeets is highly rated on Amazon with 4.3 stars, based on 26k reviews. (One of the highest ratings we have come across.)
To get the most benefits from using this product, it is recommended to make it a regular part of your daily intake.
What We Like About SuperBeets
The product underwent clinical trials.
Uses well-researched ingredients that may deliver on the claimed benefits.
Easy to prepare compared to other beetroot powders. Dissolves fairly easily.
Pleasant taste, especially compared to other beetroot powders.
Uses 100% Non-GMO beets grown in the USA.
The company offers a 90-day money-back guarantee.
Important Considerations
SuperBeets is more expensive than other brands.
To get the most benefit from using this product, you'll need to use it regularly. Consider how the ongoing monthly cost fits into your budget.
Although considered harmless, concentrated doses of beetroot may color your urine and stools red for a few days.
SuperBeets at a Glance
SuperBeets from HumanN is a highly concentrated beet root supplement clinically designed and formulated to support heart health and healthy energy levels.
Although heart disease is common, in many cases, it is preventable. Taking care of your heart is critical for long-term health and can impact energy levels and quality of life. A significant first step in caring for your heart is ensuring a well-balanced diet, including foods rich in heart-healthy nutrients. (1, 2)
Beets are well-known for healthy circulation and heart health. However, they are not always easy, convenient, or tasty. SuperBeets removes the difficulty of preparing beets and makes it attainable for even the busiest people. HumanN is making the most of a widely disliked vegetable by creating an easy-to-consume alternative.
SuperBeets is formulated by HumanN, a nutrition company with over ten years in the industry. This product has been clinically researched at the University of Iowa. The study showed that after four weeks, individuals using SuperBeets experienced a beneficial effect on blood pressure levels compared to the placebo group. (3)
As a dietitian, I am greatly impressed with SuperBeets. From my clinical experience, I have seen clients benefit from the heart-healthy nature of beets and beetroot powder. Additionally, a team member tested SuperBeets for two months and experienced a lowering effect on blood pressure. This product is worth considering for supporting your heart health.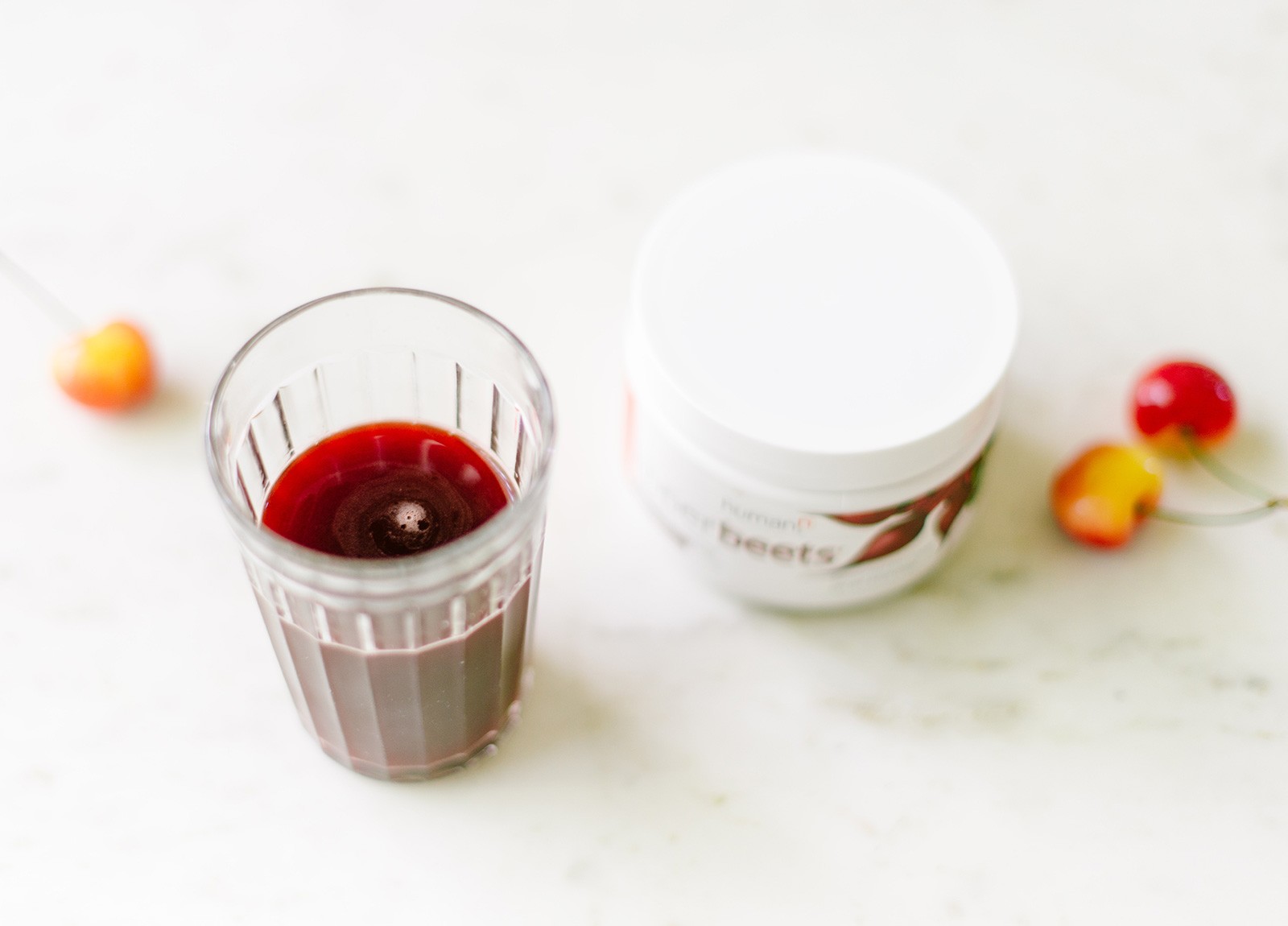 Preparing SuperBeets Is Simple, and It Tastes Great
The recommended dose for SuperBeets is one teaspoon (5 grams) daily, morning or night.
The powder comes in two flavors, black cherry and apple, and based on our use, it dissolves easily with 4–6 ounces of water or juice.
SuperBeets has a pleasant, fruity taste that is not overly sweet. Other beetroot powders we have tried had a very earthly taste, which made them difficult to consume. If you are considering this product, we recommend trying both flavors to pick the one you like best. The powder can also be added to a smoothie.
Additionally, reviewers report SuperBeets mixes easily and has a pleasant and slightly sweet taste.
Expand to See Supplement Facts
SuperBeets Crystals are 100% fermented and non-fermented beetroot powder.
One teaspoon (5 grams) has:
Calories: 15
Fat: 0 grams
Carbohydrates: 4 grams
Protein: 1 gram
Sodium: 65 mg
Potassium: 160 mg
Vitamin C: 50 mg
Magnesium: 18 mg
SuperBeets Is More Expensive Than Other Brands, But We Think It's Worth It
SuperBeets is available directly from the brand's website and popular retailers, including Amazon, GNC, CVS, and others.
When purchasing through the company's website, there are several options:
30-day supply: $39.95 per canister
90-day supply: $37.95 per canister (save 5%)
180-day supply: $33.96 per canister (save 15%)
You can also subscribe and save up to 35%, plus free shipping. To benefit from this product, it is best to take it daily; therefore, a subscription would be most valuable for saving money.
HumanN offers a 90-day money-back guarantee. You may return your purchase (used or unused) within 90 days from the order date for a full refund of the purchase price minus the shipping cost.
Scientific Research on the Potential Benefits of Taking SuperBeets
According to HumanN, SuperBeets powder is patented with nitric oxide technology created to be more easily absorbed than other powders on the market. When taken daily, SuperBeets claims to increase nitric oxide production, which may:
Support healthy circulation and blood flow
Support healthy blood pressure and heart health
Support heart-healthy energy and stamina
Such potential health benefits from this supplement are accomplished by using beets, a natural source of nitrates. Nitric oxide is essential in widening out blood vessels, improving circulation, and regulating blood pressure. And studies showed that ingesting beetroot juice significantly increased nitric oxide production more than only drinking water. (4, 5)
Below we'll explain the scientific research behind beetroot powder more precisely and how it can support your health.
Support Health Circulation and Blood Flow
SuperBeets may help improve nitric oxide levels and support healthy circulation and blood flow due to its concentrated form of beetroot powder when coupled with a healthy and active lifestyle.
Beets are a potent source of nitrates, which the body converts into nitric oxide.
According to studies, nitric oxide acts as a vasodilator, opening the blood vessels and improving blood flow, which increases oxygen and nutrient delivery to various organs. (6, 7)
Support Healthy Blood Pressure and Heart Health
SuperBeets may be a viable option for individuals looking to improve blood pressure and overall heart health by including more nitric oxide-rich foods in their diet combined with healthy lifestyle changes. You may decrease your blood pressure and circulation by improving your nitric oxide production, thus improving your overall heart health.
Due to its high nitrate content, beetroot is often considered a complementary treatment for high blood pressure. Several promising studies showed that drinking beetroot juice daily helped significantly lower systolic and diastolic blood pressure. (8, 9, 10)
Support Energy and Stamina
SuperBeets may help support your energy and improve stamina when taken regularly.
Research has found that supplementation with beetroot can improve endurance and efficiency in athletes. Furthermore, clinical data shows improved physical performance at various distances, increased time to exhaustion, and improved oxygen uptake. (11)
In my clinical experience, beetroot is a healthy alternative to traditional energy and performance-enhancing sports drinks.
As mentioned, the increase in nitric oxide production from beetroot consumption increases blood flow and allows you to generate more energy within your muscles more efficiently. This may allow you more energy and stamina in your physical performance. (12)
Safety Considerations
Beetroot powder is generally safe for healthy individuals. However, if you are on a blood pressure-lowering medication, check with your physician before supplementing with SuperBeets.
While this powder is safe for pregnancy, breastfeeding, and diabetes, it is always best to check with your doctor before beginning this product.
The supplement is non-GMO, vegan, gluten-free, caffeine free, and has no artificial sweeteners.
Concentrated doses of beetroot may also color your urine and stools red for a few days. Although this may catch you by surprise, it is typically considered harmless.
While side effects are not widely reported, excess beetroot consumption may lead to kidney stones. While the upper limit may differ for each person, taking more than two total servings per day is not recommended for any SuperBeets product.
How SuperBeets Compares to its Competition
SuperBeets supplement is unique with its clinical studies, patented nitric oxide technology, and taste. Although it has a moderately higher price point than similar products, the extra benefits make it worth the higher price if it fits your budget.
Here's how SuperBeets compares to similar brands:
| | SuperBeets | Sunfood Organic Beetroot Powder | Force Factor Total Beets | KOS Organic Beetroot Powder |
| --- | --- | --- | --- | --- |
| Regular Price | $39.95 per canister (30 servings) + shipping | $16 per package (23 servings) + shipping | $15.33 per canister (30 servings) on Amazon | $29.99 per canister (90 servings) |
| Discounted or Subscription Price | Save up to 35%, plus free shipping | n/a | n/a | $25.49 |
| Shipping | Free with subscriptions or on orders over $75 | Free on orders over $49, otherwise dependent on location | Sold only at third-party authorized vendors, subject to their shipping | $7.95 |
| Returns | 90-day money back | 30-day money back | Dependent on retailer | 60-day money-back |
| Key Ingredients | Non-GMO beetroot powder & Fermented non-GMO beetroot powder | Organic beetroot powder | Beetroot vasodilation matrix, Vitamin B12, & Vitamin C | Organic beetroot powder |
| Third-Party Tested | √ | | √ | |
| Clinical Studies | √ | | | |
| Gluten-Free | √ | √ | √ | √ |
| Vegan | √ | √ | √ | √ |
| Form | Powder | Powder | Tablets, Powder, or Chew | Powder |
Expand Each Brand for a Detailed Description
Vs. Sunfood Organic Beet Powder
Sunfood offers a certified organic, 100% beetroot powder. The powder may be taken daily and mixed with water, juice, or smoothies. The powder is non-GMO, certified organic, kosher, vegan, and gluten-free.
A 23-day supply is available online and in some health food stores for $16 a bag.
Unlike SuperBeets, the product has not undergone any clinical trials to support its claims. However, this may be a good option if you want pure and organic beetroot powder at a lower price.
Vs. Force Factor Total Beets
Total Beets is a concentrated beetroot drink equivalent to seven beets per serving. Like SuperBeets, it aims to improve heart health, healthy blood flow, and energy.
Total Beets also has an additional dose of nitrate from betaine nitrate, as well as vitamin C, B6, B12, and calcium. It also appears to be a more concentrated formula.
Total Beets is available for retail in major retailers such as Target, Walmart, Walgreens, Amazon, and The Vitamin Shoppe. At Target and The Vitamin Shoppe, the product retails for $29.99, but other retailers showed prices as low as $20.
Total Beets may be a good option if you are looking for a more concentrated formula at a lower price point.
Vs. KOS Organic Beetroot Powder
KOS Organic Beetroot supplement is a 100% beetroot powder.
Like SuperBeets, KOS provides the benefits of beets (such as heart health and energy); however, it comes at a lower price point.
Unlike SuperBeets, KOS is not third-party tested and has not undergone clinical studies. Third-party testing is an essential aspect of determining a reliable supplement. Still, it is not uncommon for supplements to lack third-party testing.
Compared to SuperBeets, KOS is $29.99 per canister with 90 servings per container. Ideally, you should take a serving a day, so each canister lasts two months.
If you are looking to try a beetroot powder, KOS powder offers an excellent option for a more budget-friendly price.
Thanks for your feedback!
In a few words, please tell us how this article helped you today.
Please let us know how we can improve this article by selecting your concern below.
Thank You! We appreciate your feedback.
*
Please select at least one topic:
Please Note: We cannot provide medical advice. This feedback will help us continue improving your user experience on WellnessVerge.
Please Note: We cannot provide medical advice. This feedback will help us continue improving your user experience on WellnessVerge.