Evidence Based Research
Our editorial team is made up of expert registered dietitians with extensive, real-world clinical experience who are highly trained in evaluating clinical research.
Youtheory Beauty Collagen Review: Safety and Effectiveness
Youtheory Beauty Collagen is designed to fight against age-related collagen loss and support the health of your skin, nails, hair, and connective tissues. This NSF-certified supplement may be helpful in keeping you looking young, but the full benefits may differ from person to person.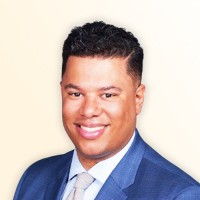 Medically Reviewed by
Anthony Dugarte, MD
Medical Reviewer
Anthony Dugarte, M.D., C.S.C.S. is a health and wellness writer and medical content reviewer. In addition to dedicating the last 7 years to medical research, Dr. Dugarte also has more than a decade of experience in strength and conditioning, nutrition, and rehabilitative exercise, as well as authoring and reviewing health and wellness-related content.

Pros

Available in tablet and powder form for personal preference
Made in NSF-certified manufacturing facility

Cons

Some ingredients have limited research, or mostly show benefits with vitamin deficiency or special conditions
Variability amongst retailers on price and dosages available per package
What Is Youtheory Beauty Collagen?
Youtheory Beauty Collagen is a supplement designed to counteract age-related collagen loss.
Collagen is a triple helix molecule that is the most abundant structural protein within the body. (1)
It is widely found in our connective tissues and hair, skin, and nails.
As we get older, collagen production decreases over time and causes signs of aging. (2)
This aging process may come in the form of wrinkles, sagging skin, and reduced cartilage (the connective tissue that protects your bones).
This collagen supplement claims to help replenish collagen; fight the effects of aging; revitalize skin, hair, and nails; and support tendons and ligaments.
Youtheory's Beauty Collagen is available in tablet form and powdered form.
A full dose of the Beauty Collagen Tablets is six tablets per day, taken simultaneously or throughout the day.
A serving Beauty Collagen Powder is one scoop per day, which can be mixed into 6–8 oz of water, juice, or coffee.
Evaluation of Ingredients
There are slight differences between Youtheory's Collagen Tablets and their Collagen Powder.
Youtheory's Collagen Powder contains a greater amount of Vitamin C (200 mg) and contains biotin.

Hydrolyzed Collagen (6,000 mg)
Youtheory uses hydrolyzed peptides of Collagen I, II, and III in its beauty collagen products.
The collagen is primarily derived from bovine sources, but some of their products may include fish or chicken-derived collagen.
While there are 28 different forms of collagen, Collagen I and III are the main two collagens involved with skin health.
A 2019 review on the effects of collagen supplementation on skin aging found that collagen supplementation is shown in clinical trials to increase collagen density in skin, increase skin hydration, improve skin elasticity, and reduce wrinkles and skin roughness. (3)
In the clinical studies included, the length of treatment, populations studied, and dosing of collagen were different in each study, making it difficult to determine an optimal dose or length of use to see results.
Collagen is also effective in improving symptoms of osteoarthritis.
A 2019 meta-analysis found that collagen supplementation significantly decreased joint stiffness and improved scores for both the Visual Analog Scale (used for acute and chronic pain) and the Western Ontario and McMaster Universities Osteoarthritis Index (WOMAC, a set of questionnaires to assess patient condition with knee and hip osteoarthritis). (4)
Limited research exists on collagen supplementation and nail health.
A clinical trial involving 25 participants with brittle nail syndrome found that daily supplementation of 2.5 g bioactive collagen peptides for 24 weeks improved brittle nails, nail growth, and decreased frequency of broken nails. (5)
There is a lack of evidence to show if collagen is beneficial for hair growth.
Protein malnutrition and insufficiencies of essential amino acids (like lysine) can impact hair thinning and hair loss. (6)
However, there is no solid research concerning whether collagen, which is rich in lysine, can help hair growth.
Summary:
Collagen supplementation can be effective in protecting against skin aging and supporting the health of joints but has limited evidence showing its effectiveness for nail health.
Vitamin C (as Calcium Ascorbate, 90 mg)
Vitamin C is a water-soluble vitamin that has many physiological functions and acts as an antioxidant.
You can find vitamin C in foods like peppers, kiwi, strawberries, tomatoes, and Brussels sprouts.
A deficiency in vitamin C can cause joint pain, hyperkeratosis (hardening of the skin), petechiae (spots on the skin caused by broken capillaries), scurvy, and impaired collagen synthesis. (7)
Vitamin C is an important cofactor in enzymes needed to create collagen and can reduce inflammation in collagen-rich areas in the body. (8)
A 2018 review on vitamin C supplementation on collagen synthesis after injury found that vitamin C has the potential to accelerate healing after bone fractures and reduce oxidative stress. (9)
Animal studies within the review found that vitamin C supplementation increased type I collagen fibers in tendon healing compared to control groups.
These studies are a good start, but more clinical trials need to be done to determine if vitamin C can help tendon repair in humans.
Vitamin C may also be effective for maintaining bone health. (10)
Observational studies and small clinical trials suggest that adequate Vitamin C intake may preserve bone density and reduce the risk of fractures caused by osteoporosis.
However, scientists are unable to reach definitive conclusions due to the lack of strong research.
To help you maintain healthy skin, vitamin C protects against free radicals, photoaging, and UV damage. (11)
Vitamin C improves the skin barrier lipids to help your skin retain moisture, reduces wrinkles, promotes skin tightness and tone, helps with wound healing, reduces skin hyperpigmentation, and may help with reducing skin inflammation.
Summary:
Vitamin C is necessary for collagen production and may increase collagen production in healing, helps maintain skin health, and has the potential to aid in preserving bone health.
Biotin (in the Collagen Powder, 2.5 mg)
Biotin is another water-soluble vitamin found in beef liver, eggs, fish, meats, nuts, seeds, and sweet potatoes.
Deficiencies in biotin can result in thinning hair, psoriasis, erythematous dermatitis (rash around mouth, nose, and other orifices), and other symptoms. (12)
Biotin supplementation is effective in patients who have a pathology for poor hair growth (like alopecia) or hair loss related to biotin deficiency. (13)
Studies find that doses of biotin between 300 to 3000 mcg improved hair quality in individuals with poor hair pathologies.
Individuals with brittle nail syndrome may also benefit from similar biotin supplementation.
Clinical trials find that biotin can improve the firmness, hardness, and thickness of brittle nails. (14)
Unfortunately, there is very little research on the efficacy of biotin in improving hair or nail health in healthy individuals.
In addition, it may not provide any benefits in those who have a biotin-rich diet. (15)
A 2019 review found that biotin is useful as a treatment for many skin disorders related to biotin deficiencies, including seborrheic dermatitis, acne involving blackheads and whiteheads, and skin that is prone to flaking and irritation. (16)
Summary:
Biotin supplementation appears to be beneficial in helping hair, skin, and nail health in individuals with biotin deficiencies or existing pathologies, but it may not be effective for healthy individuals.
Support for Claimed Benefits
Below is our summary of the available evidence for the claimed benefits of Youtheory Beauty Collagen based on the available research:
Replenishes collagen

5

/5
Fights the effects of aging

5

/5
Revitalizes skin, hair, and nails

4

/5
Supports tendons and ligaments

5

/5
Side Effects and Safety
Youtheory Beauty Collagen is dairy-free, soy-free, gluten-free, and free of binders and fillers.
These collagen products are manufactured in a facility that processes fish extracts, so it may be best to avoid for anyone who has a fish allergy.
Youtheory's Beauty Collagen products do not list any major allergen in their ingredients.
While excessive amounts of Vitamin C can lead to adverse effects like diarrhea or stomach discomfort, the amount present in Youtheory's products is unlikely to cause symptoms of toxicity.
Collagen has been associated with some mild to moderate side effects, including headache, gastrointestinal symptoms (diarrhea, nausea, flatulence, gastric discomfort), rash, and peripheral edema. (17)
This supplement is not intended for individuals under the age of 18 years.
Nutrawise Health & Beauty Corporation, the manufacturers of Youtheory, has a manufacturing facility that is NSF/ANSI 173 certified to confirm the quality of their products. (18)
Before starting Youtheory Beauty Collagen products, speak with your doctor to see if this supplement is safe for you to add to your routine.
Cost and Where to Buy
Youtheory Beauty Collagen is available on the brand's webpage and several online and in-store retailers.
If you purchase from the website, the Youtheory's Beauty Collagen Tablets come in 160-count and 290-count bottles.
The 160-count bottle is $15.99 and will provide you with approximately 26 full doses. The 290-count bottle is $22.99 and provides 48 daily doses.
The Beauty Collagen Powder comes in a 10 oz container that contains 38 servings per container and costs $23.99.
If you choose to get a subscription to any Youtheory collagen products, you can save 15% on your orders.
Returns or exchanges for products purchased directly from Youtheory must be for unused or defective products only.
If returns are within 30 days of order delivery, there is a full refund, and the return is free. Returns made after 30 days will be refunded, though you will have to pay for shipping costs.
Before you purchase directly from the website, you may want to check the extensive list of retailers where this product is available (including Costco, Target, Amazon, and GNC) because there were some differences.
Generally speaking, the cost of the tablets or powder was cheaper at other retailers when compared to the main website.
I was also able to find 120-count Beauty Collagen Tablets and a 390-count tablet bottle with added biotin.
The 10 oz Beauty Collagen Powders purchased at retailers were also significantly cheaper (between $12.82–20.99) but had 2 fewer servings per container.
For some people, purchasing from a retailer may be a better option to save a little money.
But remember to shop for supplements from reputable retailers to ensure you're receiving a quality product.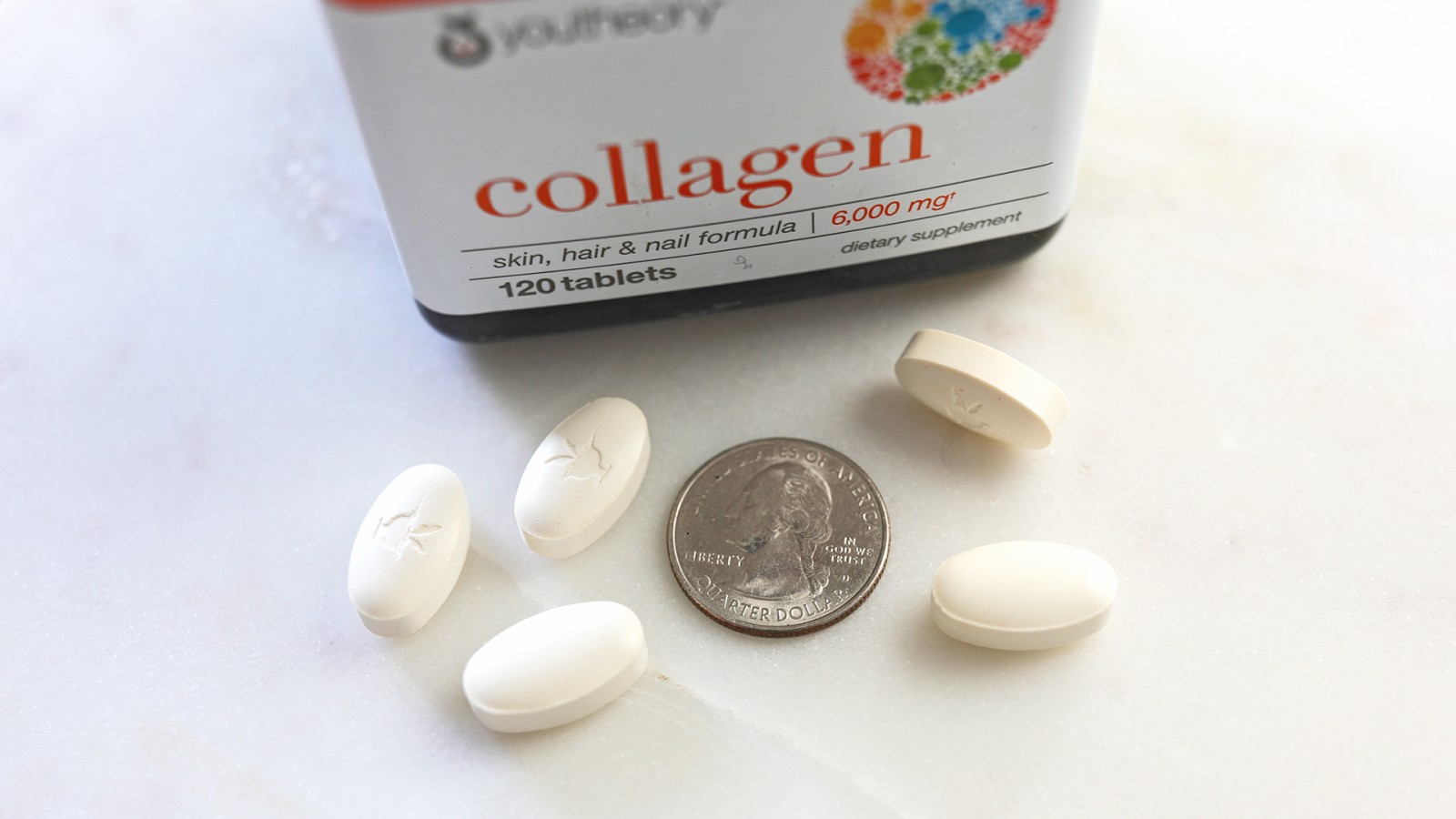 Comparison to Alternatives
Youtheory's Beauty Collagen is not very unique compared to other beauty collagen supplements.
I do think it has the advantage of being NSF certified, which many supplements do not have.
Depending on where you buy it, Youtheory products can be of a similar price or even cheaper than some other popular collagen brands.
The Youtheory Collagen+ line of products offers more originality, with collagen products containing other vitamins and ingredients to support bone, hair, heart, joint, and skin health.
Other brands, like Vital Proteins, make beauty collagen supplements containing hyaluronic acid, a molecule that is useful for skin hydration and joint health when taken orally. (19)
Some beauty collagen supplements also include antioxidants, herbal blends, and probiotics to support their beauty claims.
There is also a greater variety in flavors available than the Youtheory Beauty Collagen Powder, which is currently only available in vanilla and unflavored.
Summary:
Youtheory's Beauty Collagen is NSF-certified and can be cheaper than other collagen supplements depending on the retailer. However, it provides a limited variety of flavors for users to enjoy and lacks other ingredients to support aging and health.
The Bottom Line
Youtheory's Beauty Collagen appears to be an average collagen supplement made with well-tested ingredients for quality.
The ingredients included in these collagen supplements impact the things they are claimed to do. However, the research suggests that you may receive a bigger benefit if you have any deficiencies or have lost some collagen already.
If you are getting Youtheory's Beauty Collagen, it would be a better deal to purchase it from one of their partner retailers to save some money.
Otherwise, I would choose a different brand if faced with buying these collagen supplements from the product website.
As usual, speak with your doctor before trying any new supplement to see if it is right for you.
A Word from Our RD
Aging is something that we all must experience, but I understand that people want to age gracefully.
There are behaviors that we can do to promote healthy aging, even without a supplement.
In your diet, choose whole foods (like fruits and vegetables) that provide antioxidants to protect against oxidative stress and free radicals.
Eating adequate protein can help maintain muscles, and foods containing healthy fats and whole grains can also fight against inflammation.
Remember to stay hydrated to maintain moisture in your skin and body, prioritizing water intake.
If you need help with a nutrition lifestyle to help you age well, a registered dietitian can help you meet your goals.
Avoiding smoking or excessive drinking can be effective in reducing how quickly you age.
Regular exercise appropriate for your skill level can also help keep joints and tendons healthy and strong.
If you have concerns about vitamin deficiencies leading to symptoms of aging or are experiencing joint pain and mobility issues, be sure to speak with your doctor.
They can do testing to assess for nutrient deficiencies and potential joint issues so that you can get the treatment you need.
Thanks for your feedback!
In a few words, please tell us how this article helped you today.
Please let us know how we can improve this article by selecting your concern below.
Thank You! We appreciate your feedback.
*
Please select at least one topic:
Please Note: We cannot provide medical advice. This feedback will help us continue improving your user experience on WellnessVerge.
Please Note: We cannot provide medical advice. This feedback will help us continue improving your user experience on WellnessVerge.
At WellnessVerge, we only use primary references for our articles, including peer reviewed medical journals or well-respected academic institutions.