WellnessVerge is reader-supported. We may earn a commission when you make a purchase through the links on this page. Learn more about our process here.
Why You Can Trust Us
Every article and review on WellnessVerge is thoroughly researched and fact-checked by licensed health professionals. Our editorial team is made up of registered dietitians and medical doctors.
Every piece of content is also medically reviewed to ensure accuracy and alignment with sound scientific evidence and medical consensus. We only use peer-reviewed journals and reputable medical sources to form our conclusions and recommendations.
We operate with total editorial independence, and our editorial policies ensure that your well-being comes first. Based on our rigorous research, we only recommend products that are worth considering. We always disclose any ads or partnerships with brands featured on our site.
Almased Review: Versatile, Proven Weight Loss Solution
Last Updated on August 30, 2023
The Almased meal replacement shake may help you lose weight quickly. The shake can also be used as a weight management tool made a part of your routine. But as with any weight loss solution, there are pros and cons to consider.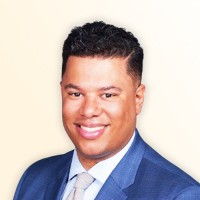 Medically Reviewed by
Anthony Dugarte, MD
Medical Reviewer
Anthony Dugarte, M.D., C.S.C.S. is a health and wellness writer and medical content reviewer. In addition to dedicating the last 8 years to medical research, Dr. Dugarte also has more than a decade of experience in strength and conditioning, nutrition, and rehabilitative exercise, as well as authoring and reviewing health and wellness-related content.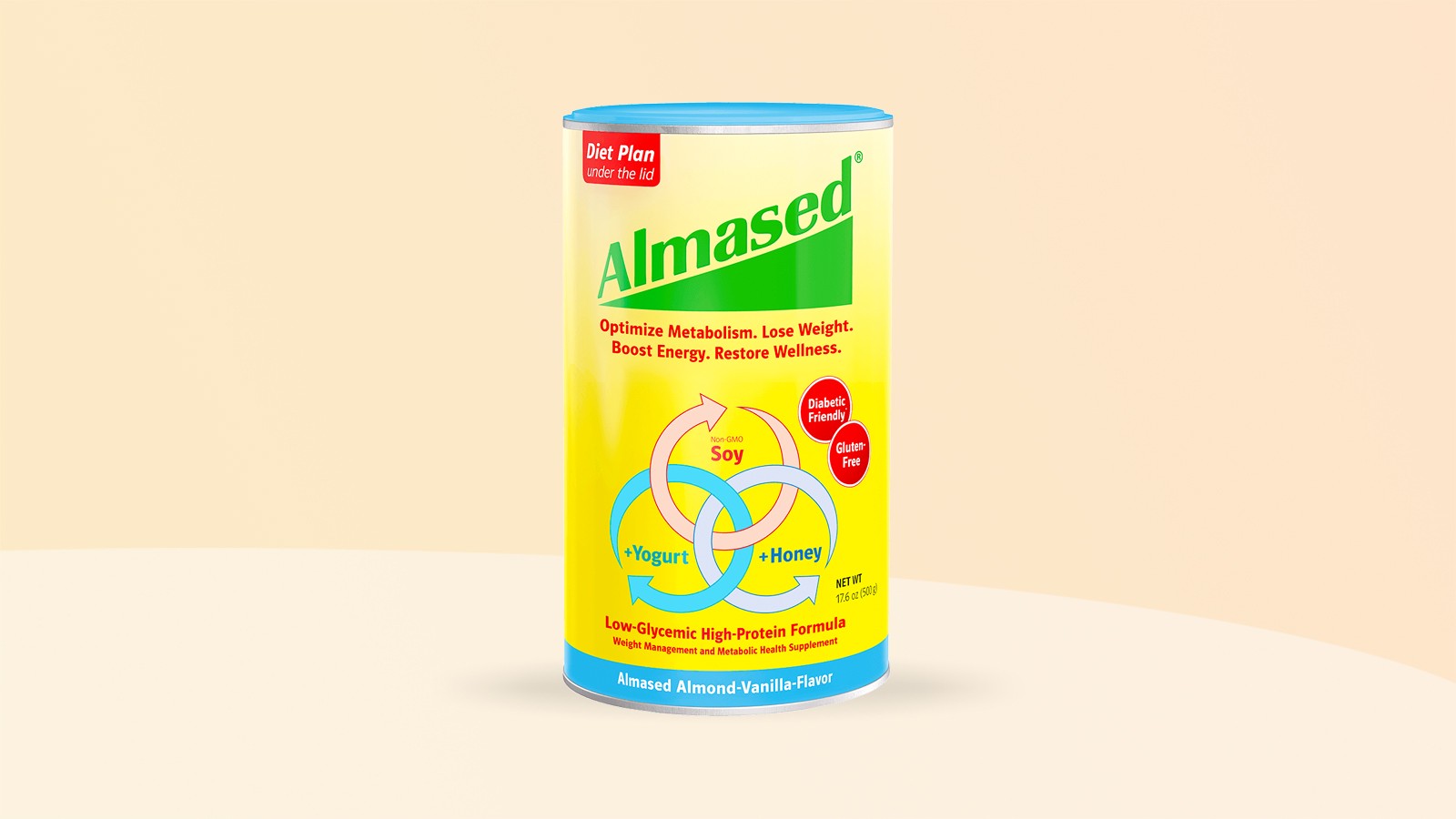 Key Insights (TL;DR)
Almased is a high-protein, low-glycemic meal replacement shake that helps you lose weight by creating a calorie deficit and managing it once it's lost.
Almased has been well-researched over many years. While not all studies were done on large groups, they show that Almased is effective in reducing body weight and body fat and providing other health benefits.
The Almased shakes can be used in many ways to complement your lifestyle or as part of the four-stage diet protocol. The diet protocol starts by replacing all meals with the shakes and gradually introducing more meals as you progress.
Almased may help you lose weight, but only when combined with a healthy diet and exercise.
While Almased provides a good amount of protein at 27 grams per serving, the diet protocol is calorie-restrictive and provides very little variety in nutrients. While it can help you achieve short-term weight loss, it may not be the healthiest way to go about it.
According to customer reviews on Amazon and CVS, it is evident that many people are finding success using Almased for weight loss and weight management.
What also stands out based on reviews is that Almased was used in many different ways, making it versatile and customizable to many lifestyles.
What to Like About Almased
Almased is well-studied, with scientific evidence supporting its effectiveness as a weight loss solution.
The shake is high in protein and has a low glycemic index.
It does not contain any artificial fillers, flavors, colors, added sugars, or preservatives.
There are a variety of ways of using the shake for weight management.
Important Considerations
The diet protocol is calorie-restrictive with little nutrient variety, which could make it challenging to stick to for some.
Many reviewers state that the neutral taste of Almased makes it easy to drink. However, as to be expected, not everyone liked it and could not continue using the product.
It is recommended to add 1 to 2 teaspoons of olive oil, flaxseed oil, or walnut oil to ensure an adequate supply of essential fatty acids.
Almased at a Glance
Maintaining a healthy body weight is essential to overall health, and it can help prevent and control many related diseases and conditions.
Research has found that lifestyle modifications that lead to an energy deficit, such as diet and physical activity, are considered the cornerstones of weight management. (1)
While a calorie deficit can be achieved in multiple ways, it can be challenging to achieve with a busy lifestyle and lack of time or guidance. Meal replacement shakes, like Almased, aim to make weight loss easier.
Almased is a high-protein meal replacement shake and a diet protocol that supports weight loss and weight management by optimizing metabolism and burning fat. The supplement was first developed in Germany in the 1980s by the holistic therapist Hubertus Trouillé.
Almased can be mixed with water, skim milk, or unsweetened almond milk to create a shake. Each shake contains:
Calories: 180
Fat: 1 g
Carbohydrate: 15 g
Protein: 27 g
Total Sugars: 15 g
It also provides an array of vitamins and minerals and essential amino acids (proteins you can only get through your diet).
Almased is designed to have a low glycemic index. The glycemic index measures how quickly food causes our blood sugar levels to rise. Almased causes a low rise in blood sugar, making it a good option for individuals trying to manage their weight.
The shake is available in Original and Vanilla-Almond flavors, providing the same nutrition profile. Almased has a neutral taste, meaning it does not taste good or bad. Depending on your diet protocol, it can be flavored with spices such as cinnamon, nutmeg, or fruit.
The Almased Protocol Diet Plan
The four-stage diet plan incorporates Almased shakes as meal replacements. The stages start very restrictively and then gradually allow the shakes to be substituted for meals.
1. Starting Phase
When you begin with an Almased diet plan, you'll drink three shakes daily for each meal.
Alongside the three shakes a day, the protocol also recommends drinking homemade vegetable broth or 100% vegetable juice, ideally low in sodium. You will also need to drink at least 64 oz of water daily.
This initial stage should last anywhere from 3 to 14 days.
2. Reduction Phase
The Reduction Phase includes two Almased protein shakes and one daily meal. Limiting snacking during this phase and consuming fruit and carbohydrates in moderation is also recommended.
The protocol recommends maintaining this phase until you reach your desired weight loss goal. Similar to the previous phase, this one requires strict adherence to a regimen.
3. Stability Phase
The Stability Phase of the Almased diet allows for two healthy meals per day and one meal replacement shake for the third meal, preferably at dinner.
Your two solid meals should contain a lot of proteins and vegetables and be low in carbohydrates.
The company recommends following the Stability Phase for the same length as the previous reduction phase but for at least 4 weeks.
4. Life Phase
The Life Phase is considered an ongoing regimen or weight maintenance plan. After completing the first three phases, you can continue your previous routine and have one shake daily as a replacement for lunch or dinner.
You can also have three solid meals daily, along with one Almased shake as a snack between meals.
How to Prepare Almased
The Almased meal replacement drink is simple to prepare, and customer reviews claim the neutral taste makes it easy to drink.
The diet protocol recommends blending 8 level tablespoons of Almased with 10–12 oz of bottled or filtered water and 1–2 tsp of oil, such as olive oil, flaxseed oil, or walnut oil.
Important Note: The company specifically advises against using tap water, as city water may contain chlorine, which may decrease the strength of the shake's ingredients.
If you prefer something other than water, you may use unsweetened almond, soy, or skim milk.
Almased should not be blended with hot liquids, as this can undermine the integrity of the product. According to studies done on Almased, the best weight loss results have been observed in individuals using only water.
Some customer reviews have noted that they enjoy flavoring the shake with cinnamon or calorie-free sweeteners such as stevia or monk fruit.
Recommended Amount per Shake
For a more specific dose based on your height, Almased published the following chart on its website:
| Height | For Weight Loss | For Supplement Use |
| --- | --- | --- |
| Up to 5'2" | 8 Tbsp + 10–12 oz liquid | 6 Tbsp + 8–10 oz liquid |
| 5'3" – 5'5" | 10 Tbsp + 13–15 oz liquid | 8 Tbsp + 10–12 oz liquid |
| 5'6" – 5'8" | 11 Tbsp + 14–17 oz liquid | 10 Tbsp + 13–15 oz liquid |
| 5'9" – 6'1" | 13 Tbsp + 16–20 oz liquid | 11 Tbsp + 14–17 oz liquid |
| 6'2" – 6'4" | 14 Tbsp + 18–21 oz liquid | 13 Tbsp + 16–20 oz liquid |
| 6'5" or taller | 16 Tbsp + 20–24 oz liquid | 14 Tbsp + 18–21 oz liquid |
Research Behind Almased's Main Ingredients
Almased is made from soy, probiotic yogurt, and raw honey. The product is enriched with vitamins and minerals and contains additional protein in the form of various amino acids. Here is what current research shows on Almased's three main ingredients:
Skim Milk Yogurt Powder
Skimmed milk yogurt powder is made from fresh milk that has been cultured, pasteurized, and then spray-dried. The skim milk yogurt powder in Almased provides protein for maintaining muscle mass and probiotics to help support digestion.
Studies found that yogurt consumption was associated with lower body mass index (BMI), lower body weight, smaller waist circumference, and lower body fat. (2) However, more research would be needed to conclude that consuming skim milk yogurt powder can promote sustainable weight loss.
Soy Protein Isolate
Soy protein isolate powder is made from soybean flakes that have removed fat, sugar, and dietary fiber. The product is then dehydrated and turned into a powder. Unlike other plant-based proteins, soy protein is a complete protein. This means it contains all the essential amino acids your body can't make and must get from food.
Studies have shown that consuming soy protein may help you feel fuller and reduce excess body fat. (3)
For example, a 6–12 month clinical trial reported that a high-protein diet provides weight-loss effects and can prevent weight regain after weight loss. (4) However, researchers concluded that longer studies (especially past the 12-month mark) are needed to confirm the safety and effectiveness of such diets.
In addition to potential weight loss benefits, soy contains isoflavones that may help lower blood sugar and cholesterol levels, according to one study. (5)
Raw Honey
Almased contains no added sugar — its slightly sweet taste comes from honey, making the product more palatable.
Recent evidence suggests honey may benefit obesity, weight, and related issues by improving fat-burning and blood sugar control due to its various components. However, researchers concluded that more long-term research is still needed to confirm honey's effects and how it works. (6)
Clinical Trials on Almased as a Whole
According to the manufacturer, Almased has 31 clinical trials. Below are a few studies with key highlights:
A 2007, 12-month study with 72 participants (pre and post-menopausal women) found that taking 50–100 grams of Almased helped reduce body weight, body fat, blood pressure, and blood sugar levels. The participants followed a calorie-restricted diet (1,000–1,500 calories) and received exercise guidance. (7)
A 2016, 24-week-long study on 83 overweight people showed that using meal replacements as part of a weight loss program led to better reductions in leptin (a hormone involved in appetite/weight regulation) and greater weight loss compared to just making lifestyle changes like diet and exercise alone. This suggests meal replacements may boost the effectiveness of lifestyle changes for improving metabolic health and promoting weight loss. (8)
A 12-month study from 2021 done on 463 participants found that taking meal replacements 1–3 times a day with diet and exercise changes may improve weight loss, blood sugar regulation, and metabolic health. (9)
In Summary
The three above-referenced studies on Almased have a common denominator — all participants followed a diet and exercise program. This suggests drinking a meal replacement like Almased alone may not lead to sustainable weight loss. For long-term results, it seems Almased works best when combined with an overall healthy lifestyle and diet.
Safety Considerations
The Almased beverage is generally safe for most individuals since it uses all-natural ingredients. The product is gluten-free and free of fillers, preservatives, and stimulants.
If you have low blood pressure, low blood sugar, diabetes, or a history of eating disorders, this diet protocol may not be appropriate for you. Also, Almased is not a suitable product for people with a soy allergy or for those who are lactose intolerant, as the product contains both of these ingredients.
Taking Alamsed is not advised if you're pregnant or breastfeeding.
It is best to work with your practitioner to ensure a calorie-restrictive diet suits your health goals.
Cost and Where to Buy
Almased is available at most major retailers but not directly from the brand's website. Here are the current prices from some popular retailers for a 17.6 oz canister:
| Retailer | Cost (17.6 oz) |
| --- | --- |
| Amazon | $33 |
| Walgreens | $32 |
| GNC | $40 |
| CVS | $32.49 |
| Rite Aid | $32.29 |
If Almased is something you intend on using, the best value for the price is available at Amazon, where you can get four canisters for $126, bringing your cost per canister down to $31.50. If you subscribe for recurring shipments, 4 canisters would cost $120 ($30/each).
How Almased Compares to Alternatives
Almased is different from many meal replacement shakes on the market in that it has been extensively researched over a span of many years. It is also unique in offering a diet protocol and various ways to incorporate the shake into most lifestyles to assist with weight management. However, other meal replacement shakes can be used in a similar way.
A quality meal replacement shake should offer a nutrient profile similar to a well-balanced meal. It should have a balance of carbohydrates, protein, and fats and should be free from artificial colors, flavors, and sweeteners.
The ideal shake should also provide 15–30 grams of protein per serving with a complete amino acid profile.
Additionally, a meal replacement shake should provide some fiber, which will enhance the health of your GI tract and help you feel fuller for longer. A shake that offers 3–5 grams of fiber per serving is ideal.
Here's how Almased compares to several popular plant-based options:
| | Almased | Raw Organic Meal Replacement Protein Powder | Ka'Chava | Orgain Perfect Meal Powder |
| --- | --- | --- | --- | --- |
| Serving Size | 50 grams | 37.5 grams | 60 grams | 70 grams |
| Calories | 180 | 150 | 240 | 250 |
| Protein | 27 g | 20 grams | 25 grams | 25 grams |
| Carbs | 15 g | 13 grams | 24 grams | 31 grams |
| Added Sugar | 0 grams | 0 grams | 5 grams | 5 grams |
| Fats | 1 gram | 2 grams | 7 grams | 7 grams |
| Fiber | 0.5 grams | 7 grams | 6 grams | 10 grams |
| Protein Sources | Soy protein isolate, skim milk yogurt powder | Organic pea protein, organic sprouted brown rice protein, and other organic grains, seeds, and legumes | Yellow pea protein, organic whole grain brown rice protein, and several other plant-based sources | Organic pea protein, organic brown rice, organic chia seeds |
| Other Ingredients | Raw honey | Fruits, vegetables, greens, probiotics, and enzymes | Fruits, vegetables, greens, probiotics, and enzymes | Fruits, vegetables, greens, probiotics, and enzymes |
| Vitamins and Minerals | Contains an added vitamin and mineral blend | Contains whole food vitamin and mineral blend | Contains an added vitamin and mineral blend | Contains whole food vitamin and mineral blend |
| Price | $32.99 | $29.59 | $69.95 | $66.99 |
| Cost per Serving | $3.30* | $2.11 | $4.66 | $4.79 |
| Standout Features | Well-researched, diet protocol | Certified USDA Organic, Non-GMO Project Verified, NSF Contents Certified, NSF Certified Gluten Free, and Certified Vegan | Extensive list of whole-food ingredients, including fiber, protein, omega-3 fatty acids, digestive enzymes, probiotics | Certified Organic, Non-GMO, Certified Plant-Based |
| Available Flavors | Original, almond-vanilla | Vanilla, chocolate, lightly sweet, spiced chai | Vanilla, chocolate, coconut acai, chai matcha | Vanilla, chocolate |
| Purchase | Shop on Amazon | Shop on Amazon | Shop on Ka'Chava | Shop on Amazon |
* Cost per serving of Almased varies based on your height and weight.
How to Pick
Best for weight loss: If you are looking for a meal replacement shake specifically formulated for weight loss, Almased is an effective, well-studied option. But it is low in fiber and fat, so it's best used for quick, short-term weight loss.
Best for weight management: All four brands could be used for this purpose, but Raw Organic, Ka'Chava, and Orgain are more nutritionally balanced, have higher fiber content, and could be a healthier solution long-term. However, Almased has been specifically formulated for weight management, which could provide better results confirmed by scientific research.
Best for nutrient-rich, convenient meals on-the-go: Raw Organic, Ka'Chava, and Orgain were not primarily designed for weight loss but to offer quick and nutritious meals for people with busy lifestyles. Although Almased could also be used for this purpose, it is very limited in nutrients and has low fiber content, so the other three brands are better in this case.
Best for organic ingredients: Raw Organic and Orgain are both certified organic. The cost per gram for both products is the same. You may pick one based on taste preference or nutritional profile that suits your lifestyle and goals better. Almased does not use organic ingredients.
Best for taste: Taste is often a dealbreaker for many people, determining the successful use of a product. We really like Ka'Chava for its taste, and many reviewers also praise Orgain's taste. These two are your best options if taste is your primary concern. Almased reviews on taste are very mixed. However, everyone's taste preference differs, so we recommend experimenting with several brands and deciding what you like best.
Thanks for your feedback!
In a few words, please tell us how this article helped you today.
Please let us know how we can improve this article by selecting your concern below.
Thank You! We appreciate your feedback.
*
Please select at least one topic:
Please Note: We cannot provide medical advice. This feedback will help us continue improving your user experience on WellnessVerge.
Please Note: We cannot provide medical advice. This feedback will help us continue improving your user experience on WellnessVerge.