Evidence Based Research
Our editorial team is made up of expert registered dietitians with extensive, real-world clinical experience who are highly trained in evaluating clinical research.
Noom Diet Review: Does It Work for Weight Loss?
Noom is a behavior change program with scientific evidence of its effectiveness for weight loss. This program is a good choice for those seeking support in making healthy lifestyle changes to achieve weight loss goals over time.
This page contains links through which we may earn a small commission should you make a purchase from a brand. Learn more about how we make money here.

Pros

Simple to use and easy to follow.
Inexpensive monthly cost.
Based on tried-and-true methods of weight loss.
Encourages consuming whole foods.

Cons

Calorie limits assigned by Noom may be too low for some people.
No meal plan included – you must meal prep and plan on your own.
Having foods classified by color can be confusing.
What Is Noom and How It Works
Noom is a diet program that focuses on weight loss through behavior change, mindset transformation, and stress management.
I tried the Noom program myself to see what it was all about.
Noom costs $59 a month or $199 for a one-year membership, but they often offer a 7- or 14-day free trial.
When you first go to the Noom website, you are directed to complete a short quiz about who you are and what general health issues you might have.
Then, to complete your sign-up and have access to the program, you have to download the Noom app onto your smartphone. It is compatible with both Android and iOS devices.
Everything takes place within the app after sign-up.
In the Noom app, you will find:
Daily prompts to log your food and exercise
Daily lessons
Calorie tracker
Exercise and step tracker
Weight tracker
Recipes
Private chat with your coach
Group chat with your support group
Noom contains an extensive library of articles about nutrition, stress management, exercise, behavior change, and mindset. To avoid overwhelm, content is broken down into short daily lessons that are informative and enjoyable to read.
Noom provides you with daily prompts to complete your lessons and gives you just enough "bite-sized" content to fill up your chosen number of minutes, and then you are done!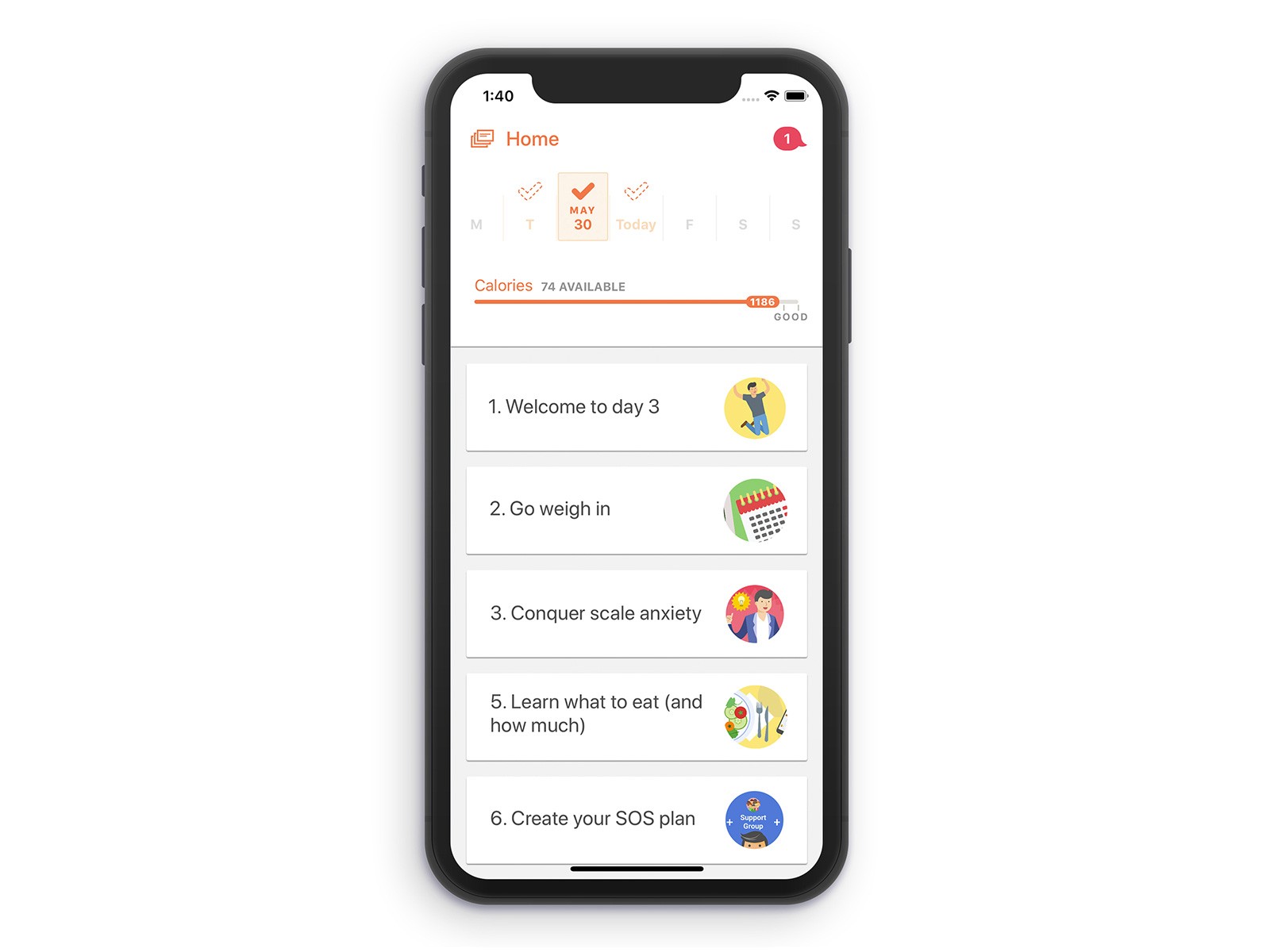 There are lessons that offer advice on making healthier diet and lifestyle choices as well as lessons that provide guidance on how to use some of the app's features.
The daily lessons are the foundation of the Noom program, with the goal of helping you to evaluate the habits and mindset blocks that have prevented you from being successful with weight loss in the past. This is part of what makes Noom stand out from its competitors.
When you begin the program, you are assigned a daily calorie limit and taught about nutrient-dense versus calorie-dense foods, which Noom classifies by color (red, yellow, and green). Going forward, you will be prompted to log what you are eating daily.
At the start of the Noom program, you are also assigned a personal coach who checks in on you periodically and provides support via an in-app, private chat room.
While these coaches are not all registered dietitians, they are health coaches accredited by the National Board of Health and Wellness Coaching.
After two weeks of using the program, you are invited to join a virtual support group of other Noom users. This group has a moderator who helps keep the group engaged.
Noom states that their program lasts for 16 weeks, but you can continue to use the app and receive support for as long as you continue to pay for access.
Overall, Noom is a well-rounded program that addresses all of the important aspects of weight loss, including diet, exercise, stress, sleep, accountability, support, and mindset.
Noom Diet's Scorecard
The Noom diet program was objectively evaluated by a dietitian based on the following criteria:
| | |
| --- | --- |
| Evidence-Based: | 4/5 |
| Easy to Follow: | 4/5 |
| Customization: | 5/5 |
| Sustainability: | 3/5 |
| Accountability: | 4/5 |
| Safety: | 5/5 |
| Value for the Price: | 4/5 |
| Overall Rating: | 4.1/5 |
Foods to Eat and Avoid
Although you can technically eat whatever foods you want as long as you stick with your calorie goals on the Noom program, they strongly encourage you to choose more "green" foods over "yellow" or "red" foods.
While another key aspect of Noom is learning to eat a healthier diet, the classification of foods by color can be confusing to some. Understanding the rationale behind why each food belongs to a particular color category can help to bring you some clarity.
Green
Green foods are generally accepted as healthier foods in the program, as they are higher in nutrients (nutrient-dense) and lower in calories.
Examples of foods categorized as green include:
All fresh fruits: apples, pears, watermelon, grapes, strawberries
All fresh vegetables: spinach, broccoli, tomatoes, cucumbers, green beans
Whole grains: oatmeal, whole grain bread, brown rice
Fat-free dairy products: yogurt, milk, cheese, plant milks
Yellow
Yellow foods are meant to be consumed with portion sizes in mind. This category mainly consists of foods that have a moderate number of calories and nutrients, such as lean proteins and starches.
Examples of yellow foods include:
Lean protein: chicken, salmon, eggs, tofu
Starches: quinoa, tortillas, beans
Vegetables: olives, avocados
Low-fat dairy: milk, yogurt, cheese
Red
Red foods, while allowed on the program, should be limited. Foods in this category are higher in calories (calorie-dense) and mostly less healthful.
However, some foods in this category, like nuts and seeds, are very healthy. These foods contain a lot of nutrients, but they also contain a high number of calories, so they are considered both nutrient- and calorie-dense.
These healthy foods should be eaten in smaller quantities by those who are trying to lose weight. This is why they are included in the "red" category, along with foods like donuts and pizza.
Examples of red foods include:
All sweets: donuts, pastries, cakes, candy
High-fat meats: beef, bacon, salami
Oils and fats: nuts, seeds, olive oil, ranch dressing
Junk food: pizza, hamburgers, French fries, potato chips
As you log your meals day-to-day, the app provides feedback on your diet choices, encouraging you to eat as many green foods as possible.
You can eat convenience foods on Noom, but you will have more long-term success if you learn to prepare fresh, healthy meals on your own.
Summary
You can eat any food you want on the Noom program, as long as you stay within your calorie goals. However, eating more "green" foods and reducing the number of "red" foods in your diet can help you lose weight and improve your health.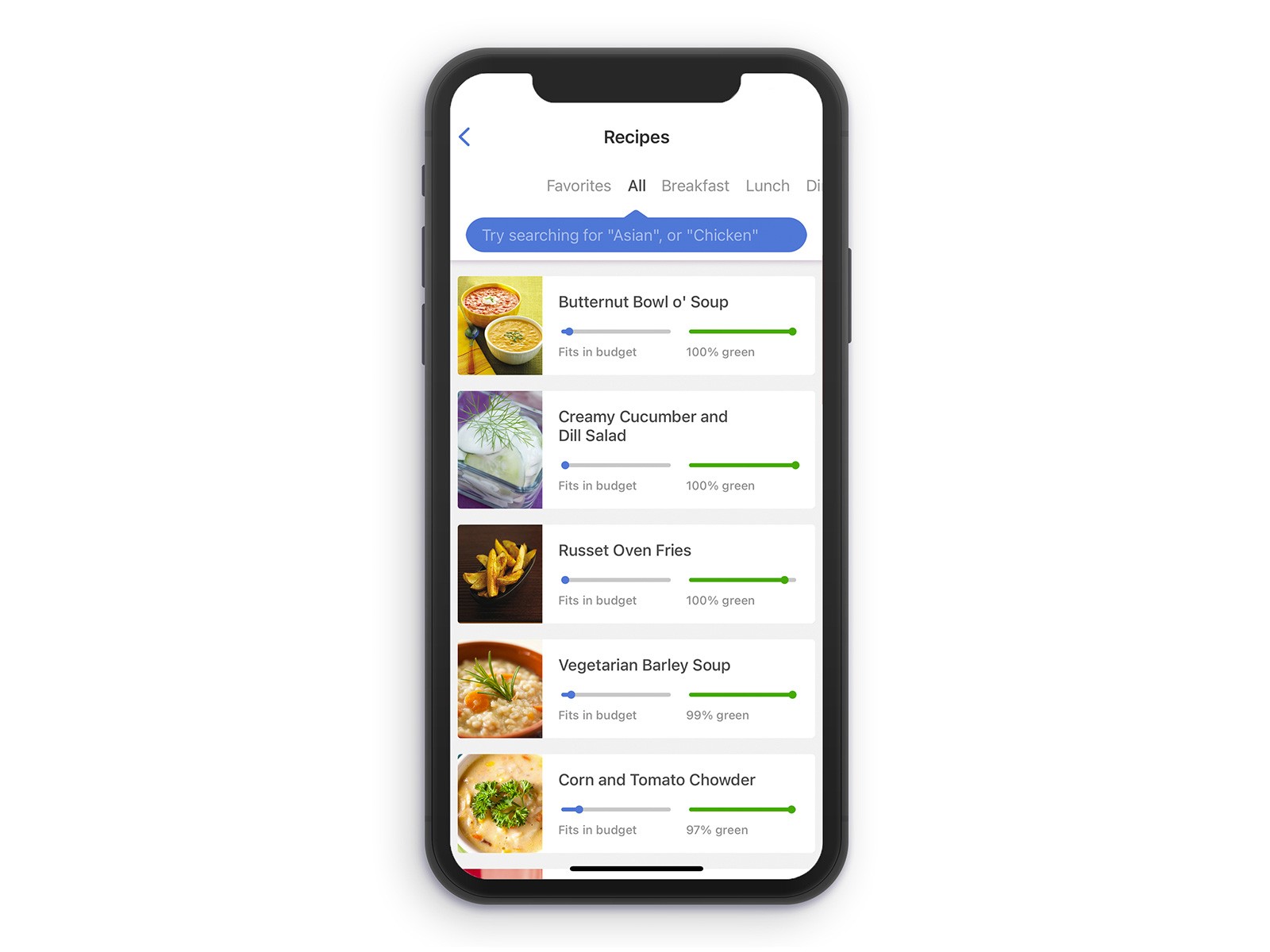 Calorie Customization
While Noom is a calorie tracking program, it does not allow you to modify the exact calorie limits that you are assigned, as these are based on the personal health data that you provided at the start of the program.
However, your daily calorie limit can be adjusted by choosing the speed at which you'd like to lose weight. You can choose between options to lose weight quickly, like a "cheetah," moderately like a "rabbit," or slowly, like a "turtle."
This provides less calorie customization than some other programs but is part of Noom's method for weight loss.
You also cannot view your daily macronutrient totals (carbohydrates, protein, and fats) from the food that you have tracked in the app.
Can It Help You Lose Weight?
Unlike many alternative weight loss programs, there are a handful of scientific studies on the effectiveness of the Noom program.
In a 2020 study with over 14,000 adult participants, researchers evaluated using Noom for weight loss as part of a diabetes prevention program. Weight loss results were observed at 16 and 52 weeks.
The study found that older adults were more likely to lose weight when compared to younger adults.
However, the amount of time spent using the app was significantly associated with weight loss. This means that the more time a participant dedicated to using the app, the greater their weight loss results.
After one year of using the app, participants lost between 5–8% of their body weight.
This may not seem like much, but for those who are overweight or obese, losing as little as 5% of their body weight can significantly reduce their risk of many preventable chronic diseases.
A similar 2017 study compared over 7,500 women using Noom versus those just trying to lose weight on their own.
After three months, those using Noom lost an average of 1.92 more BMI points (the equivalent of about 5–8 pounds) compared to those not using the program.
There was a decrease of 2.59 BMI points (or 10–12 pounds) for every 10% increase in adherence to the program.
Summary
Based on two scientific studies, Noom has been shown to be an effective weight loss program for those who engage with the app and closely follow the program guidelines.
Sustainability
Noom is simple to follow and easy to understand for most people. Calorie tracking is a straightforward and effective way to lose weight, but it may become tedious over time.
The fact that Noom doesn't make you completely eliminate any foods, while encouraging you to make better choices, makes it a well-balanced plan. This is a definite benefit to the program.
Noom is also customizable for any dietary pattern or restriction, including vegetarian and vegan. The program's flexibility makes it practical for people with conditions such as diabetes, high blood pressure, and heart disease—you can eat whatever foods work best for you.
If you need help coming up with healthy recipe ideas, there are many recipes available on the app. You can also purchase a 2-week meal plan at an additional cost.
However, it may be too restrictive in its calorie recommendations.
For example, when I signed up for the program, it recommended that I consume 1,300 calories a day on the moderate, "rabbit speed" selection. I found it very difficult to limit myself to this number of calories.
In my opinion, some of the calorie limits recommended by Noom are far too low. The "cheetah" and "rabbit" speed options should probably be avoided, this way you are not given calorie limits that are too low and ultimately unsustainable.
With any weight loss diet, if the calorie level is too low to provide you with the satiation (feelings of fullness) and the daily energy that you need, it will likely not be realistic to follow long term.
However, no calorie tracking program is sustainable forever, so it is important to move toward maintaining your weight loss by eating a healthy, balanced diet.
Summary
Noom teaches you healthy behaviors that can improve your overall diet and lifestyle. Turning these into life-long habits will allow you to maintain your weight without always needing to use a calorie tracking app.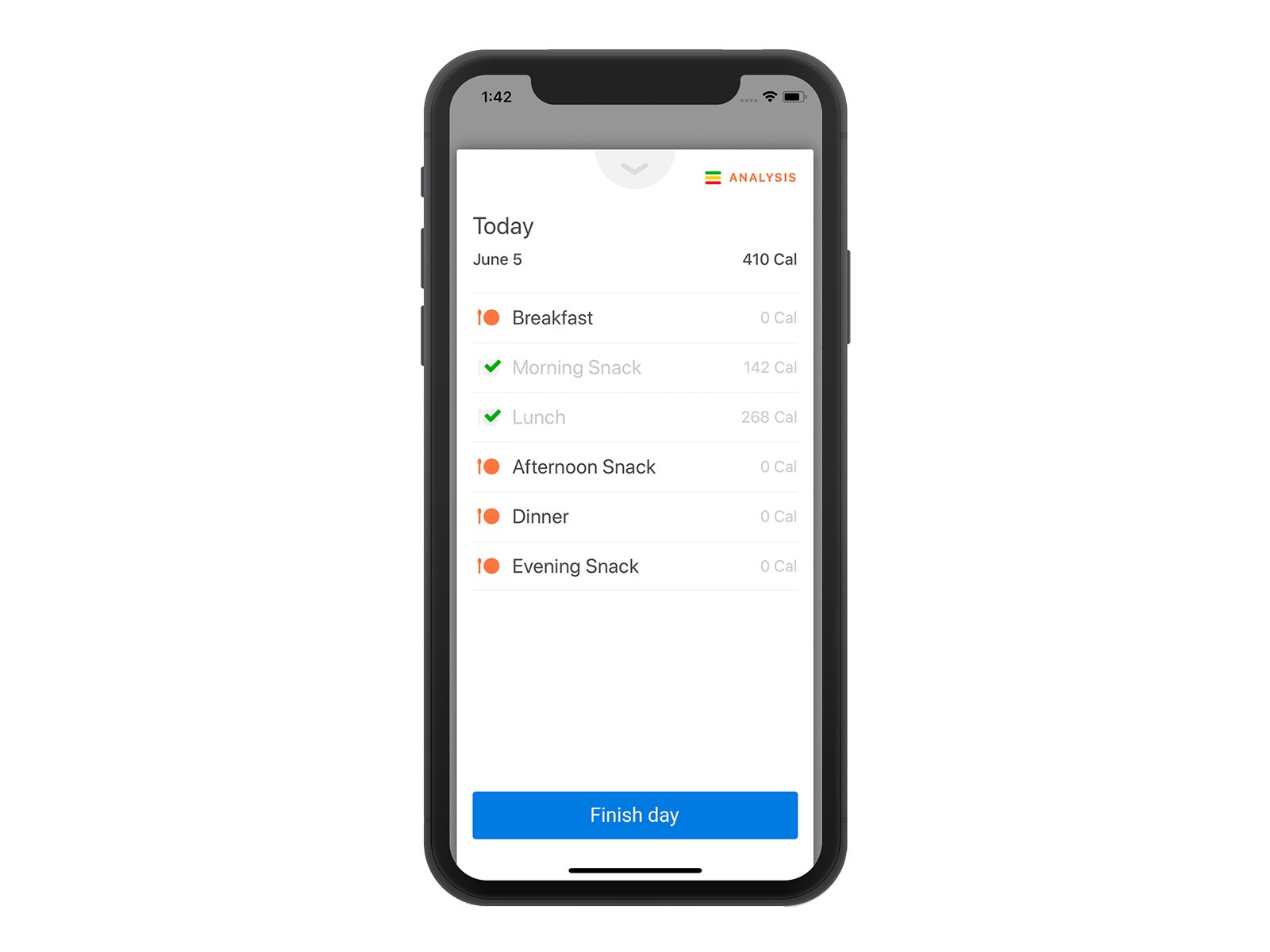 Accountability
Noom provides accountability through private coaching as well as a Noom member support group.
As previously mentioned, Noom coaches are board-certified health coaches, but they are not often trained professionals in nutrition. Noom does employ some registered dietitians as coaches, so while unlikely, you could end up with one!
In my experience with Noom, I found my personal coach to be less attentive than I would have liked.
It seemed that she would only check in on her clients once a day, so if I had a question or a problem I wanted to discuss, I would not receive a response for at least 24 hours. A single conversation could take days, even if I replied to her immediately.
The group coaching aspect was more helpful to me. I enjoyed getting support from the other users and found that this was a more immediate way to receive feedback or discuss concerns.
The Noom app also encourages weigh-ins to track your progress, which can be performed weekly or more often, whichever you prefer.
Tracking your progress is an important part of staying accountable.
A 2016 study found that the more dieters tracked their food and logged into an app, like Noom, the more weight they lost.
Summary
Noom offers a fairly good amount of virtual accountability through a combination of one-on-one coaching, a Noom member support group, and progress tracking tools.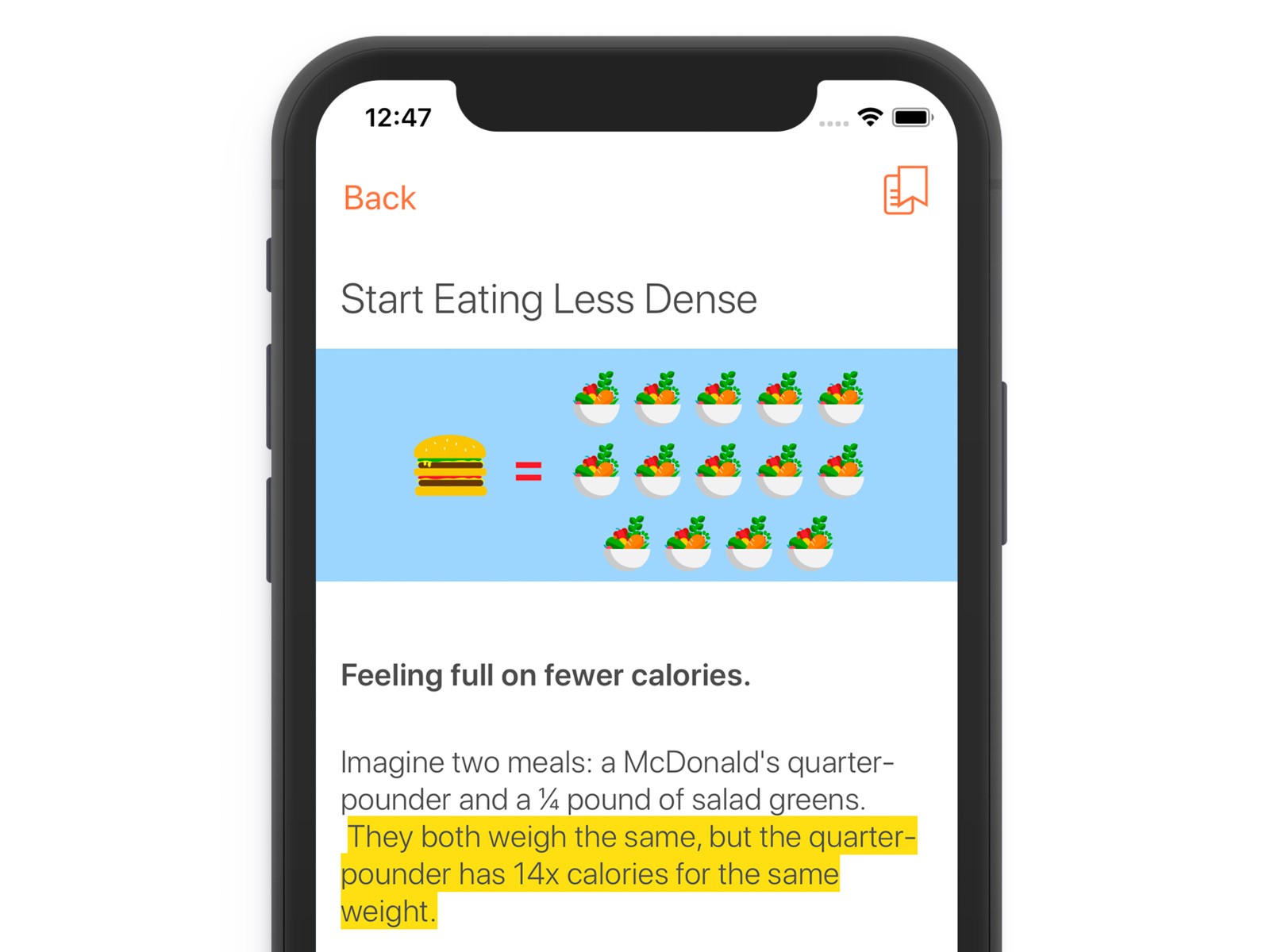 Safety
There are no safety concerns associated with the Noom program for most people.
Those with a history of disordered eating or any kind of eating disorder should avoid Noom.
Looking at food as "good" or "bad" and counting calories can be triggering for some.
Noom is only intended for adults over the age of 18.
Pregnant and lactating women should avoid restricting calories and therefore should not follow the Noom program.
Always speak to your doctor before starting any diet program.
Summary
There are no safety concerns with using Noom for most people, but you should speak to your doctor before starting any new diet.
Cost
Noom costs $59 a month or $199 for a one-year membership. The one-year membership is the more cost-effective option, amounting to less than $17/month, but it must be paid in full at the time of purchase.
Noom offers good value, providing members with a lot in terms of engagement, educational content, and support at a reasonable price.
While Noom is typically marketed as a 16-week program, the amount of time you have to stay on the program depends on how much weight you need to lose.
Often, Noom offers a 7-day or a 14-day free trial at sign-up, so you can try the program before you commit.
Summary
Overall, Noom is a well-designed program at a good price point compared to other weight loss programs on the market.
How Noom Compares to Alternatives
Noom is more expensive than some other basic calorie tracking apps, many of which have free options, like MyFitnessPal or MyNetDiary.
Unfortunately, most options that are more affordable come without the features that are offered by Noom.
In fact, there isn't really another mindset and psychology-based program available on the market that is exactly like Noom.
WW (formerly Weight Watchers) is a weight loss program with some similarities to Noom. Both programs focus on improving diet quality but ultimately rely on calorie restriction to induce weight loss.
Many of the topics discussed at WW meetings are related to mindset and the behavioral aspects of weight management. Like Noom, their website has articles on these topics.
However, members of Noom receive more regular guidance and support, with daily lessons and access to both personalized coaching and an active support group within the app.
While some programs offer content within their app to educate and inform members, there is no "curriculum" to follow like there is with Noom.
Having tried both WW and Noom, I personally found Noom to be more engaging.
Summary
There are other calorie tracking apps and similar programs available, but these alternatives don't provide the same amount of content or the level of engagement offered by Noom.
Frequently Asked Questions About the Noom Diet
What does Noom actually do?
Noom involves more than just calorie counting and eating a healthy diet. Noom is different from other diets in that it addresses psychological and lifestyle barriers to weight loss and maintaining that weight loss long term. It also offers personalized support inside the app from board-certified health coaches and other Noom members.
What foods can you eat on Noom?
You can eat anything you want on Noom, but they encourage you to eat more of what they call "green" foods (fruits, vegetables, and whole grains) and limit "red" foods, which are generally higher in calories.
Do you need to exercise on the Noom diet?
Should anyone avoid Noom?
While the Noom program can be used by most people, pregnant or lactating women or those with a history of eating disorders should avoid Noom. Always speak to your doctor before starting any diet program.
What does Noom cost?
Noom costs $59 a month. A one-year membership is $199, which amounts to less than $17/month but must be paid in full upfront. Often, they offer a 7-day or a 14-day free trial at sign-up.
How much weight can you lose with Noom?
The amount of weight you can lose with Noom varies based on your starting weight and compliance to the program. In a large study, most Noom members lost between 5–8% of their body weight in one year.
The Bottom Line
Following the Noom program with 100% compliance results in weight loss for most people.
There are scientific studies to support the effectiveness of Noom in helping people lose weight and improve their diet quality.
As a dietitian, I believe that tackling your thoughts and feelings around food is key to achieving weight loss that is sustainable long term. This is the psychology piece that most weight loss programs are missing.
However, addressing the behavior around your eating habits is a significant component of the Noom program.
Ultimately, most people can lose weight by adhering to any diet that involves calorie restriction.
Noom is a good choice because of the mindset management strategies that are offered alongside healthy eating education.
Being able to choose how much time you want to dedicate to daily lessons in the program also makes it easy for busy people to fit Noom into their day.
The more often you track your diet and exercise, read the articles, and engage with the in-app support system, the more likely you are to lose weight.
If you are motivated to follow the program and don't mind interacting with the app on a daily basis, Noom can assist you in making healthy lifestyle changes.
Healthy diet programs can be helpful in teaching you new habits and kickstarting weight loss. However, learning to eat according to your body's hunger cues and discovering the foods that work best for you are essential for maintaining your weight loss long term.
Thanks for your feedback!
In a few words, please tell us how this article helped you today.
Please let us know how we can improve this article by selecting your concern below.
Thank You! We appreciate your feedback.
*
Please select at least one topic:
Please Note: We cannot provide medical advice. This feedback will help us continue improving your user experience on WellnessVerge.
Please Note: We cannot provide medical advice. This feedback will help us continue improving your user experience on WellnessVerge.
At WellnessVerge, we only use primary references for our articles, including peer reviewed medical journals or well-respected academic institutions.