WellnessVerge is reader-supported. We may earn a commission when you make a purchase through the links on this page. Learn more about our process here.
Why You Can Trust Us
Every article and review on WellnessVerge is thoroughly researched and fact-checked by licensed health professionals. Our editorial team is made up of registered dietitians and medical doctors.
Every piece of content is also medically reviewed to ensure accuracy and alignment with sound scientific evidence and medical consensus. We only use peer-reviewed journals and reputable medical sources to form our conclusions and recommendations.
We operate with total editorial independence, and our editorial policies ensure that your well-being comes first. Based on our rigorous research, we only recommend products that are worth considering. We always disclose any ads or partnerships with brands featured on our site.
Amberen vs. Estroven: Which One Is Better for Menopause Relief?
Amberen and Estroven are supplements that claim to help relieve the symptoms of menopause. This article will help you decide which one is best for you.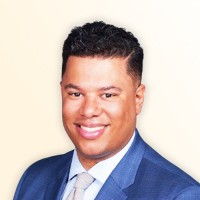 Medically Reviewed by
Anthony Dugarte, MD
Medical Reviewer
Anthony Dugarte, M.D., C.S.C.S. is a health and wellness writer and medical content reviewer. In addition to dedicating the last 8 years to medical research, Dr. Dugarte also has more than a decade of experience in strength and conditioning, nutrition, and rehabilitative exercise, as well as authoring and reviewing health and wellness-related content.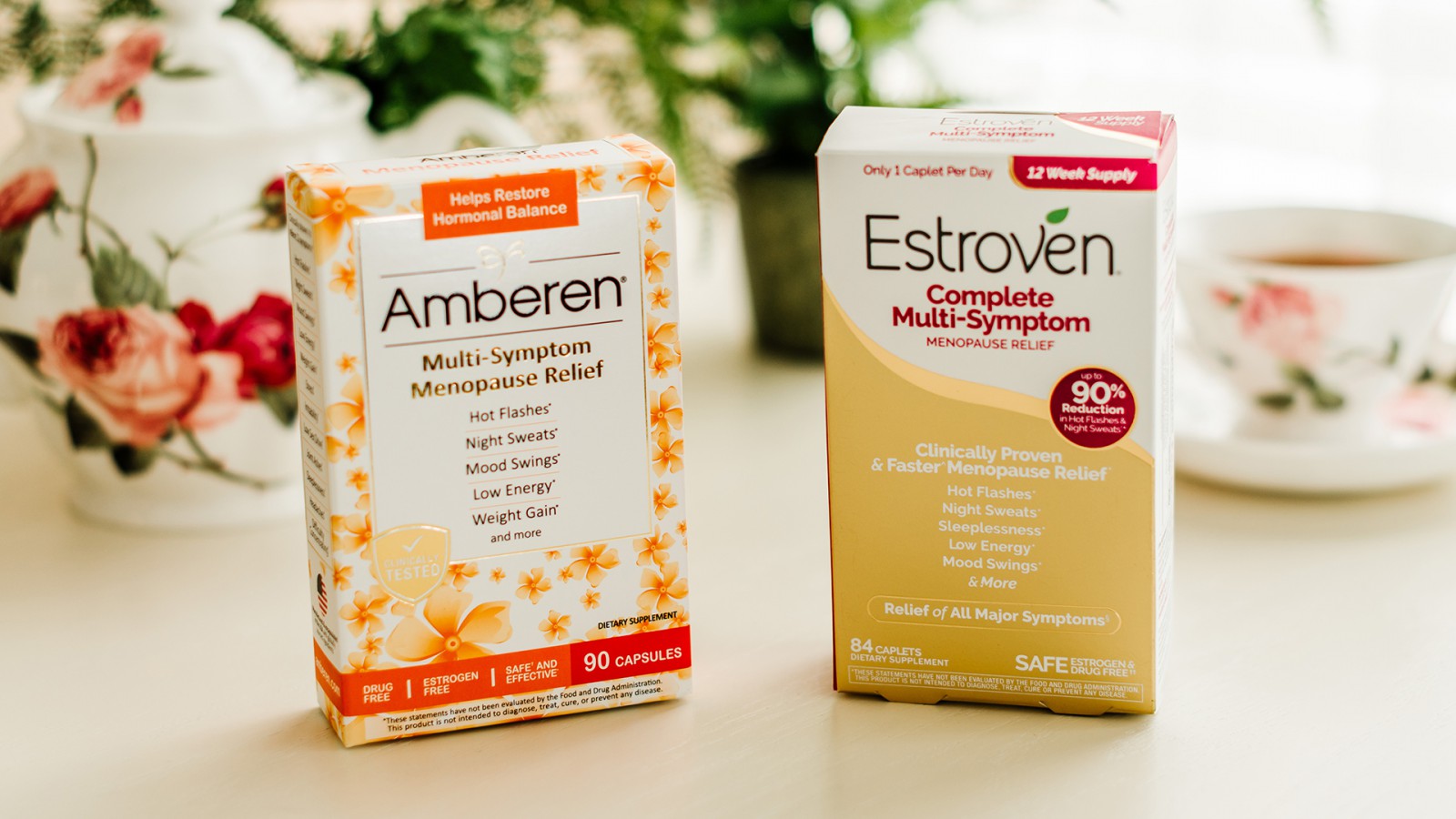 Menopause can be a challenging time in a woman's life. It's defined as the point when she has gone 12 months without menstruation and generally happens in her 40s or 50s.
The life stage prior to menopause is called perimenopause, the beginning of which may be signaled by symptoms like hot flashes, night sweats, sexual disinterest, and anxiety.
Perimenopause normally begins after age 35 and usually lasts for several years.
The symptoms of menopause can cause life-altering distress for women, which is why there is a huge market for both conventional medicines and alternative supplements.
Two popular, over-the-counter, alternative supplement brands for menopause are Amberen and Estroven.
Both supplements claim to treat the most common symptoms of menopause.
This article will help you gain the necessary knowledge about these products, so you can prepare yourself for a trip to the doctor or gynecologist to discuss which treatment may be best for you.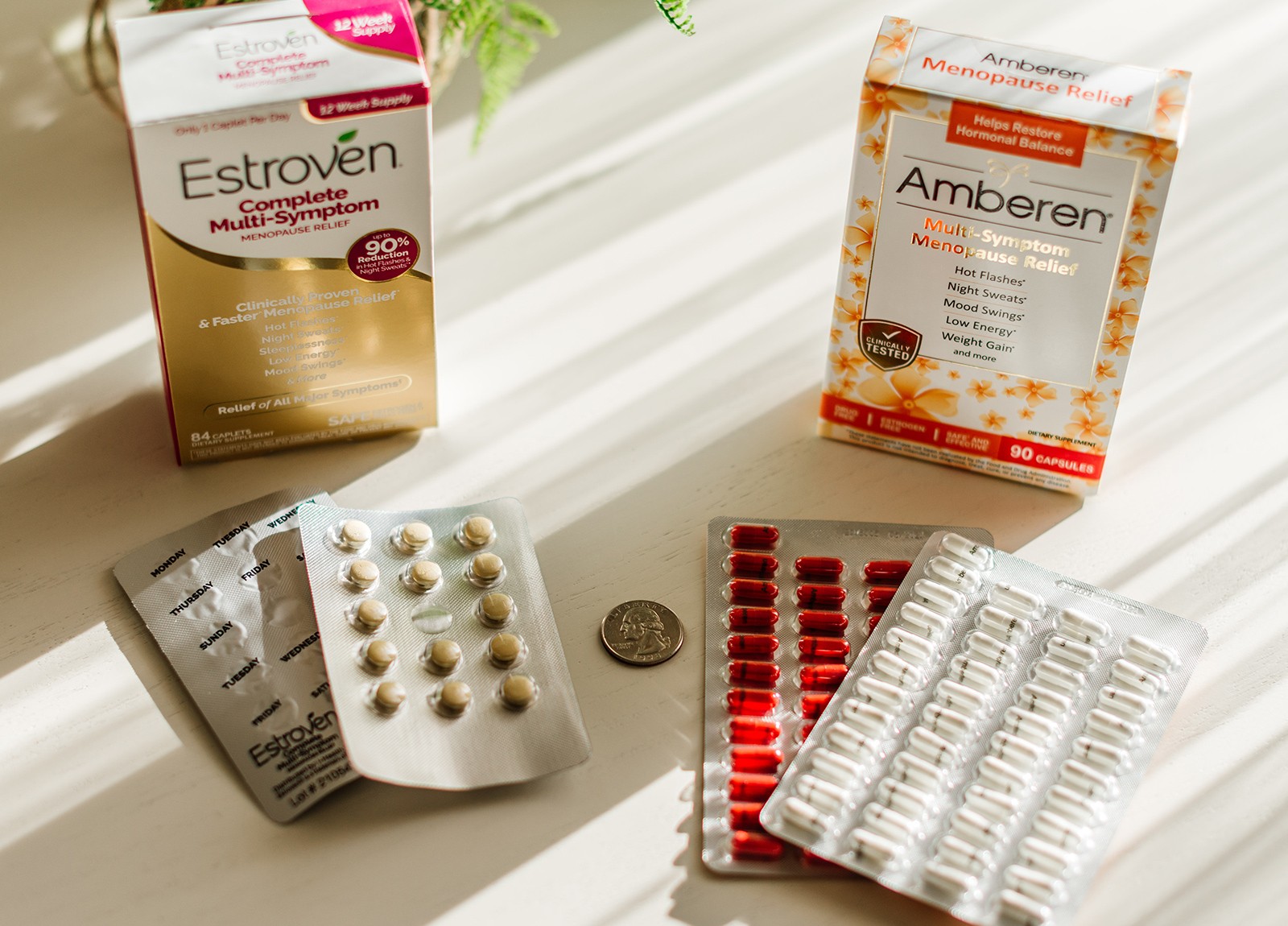 Quick Facts
| | Amberen | Estroven |
| --- | --- | --- |
| Ingredients | Ammonium Succinate, Calcium Disuccinate, Monosodium L-Glutamate, Glycine, Magnesium Disuccinate, Zinc Difumarate, Tocopheryl Acetate (vitamin E), (400 mg total of the proprietary blend) | Rhapontic Rhubarb Extract registered as ERr 731 (4 mg) |
| Symptoms claimed to alleviate | Hot flashes, night sweats, mood swings, irritability, anxiety, fatigue, low sex drive, muscle/joint pain, difficulty sleeping, headaches | Hot flashes, night sweats, mood swings, irritability, anxiety, fatigue, low sex drive, muscle/joint pain, vaginal dryness, occasional bladder leakage |
| Price | $30 for a 30-day supply, or $1/day | $20 for 28 caplets, or 71 cents/day |
| Mechanism of action | Likely works with the endocrine system to restore hormone balance | Likely mimics hormones |
| Research | Backed by at least 4 studies specifically on Amberen | Backed by several studies performed on ERr 731 |
| Safety | Only short-term studies available | One long-term (2-year) study available, with very few adverse effects reported since 1993 |
What Is Amberen Menopause?
Amberen Menopause is a supplement that has been tested in several clinical trials backing its claim to ease symptoms of menopause.
Amberen's label does not list soy, hormones, or herbal ingredients and works by restoring hormone balance.
The product claims to ease symptoms within 30 days but encourages customers to try it for at least 90 days for the best results.
Amberen makes two similar products, Amberen Menopause and Perimenopause. The Amberen product covered in this article is Amberen Menopause.
The active ingredients for Amberen are succinates, amino acids, minerals, and vitamin E. The most relevant ingredient of these appears to be ammonium succinate.
The total combined amount of these ingredients is 400 mg per dose.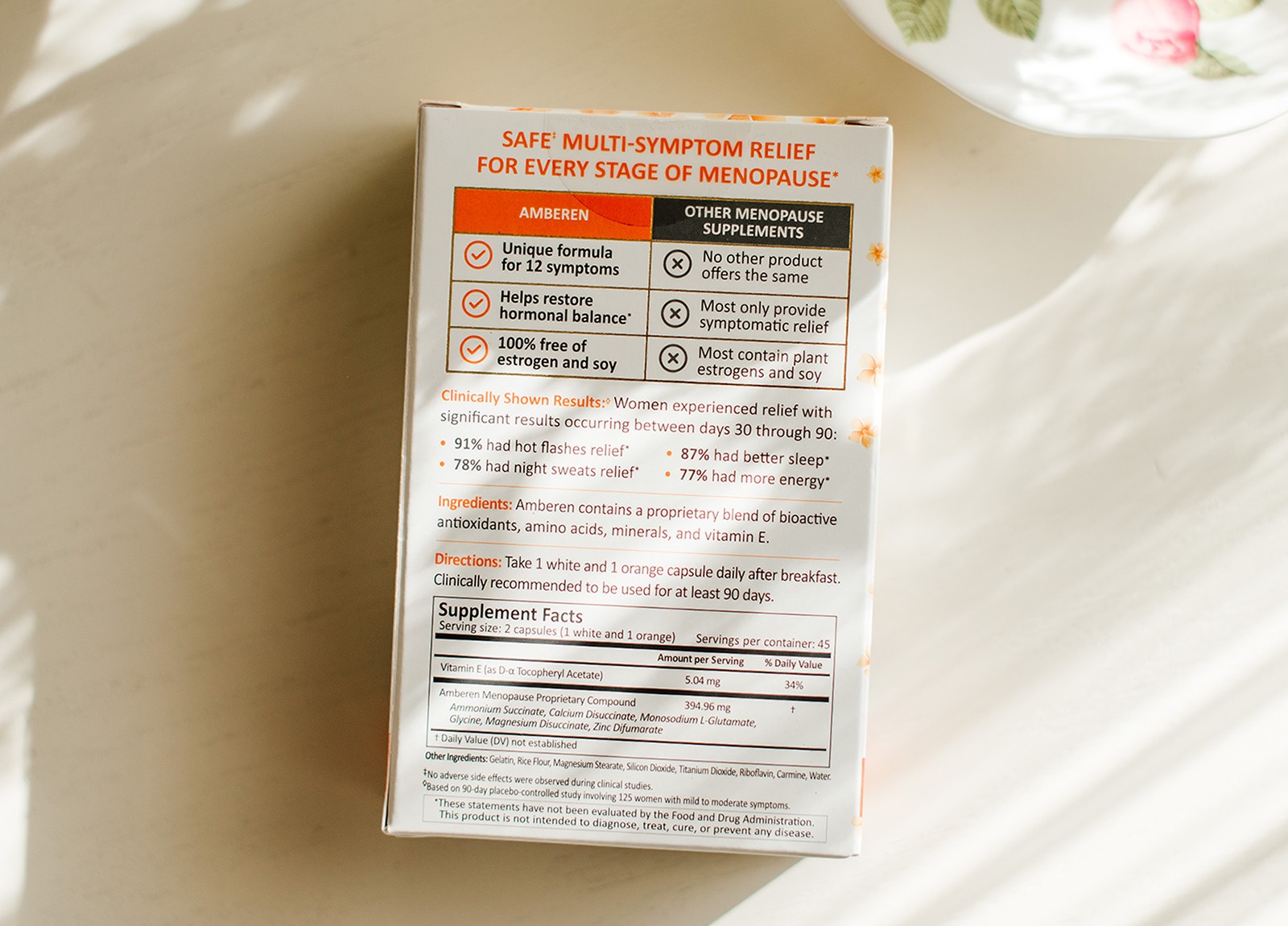 Amberen does not indicate how much of each ingredient is in the supplement, making it impossible to compare Amberen's ingredients to effective doses in studies.
There is no seal on the product to indicate third-party testing for purity.
The website's clinical history page shows a timeline of studies involving Amberen's ingredients.
However, many of the studies listed could not be found with a scholarly search. A company representative told me that the only information available was already on their website.
What Is Estroven Complete Multi-Symptom Menopause Relief?
Estroven Complete Multi-Symptom Menopause Relief is an over-the-counter, plant-based supplement with only one ingredient: Rhapontic Rhubarb Extract or ERr 731.
Estroven also claims to ease some of the most common symptoms of menopause, though their list of symptoms is slightly different than Amberen's.
The brand makes 6 other menopause supplements, but the ingredients in those products are different and won't be covered in this article.
Estroven does not carry a third-party testing seal to verify its ingredients or purity.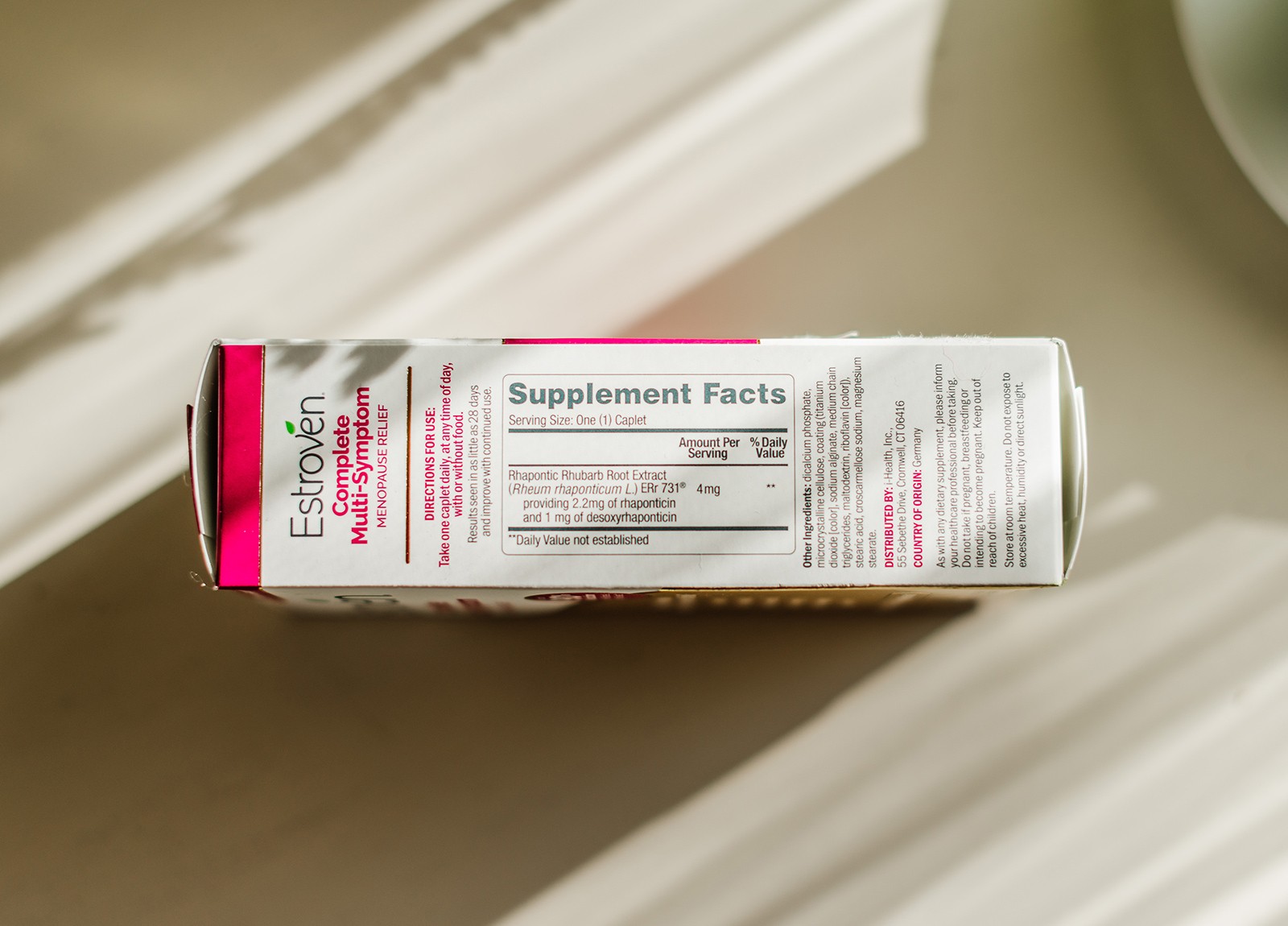 ERr 731 has been tested in several studies. Variations of Rhapontic Rhubarb Extract have been used in Germany since the 1950s, but ERr 731 was standardized and commercially registered there in 1993.
The compound was introduced to the United States under the brand Estroven in 2012.
While its mechanism of action is not completely understood, ERr 731 seems to work by mimicking hormones that are reduced in women during perimenopause. (1)
Comparison of Effectiveness
Amberen
A five-week study in 2007 using Amberen involved both mice and a randomized control trial of 70 women. (2)
The mice showed improvements in skin, coat, and fertility. The human portion of the study showed sharp increases in blood serum estradiol and favorable improvements in standardized questionnaire scores.
A randomized controlled study in 2016 involving 125 women demonstrated significant improvements in hormone levels, symptoms, anxiety. In addition, some women experienced decreases in waist circumference. (3)
A 2019 review pooled the information from two identical 90-day studies, with a total of 114 postmenopausal women in the treatment group. (4)
Significant improvements were reported in 15 menopausal symptoms during the study for subjects who took Amberen.
I did notice that one of the researchers was disclosed as a paid staff member of Biogix, Inc, which owns the rights to Amberen.
Summary:
At least four studies show that Amberen has good efficacy potential. Consumers should be aware that there may be conflicts of interest between the product and the researchers in charge of the studies.
Estroven
Several studies back the claims of the single ingredient ERr 731 as a treatment for menopause symptoms.
In 2008, a study of 363 menopausal women taking ERr 731 for 6 months resulted in a significant and favorable reduction of standard questionnaire scores from 14.5 to 6.5. (5)
The results were more significant for women with higher baseline scores.
Estroven also claims to work faster than other products, alleviating some symptoms in as little as 28 days.
In 2007, a randomized, double-blind study of 109 perimenopausal women used both the Hamilton Anxiety Scale and a standardized questionnaire, showing reduced symptoms within four weeks of treatment with ERr 731. (6)
The study continued for 12 weeks and showed a further drop in symptoms.
Summary:
Research seems to show potential for the efficacy of Estroven. These studies are larger in size than available Amberen studies.
Comparison of Safety
Amberen
The studies document no adverse effects during their 90-day course. However, because menopause symptoms last for years, longer-term safety needs to be established.
Amberen's clinical history page lists a 3-year observational study involving Enerlit-Clima, described as Amberen's ingredient equivalent.
The website claims the study involved 245 women, showing that the ingredients were safe and effective.
However, the actual research study is not available for review, according to an Amberen representative.
Summary:
It's important for products to publish research, making it available for health care professionals to review. Inaccessible information makes me doubt the credibility of the study.
Estroven
This product is contraindicated for women with some estrogen-dependent cancers and may not be safe for several other conditions.
The above 2007 and 2008 studies reported no adverse effects for ERr 731. (5, 6)
ERr 731 also had a long-term, 2-year study available for review. The study published in 2009 used the same 109 women involved in a previously mentioned 2007 study. (7)
Results showed a significant reduction of symptoms using a standardized questionnaire.
Hot flashes were reduced to an average of 1.4 mild episodes daily. No adverse effects were reported.
A safety history paper was written in 2016 regarding adverse effects to date of Err 731. (8)
When the paper was written, there had been only 5.9 adverse effects reported in Germany for every 6.7 million doses sold since 1993.
14.6 adverse effects for every 2.4 million doses sold were reported in North America.
Please note that these were doses put on the market, not doses ingested.
Summary:
Estroven's long-term safety information is promising and is valuable for both clients and health care professionals. However, the product is not suitable for all patients and should be discussed with their doctor before trying.
Cost Comparison
The cost between these two products is not significantly different.
Ameren costs slightly more at $30 for a 30 day supply, whereas Estroven costs $20 for a 28-day supply.
Both products are available on Amazon and most national retailers.
Our Pick: Choosing Between Amberen and Estroven
Ultimately, no one should choose between these two products without visiting their doctor to determine what is safest for them.
While both products have some solid research to back their claims, if I had to choose between the two products, I would lean toward Estroven.
This is mainly because it has a stronger history of safety studies.
I'm also uncomfortable with Amberen's lack of transparency with their proprietary blend of ingredients.
These factors give Estroven a little edge over Amberen, in my opinion.
The Bottom Line
A visit to the doctor is warranted with the onset of perimenopause and is the best course of action when deciding which treatments are right for you.
It is best not to manage your hormones via dietary supplements alone but always consult with a physician.
This article is intended to equip women with some knowledge about available over-the-counter products.
Underlying conditions are a great factor when it comes to safety while choosing a product.
Many women seek alternative treatments to hormone therapy because they think they may be safer than conventional medicine.
However, this is not necessarily the case. Dietary supplements can alter hormones in negative ways; therefore, you should always use them with caution under the care of a physician.
Remember that good nutrition is important in all stages of life. That can be especially true as we age. It's wise to follow a balanced diet so that your healthcare team can help you live your best life.
Thanks for your feedback!
In a few words, please tell us how this article helped you today.
Please let us know how we can improve this article by selecting your concern below.
Thank You! We appreciate your feedback.
*
Please select at least one topic:
Please Note: We cannot provide medical advice. This feedback will help us continue improving your user experience on WellnessVerge.
Please Note: We cannot provide medical advice. This feedback will help us continue improving your user experience on WellnessVerge.