WellnessVerge is reader-supported. We may earn a commission when you make a purchase through the links on this page. Learn more about our process here.
Why You Can Trust Us
Every article and review on WellnessVerge is thoroughly researched and fact-checked by licensed health professionals. Our editorial team is made up of registered dietitians and medical doctors.
Every piece of content is also medically reviewed to ensure accuracy and alignment with sound scientific evidence and medical consensus. We only use peer-reviewed journals and reputable medical sources to form our conclusions and recommendations.
We operate with total editorial independence, and our editorial policies ensure that your well-being comes first. Based on our rigorous research, we only recommend products that are worth considering. We always disclose any ads or partnerships with brands featured on our site.
Best Multivitamins for Men of 2023, According to Dietitians
If you're not getting enough nutrient-dense foods in your diet, or perhaps have a condition that increases nutrient needs, multivitamins may help to fill in the gaps. With all the men's vitamins out on the market, how do you know you're choosing the best one for you?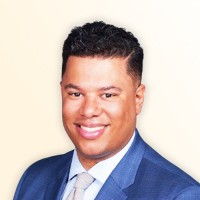 Medically Reviewed by
Anthony Dugarte, MD
Medical Reviewer
Anthony Dugarte, M.D., C.S.C.S. is a health and wellness writer and medical content reviewer. In addition to dedicating the last 8 years to medical research, Dr. Dugarte also has more than a decade of experience in strength and conditioning, nutrition, and rehabilitative exercise, as well as authoring and reviewing health and wellness-related content.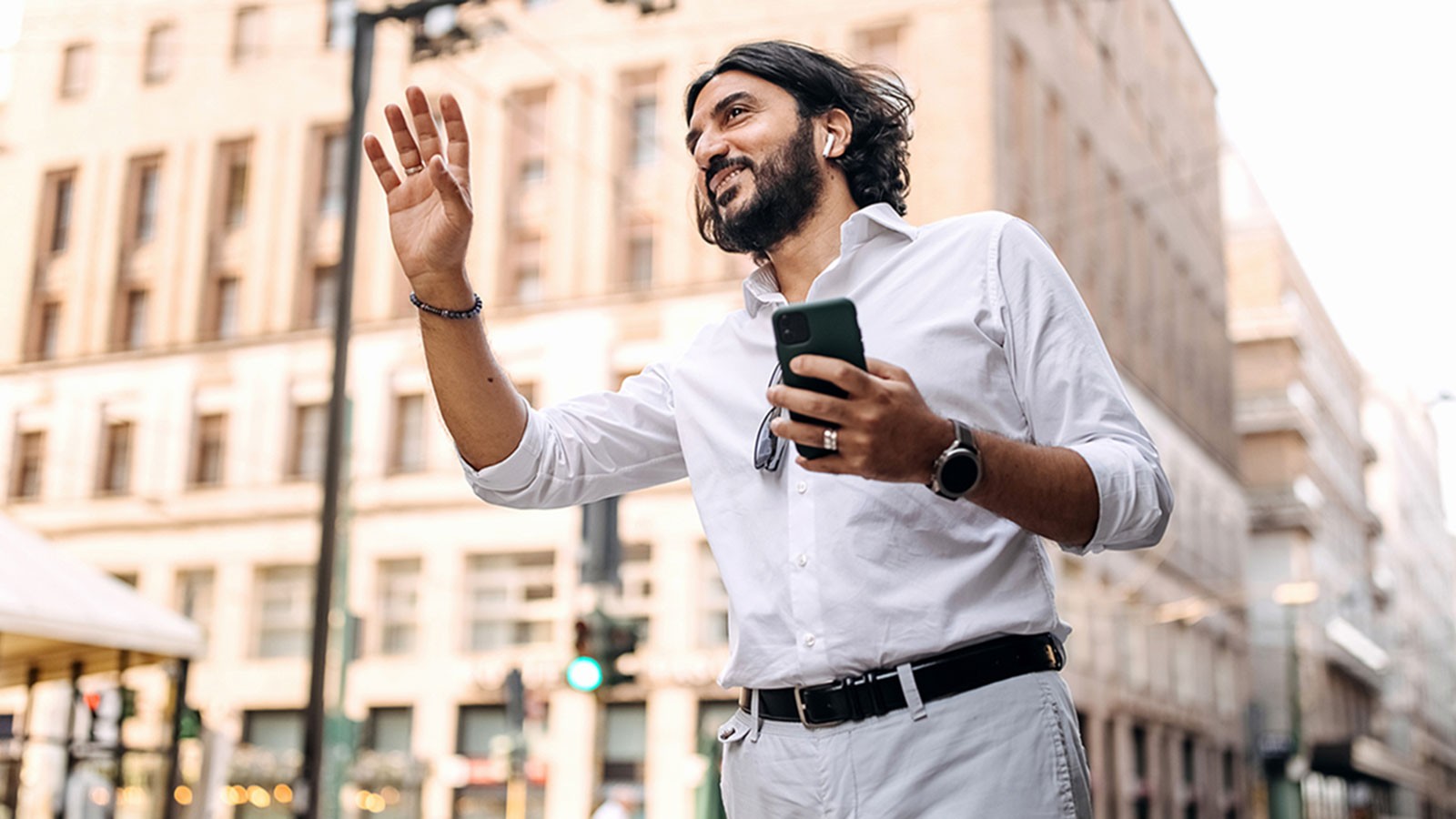 Sometimes, it's difficult to get all of the nutrients you need through diet alone, and you need a little bit of help along the way. For this reason, many men take a multivitamin to help fill in the gaps in their diet.
Multivitamin and mineral supplements (MVM) are the most common type of dietary supplements used among adults in the United States.
According to the CDC, the prevalence of multivitamin use increases with age, increasing from approximately 24% of adults between 20 to 39 years to nearly 40% of adults over 60 years.
People often take a multivitamin because they want to either reduce their risk of chronic disease, promote general well-being, or increase their overall intake of nutrients. (1)
What should you look for if you're a man interested in starting a multivitamin to support your health and diet?
Given that there are so many options for multivitamins, it may be overwhelming to decide upon a brand that's right for you. But, we've got you covered.
We evaluated some of the men's multivitamins currently on the market and put together a list of our top picks.
Summary of Our Picks
How We Chose These Brands
These are the factors we considered when choosing our top men's multivitamins:
Brand Reputation: Is this multivitamin from a reputable brand that also has testing for accuracy, potency, and purity?
Safety: Are ingredients in safe ranges to prevent vitamin toxicity?
Vitamin Form: Are included ingredients in bioavailable/easily absorbed forms?
Price: Does this vitamin have a reasonable cost?
What Is a Multivitamin?
Before we dive into our selections, let's briefly review what is a multivitamin.
A multivitamin is a supplement that may contain any number of the 13 essential vitamins, minerals, herbs, botanical extracts, probiotics, and more.
There is no standard definition for what a multivitamin must contain, so reading the Supplements Facts label is important to understand what's in your multivitamin. (2)
These ingredient combinations may vary based on age, lifestyle, or even the vitamin brand's philosophy on health.
Many individuals wonder if they need to take a multivitamin to be healthy and age well. Research suggests that your longevity may be better supported by getting your essential nutrients from healthy foods instead of vitamin supplementation. (3)
However, some people simply feel better about their health when they take a regular multivitamin to complement their diet. (4)
Experts recommend that multivitamins should not be used as a replacement for a varied diet of whole foods. (5)
It's best to think of a multivitamin as a supplement that can help fill gaps in the diet, especially if you have inadequate intake of some nutrients or have a condition that makes your body require more nutrition.
There are several convenient options for taking a multivitamin, which is great because swallowing a capsule isn't for everyone. They are commonly available as capsules, gummies, liquids, or chewable tablets.
Here are our top picks for the best multivitamins for men.
Best Overall: New Chapter Men's Advanced Multivitamin
Best Overall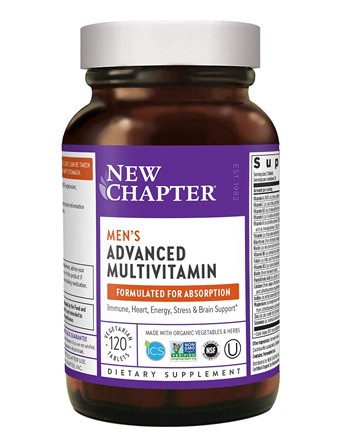 Pros
Made with ingredients and methods to improve nutrient bioavailability
Contains other botanical blends to support health
Gluten-free, Non-GMO certified, and ICS certified organic
Cons
Some people may be sensitive to ingredients in support blends
Our Take
New Chapter Men's Advanced Multi is more than just a regular multivitamin. It contains other ingredients to support overall health. In addition, this supplement is well-priced for what it offers for men's health.
New Chapter is a vitamin and supplement company from Vermont dedicated to making vitamins and supplements from natural, high-quality ingredients.
The company also focuses on sustainably sourced foods, worker welfare, waste reduction, and regenerative agriculture when making its products. I haven't seen too many companies focus on all of these things for their supply chain and manufacturing, which sets them apart.
New Chapter Men's Advanced Multi is made from fermented whole foods, minerals, and probiotics to improve the absorbability of its nutrients.
It claims to help with energy, be gentle on the stomach, target the immune system, and provide soothing stress support.
A single serving size of this supplement is 2 tablets per day, which is pretty reasonable.
This supplement is unique because, in addition to its multivitamin blend, it contains a Stress and Energy Support blend, Cardio Support blend, Immune Support blend, ginger, and turmeric to support health.
Looking at the other ingredients on the Supplement Facts label, there are also ingredients to help with digestion. Therefore, this multivitamin may be easier to digest than some other brands.
The Men's Advanced Multi is NSF-Certified Gluten-free, Non-GMO Certified, and ICS Certified Organic. It is also kosher, vegetarian, and is free of synthetic fillers.
Price: A 60-serving supply of New Chapter Men's Advanced Multivitamin is $48.59 on Amazon, but you can save 15% with Subscribe & Save.
Best Budget Pick: Nature Made Multi for Him
Best Budget Pick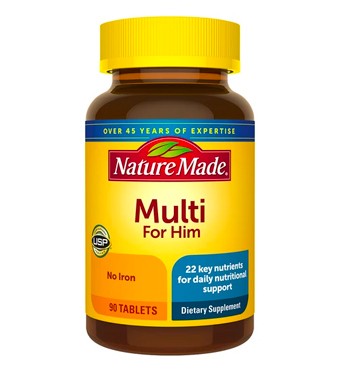 Pros
Easily available and cheap supplement at many retailers
Product is USP Verified
Cons
Majority of vitamin A comes from beta carotene which may pose risk in some individuals
Does not have iron, potassium, or phosphorus
Our Take
Nature Made Multi For Him is an affordable men's multivitamin that still manages to provide quality to its product.
Nature Made Multi for Him is our top choice for a budget men's multivitamin. Nature Made's brand is under the American dietary supplement company Pharmavite.
Pharmavite was founded in 1971 by a California pharmacist in an aim to improve health and wellness by focusing on complete nutrition through nutrition and minerals. This brand is #1 ranked by survey data collected by Pharmacy Times, the leading media source for pharmacists.
Nature Made Multi For Him contains 22 vitamins and minerals to support men's health. Its formulation is designed to help support a healthy immune system, neutralize free radicals, and support the health of bones, teeth, and muscles.
The Nature Made Multi For Him is also meant to address the dietary shortfalls of getting enough of vitamins A, D, E, C, and B6, calcium, and magnesium.
Notably, this multivitamin is free of iron, potassium, and phosphorus, likely with the assumption that this age group will be able to get enough of these nutrients through diet.
This supplement also gets 60% of its vitamin A from beta carotene, which may increase the risk for mortality from certain conditions. (6)
Nature Made Multi for Him is gluten-free, without added colors or artificial flavors, and is United States Pharmacopeia (USP) verified.
I was very happy to see the USP verification on what would be considered a budget multivitamin, because to me, that meant Nature Made wasn't cutting corners to make a cheap product and cared about what went into their multivitamins.
A dose of the Nature Made Multi for Him is 1 tablet daily with water and a meal. According to a visual on their website, a single multivitamin is approximately the same length as a penny.
Price: Nature Made Multi For Him is widely available at different retailers, and its price may vary on the bottle size purchased. For example, a 90-serving bottle is only $8.69 on Amazon.
Best Gummy: SmartyPants Men's Formula
Best Gummy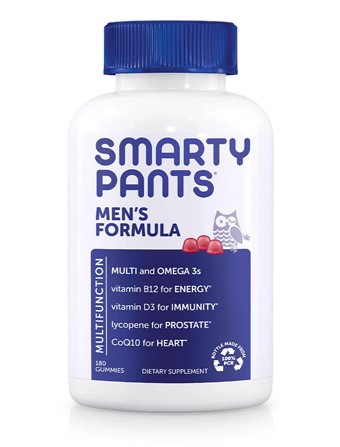 Pros
Contains fish oil and other supporting ingredients for health
Has third-party testing certification seals from multiple entities
Your purchase supports charity
Cons
A serving size is 6 gummies, which could be cumbersome
Higher in calories and sugar compared to other gummy multivitamins
Our Take
SmartyPants Men's Formula is a well-formulated gummy vitamin to support men's health, with ingredients not found in some other gummy vitamins. Compared to other vitamins, it is higher in calories and sugar and has a large serving size. Despite these factors, the benefits of this vitamin greatly outweigh the costs.
Gummy supplements are a great alternative for individuals who don't like taking capsules or want to make taking a multivitamin a bit more fun.
SmartyPants Men's Formula gummy multivitamins have lemon crème, blueberry, and blackberry flavors. These gummies are designed to support heart health, prostate health, bone health, and energy production.
Gummy multivitamins typically contain a bit less of certain nutrients compared to a capsule or tablet vitamin, so this is something you should keep in mind if you're trying to meet certain nutrient needs.
What really stood out to me about SmartyPants was its extra ingredients, including fish oil (with EPA and DHA), lycopene, Coenzyme Q10, inositol, and vitamin K2. Some gummy vitamins only included Coenzyme Q10 or boron to support heart health.
While the SmartyPants brand contains a lot of beneficial nutrition, there are some drawbacks.
Because the gummies are trying to provide so much, the serving size is much bigger compared to other gummies. For a full serving, you have to take 6 gummies. For comparison, other gummy brands usually only require 2 gummies per serving.
SmartyPants Men's Formula also has significantly more calories and added sugar compared to others. A serving of gummies has 45 calories and 6 grams of added sugar, while some gummies provide 15 to 20 calories per serving and less sugar.
This may not be a good option for men looking to limit their carbohydrate intake for blood sugar control or low-carb diets like keto.
These vitamins are free of synthetic colors, artificial sweeteners, flavors and preservatives, high fructose corn syrup, GMOs, and major allergens.
SmartyPants has a focus on testing its ingredients. They follow cGMP guidelines and are Clean Label and NSF-Certified.
Your purchase of SmartyPants vitamins also helps others! This company supports Vitamin Angels, and your purchase donates money towards providing vitamins to mothers and children at risk of malnutrition.
Price: A 30-serving supply of SmartyPants Men's Formula costs $21.10 on Amazon, and you can save 15% with Subscribe & Save. You can also save by purchasing 60, 90, or 180-day supplies of these gummies on the company's website. In addition, they offer a 30-day money-back return policy on their products.
Best for Men Over 50: Centrum Silver Men
Best for Men Over 50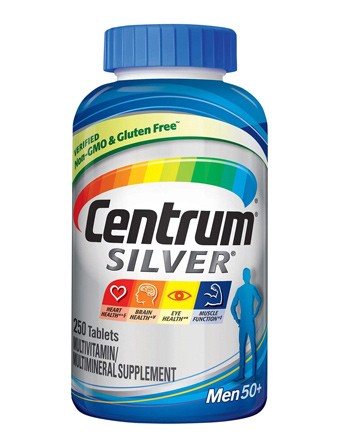 Pros
Well-studied multivitamin used in a landmark clinical trial
Easily available and cheap supplement at many retailers
Product carries third-party testing certifications
Cons
Contains some beta carotene, which could be problematic for men's health in supplemental form
Research does not yet consistently verify all claimed benefits
Our Take
Centrum Silver Men 50+ is a reputable multivitamin for men ages 50 and older. It is widely available at an affordable price point, and it has been shown in a large clinical study to help eye health and potentially reduce cancer risk.
Centrum Silver Men 50+ is our top choice for a men's multivitamin for individuals over 50 years. Centrum is produced by pharmaceutical company GlaxoSmithKline (also known as GSK) and is the #1 multivitamin brand in the world.
Centrum Silver Men is not only reputable because of its popularity, but it is the multivitamin supplement used in the Physicians' Health Study II.
The Physicians' Health Study II was a randomized trial consisting of nearly 15,000 men. It examined the risks and benefits of vitamin supplementation for the prevention of cancer, cognitive decline, cardiovascular disease, and age-related eye diseases.
The physicians used Centrum Silver Men daily for an average of 11 years. From this study, researchers found that regular multivitamin use may decrease the risk of cataracts and have a mild impact on reducing cancer risk. (7, 8)
The makers of Centrum Silver Men also report that their age-related formula helps support heart health, brain function, healthy eyes, and healthy muscle function in men 50 years and older.
Centrum Silver Men 50+ contains 25 vitamins and minerals, along with lutein and lycopene.
I noted that 29% of their vitamin A comes from beta-carotene, which could be a concern for some. Beta-carotene supplementation is associated with increased cardiovascular mortality and lung cancer mortality in smokers. (6)
This supplement is low in potassium and phosphorus, which could be beneficial for men with existing kidney issues not to put an extra burden on their kidneys.
Centrum Silver Men 50+ is verified non-GMO and gluten-free. It also is formulated to be a smooth, easy-to-swallow capsule. ConsumerLab also rated the Centrum brand to be of high quality.
Price: The price of Centrum Silver Men 50+ depends on what size bottle you purchase. For example, a 200-serving bottle is $15.26 on Amazon. Plus, you can save 15% with Subscribe & Save.
Best for Vegetarians & Vegans: Garden of Life mykind Organics Men's Once Daily
Best for Vegetarians & Vegans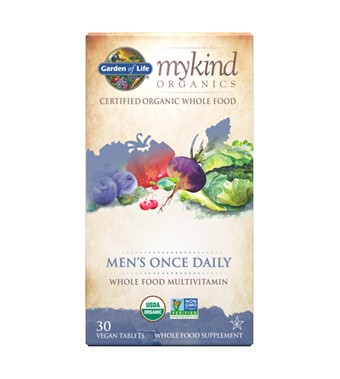 Pros
Carries multiple third-party certifications, including USDA Organic, Non-GMO, Certified Vegan, NSF-Certified Gluten Free
Vegan, soy-free, gluten free, and kosher
Made from organic food blend
Cons
No added iron, magnesium, or calcium (may be a concern for some)
Large tablet size
Our Take
Garden of Life mykind Organics Men's Once Daily Multivitamin is a whole food multivitamin made with quality organic ingredients to fit into a vegan or vegetarian diet. It does have a large tablet size and does not include some minerals, so it may not fit everyone's lifestyle.
Taking a multivitamin as a vegetarian or vegan is helpful to fill in gaps for vitamins and minerals typically found in animal products.
The mykind Organics Men's Once Daily is made by Garden of Life, a company that focuses on making whole food supplements.
The mykind Organics line was co-founded with Alicia Silverstone, who you may recognize as Cher Horowitz from the film Clueless. However, there is nothing clueless about this formulation.
This organic whole food multivitamin contains at least 100% DV of most vitamins, except for manganese and zinc.
The Men's Once Daily also contains a B-complex to support heart health. As a vegan multivitamin, I like that it has 300% DV of vitamin B12 in a highly absorbable form (methylcobalamin) to reduce the risk of deficiency.
I have taken the Women's Once Daily tablets before, so I will note that one negative to this supplement is the size of the tablet. The tablet is somewhat large, so you have to drink a decent amount of water with it.
This supplement also misses iron, calcium, and magnesium, which could be a concern to some vegans or vegetarians. I strongly recommend doing a personal inventory of your current diet to see if you need supplementation with these minerals.
Garden of Life mykind Organics Men's Once Daily is certified USDA Organic, Non-GMO Project Verified, NSF-Certified Gluten-Free, and Certified Vegan. It is free of synthetic binders and fillers, gluten-free, soy-free, and kosher.
Price: A 60-serving supply of mykind Organics Men's Once Daily is $35.99 on Amazon, and you can save 15% with Subscribe & Save.
Best Subscription: Ritual Essential for Men
Best Subscription
Pros
Vitamins are available for different life stages
Is NSF-Certified
Contains high-quality ingredients without synthetic fillers
Cons
Limited personalization of vitamins based on lifestyle
Subscription does not come with additional health counseling
Not for individuals looking for a more complete MVM
Our Take
Ritual is a convenient multivitamin subscription service that focuses on high-quality ingredients and focused nutrition. This service is likely better for someone with a generally healthy diet looking for a small boost of nutrients to support their general health.
Sometimes the hardest thing about maintaining a daily multivitamin routine is remembering to purchase them. Subscription multivitamin services eliminate this problem and conveniently deliver multivitamins to your door every month.
Ritual offers multivitamins for the entire family based on life stage and has multivitamins for both men 18 plus and 50 plus.
Instead of trying to cram as many vitamins and minerals into a single pill as possible, Ritual focuses on the nutrients that may be harder to get in your diet.
Ritual's Multivitamins for Men only include 10 nutrients — vitamin A, vitamin D3, vitamin E, folate, vitamin B12, magnesium, zinc, boron, omega-3 DHA, and vitamin K.
These nutrients are meant to hone in on heart health, bone health, immune function, and normal muscle function.
So if you're looking for a vitamin that contains most of your vitamins and minerals, Ritual may not be the subscription service for you.
All of Ritual's vitamins are made of high-quality, traceable ingredients and are NSF Certified. These vitamins are vegan, gluten-free and free of major allergens, non-GMO, and made without artificial colors or synthetic fillers.
Ritual also has a delayed-release capsule design which allows you to take it with or without food without worrying about stomach upset.
Ritual has a scientific advisory board and leadership team consisting of nutritionists, scientists, and medical doctors to help formulate their products and keep up with up-to-date research.
While there are clinical trials showing the efficacy of Ritual vitamins, the trial is only for their women's multivitamins and not for any of their products for men. (9, 10)
Price: A 30-serving subscription to Ritual is $33–$39 per month, depending on the type of men's multivitamin you choose (serving size is 2 capsules). They offer free shipping, a 30-day money-back guarantee, and easy cancellation of your subscription.
Things to Consider When Shopping for a Men's Multivitamin
When you find yourself down the vitamin aisle trying to choose your perfect multivitamin, take a moment and consider what you're really looking for.
It's easy to choose the first thing that looks appealing or promises to be extra potent to support your health, but you may end up selecting the wrong thing.
Here are some things you should look for when choosing the perfect multivitamin for you:
Brand Reputation
Look for brands that have a strong reputation and may have third-party certifications such as NSG, USP, or other quality certifications.
Nutrients of Concern and Dosing
Men can be at risk for nutrient deficiencies, so check that your vitamin contains sufficient vitamin D, vitamin C, calcium, magnesium, and when possible, omega-3 fatty acids.
On the other hand, try to avoid vitamins that have multiple "mega-doses" of vitamins as it may lead to exceeding the recommended upper limit of intake and cause side effects.
Lifestyle and Stage of Life
Before you reach for the first vitamin supplement on the shelf, think about your personal health concerns and lifestyle habits. The best men's multivitamin that works for you can change based on a number of factors.
For example, you may need a different kind of vitamin if you're a vegan, an active athlete, or have certain medical conditions.
As you get older, your body's ability to absorb nutrients and nutrient requirements differ, so it can be beneficial to choose an age-appropriate multivitamin.
Ingredients and Additives
Check that your multivitamin contains only what it needs and doesn't contain unnecessary fillers or additives.
If you have allergies, stay safe by changing for potential allergens and ingredient sources.
Vitamin Form
There are a number of forms of vitamins out there — tablets, chewables, gummies, and even liquid multivitamins. Think about what form may be easiest for you to take, or be more appealing for you to have every day.
A good-tasting vitamin may be the difference between you regularly taking your vitamins or having them collect dust in your cabinet.
Price
If you're going to take a multivitamin daily, you should consider what your price point is. It doesn't do you any good to spend more money on a supplement at the risk of sacrificing your budget for whole foods.
There is a multivitamin perfect for nearly any person's budget out there.
Frequently Asked Questions about Multivitamins
What are the benefits of taking a multivitamin?
If you are a generally healthy person with a well-balanced diet, there may not be significant benefits to taking a multivitamin. However, multivitamins may be helpful for certain conditions and groups of people.
The Physician's Health Study II found that long-term multivitamin supplementation reduced risk of cataracts and may have an impact on reducing cancer risk.
Older adults are at higher risk of nutrient deficiencies due to decreased absorption in the body and decreased food intake. Vitamin supplementation can help older adults reduce the prevalence of inadequate nutrient intake and deficiencies.
Multivitamin supplementation may also help older adults with improved recovery from illness.
If you are a vegetarian or vegan, it is recommended to take a vitamin supplement so that you can receive adequate vitamin B12, vitamin D, zinc, and calcium in your diet.
Individuals with chronic diseases that increase nutrient needs may also benefit from multivitamin supplementation to prevent clinical deficiencies.
Should a man take a multivitamin?
If you are a generally healthy man with a well-balanced diet, there may not be significant benefits to taking a multivitamin.
Many people do not have an adequate intake of the whole foods needed (including fruits and vegetables) to get enough nutrients throughout the day, so there could be a need for a multivitamin.
If you are an older adult, living with certain health conditions, following dietary restrictions, or just wanting to fill in gaps in your diet, then these are good reasons to start taking a multivitamin.
Are there any safety concerns with multivitamins?
Multivitamins are generally safe to take long-term, but some people may experience mild side effects such as nausea, diarrhea, rash, loss of appetite, and abdominal pain.
There is a risk when taking a multivitamin supplement to exceed recommended amounts of vitamins and reach toxicity, especially if your multivitamin contains high dosages of individual nutrients.
These risks are more likely with taking individual vitamin supplements than with daily multivitamin use.
The ensure the manufacturing quality of your multivitamin, look for brands that have been tested by third parties. This can give you better peace of mind that your vitamin contains what the brand states it does and does not have harmful ingredients.
When is the best time to take a multivitamin?
Most multivitamins are best taken with food to maximize their absorbability. Fat-soluble vitamins are better absorbed when eating foods that contain a source of fat (which could be found in meat, nuts and seeds, oils, and other foods).
Taking a multivitamin with a meal may reduce any potential gastrointestinal side effects.
Some brands, such as Ritual, utilize delayed-release capsules. This can give you the freedom to take a multivitamin with or without a meal.
Do I need to take a multivitamin everyday for it to be effective?
This may depend on your individual situation.
If you are a person who has chronically higher needs due to things like malabsorption, deficiencies, older age, dietary restrictions, or medical conditions, then it may be more important to take your multivitamin daily.
The average healthy person should aim to take their multivitamin daily to reduce the risk of getting deficiencies. Taking a multivitamin only once a week or less frequently is unlikely to give the benefits that you're wanting.
However, accidentally missing a day won't invalidate the benefits of your multivitamin. Simply try to stay as consistent as possible.
The Bottom Line
A multivitamin is only a supplement and not meant to replace a foundation of healthy eating to support your health.
When possible, have a varied diet of whole grains, fruits and vegetables, lean protein, and healthy fats to meet your nutrient needs.
Some dietary patterns that can help you meet your nutrient needs include:
Of course, it is sometimes difficult for us to meet our nutrient needs all the time, so we may need a little bit of help with a multivitamin. Depending on your condition or dietary restrictions, taking a multivitamin for your health may be recommended.
Before starting a new multivitamin, it is recommended to first speak with your physician. If you have concerns about nutrient deficiencies, your doctor can do lab testing to see your individual vitamin levels.
Further discussion with your doctor and a registered dietitian can help you with meeting your nutrient needs safely.
Thanks for your feedback!
In a few words, please tell us how this article helped you today.
Please let us know how we can improve this article by selecting your concern below.
Thank You! We appreciate your feedback.
*
Please select at least one topic:
Please Note: We cannot provide medical advice. This feedback will help us continue improving your user experience on WellnessVerge.
Please Note: We cannot provide medical advice. This feedback will help us continue improving your user experience on WellnessVerge.