Evidence Based Research
Our editorial team is made up of expert registered dietitians with extensive, real-world clinical experience who are highly trained in evaluating clinical research.
Hiya Kids Multivitamin Review: Pros, Cons, and Do You Need It?
Hiya makes a high-quality subscription-based daily chewable vitamin for children. Many children don't necessarily need a daily multivitamin, but if your child does, Hiya is a great option.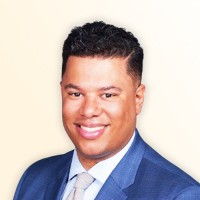 Medically Reviewed by
Anthony Dugarte, MD
Medical Reviewer
Anthony Dugarte, M.D., C.S.C.S. is a health and wellness writer and medical content reviewer. In addition to dedicating the last 7 years to medical research, Dr. Dugarte also has more than a decade of experience in strength and conditioning, nutrition, and rehabilitative exercise, as well as authoring and reviewing health and wellness-related content.
WellnessVerge is reader-supported. When you make a purchase through links on this page, we may earn a commission. Learn More

Pros

Made with organic fruits and vegetables
No added sugar, allergy-friendly
Third-party tested

Cons

Pricier than some other similar products
You must purchase a monthly subscription plan
May contain unnecessary nutrients
What Is Hiya Kids Daily Multivitamin?
Hiya Kids Daily Multivitamin is a subscription-based daily chewable vitamin designed for kids aged 2 through 15.
The product is made with organic fruits and vegetables and provides 15 important vitamins and minerals to support children's optimal growth and development.
These nutrients include zinc, vitamin D, vitamin A, various B vitamins, folate, calcium, iodine, and manganese.
This sugar-free multivitamin is sweetened with monk fruit and is also gluten-free, vegan, GMO-free, and allergen-free.
Hiya was started by two fathers, Darren Litt and Adam Gillman, who were troubled by the options for children's vitamins on the market.
They found that most children's vitamins were loaded with sugar, artificial ingredients, and other unnecessary additives.
They received input from pediatricians, nutritionists, scientists, and parents to create their multivitamin supplement.
The company's founders claim that their multivitamin fills in common nutritional gaps found in children and that the product can support the immune system, brain development, and concentration in children.
Evaluation of Ingredients
Each chewable contains a blend of 12 fruits and vegetables and 15 essential vitamins and minerals.
Their fruit and vegetable blend includes organic apples, organic beets, organic broccoli, and organic carrots, among others.
The vitamin contains no sugar and is sweetened with monk fruit extract.
Below is a list of the essential nutrients found in Hiya's vitamins.
Vitamin A, 360 mcg
Vitamin A is an important nutrient for children as it supports their eye health, cellular growth, and muscle functioning.
Recent research has also demonstrated that vitamin A can also support the immune system. (1)
Hiya provides the two important forms of vitamin A, which include preformed vitamin A and provitamin A carotenoids.
Carotenoids are naturally found in plant foods, so this important addition is excellent for children who don't eat a variety of fresh vegetables.
Summary
Vitamin A is an important nutrient for children and can play an important role in supporting the immune system.
Vitamin C, 40 mcg
Vitamin C is an important immune booster.
Although more research is needed, some studies suggest that vitamin C may help reduce the duration of the common cold and other viral infections. (2)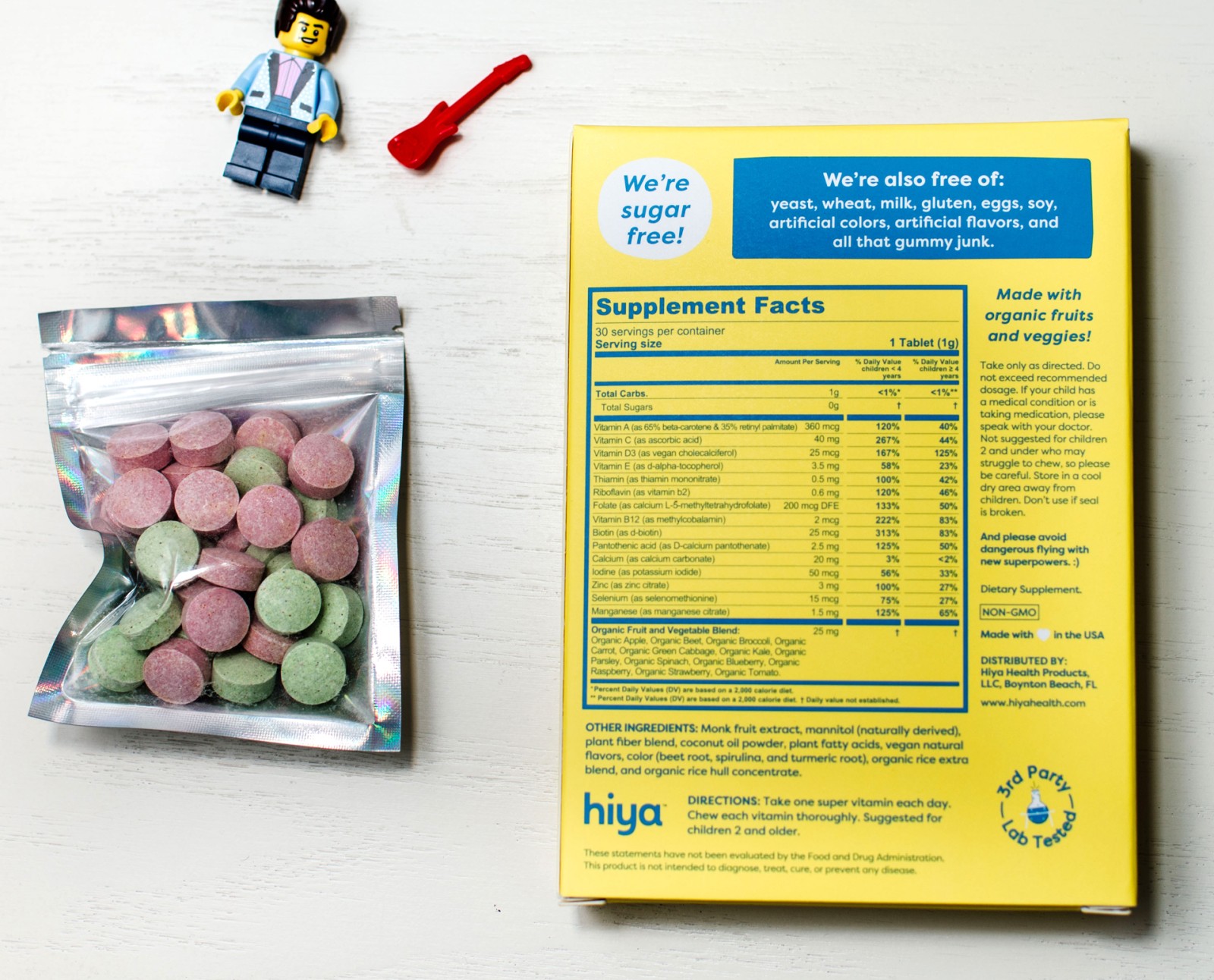 Vitamin D, 25 mcg
Sufficient vitamin D is required for healthy bone development in children and also plays a role in supporting the immune system.
The current recommendations for vitamin D are 600 International Units (IU) for children/adolescents. (3)
According to the research, vitamin D supplementation is indicated during the first year of life and for children who may be at risk for a deficiency. (1)
Picky eaters, children living in colder climates, and overweight and obese children are at a higher risk of developing a vitamin D deficiency.
Summary
Vitamin D supports bone growth and the immune system and may be important to supplement children at risk for a deficiency.
B Vitamins
Vitamin B1 (Thiamin): 0.5 mg
Vitamin B9 (Folate): 300 mcg
Vitamin B7 (Biotin): 25 mcg
Vitamin B5 (Pantothenic acid): 2.5 mcg
Vitamin B12 (Methylcobalamin): 2 mcg
This group of vitamins plays a vital role in converting the food your child eats into energy.
Additionally, the B vitamins are involved in making red blood cells which are responsible for carrying oxygen throughout your child's body.
Vitamin B12 can only be found in animal products; therefore, children following a vegan diet will likely require supplementation.
According to the research, there is a high prevalence of vitamin B12 deficiency in children, which may impact their cognitive development. (1)
Researchers suggest that additional studies are needed to assess the long-term effects of vitamin B12 deficiency and the role of supplementation in children.
One 2016 study found that higher child vitamin B12 status was associated with improved cognitive performance and school performance. (4)
Summary
While all the B vitamins are important, vitamin B12 appears to play an important role in cognitive development and school performance.
Other Nutrients
Vitamin E, 3.5 mg
Vitamin E is an important antioxidant that can support your child's eyesight, cardiovascular system, and immune system.
Calcium, 20 mcg
Calcium intake is vital for the healthy development of bones. The window for building strong bones is relatively short. Children and teenagers who get enough calcium will prevent the development of weak bones and reduce bone loss later in life.
Iodine, 50 mcg
Iodine is an essential mineral that supports your child's thyroid function.
Zinc, 3 mg
Zinc supports your child's immune system and also helps in wound healing.
Selenium, 15 mcg
Selenium acts as an antioxidant and also supports skin tissues, blood vessels, and heart functioning. This mineral is very prevalent in Western diets, so your child is probably getting enough through diet alone.
Manganese, 1.5 mcg
This essential nutrient plays a vital role in optimal growth and development, particularly for brain development in children.
Summary
All of these nutrients play a role in supporting a child's overall health and wellness.
Support for Claimed Benefits
Below is our summary of the available evidence for the claimed benefits of Hiya Kids Daily Multivitamin based on the available research:
Fills in common nutritional gaps found in children

5

/5
Supports immunity

5

/5
Supports brain development

5

/5
Supports concentration

4

/5
Hiya Kids Daily Multivitamin contains the essential nutrients that many children lack daily and can be used to fill common nutrition gaps.
Many studies show some of the nutrients in the product support the immune system, namely, vitamins C and A.
The research surrounding Vitamin B12 deficiency and cognitive development is strong, suggesting that this supplement may support brain development and concentration.
Manganese is also required for brain development.
Side Effects, Safety, and Dosage
The manufacturers of Hiya suggest your child take one vitamin per day with a meal at either breakfast or dinner.
However, according to the American Academy of Pediatrics, children who eat a varied diet do not need to take a multivitamin. (5)
Additionally, the National Institutes of Health warns that a multivitamin supplement can be toxic to children when taken in excess amounts. (6)
This is mainly for fat-soluble vitamins, including vitamins A, D, E, and K, which are stored in the body and not excreted in the urine.
While Hiya provides appropriate amounts of fat-soluble vitamins, toxicity could occur if a child far exceeds the recommended intake.
Be sure to store vitamins out of reach of young children and discuss proper vitamin intake with older kids to prevent excess intake of certain nutrients.
If you suspect that your child has taken too much of a supplement, contact your healthcare professional or poison control center immediately.
When taking the proper dosage, multivitamins generally do not have side effects.
On occasion, taking a multivitamin may have minor and temporary side effects, including nausea, diarrhea, or constipation. (7)
It is important to note that chewable vitamins are better for children's teeth than the gummy variety.
This is because gummies can get stuck in between your children's teeth and cause cavities.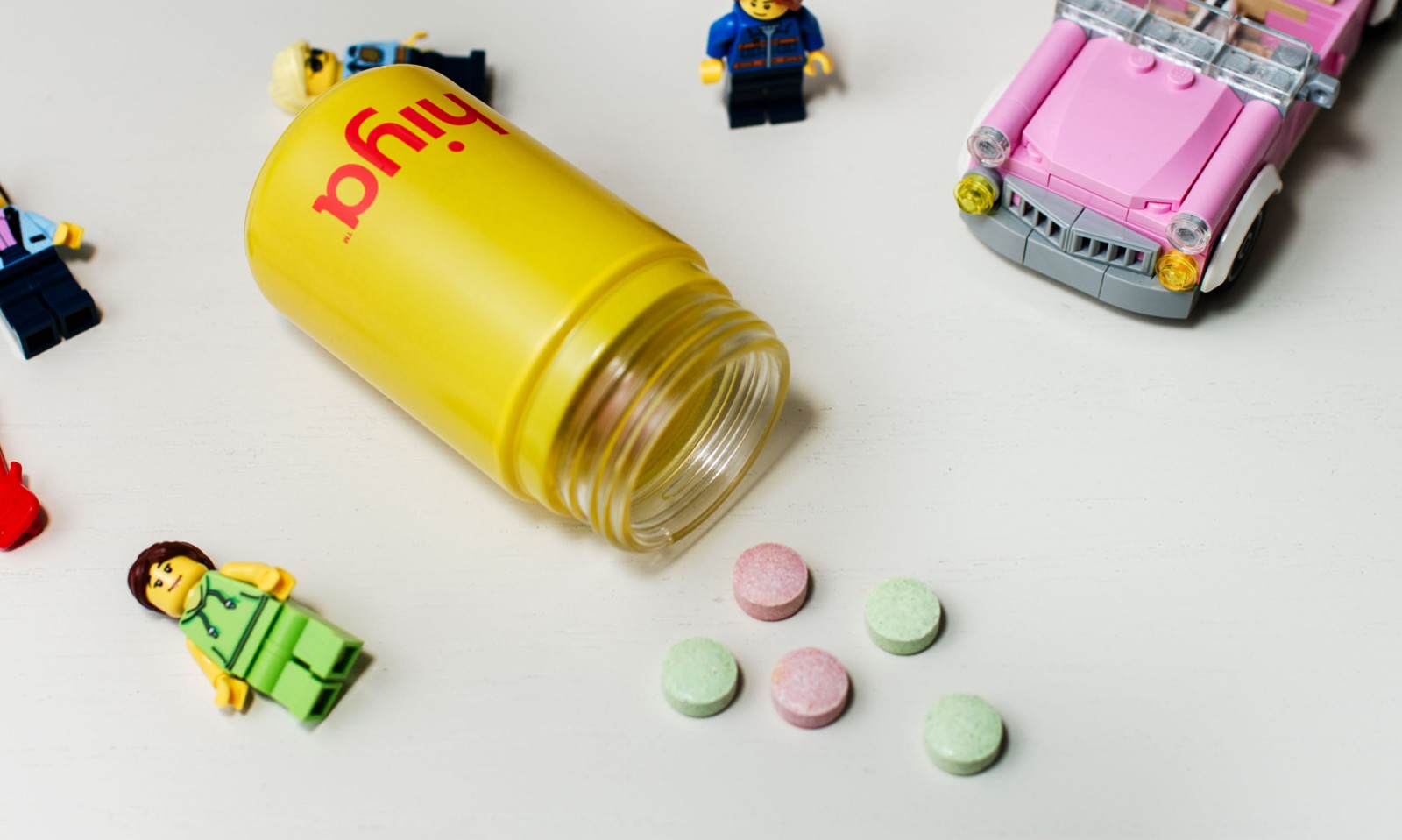 Cost
Hiya Kids Daily Multivitamin is priced at $30 per bottle per month. Although, parents with multiple children can get a discount by ordering multiple bottles at once:
1 Child: $30 per bottle
2 Children: $28 per bottle
3 Children: $25 per bottle
4 Children: $24 per bottle
For the first month, your 30-day supply of vitamins will include a refillable glass bottle and fun stickers for your kids.
You will also get 50% off your total order regardless of how many bottles you purchase.
Each month after that, you'll receive a recyclable refill pouch to fill up your bottle with fresh vitamins.
All prices include shipping, and you can cancel your Hiya subscription at any time.
Hiya offers a refund on all purchases with no return required.
Even though Hiya Kids Multivitamin is a bit pricier than other similar products, its quality may be worth the cost.
Hiya offers a chewable product, which is better for teeth, it's organic, and also third-party tested, so you'll have peace of mind that you're truly getting what you're paying for.
How Hiya Kids Multivitamin Compares to Alternatives
There are many multivitamins geared towards children. They are found in either chewable or gummy form to make them easy for children to consume. In addition, most have some amount of sugar to make the product more palatable.
Smarty Pants also makes an organic gummy multivitamin for children.
While both Hiya and Smarty Pants have a similar nutritional profile containing 15 essential nutrients, Smarty Pants has 5 grams of sugar and is less expensive than Hiya's product at $19.99 for a 1-month supply.
However, one of the concerns surrounding gummy vitamins for children is their tendency to get stuck between teeth, which can cause cavities. This makes Hiya a better option than Smarty Pants since it is not in a gummy form.
Ritual Essential for Kids is another subscription-based daily vitamin option. The product covers the essential nutrients and has omega-3 DHA to support brain development and fiber to enhance digestion.
The product is third-party tested and is $30 per month, but is also in gummy form, which may cause concerns regarding dental health.
Naturelo makes a similar children's multivitamin to Hiya's. Their multivitamin for children has a very similar nutritional profile as Hiya.
They are also chewable (not gummies), third-party tested, and a 1-month supply is slightly less expensive at $24.95.
If you like the ease of having a subscription, then Hiya may be your best option, given their chewable form.
If you prefer a non-subscription product and want to save a little money, then Naturelo's chewable multivitamin for children may be your best bet.
The Bottom Line
Recent research shows that as many as 90% of children may not be meeting the recommended fruit and vegetable intake in their daily diets. (8)
Hiya, and other multivitamins for children, are designed to fill that nutritional gap.
What sets Hiya apart from other multivitamins is that they don't have sugar or other fillers, and are gluten-free, vegan, GMO-free, and allergen-free.
Moreover, their chewable form is far less likely to cause tooth decay than the popular gummy form.
If your child eats a well-rounded diet, then their need for this supplement, or any other, is likely unnecessary.
However, if your child has a vitamin deficiency, is an extremely picky eater, or has difficulty with absorption, then they may benefit from taking a multivitamin.
It is important to speak with your child's healthcare provider to determine if your child is meeting their nutritional needs through their diet or if they may need a supplement.
A Word from Our RD
Despite being a picky eater, your child may not need this multivitamin or any other.
That's because children generally can get their recommended daily dose of vitamins and minerals from a few bites of each of the basic food groups, particularly in the younger years.
Additionally, fat-soluble vitamins, including vitamins A, E, D, and K, can be stored in the body, which means your child doesn't need to eat each one every day.
Moreover, many foods are fortified with various nutrients. For example, many breads contain B vitamins, and most milk and yogurt are fortified with vitamin D.
The following tips may help you handle your child's picky eating in a positive way:
Allow your children to help pick out fruits and vegetables at the store.
Have your children help prepare meals.
When possible, sit down together and enjoy the meal as a family.
Avoid making a separate meal for your picky eater.
Continue to offer new foods, including those your child didn't like before. It can take as many as ten or more times tasting food before your child accepts it.
If you speak with your child's healthcare provider and they think your child may benefit from a multivitamin, then Hiya is an excellent choice.
Thanks for your feedback!
In a few words, please tell us how this article helped you today.
Please let us know how we can improve this article by selecting your concern below.
Thank You! We appreciate your feedback.
*
Please select at least one topic:
Please Note: We cannot provide medical advice. This feedback will help us continue improving your user experience on WellnessVerge.
Please Note: We cannot provide medical advice. This feedback will help us continue improving your user experience on WellnessVerge.
At WellnessVerge, we only use primary references for our articles, including peer reviewed medical journals or well-respected academic institutions.