WellnessVerge is reader-supported. We may earn a commission when you make a purchase through the links on this page. Learn more about our process here.
Why You Can Trust Us
Every article and review on WellnessVerge is thoroughly researched and fact-checked by licensed health professionals. Our editorial team is made up of registered dietitians and medical doctors.
Every piece of content is also medically reviewed to ensure accuracy and alignment with sound scientific evidence and medical consensus. We only use peer-reviewed journals and reputable medical sources to form our conclusions and recommendations.
We operate with total editorial independence, and our editorial policies ensure that your well-being comes first. Based on our rigorous research, we only recommend products that are worth considering. We always disclose any ads or partnerships with brands featured on our site.
Best Multivitamins for Women of 2023, According to a Dietitian
Multivitamins can support your health goals and provide assurance that you're meeting your nutrition needs. But how do you know which one is best for you?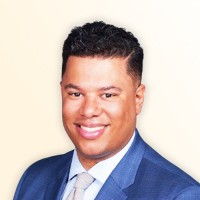 Medically Reviewed by
Anthony Dugarte, MD
Medical Reviewer
Anthony Dugarte, M.D., C.S.C.S. is a health and wellness writer and medical content reviewer. In addition to dedicating the last 8 years to medical research, Dr. Dugarte also has more than a decade of experience in strength and conditioning, nutrition, and rehabilitative exercise, as well as authoring and reviewing health and wellness-related content.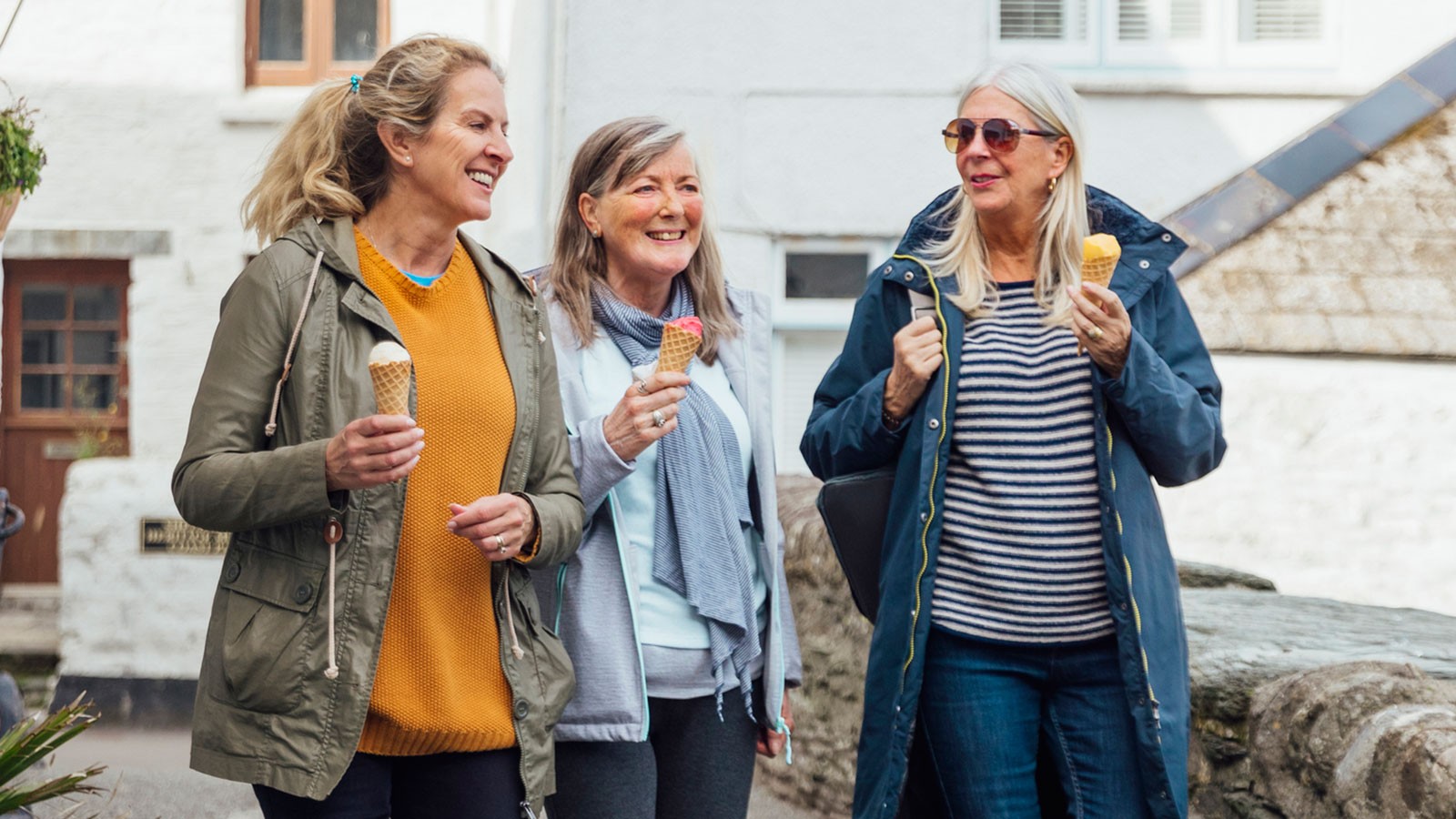 Summary of Our Picks
How We Chose These Brands
To narrow down the choices for the best women's multivitamin, we evaluated each brand based on these criteria:
Ingredients: Does the multivitamin include the correct ingredients for its noted purpose? (For a list of ingredients a women's multivitamin should have, see the section title "Ingredients to Look For in a Women's Multivitamin" below.)
Form and Dosage: Are the ingredients available in highly bioavailable (easily absorbed) forms?
Price: Does the multivitamin have a reasonable cost that fits most budgets?
Brand: Is the multivitamin made by a reputable brand that does third-party testing for label accuracy, potency, and purity?
Allergens: Does the multivitamin contain any potential allergens, or is it processed in a facility that processes allergens that you are allergic to?
Safety: Are the vitamin ingredients found in safe amounts to prevent toxicity in the body?
What Is a Multivitamin?
Before we dive into our selections, let's briefly review what multivitamins are and why people take them.
Multivitamins are supplements that provide a combination of vitamins, minerals, and other ingredients (such as probiotics or herbs) intended to provide additional health benefits.
There is no universal standard on what constitutes a multivitamin, so the ingredients can vary significantly.
A multivitamin typically contains between 10–20 ingredients in varying amounts. They can be found in several forms, such as a capsule, chewable, gummy, or liquid.
Multivitamins are one of the most popular supplements used worldwide, especially among women. It is estimated that about 1/3 of the population takes at least one multivitamin supplement, and out of those people, women are more likely. (1)
The top 3 most common reasons people take multivitamins are: (2)
To fill nutrition gaps in the diet
To promote health and wellness
For chronic disease prevention
Depending on your diet choices, schedule, and family life, it may not always be easy to meet 100% of your vitamin and mineral needs through diet alone.
For this reason, many people may choose to take a multivitamin to ensure they're meeting their nutrient requirements, or as a complement to their diet.
Even though multivitamin use is widespread, the research on their benefits without a true nutrient deficiency is unclear. However, in terms of poor diet or deficiency, the benefits may be more significant.
Either way, many multivitamin users still report improvements in their health.
For example, a 2020 study revealed that those taking a multivitamin supplement self-reported better overall health, despite the fact that they did not experience any visible clinical benefits from taking them. (3)
There are literally hundreds of different multivitamin options to choose from. If you suspect you have a deficiency or just want to supplement your diet with a multivitamin, this article includes some good options for your consideration.
Remember to always consult with your doctor before starting a new supplement to determine your individual needs.
Best Overall: New Chapter Women's Multivitamin + Immune Support
Best Overall Multivitamin for Women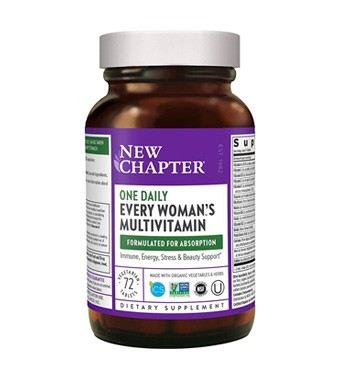 Pros
Reputable brand
Contains other beneficial superfoods
60-day return policy
Cons
Low in iron
No official third-party seal
Our Take
New Chapter Women's Multivitamin is a quality choice for someone seeking a general women's multivitamin. You may need a separate iron supplement if you are anemic, as this product is low in iron.
New Chapter is a well-respected, whole foods supplement company. It is one of the top-selling vitamin brands and has multiple seals of approval for its products.
According to the manufacturer, this product is specifically crafted for women to help with stress relief, energy, hair, skin, nails, heart, immunity, and bone support.
As a Registered Dietitian, I appreciate that this product is derived from whole foods. While more research is needed to confirm that whole food supplements are superior, the research is evident on the health benefits of whole foods in general. (4)
Therefore, a whole foods vitamin may be the next best thing.
It is made with certified organic vegetables and herbs and is 100% vegetarian-based. It also contains several superfoods in addition to the vitamins and minerals present, which help set it apart.
This product is not officially third-party tested for purity, quality, and safety, but it has the following four seals of approval:
GMO-free
100% kosher
ICS (International Certification Services): This verifies that every step in the manufacturing process meets organic standards, including no chemical pesticides, herbicides, or genetic engineering.
NSF-Certified Gluten-Free: This designation assures a product meets FDA (Food & Drug Administration) standards for being truly gluten-free and identifying this on the label.
Many of the product's ingredients are in highly absorbable forms and contain higher amounts of certain nutrients beneficial for women's health, such as vitamin D3, folate, and B12.
Price: $42.17 for 96 servings on Amazon (serving size is 1 tablet per day).
Best Budget Pick: Nature Made Multi For Her
Best Budget Pick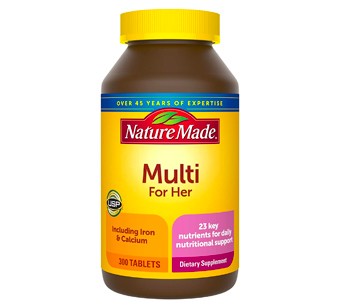 Pros
Third-party seal of approval
Affordable price
Contains 100% or more of DV of many key nutrients
Cons
Folate is in folic acid form, which many cannot absorb
Only contains 19% of the DV for calcium
Fairly large pill to swallow
Our Take
Nature Made Multi For Her is a good choice if you're looking for a budget-friendly women's multivitamin that is also third-party tested.
If you're on a tight budget or are just looking for the best value, Nature Made women's multivitamins are a quality choice.
Nature Made is a well-known and respected vitamin brand. Their women's multivitamin is third-party tested and USP-verified, which provides peace of mind on the brand's overall quality and safety standards.
It contains many essential nutrients for women's health at 100% or more of the daily value (DV), with most being in highly absorbable forms.
There are no artificial colors, flavors, or gluten present in this product.
The claimed benefit of Nature Made Multi For Her is supporting women's health.
Price: Around $28.98 for 300 servings on Amazon (serving size is 1 tablet per day).
Best Vegan: Future Kind Essential for Vegans
Best Vegan Women's Multivitamin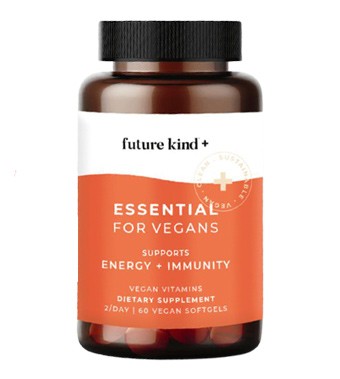 Pros
Created by Dietitians
Easy to swallow capsules
Free of most major allergens
Cons
Not a complete multivitamin
No official third-party testing seal
Our Take
Future Kind Multivitamins are a solid choice for someone following a vegan or vegetarian lifestyle and seeking a high-quality supplement. If you are deficient in a nutrient not present in this product, you may need to take additional supplements.
Those who follow a strictly vegan or vegetarian diet may find it more challenging to get enough of certain nutrients in their diet, so a supplement can be beneficial.
This product is 100% vegan and provides only the specific vital nutrients often lacking in vegan diets. This is a good thing because if your diet is balanced otherwise, it is likely not necessary to take a complete multivitamin without any actual deficiencies. (5)
Nutrients such as vitamin D, vitamin B12, and omega-3s are present in higher amounts in this product, and it is challenging to obtain enough of these from a vegan diet.
Future Kind products are designed based on the expertise of medical and health professionals, including Registered Dietitians with knowledge of vegan nutrition. With the purchase of this product, you also gain free access to a vegan nutritionist.
The company claims that this product supports energy, clear thinking, and mood. They also state that it is third-party tested; however, I could not find an official seal of approval to confirm this.
The product is produced in a GMP-certified facility which assures good manufacturing practices.
Price: $29.95 for 30 servings on Amazon (serving size is 2 capsules per day).
Best Gummy: SmartyPants Women's Formula Gummies
Best Gummy Women's Multivitamin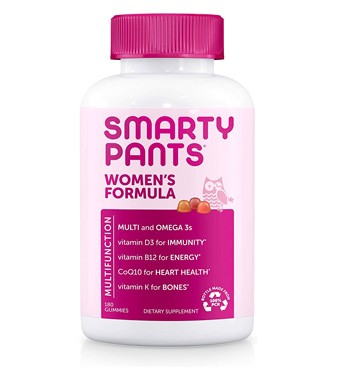 Pros
Bears a reputable third-party seal of approval
Free of the top 8 allergens
Users report good taste
Cons
Contains added sugar
Have to take 6 gummies per day
Our Take
SmartyPants Multivitamins are a smart choice if you're seeking a women's gummy vitamin.
If you hate swallowing pills, a gummy multivitamin may be the best choice for you.
SmartyPants is a reputable brand that is third-party tested by NSF International, an independent testing body that certifies supplements for high quality and purity standards.
SmartyPants vitamins also contain many highly absorbable forms of the vitamins present.
In general, gummy vitamin brands are sometimes not as potent as capsules. However, SmartyPants multivitamins contain more than 100% of the RDA of nutrients that many are most commonly deficient in, such as vitamin D, vitamin B12, and omega-3 fats.
They also contain at least 100% of the RDA for both iodine and biotin, two nutrients essential for women in terms of thyroid health and the health of hair, skin, and nails.
The company claims are that this product supports immunity, energy, and bone health.
While gummy supplements often taste good, they typically contain more calories and sugar than capsules or powders. This gummy contains 7 grams of sugar per serving; however, it is natural sugar from the fruit, as opposed to added sugar, which is preferable.
Still, if you have diabetes or are trying to watch your overall sugar intake, the sugar content is something to keep in mind.
Price: $26.75 for 30 servings on Amazon (serving size is 6 gummies per day).
Best Prenatal: Thorne Basic Prenatal
Best Prenatal
Pros
Third-party seal of approval
Affordable price
Contains essential prenatal nutrients, including folate
Cons
May need an additional DHA supplement
Not vegan-friendly
Large pill size, requires 3 pills per day
Our Take
Thorne Basic Prenatal is a good choice for a prenatal multivitamin that is affordable and third-party tested.
If you're pregnant or trying to become pregnant, choosing a quality multivitamin is essential for your and your baby's health. Thorne Basic Prenatal provides all of the essential nutrients during pregnancy at an affordable price.
Thorne is a well-known and respected vitamin brand.
Their products are all third-party tested to ensure high quality, purity, and accuracy in their product labeling. This provides extra peace of mind, especially at a time when good nutrition is of utmost importance.
What is particularly unique about Thorne's Basic Prenatal is that it contains folate in the form of 5-methyltetrahydrofolate, a highly absorbable form of folic acid.
This is important to look for in a prenatal as opposed to folic acid, as many women cannot absorb folate in folic acid form.
Folate is one of the most vital nutrients during pregnancy and plays a crucial role in a baby's spinal cord development and in preventing neural tube defects. (6)
Thorne Basic Prenatal is also free of major allergens like dairy, gluten, and soy and contains only natural flavors and colors.
The claimed benefit of Thorne Basic Prenatal is to help optimize the mother's health and nutrition.
Price: $29.00 for 30 servings on Amazon (serving size is 3 capsules per day).
More Options: Best Prenatal Vitamins of 2023
Best for Women Over 55: MegaFood Multi for Women 55+
Best for Women Over 55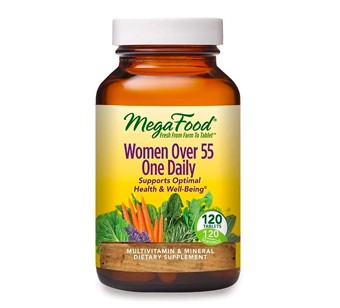 Pros
Certified vegan
Soy, dairy, and gluten-free
Made from real food
Contains essential nutrients in highly absorbable forms
Cons
Contains caffeine from green tea extract
Does not contain calcium or magnesium
Fairly large pill size, requires 2 pills per day
Our Take
MegaFood Multi for Women 55+ is a solid choice to meet the nutritional needs of women over 55. It contains green tea extract, which may not be appropriate for those who are caffeine-sensitive.
MegaFood Multi for Women 55+ is specifically formulated to meet the needs of women over 55.
All MegaFood supplements are made from whole foods and are formulated by doctors, which provides an additional level of trust.
The MegaFood Multi for Women 55+ contains a unique blend of ingredients beneficial for women over 55. This includes vitamin D for bone health as well as B-vitamins and zinc to support memory and cognition.
It also contains 250 mg of green tea extract, an antioxidant that may support healthy aging. (7)
The company also follows GMP (Good Manufacturing Practices) for its products, ensuring they are produced under ideal conditions.
The manufacturer claims that this product supports optimal health and well-being.
Price: $29.99 for 60 servings on Amazon (serving size is 1 tablet per day).
Best Subscription: Ritual Essential for Women
Best Subscription Multivitamin for Women
Pros
Tailored to meet the nutrient needs of most women
Third-party tested
Cons
Missing important nutrients like B-vitamins and vitamin C
May not meet the nutrient needs of every women
Our Take
Ritual multivitamins are a good choice if you're seeking the enhanced personalization and convenience of a subscription-based supplement.
Vitamin subscriptions are becoming increasingly popular for those looking for more personalization and consistency in their supplement regimen.
If you find you often forget to buy more vitamins when you run out, a subscription-based vitamin service like Ritual may be the choice for you.
Ritual is a vitamin subscription service that personalizes supplements for women based on their life stage.
For example, a different product is formulated for women between 18 and 49 years old than those 50 years old and over. This helps to more precisely target the nutritional requirements at different times in a woman's life.
All Ritual products are non-GMO, vegan, third-party tested, and sustainably sourced.
Ritual also employs a scientific advisory board comprised of medical doctors, nutritionists, and scientists to guide product development with up-to-date research.
The claimed benefits of Ritual multivitamins include improved mood and energy.
Price: $30–$35 for 30 servings, depending on the formulation (serving size is 2 capsules per day).
Ingredients to Look For in a Women's Multivitamin
When looking for the best women's multivitamin, the options can feel overwhelming. The number of ingredients can vary, and not all of them will necessarily contain precisely what they say they do.
Women have unique nutritional needs, and knowing the types of nutrients to look for can help in making your selection easier. Choosing wisely will also help assure you are getting enough of the most critical nutrients and not overdoing it on the rest.
Here are seven ingredients your women's multivitamin should have:
1. Vitamin D
Many of us don't get enough vitamin D, especially if we aren't getting regular sun exposure.
Vitamin D is also a vitamin that is not commonly present in most foods, making it one of the most important ones to supplement.
Vitamin D can support your immune system, aid in strong bones, and may even ward off depression. (8)
Vitamin D: Benefits, Deficiency, Sources, Dosage, and Safety
2. Calcium
Calcium is another critical nutrient that many are lacking in their diet, which is essential for strong bones and teeth.
Women, in particular, are more likely to lose bone density earlier in life, so meeting your calcium needs may prevent this decline. (9)
3. Iron
Because of various factors such as puberty, pregnancy, and menstrual cycles, women have higher iron needs than men. (10)
Your diet also impacts how much iron you may need in a supplement.
For example, if you're a vegetarian, it may be harder to get enough iron in your diet, therefore you may need to supplement.
4. Folate
Folate is a type of B-vitamin that is essential for women's health. It's most well known for its role in fetal development and preventing neural tube defects. (11)
It also supports heart and brain health and may have a protective effect on those with depression. (12)
Look for "methylfolate" on the label as this is a more readily absorbed form of folate than folic acid.
5. Vitamin B12
Vitamin B12 is another essential nutrient for women. It is involved in energy production and plays a role in keeping our nerves and blood cells healthy.
Women who follow a vegetarian or vegan diet are more prone to vitamin B12 deficiency as most good food sources come from animals.
Look for "methylcobalamin" on the label to maximize absorption.
6. Magnesium
Magnesium is another essential mineral that is involved in bone health, energy production, and may help reduce feelings of stress. (13)
Look for "magnesium citrate" or "magnesium chloride," as these are more easily absorbed forms and are less likely to cause GI upset.
Magnesium Supplements: Benefits, Side Effects, and Dosage
7. Zinc
Zinc is an essential mineral that some do not consume enough of in their diet.
It plays a role in the immune system and wound healing, and helps our body properly utilize our proteins, carbs, and fats for energy. (14)
Zinc: Benefits, Deficiency, Food Sources, and Safety
Important Note
Always consult with your doctor before starting a new supplement to determine your individual needs.
Frequently Asked Questions About Multivitamins
What are the benefits of taking a multivitamin?
Possible benefits include improved nutritional intake in those that are deficient. However, for a person without a true vitamin deficiency, the benefits in the research are still not clear. (15)
If you have a true nutrient deficiency or do not have enough variety in your diet, taking a multivitamin can help fill the gaps.
If you consume a balanced diet and don't have any deficiencies, it's unclear if a multivitamin would offer any additional benefits.
What does a women's multivitamin do?
A women's multivitamin can help prevent nutrient deficiencies and is specifically formulated to provide essential nutrients for women, such as folate and iron.
A women's multivitamin is not intended to treat or cure a condition.
Do I need to take a multivitamin every day for it to be effective?
It is recommended to take your multivitamin every day to get the most benefit.
This is because it takes time to build your levels up in your body, so being consistent with taking it will help increase these levels more effectively.
What is the best time to take a multivitamin?
The best time to take a multivitamin is first thing in the morning, as it is generally easier to remember.
They should always be taken with a meal, as many vitamins need fat to be properly absorbed.
Are there any side effects from taking multivitamins?
General multivitamin supplements have a strong safety profile, and side effects are rare.
The concern more often lies with single nutrient supplements such as vitamin A or E, which can cause stomach upset or become toxic in very high doses. (16)
Can multivitamins improve heart health?
There are some claims that multivitamins may improve heart health. However, most of the limited research done on this topic is on men. (17)
Therefore, I would not suggest taking multivitamins to reduce the risk of cardiovascular disease.
Can multivitamins reduce cancer risk?
A 2012 study called the Physicians' Health Study II investigated the role of multivitamins on cancer risk. (18)
The results showed a reduced risk of cancer in those taking multivitamins; however, all participants were doctors leading healthy lifestyles.
The results concluded that multiple factors likely led to this reduced risk, such as a family history of cancer, a healthy diet, exercise, and was unlikely the multivitamins alone.
Another large 2009 study in over 160,000 women showed convincing evidence that multivitamin use has little or no effect on the risk of common cancers. (19)
Therefore, I would not recommend taking a multivitamin to prevent or treat cancer.
The Bottom Line
Multivitamins are a good insurance policy with an overall strong safety profile.
They can help replace shortfall nutrients or nutrients your diet is lacking. However, they shouldn't be a substitute for a balanced diet.
A multivitamin may provide the biggest benefits if you follow a vegan or vegetarian diet, lack variety in your diet, or have any specific nutrient deficiencies that warrant a supplement.
Otherwise, eating a well-balanced, healthy diet with plenty of whole foods will be your best bet for optimal health and well-being.
Always consult with a medical doctor or dietitian first to determine your needs if you are concerned about your nutrition.
Thanks for your feedback!
In a few words, please tell us how this article helped you today.
Please let us know how we can improve this article by selecting your concern below.
Thank You! We appreciate your feedback.
*
Please select at least one topic:
Please Note: We cannot provide medical advice. This feedback will help us continue improving your user experience on WellnessVerge.
Please Note: We cannot provide medical advice. This feedback will help us continue improving your user experience on WellnessVerge.
At WellnessVerge, we only use reputable sources, including peer-reviewed medical journals and well-respected academic institutions.