Evidence Based Research
Our editorial team is made up of expert registered dietitians with extensive, real-world clinical experience who are highly trained in evaluating clinical research.
Lipozene Review: Does It Work for Weight Loss? Our Dietitian Explains
Lipozene is a weight loss supplement containing glucomannan, a natural dietary fiber. The use of glucomannan is promising for short-term weight loss, but it may not support your weight loss efforts long term.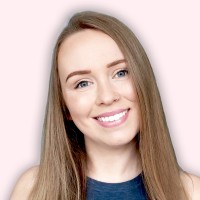 Medically Reviewed by
Kelsey Masso, MS, RDN
Registered Dietitian
Kelsey Masso is a registered dietitian, business owner, writer, and editor with years of experience in health and wellness. She earned a Master of Science in Health and Wellness Management from Merrimack College and completed her dietetic internship with Wellness Workdays, a nationally recognized corporate wellness company.
WellnessVerge is reader-supported. When you make a purchase through links on this page, we may earn a commission. Learn More

Pros

Increased fiber intake can decrease appetite and reduce overeating
The product has the potential to promote gut health

Cons

There is the possibility of unpleasant side effects
This product is expensive compared to similar alternatives
What Is Lipozene?
Lipozene is a popular diet pill that promises to help people lose weight without having to change their eating habits or lifestyle.
Manufactured by the Obesity Research Institute, a California-based company founded in 2003, this supplement is one of many weight loss products that they have developed.
The only active ingredient in Lipozene is glucomannan.
Glucomannan is a natural, water-soluble dietary fiber obtained from the roots of the konjac plant, also known as elephant yam.
This fiber is considered water-soluble or "viscous" because it has an amazing ability to absorb water. A small amount of glucomannan can turn an 8-ounce (250 ml) glass of water into a gel.
Therefore, when you ingest glucomannan with water, it creates a thick, gel-like substance in your stomach.
This slows the emptying of food from the stomach, increasing digestion time and thereby helping you to feel full for longer after eating.
How Could Lipozene Promote Weight Loss?
Based on many research studies, fiber intake is linked to lower body weight. (1)
Considering the nature of glucomannan as a soluble fiber, Lipozene may promote weight loss in the following ways:
Keeping You Feeling Full for Longer
Due to its water-absorbing properties, glucomannan will attract water and expand in the stomach, forming a gel.
This process will slow the rate of digestion, helping you to feel fuller after eating, which may reduce your appetite and prevent overeating.
Reducing Your Dietary Calorie Intake
Glucomannan may decrease the absorption of other calorie-containing nutrients, such as protein and fat.
This could mean that fewer calories are being absorbed by your body from the food you eat after taking Lipozene.
Promoting Gut Health
Increasing your fiber intake promotes good bacteria (microbiome) in the gut. Enhancing your gut microbiome may lead to weight loss.
According to a recent research review, changing the gut's microbiome may be an important tool in the treatment of obesity and lead to reductions in BMI, body weight, and fat mass. (2)
Summary
Lipozene may promote weight loss by increasing feelings of fullness after eating, limiting the absorption of calories, and promoting gut health.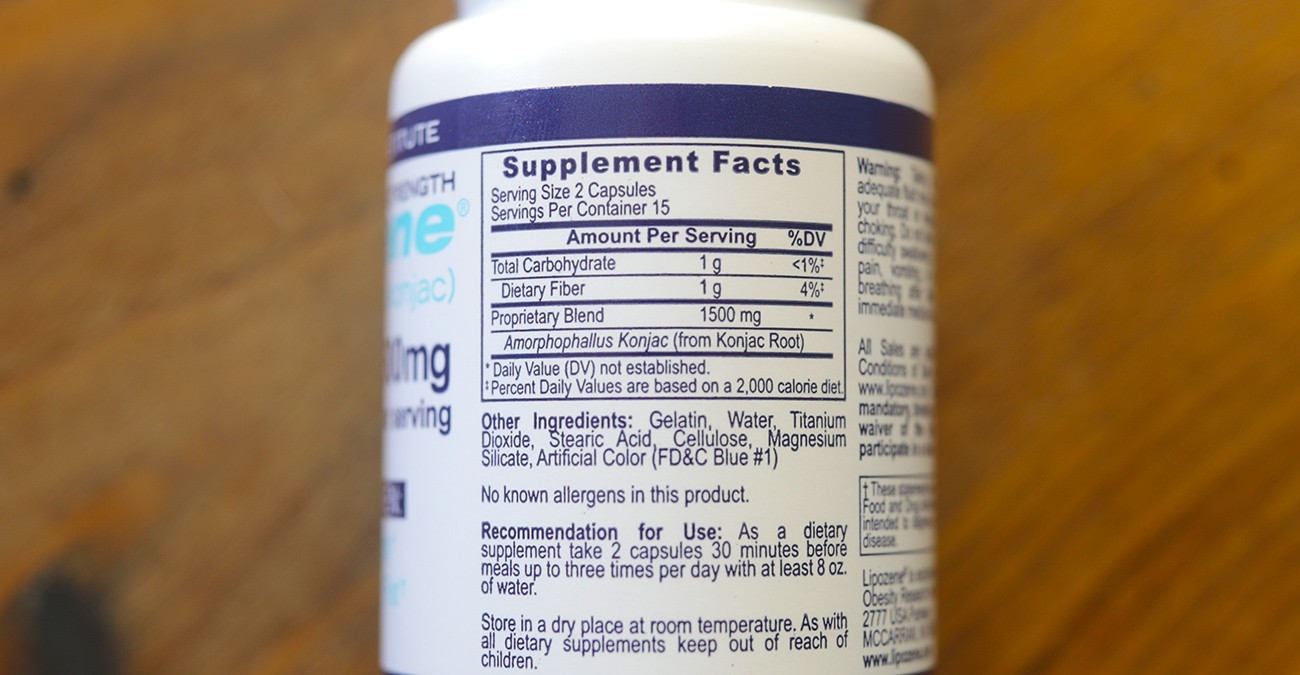 Does Lipozene Actually Work?
The manufacturers of Lipozene promise that you will lose weight and body fat. They claim to have completed clinical studies that showed great success in using the supplement for weight loss.
The website states that all the participants in their first study lost an average of at least 4.93 more pounds than the placebo, with 78% of each pound lost being pure body fat.
As remarkable as these numbers may sound, the Lipozene study is limited in several ways.
There are no details provided to the general public on how body fat was measured or information on the participants' calorie intakes and exercise regimens.
More problematic than this lack of available information is the fact that this study was never peer-reviewed.
Peer-reviewed studies meet certain standards of scientific quality and are considered a trusted form of scientific communication.
However, there is alternative peer-reviewed research both in favor and in opposition of glucomannan supplements like Lipozene.
A recent meta-analysis, including 6 study trials, found a significant reduction in body weight following glucomannan supplementation in 225 overweight and obese adults. (3)
On the other hand, a peer-reviewed study from the Journal of Obesity found that glucomannan supplements administered over 8 weeks did not promote weight loss or significantly affect body composition, hunger, or fullness. (4)
Another study concluded that glucomannan did promote limited weight loss, but researchers found no change in the participants' long-term body mass index (BMI). (5)
Ultimately, some research on using glucomannan is promising for short-term weight loss, while other research shows that this fiber supplement does not promote weight loss or a change in body composition in the long term.
Summary
There are conflicting research results about the effectiveness of using glucomannan supplementation for weight loss.
Verdict on Claimed Benefits
Below is our summary of the available evidence for the claimed benefits of Lipozene based on the available research:
| | |
| --- | --- |
| Helps reduce weight | Moderate Evidence |
| Helps reduce body fat | Limited Evidence |
| Safe and effective | Moderate Evidence |
There is moderate evidence to support the claims that Lipozene can safely and effectively help reduce body weight. However, the research remains mixed.
Inactive Ingredient Considerations
As previously mentioned, there is only one active ingredient in Lipozene—glucomannan. However, some may want to consider the inactive ingredients when choosing a fiber supplement.
Lipozene's inactive ingredients include:
Gelatin
Microcrystalline Cellulose
Magnesium Silicate
Stearic Acid
Titanium Dioxide
FD&C Blue #1
These ingredients provide no potential weight loss benefits.
Gelatin is simply used to add bulk to the product. This ingredient is animal-derived, so vegans and vegetarians will want to find a different fiber supplement.
Microcrystalline cellulose, magnesium silicate, and stearic acid are common food additives that act as anti-caking agents and fillers.
This means that they are added to prevent the glucomannan powder from becoming clumpy and fill extra space inside the pill capsule.
Titanium dioxide is a chemical compound that is used as a food coloring agent, often added to pills to make them white.
FD&C Blue #1, also known as Brilliant Blue FCF, is an artificial blue dye that is added to many processed foods, medications, and supplements.
Side Effects and Dosage
Lipozene is a fiber supplement with limited side effects beyond gastrointestinal problems.
According to the National Institutes of Health (NIH), the side effects of taking glucomannan may include loose stools, gas, diarrhea, constipation, and abdominal discomfort. (6)
Due to some concerns about the safety of gelatin, you should avoid taking gelatin in large amounts. However, gelatin is considered likely safe for most people in small amounts. (7)
Microcrystalline cellulose, magnesium silicate, stearic acid, and are generally recognized as safe to consume. Too much microcrystalline cellulose can cause gastrointestinal side effects similar to glucomannan.
Titanium dioxide is approved by the U.S. Food and Drug Administration (FDA) for use in food, but its safety as a food additive has recently been under question.
In fact, the European Food Safety Authority (EFSA) no longer considers titanium dioxide as safe when used as a food additive.
However, titanium dioxide may be present in over 90% of all oral form medications and supplements at this time, so it may be more difficult to find products without it.
While FD&C Blue #1 is also widely used, it has been known to cause dangerous allergic reactions in some people.
For those who are not allergic, there is no conclusive evidence that this food dye is unsafe for general food use.
The manufacturer recommends taking 2 Lipozene pills, 30 minutes before each meal, at a maximum of 6 pills per day. Every serving of Lipozene should be taken with at least 8 ounces (250ml) of water.
Each Lipozene pill contains 0.75 grams of glucomannan, so taking 2 pills provides 1.5 grams of glucomannan.
If you take 6 Lipozene per day, this is equivalent to taking 4.5 grams of glucomannan, which exceeds the amount that has been shown to be effective for weight loss. (8)
Taking more than 4 grams of glucomannan may not be tolerated well by some people, leading to gastrointestinal side effects.
It is important to talk to your healthcare provider before taking Lipozene or any other supplement to ensure that it is safe for you.
Summary
Taking Lipozene may cause some gastrointestinal side effects. The active ingredient is generally recognized as safe, and the inactive ingredients are generally recognized as safe or likely safe in small amounts.
The recommended dosage is 2 pills 30 minutes before each meal, with at least 8 ounces (250ml) of water, for a recommended maximum dose of 6 pills per day.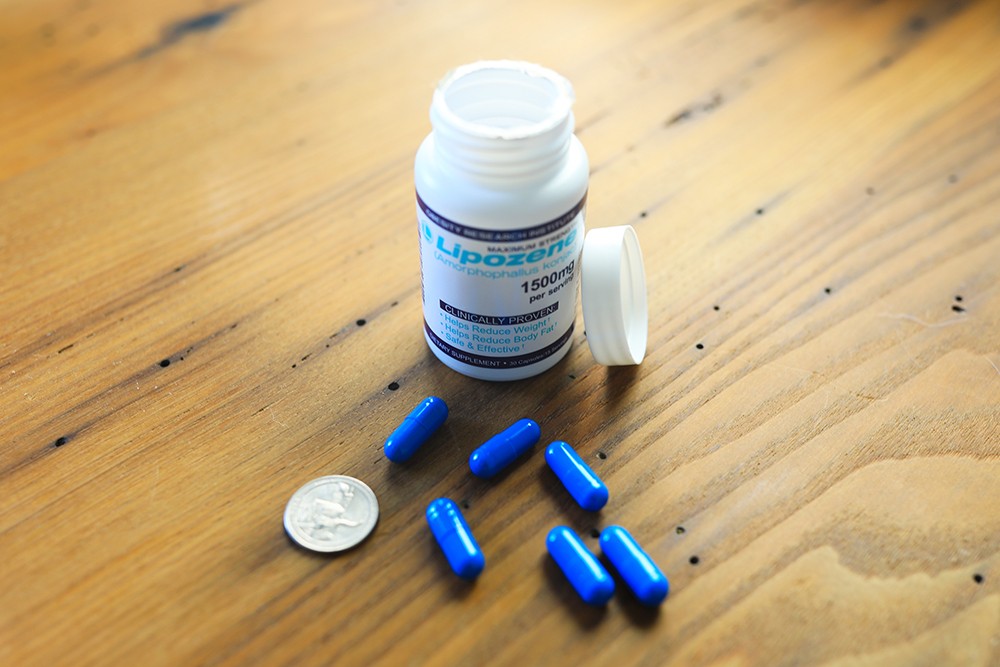 Cost and Where to Buy
When purchased directly from the manufacturer, as an introductory buy-one-get-one-free offer, two bottles of 30 capsules each (60 capsules total) is $29.95, which includes free shipping and handling.
Your total monthly cost of Lipozene depends on how much you take. Based on Lipozene's recommended dosage (2 capsules, up to three times per day), a one-month supply would cost roughly $90.
Lipozene offers a 30-day money-back guarantee.
This product can be purchased at a lower cost from Amazon, Walmart, Target, or CVS.
How Lipozene Compares to Alternatives
Ninety dollars per month for Lipozene is very steep compared to other supplements and diet pills for weight loss with the same active ingredient.
A wide variety of glucomannan supplements are available at most stores and online retailers for a fraction of the cost of Lipozene.
For example, NOW Foods offers a month's supply of their glucomannan supplement for $8.39.
You may also consider Nature's Way Glucomannan Root, a natural supplement that costs only $14.66 for 100 capsules. With a recommended dosage of 2–3 capsules per day, the bottle should last 4–6 weeks.
Another low-cost glucomannan supplement is NutriGold Glucomannan GOLD. A bottle containing 120 pills is $16.49, and the recommended dosage is 2 capsules per day. The bottle should last roughly two months.
Summary
Lipozene is more expensive than similar weight loss pills containing glucomannan.
Frequently Asked Questions
How do I take Lipozene?
As a dietary supplement, take 2 capsules 30 minutes before meals, up to three times per day, with at least 8 ounces (250 ml) of water.
What are the dangers of taking Lipozene?
Lipozene is a fiber supplement. The most common side effects from taking glucomannan fiber supplements are gastrointestinal symptoms including diarrhea, gas, constipation, and abdominal discomfort.
How much weight can I lose and how long before I'll see results from taking Lipozene?
Weight loss results with Lipozene use will vary from person to person.
The extent of your weight loss will depend on various factors, including the number of calories you eat, the amount of exercise you get, and if you have any underlying health conditions.
One scientific review found that people taking Lipozene lost between 0.5 and 1.7 pounds after taking glucomannan for just over five weeks. (9)
It is best to wait at least 4–6 weeks before expecting to see results from taking Lipozene.

Can I take Lipozene with medications?
The manufacturer does not specify any drug or supplement interactions. However, it is best to speak with your doctor before taking any supplements, including Lipozene.
The Bottom Line
Taking Lipozene may help you lose some weight and doesn't appear to have any serious side effects for most people.
However, there have been no scientific studies showing that this product will help you sustain that weight loss long term.
This product contains gelatin, an animal-derived product, so it is not suitable for vegans or vegetarians.
For long-term success, no dietary supplement can replace healthy weight loss habits.
However, if you're looking to try a fiber supplement to assist you in your weight loss efforts in the short term, there are less expensive glucomannan supplements that will provide results that are comparable to this product.
Advertisement
Start Losing Weight with Noom
Noom is a tried and tested weight loss program customizable to your personal health goals and levels by using psychology and teaching you what foods to eat. Start by taking a quick assessment to see what's best for you.
Thanks for your feedback!
In a few words, please tell us how this article helped you today.
Please let us know how we can improve this article by selecting your concern below.
Thank You! We appreciate your feedback.
*
Please select at least one topic:
Please Note: We cannot provide medical advice. This feedback will help us continue improving your user experience on WellnessVerge.
Please Note: We cannot provide medical advice. This feedback will help us continue improving your user experience on WellnessVerge.