WellnessVerge is reader-supported. We may earn a commission when you make a purchase through the links on this page. Learn more about our process here.
Why You Can Trust Us
Every article and review on WellnessVerge is thoroughly researched and fact-checked by licensed health professionals. Our editorial team is made up of registered dietitians and medical doctors.
Every piece of content is also medically reviewed to ensure accuracy and alignment with sound scientific evidence and medical consensus. We only use peer-reviewed journals and reputable medical sources to form our conclusions and recommendations.
We operate with total editorial independence, and our editorial policies ensure that your well-being comes first. Based on our rigorous research, we only recommend products that are worth considering. We always disclose any ads or partnerships with brands featured on our site.
Lipozene Review: No Significant Benefit to Justify the Cost
Last Updated on July 20, 2023
In a sea of weight loss supplements, Lipozene joins the ranks claiming to decrease your calorie intake to help you lose weight without changing your lifestyle. Although we all want effortless weight loss, the claims of Lipozene fall short when evaluated more closely.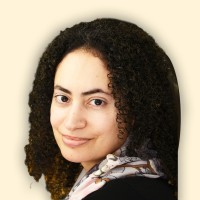 Medically Reviewed by
Yasmine S. Ali, MD, MSCI, FACC, FACP
Board-certified Cardiologist, Medical Board Member
Yasmine S. Ali, MD, MSCI, is a board-certified cardiologist, clinical lipidologist, and internist with nearly 30 years of experience in direct patient care and 25 years of experience in medical writing, editing, and reviewing.

Key Insights (TL:DR)
Lipozene is a stimulant-free appetite-suppressant supplement containing a single active ingredient — glucomannan (a type of soluble fiber).
Glucomannan has been shown to increase the feeling of fullness, leading to consuming fewer calories, resulting in weight loss.
Despite Lipozene claiming that "you don't have to change anything about your lifestyle to lose weight," research showed that glucomannan was more effective when combined with a calorie-restricted diet.
Conversely, other studies showed that taking glucomannan without changing your lifestyle did not result in any meaningful weight loss.
Because results in studies on glucomannan were mixed and short-term, it's unclear how much weight you can lose from using Lipozene.
We believe there is nothing unique about Lipozene to justify its higher price, yet it is substantially more expensive than other glucomannan supplements.
Things to Like About Lipozene
Its active ingredient, glucomannan, has been shown to modestly affect weight loss (when combined with a calorie-restricted diet).
Contains an effective amount of the active ingredient as used in clinical studies.
Gluconaman, being a type of soluble fiber, may also promote digestive health.
Important Considerations
The brand makes a lot of unsubstantiated claims on its website. We typically advise you to proceed with caution with such brands.
Not third-party tested for ingredient purity and quality.
Glucomannan may cause unpleasant digestive side effects.
The long-term safety of glucomannan is unknown. Most studies were only 8–12 weeks in duration.
Contains artificial colors and other additives.
Very little is known about the brand or the medical team behind Lipozene.
You're required to take two capsules before every meal, up to six capsules per day.
Lipozene in a Snapshot
Lipozene is a stimulant-free weight loss supplement containing a single active ingredient — glucomannan. Glucomannan is a natural, water-soluble dietary fiber obtained from the roots of the konjac plant. The glucomannan fiber is extremely viscous and has an amazing ability to absorb water.
Lipozene is manufactured by the Obesity Research Institute, LLC, a California-based company founded in 2003. The Obesity Research Institute has created several products within the weight loss space and was involved in a number of lawsuits over its unsubstantiated marketing claims.
We must address the elephant in the room before we get any further into the nitty-gritty of things. The only proven way to lose weight is through eating a nutritious and balanced diet, reducing calories, and exercising.
Everyone knows how difficult this could be, including the makers of Lipozene, who promise that their product can help people lose weight without changing their eating habits or lifestyle. However, no research confirms this claim, so this promise is untrue.
Furthermore, the National Institute of Health advises to "be very cautious when you see weight-loss supplements with tempting claims, such as …'lose weight without diet or exercise.' If the claim sounds too good to be true, it probably is. These products might not help you lose weight…" (1)
That being said, there is a good amount of promising research on glucomannan and soluble fiber for weight loss. So if you adjust your expectation and approach this product with an understanding that it needs to be combined with lifestyle modifications, you might get some results.
The research shows that glucomannan may increase feelings of fullness, leading to less intake of calories. Soluble fiber is also linked to better weight management by improving gut health. We will tackle all of this below, but first, a few notes on how Lipozene should be taken.
How to Take Lipozene
A single dose of Lipozene is 2 capsules, taken up to three times per day (maximum of 6 capsules daily). The manufacturer recommends taking each dose 30 minutes before three of your largest meals.
Taking these with at least 8 ounces (250 ml) of water is important, and the company does not recommend taking more than 6 capsules per day.
Each Lipozene capsule contains 0.75 grams of glucomannan, so taking 2 capsules provides 1.5 grams of glucomannan. If you take 6 Lipozene capsules per day, this is equivalent to taking 4.5 grams of glucomannan.
The safe or effective dose of glucomannan has not been fully established. However, research shows that a very wide range of dosing may be beneficial, anywhere from 1.2–15.1 grams per day. (2)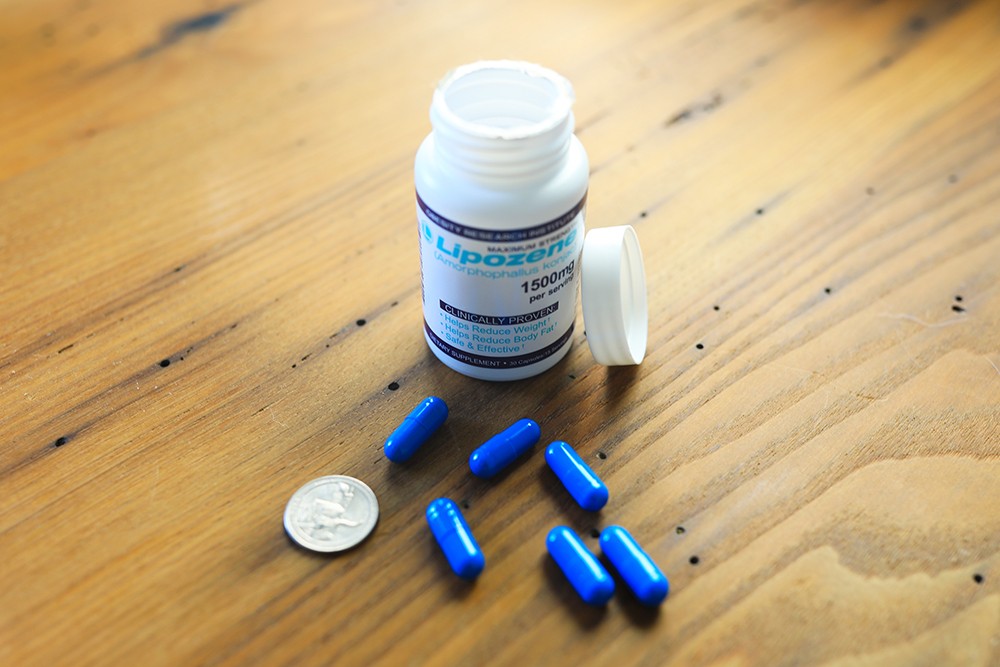 Understanding How Lipozene Assists in Weight Loss
Lipozene's main active ingredient, glucomannan, is a water-soluble fiber that, in theory, may moderately help with weight loss in the short term by suppressing appetite, reducing your calorie intake, and promoting your gut health. (3, 4, 5)
Due to its water-absorbing properties, glucomannan attracts water and expands in the stomach. This process will slow the rate of digestion, helping the stomach to feel fuller, so you eat less.
Glucomannan may decrease the absorption of other calorie-containing nutrients, like protein and fat. This would potentially mean absorbing fewer calories from the food you eat.
Because glucomannan is a fiber, it may help improve bowel movement frequency if you're constipated. (6)
Glucomannan may also help in lowering blood pressure and cholesterol. (7)
Regarding research on glucomannan and weight loss, studies have been mixed over the years, with some showing weight loss and others showing no effect.
One significant differentiating factor among the studies was calorie restriction. Participants that took glucomannan alongside a calorie-restricted diet had more favorable weight loss results than those who did not modify their diet or physical activity. In fact, the latter study groups mostly showed no weight loss benefits.
For example, one 2023 study showed that taking glucomannan alongside energy restriction (calorie-restricted diet) helped reduce body mass index and body weight after 8 weeks. (8) Another 2005 study with 176 participants who were following a calorie-restricted diet showed that glucomannan helped reduce body weight in healthy but overweight people. (9)
On the contrary, one 2013 study showed no significant improvements in weight loss after taking 3.99 grams of glucomannan daily. The study participants did not change how they eat or follow a calorie-restricted diet. (4)
Safety Considerations
According to the studies we reviewed, glucomannan (the main ingredient in Lipozene) is generally considered safe. It is important to note that Gluconomann has not been studied for long-term safety. Most of the studies lasted between 8–12 weeks.
Since it is a fiber supplement, the primary side effects are related to potential gastrointestinal discomfort, including belching, bloating, loose stools, flatulence, diarrhea, constipation, and abdominal discomfort. (2)
However, if you're receiving insulin or drugs for blood sugar management, you should speak with your doctor before using this product. Glucomannan may also reduce the absorption of other oral medications, so it is advised to take these medications either 1 hour before or 4 hours after taking glucomannan.
People with structural abnormalities of the esophagus or gut should avoid glucomannan as it could cause a blockage. However, this is very rare. According to the National Institute of Health, doses up to 15.1 grams per day should be safe, and adverse effects were reported at daily dosages above that. The maximum dose of Lipozene per day is 4.5 grams, so you would be in the safe range.
Cost and Buying Options
A bottle of 120 capsules costs $32.95 from Lipozne's official website. Lipozene offers a 30-day money-back guarantee minus a $1.35 processing fee, including on opened bottles. However, the money-back guarantee is only good for products purchased directly from the Lipozene website or TV ads.
Overall, compared to other supplement brands we reviewed, Lipozene pricing was not clear based on the other types of buy-one-get-one-free offers they provide and whether you're locked into a subscription, and what your future charges would look like. In an attempt to further clarify, their chat could not clearly answer all of our questions on their pricing and subscription models. If you're interested in trying Lipozene, your best bet is to buy it from a big-box retailer with transparent pricing.
Lipozene is available from the following popular retailers:
Amazon: $32.95 (120 Capsules)
Walmart: $32.95 (120 Capsules)
Walgreens: $20.99 (60 Capsules)
Alternatives to Lipozene
Bringing everything we discussed together, we can summarize that the weight loss benefits of Lipozene are modest at best, and all of them come from its active ingredient, glucomannan. In addition, the exact weight loss results were mixed and depended on people's diets. You may or may not experience any meaningful benefit from taking it.
This leads us to conclude that if someone wants to try a glucomannan supplement from a reputable brand and the best possible price, they should look at other options besides Lipozene.
Here's why:
There is very little information about the people behind the Lipozene brand and their qualifications.
There are unsubstantiated claims in their marketing.
Lipozene is more expensive than other glucomannan supplements.
Their pricing is not entirely transparent for consumers.
Here's how Lipozene compares to several glucomannan supplements from well-established brands that we believe are better alternatives:
| | Lipozene | Swanson Premium Glucomannan | NOW Foods Glucomannan | NutriGold Glucomannan GOLD |
| --- | --- | --- | --- | --- |
| Amount of Gluconaman per Serving | 1,500 mg | 1,330 mg | 1,725 mg | 1,400 mg |
| Dosage | 2 capsules before every meal, 6 capsules total | 2 capsules before every meal, 6 capsules total | 3 capsules, two times daily before meals, 6 capsules total | 2 capsules before every meal, 6 capsules total |
| Artificial Ingredients and Additives | Yes | Yes | Yes | No |
| Third-Party Tested | No | Yes | Yes | Yes |
| Regular Price | $32.95 (120 capsules) | $6.36 (90 capsules) | $23.99 (180 capsules) | $16.49 (120 capsules) |
| Cost per Serving | $0.55 | $0.14 | $0.40 | $0.27 |
| Estimated Cost per Month | $49.50 | $12.60 | $24 | $24.30 |
| Purchase | Shop on Amazon | Shop on Swanson | Shop on Amazon | Shop from NutriGold |
How to Choose
Keep in mind that a safe or effective dose of glucomannan has not been established. Research shows that 1.2–15.1 grams per day may be beneficial.
If you want the highest-quality glucomannan supplement without any additives, NutriGold Glucomannan GOLD is your best option.
If you want the most budget-friendly option, Swanson Premium Glucomannan is a clear winner.
Thanks for your feedback!
In a few words, please tell us how this article helped you today.
Please let us know how we can improve this article by selecting your concern below.
Thank You! We appreciate your feedback.
*
Please select at least one topic:
Please Note: We cannot provide medical advice. This feedback will help us continue improving your user experience on WellnessVerge.
Please Note: We cannot provide medical advice. This feedback will help us continue improving your user experience on WellnessVerge.