Evidence Based Research
Our editorial team is made up of expert registered dietitians with extensive, real-world clinical experience who are highly trained in evaluating clinical research.
Ombre Gut Health Review (Formerly Thryve): Pros, Cons, and How It Works
Ombre (formerly Thryve) uses a gut microbiome test to provide personalized probiotic and diet recommendations. While Ombre is a good starting point, it is best to work with a professional to improve your gut health.
This page contains links through which we may earn a small commission should you make a purchase from a brand. Learn more about how we make money here.

Editor's Note: On November 1, 2021, this brand changed its name from Thryve to Ombre. According to the company, all testing kits and personalized probiotics stayed the same. We are in the process of updating this review, including product photos, to reflect these changes.
Pros

Personalized recommendations based on your microbiome
Medical advisory board works with company
Tailored probiotic products for different health concerns

Cons

No healthcare providers to help customers
Optimal dosages for probiotic strains have not been determined
All products use "proprietary blends," therefore exact dosages are unknown
How It Works
Ombre (formerly Thryve) is an innovative company that uses a mail-in gut microbiome test to provide personalized recommendations for probiotic supplements and dietary changes.
The idea was inspired by the CEO's own health concerns, which he was able to correct by improving his gut health.
Once you purchase the Ombre gut kit, they send you a collection box to collect a small stool sample. You mail in the stool sample, and they provide a "map" of your gut microbiome.
From there, they also make recommendations for the types of bacteria that should be included in your ideal probiotic supplement and the foods you should include and avoid to improve your gut health.
Once you send in your stool sample, Ombre compares your results to the American Gut Project, allowing them to calculate microbial diversity, the total number of species, and the percentage of beneficial bacteria.
The company has mapped out over 3,000 kinds of bacteria to evaluate their function in the body.
They have also evaluated over 1,000 foods and 500 supplements to determine the impact each has on gut bacteria.
You can find your results on the Ombre website.
Their algorithm makes personalized recommendations for how to manage your symptoms, enhance beneficial bacteria, and reduce pathogenic bacteria in your gut to improve your health.
It also recommends foods to eat or avoid and potential health problems you may encounter based on your microbiome profile.
While it seems Ombre has evaluated significant clinical data to make these recommendations, I am hesitant to recommend making dietary or lifestyle changes based on a computer algorithm, particularly if you are trying to manage severe health concerns.
I did not see any mention of Ombre providing consultations with healthcare providers to help users understand their results.
My Experience with Ombre

I tried the Ombre microbiome test myself. The collection kit arrived and included simple to follow instructions for collecting the sample.
I was able to do it on the same day of arrival and send it off.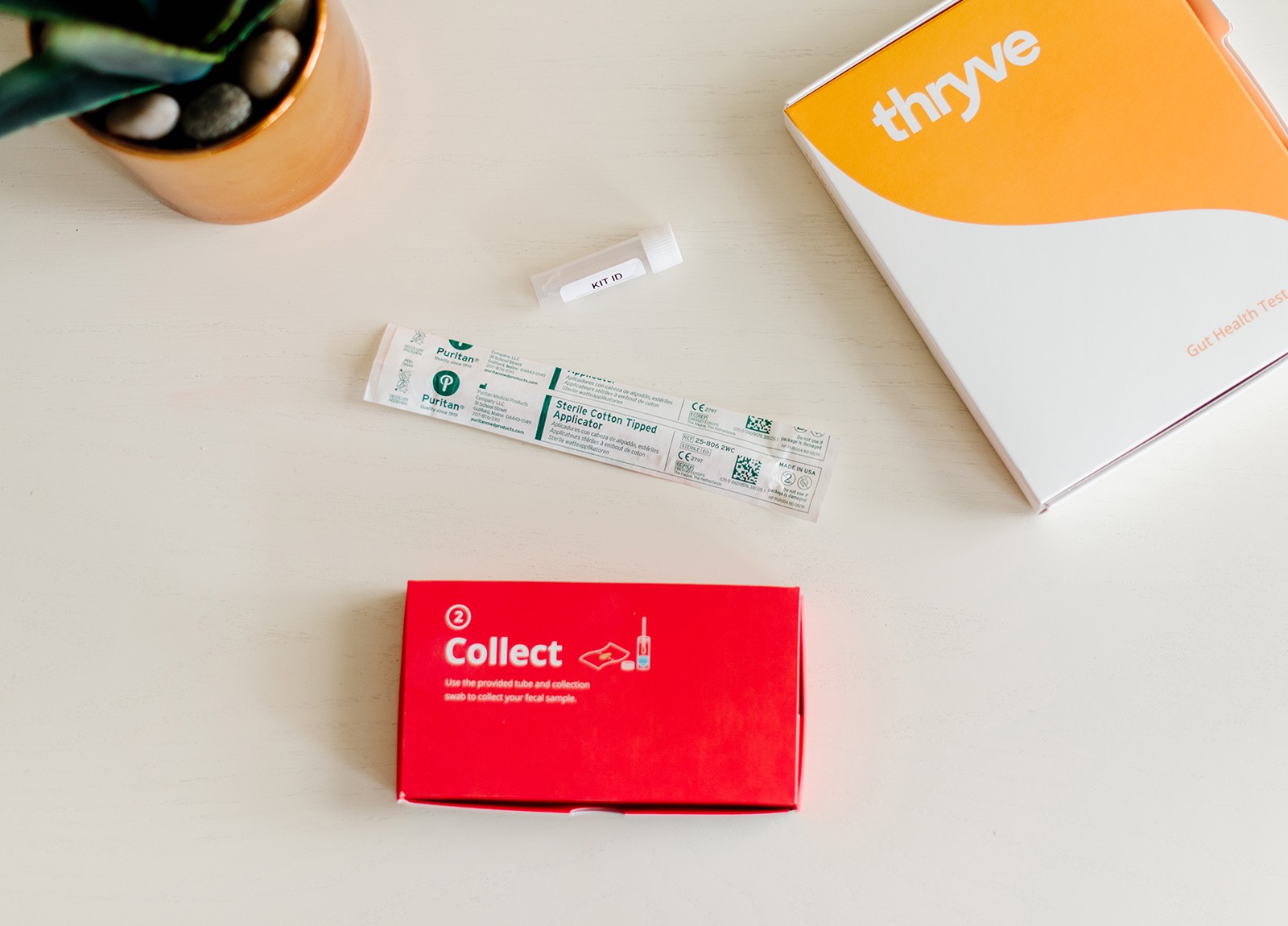 The results took about 3 weeks to come back and were presented on a user-friendly website.
The information provided included:
Overall gut health score.
My personalized Ombre probiotic recommendations.
A personalized food plan that included 220 foods to eat and 46 foods to avoid.
A bacteria level score.
A list of possible symptoms I might experience due to the current condition of my gut bacteria.
The total number of species they discovered in my sample.
The test provided some insight into the current health problems I am experiencing. Over the last few years, I have struggled with insomnia and unwanted weight gain.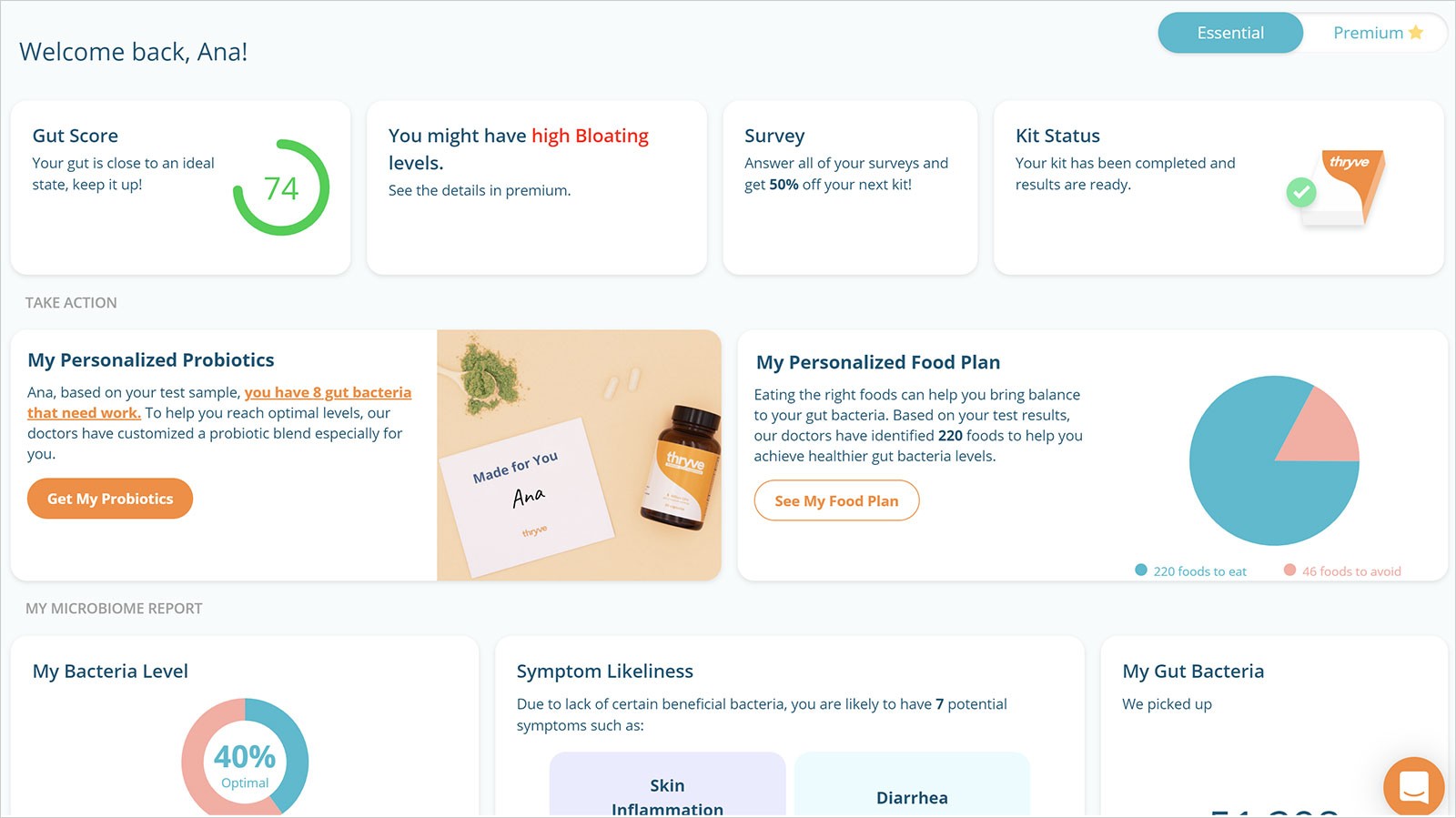 The test identified that I am low in a type of bacteria called akkermansia, which has been linked to these two conditions.
It also identified that I was low in many gut bacteria related to digestive symptoms, such as bloating. I do not experience many digestive concerns, so this finding was a bit off.
Ombre provides a list of bacteria you are high or low in and how you compare to the "standard." It recommends a tailored probiotic supplement to help improve your gut health.
The list of foods to add included those that increase this particular type of bacteria. The list of foods to avoid includes those that decrease this type of bacteria.
Ombre also provides information on the strength of research to support its claims around the connection between specific foods and gut bacteria.
The food recommendations included recipes and tips for how to add specific foods to your diet.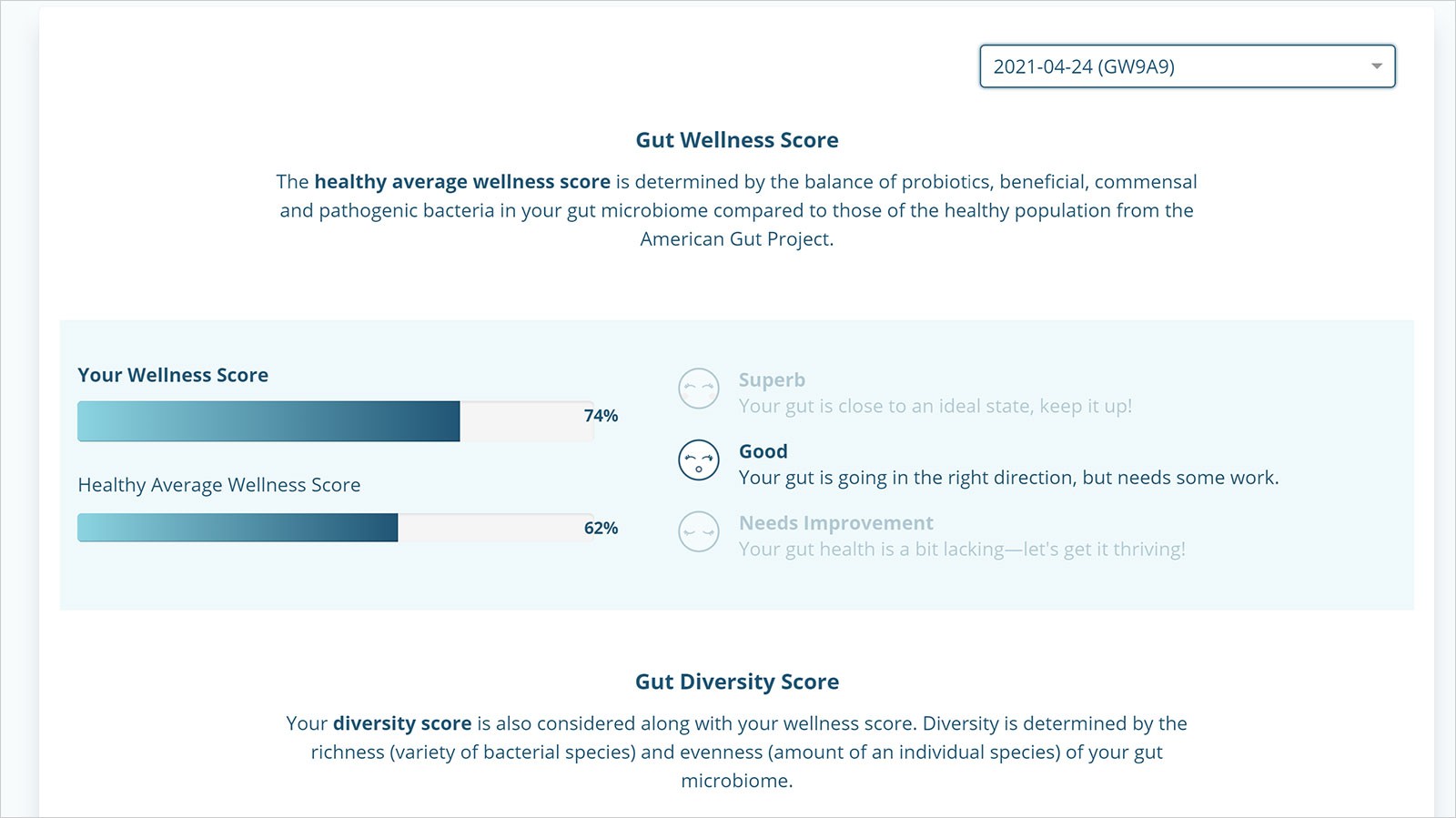 The probiotic blend recommended for me did not include this particular bacterial strain, but others I was also low in. Upon further research, it seems this strain is not used in probiotic products.
Overall, I found the Ombre test interesting and that it lined up with my current health concerns.
But other than trying to include and avoid the recommended foods, I am not sure how to proceed with correcting the imbalance since this particular strain is not found in probiotic supplements.
I also don't know how long I have to wait before testing again to see if there is any improvement. I feel there are a lot of unanswered questions based on my results.
I think the Ombre test would be most beneficial if it included a consultation with a gut health expert to help guide customers on how to improve their gut bacteria and best apply their results.
Evaluation of Specialized Probiotics
Ombre has a medical team of advisors featured on their site that includes several experts in the microbiome.
But it is unclear if these experts worked as consultants in development or have an ongoing relationship with the company.
There is no consultation with healthcare practitioners, like physicians or dietitians, to help customers interpret their results.
These types of consultations would really enhance the service offered.
Ombre offers a line of five different probiotics, each with a specific focus. There is scientific evidence to back up the specific formulation of these products for their intended purpose.
Note that probiotics behave in very strain-specific ways. Results from studies cannot be extrapolated across different strains of bacteria, even if they are similar.
The probiotics include:
While there are studies to back up the types of microbes included in each formula, there are currently no standardized dosage recommendations for each strain.
Ombre's products are all "proprietary blends," so you don't know how much of each strain you are getting, only the total number of bacteria.
This makes it difficult to predict the benefits of the specific product since there is no indication of how much it includes.
Side Effects and Safety
As far as the probiotic products offered by Ombre, I don't have any significant safety concerns with people taking probiotics.
The most common side effects of probiotics are digestive discomfort, like gas and bloating.
Those with compromised immune systems should speak to their doctor before taking probiotics in general. Otherwise, probiotics are safe for most people.
The products contain milk and soy, and therefore should be avoided by people with allergies to those ingredients.
My main concern with Ombre is that most people shouldn't be taking health advice or be make dietary changes based on recommendations by an algorithm.
I would be wary of restricting your diet too much based on the results of this one test with no other guidance.
My recommendation would be to use the Ombre test as a jumping-off point and bring the results to your doctor or dietitian, who can create a more personalized plan for you.
See Also: How and When to Take Probiotic Supplements
Cost
The Ombre Gut Health Test costs $99. This is slightly less expensive compared to its competitors that offer similar services.
The probiotics offered by Ombre cost $39 a month, and you can save 10% with a subscription.
A quality probiotic will usually cost somewhere between $30–$50, so this seems fairly on par.
Ombre has a no returns policy unless they determine they made a mistake with your order. This is a pretty stringent return policy, as most companies usually allow 30 days.
How Ombre Compares to Alternatives
There are several companies offering at-home tests similar to Ombre. Based on my research, Ombre is the least expensive.
Thorne offers a gut health test for $197. Thorne is a well-established supplement company that works with many respected health and nutrition experts.
Ombre does not have the same level of involvement with experts as Thorne.
But, based on just reading the information on both websites, I don't see a significant difference between the Thorne and Ombre tests, other than the price.
Biohm has a similar test for $129, which also tests for fungi and yeasts, not offered by Ombre.
The Biohm test offers a consultation with a registered dietitian to go over your results for an additional fee.
Being able to consult with a professional would be my recommendation if you are looking to get the most out of your at-home GI mapping.
The Bottom Line
Ombre offers customers a good jumping-off point for improving gut health and other concerns.
With so many probiotics on the market, being able to narrow down the exact strains you need is useful.
I don't think the science is quite there to make firm recommendations on strains and dosages across the board.
Additionally, I would be wary of taking diet advice from an algorithm that cannot assess your entire health history and make personalized recommendations for you.
If you want to give it a try to see if it helps you feel better, I see no significant downside to Ombre.
A Word from Our RD
Ideally, you would try Ombre while working with a doctor or dietitian to help address your health concerns.
The report from the GI test would be a helpful tool for a dietitian working with digestive health, allowing them to guide you towards the best foods for you.
I would recommend using it in conjunction with treatment by a healthcare provider.
Thanks for your feedback!
In a few words, please tell us how this article helped you today.
Please let us know how we can improve this article by selecting your concern below.
Thank You! We appreciate your feedback.
*
Please select at least one topic:
Please Note: We cannot provide medical advice. This feedback will help us continue improving your user experience on WellnessVerge.
Please Note: We cannot provide medical advice. This feedback will help us continue improving your user experience on WellnessVerge.
At WellnessVerge, we only use primary references for our articles, including peer reviewed medical journals or well-respected academic institutions.