WellnessVerge is reader-supported. We may earn a commission when you make a purchase through the links on this page. Learn more about our process here.
Why You Can Trust Us
Every article and review on WellnessVerge is thoroughly researched and fact-checked by licensed health professionals. Our editorial team is made up of registered dietitians and medical doctors.
Every piece of content is also medically reviewed to ensure accuracy and alignment with sound scientific evidence and medical consensus. We only use peer-reviewed journals and reputable medical sources to form our conclusions and recommendations.
We operate with total editorial independence, and our editorial policies ensure that your well-being comes first. Based on our rigorous research, we only recommend products that are worth considering. We always disclose any ads or partnerships with brands featured on our site.
Youtheory Ashwagandha Review: Pros, Cons, Effectiveness, and Safety
Youtheory Ashwagandha is an herbal extract designed to promote a sense of calm and improve well-being. The ingredients can be helpful in both reducing stress and enhancing focus, with a good safety profile.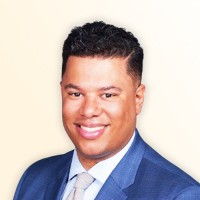 Medically Reviewed by
Anthony Dugarte, MD
Medical Reviewer
Anthony Dugarte, M.D., C.S.C.S. is a health and wellness writer and medical content reviewer. In addition to dedicating the last 8 years to medical research, Dr. Dugarte also has more than a decade of experience in strength and conditioning, nutrition, and rehabilitative exercise, as well as authoring and reviewing health and wellness-related content.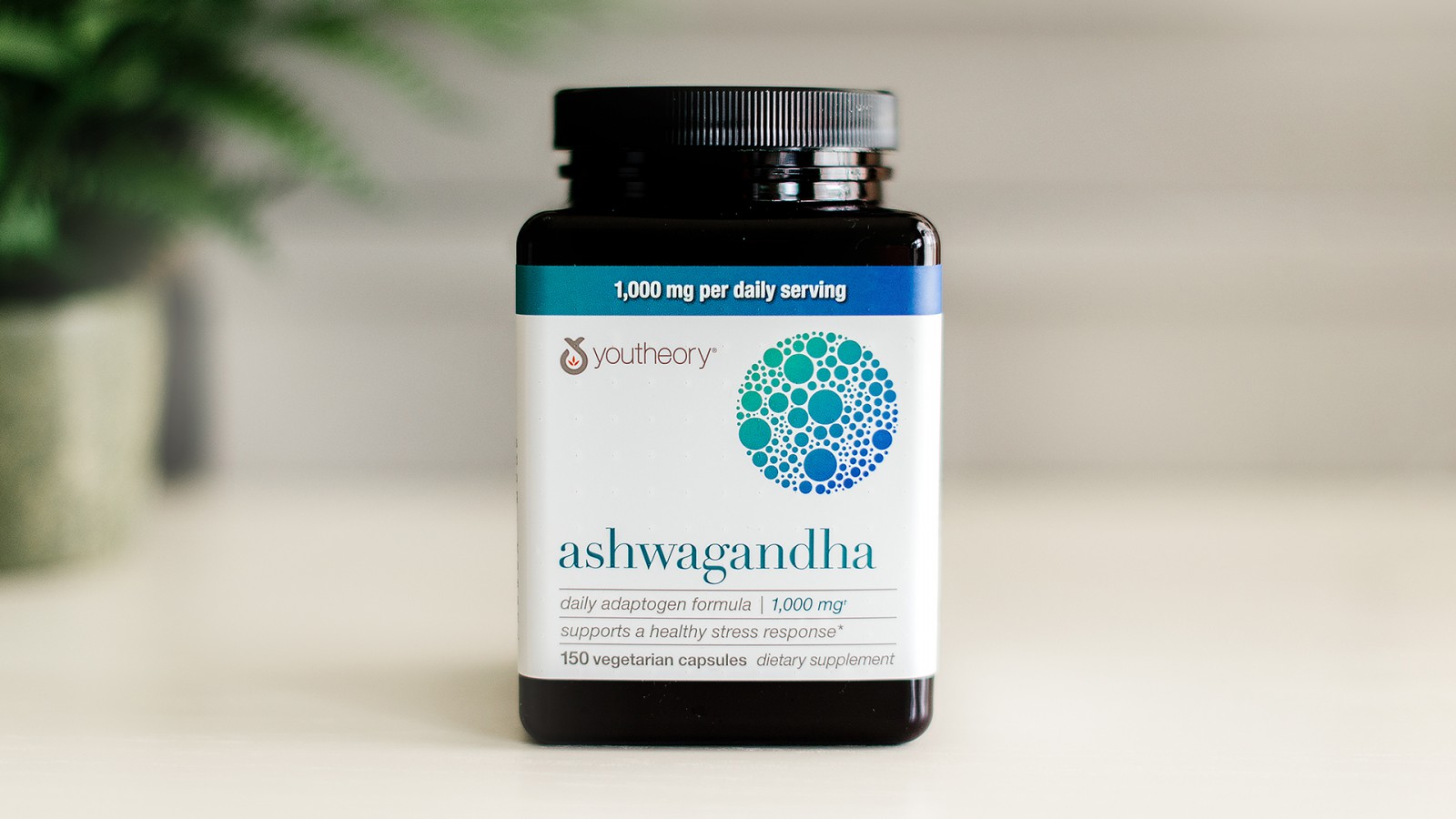 Pros

Ingredients are research-backed
Uses quality extracts
30-day money-back guarantee

Cons

No specific dosage recommended
Questionable safety of higher dose
Not third-party tested
What Is Youtheory Ashwagandha?
Youtheory Ashwagandha is a supplement intended to lower stress levels, balance hormones, and support your immune system.
Ashwagandha is considered an adaptogen. An adaptogen is an herbal extract purported to counteract the effects of stress in the body and support hormonal balance.
Adaptogens influence multiple body systems at once, such as the nervous system, the endocrine (hormone) system, and the immune system.
They help balance out the body by calming hyperactive systems while simultaneously strengthening weaker systems.
The goal of taking an ashwagandha supplement is to promote a sense of calm and clarity.
Youtheory Ashwagandha contains a primary ashwagandha extract, called KSM-66, which is considered to be one of the highest quality extracts to help you manage the effects of stress.
Youtheory was founded in 2010 by Darren and Patty Rude and is promoted as a family-oriented company. The founders emphasize quality and purity in all of their products.
The serving size suggestion on the label is 2 capsules per day with water. However, on the website, they promote "personalized dosing," in which they recommend starting with 1 capsule and increasing to up to 2 capsules per day to achieve the desired results.
This inconsistency in dosing can lead to potential confusion for customers or taking too much of the product.
Evaluation of Ingredients
Youtheory Ashwagandha contains two core ingredients – a full-spectrum ashwagandha root blend with two types of ashwagandha and ginger root extract.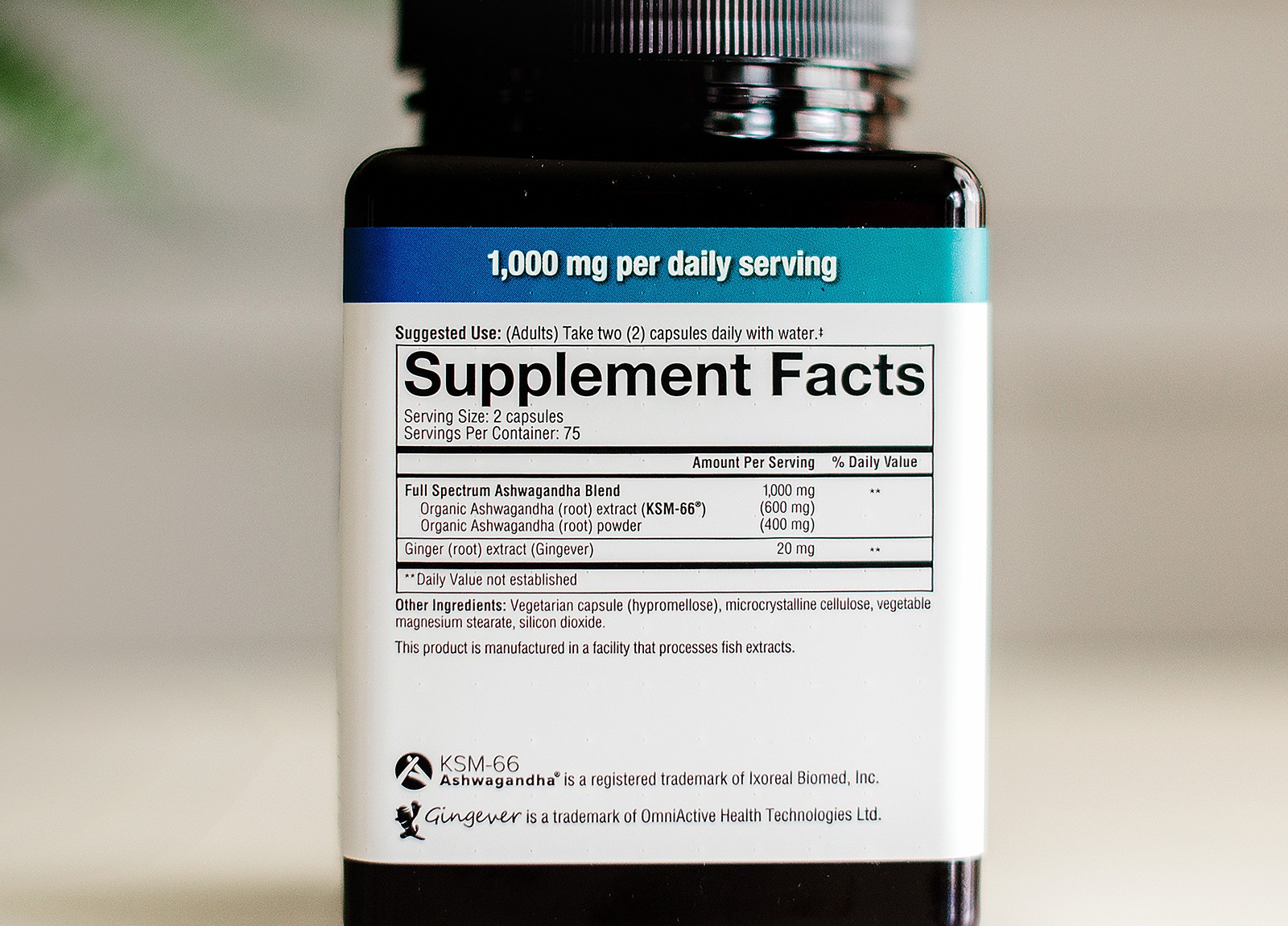 Full Spectrum Ashwagandha Blend, 1000 mg
Organic Ashwagandha Root Extract (KSM-66), 600 mg
KSM-66 is a high potency ashwagandha extract that is sourced directly from the root of the herb.
Out of all types of ashwagandha on the market, KSM-66 is the most extensively researched.
In fact, there are 22 gold standard human trials that have directly tested its effectiveness.
For example, one small 2012 study compared levels of stress and anxiety in those who took ashwagandha versus placebo. (1)
Those who took 300 mg twice per day of a full-spectrum ashwagandha extract for 60 days had reduced levels of stress markers when tested. This included lower cortisol levels compared to the placebo group.
Another randomized controlled trial investigated ashwagandha's role in improving focus and cognition. (2)
Those taking 300 mg of ashwagandha extract twice daily had improvements in attention, focus, and speed of processing information.
A small 2019 study also showed ashwagandha's potential in improving sleep quality. This study showed its potential to improve sleep quality and the onset of sleep in those with insomnia at a dose of 300 mg twice daily for 10 weeks. (3)
Overall, KSM-66 is a high-potency ashwagandha extract that appears to have multiple health benefits seen in small, high-quality studies.
I would still like to see larger studies conducted on it to confirm its effectiveness.
Organic Ashwagandha Root Powder, 400 mg
The ashwagandha root powder is also derived directly from the root of the ashwagandha herb.
It provides many of the same health benefits as KSM-66 extract in a less potent form.
Ginger Root Extract, 20 mg
Ginger is an herb often used in Asian cuisine that has antioxidant properties.
There was one 2012 study that showed ginger's potential to improve cognition in middle-aged women. (4)
Participants received either 400 mg or 800 mg of a ginger supplement daily for 2 months. Those taking the supplement had improved cognition and working memory.
Another 2011 animal study showed its potential to improve memory. (5)
While there are some studies on ginger's benefits, most are small human trials or in animals. The results in humans may not be the same as what is seen in animals.
Additionally, the doses of ginger given in the studies to produce health benefits are significantly higher than what is present in Youtheory Ashwagandha.
However, according to the manufacturer, it appears the main purpose of adding ginger to this supplement is to aid in its absorption.
Support for Claimed Benefits
Below is our summary of the available evidence for the claimed benefits of Youtheory Ashwagandha based on the available research:
Helps maintain normal cortisol levels

3

/5
Promotes calm and clarity

4

/5
Boosts mental and physical performance

3

/5
Promotes more restful sleep

4

/5
The evidence to support the claims on this product is moderately strong, albeit many studies are smaller in terms of the number of subjects or the impact seen with ashwagandha supplementation.
Dosages are also not consistent across all studies; therefore, it is difficult to fully evaluate the claims of the product based on this.
Overall, research does point to ashwagandha being able to help mitigate the effects of stress.
Side Effects, Safety, and Dosage
The serving size suggestion on the label is 2 capsules per day with water.
However, on the website, they promote "personalized dosing," in which they recommend starting with 1 capsule and increasing to up to 2 capsules per day to achieve the desired results.
Youtheory Ashwagandha is certified vegetarian, dairy-free, and soy-free, with no gluten-containing ingredients or GMOs.
This product is manufactured in a facility that processes whey milk protein and fish extracts, so those with a milk or fish allergy should avoid this product.
Ashwagandha has been seen to be safe when taken at up to 800 mg per day. (4)
There have been rare but mild side effects when taken as studied in the research, typically 300–600 mg per day.
Reported side effects in a 2012 study were nasal congestion, constipation, cough, drowsiness, and decreased appetite. (1)
These symptoms were seen in 6 out of 61 subjects in the ashwagandha group. However, another 5 subjects in the placebo group also reported these same side effects.
Therefore, these side effects are not considered statistically significant and may not have been directly related to taking the supplement.
In another study in middle-aged women taking up to 800 mg per day, no side effects were reported. (4)
A serving of Youtheory Ashwagandha is 2 capsules that contain 1000 mg total of ashwagandha in its blend. This is a higher amount than what has been investigated in most studies. Therefore, I would recommend taking only 1 capsule a day since it is higher potency.
This product has also not been tested or deemed safe if you are pregnant, nursing, or under the age of 18.
Always speak to your doctor before starting any new supplement regimen.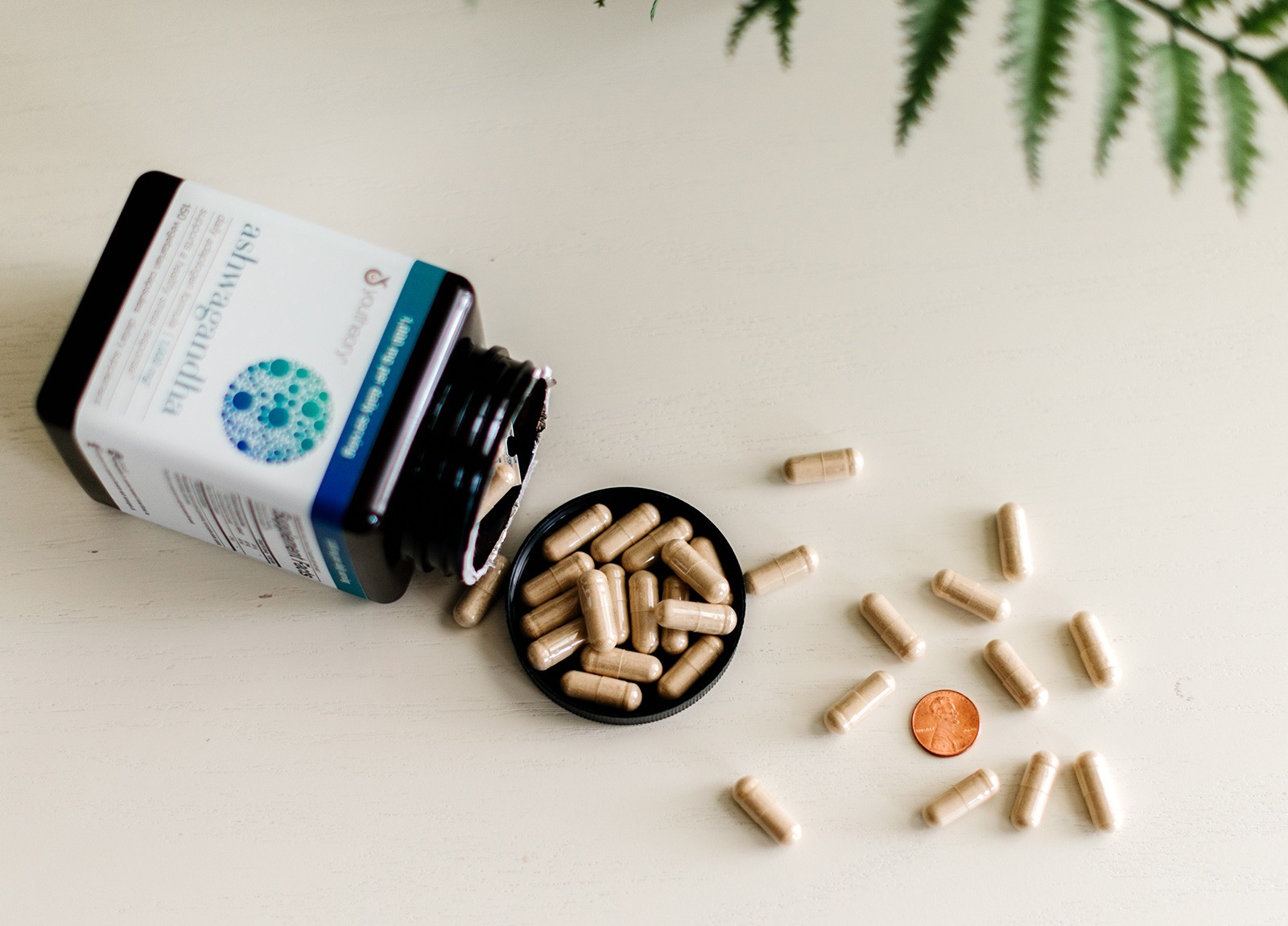 Cost and Where to Buy
Youtheory Ashwagandha is available directly through the manufacturer and various other popular retailers such as Costco, Walmart, GNC, or Amazon.
The cost for Youtheory Ashwagandha directly through their website is $18.99 for 60 capsules. This can provide a 30–60-day supply, depending on if you're taking 1 or 2 capsules per day.
However, you can save an additional 15% through the company's subscribe-and-save program.
The prices are fairly similar at all retailers, but the return policies may vary.
Through Amazon and the manufacturer, you get a 30-day return policy. Costco offers a more flexible 90-day return policy, but the cost is slightly more per month.
If you are unsure about this product, I would consider buying from Costco to give yourself more time to see if the product works as intended.
The price for Youtheory Ashwagandha is on the higher end compared to most ashwagandha supplements. However, the dose and potency of the extract are higher, which may render it more effective.
How Youtheory Ashwagandha Compares to Alternatives
There are several ashwagandha supplements on the market. However, not all contain ashwagandha directly from the root, like Youtheory, which provides higher potency than most.
Another similar product is Gaia Herbs Ashwagandha, which contains 350 mg of ashwagandha root extract per serving.
This is a much lower dose than the 1000 mg present in Youtheory but has still been shown to be effective in the research.
Gaia Herbs promote similar health claims such as Youtheory but appear to focus more on stress and mood management.
Another high potency ashwagandha brand is Sun Potion, which also comes directly from the root of the plant. The potency is higher at 1250 mg per serving, compared to 1000 mg in Youtheory.
However, it's unclear if this amount is needed to produce an effect or if it may come with more risk of side effects.
Youtheory's price is on the higher end for most ashwagandha supplements but still within the average. If you are looking for a quality Ashwagandha product, Youtheory is a good option.
The Bottom Line
Youtheory Ashwagandha may be effective for someone with high cortisol levels, chronic stress, or who wants to improve their focus with minimal risk for side effects.
However, it is a higher potency ashwagandha extract; therefore, I would suggest only taking 1 capsule per day.
If you are pregnant, nursing, or under the age of 18, do not take this product.
Otherwise, I would suggest consulting with your healthcare provider first if you're thinking about trying it or any other ashwagandha supplement.
A Word from Our RD
As a Registered Dietitian and healthcare professional, I always promote a healthy lifestyle first and foremost.
If you are looking to reduce stress, regular exercise and self-care are essential. Drinking plenty of water will also help provide energy and enhance mental focus.
If you are still experiencing stress after lifestyle changes, speak to your doctor about your options for stress-relieving supplements.
Thanks for your feedback!
In a few words, please tell us how this article helped you today.
Please let us know how we can improve this article by selecting your concern below.
Thank You! We appreciate your feedback.
*
Please select at least one topic:
Please Note: We cannot provide medical advice. This feedback will help us continue improving your user experience on WellnessVerge.
Please Note: We cannot provide medical advice. This feedback will help us continue improving your user experience on WellnessVerge.
At WellnessVerge, we only use reputable sources, including peer-reviewed medical journals and well-respected academic institutions.