WellnessVerge is reader-supported. We may earn a commission when you make a purchase through the links on this page. Learn more about our process here.
Why You Can Trust Us
Every article and review on WellnessVerge is thoroughly researched and fact-checked by licensed health professionals. Our editorial team is made up of registered dietitians and medical doctors.
Every piece of content is also medically reviewed to ensure accuracy and alignment with sound scientific evidence and medical consensus. We only use peer-reviewed journals and reputable medical sources to form our conclusions and recommendations.
We operate with total editorial independence, and our editorial policies ensure that your well-being comes first. Based on our rigorous research, we only recommend products that are worth considering. We always disclose any ads or partnerships with brands featured on our site.
Goli Ashwagandha Review: Tasty and Stress Relieving Gummies
Ashwagandha has many promising benefits, especially for reducing stress and anxiety. Goli takes a high-quality ashwagandha extract and puts it in a tasty and convenient gummy form.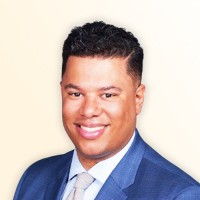 Medically Reviewed by
Anthony Dugarte, MD
Medical Reviewer
Anthony Dugarte, M.D., C.S.C.S. is a health and wellness writer and medical content reviewer. In addition to dedicating the last 8 years to medical research, Dr. Dugarte also has more than a decade of experience in strength and conditioning, nutrition, and rehabilitative exercise, as well as authoring and reviewing health and wellness-related content.

Key Insights (TL;DR)
Ashwagandha has a growing amount of research pointing to its uses for reducing stress and anxiety, improving sleep, and boosting cognitive and physical performance, among others.
Although most of the studies were small, they were very promising. Larger studies are needed to confirm these findings.
Goli Ashwagandha contains an effective dose of ashwagandha root extract that's consistent with the amounts used in studies.
Goli Ashwagandha gummies taste great and offer a convenient alternative for people who don't like swallowing pills.
There are tens of thousands of positive reviews on Goli's products across many platforms.
What We Liked About Goli Ashwagandha
The gummies contain an effective dose of ashwagandha with the highest extraction and concentration, also known as KSM-66.
The company offers its gummies at a reasonable pricing point and provides a 30-day money back guarantee.
The gummies taste great.
It's organic, GMO-free, plant-based, vegan, and free from artificial sweeteners and preservatives.
Goli donates a portion of profits to provide multivitamins to pregnant women and children and plant trees.
Important Considerations
Recommended daily serving of Goli Ashwagandha contains 8 grams (16% DV) of added sugar.
The gummy form of ashwagandha is significantly higher priced than the capsule form (it makes more sense to buy at major retailers than directly from the brand's website).
Goli Ashwagandha at a Glance
Goli Ashwagandha is a high-quality supplement that delivers a potent dose of ashwagandha root extract (KSM-66) in a tasty and fun gummy form. You can take two Goli Ashwagandha gummies at a time, up to 2 times daily.
As promising research on the benefits of ashwagandha continues to emerge, ashwagandha supplements have gained popularity. Current research suggests that ashwagandha may reduce stress and anxiety, improve cognitive and physical performance, and even improve sleep and sexual function.
Goli was founded in 2019 by Michael Bitensky when it launched the world's first apple cider vinegar gummies. Since then, Goli has become a well-established brand specializing in taking trendy but researched ingredients and releasing them in gummy form.
Consumers are generally pleased with Goli supplements and rave about their taste. However, the great taste comes at a trade-off of consuming added sugar.
We tried this gummy and dove deep into the research behind ashwagandha to provide you with everything you'll need to decide about this product.
See Supplement Facts
1 Serving Size is two gummies and contains:
Calories: 25
Total Carbohydrate: 7 g
Total Sugars - 4 g
Vitamin D2 (Ergocalciferol): 25 mcg
KSM-66 Ashwagandha Root Extract: 300 mg
My Experience with Goli Ashwagandha
Note: Our co-founder, Vlad Rappoport, took Goli Ashwagandha over two years, and this is his experience.
When I first told my wife that I had just bought Goli Ashwagandha, she thought I just made up a funny word (I tend to do that). I had to show her the bottle to prove I was serious. I've always just purchased Goli Ashwagandha gummies from Target or Walgreens and have been taking them on and off for the past two years.
These ashwagandha gummies are pretty sweet and higher in sugar content, so I viewed them almost as a treat. For some perspective, a full daily serving size contains 8 grams of sugar, equivalent to half of a standard size of a Snickers bar (20 grams of sugar). However, they taste pleasant, fruity, and tarty without the medicinal aftertaste.
Sometimes they may get sticky in the bottle, so I had to shake it really hard (or even sometimes use a long object) to grab the gummies stuck to the bottom as I neared the supply's end.
I take these supplements more on an as-needed basis rather than daily. I've eaten them before bed and felt they help me unwind, relax, and fall asleep faster. Or, sometimes, if I wake up in the middle of the night and find myself having difficulty falling back asleep, I'll take two gummies, which usually helps.
Additionally, I would sometimes consume the two gummies throughout the day and felt a feeling of calmness and stress relief (I am prone to get stressed, especially with so much going on at work). I can definitely say they helped me feel more chill.
Although I recommend these gummies, I don't view them as a long-term solution or something you must take every day, but rather as something that can give you that extra kick and support. I typically have them in my pantry, and a bottle can last me a few months since I don't take them every day.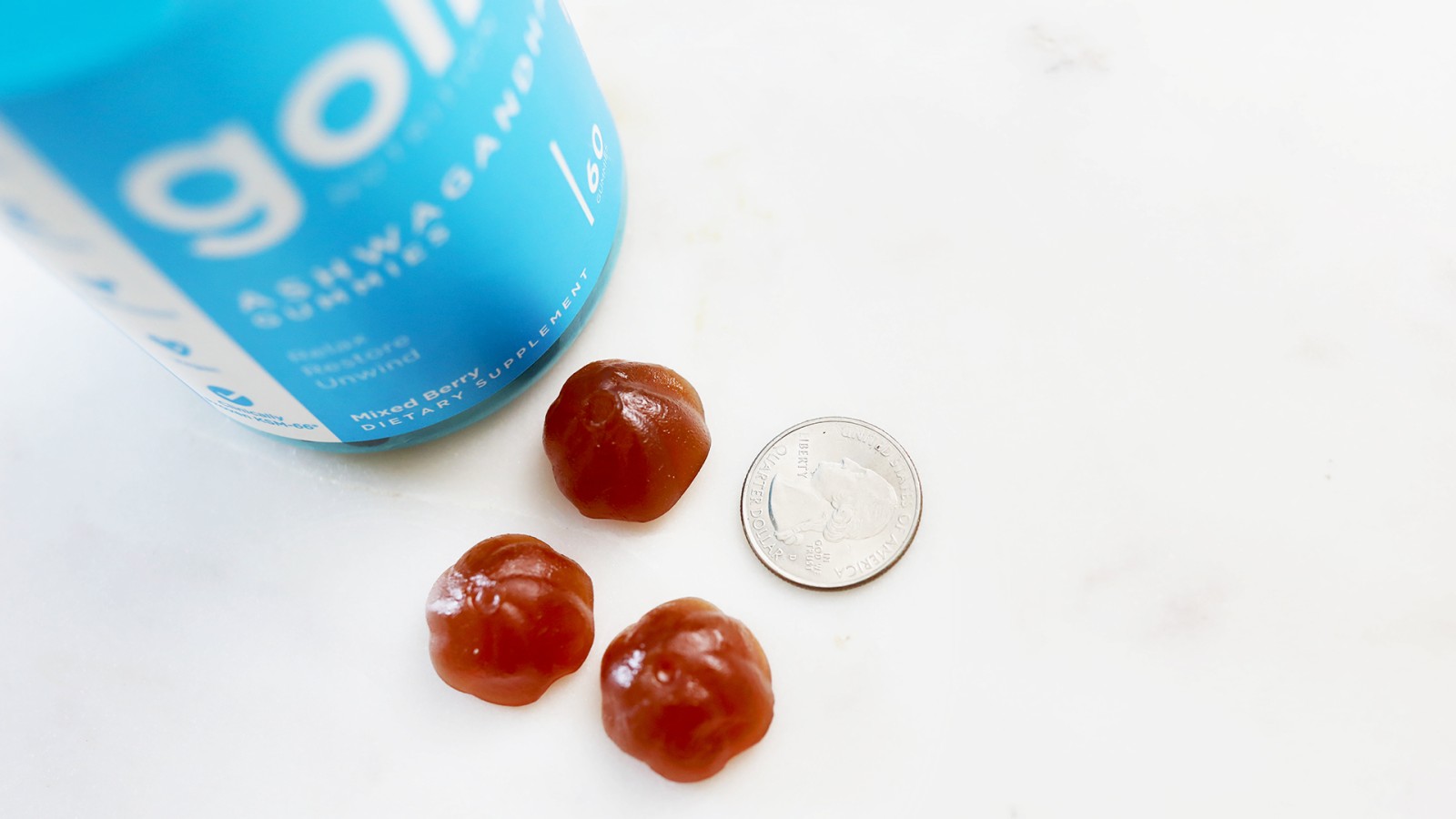 The Research Into Ashwagandha's Benefits
Ashwagandha is a shrub that grows in India, the Middle East, and some parts of Africa. Ashwagandha has been used for centuries to treat pain, inflammation, insomnia, stress, and many other conditions. It contains compounds known as adaptogens, which are natural substances that enhance the body's adaptive response to stress.
Specifically, Goli uses a well-developed extract of ashwagandha called KSM-66, the highest ashwagandha concentration that took years of research and development.
Various studies show that ashwagandha may provide benefits in multiple areas, including stress and anxiety relief, weight management, sleep, and improved physical performance and recovery. Most of the studies we reviewed showed good results based on participants taking 300 mg of ashwagandha twice daily, which is the same daily serving size as Goli Ashwagandha.
Below we look into the research studies performed on ashwagandha and how it translates into the benefits it provides.
Stress and Anxiety
One 60-day study found that taking a daily dose of 240 milligrams (mg) of ashwagandha significantly reduced stress levels in adults. (1)
Another showed that taking 250 mg or 600 mg of ashwagandha daily reduced stress and stress hormone cortisol levels in 60 healthy but stressed participants. (2)
Memory and Focus
Because various studies showed that ashwagandha helps relieve stress and anxiety and improve sleep, researchers concluded that it may help improve memory, focus, and psychological well-being. (3) Additionally, another study showed that ashwagandha helped improve information processing speed, cognitive function, and memory. (4)
Sleep
One 10-week study showed that taking 300 mg of ashwagandha twice daily helped improve sleep quality in patients with insomnia. (5) Another 8-week study from 2020 showed that ashwagandha can help improve sleep quality. (6)
Immune System
In a 2014 review, researchers suggested that ashwagandha has a positive effect on producing healthy white blood cells and therefore is effective in helping regulate the immune system. (7)
Reduce Food Intake and Weight Management
A 2017 study evaluated the safety and efficacy of 300 mg of ashwagandha on stress, food cravings, and body weight management in 52 subjects. Researchers found that ashwagandha decreases stress, resulting in reduced food cravings and better eating behaviors. (8) Another study from 2022 determined that ashwagandha helped reduce food cravings after 30 days in young adults. (9)
Sexual Support
One 2022 study showed that women ages 18–50 who took 600 mg of ashwagandha daily for eight weeks experienced improved sexual health and vitality (this includes desire, arousal, and satisfaction). (10)
Additionally, studies have shown that ashwagandha may increase testosterone levels in men and their sexual desire after taking 300 mg twice daily. (11, 12)
Physical Performance
Higher cortisol levels can reduce the body's ability to build muscle. Some research suggests that ashwagandha's capacity to decrease cortisol may increase muscle mass and strength in individuals. Two studies showed that taking 300 mg ashwagandha supplementation twice daily helped increase muscle mass and strength and testosterone levels as well as improve cardiorespiratory endurance (which is how well your lungs and heart work together to deliver oxygen to your muscles while you're physically active). (13, 14, 15)
Another study concluded that ashwagandha may help with physical performance. The researchers in these studies also concluded that because ashwagandha helps with sleep and reduces stress levels, as a byproduct, that, too, helps with recovery. (16)
Vitamin D2
A single serving of Goli Ashwagandha gummies contains 25 mcg of vitamin D2, which is 125% of the daily value. It's important to note that studies have shown that Vitamin D3 supplementation is more effective than D2 (which is what Goli contains). (17)
Vitamin D is a fat-soluble vitamin found in some foods, as a dietary supplement, and produced in the body via direct, natural sunlight. Vitamin D is needed for proper bone growth, immune function, and carbohydrate metabolism, and supplementation may be effective, especially if you're deficient in vitamin D. (18, 19, 20)
When it comes to weight management, studies indicate that higher body weights are associated with lower vitamin D levels. (21)
Additionally, one study found that vitamin D supplementation among healthy overweight and obese women reduced body fat mass. (22)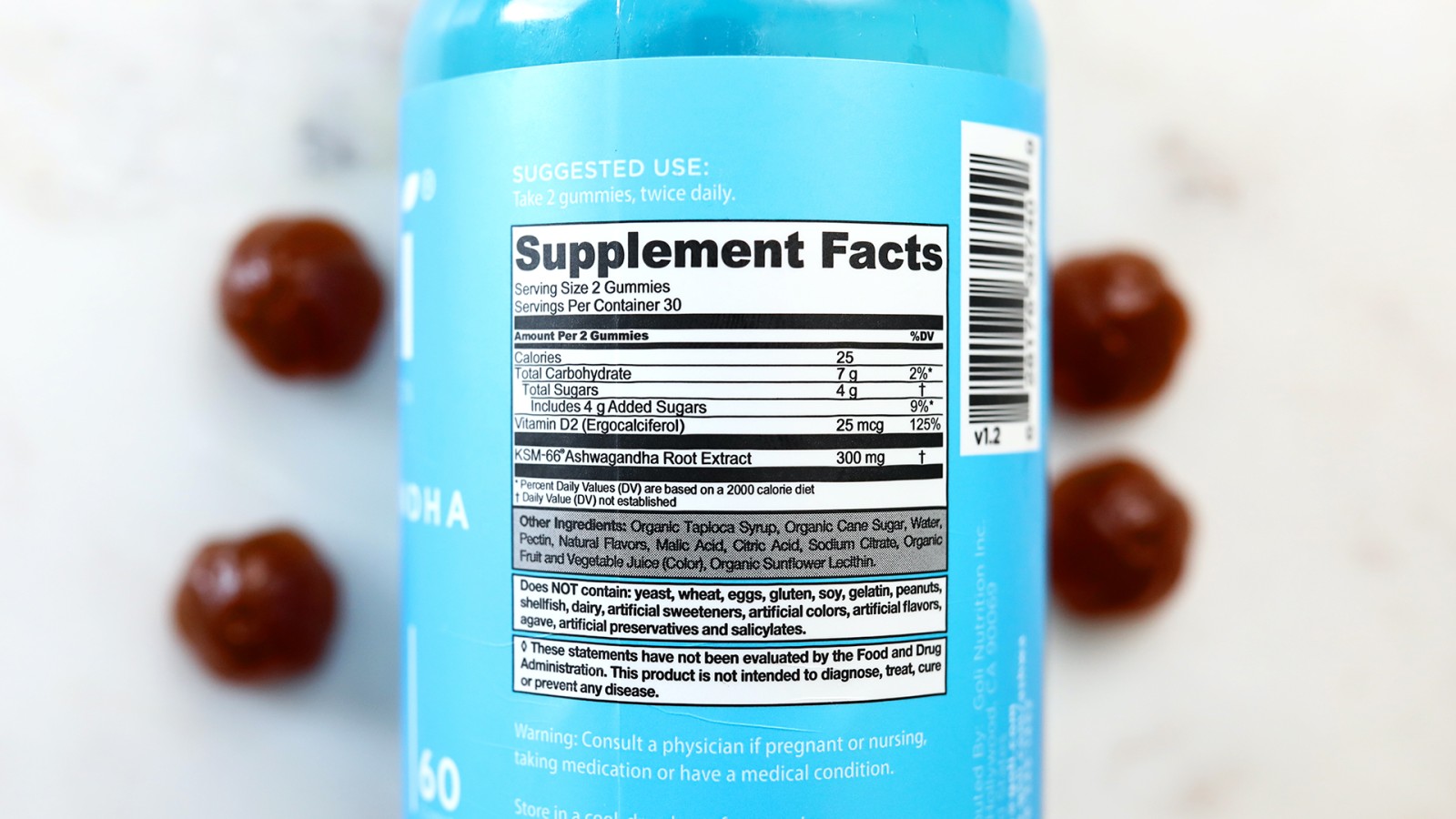 Safety Considerations
For most healthy people, taking ashwagandha should be safe. The studies we reviewed did not report any adverse side effects based on daily dosages of 250–600 mg daily. However, most of the studies were around eight weeks, so the long-term safety of ashwagandha is unknown at this time. (23)
Taking larger ashwagandha doses of 1000 mg per day or more might cause stomach upset, diarrhea, and vomiting. So be sure not to take more gummies than Goli instructs, which is up to four gummies per day. (24)
Ashwagandha may not be appropriate for you if you're pregnant since preliminary studies show that overconsumption may affect hormone levels in the body. (25)
People with diabetes should consult their physician before taking ashwagandha as it may decrease blood sugar levels. At the same time, Goli Ashwagandha gummies contain 8 grams of sugar per daily serving (4 gummies), which may spike your levels too.
If you have underlying health conditions, are pregnant, or taking medications, it's important you speak to your doctor if you're considering taking an ashwagandha supplement.
Goli Ashwagandha Cost
Each Goli Ashwagandha bottle contains 60 gummies and is available from the brand's website at the following prices:
| Quantity | One-time Purchase | With a Subscription |
| --- | --- | --- |
| 1 Bottle | $19 | $16.15 |
| 3-Bottle Pack | $52.50 ($17.50/bottle) | $44.53 ($14.88/bottle) |
| 5-Bottle Pack | $85 ($17/bottle) | $72.35 ($14.45/bottle) |
Shipping is free for all orders or $4.95 if you buy one single bottle without a subscription. Goli offers a 30-day money-back guarantee on both opened and unopened bottles.
Additionally, Goli Ashwagandha gummies are sold at popular retailers, sometimes at better prices and without the need to subscribe or buy in bulk, as the chart above shows.
| Retailer | Price |
| --- | --- |
| Amazon | $14.49 (or $13.04 with subscription) |
| CVS | $16 |
| Walgreens | $16 |
| Sam's Club | $20 (120-count) |
| Target | $15 |
| Walmart | $15 |
Comparison to Alternatives
The last part of evaluating Goli Ashwagandha is to see how it stacks up against the competition, to determine in which cases it is a good buy, and when other brands may be better.
There are quite a few ashwagandha supplements on the market. Key attributes to pay attention to are:
Dosage: Look for ashwagandha supplements that contain root extract dosages of 250 mg to 600 mg, the amounts that were typically used in studies. Goli Ashwagandha offers an effective dose of 600 mg.
Potency: Look for the effective concentration of withanolides, the active component of ashwagandha. Ashwagandha root extract should contain at least 1.5% withanolides and provide at least 6 mg of withanolides. Goli Ashwagandha uses the standardized KSM-66® ashwagandha root extract. It contains 5% withanolides and provides an effective amount of 30 mg withanolides in a daily serving.
Form: Ashwagandha supplements are available in gummy, tablet, capsule, and liquid forms. Each form has its advantages and disadvantages. Gummies, like Goli, are pleasant to take but add a significant amount of sugar to your diet.
Additional Ingredients: Some brands add extra ingredients to their products. Although unnecessary, these are nice to have if the ingredients are research-backed and the product is well-priced. Goli contains vitamin D2, adding a small amount of extra value to the product.
Brand Reputation: You want to buy products from established brands that follow best manufacturing practices and offer excellent customer service. All the brands in our comparison pass this test.
Cost: In our comparison, the capsule/tablet form was much more cost-effective than the gummy form. If you prefer a gummy form, Goli Ashwagandha is well-priced.
| | Goli Ashwagandha | Nature Made® Ashwagandha | Transparent Labs KSM-66 Ashwagandha | mykind Organics Ashwagandha |
| --- | --- | --- | --- | --- |
| Ashwagandha Type and Amount Per Recommended Daily Serving | KSM-66® ashwagandha root extract, 600 mg (30 mg withanolides) | KSM-66® ashwagandha root extract 300 mg (15 mg withanolides) | KSM-66® ashwagandha root extract, 600 mg (30 mg withanolides) | Organic ashwagandha root extract, 600 mg (30 mg withanolides) |
| Recommended Daily Dosage and Form | 2 gummies twice daily (4 total) | 1 gummy twice daily (2 total) | 1 capsule daily | 1 tablet daily |
| Other Ingredients | Vitamin D2 | None | None | Ginger root, probiotics |
| Added Sugar* | 8 g (16% DV) | 4 g (8% DV) | 0 g | 0 g |
| Allergen and Special Diet Considerations | Vegan, Gluten-free, Non-GMO, Gelatin-free, Kosher, No artificial sweeteners | Vegan, Gluten-free, No artificial sweeteners | Vegan, Gluten-free, Non-GMO, No artificial sweeteners | Vegan, Gluten-free, Non-GMO,, Kosher, No artificial sweeteners |
| Certifications | None | None | None | Certified USDA Organic, Non-GMO Project Verified, Certified Gluten Free by NSF, Certified Vegan & Kosher |
| Regular Price | $19 (15-day supply) | $19.99 (30-day supply) | $19.99 (60-day supply) | $22.39 (60-day supply) |
| Monthly Price | $38 | $19.99 | $9.99 | $11.20 |
| Cost for 600 mg of Ashwagandha Extract** | $1.27 | $1.33 | $0.33 | $0.37 |
| Return Policy | 30-day money-back guarantee (including open bottles) | 30 days, minus the shipping fee | 30 days, opened products only get store credit | 60 days, minus the shipping fee |
| Purchase | Shop on Goli | Shop on Nature Made | Shop on Transparent Labs | Shop on Amazon |
* Calculated using the recommended Daily Value amount for added sugars, which is 50 grams per day (based on a 2,000-calorie daily diet).
** Typical ashwagandha root extract dosages used in studies were 500 mg to 1,500 mg. The most common daily dosage of supplements using KSM-66® ashwagandha root extract was 600 mg.
How to Pick
Bringing everything together, here's our advice on picking the right ashwagandha supplement for your needs:
Best ashwagandha in a gummy form: Goli may very well be considered the king of gummies, selling most of their products in this form. Although Nature Made's Ashwagandha is priced lower at first glance, its recommended dosage is precisely half of Goli's. Once you adjust the price based on dosage, Goli actually offers slightly better value, and it tastes great. Goli is the best buy if you are looking for a gummy ashwagandha supplement. The downside of the gummy form is the added sugar. The amount of sugar in Goli is comparable to alternative brands.
Best organic ashwagandha: If you want organic ingredients, mykind Organics Ashwagandha is your best choice. It is Certified USDA Organic, provides the same effective dose as Goli, includes ginger root and probiotics for extra value, and is priced lower than Goli. (However, it is not in a gummy form.)
Best-priced ashwagandha: If your goal is to get an effective dose of ashwagandha at the best price, Transparent Labs KSM-66 Ashwagandha is your best option. It's not in a gummy form but uses the same standardized KSM-66® ashwagandha and is priced significantly lower than Goli.
Thanks for your feedback!
In a few words, please tell us how this article helped you today.
Please let us know how we can improve this article by selecting your concern below.
Thank You! We appreciate your feedback.
*
Please select at least one topic:
Please Note: We cannot provide medical advice. This feedback will help us continue improving your user experience on WellnessVerge.
Please Note: We cannot provide medical advice. This feedback will help us continue improving your user experience on WellnessVerge.
At WellnessVerge, we only use reputable sources, including peer-reviewed medical journals and well-respected academic institutions.