WellnessVerge is reader-supported. We may earn a commission when you make a purchase through the links on this page. Learn more about our process here.
Why You Can Trust Us
Every article and review on WellnessVerge is thoroughly researched and fact-checked by licensed health professionals. Our editorial team is made up of registered dietitians and medical doctors.
Every piece of content is also medically reviewed to ensure accuracy and alignment with sound scientific evidence and medical consensus. We only use peer-reviewed journals and reputable medical sources to form our conclusions and recommendations.
We operate with total editorial independence, and our editorial policies ensure that your well-being comes first. Based on our rigorous research, we only recommend products that are worth considering. We always disclose any ads or partnerships with brands featured on our site.
Best Protein Bars of 2023, According to Dietitians
Protein bars are a convenient snack and a simple way to increase your protein intake. But, with so many brands on the market, how do you choose which one is best for you?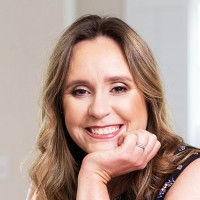 Medically Reviewed by
Ana Reisdorf, MS, RD
Registered Dietitian Nutritionist
Ana Reisdorf is a registered dietitian nutritionist with 14 years of experience in the field of nutrition and dietetics. She graduated from UCLA in 2002 with a degree in psychology and women's studies and completed her master's degree from Central Michigan University in 2010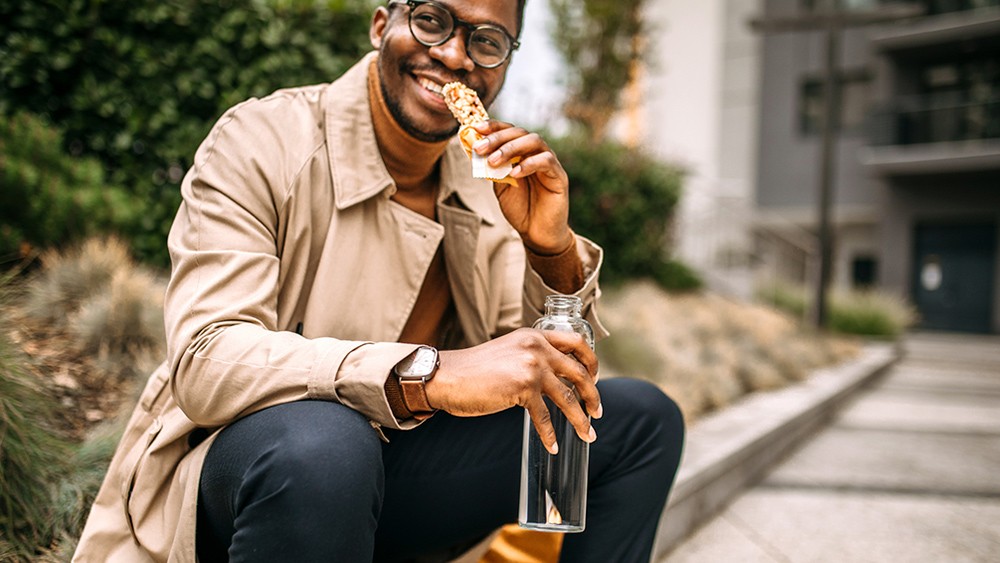 Protein bars are no longer just for the gym — they are a convenient food that can provide needed nutrition to your day.
Protein bars differ from energy bars by having a significantly higher protein content, while usually being lower in fat and carbohydrates.
The nutrition content of a protein bar will differ based on flavor, brand, and purpose. Most protein bars will provide:
Calories: 100–400
Protein: 10–20 grams
Fiber: 5–15 grams
Some micronutrients
There are endless reasons why someone may want to have a stash of protein bars around. Protein bars can be used as meal replacements, snacks when you're on the run, or as fuel for workouts or recovery.
With so many protein bars available on the market, it can be difficult to make a choice on a quality protein bar. In this article, we break down some of the best and healthiest protein bars available on the market.
Summary of Our Picks
How We Chose These Brands
Ingredient Quality: Are these protein bars made with quality ingredients? Are protein bars non-GMO, made with organic ingredients, and free of corn syrup or other undesirable ingredients?
Price: How much does this protein bar cost, and is it reasonably priced?
Brand Variety: Does this brand offer protein bars in a wide variety of flavors? Are there plant-based options?
Brand Reputation: Is this brand highly rated by customers? Has it been present in the market for a while?
Best Overall: RXBAR
Best Overall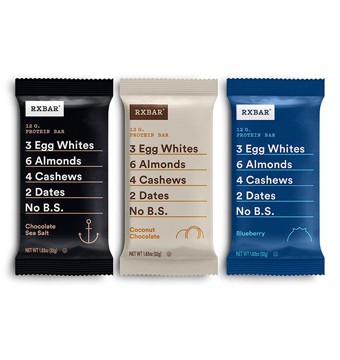 Pros
Low in added sugar
Has products for adults and children
Simple ingredient list
Great for people who want a whey-free protein bar
Cons
Has less protein that some other brands
Not appropriate for people with nut allergies
Our Take
RXBAR protein bars are perfect for people looking for simple ingredients, variety in flavors, and products that are gluten-free and low in added sugar.
This brand suffers from not having a higher protein content and heavily relying on nuts, limiting who can use their products. Still, it can be a good choice for adults and children alike.
RXBAR has a protein bar for nearly everyone, which makes this brand perfect for our best overall protein bars.
RXBAR is known for having products made with whole foods, minimally processed ingredients, and little to no added sugar.
They are transparent about their ingredients, choosing to highlight the main ingredients on the front of the products' packaging so you know what you're eating.
The main RXBAR protein bars provide:
Calories: 200–210
Protein: 12 grams
Fiber: 3–4 grams
These protein bars come in over a dozen different flavors, including seasonal options so that everyone can find a favorite.
The protein in these bars comes from egg whites and various tree nuts and peanuts.
In addition to the regular RXBAR, there are RXBARs made with plant-based protein, RXBAR Minis, and RX Layers.
If you have children and need convenient snacks that aren't high in sugar or artificial ingredients, RXBAR has a line of protein snack bars for children.
RX Kids protein snack bars come in 4 different flavors and provide 130 calories and 5 grams of protein per serving.
Every product from RXBAR is gluten-free, made with 0–2 grams of added sugar, and is made with non-GMO ingredients.
Unfortunately, all of the protein bars for adults contain at least one type of nut, making RXBAR protein bars unsafe for people with nut allergies.
Price: A 12-count box of RXBAR protein bars costs $27.95 on Amazon, which comes to approximately $2 per bar.
Best High-Protein: ONE Bar
Best High-Protein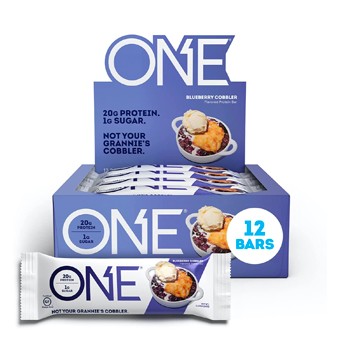 Pros
Provides 20 g of protein per serving
Has a variety of great-tasting flavors
All bars are gluten-free
Cons
Uses sugar alcohols, including sucralose and maltitol
Products include multiple allergens
High in saturated fat
Our Take
If you want a high-protein bar with whey protein, ONE Bar might be right for you. Their product is formulated to be high protein, low carb, and good tasting.
ONE Bars are made for people looking for high-protein, low-carb protein bars that still taste delicious.
Founder Ron McAfee created the ONE Bar with sports nutrition in mind, wanting to make products with exceptional taste, texture, and ingredients.
Each ONE Bar has:
Calories: 220–230
Protein: 20 grams (from milk protein isolate and whey protein isolate)
Fiber: 6 grams
Sugar: 1 gram
In addition to their main line of ONE Bars, the brand sells vegan-friendly ONE PLANT Bars and ONE Minis.
ONE Bars come in a variety of dessert-like flavors, including s'mores, fruity cereal, blueberry cobbler, and cookies & crème for an indulgent experience.
To keep the sugar content of ONE Protein Bars low, sugar substitutes like sucralose and maltitol are used in their product formulations.
Studies find that sucralose may affect the growth of healthy bacteria in the gut and blood sugar control. (1)
Maltitol only appears to increase diarrhea frequency when consumed in doses significantly higher than would be present in a protein bar. (2)
ONE Bars contain at least two major allergens—milk and soy. Some flavors may also feature tree nuts, peanuts, or coconut.
Price: Depending on what flavor you choose, ONE protein bars cost approximately $25–$28 for a 12-count box on Amazon. Per bar, they cost about $2 each.
Best Organic: ALOHA
Best Organic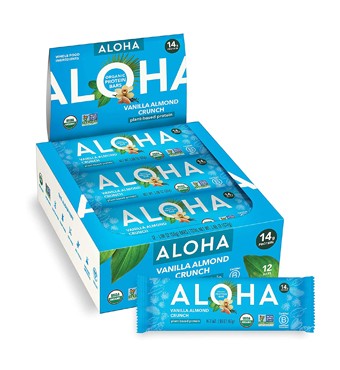 Pros
Certified USDA Organic
Good protein content and high in fiber
Vegan-friendly and free of artificial ingredients
Cons
Smaller diversity in flavors
Costly protein bar
Most bars contain tree nuts
Our Take
ALOHA plant-based protein bars are great for people who want a filling protein bar without any fillers. ALOHA's bars may be more expensive than others, but the cost is justified through the use of natural, organic ingredients and an employee-owned company model.
ALOHA makes high-quality organic and plant-based protein bars for people looking for filling protein bars that are also high in fiber.
ALOHA is an employee-owned company that aims to be committed to the greater good – for their employees, communities, and the environment.
A single ALOHA protein bar provides:
Calories: 220–260
Protein: 14 grams
Fiber: 4–10 grams
Added Sugars: 2–5 grams
Their protein is sourced from organic brown rice protein and organic pumpkin seed protein.
If you want a smaller snack, ALOHA has mini protein bars available.
ALOHA is great if you like protein bars that have chocolate-based flavors. Most of the available ALOHA protein bars have chocolate, but there are flavors like caramel sea salt and some limited-edition bars.
Instead of using stevia or sugar alcohols, ALOHA protein bars use organic monk fruit and organic coconut sugar as natural sweeteners.
ALOHA plant-based protein bars are also certified USDA Organic, GMO-free, soy-free, gluten-free, made with no artificial ingredients, and vegan-friendly.
Many of their flavors do contain tree nuts.
Price: ALOHA's protein bars are pricier than some others on the market. A 12-bar box costs $32.99–$36.99 on the company's website, or about $2.75–$3.08 per bar. You can save up to 25% on purchases if you get a subscription.
Best Keto: MariGold
Best Keto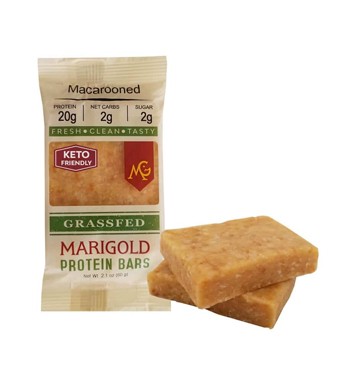 Pros
Made with fresh ingredients
Great variety of flavors
High in protein
Cons
Should be refrigerated for longer freshness
Expensive protein bars
Our Take
MariGold Bars are freshly-made, keto-friendly protein bars made with fresh ingredients. Though they are expensive, they are made with organic ingredients, grass-fed whey protein, and are non-GMO and gluten-free.
MariGold protein bars are a great keto-friendly option for people looking to maximize their protein intake on a ketogenic diet without sacrificing taste.
MariGold bars are fresh, gluten-free protein bars that were created by Mari Ann and Steve Lisenbe.
They wanted to create protein bars that were made with real ingredients, high-quality protein, low sugar, and without grains.
MariGold bars have:
Calories: 171–299
Protein: 20–23 grams
Fiber: 3–8 grams
Fat: up to 17 grams
Sugar: 1–5 g
MariGold bars come in 16 different flavors, some of which are limited edition and seasonal. Each bar has a 14-day shelf life at room temperature, but can last longer if refrigerated or frozen.
MariGold Bars are non-GMO, made with organic ingredients, low-sugar, gluten-free, soy-free, free of preservatives, lectin-free, and made with grass-fed protein.
Like most protein bars, MariGold bars have some allergens, including milk, tree nuts, and peanuts.
Price: A 12-count box of MariGold is $47.50 on the company's website, which comes out to $3.96 per bar. These bars are a bit pricey, but if you get a subscription, you can save 15% on your purchase.
Best Plant-Based: GoMacro
Best Plant-Based

Pros
Vegan-friendly
Caters to several dietary needs, has some nut-free options
Many flavors to choose from
Cons
At times not available for purchase online
Somewhat higher in added sugar compared to other bars
Our Take
GoMacro protein bars are fully organic and made with care to be suitable for many dietary patterns, including a few options that are nut-free. They are a little bit higher in sugar than some other bars, but GoMacro bars can be suitable as a filling snack.
GoMacro bars are plant-based protein bars that are great for people who also have different dietary restrictions.
GoMacro was created by mother-daughter duo Amelia Kirchoff and Jola Sonkin. Amelia first created GoMacro bars during her battle with cancer, when she decided to adopt a plant-based macrobiotic diet while undergoing treatment.
Each MacroBar provides:
Calories: 270–290
Protein: 10–11 grams
Fiber: 2–3 grams
Added Sugars: 9–13 grams
There are 14 different flavors to choose from, including peanut butter chocolate chip, mocha chocolate chip, and maple sea salt.
Most of GoMacro's protein bars contain nuts, but they do have a few flavors that are nut-free.
GoMacro bars are certified organic, vegan-friendly, gluten-free, soy-free, non-GMO, Kosher, and FODMAP-friendly.
Price: A 12-count box of GoMacro bars costs around $31–$35 on Amazon, which comes down to around $2.60–$2.92 apiece.
Best Budget Pick: Pure Protein
Best Budget Pick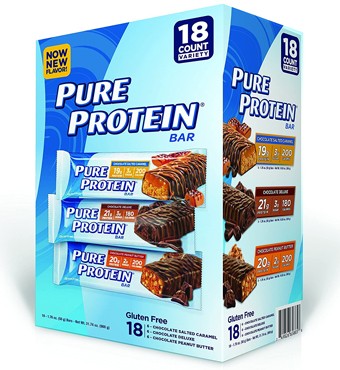 Pros
High protein
Bars have extra vitamins added to them
Great variety of flavors
Cons
Contain multiple allergens
Has sugar alcohols
Our Take
Pure Protein bars are a good option if you're looking for a high-protein protein bar that's also affordable. They offer a variety of flavors and are low in sugar, though some people may want to avoid sugar alcohols.
If you're looking for a protein bar that won't break the bank, Pure Protein bars are high-quality protein bars at an affordable price.
This company makes a line of products that are high protein and low sugar to provide quick and sustained energy during workouts.
Each Pure Protein bar contains:
Calories: 180–210
Protein: 19–21 grams
Fiber: 0–4 grams
Added Sugars: 2–5 grams
They come in 13 different flavors, including birthday cake, cookies and cream, and chewy chocolate chip.
Pure Protein bars are gluten-free and have a vitamin and mineral blend to provide extra nutrients.
Pure Protein bars contain several allergens – milk, soy, peanuts, and tree nuts. To keep the sugar content low, customers should be aware that these bars have sucralose and maltitol.
Price: Pure Protein bars are cheaper than many other protein bars. An 18-count box is $45.91 on Amazon, which is about $2.55 apiece. On the company's website, you can save more by buying in bulk (48-pack), and a subscription can save you an additional 10%.
Things to Consider When Shopping for Protein Bars
Protein and Carbohydrate Content
The nutritional content of protein bars can vary wildly, so you need to consider your needs before choosing a bar.
A snacking protein bar may be lower in protein and higher in carbohydrates. A protein bar for workouts may be higher in healthy fats and protein, but very low in carbs and sugars.
Beyond this, look for protein bars that are low in added sugars (less than 3 grams of added sugar), made with natural ingredients when possible, and don't have a lot of saturated fat or sodium.
Saturated fat should be less than 5 grams and sodium less than 500 mg.
Type of Protein Used
Depending on your diet and personal preferences, you may want to be picky about the type of protein that's in your protein bar.
Many protein bars contain whey as their primary protein source, but there are plant-based options. The market has bars that get their protein from nuts and seeds, soy, pea protein, brown rice protein, and other sources.
Related: Best Plant-Based Protein Sources, According to a Dietitian
Potential Allergens
Protein bars are known to contain some major allergens, so checking the ingredient list is vital for avoiding allergic reactions.
Common allergens found in protein bars include tree nuts, peanuts, coconut, milk, and soy.
Fiber Content
Part of a protein bar's job is to help you feel satiated, and fiber helps achieve that goal. Look for protein bars that have at least 5 g of fiber per serving in order to feel fuller from your bar.
If you're on a keto or low-carb diet, you may want to look for protein bars that are high in fiber to reduce your net carbohydrate intake (total carbs minus grams of fiber).
Price
A good protein bar should fit into your budget. Consider how often you plan on having protein bars and how much you'd like to spend.
If you're infrequently using protein bars, perhaps you want to choose a pricier bar. Otherwise, a more moderately priced bar may be better if you're using protein bars frequently.
Frequently Asked Questions
Are protein bars healthy?
Protein bars can be healthy, but it depends on what is inside the bar. Bars made with a lot of added sugar and corn syrup, saturated fat, and sodium are not the best option to choose.
What to look for in a protein bar?
In your protein bar, look for bars that are between 100–400 calories, provide 10–20 g of protein, and 5–10 g of fiber. Minimize added sugars when possible.
Is it necessary to eat protein bars if you work out?
While protein bars are a convenient way to fuel before, during, or after your workout, they aren't completely necessary. You can get a healthy combination of carbohydrates and protein from a variety of foods.
Can a protein bar be a meal replacement?
It is possible for a protein bar to be a meal replacement. Look for bars that provide around 300–400 calories, over 10 g of protein, and some fiber so that you can feel satiated.
Is it safe to eat a protein bar daily?
It is healthy to eat a protein bar daily, but do not exceed eating 1–2 bars per day.
While protein bars may provide necessary calories and protein, they don't provide all the nutrients required in a healthy diet.
Focus on getting your primary nutrient intake from foods, and use protein bars as a support.
The Bottom Line
Protein bars are a great item to have around for convenience or to increase your protein intake for the day.
When you consider a protein bar, think about its nutrition content, the quality of ingredients, and whether the protein bar is from a reputable brand.
Protein bars can be a great source of protein, but should not be the only way that you get protein.
Choose lean meats, poultry, fish and seafood, and plant-based proteins like beans to get enough protein in your diet.
Thanks for your feedback!
In a few words, please tell us how this article helped you today.
Please let us know how we can improve this article by selecting your concern below.
Thank You! We appreciate your feedback.
*
Please select at least one topic:
Please Note: We cannot provide medical advice. This feedback will help us continue improving your user experience on WellnessVerge.
Please Note: We cannot provide medical advice. This feedback will help us continue improving your user experience on WellnessVerge.
At WellnessVerge, we only use reputable sources, including peer-reviewed medical journals and well-respected academic institutions.
Critical review of the current literature on the safety of sucralose - PubMed

:
https://pubmed.ncbi.nlm.nih.gov/28558975/

A digestive tolerance study of maltitol after occasional and regular consumption in healthy humans | European Journal of Clinical Nutrition

:
https://www.nature.com/articles/1601516