WellnessVerge is reader-supported. We may earn a commission when you make a purchase through the links on this page. Learn more about our process here.
Why You Can Trust Us
Every article and review on WellnessVerge is thoroughly researched and fact-checked by licensed health professionals. Our editorial team is made up of registered dietitians and medical doctors.
Every piece of content is also medically reviewed to ensure accuracy and alignment with sound scientific evidence and medical consensus. We only use peer-reviewed journals and reputable medical sources to form our conclusions and recommendations.
We operate with total editorial independence, and our editorial policies ensure that your well-being comes first. Based on our rigorous research, we only recommend products that are worth considering. We always disclose any ads or partnerships with brands featured on our site.
Clairvee Review: A Clinically Studied, Effective Solution
Clairvee contains two well-researched probiotic strains that help address vaginal odor, itching, and discharge and support a balanced microbiome. The clinical research behind this product gives us the confidence to recommend it.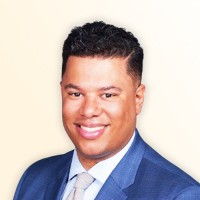 Medically Reviewed by
Anthony Dugarte, MD
Medical Reviewer
Anthony Dugarte, M.D., C.S.C.S. is a health and wellness writer and medical content reviewer. In addition to dedicating the last 8 years to medical research, Dr. Dugarte also has more than a decade of experience in strength and conditioning, nutrition, and rehabilitative exercise, as well as authoring and reviewing health and wellness-related content.

Key Takeaways (TL;DR)
Clairvee is a unique product with a clinically researched formula whose ingredients work synergistically to balance your vaginal microbiome and help relieve symptoms such as discharge, odor, and itching.
In clinical trials, women who took Clairvee experienced a reduction in odor after 1 month, were free of vaginal discharge and itching after 4 months, and had their vaginal microbiome balanced after 6 months.
Clairvee uses two lactobacilli species — Lactobacillus acidophilus and Lactobacillus rhamnosus — two of the most researched probiotics for preventing yeast infections.
Clairvee may be an effective solution for women experiencing symptoms during childbearing ages, menopause, or in between.
According to Amazon and Walmart reviews, most customers are generally satisfied with the product, although some reported no improvements.
Clairvee is not intended to treat vaginal infections or replace any medical diagnosis or treatment your doctor prescribes. Check with your doctor first before using this product.
What We Liked About Clairvee
Clairvee's combination of ingredients is backed up by sound research.
The supplement comes from a reputable brand with helpful and attentive customer service (because we investigated during our research).
The product is third-party tested for safety and purity (we obtained the report from the company) and is hormone-free.
Many customers reported that Clairvee was recommended to them by their OB-GYN.
Important Considerations
One of the ingredients comes from cow's milk, which may not suit those who are lactose intolerant.
Because this contains probiotic strains, there may be some initial digestive side effects (as some customers reported as well).
The product has not been tested for safety for pregnant women.
It is recommended to take Clairvee for at least six months, so factor in ongoing cost.
Compared to alternatives, the one-time purchase cost of Clairvee is more expensive. However, you can lower the cost significantly by subscribing.
Clairvee at a Glance
If you have an overproduction of unhealthy bacteria in your vagina, you may be more susceptible to bacterial vaginosis (BV) and yeast infections. Many factors can alter the balance of your vaginal ecosystem. These include pregnancy, sexual practices, your period, menopause, diet, antibiotics, and douching.
Clairvee was designed as a nutritional supplement to address these issues and promote vaginal comfort and health.
Clairvee is manufactured by Bonafide, a company that creates non-prescription solutions that treat women's health issues, including PMS, menopause, gut health, and vaginal health.

Clairvee contains probiotic strains Lactobacillus acidophilus and Lactobacillus rhamnosus, which have been specifically shown to help maintain a healthy vaginal microbiome and promote balance — thus reducing the risk of BV and yeast infections and relieving symptoms of odor, itching, discharge, and discomfort.
Additionally, the product provides lactoferrin and folate, which have been shown to balance the vaginal microbiome, prevent the growth of vaginal infections, and support the vagina's natural defense system.
How to Take Clairvee
Clairvee is meant to be taken as one capsule daily for 15 consecutive days (each bottle contains a one-month supply of 15 servings). You can take it first thing in the morning, with or without food.
For the best results, the company recommends taking Clairvee for at least six months to help maintain a balanced vaginal microbiome. After the 15 consecutive days of taking Clairvee, you need to wait until the next month to take it for another 15 consecutive days, as that will allow for probiotic protection to build up.
Note: If you take medications, ensure it's at least a few hours apart from Clairvee since it is a probiotic and requires optimal digestion.
How Clairvee's Ingredients Work and Their Research
Clairvee contains well-researched probiotic strains that have been shown to improve vaginal itching, odor, and discharge — symptoms typically associated with bacterial vaginosis (BV).
This probiotic contains 5 billion CFUs collectively of the following two strains:
Lactobacillus acidophilus (4 billion CFUs)
Lactobacillus rhamnosus (1 billion CFUs)
The product's combination of ingredients is based on an Italian formulation known as Respecta, which has been studied and showed significant improvements in such symptoms. (1, 2)
Below, we discuss each of the strains and ingredients and how they work to support your vaginal health.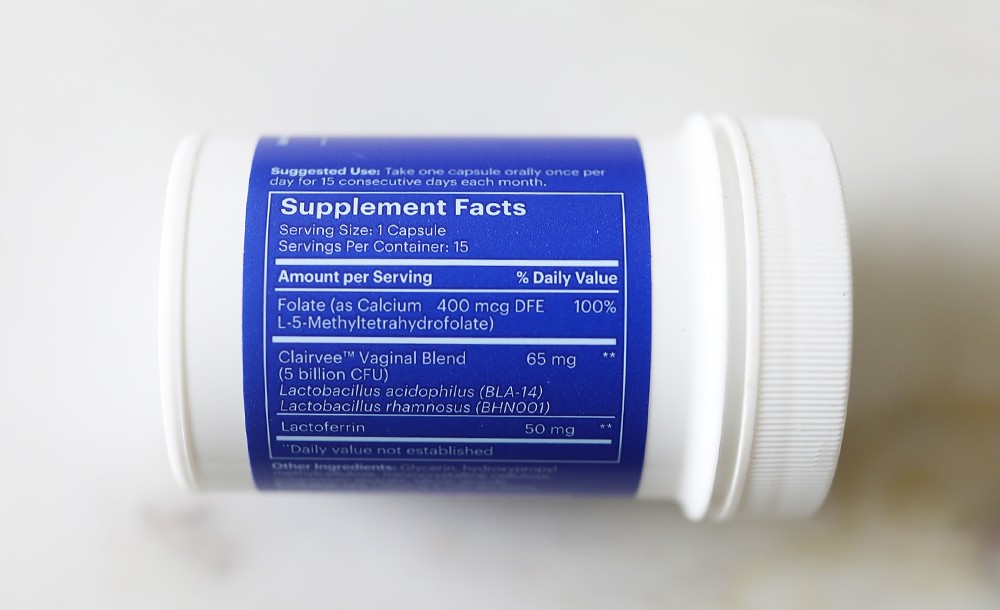 Lactobacillus Acidophilus
L. acidophilus is one of the most commonly researched types of probiotics for vaginal health. In clinical studies, L. acidophilus has been shown to effectively prevent and manage various vaginal infections by stopping the growth and spread of harmful bacteria.
It accomplishes this by sticking to vaginal surfaces, making it difficult for harmful bacteria to grow. Additionally, L. acidophilus may stick directly to unhealthy bacteria, killing them and preventing their spread.
Specifically, studies have shown that women taking a combination of L. acidophilus, L. rhamnosus, and lactoferrin (the same ingredients inside Clairvee) significantly improved symptoms of bacterial vaginosis (such as vaginal discharge and itching), as well as its recurrence rate. (3)
Lactobacillus Rhamnosus
L. rhamnosus is a type of bacteria found in your intestines and within your vagina. Much like L. acidophilus, L. rhamnosus is one of the most studied probiotic strains and may also help prevent and manage various vaginal infections by preventing the growth of harmful bacteria.
One study found that various lactobacillus bacteria, including L. rhamnosus, also prevented urinary tract infections. Another clinical trial found that the strain effectively reduced discharge, lowered vaginal pH, and reduced the presence of harmful bacteria. (4, 5)
Lactoferrin (Derived from Bovine)
Lactoferrin is a protein found in cow's milk, as well as human milk and other bodily fluids such as saliva and tears. Lactoferrin's primary bodily functions include transporting iron and helping fight infections.
Lactoferrin may also support your vaginal health through its antibacterial properties and helps support the probiotic strains to form in your vaginal tissues (acting as a prebiotic). In other words, lactoferrin and folate work synergistically to support the probiotic strains included in Clairvee.
Studies showed that combining Lactobacillus strains and lactoferrin prevented bacterial vaginosis (BV) and vaginal yeast infections. (6, 7)
Folate
Folate is a water-soluble B vitamin that may help your body make healthy new cells. Although there are very few studies evaluating whether folate impacts the vaginal microbiome, one study did find that it may help support the replication of healthy bacteria. However, more research is needed to evaluate this link. (8)
Safety Considerations
The ingredients in Clairvee, including its two probiotic strains, are generally safe. However, there are a few safety considerations to keep in mind.
Clairvee may not be appropriate if you are lactose intolerant as it contains lactoferrin derived from cow milk.
Secondly, although no adverse side effects were reported in studies examining the effects of L. rhamnosus and L. acidophilus, there's always a possibility that some people may experience mild gastrointestinal symptoms like bloating and gas from taking a probiotic in general. (9, 10)
Finally, no studies have been done on Clairvee's safety for pregnant people. Therefore, if you're pregnant and considering taking this product, you should speak to your doctor first.
If you have vaginal concerns, speak to your doctor before taking Clairvee, as they can best assess if your symptoms are due to another underlying condition, especially if you are taking any other medications.
How Much Does Clairvee Cost?
Clairvee is available on the brand's website for purchase at the following prices:
Single Bottle (One-Time Purchase): $55
Single Bottle (With Subscription): $39
3-Month Plan: $105 every 3 months (equals to $35/box)
Keep in mind that each bottle equals a one-month supply (15 capsules)
You get free shipping on products when you subscribe. Otherwise, it's a $5 flat rate for a one-time purchase. You can get a refund (minus original shipping costs) when you initiate a return within 30 days of purchase, but it only applies to unopened products, and you will likely have to pay around $7 to ship it back.
Clairvee Vs. The Competition
Many probiotic supplements on the market target various aspects of women's health. Many contain a large variety of strains to provide an all-in-one solution. Clairvee is unique because it specifically targets vaginal health and contains strains clinically shown to help balance and maintain the vaginal microbiome.
Here's how Clairvee compares to the most similar competitors, followed by our insights on how to choose:
| | Clairvee | Fem Dophilus® for Women's Internal Balance | RepHresh Pro-B Probiotic Supplement for Women | Culturelle® Women's 4-in-1 Protection |
| --- | --- | --- | --- | --- |
| Uses | Balances and maintains vaginal microbiome | Balances and maintains vaginal microbiome | Balances and maintains vaginal microbiome | Balances and maintains vaginal microbiome, supports immune and digestive health |
| Probiotic Strains for Vaginal Support | L. acidophilus BLA-14 and L. rhamnosus BHN001 | L. rhamnosus GR-1® and L. reuteri RC-14® | L. rhamnosus GR-1® and L. reuteri RC-14® | L. crispatus LBV 88, L. rhamnosus LBV 96, L. gasseri LBV 150N, L. jensenii LBV 116 |
| CFUs | 5 billion | 5 billion | 5 billion | 15 billion |
| Prebiotic | Yes (Lactoferrin) | No | No | Yes |
| Scientific Evidence | Well-designed clinical studies show that the specific combination of probiotic strains and Lactoferrin were effective in improving vaginal health | Both strains are patented and extensively studied for their effectiveness in improving vaginal health | Both strains are patented and extensively studied for their effectiveness in improving vaginal health | Studies of various strengths support the use of these strain for vaginal health |
| Daily Dosage | 1 daily capsule, for 15 straight days per month | 1 daily capsule | 1 daily capsule | 1 daily capsule |
| Refrigeration | Not required | Required | Not required | Not required |
| Regular Price | $55 (15 capsules) | $22.99 (30 capsules) | $28.99 (30 capsules) | $24.74 (30 capsules) |
| Cost per Serving | $3.66 | $0.77 | $0.97 | $0.82 |
| Estimated Annual Cost | $660 | $281.05 | $354.05 | $299.30 |
| Discounts | Subscriptions can lower the cost by 35% | None | Depends on the retailer | Subscriptions can lower the cost by 10% |
| Purchase | Buy from Bonafide | Buy on Amazon | Buy on Amazon | Buy from Culturelle |
How Do I Choose?
The four products above are all worth your consideration. However, each has its strengths that make it better suited to your needs:
Clairvee contains two probiotic strains plus a prebiotic that has been studied and shown to have a synergetic effect. The probiotic strains are offered in a clinically effective dose, and you only need to take the product for 15 consecutive days each month. Clairvee is also the most expensive product on the list. However, it is a unique and solid choice if it fits your budget. Opting for a subscription can also significantly lower the price.
If you are looking for a more budget-friendly but effective solution, Fem Dophilus® and RepHresh Pro-B Probiotic are solid choices. They contain the same patented strains in the same effective amount that have been extensively studied and shown to be effective.
If you are not experiencing symptoms but want a probiotic to proactively maintain your vaginal microbiome with additional digestive and immune health support, Culturelle® Women's 4-in-1 Protection is a good choice. It is well-priced but may not be as effective when dealing with bacterial vaginosis or yeast infection.
Thanks for your feedback!
In a few words, please tell us how this article helped you today.
Please let us know how we can improve this article by selecting your concern below.
Thank You! We appreciate your feedback.
*
Please select at least one topic:
Please Note: We cannot provide medical advice. This feedback will help us continue improving your user experience on WellnessVerge.
Please Note: We cannot provide medical advice. This feedback will help us continue improving your user experience on WellnessVerge.
At WellnessVerge, we only use reputable sources, including peer-reviewed medical journals and well-respected academic institutions.