Why You Can Trust Us
Every article and review on WellnessVerge is thoroughly researched and fact-checked by licensed health professionals. Our editorial team is made up of registered dietitians and medical doctors.
Every piece of content is also medically reviewed to ensure accuracy and alignment with sound scientific evidence and medical consensus. We only use peer-reviewed journals and reputable medical sources to form our conclusions and recommendations.
We operate with total editorial independence, and our editorial policies ensure that your well-being comes first. Based on our rigorous research, we only recommend products that are worth considering. We always disclose any ads or partnerships with brands featured on our site.
5 Health Benefits of Pumpkin Seeds and Ideas for Using Them in Your Diet
Pumpkin seeds may not be as popular as some other nuts and seeds, but they pack a powerful nutritional punch and offer health benefits that can impact many parts of your body.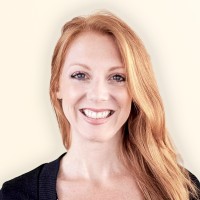 Medically Reviewed by
Natalie Olsen, MS, RDN, LD, ACSM-EP
Registered Dietitian, Certified Exercise Physiologist
Natalie is a registered dietitian, functional medicine practitioner and certified exercise physiologist with over 15 years experience in the health and wellness industry and holds a Master's degree in Human Nutrition and Functional Medicine through a collaborative program provided by the University of Western States and the Institute of Functional Medicine.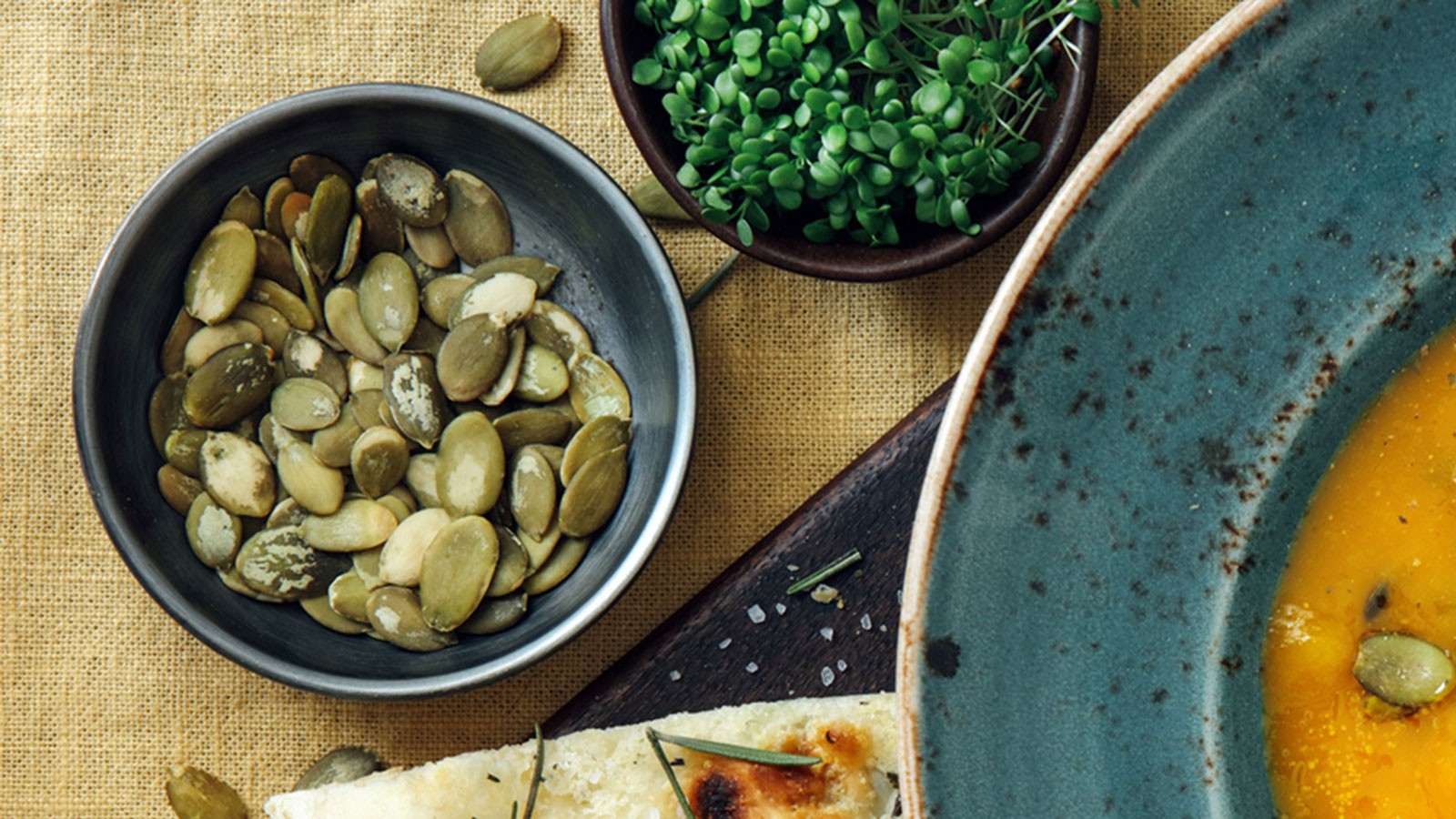 Eating nuts and seeds can be a part of a healthy diet for just about anyone. Pumpkin seeds have unique health benefits that help them stand out from many other types of nuts and seeds.
This article will help explain the benefits of pumpkin seeds and provide tips for buying and using them in your diet.
What Are Pumpkin Seeds?
Pumpkin seeds are the seeds that come from a pumpkin, which is a type of squash. If you cut open the top of a pumpkin, you will find small white seeds throughout the stringy inside flesh.
The shell of pumpkin seeds is white, but the inner seed is green.
While you technically can eat the shell, doing so is a bit harder on the digestive system. Eating shelled green pumpkin seeds is a more common (and perhaps more enjoyable) way to eat these seeds.
Pumpkin seeds are often called pepitas, which means "little seed of squash" in Spanish.
While these tiny seeds are very similar to traditional pumpkin seeds, they come from different varieties of pumpkins.
Another thing that sets them apart is that pepitas do not have a shell — pumpkin seeds do.
Pepitas and pumpkin seeds are commonly found in most grocery stores and online markets. In most cases, you can interchangeably use pepitas and pumpkin seeds in recipes.
Summary
Pumpkin seeds are the seeds found in a pumpkin. They are white with the shell — and green without.
Pepitas are a variety of pumpkin seeds grown in only certain varieties of pumpkins and do not have a shell at all.
Both can be used interchangeably when eating and cooking.
Are Pumpkin Seeds Good For You?
Though pumpkin seeds and pepitas are tiny, they pack a lot of nutrients.
Shelled, dried pumpkin seeds (or pepitas) nutrition for a 1 oz serving size (28 grams) includes: (1)
Calories: 151
Carbohydrates: 5 g
Fiber: 1.1 g
Sugars: 0 g
Protein: 6.9 g
Fat: 12.8 g
Iron: 4.2 mg (23% daily value)
Potassium: 226 mg (6% daily value)
Phosphorus: 329 mg (33% daily value)
Zinc: 2.1 mg (14% daily value)
Magnesium: 150 mg (37% daily value)
Summary
Pumpkin seeds are extremely nutrient-dense. They offer a good source of plant-based protein, as well as many important minerals like potassium, iron, and magnesium.
Pumpkin Seeds Benefits
Pumpkin seeds have many benefits, including:
Rich in Antioxidants
Pumpkin seeds are a great source of the antioxidants vitamin E and carotenoids. (2)
These antioxidants are present in the oil of the seeds and the extract, as well as the whole seed itself.
Antioxidants help protect your cells by fighting against free radicals that can damage your body when in excess.
Free radicals are unstable molecules that are naturally formed when you exercise, digest food, and through exposure to things like pollution and cigarette smoke.
Too many free radicals can cause the development of diseases like cancer, heart disease, diabetes, eye disorders, Alzheimer's, and more. (3)
Eating a diet rich in antioxidants can help protect against vision problems, boost brain health, protect against memory loss, and reduce your likelihood of developing heart conditions and other ailments. (4, 5, 6)
It can also help improve the look and feel of your skin. (7)
One of the Best Sources of Magnesium
Pumpkin seeds are one of the richest food sources of magnesium.
Magnesium has numerous health benefits since it is involved in over 300 enzyme reactions in your body that help keep things functioning normally. (8)
One of magnesium's benefits is its ability to help lower the body's stress response. Research has shown that not getting enough magnesium can increase your likelihood of experiencing stress. (9)
Magnesium also helps support normal blood sugar control. It plays a role in how your body uses insulin, a hormone that helps to lower blood sugar.
Not getting enough may lead to insulin resistance, which is what happens in type 2 diabetes. Magnesium may thus play a role in protecting against and treating type 2 diabetes. (10)
Magnesium also has many other important roles. Its functions can depend on the form it is in.
Magnesium oxide and magnesium sulfate can help relieve constipation by serving as a natural laxative. (11, 12)
A recent study also found magnesium oxide to be effective at helping to prevent migraine headaches. (13)
Other studies have shown that supplementing with magnesium chloride is effective at treating depression and anxiety. (14)
In addition, according to the Sleep Foundation, magnesium has also been found to help support good sleep. (15)
May Help Promote Satiety and a Healthy Weight
The combination of fiber, protein, and healthy fats found in pumpkin seeds creates a perfect, filling combination of nutrients that can help keep you full for longer.
This may help you eat less and promote a healthy weight.
Whole, roasted pumpkin seeds in their shells contain about 5.2 grams of fiber per serving, while shelled seeds contain about 1.1 grams. (16)
Fiber is not digested, which contributes to its ability to help you feel full. It is proven by research to play a role in weight loss and weight management. (17)
In addition, pumpkin seeds provide more protein per serving than most other nuts and seeds. Just one ounce of shelled seeds provides about 7 grams.
Protein is known to impact the level of fullness more than carbohydrates or fat. (18)
Pumpkin seed's protein content is also especially beneficial for people following a vegetarian or vegan diet to help meet daily protein needs.
May Improve Heart Health
The American Heart Association recommends eating pumpkin seeds as part of an overall heart-healthy diet. (19)
This is because the high magnesium content in pumpkin seeds helps control blood pressure. (20)
The magnesium content may also reduce the risk of developing atherosclerosis, which is a hardening of the arteries that can lead to heart disease. (21)
Can Help Promote Better Sleep
In addition to the magnesium that helps support sleep, pumpkin seeds also provide a good source of the amino acid tryptophan. (22)
Tryptophan has been shown by research to help naturally promote sleep in some populations. (23)
The combination of tryptophan and magnesium in pumpkin seeds together may help improve overall sleep.
Better sleep can then influence other benefits like getting sick less often, being more focused, having a better mood, and achieving or maintaining a healthy weight. (24)
Related: Tips for Sleeping Better at Night
Summary
Pumpkin seeds have many health benefits. These include being rich in antioxidants that can protect against disease, promoting a healthy weight, supporting heart health and good sleep, and more.
Tips for Buying Pumpkin Seeds
There are many options to choose from when it comes to buying pumpkin seeds in the stores. Here are some tips:
Tip #1
Seeds can be sold with the shell or without, and can be sold as pepitas or traditional pumpkin seeds. When purchasing, consider whether you will be eating the shell or not. If not, it may be more convenient to purchase a shelled variety.
Tip #2
In addition, seeds can be sold roasted or raw, and salted or unsalted. Buying unsalted seeds can help cut back on sodium intake and may provide for more versatile uses since you can always season them yourself.
Tip #3
Some pumpkin seeds may also be sold in a sprouted form.
Sprouting means the seeds were soaked for many hours until they began to germinate, which is the beginning stage of new growth. (25)
Sprouting is believed to help improve the digestibility of the food by increasing both soluble and insoluble fiber content. (26)
Insoluble fiber helps create stool and move it through the large intestine, decreasing constipation.
Soluble fiber creates a gel in the digestive tract and is known to help lower cholesterol levels and improve blood sugar control. (27)
Some sprouted seeds and other products may also help increase mineral content, but the extent may vary and may not apply to all sprouted products.
Tip #4
Another thing to consider is buying organic or conventional seeds.
Buying organic seeds may help protect you from exposure to pesticides, which can have potentially harmful side effects.
These side effects may include disrupted hormones and some types of cancer, as reported by the United States Environmental Protection Agency. (28)
However, since pumpkin seeds are grown inside of a vegetable and are often shelled, the exposure to pesticides is probably minimal, so buying organic is not essential in this case.
Tip #5
Lastly, if purchasing pumpkin seeds online, be sure to check that you're buying the type for eating and not for planting.
Seeds for planting may specify "garden seeds" and would have instructions for planting on the back of the package. Seeds for eating would have a nutrition facts label on the back.
Ideas for Using Pumpkin Seeds
There are nearly endless ways to use pumpkin seeds in your diet.
Here are some ideas:
Sprinkle them on a salad.
Eat them as part of a trail mix.
Blend them into a smoothie, or use pumpkin seed protein powder.
Spread pumpkin seed butter on toast or fruit.
Mix them into oatmeal.
Season them and enjoy as a festive appetizer during holiday gatherings.
Top your yogurt or acai bowls with them.
Sprinkle them on top of curry dishes or other soups for a satisfying and nutritious crunch.
Pair them with fruit and cheese, such as part of a charcuterie board.
Grind them and use as a coating for baked fish, meat, or poultry.
Add them to pesto in place of pine nuts.
Stir them into salsa.
Mix them into homemade energy bars.
Summary
There are many uses for pumpkin seeds, such as using them as a topping for oatmeal or yogurt, blending them into pesto, or eating them as a snack in trail mix or homemade energy bars.
The Bottom Line
Pumpkin seeds (which are sometimes called pepitas) are highly nutritious seeds. They provide a great source of plant-based protein, healthy fats, magnesium, and antioxidants.
Some of the many health benefits associated with eating pumpkin seeds include helping to protect from disease, supporting weight management, supporting good sleep and lower stress, and promoting a healthy heart.
There are many things to consider when buying pumpkin seeds, and many options to choose from.
You can incorporate pumpkin seeds into your everyday diet during snack time or as part of any meal.
Thanks for your feedback!
In a few words, please tell us how this article helped you today.
Please let us know how we can improve this article by selecting your concern below.
Thank You! We appreciate your feedback.
*
Please select at least one topic:
Please Note: We cannot provide medical advice. This feedback will help us continue improving your user experience on WellnessVerge.
Please Note: We cannot provide medical advice. This feedback will help us continue improving your user experience on WellnessVerge.
At WellnessVerge, we only use reputable sources, including peer-reviewed medical journals and well-respected academic institutions.
Seeds, pumpkin and squash seed kernels, dried [pepitas] | NutritionData

:
https://nutritiondata.self.com/facts/nut-and-seed-products/3066/2

The potential of pumpkin seeds as a functional food ingredient: A review - ScienceDirect

:
https://www.sciencedirect.com/science/article/pii/S2468227620303136

Antioxidants: In Depth | NCCIH

:
https://www.nccih.nih.gov/health/antioxidants-in-depth

Diet and Nutrition | AOA

:
https://www.aoa.org/healthy-eyes/caring-for-your-eyes/diet-and-nutrition?sso=y

How Do Antioxidants Lend Themselves to Brain Health? | Alzheimers.net

:
https://www.alzheimers.net/antioxidants-lend-themselves-to-brain-health

Antioxidants & Heart Health: Nutrition, Foods & Benefits

:
https://my.clevelandclinic.org/health/articles/16739-antioxidants--heart-health

Antioxidants in dermatology - PMC

:
https://www.ncbi.nlm.nih.gov/pmc/articles/PMC5514576/

Magnesium - Health Professional Fact Sheet

:
https://ods.od.nih.gov/factsheets/Magnesium-HealthProfessional/

Magnesium Status and Stress: The Vicious Circle Concept Revisited - PMC

:
https://www.ncbi.nlm.nih.gov/labs/pmc/articles/PMC7761127/

The Effects of Oral Magnesium Supplementation on Glycemic Response among Type 2 Diabetes Patients - PMC

:
https://www.ncbi.nlm.nih.gov/pmc/articles/PMC6356710/

Magnesium Oxide in Constipation - PMC

:
https://www.ncbi.nlm.nih.gov/labs/pmc/articles/PMC7911806/

Magnesium Sulfate-Rich Natural Mineral Waters in the Treatment of Functional Constipation–A Review - PMC

:
https://www.ncbi.nlm.nih.gov/pmc/articles/PMC7400933/

The efficacy of magnesium oxide and sodium valproate in prevention of migraine headache: a randomized, controlled, double-blind, crossover study - PubMed

:
https://pubmed.ncbi.nlm.nih.gov/30798472/

Role of magnesium supplementation in the treatment of depression: A randomized clinical trial - PubMed

:
https://pubmed.ncbi.nlm.nih.gov/28654669/

Using Magnesium for Better Sleep | Sleep Foundation

:
https://www.sleepfoundation.org/magnesium

Nutrition Facts for Seeds Pumpkin And Squash Seeds Whole Roasted With Salt Added

:
https://tools.myfooddata.com/nutrition-facts/168601/wt2/1

Making one change — getting more fiber — can help with weight loss - Harvard Health

:
https://www.health.harvard.edu/blog/making-one-change-getting-fiber-can-help-weight-loss-201502177721

Revisiting the role of protein-induced satiation and satiety - ScienceDirect

:
https://www.sciencedirect.com/science/article/abs/pii/S0268005X1630340X#:~:text=Energy%20from%20protein%2C%20in%20a,way%20to%20deliver%20enhanced%20satiety.

Pumpkin seeds pack a healthy punch | American Heart Association

:
https://www.heart.org/en/news/2018/10/25/pumpkin-seeds-pack-a-healthy-punch

Hypertension: Effects of Magnesium Supplementation on Blood Pressure A Meta-Analysis of Randomized Double-Blind Placebo-Controlled Trials - AHA Journals

:
https://www.ahajournals.org/doi/10.1161/hypertensionaha.116.07664

JAHA: Serum Magnesium and the Risk of Death From Coronary Heart Disease and Sudden Cardiac Death - AHA Journals

:
https://www.ahajournals.org/doi/10.1161/JAHA.115.002707#:~:text=In%20recent%20studies%2C%20low%20serum,vascular%20tone%20and%20endothelial%20function.&text=These%20mechanisms%20are%20thought%20to,coronary%20heart%20disease%20(CHD).

LC-MS/MS-Based Profiling of Tryptophan-Related Metabolites in Healthy Plant Foods - PMC

:
https://www.ncbi.nlm.nih.gov/labs/pmc/articles/PMC7024187/

Sleep in Elite Athletes and Nutritional Interventions to Enhance Sleep - PMC

:
https://www.ncbi.nlm.nih.gov/labs/pmc/articles/PMC4008810/

Get Enough Sleep - MyHealthfinder | health.gov

:
https://health.gov/myhealthfinder/topics/everyday-healthy-living/mental-health-and-relationships/get-enough-sleep#panel-2

Sprouting: How to sprout at home - Vegetarian Society

:
https://vegsoc.org/lifestyle/sprouting-how-to-sprout-at-home/

(PDF) Effect of germination on total dietary fibre and total sugar in selected legumes

:
https://www.researchgate.net/publication/291206798_Effect_of_germination_on_total_dietary_fibre_and_total_sugar_in_selected_legumes

Fiber | Linus Pauling Institute | Oregon State University

:
https://lpi.oregonstate.edu/mic/other-nutrients/fiber

Human Health Issues Related to Pesticides - EPA

:
https://www.epa.gov/pesticide-science-and-assessing-pesticide-risks/human-health-issues-related-pesticides#What