WellnessVerge is reader-supported. We may earn a commission when you make a purchase through the links on this page. Learn more about our process here.
Why You Can Trust Us
Every article and review on WellnessVerge is thoroughly researched and fact-checked by licensed health professionals. Our editorial team is made up of registered dietitians and medical doctors.
Every piece of content is also medically reviewed to ensure accuracy and alignment with sound scientific evidence and medical consensus. We only use peer-reviewed journals and reputable medical sources to form our conclusions and recommendations.
We operate with total editorial independence, and our editorial policies ensure that your well-being comes first. Based on our rigorous research, we only recommend products that are worth considering. We always disclose any ads or partnerships with brands featured on our site.
MUD\WTR Review: Less Jittery Than Coffee, But Costly + Mixed Reviews on Taste
A cup of MUD\WTR contains less caffeine than coffee, making it a good option for anyone who experiences negative side effects from consuming too much caffeine. But it has mixed reviews on taste and a high price tag, so it may not be right for everyone.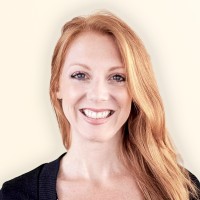 Medically Reviewed by
Natalie Olsen, MS, RDN, LD, ACSM-EP
Registered Dietitian, Certified Exercise Physiologist
Natalie is a registered dietitian, functional medicine practitioner and certified exercise physiologist with over 15 years experience in the health and wellness industry and holds a Master's degree in Human Nutrition and Functional Medicine through a collaborative program provided by the University of Western States and the Institute of Functional Medicine.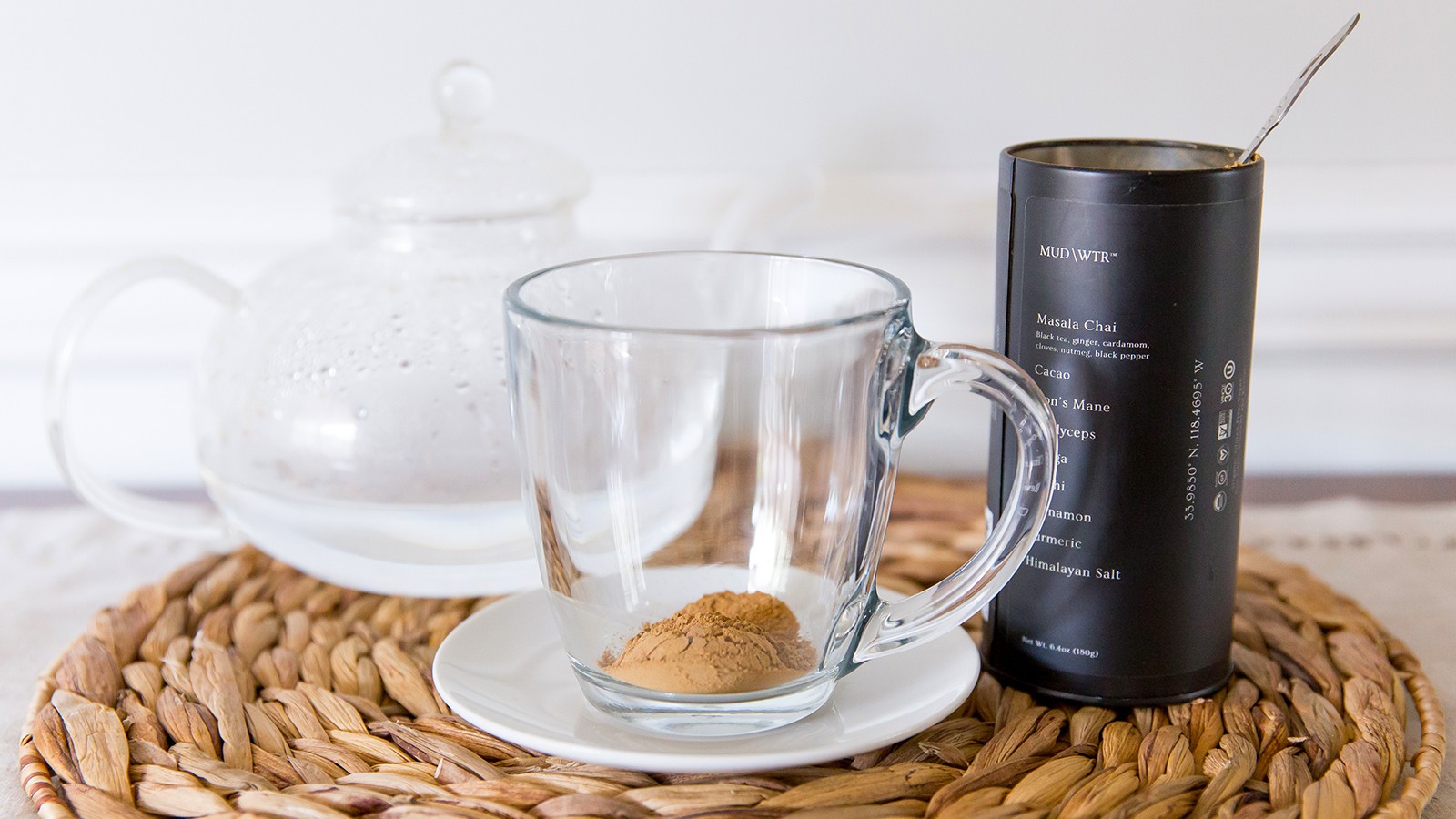 Key Takeaways (TL;DR)
MUD\WTR's Rise is an organic alternative to coffee made from powdered mushrooms, cacao, black tea (Masala Chai), and several spices. It contains some caffeine from the cacao and black tea, but about 1/3 less than traditional coffee.
MUD\WTR will give you natural energy and improved focus, much like a morning cup of coffee but without any unwanted side effects associated with high intakes of caffeine, like jitteriness and anxiety.
The blend of mushrooms and spices is antioxidant-rich and may offer some additional benefits, although more research is required.
Many reviewers say that MUD\WTR helps with their focus and energy levels.
Customer reviews of MUD\WTR's taste were mixed. Some consumers enjoyed it, while others said they didn't. (We share our take on taste below.)
MUD\WTR may be a solid choice if you're interested in consuming less caffeine and want a convenient way to add extra antioxidants to your daily routine. However, before committing long-term, experiment with the taste of a few brands. (Other brands are also cheaper.)
There are no significant downsides to coffee unless you drink too much. If you are not extremely sensitive to caffeine, there may not be any reason to switch to a coffee alternative.
MUD\WTR may also be a great option to replace your second cup of coffee throughout the day, if you're not looking to eliminate coffee completely.
What We Liked About MUD\WTR
MUD\WTR contains roughly 1/3 of the caffeine in a cup of coffee, making it an excellent option for anyone wanting to lower their caffeine intake.
Made entirely with organic, whole-food ingredients and is certified gluten-free.
It contains antioxidant-rich ingredients that may offer some additional health benefits.
Generally safe for most people.
The drink is easy to prepare.
We liked the taste of MUD\WTR but with a splash of half and half and sweetener.
Important Considerations
The drink mix leaves sediment at the bottom of your cup.
It's expensive compared to similar mushroom drinks or regular coffee you brew at home.
Although the mushrooms and spices in Rise have a long history of use in traditional medicine and cooking, the scientific evidence to support their benefit is limited for now.
There is no money-back guarantee or returns for opened products.
It has mixed reviews for taste (but remember that taste is a personal preference).
MUD\WTR in a Nutshell
MUD\WTR, pronounced "mud water", is a coffee alternative made from a blend of functional mushrooms (which offer potential health benefits), spices, and black tea.
Its popular blend, Rise, is marketed as a coffee replacement and contains just 1/3 of the caffeine of a typical cup of coffee.
In addition, MUD\WTR conveniently adds health-promoting nutrients to your regular routine. Its blend of functional mushrooms and antioxidant-rich ingredients like cacao, turmeric, black pepper, and cinnamon may help improve your brain function, alertness, and immune health.
For those looking to eliminate caffeine completely, MUD\WTR offers a caffeine-free blend, Gold. It's similarly made from a blend of mushrooms, spices, and other ingredients.
The MUD\WTR brand was founded by Shane Heath in Venice, California after he realized coffee was making him feel unwell and jittery. He intended for MUD\WTR to provide all the benefits with none of the downsides of coffee. And he wanted the experience of making the mushroom beverage to feel similar to the experience of making coffee.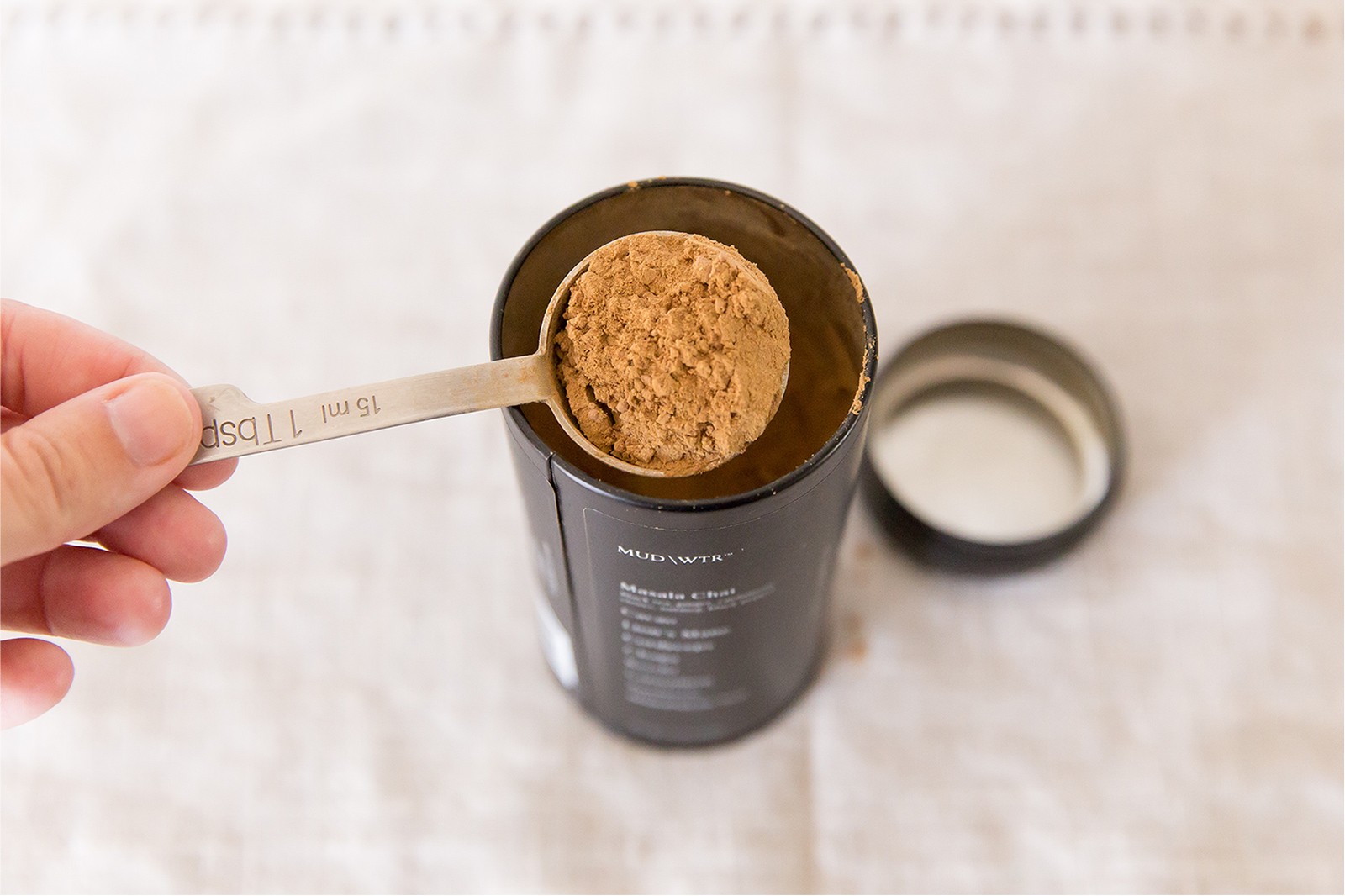 Preparing MUD\WTR Was Simple and Enjoyable
To prepare MUD\WTR, thoroughly mix one tablespoon of powder into a cup of hot water using a spoon, blender, or a milk frother. Then add sweetener or creamer if you prefer.
We found that the powder was easy to mix using a milk frother. It came together in about 15 seconds. However, it didn't stay mixed — some sediment was at the bottom of our cup.
If you want to avoid the sediment at the bottom of the cup, we found stirring the drink continuously as we drank it helped.
We Eventually Liked the Taste, but It Took Some Experimenting
MUD\WTR has a heavily-spiced flavor that reminded us of mocha with added pumpkin pie spice. Although it's marketed as a coffee alternative, it doesn't taste anything like plain coffee.
Some of our team members liked the taste of MUD\WTR with a splash of half and half and liquid sweetener but weren't fond of it plain. We used allulose syrup, which doesn't contain any sugar, but honey would be a good addition too.
Our testers enjoyed the flavor, but the texture left something to be desired. Other team members thought that compared to coffee, the flavor of MUD\WTR is earthier, less bitter, and spicier, with a tiny hint of natural sweetness that likely comes from cinnamon. It was like a spiced hot chocolate mixed with chai tea.
Many reviewers around the web also said that MUD\WTR tastes like an earthy chai latte. Some customers said they dislike the earthiness or the thick sediment left at the cup's bottom after finishing.
Finally, like us, many reviewers said they prefer MUD\WTR with added sweetener or creamer. (MUD\WTR offers coconut milk creamers and sweeteners on their website.)
Of course, taste is a personal preference, and we think it's always best to try MUD\WTR yourself to see how you like it.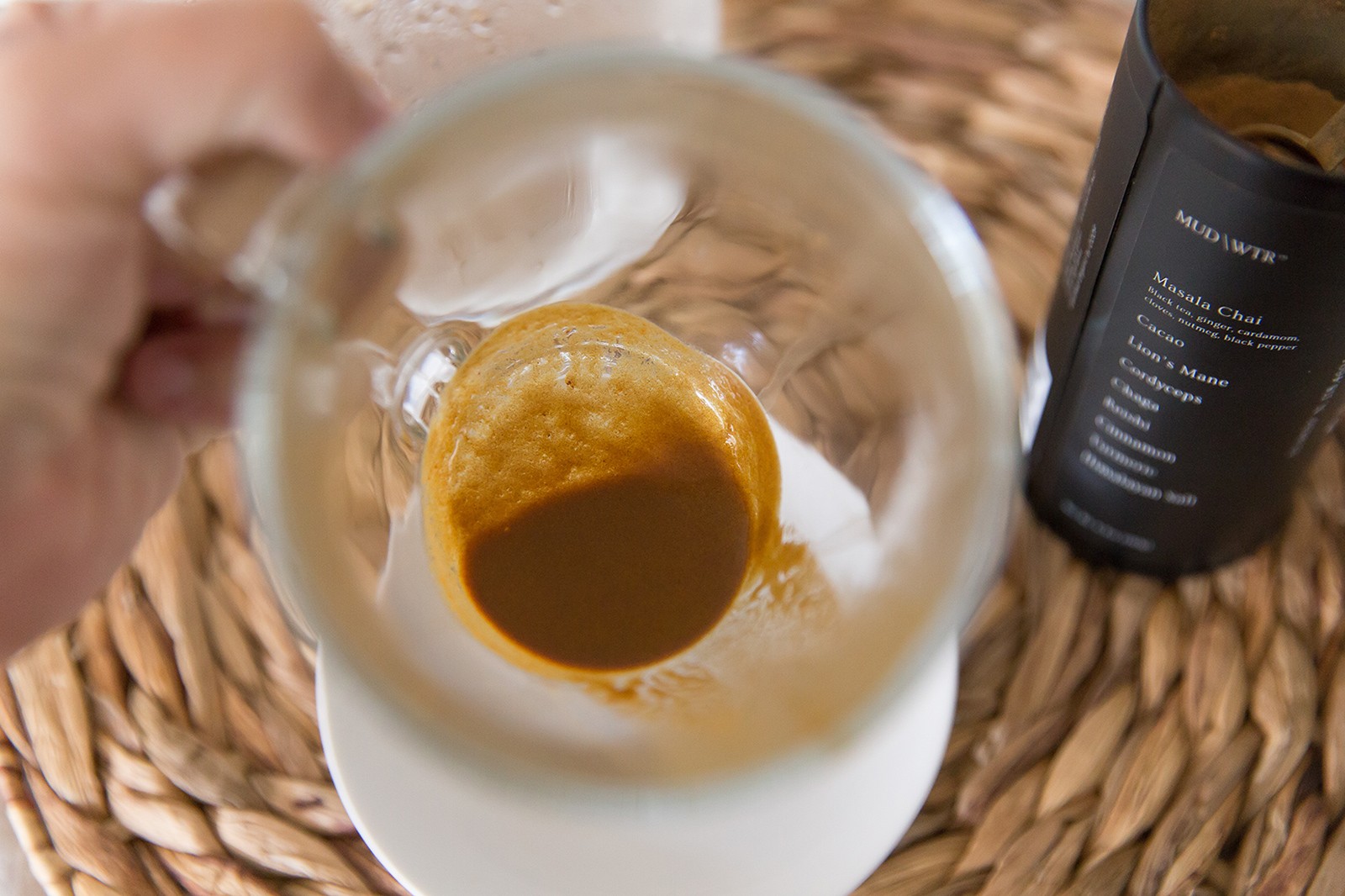 Pricing: It'll Cost You More Than Coffee
MUD\WTR is significantly more expensive than coffee, including most organic coffees. So if you plan to drink more than one cup of MUD\WTR daily, the monthly cost will add up.
The price of MUD\WTR is:
| | One-Time | Subscription |
| --- | --- | --- |
| 30 Servings | $50 ($1.67/serving) | $40 ($1.33/serving) |
| 90 Servings | $125 ($1.39/serving) | $100 ($1.11/serving) |
| Starter Kit | $60 ($2/serving) | $40 ($1.33/serving) |
| Shipping | $5 | Free |
The Starter Kit includes a USB-rechargeable milk frother and MUD\WTR creamer and sweetener samples.
MUD\WTR does not offer a satisfaction guarantee or accept returns on opened products. That means you'll be out at least $40 if you purchase MUD\WTR but end up disliking it.
What's Inside MUD\WTR?
There isn't much modern-day research to quantify every health claim made by MUD\WTR. Nonetheless, the individual ingredients in this drink have some, although limited, modern-day evidence to support other health benefits, including reducing inflammation, providing energy, and supporting your overall health, which we explain below.
Either way, MUD\WTR is a nice addition, even if it's just for reducing your daily caffeine intake.
View Nutrition Facts
One serving is 1 Tbsp (6g) and provides:
Caffeine: 35 mg
Calories: 20
Total Fat: 0.5 g
Sodium: 10 mg
Total Carbohydrate: 4 g
Dietary Fiber: 1 g
Total Sugar: 0g
Protein: less than 1 g
Iron: 0.4 mg
Potassium: 110 mg
Mushrooms: 2,240 mg
Note: Adding creamer or a sweetener containing calories will increase the calorie count and change the nutrition content.
Organic Mushroom Blend
The mushroom blend in MUD\WTR consists of chaga, reishi, lion's mane, and cordyceps sourced from Om Organics, a mushroom farm located in California.
These mushrooms have a history of use in traditional and folk medicine and are considered medicinal or functional mushrooms. Sometimes they are also referred to as adaptogens, which are plant-based ingredients that help your body adapt to the daily stressors in life. Although research is limited, they are rich in vitamins and minerals that help fight bacteria, viruses, and inflammation and support energy. (1, 2, 3)
Organic Cacao
Cacao is the main ingredient in dark chocolate. It's rich in antioxidants, flavanols, and polyphenols, which are responsible for decreasing inflammation and preventing disease. In addition, cacao may help improve brain function. However, more research should be done on humans. (4, 5)
Organic Spice Blend
The spice blend in MUD\WTR is inspired by chai tea and contains cinnamon, turmeric, ginger, cardamom, black pepper, nutmeg, and cloves. These spices are loaded with antioxidants and have been used in traditional medicine for many years. Regular consumption can benefit health in several ways.
Research has found cinnamon helps improve fasting blood glucose in individuals with type 2 diabetes. (6) Cloves also may have an anti-diabetic effect and may help promote normal blood sugar levels. (7)
Turmeric contains curcumin which has powerful anti-inflammatory properties. It's often used to improve symptoms of joint pain and support the immune system. (8)
Ginger also has anti-inflammatory properties and can ease digestive troubles. (8)
Black Tea
Black tea contains caffeine, which can help energize and improve mental focus. However, its caffeine content is less than coffee. Tea also contains polyphenols, which are antioxidants that help boost immunity and protect against aging, inflammation, and chronic illness. (9)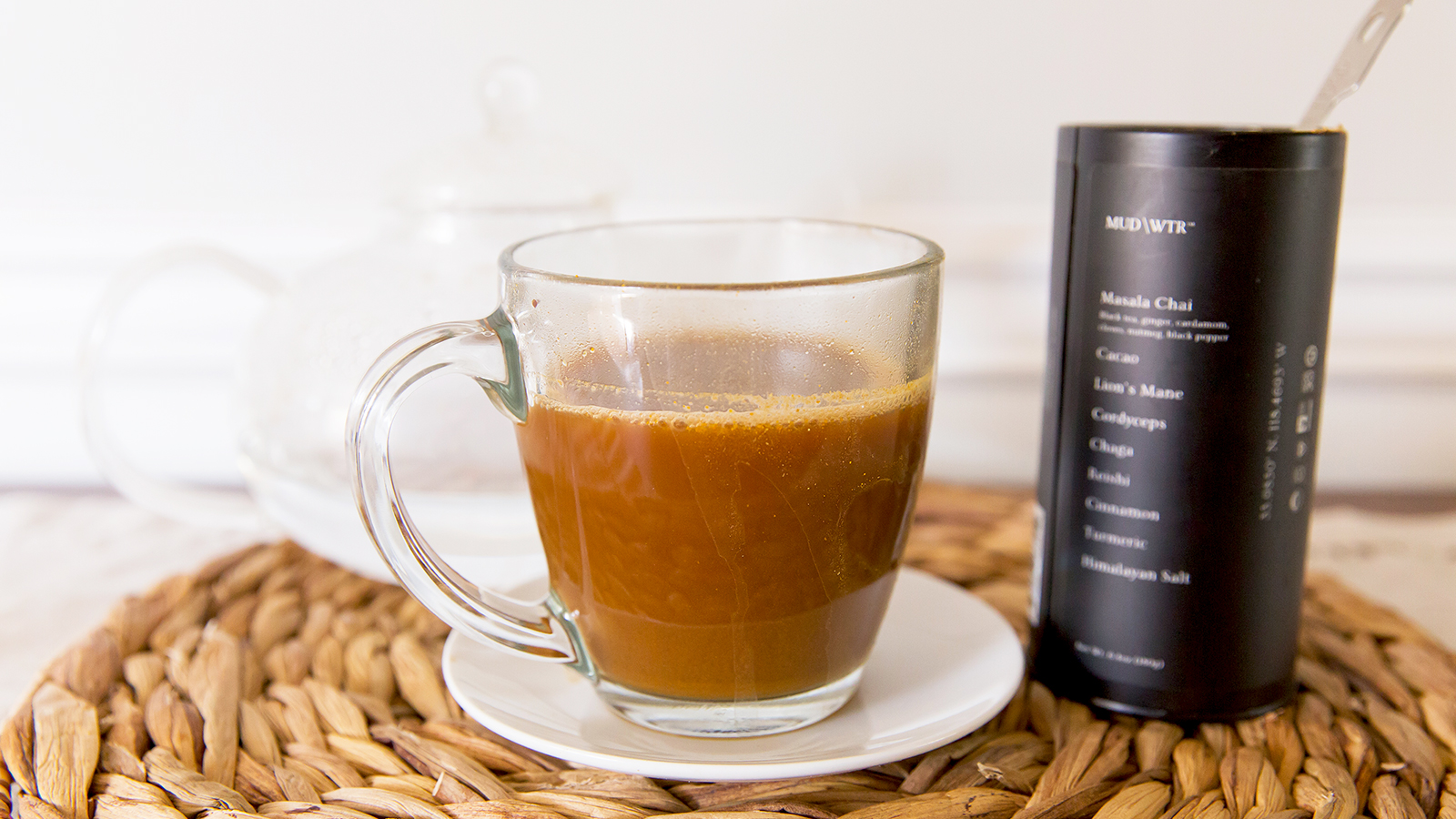 Is MUD\WTR Safe?
Apart from possibly experiencing withdrawal symptoms if you abruptly switch from drinking a lot of coffee to MUD\WTR, this drink is generally safe for healthy people. It's also free of common allergens and doesn't contain ingredients that are likely to interact with drugs.
However, because MUD\WTR contains a few ingredients that potentially lower blood sugar levels, you should check with your doctor if this is something that you're closely monitoring. (10, 11)
How MUD\WTR Compares to the Alternatives
There are several brands of organic mushroom coffee on the market. When it comes to picking between the brands, it will come down to your preference in the following categories:
Caffeine Content: Many brands contain more caffeine than MUD\WTR. Some brands contain 0 caffeine.
Inclusion of Coffee: MUD\WTR does not contain coffee, while other brands do.
Taste: Highly personal and will require experimentation.
Price: Most brands are cheaper than MUD\WTR.
Money-back Guarantee: Most brands offer a money-back guarantee that reduces the risk of trying the product. MUD\WTR does not provide a money-back guarantee.
Here's how MUD\WTR compares to three popular mushroom drinks:
| | MUD\WTR | Ryze | Rasa | La Republica Mushroom Coffee |
| --- | --- | --- | --- | --- |
| Caffeine | 35 mg | 48 mg | 0 mg | 75–85 mg |
| Coffee | ✘ | ✔ | ✘ | ✔ |
| Key Ingredients | Mushrooms (Chaga, Reishi, Lion's Mane, Cordyceps), Turmeric, Ginger, Black pepper | Arabica coffee, Mushrooms (Cordyceps, Lion's Mane, Reishi, Shiitake, Turkey Tail, King Trumpet), MCT oil | Mushrooms (Chaga, Reishi), Ashwagandha, Rhodiola | Arabica coffee, Mushrooms (Chaga, Lion's Mane, Reishi, Cordyceps, Maitake, Shiitake, Turkey Tail) |
| Price (30 servings) | $50 | $30 | $28 | $24 |
| Shipping | $5 | Free | $5 or free over $75 | $3.99 or free over $35 |
| Subscription | Optional; offers 20%–33% off plus free shipping | Required | Optional; offers 20% off plus free shipping | Optional; offers 20% off |
| Money-Back Guarantee | ✘ | ✔ | ✔ | ✔ |
| Purchase | Via MUD\WTR | Via Ryze | Via Rasa | Via La Republica |
Thanks for your feedback!
In a few words, please tell us how this article helped you today.
Please let us know how we can improve this article by selecting your concern below.
Thank You! We appreciate your feedback.
*
Please select at least one topic:
Please Note: We cannot provide medical advice. This feedback will help us continue improving your user experience on WellnessVerge.
Please Note: We cannot provide medical advice. This feedback will help us continue improving your user experience on WellnessVerge.
At WellnessVerge, we only use reputable sources, including peer-reviewed medical journals and well-respected academic institutions.