Evidence Based Research
Our editorial team is made up of expert registered dietitians with extensive, real-world clinical experience who are highly trained in evaluating clinical research.
Oura Ring Review: Pros, Cons and Takeaways from Our Test
The Oura ring is a health-tracking device that provides interesting data, particularly for monitoring sleep quality, but otherwise is fairly similar to other health trackers.

Pros

Comfortable to wear day and night
Syncs with Apple Health and Google Fit for more accurate data
Battery lasts 7 days
Completely waterproof and can survive extreme temperatures

Cons

Can be bulky during certain types of exercise
Ring material is not flexible and does not adjust for changes in finger size
Data not available directly on device, like a watch
Doesn't track type of workout, must be synced with another device
Features and How It Works
The Oura ring is a fitness and lifestyle tracker designed to be worn around your finger, as opposed to around your wrist, like other health monitoring devices.
When you first visit the Oura ring website, the description is not clear of what the ring actually does.
The site talks a lot about "inspiration," "feeling fully alive," and helping everyone reach their "full potential." These seem like very vague goals to me.
After wearing the Oura Ring for a week, I have come to understand that it provides continuous access to accurate information about your health and personalized guidance based on that information.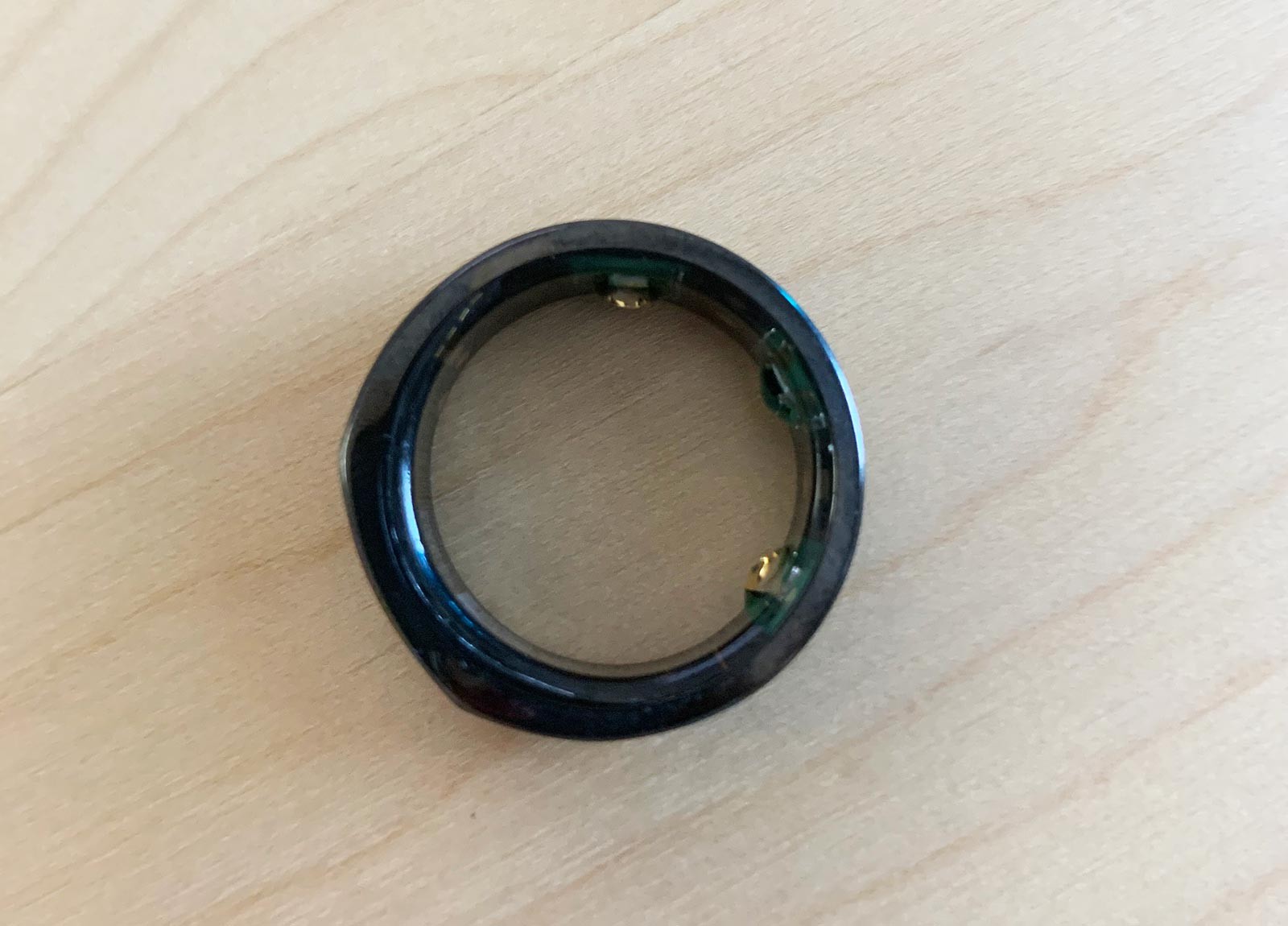 The ring measures a few main health data points to help guide you to improve your overall well-being. The data points are:
Sleep monitoring. The ring monitors sleep stages throughout the night and provides a personalized sleep score each morning. It also makes recommendations about optimal bedtime and other ways to improve sleep.
Heart rate and temperature. The ring keeps track of your resting heart rate and body temperature throughout the day.
Dynamic activity. The ring measures steps, inactive time, and tells you when to push yourself during your workout.
Readiness score. The ring collects data from your sleep, activity, and lifestyle choices to provide you with a score of how "ready" you are for the day.
Long-term trends. The app allows you to monitor daily, weekly, and monthly trends to better understand how certain lifestyle choices impact your overall health.
Daily it provides you with three scores on a scale of 1 to 100: sleep, activity, and readiness.
It shows you the different variables that contribute to this score. These allow you to track how you are doing day-to-day.
The ring gathers the data it needs for these scores by tracking your respiratory rate, resting heart rate, body temperature, and heart rate variability (HRV).
The HRV is how the ring determines how stressed or overtrained you might be. When your HRV is low, that indicates too much stress, so you need to relax or rest.
To help you destress, there is a meditation function on the app called "Moment" that you can access at any time.
The app allows you to compare your heart rate, body temperature, and HRV before and after the meditation.
In the app, you can also flag various life events, like eating a heavy meal, drinking alcohol, or other stressful occurrences, so you can see how they impact your body and sleep.
The goal of wearing the ring is to allow you to track information over time, so you can monitor trends and day-to-day habits that impact your rest and performance.
To truly benefit from the Oura Ring, you need to wear it for a few weeks, so the ring begins to understand your baseline and can make tailored recommendations.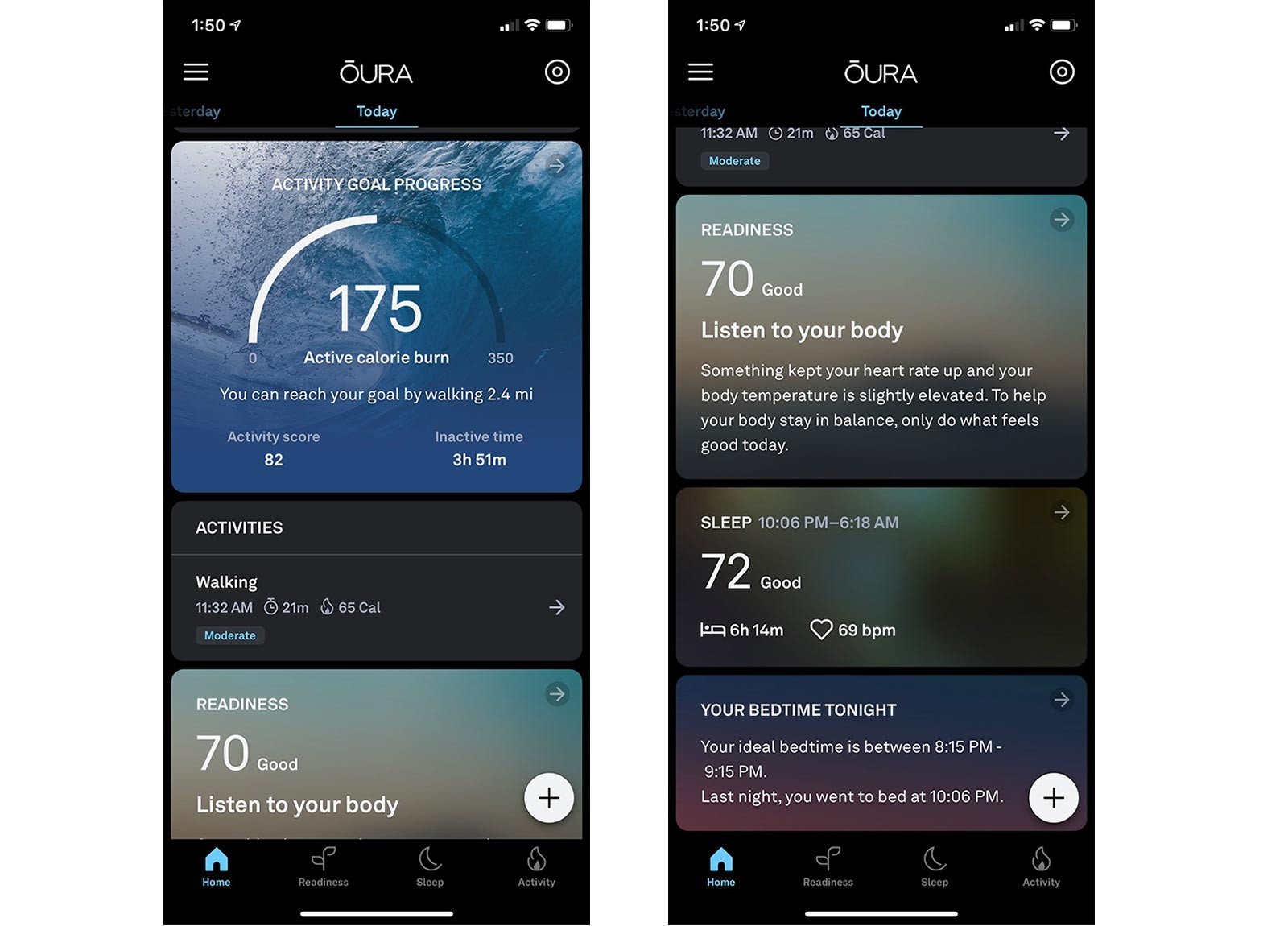 The home screen provides easy access to all the sections of the Oura app.
Accuracy of Tracking
During the Covid-19 pandemic, a study found that Oura Ring could predict Covid-19 three days before symptom onset with 90% accuracy.
This led the NBA and WNBA, and other professional sports to purchase rings for their players in hopes that the temperature sensors might help them detect Covid-19 early.
While only a doctor can diagnose Covid-19, being able to predict when you are feeling "off" can help you take steps to support your immune system in healthy ways to help you fight off illness.
Oura has two company-sponsored studies about the accuracy of their product. One of the studies evaluated the accuracy of the sleep tracking function.
The study compared the Oura Ring to the equipment used in a sleep lab and found it to be 66% accurate. This is within the FDA's requirements for the accuracy of sleep monitoring devices.
The other study found that the heart rate and HRV measurements were between 98–99% accurate when compared to an electrocardiogram.
Overall, there is data to support the device's accuracy in terms of what it is designed to measure.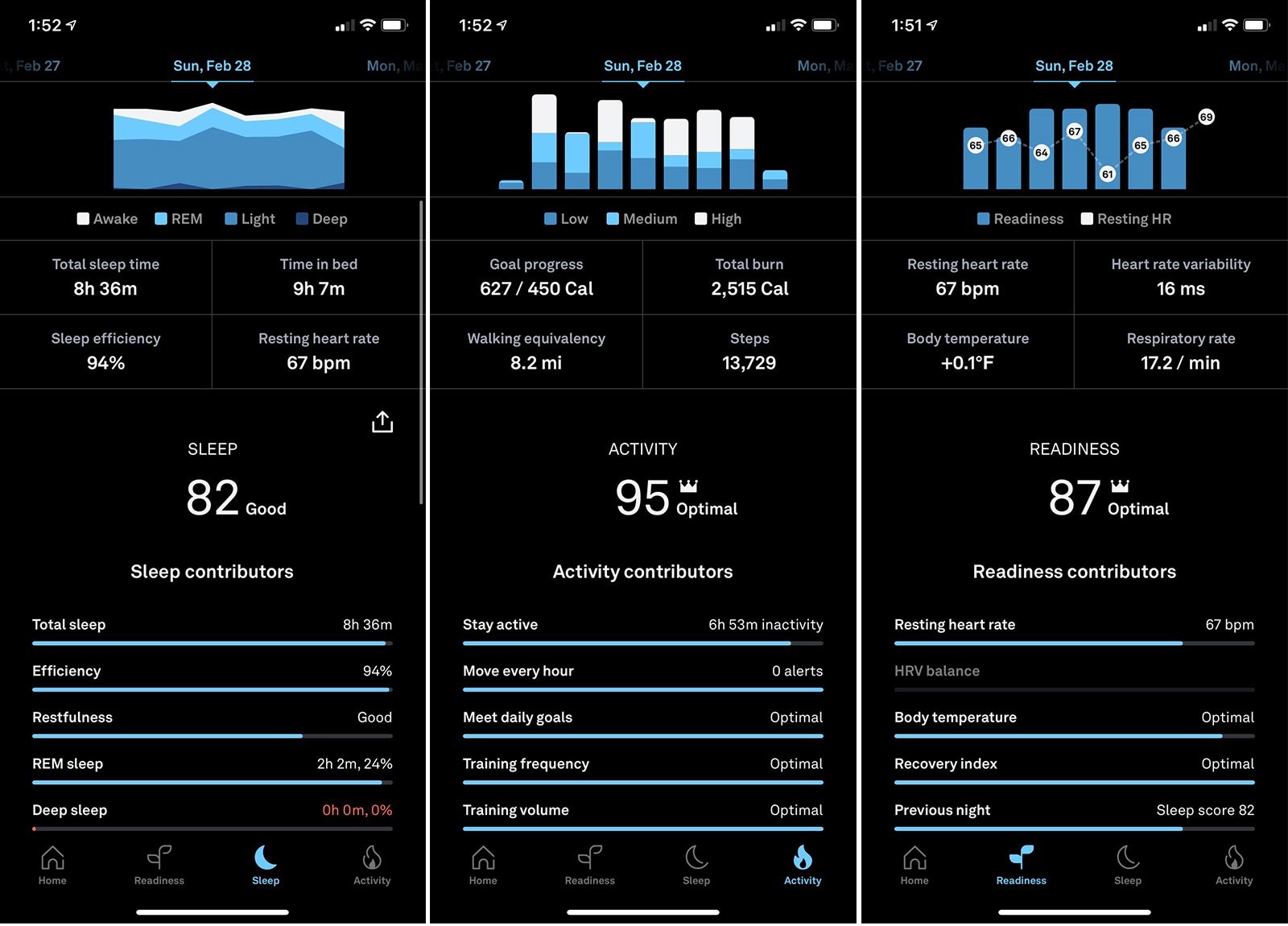 The app's sleep tracker tracks sleep efficiency, restfulness, and the duration of different types of sleep. The score is ranked from 0–100. Activity tracker helps monitor steps, calories, and overall activity day-to-day. The readiness tracker helps you determine how "ready" you are to tackle the day ahead or if you need to take a day off.
Cost and Value for the Price
The Oura ring costs $299–$399, depending on the finish of the ring.
You can also choose from two ring shapes, one with a point at the top and another that flattens at the top. The shape does not change the cost.
If you are a big spender, you can get one with diamonds in it for $999. But there is no additional functionality in this more expensive option.
The ring's cost is on par with other similar health tracking devices like the Fitbit Sense, which also costs $299 and measures skin temperature, stress, and more.
Compared to other devices, the ring is pretty simple to wear, especially at night. Most people don't want to sleep with a watch on.
Based on all its features compared to other products, the Oura Ring is a good overall value for the price.
Comfort and Wearability
When you order the ring, you first receive a "sizing kit." This is a box full of similar plastic rings to help you determine your optimal size.
You are supposed to wear the fake ring for 24 hours as your finger size changes throughout the day.
I ended up sizing up a bit to account for being able to wear it all the time since it seems my finger changes sizes a lot.
Sometimes it feels a bit loose depending on the time of day, and I will move it to a different finger. I do wish they had ½ sizes.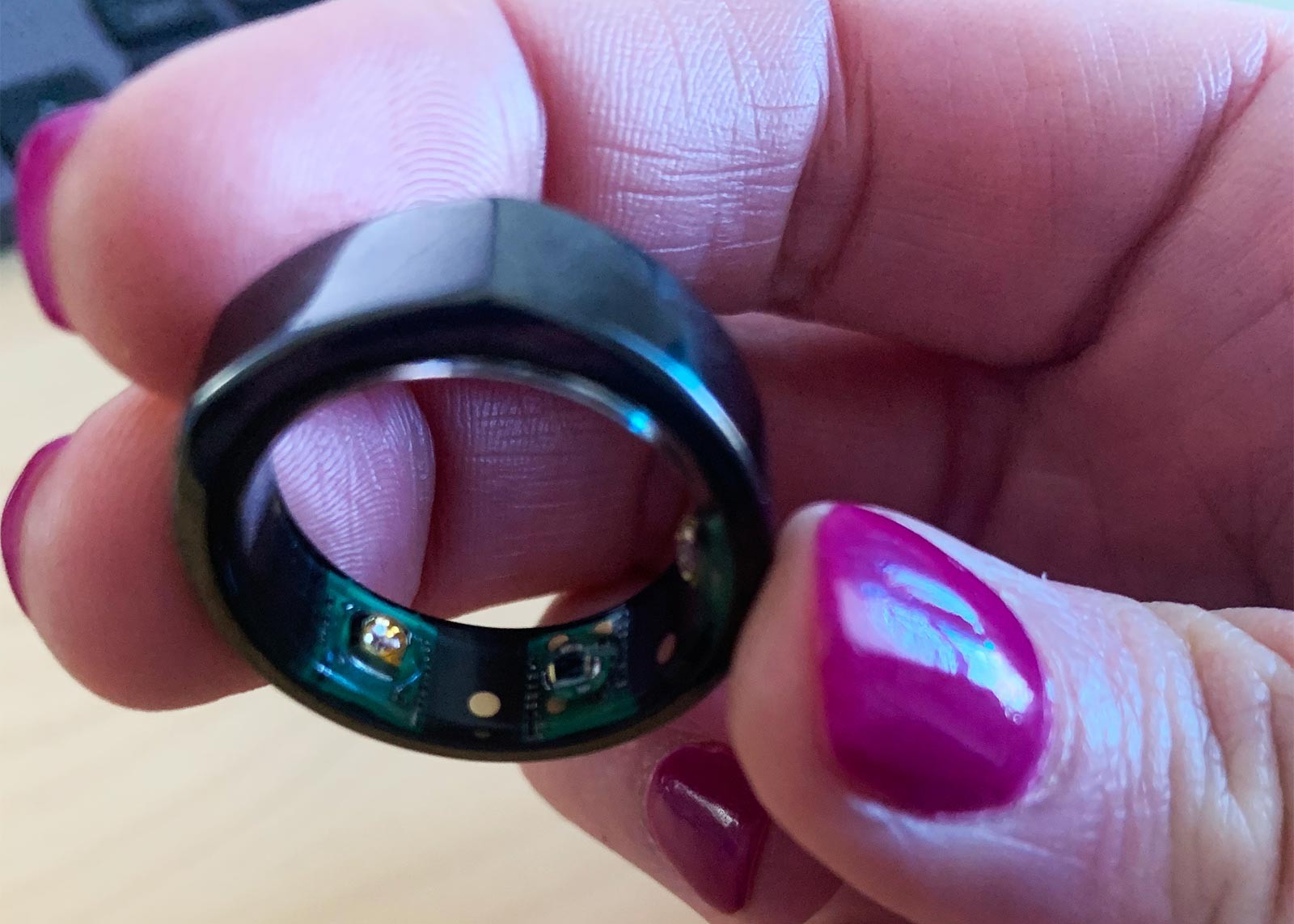 The ring is fairly light. It weighs 4–6 grams depending on the size you need, which is lighter than most normal rings.
My biggest challenge with the ring is that I can't wear it comfortably during my workouts.
I like to lift weights, and it immediately caused a huge blister on my hand when gripping the weight due to the thickness of the ring.
This was painful, and I ended up removing it during my workouts. In writing this review, I found out you aren't supposed to wear it while lifting weights anyway.
If you need something to track your workouts, I would recommend a watch instead.
Since I haven't been wearing it to workout, my Apple watch gathers the physical activity data and connects it to the ring.
This way, my workouts are being tracked in the Oura Ring app and can be evaluated for my readiness and activity scores.
I like that it is water-resistant up to 100 meters. It can even be used while swimming due to the titanium with diamond-like coating on the ring.
I don't have to worry about taking it off to wash my hands or do the dishes.
The battery lasts up to a week. It can charge fully in 20–80 minutes. I found that putting it on the charger periodically while I was sitting at my desk was enough to keep it charged.
How It Compares
While there are dozens of fitness trackers out there, few are unobtrusive rings.
There used to be a company called Motiv that made a similar ring, but it seems that the company no longer exists.
There is also a brand called Ringly that makes an activity tracker ring, but it doesn't seem to monitor sleep and other health markers.
Although the Oura does many similar things to other fitness trackers, you probably don't want to wear most of them while sleeping.
I think this is what makes Oura unique compared to other products on the market.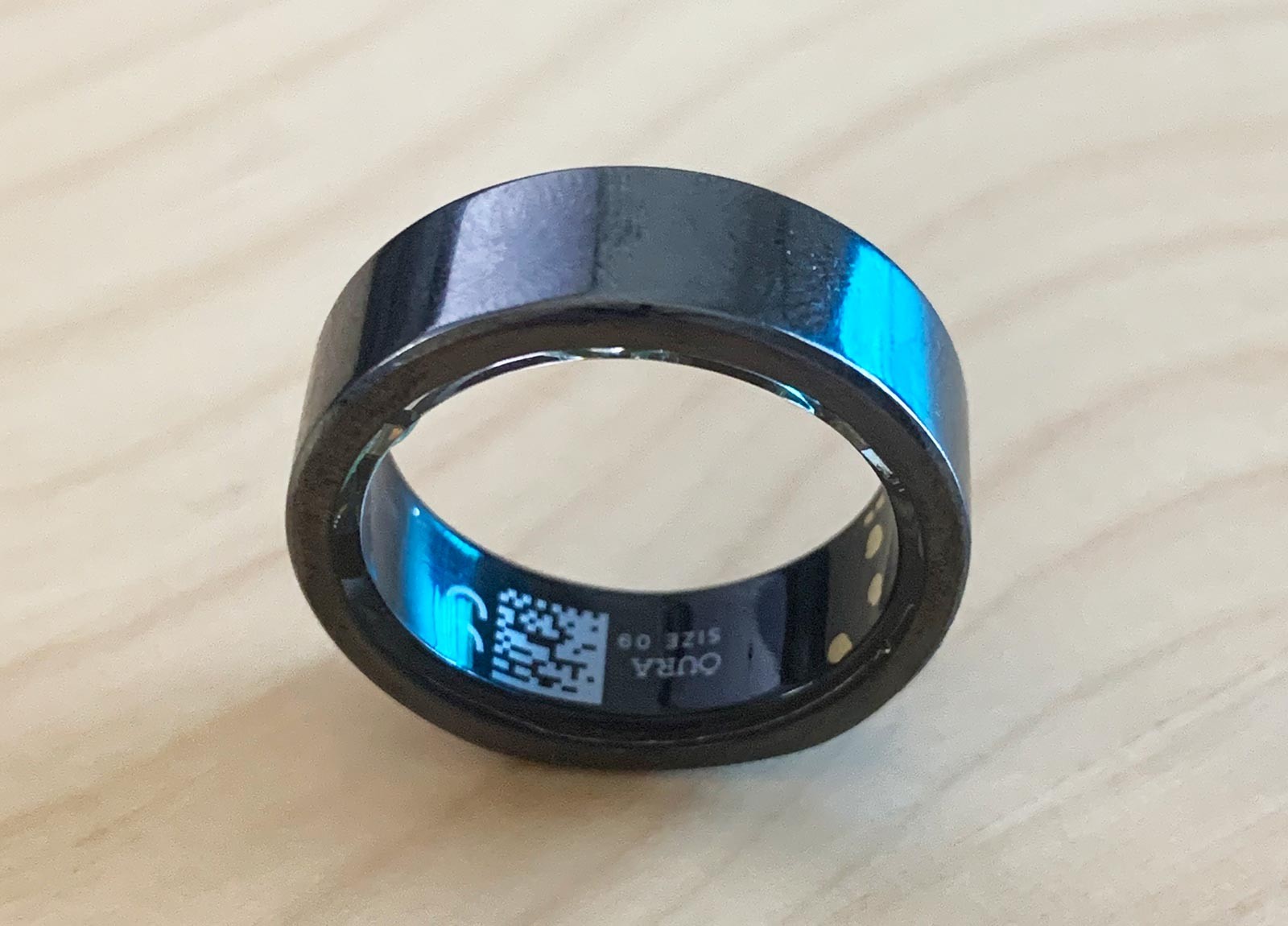 The Bottom Line
My goal in wearing the Oura Ring was to try to evaluate my sleep and exercise recovery. I have been struggling on and off with insomnia and want to sleep better.
This week I have been sleeping fairly well. But the Oura Ring has been telling me that my deep sleep is lacking. Most nights, I get less than 20 minutes of deep sleep.
I am not sure if this is accurate, as most nights I wake up feeling refreshed. I am curious if this will change over time as I continue to wear the ring or if I am really severely lacking deep sleep.
The Oura Ring also recommended that I start going to bed between 8:15–9:15 pm. I usually am in bed by 9–9:30 pm, but it felt I would be more "ready" for the next day if I went to bed earlier.
I don't drink much alcohol these days due to insomnia issues, but I happened to host a wine night at my house this week.
It was interesting at 3 am when I usually wake up after drinking. The Oura tracked a significant spike in heart rate and body temperature. This is because as your body detoxes from alcohol, your cortisol tends to spike.
I knew that alcohol impacts my sleep, but it was interesting to see exactly what it did to my body.
Oura Ring recommended that I take it easy the next day with my physical activity and try to get more rest.
Many of the other reviews I read say that the Oura Ring is useful for tracking hormonal changes for women's cycles.
I am curious to see how my heart rate, temperature, and respiration will change throughout the month, along with hormonal shifts.
Overall, I think the Oura ring is an interesting piece of equipment for people interested in "optimizing" their health.
Sleep and recovery are highly neglected aspects of health, so Oura Ring can help bring these to the forefront.
A Word from Our RD
The Oura Ring is an accurate and non-obtrusive way to learn about your body's patterns, especially if you want to optimize your sleep and recovery.
If you are looking for better sleep, there are several things you can do:
Go to bed and wake up at the same time every day.
Turn down the lights at least 30 minutes before bed.
Be physically active for 30 minutes daily.
Avoid alcohol and tobacco.
Drink caffeine moderately and before noon.
Actively manage your stress.
You don't necessarily need a ring to tell you how rested you are, but it can still help you make better decisions with your health.
Thanks for your feedback!
In a few words, please tell us how this article helped you today.
Please let us know how we can improve this article by selecting your concern below.
Thank You! We appreciate your feedback.
*
Please select at least one topic:
Please Note: We cannot provide medical advice. This feedback will help us continue improving your user experience on WellnessVerge.
Please Note: We cannot provide medical advice. This feedback will help us continue improving your user experience on WellnessVerge.
At WellnessVerge, we only use primary references for our articles, including peer reviewed medical journals or well-respected academic institutions.