WellnessVerge is reader-supported. We may earn a commission when you make a purchase through the links on this page. Learn more about our process here.
Why You Can Trust Us
Every article and review on WellnessVerge is thoroughly researched and fact-checked by licensed health professionals. Our editorial team is made up of registered dietitians and medical doctors.
Every piece of content is also medically reviewed to ensure accuracy and alignment with sound scientific evidence and medical consensus. We only use peer-reviewed journals and reputable medical sources to form our conclusions and recommendations.
We operate with total editorial independence, and our editorial policies ensure that your well-being comes first. Based on our rigorous research, we only recommend products that are worth considering. We always disclose any ads or partnerships with brands featured on our site.
Athletic Greens vs. Beyond Greens: Which Is Better?
Athletic Greens and Beyond Greens are two popular plant-based superfood powders designed as a convenient way for people to conveniently get more micronutrients in their daily routine. How do the two compare and which one offers more value?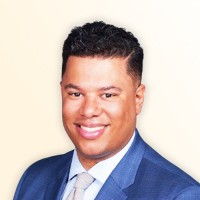 Medically Reviewed by
Anthony Dugarte, MD
Medical Reviewer
Anthony Dugarte, M.D., C.S.C.S. is a health and wellness writer and medical content reviewer. In addition to dedicating the last 8 years to medical research, Dr. Dugarte also has more than a decade of experience in strength and conditioning, nutrition, and rehabilitative exercise, as well as authoring and reviewing health and wellness-related content.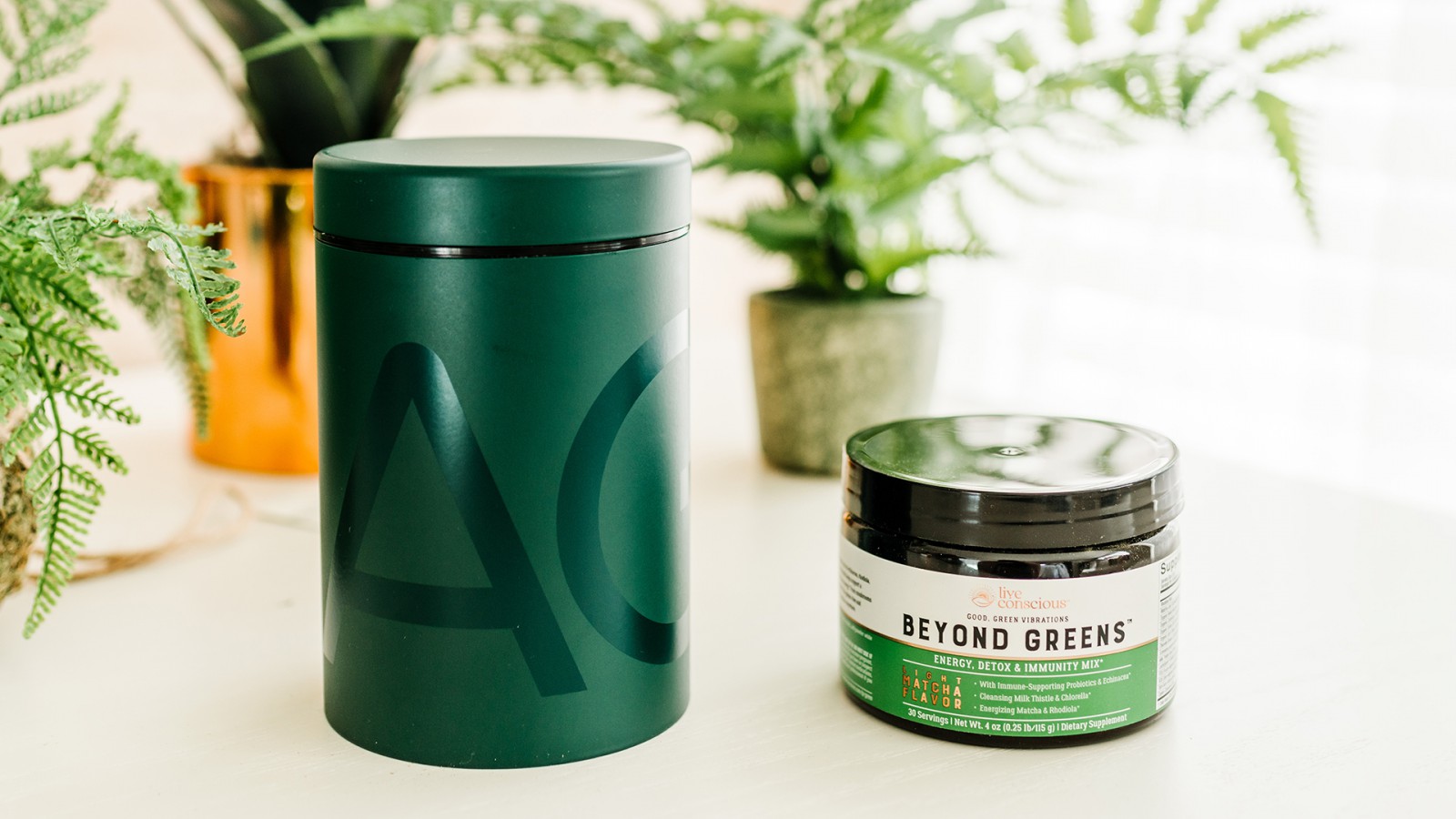 Eating a plant-based diet has been associated with longevity and lower disease risk for decades. (1)
However, despite efforts to encourage plant food consumption by the Center for Disease Control (CDC), only about one in ten people in the U.S. get the recommended amount of fruits and vegetables each day. (2)
Common reasons people give for not getting the recommended amount includes: (3)
Lack of time to prepare them.
People don't know how to add more servings to their day.
Fruit and Vegetables spoil quickly, making buying them wasteful.
Leave it to the market of supplements to pursue the void.
Several companies now offer "greens" powder products that claim to provide the nutrition of fruits and vegetables along with convenience, simplicity, and shelf stability.
Athletic Greens (now called AG1) and Beyond Greens are two popular greens powders made from plant foods that claim to offer a wealth of nutrition.
But how nutritious are they, and how do the two compare?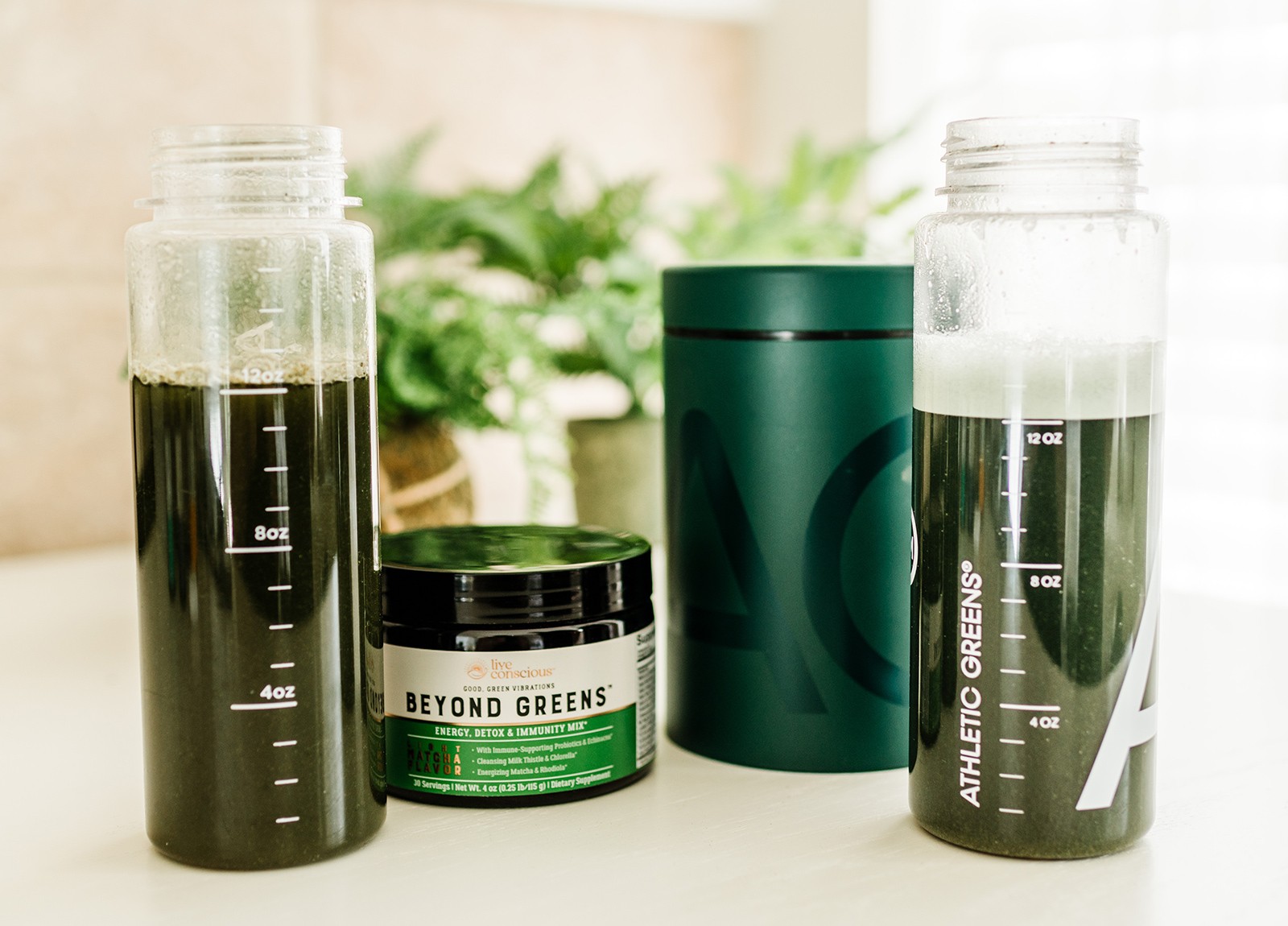 Quick Facts
Athletic Greens
Beyond Greens
Claims

Supports energy
Supports immune system
Supports gut health
Supports hormone function
Supports brain and neural function
Supports the body's natural detox process
Supports blood sugar levels already within normal range

Supports healthy immune function
Supports gut health
Promotes whole-body detoxification
Provides clean energy

One-Time Purchase

$99 for 30 servings,

or $3.30/serving

$39.99 for 30 servings,

or $1.33/serving

Subscription Price

$79 for 30 servings, or $2.63/serving

$31.99 for 30 servings, or $1.06/serving

Third-Party Testing
Yes, NSF Sport Certified
No (website makes a claim to be third-party certified but there is no specific third-party label)
Serving Size and Directions

Mix one 12 g scoop with 6–10 ounces cold water for 20 seconds.
Drink first thing in the morning on an empty stomach.

Mix one 3.8 g scoop with 8–12 ounces of a favorite beverage.
Drink once daily.

Safety and Side Effects

Bloating, diarrhea, nausea, digestive issues are sometimes reported.
Some ingredients may cause blood thinning, dizziness, or may interact with immune suppressant drugs.
Beware of food allergies.

Gas, bloating, and diarrhea are sometimes reported.
One ingredient may cause dizziness.
Beware of food allergies.
What Is Athletic Greens?
Athletic Greens, now called AG1, is a plant food powder supplement that advertises having 75 vitamins, minerals, and whole plant nutrients.
The product is made from dehydrated whole fruits, vegetables, plants, and plant extracts.
Athletic Greens contains:
| | |
| --- | --- |
| Alkaline, Nutrient-Dense Raw Superfood Complex, 7,388 mg | Spirulina, lecithin, apple powder, inulin, wheat grass juice powder, alfalfa, chlorella, barley leaf, broccoli flower, papaya, pineapple, bilberry fruit extract, grape seed extract, green tea leaf extract, licorice root, lycium berry extract, ginger rhizome, slippery elm, kelp |
| Nutrient-Dense Extracts, Herbs and Antioxidants, 2,732 mg | Akaline pea protein isolate, citrus bioflavonoids extract, artichoke leaf extract, citric acid, rhodiola root, eleuthero root, milk thistle seed, R,S alpha-lipoic acid, ashwagandha, dandelion, hawthorn berry, beta glucans, policosanol, coenzyme Q-10, stevia, vitamin K2 |
| Digestive Enzyme and Super Mushroom Complex, 154 mg | Astragalus root, bromelain, burdock root, reishi mushroom, shitake mushroom |
| Probiotics 7.2 billion CFUs, 38 mg | Lactobacillus acidophilus UALz-01, Bifidobacterium bifidum UABb-10 |
| 21 Vitamins and Minerals | Vitamin A: 62% DV, Vitamin C: 100% DV, Vitamin E: 334% DV, Thiamin: 200% DV, Riboflavin: 118% DV, Niacin: 100% DV, Vitamin B6: 150% DV, Folate: 100% DV, Vitamin B12: 367% DV, Biotin: 110% DV, Pantothenic acid: 40% DV, Calcium: 12% DV, Phosphorus: 10% DV, Magnesium: 7% DV, Zinc: 100% DV, Selenium: 29% DV, Copper: 10% DV, Manganese: 20% DV, Chromium: 21% DV, Sodium: 2% DV, Potassium 9% DV |
Consumers are directed to mix a scoop of the product with 6–10 ounces of water on an empty stomach first thing in the morning. This is said to increase the absorption of their product.
AG1 categorizes its long list of ingredients into four categories:
Alkaline, Nutrient-Dense Raw Superfood Complex (listing 18 plant foods and extracts)
Nutrient-Dense Extract, Herbs, and Antioxidants (listing 16 plant foods and extracts)
Digestive Enzyme and Super Mushroom Complex (with five plant foods)
Probiotics (listing two probiotics, 7.2 billion CFUs)
The supplement also lists 21 vitamins and minerals on the label, meeting well over the daily recommendations for many of them. However, it's missing some essential vitamins, like D and K, and minerals, like iron.
It's unclear if these listed micronutrients come from the plant ingredients themselves, if they are added vitamins, or both.
For example, the product contains 917% of the daily value of vitamin B12, something generally found in animal products, but AG1 claims to have no animal products. Chlorella powder has some B12, but not enough to provide this much.
AG1 contains probiotics and declares 7.9 billion colony-forming units (CFUs) on its label, which meets the current general recommendation for probiotic supplements to include at least 1 billion CFUs.
AG1 advertises that its product is vegan, paleo, and keto diet-friendly.
The product is also free of several major allergens and sensitivities, including eggs, dairy, wheat, corn, peanuts, and gluten.
It also claims to be free of pesticides, herbicides, added sugars, and artificial colors. AG1 uses only non-GMO ingredients.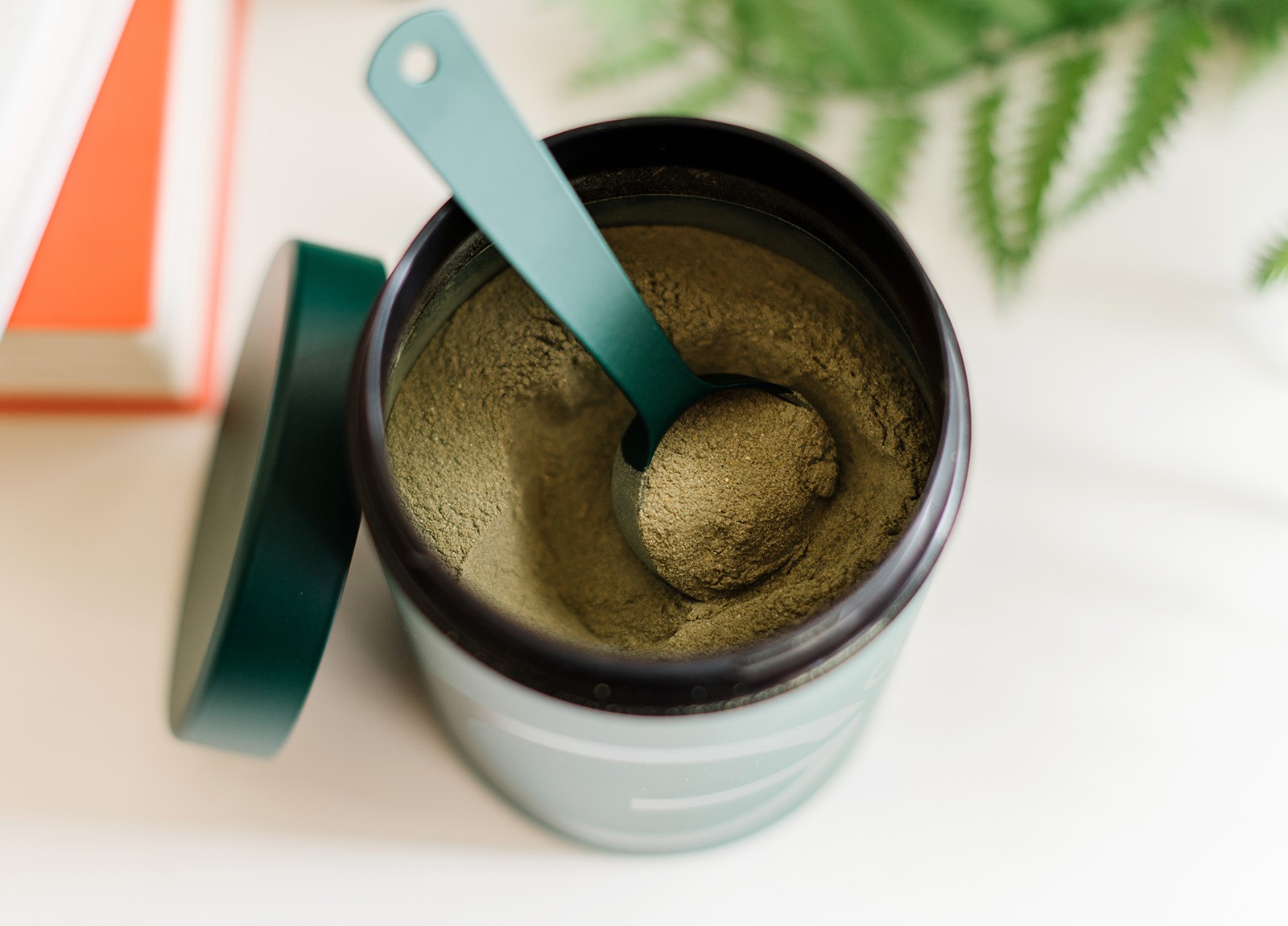 What I am most impressed with is that AG1 is third-party certified and carries an NSF Sport seal. This means it was independently tested for purity and quality by NSF International and has also been evaluated for athletic banned substances.
This process is optional and expensive for supplement companies, but it's difficult for health care professionals to recommend any supplement without it because an overseeing government body does not regulate supplements.
Independent third-party certification is an excellent value because it guarantees that the product is free from banned substances, the contents in the product are what is printed on the label, and that the product is free from unsafe contaminants.
Summary
AG1 is a plant-based green powder supplement that provides similar micronutrients to some multivitamins. They are independently third-party tested, giving consumers some peace of mind that they're getting what is on the label.
What Does Athletic Greens Do?
Some of the ingredients in AG1 have been extensively studied and provide strong evidence to support the supplement's claims. However, it's unclear if there is a therapeutic dose of each ingredient in their 12 g serving.
AG1 contains 917% of the daily recommendations for vitamin B12, a nutrient known to support energy, brain, and nerve function. It also includes 176% of the daily value of vitamin B6, which supports brain function as well. (4)
Ashwagandha is also thought to increase energy and decrease stress, which could be considered part of brain function. (5)
Gut health and immune function regulation are partly supported by the two probiotics included – Bifidobacterium bifidum and Lactobacillus acidophilus.
Probiotics are microbes that, when ingested in adequate amounts, provide benefits to their human host.
L. acidophilus has been shown to suppress bacteria in the intestines that would make us sick. B. bifidum has been shown to boost immune system activity and improve symptoms in patients with irritable bowel syndrome. (6, 7, 8)
A small study of 60 patients with non-fatty liver disease showed promising results using chlorella, an alga included in AG1's ingredients. However, it's unclear if enough of these ingredients are in the supplement to have a therapeutic effect. (9)
There's some evidence that shows that ashwagandha and some probiotics support blood sugar regulation. Again, it's unclear if there's a therapeutic amount of these foods in AG1. (10, 11)
I only found weak evidence for the liver support claims. Liver function is supported by a diet high in fruits and vegetables, from which the supplement is formulated. (12)
The product also lists milk thistle seed on the label, which has been shown to help people with non-alcoholic liver disease. (13)
I couldn't find substantial evidence to support the company's claim to support the body's detox process or hormone support.
Read our full review of AG1 by Athletic Greens here.
Summary
AG1 claims have some evidence-based studies to back their claims. However, their plant ingredient amounts are not itemized, so there's no way to know if there is a therapeutic dose to support some of its claims.
What Is Beyond Greens?
Beyond Greens is a dehydrated plant powder supplement that lists 14 nutrient-dense and therapeutic ingredients.
These ingredients include herbs, probiotics, prebiotics, and mushrooms that have been shown in studies to have beneficial properties.
The supplement lists each ingredient along with the amount included on its label. This helps determine if there is a therapeutic dose of each ingredient:
Rhodiola Root, 50 mg
Matcha Leaf, 200 mg
Reishi Mushroom, 25 mg
Cordyceps Mushroom, 25 mg
Turkey Tail Mushroom, 25 mg
Lion's Mane Mushroom, 25 mg
Chlorella, 500 mg
Echinacea Purpurea, 900 mg
Milk Thistle Seed, 200 mg
LactoSpore (Bacillus coagulans MTCC 5856), 3 mg
FOS, 190 mg
XOS, 20 mg
Acacia Gum, 190 mg
Ceylon Cinnamon Bark, 314 mg
There is no list of vitamin or mineral content on the product.
The supplement advertises being shellfish, soy, dairy, preservative, and gluten-free. It also claims to use only non-GMO ingredients and is keto and vegan diet-friendly.
The product lists no artificial sweeteners but does add the novel sweetener, stevia, and the sugar alcohol, xylitol.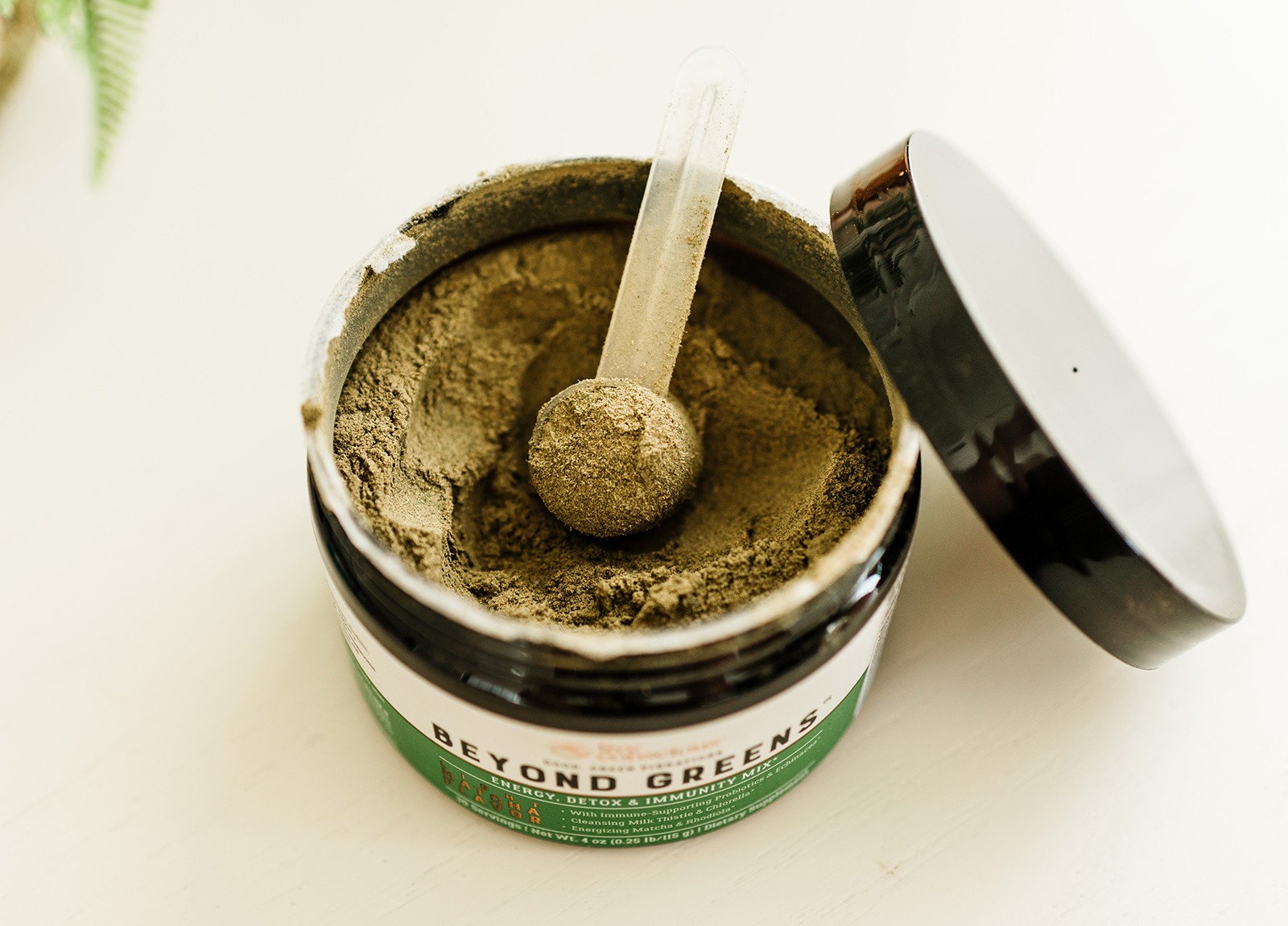 Beyond Greens declares 300 million colony-forming units (CFUs) of LactoSpore (Bacillus coagulans MCTT 5856) in their product.
While this may be an effective dose for this product, 1 billion CFUs are generally the recommended minimum for probiotics. LactoSpore's website discusses using 2 billion CFUs in a study published on their website. (14)
Beyond Green advertises having third-party testing on their website; however, I couldn't find a seal of certification or any other mention of which testing company was used.
Independent third-party testing is of value to consumers because supplements are not well regulated. Testing can help guarantee safety and that the product labels are accurate.
Read our full review of Beyond Greens here.
Summary
Beyond Greens is a green powder supplement that contains ingredients with properties that may be therapeutic for consumers. However, it does not have an official third-party test seal.
What Does Beyond Greens Do?
Beyond Greens uses ingredients that have been shown in studies to have therapeutic benefits; however, the evidence to back their claims is only weak to moderate.
Many of the ingredients are lower than what was used in the studies provided, so they may not be therapeutic.
Echinacea, matcha, and some of the listed mushrooms may support immunity, though most evidence is not strong. (15)
Results from a 2019 review of echinacea study shows that immune system benefits are still inconclusive. (16)
Catechins found in matcha have been shown to boost the immune system with anticancer, anti-diabetic, and anti-infectious properties. (17)
Lion's mane, cordyceps, and turkey tail mushrooms all have immune-boosting ingredients. (18, 19, 20)
Prebiotics are fibers in plant foods that feed the good microbes in our gut, helping to keep the microbiome and gut healthy.
Beyond Greens has several ingredients that are considered prebiotics, including the fructans in echinacea, fructooligosaccharides (FOS), and xylooligosaccharides (XOS). (21, 22)
Beyond Greens also lists the probiotic species Bacillus coagulans, which may help people with IBS symptoms. However, 1 billion CFUs are generally recommended for a probiotic supplement, but beyond Greens lists 300 million CFUs.
Body detoxification is the liver's job, and I believe the claim is loosely based on some of the ingredients' abilities to support liver function.
For example, silymarin in milk thistle seed has been shown to help people with liver disease, but some studies show mixed results on its effectiveness. (23, 24)
In one mouse study, chlorella was shown to decrease methylmercury toxicity. (25)
Regarding energy, matcha is ground green tea leaves that contain caffeine and l-theanine, both of which promote energy. (26)
Cordyceps mushrooms, known in China for their invigorating properties, were shown to increase exercise performance in one small study. Reishi mushrooms have been shown to reduce fatigue in cancer patients. (27, 28)
Summary
Although there are several studies performed on the ingredients listed, many of the studies are inconclusive and only weakly back the claims of Beyond Greens. In addition, some of the ingredients are not included in clinically effective doses.
Comparison of Side Effects and Safety
Both AG1 and Beyond Greens products have plant ingredients generally recognized as safe (GRAS) by the FDA. However, buyers should be aware of specific points.
With both supplements, some consumers found that they had some stomach discomfort like bloating and diarrhea.
This is not uncommon when any new food, supplement, or probiotic is introduced, and most dietitians would recommend slow introduction at first.
AG1 has an exceptionally long ingredients list, which increases the chances of side effects in sensitive people.
Both supplements have rhodiola root, which may cause dizziness or dry mouth for some people. (29)
I would not recommend that people with food allergies take Beyond Greens because it has not been third-party tested, so consumers can't be sure that their allergen is not in the product.
AG1 has a lot of ingredients, so people with food allergies should carefully evaluate the entire label before trying the product.
AG1 contains spirulina, which may cause blood thinning, and astragalus, which may interfere with immune-suppressing drugs. (30, 31)
AG1 has well above the daily recommendation for some vitamins and minerals. While these are water-soluble vitamins and the body is designed to excrete any excess, more is not necessarily better.
I would recommend avoiding additional multivitamins for people who are already taking AG1.
As with any supplement or new medication, it's essential to ask your doctor if these products are appropriate and safe for you before trying them.
Summary
Both supplements are made with GRAS ingredients.
AG1 has a higher number of ingredients and a higher volume of powder per serving, increasing the risk of side effects like gastrointestinal upset.
However, NSF has certified the label of AG1, increasing its safety factor compared to Beyond Greens.
Cost Comparison
Comparing the cost of the two supplements without any sales or bulk-buying discounts, AG1 costs $3.30 per serving, and Beyond Greens costs $1.33 per serving.
So, if taken once per day, which is the general recommendation, Beyond Greens is a little less than one-third of the cost of AG1.
However, AG1 has a much higher number of ingredients. Consider that the serving scoop for AG1 is 12 g, and the Beyond Greens scoop is 3.8 g. Gram for gram, the cost is close to the same.
I also consider the value of independent third-party testing. AG1 hires NSF to test their product, which shows consumers that they are getting what they pay for.
Each company offers discounts for buying more of their product.
Summary
AG1 seems to have a much higher cost, but the price is the same gram for gram. The value of AG1 may also be considered higher with its third-party certification.
Our Pick: Choosing Between Athletic Greens and Beyond Greens
Although neither of these products can be considered a replacement for eating whole fruits and vegetables, Athletic Greens would be my choice between the two.
The number one reason for my choice is that Athletic Greens chooses to have their ingredients third-party tested by a valid agency like NSF International with the NSF Sport certification.
This can give consumers the peace of mind that they are eating only what is on the label.
So even with three times the cost difference, the value comes with knowing that AG1 has all the plant foods and vitamins listed.
We can only blindly trust the company with Beyond Greens, something that I don't recommend if given a choice.
Athletic Greens also has a much more descriptive list of what vitamins are in the product. For people taking medications and other supplements, who need to check for interactions and to avoid taking extra supplements unnecessarily, this can be important.
It's also notable that an AG1 serving is 12 g of product, whereas Beyond Greens is 3.8 g of product. This is more than three times less product, which is something to consider when comparing cost.
Finally, AG1 has many more plant ingredients than Beyond Greens, offering the potential for more variety of nutrients.
Summary
AG1 is our overall better pick, based on its higher nutrient potential and third-party testing.
Additional Considerations
Green powder supplements are available to help fill a gap with an obvious problem in the United States.
Multiple companies have emerged to compete for consumers' business in response to the need for convenient ways to get more plant foods in the diet.
Keep in mind that supplements are not a replacement for whole foods. Dehydrated bits of plant foods may be better than no plant foods, but getting the entire fruit or vegetable is best because we don't know what nutrients are left behind or destroyed in the processing.
Thanks for your feedback!
In a few words, please tell us how this article helped you today.
Please let us know how we can improve this article by selecting your concern below.
Thank You! We appreciate your feedback.
*
Please select at least one topic:
Please Note: We cannot provide medical advice. This feedback will help us continue improving your user experience on WellnessVerge.
Please Note: We cannot provide medical advice. This feedback will help us continue improving your user experience on WellnessVerge.
At WellnessVerge, we only use reputable sources, including peer-reviewed medical journals and well-respected academic institutions.
Fruit and vegetable consumption reduce risk of death

:
https://www.nih.gov/news-events/nih-research-matters/fruit-vegetable-consumption-reduce-risk-death

Only 1 in 10 Adults Get Enough Fruits or Vegetables

:
https://www.cdc.gov/nccdphp/dnpao/division-information/media-tools/adults-fruits-vegetables.html

PS2-14: Why People Don't Eat Fruit and Vegetables: Insight from Participants Who Enrolled in MENU

:
https://www.ncbi.nlm.nih.gov/pmc/articles/PMC2842426/

National Institutes of Health: Vitamin B12

:
https://ods.od.nih.gov/factsheets/VitaminB12-Consumer/

Steroidal Lactones from Withania somnifera, an Ancient Plant for Novel Medicine

:
https://www.ncbi.nlm.nih.gov/pmc/articles/PMC6255378/

Effects of Lactobacillus acidophilus on gut microbiota composition in broilers challenged with Clostridium perfringens

:
https://journals.plos.org/plosone/article?id=10.1371/journal.pone.0188634

Bifidobacterium bifidum PRL2010 Modulates the Host Innate Immune Response

:
https://www.ncbi.nlm.nih.gov/pmc/articles/PMC3911076/

Randomised clinical trial: Bifidobacterium bifidum MIMBb75 significantly alleviates irritable bowel syndrome and improves quality of life--a double-blind, placebo-controlled study

:
https://pubmed.ncbi.nlm.nih.gov/21418261/

The Effect of Chlorella vulgaris Supplementation on Liver En­zymes, Serum Glucose and Lipid Profile in Patients with Non-Alcoholic Fatty Liver Disease

:
https://www.ncbi.nlm.nih.gov/pmc/articles/PMC4122038/

Hypoglycemic activity of withanolides and elicitated Withania somnifera

:
https://pubmed.ncbi.nlm.nih.gov/25796090/

Effect of Probiotics on Glycemic Control: A Systematic Review and Meta-Analysis of Randomized, Controlled Trials

:
https://www.ncbi.nlm.nih.gov/pmc/articles/PMC4498615/

Plants Consumption and Liver Health

:
https://www.ncbi.nlm.nih.gov/pmc/articles/PMC4499388/

Silymarin as Supportive Treatment in Liver Diseases: A Narrative Review

:
https://www.ncbi.nlm.nih.gov/pmc/articles/PMC7140758/

A Double-Blind, Placebo-Controlled, Parallel Study Evaluating the Safety of Bacillus coagulans MTCC 5856 in Healthy Individuals

:
https://lactospore.com/research/safety/

Health Benefits and Chemical Composition of Matcha Green Tea: A Review

:
https://www.ncbi.nlm.nih.gov/pmc/articles/PMC7796401/

Echinacea for the prevention and treatment of upper respiratory tract infections: A systematic review and meta-analysis

:
https://pubmed.ncbi.nlm.nih.gov/31126553/

Catechin in Human Health and Disease

:
https://www.ncbi.nlm.nih.gov/pmc/articles/PMC6384718/

Protective Effects of Hericium erinaceus Mycelium and Its Isolated Erinacine A against Ischemia-Injury-Induced Neuronal Cell Death via the Inhibition of iNOS/p38 MAPK and Nitrotyrosine

:
https://www.ncbi.nlm.nih.gov/pmc/articles/PMC4200813/

Immunomodulatory functions of extracts from the Chinese medicinal fungus Cordyceps cicadae

:
https://pubmed.ncbi.nlm.nih.gov/12413710/

Flavonoids, Inflammation and Immune System

:
https://www.ncbi.nlm.nih.gov/pmc/articles/PMC5084045/

Effect of fructans, prebiotics and fibres on the human gut microbiome assessed by 16S rRNA-based approaches: a review

:
https://pubmed.ncbi.nlm.nih.gov/32073295/

Fructans as Immunomodulatory and Antiviral Agents: The Case of Echinacea

:
https://pubmed.ncbi.nlm.nih.gov/31623122/

Effect of silymarin plus vitamin E in patients with non-alcoholic fatty liver disease. A randomized clinical pilot study

:
https://pubmed.ncbi.nlm.nih.gov/26367736/

Optimal management for alcoholic liver disease: Conventional medications, natural therapy or combination?

:
https://pubmed.ncbi.nlm.nih.gov/26755857/

Enhanced elimination of tissue methylmercury in Parachlorella beijerinckii-fed mice

:
https://pubmed.ncbi.nlm.nih.gov/21297350/

A double-blind, placebo-controlled study evaluating the effects of caffeine and L-theanine both alone and in combination on cerebral blood flow, cognition and mood

:
https://pubmed.ncbi.nlm.nih.gov/25761837/

Effect of Cs-4® (Cordyceps sinensis) on Exercise Performance in Healthy Older Subjects: A Double-Blind, Placebo-Controlled Trial

:
https://www.ncbi.nlm.nih.gov/pmc/articles/PMC3110835/

Spore Powder of Ganoderma lucidum Improves Cancer-Related Fatigue in Breast Cancer Patients Undergoing Endocrine Therapy: A Pilot Clinical Trial

:
https://pubmed.ncbi.nlm.nih.gov/22203880/

National Center for Complementary and Integrative Health: Rhodiola

:
https://www.nccih.nih.gov/health/rhodiola

Anticoagulant activity of a sulfated polysaccharide from the green alga Arthrospira platensis

:
https://pubmed.ncbi.nlm.nih.gov/19632306/

National Center for Complementary and Integrative Health: Astragalus

:
https://www.nccih.nih.gov/health/astragalus