WellnessVerge is reader-supported. We may earn a commission when you make a purchase through the links on this page. Learn more about our process here.
Why You Can Trust Us
Every article and review on WellnessVerge is thoroughly researched and fact-checked by licensed health professionals. Our editorial team is made up of registered dietitians and medical doctors.
Every piece of content is also medically reviewed to ensure accuracy and alignment with sound scientific evidence and medical consensus. We only use peer-reviewed journals and reputable medical sources to form our conclusions and recommendations.
We operate with total editorial independence, and our editorial policies ensure that your well-being comes first. Based on our rigorous research, we only recommend products that are worth considering. We always disclose any ads or partnerships with brands featured on our site.
Best Greens Powders of 2023, According to Dietitians
Wondering if green powders are worth the investment? While a greens powder can't replace healthy whole foods, there are some options that may complement your diet well.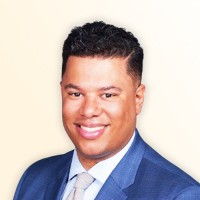 Medically Reviewed by
Anthony Dugarte, MD
Medical Reviewer
Anthony Dugarte, M.D., C.S.C.S. is a health and wellness writer and medical content reviewer. In addition to dedicating the last 8 years to medical research, Dr. Dugarte also has more than a decade of experience in strength and conditioning, nutrition, and rehabilitative exercise, as well as authoring and reviewing health and wellness-related content.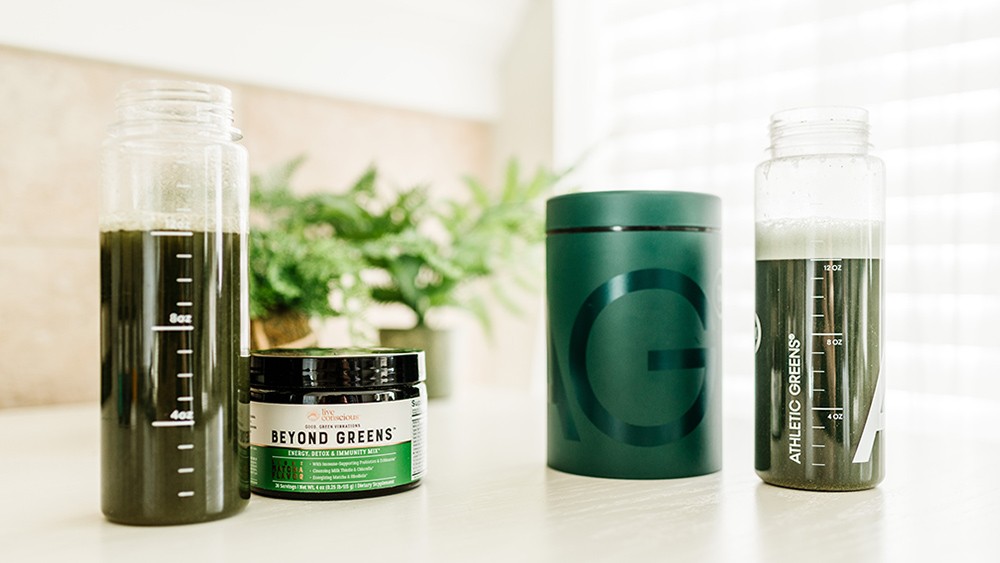 Many people are looking for ways to add more green veggies to their lifestyle.
While prioritizing whole plant foods is the best way to reap all the nutritional benefits greens have to offer, not everyone enjoys the taste of greens.
Consumers that fall into this category are in luck — the greens powder market has exploded in recent years.
Greens powders are a blend of fruits and veggies, and sometimes herbs and spices, designed to support overall health through a concentrated combination of micronutrients, antioxidants, and other powerful plant polyphenols.
While their focal ingredients are often leafy greens, colorful berries, and other antioxidant-rich superfoods, greens powders sometimes contain additional ingredients like protein blends, adaptogens, collagen or collagen-boosting compounds, and probiotics.
This article offers recommendations for a few of the best greens powders you can find today.
Summary of Our Picks
How We Chose These Brands
To pick the greens powders for this list, we evaluated each brand based on the following factors:
Brand Reputation: Is the brand recognizable, and does it have a good reputation in the industry? Do the products bear a reputable third-party testing seal to demonstrate their commitment to quality, safety, and purity?
Professional Involvement: Are there doctors, dietitians, pharmacists, or other healthcare professionals involved with the brand?
Evidence-Based Recommendations: Does the brand have evidence or research available to support its recommendations and ingredients?
Price: How does the overall price of the product compare to other brands? Is the pricing worth the potential benefit when you look at a per-serving cost?
Ingredients: Does the product contain primarily organic whole foods derived ingredients? Does it have added sugar, other sweeteners, or artificial flavors and colors?
Best for Overall Health
Some people may simply be looking for a greens powder to support overall health without having a specific goal behind it.
When choosing a greens powder for overall health, I'd recommend landing on one that has the most variety, particularly among the greens themselves.
This is more likely to offer you the most nutrients and other beneficial plant compounds that may benefit your overall well-being.
Look for products that bear a reputable third-party testing seal whenever possible, as this gives it an upper hand in terms of being verified for purity and quality.
Additionally, scour the ingredient list to avoid unwanted additives, fillers, and sweeteners.
It's helpful to read the reviews regarding flavor. Greens powders used for overall health are more likely to be used regularly, so you want something that doesn't make you averse to ingesting it.
Reviews can also offer ideas for best uses, as greens powders can be blended into smoothies, mixed into drinks, sprinkled onto other foods, or used for baking.
Here are a few product suggestions that meet my criteria for overall health:
Athletic Greens (AG1)
Best for Overall Health
Pros
Offers 100% of the daily value for many micronutrients and could easily replace a multivitamin if desired
Provides antioxidants, anti-inflammatory ingredients, and compounds that support overall well-being, derived from whole food sources
Product is NSF Certified for Sport
Cons
Costly at up to $99 for a single purchase, especially if used daily
Difficult to know how much of the proprietary blend ingredients are in the product, as it's not listed on the label
Our Take
While pricey, AG1 is a great greens powder option for supporting overall health. It contains a long list of whole foods-derived micronutrients, antioxidants, and ingredients with anti-inflammatory properties.
AG1 is a comprehensive greens powder designed to be able to replace a daily multivitamin. It contains 75 highly absorbable ingredients that can be used to support an overall healthy diet or enhance the diet of an athlete.
This product is vegan, nut-free, gluten-free, and contains no added sugar.
It's packed with probiotics for digestive support, vitamins and minerals for immune support, ALA and chromium for energy production, superfoods for antioxidants, and medicinal mushrooms and root extracts for adaptogenic support.
Even better, it carries an NSF Certified for Sport third-party testing seal, which goes above and beyond regular ingredient verification and contaminant testing to ensure it doesn't contain athletic banned substances.
Cost: A one-time 30-serving purchase of AG1 is $99.00, or $109 for 30 individual on-the-go packets. You can bundle and save using their subscription options, which brings the price down to $2.48–$2.63 per serving.
Garden of Life Raw Organic Perfect Food Green Superfood Juiced Greens Powder
Best for Overall Health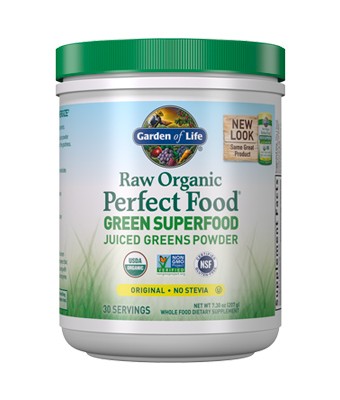 Pros
Packed with 34 raw and organic greens and whole foods derived ingredients
Free from sweetening agents
Carries official seals from Non-GMO Project, NSF Gluten-Free, and USDA Organic
Cons
Medium-high price point
Reviewers often state it has an "acquired taste" which may turn off some consumers
High in vitamin K, which could be a con for individuals on blood-thinning medications
Our Take
Garden of Life as a brand is very forthcoming about the independent testing product certifications they acquire and their dedication to clean ingredients. Their greens powder is made using a long list of whole foods-derived ingredients that may support general health.
This product contains a long list of whole foods ingredients grouped into antioxidant, immune support, sprout, and probiotic/enzymatic blend categories on the label.
This includes over 40 nutrient-dense greens, sprouts, fruits, and vegetables, as well as juiced grasses that are cold-temperature dried within one hour of harvest to lock in the most nutrients.
It's free from sweeteners and carries numerous organic, vegan, gluten-free, and raw certifications.
Note that one scoop offers 70% of your daily value for vitamin K, which would be important to know for people taking Warfarin or other blood-thinning medications. (1)
This product also comes in capsules form, which is a more convenient option for traveling.
Cost: It's priced at $58.79 for 60 servings on Amazon, which comes out to $0.98 per serving.
MIJA Superstar
Best for Overall Health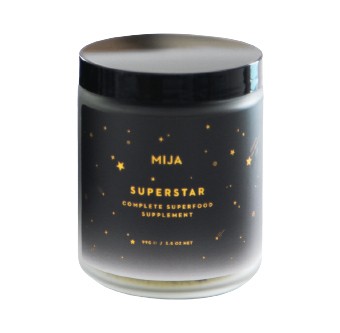 Pros
Formulated using thoughtful organic whole foods ingredients
Created and supported by nutrition experts
Company explains their sourcing, testing, and quality processes thoroughly
Cons
High price point
Does not bear a third-party certification seal
Can only return unused, sealed products within 10 days of delivery
Our Take
While MIJA Superstar comes with a high investment, it's been thoughtfully created by nutrition experts with the micronutrient needs of the average person in mind.
This product was thoughtfully created by a registered dietitian to help bridge the nutrient gaps many people experience on a western diet. Fellow RDs make up a panel of peer experts for the product.
While it's not intended to replace whole foods, this product was formulated using matcha green tea, organic super greens, and other adaptogenic and antioxidant-rich compounds like turmeric.
One serving provides 25% of your daily vitamin C and 8%–10% of several B vitamins.
Even though their website doesn't link to research, I like how the brand highlights each ingredient included and explains its purpose, which offers consumer confidence and is more than many other products provide.
To use, you add two teaspoons per day to oatmeal or yogurt or blend it into smoothies and drinks.
Cost: This product is priced at $78.00 per month, or there's a subscription option priced at $65.00 per month. With only 18 servings per container, this comes out to $3.61 to $4.33 per serving, depending on which pricing option you choose, and it won't last you a full month if you use it daily.
Best with Probiotics
Some people may be looking for a greens powder that also offers targeted digestive health benefits. There are several greens powders that have probiotics in their formulation.
While probiotic powders can be hit or miss for efficacy, some people prefer to have this added support in a daily supplement like a greens powder.
When choosing a greens powder with probiotics, look for one that contains at least 10–20 billion CFUs per serving for the most support.
Below are a few options to consider, which offer a variety of formulations, types, and amounts of probiotics, as well as price points.
Orgain Organic Green Superfoods Powder with Probiotics
Best with Probiotics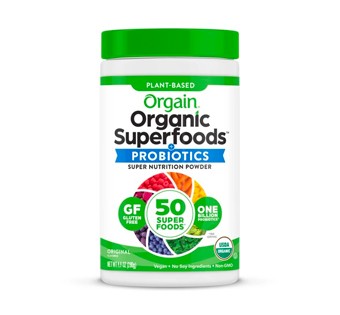 Pros
Formulated with a variety of greens and whole foods derived ingredients
Almost all of the ingredients are certified organic
Orgain is well-known, widely reviewed, and respected in the supplement marketplace
Cons
Some reviews say it has a particularly "green" smell and taste, which could be a turn-off for some consumers
The probiotic strain is listed at the end of the ingredients, indicating that it's present in the smallest amount and therefore may not have much probiotic effect
Doesn't bear an official third-party certification seal
Our Take
This is a good option for someone looking for organic greens blend to help support overall health while also including a strain of probiotics to potentially benefit gut health.
However, it's not packed with multiple probiotic strains and may not be the optimal choice for someone looking for total gut support.
This product doesn't make any specific claims beyond being an organic superfoods blend that includes probiotics. It has clear contact information and an easy 30-day return process.
It contains 1 billion CFUs of probiotics per serving, including Bacillus coagulans and natural sources of prebiotics to feed your good gut bacteria. (2)
This product is formulated using whole plant food ingredients, including a wide array of greens, legumes, and grains, most of which are certified organic.
It claims to provide 50 superfoods per scoop.
Cost: It's priced at $17.18 ($0.86 per serving) on Amazon, which may be more cost-effective than other greens products. However, one container only provides 20 servings and not a full month's worth.
Live Conscious Beyond Greens
Best with Probiotics
Pros
Simple formulation with 14 clear ingredients that offer evidence-based benefits
Contains prebiotics and probiotics shown to support digestive health and gut integrity
You can return products for up to one year after purchase
Cons
Higher price point at $1.33 per day, unless you sign up for a subscription or to receive multiple bags of product
Does not bear a third-party certification seal
Includes small amounts of functional ingredients, making it hard to determine how much effect may be experienced
Our Take
Beyond Greens is a simply formulated greens powder designed to support energy levels and digestive health, as well as your body's natural immune and detoxification processes.
Beyond Greens is designed to support gut health, energy production, natural detoxification processes, and a healthy immune system.
It contains Bacillus coagulans, which have been shown to be therapeutic for several digestive conditions, like IBS, acute diarrhea, constipation, and colitis. (2)
Additionally, it has fructo-oligosaccharides and xylo-oligosaccharides, which are prebiotics that can act as food for good bacteria in the gut and may improve the integrity of the gut lining. (3, 4)
One scoop contains 300 million CFUs of probiotics, significantly less than the 10–20 billion CFUs considered adequate for most healthy adults. (5)
It's also full of antioxidant compounds from cinnamon and greens like chlorella and matcha and immune-supporting herbs like echinacea, which anyone could add to their general health routine. (6, 7)
The formulation includes milk thistle, which may help support the body's natural liver function. (8, 9)
It also contains numerous medicinal mushrooms, including Cordyceps, Reishi, Lion's Mane, and Turkey Tail, which may offer immune, antimicrobial, and anti-inflammatory benefits. (10, 11, 12, 13)
While the product doesn't bear an official certification seal, it does state that it's third-party tested to make sure what's in the bottle is what is claimed.
For an added bonus, many consumer reviews say that the product has a surprisingly pleasant taste compared to other greens powders.
Cost: Beyond Greens costs $39.99 per jar ($1.33 per serving) if you purchase just one at a time. If you like the product and are willing to buy more jars to start a subscription, you can get it as low as $0.83 per serving.
Best with Added Protein
Many people utilize greens powders as a meal replacement for a busy, on-the-go lifestyle or to support extra physical activity.
In these instances, it can be helpful for green powders also to contain protein to help fuel you and keep you satiated.
Many powders created with this purpose contain at least 20 grams of protein per scoop. Look for ones that align with your dietary preferences.
Some powders will contain animal-derived protein sources, like whey, whereas many are also made with plant-derived proteins like soy, hemp, pea, and supporting blends of nuts and seeds.
Below are some greens powders with added protein that may be worth a look for your lifestyle.
Vega Protein and Greens
Best with Added Protein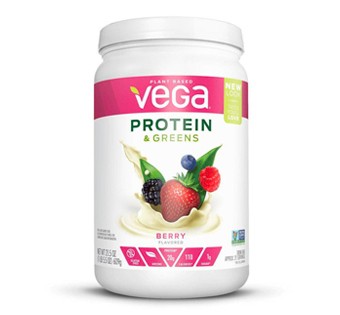 Pros
Reviews indicate a positive flavor profile
Utilizes a high quality source of plant-based protein in addition to a nutritious blend of greens
Has clear contact information and a simple return process
Cons
High price point
Does not bear an official third-party testing certification seal
Our Take
While this product doesn't make any major claims, it appears to be a simple formulation of pea protein with several nutritious greens.
This is a simple product primarily designed to provide protein, with the addition of greens for overall health support. It doesn't make any specific health claims beyond being a source of protein and greens.
The first ingredient is pea protein, followed by a blend of kale, spinach, sacha inchi, beetroot, broccoli, and alfalfa greens.
It's sweetened with stevia and contains enzymatic papain powder. If you don't like the taste of stevia or prefer to go without, they also offer a Protein & Greens Plain Unsweetened version.
Pea protein is a hypoallergenic, high-quality plant-based protein source. (14) It's rich in the amino acids arginine, leucine, isoleucine, and valine, which may offer additional heart and muscle health benefits. (15, 16)
One scoop of this powder offers a similar amount of iron to 4 cups of broccoli and has vitamin K content comparable to a half-cup of spinach. You'll also get 20 grams of protein per scoop.
The amino acids included in this powder are naturally occurring in the plant ingredients used to make it.
Cost: It's priced at $29.99 for a 21-serving container on Amazon, which comes out to $1.43 per serving.
Navitas Organics Cacao and Greens Essential Superfood Blend
Best with Added Protein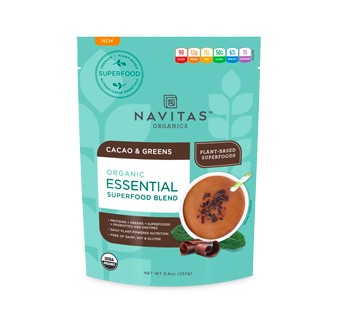 Pros
Contains an array of greens and superfoods derived from whole plants
Offers a high-quality blend of plant protein
Carries a USDA Organic seal
Cons
Higher price point at $30 per 10 servings
Does not bear a third-party testing certification seal
Contains fewer probiotics than may be beneficial for most people
Our Take
Despite the high price point for people using it daily, Navitas Organics Essential Superfood Blend provides a simple way to get a variety of whole food-derived greens, some probiotics, and plant protein without extra ingredients you may not want.
This product makes no claims except to be a source of probiotics, essential minerals, and antioxidants packaged in a delicious chocolate flavor.
It's made with a blend of organic greens, probiotics, and plant-derived protein from peas, sunflower, flax, hemp, and pumpkin seeds.
One serving provides 12 grams of protein, four superfoods, and 6 billion CFUs probiotics. Some research indicates that 10–20 billion CFUs are optimal for most people. (5)
It's also free from added sugar, as well as artificial colors and flavors.
One serving also provides 30% of your daily value for iron, which is a good nutrient, particularly for individuals on a plant-based diet who may be purchasing this. Additionally, the greens and superfood blend ingredients are derived from whole food sources.
The product can be mixed into smoothies and drinks or used for baking.
Cost: You can purchase a single pouch, which contains 10 servings, at a price of $20.99 ($2.10 per serving) on Amazon. This comes to $62.97 per month if you're using it every day.
Best with Collagen Support
Many people seek out supplemental sources of collagen to help support things like joint and skin health. If this is you, greens powders can be an excellent vehicle for collagen.
Note that if you're looking for a vegan collagen supplement, this doesn't currently exist. However, there are plenty of vegan products made to support your body's natural collagen production, which is an option in certain greens powders as well.
Country Farms Collagen + Greens Superfoods and Mushroom Blend
Best with Collagen Support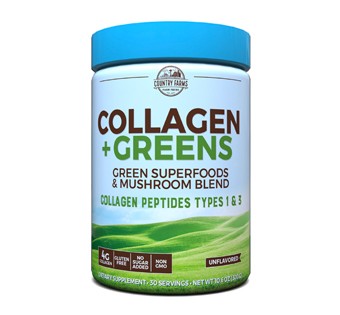 Pros
Contains two types of collagen
No added sugars or sweeteners
Made using whole foods derived ingredients
Affordably priced at $18 per month
Cons
Not suitable for a vegan diet
Does not bear a third-party testing certification seal
Contains maltodextrin, which some people may wish to avoid
Our Take
Country Farms Collagen + Greens Powder offers a fair amount of greens and hydrolyzed collagen for someone looking for overall health and connective tissue support. It falls into a more affordable price range than some other greens or collagen supplements.
This product claims to be energizing, nourishing, and designed to support overall health. It contains a superfood blend of flaxseed, green tea, cordyceps and shiitake mushrooms, and kale.
The first ingredient is organic wheatgrass powder, followed by several greens and other antioxidant-rich plants.
It is free from added sugar and sweeteners. It's made with types I and III hydrolyzed collagen, which are bovine-derived.
Type I collagen is predominantly found in skin, bone, teeth, tendons, ligaments, organs, and vascular systems, and may benefit skin and bones. (17)
Type III collagen is a major structural component of the blood vessels. (18)
While the product doesn't have vitamin C added as an ingredient, this nutrient is naturally found in the fruits and veggies incorporated into the product. Vitamin C helps boost collagen production. (19)
It also uses maltodextrin, which some people may be looking to avoid due to its potential to cause blood sugar spikes. One study found that maltodextrin may be able to change gut bacteria in a way that may make you more susceptible to disease, though more research is needed. (20)
Cost: This product is priced at $13.47 per 30-serving supply ($0.45 per serving).
Best Budget Pick
Given their amount of ingredients and the labor that goes into producing them, some greens powders can be pretty expensive, especially if the brand invests in certifications and independent testing.
If you're looking for a greens powder to enhance your health regimen but are in sticker shock going through the options, here are a couple of options to consider that may be more affordable.
Terra Origins Green Superfoods
Best on a Budget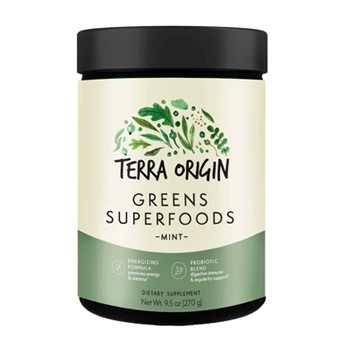 Pros
No added sugars or sweeteners
Made using whole foods derived ingredients
Affordably priced at $18 per month
Cons
Not suitable for a vegan diet
Does not bear a third-party testing certification seal
Our Take
Terra Origins Green Superfoods has a hefty ingredient list for a lower price than many other greens powders. However, it's not suitable for a vegan diet because it contains milk.
This product appears to be a comprehensive blend of greens, such as spirulina, wheatgrass, barley grass, alfalfa, and chlorella.
It also contains a fruit and vegetable blend, digestive enzymes, and 2.1 billion CFU of probiotics.
Cost: It's priced at $18.00 for 30 servings, which comes out to $0.60 a day for someone who wants to use it regularly. This is more affordable than many other greens powders and seems to have a lot to offer by way of ingredients.
Amazing Grass Super Greens Booster
Best on a Budget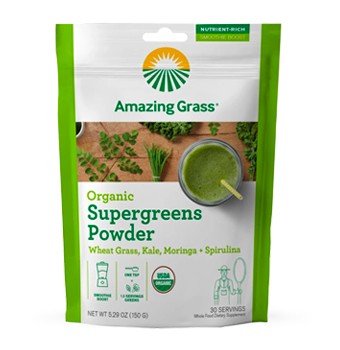 Pros
Can fit on a vegan diet
No sugar added
Lower price point than most other greens powders
Cons
Does not contain a third-party testing certification seal
Not as comprehensive as many other greens powders
Our Take
This is a fairly inexpensive option for people who want to enjoy the added benefits of greens powders in their smoothies. It's intended to be a booster for smoothies and contains four simple ingredients.
This option contains four ingredients — wheatgrass, kale, moringa, and spirulina. While the ingredient list is much less impressive than other greens powders, it's simple and to the point.
This product is designed to be added to your daily smoothies as a booster rather than to be your smoothie itself. However, you could probably blend it on its own with non-dairy milk and ice, depending on how "green" you like your smoothies to taste.
For those simply looking to add a few more greens to their diet in a concentrated, easy way, this is an affordable way to go.
Cost: It's priced at $14.99 for 30 servings on Amazon ($0.50 per serving).
Things to Consider When Shopping for a Greens Powder
As with any supplement, it's essential to look closely at the ingredients, nutritional quality, and commitment to safety that a greens powder displays.
For example, many supplements, including greens powders, will use the word "natural" in their marketing. While attractive, this term isn't regulated and doesn't carry the same weight as a product that bears an official seal from a reputable certification body.
Here are some additional things to consider as you choose the best greens powder to add to your routine:
Organic Certification
Look for ingredients derived from whole organic foods rather than isolated compounds. This will be apparent from looking at the ingredients list.
If minimizing your intake of fertilizers, antibiotics, and other agricultural contaminants is a priority for you, choose a powder that carries a USDA Organic seal.
Third-Party Testing
Some of the most established and reputable independent certification bodies include NSF International, USP, and ConsumerLab. If a greens powder has a seal from one of these on its packaging, this indicates that the brand has invested in third-party verification.
This means that their product has been tested by an unbiased party to verify that it contains what it says it does and is free from potentially harmful levels of contaminants.
Some products will also go above and beyond to achieve sports certification like Informed-Sport or NSF Certified for Sport, which ensures the product doesn't contain athletic banned substances.
Taste
How a product tastes is as important as what's inside of it. This may especially ring true if you plan to share your greens powders with other family members, like younger kids.
Don't purchase super greens with negative reviews for their flavor if you don't want to gag it down. While reading comments from people who have purchased the product won't tell you the science behind it, they will certainly provide personal insight into how it tastes and works with various uses.
Variety
To get the most micronutrient and antioxidant bang for your buck, choose a greens powder that uses a wide variety of whole plant ingredients. For instance, the more greens it contains, the more nutrients it likely has to offer.
Greens like spinach and kale will be more packed with antioxidants and phytochemicals, whereas sea greens like dulse and kelp will be good sources of nutrients like iodine.
In other words, purchasing a greens powder that contains multiple types of greens can have more to offer than one that just contains kale.
It's helpful to look for one that contains greens you don't normally eat, or otherwise would never include in your diet.
Sweeteners
Be aware that some powdered supplements can be high in added sugar, meant to help disguise the taste of greens or otherwise make it more palatable.
For the most health benefit, avoid ones that list cane sugar, high fructose corn syrup, or artificial sweeteners like aspartame and sucralose.
More natural sweetening agents are monk fruit and stevia, or you could choose one without sweeteners at all.
Frequently Asked Question About Greens Powders
Why would I want to take a greens powder?
Most people decide to use greens powders to add more plant compounds to their diet.
As most of them are a blend of numerous powdered fruits and veggies, this can be a good way to complement your diet with additional antioxidants and phytochemicals only found in plants.
Some green powders are also formulated to contain other potentially beneficial compounds, like plant-based protein, herbs and botanicals, probiotics, vitamins, and minerals.
If you don't normally consume a wide array of leafy green vegetables, but want to reap some of the benefits they can offer, a greens powder can be a convenient way to do so.
Do greens powders work?
Whether greens powders work is subjective, as it depends on what you're using them for. No supplement will be a "magic fix" to any health concern or goal, but they can certainly be used to help support overall well-being.
Greens powders are generally a good source of concentrated micronutrients and may provide additional benefits like protein, collagen support, or probiotics in their formulation.
If you don't normally consume a variety of leafy greens, a powder will likely provide some nutrients or plant compounds that are lacking from your current diet.
Whether a greens powder works will be based on how you feel when you use it and whether you think it's worth the investment as part of your lifestyle.
How do you use greens powders?
Greens powders are pretty versatile in how you can use them. Overall, they're intended to be mixed into things that can be used as a vehicle for what they have to offer you.
While some people enjoy simply mixing a scoop into their water or milk, the consistency and flavor of this method may be too much for some.
Greens powders do well when pulverized further into smoothies using a high-speed blender. You might also enjoy adding them to batters for muffins, pancakes, or blended energy balls.
You might enjoy your prepared greens alongside a meal, as a late morning or afternoon pick-me-up, or as an easy and nutrient-packed snack on the go.
Can greens powders replace green vegetables in my diet?
No, green powders can't replace whole veggies. While some green powders can be a great way to add more vitamins, minerals, and antioxidants to your diet, they cannot replace the benefits offered by whole fruits and vegetables.
Furthermore, most people in western cultures don't get enough fiber in their diet and greens powders are not an optimal source of this important nutrient.
While whole produce is full of fiber, the nutrients in extracts and powders from plants are not. Some powders will contain added fibers, but your best source of this nutrient is still whole plant foods.
What's the difference between a greens powder and a multivitamin?
The main difference between a greens powder and a multivitamin is the intention behind their use.
A powder will generally contain more ingredients and come at a higher price point, especially if it's made using nutrients derived from whole food sources. This is also intended to offer the specific benefits of greens to diets that may be lacking them.
Multivitamins are designed to help you meet your daily micronutrient needs, formulated to fill in the basic nutritional gap in your diet.
The Bottom Line
Greens powders are generally safe supplements for the average person when used as directed. They tend to contain a large number of ingredients with many potential health benefits.
While the main ingredients in greens powders are usually a variety of nutritious greens (spirulina, chlorella, matcha, spinach, kale, broccoli, alfalfa), many products I reviewed also contained several probiotic strains, herbs, and adaptogenic foods like medicinal mushrooms.
Some greens powders also go further by adding protein or collagen-boosting supplements, which offers potential benefits for people looking for those things.
The greens powder market is vast and can be overwhelming. Before choosing the right product for you, be clear on your reason for taking it and have an idea of what things you want and don't want from your product.
Remember that no greens supplement can replace the nutritional and functional benefits of a diet that includes plenty of whole plant foods. However, greens powders can certainly be used to complement an overall healthy diet.
As with any dietary supplement, it is always best to speak with your healthcare professional first to make sure it's right for you.
Thanks for your feedback!
In a few words, please tell us how this article helped you today.
Please let us know how we can improve this article by selecting your concern below.
Thank You! We appreciate your feedback.
*
Please select at least one topic:
Please Note: We cannot provide medical advice. This feedback will help us continue improving your user experience on WellnessVerge.
Please Note: We cannot provide medical advice. This feedback will help us continue improving your user experience on WellnessVerge.
At WellnessVerge, we only use reputable sources, including peer-reviewed medical journals and well-respected academic institutions.