WellnessVerge is reader-supported. We may earn a commission when you make a purchase through the links on this page. Learn more about our process here.
Why You Can Trust Us
Every article and review on WellnessVerge is thoroughly researched and fact-checked by licensed health professionals. Our editorial team is made up of registered dietitians and medical doctors.
Every piece of content is also medically reviewed to ensure accuracy and alignment with sound scientific evidence and medical consensus. We only use peer-reviewed journals and reputable medical sources to form our conclusions and recommendations.
We operate with total editorial independence, and our editorial policies ensure that your well-being comes first. Based on our rigorous research, we only recommend products that are worth considering. We always disclose any ads or partnerships with brands featured on our site.
Athletic Greens (AG1) Review: A Convenient Way to Cover Your Daily Nutrient Needs.
Last Updated on March 15, 2023
AG1 offers an easy way to get your daily nutrients and may provide several health benefits. It uses high-quality ingredients but is more expensive than its competitors.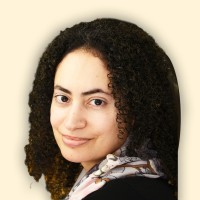 Medically Reviewed by
Yasmine S. Ali, MD, MSCI, FACC, FACP
Board-certified Cardiologist, Medical Board Member
Yasmine S. Ali, MD, MSCI, is a board-certified cardiologist, clinical lipidologist, and internist with nearly 30 years of experience in direct patient care and 25 years of experience in medical writing, editing, and reviewing.

Key Takeaways (TL;DR)
AG1 from Athletic Greens is a comprehensive greens powder with various nutrient-rich ingredients.
It may benefit people with busy lifestyles who may not get enough nutrients in their diet. However, it does take some time to experience the effects.
Athletic Greens is one of the most expensive greens powders on the market. However, the quality of ingredients and the wide range of health benefits might make it a worthwhile investment for your health.
If you are deficient in certain nutrients, you may feel a boost in your energy levels after taking AG1 for a short while.
Other potential benefits — such as improved gut health, immunity, exercise recovery, or cognitive health — may be more noticeable over time.
However, greens powders are used to supplement, not replace, a healthy diet and lifestyle. Health experts around the globe recommend eating whole, fresh fruits and vegetables to meet the daily intake for good health. (1)
Things We Liked and Enjoyed
A convenient way to increase your intake of nutrient-rich foods.
One serving of AG1 delivers 75 vitamins, minerals, probiotics, and whole food-sourced ingredients.
We've tried many powders, but we enjoyed AG1's taste the most.
Third-party tested by NSF International for safety and other standards.
The ingredients in AG1 are considered safe for most people when taken as directed.
Important Considerations But Not Deal Breakers
One of the more expensive greens powders on the market.
It may cause gas and bloat in some people.
Contains proprietary blends, so there is no way to tell how much of each ingredient is present.
Shipping is always $9 per order, regardless if you have a subscription or not.
AG1 in a Snapshot
AG1 by Athletic Greens is designed to fill the nutritional gaps of even the healthiest diet.
According to a 2017 Center for Disease Control (CDC) report, only 1 in 10 adults consume the recommended amount of fruits and vegetables daily. (2) AG1 solves this problem by offering a nutrient-rich greens powder supplement that provides all the nutrients you need in one convenient drink.
One serving of AG1 delivers 75 vitamins, minerals, probiotics, and whole food-sourced ingredients. These nutrients work together to support overall health and well-being.
Athletic Greens claims their greens powder promotes gut health, supports immunity, boosts energy levels, aids exercise recovery, and promotes cognitive health. Many customer reviews say the supplement has helped improve their focus and digestion.
Whether you're an athlete looking to improve your exercise recovery or someone who wants to support overall health, AG1 may be a good option.
How to Take It
AG1 is designed to be taken once daily, and the recommended serving size is one scoop (12 grams).
It can be mixed with 9-12 oz of water, milk, or juice or added to smoothies. It mixes easily, but you must stir/shake it for 20–30 seconds for the powder to dissolve well.
Taking Athletic Greens before a meal on an empty stomach is best.
Athletic Greens is a greens drink, not a meal replacement, and therefore should not be used as a sole source of nutrition.
We Like the Taste
Based on our experience, AG1 has a grassy, earthy taste and is something you may need to get used to. It took us around two weeks to get used to the taste.
Many reviewers say the earthy taste is tolerable, but some dislike it.
Compared to the taste of other popular greens powders, AG1 is one of the better ones, in our opinion.
We don't look forward to drinking AG1 each morning for its taste, like a hot cup of coffee or a tropical smoothie. We do, however, enjoy drinking AG1 for its benefits. Using cooler water makes it taste more pleasant.
Keep in mind that taste is a personal preference.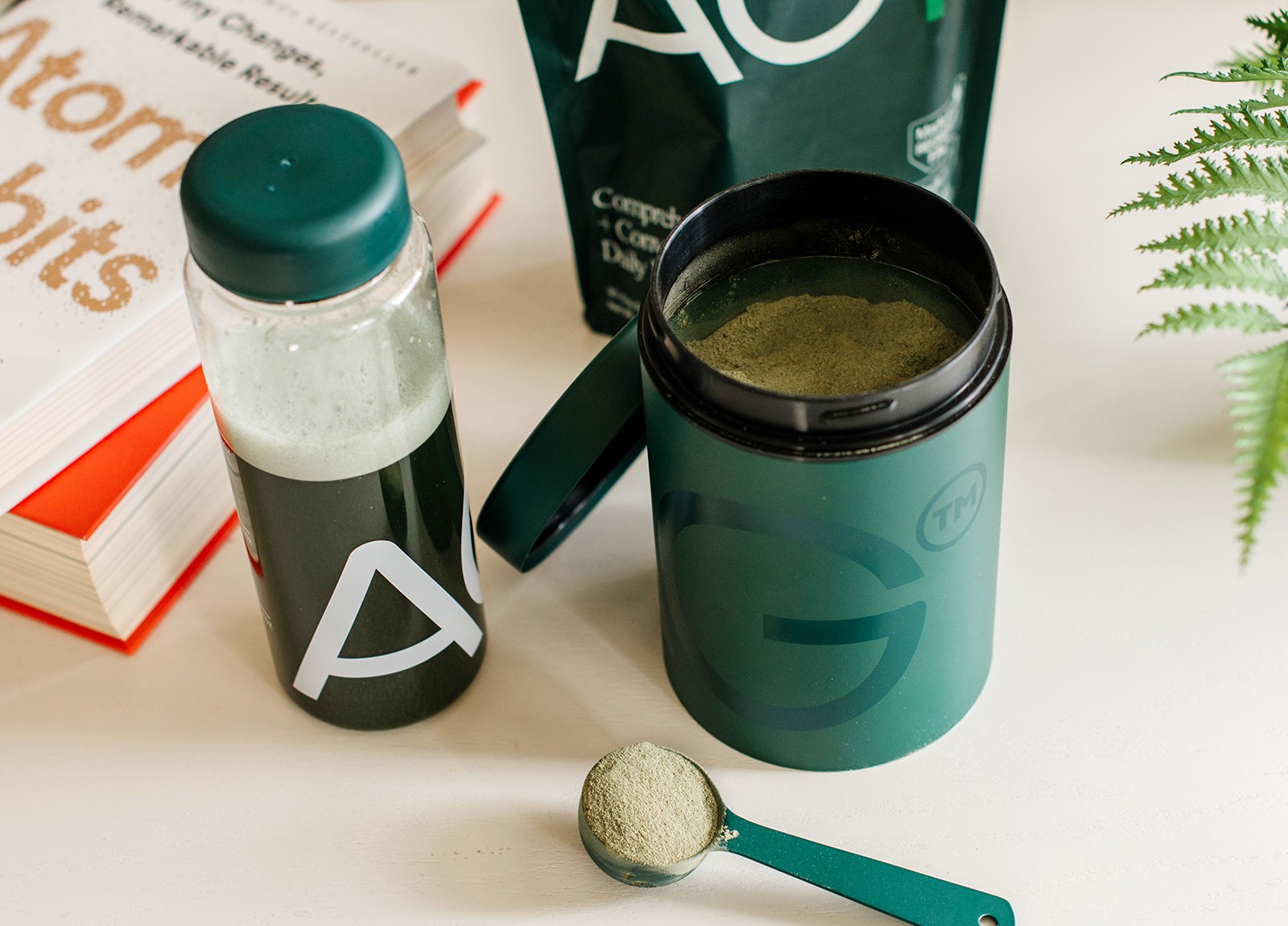 AG1 Is Expensive, but the Quality of Ingredients Is Worth It
Athletic Greens is available on the brand's official website and through Amazon. However, the supplement is far more expensive when purchased on Amazon.
Here is the pricing overview:
| | With Subscription | One-Time Purchase |
| --- | --- | --- |
| Single Person (30 servings) | $79 ($2.63 per serving) | $99 ($3.30 per serving) |
| For 2 People (60 servings) | $149 ($2.48 per serving) | $198 ($3.30 per serving) |
| Single Person (Travel Pouch) | $89 ($2.97 per serving) | $109 ($3.63 per serving) |
| For 2 People (Travel Pouch) | $169 ($2.82 per serving) | $218 ($3.63 per serving) |
Athletic Greens also offers a subscription service that discounts your first order, a starter kit with a shaker bottle, and free shipping on subsequent orders.
Based on our experience, we could pause or cancel the subscription and skip shipments through our online account without issues.
Additionally, as a courtesy reminder, Athletic Greens sends you an email three days before the next shipment goes out, giving you a window to modify your subscription.
Athletic Greens offers a 60-day money-back satisfaction guarantee on all its products. You can try AG1 for yourself with a risk-free, one-time purchase. However, shipping is always $9 with or without a subscription.
See the Full List of Ingredients
Nutrition Information
One serving of AG1 provides the following:
Calories: 50 calories
Carbohydrates: 6 grams
Protein: 2 grams
Fiber: 2 grams
AG1 is dairy-free, gluten-free, non-GMO, plant-based, vegan, nut-free, stimulant-free, free from added sugars and preservatives, and is Certified organic.
Alkaline, Nutrient-Dense Raw Superfood Complex
7388 mg — Organic spirulina, lecithin (65% phosphatides), organic apple powder, inulin (FOS prebiotics), organic wheat grass juice powder (leaf), organic alfalfa powder (leaf), organic chlorella powder, organic barley (Hordeum vulgare) leaf powder, acerola fruit juice powder extract (4:1), broccoli flower powder, papaya (Carica papaya) fruit powder, pineapple fruit concentrate (9:1), bilberry fruit extract (100:1), beet root powder, rose hip (Rosa canina) fruit powder (4:1), carrot root powder, spinach leaf powder, cocoa bean polyphenol extract, grape seed extract (120:1) (std. 95% OPC), green tea (Camellia sinensis) extract (leaf) (10:1), licorice root powder, lycium berry fruit extract (4:1), ginger rhizome powder, slippery elm (Ulmus rubra) bark powder, kelp whole plant powder
Nutrient Dense Extracts, Herbs & Antioxidants
2732 mg — Alkaline pea protein isolate, citrus bioflavonoids extract, artichoke leaf extract (15:1), citric acid (anhydrous), rhodiola (Rhodiola rosea) root dry extract (15:1), eleuthero (Eleutherococcus senticosus) root extract (10:1), rosemary leaf extract (4:1), milk thistle seed extract (70:1), R,S alpha-lipoic acid, ashwagandha (Withania somnifera) root extract (5:1), dandelion whole plant dry concentrate (4:1), hawthorn berry extract (10:1), beta glucans, policosanol, coenzyme Q10 (ubidecarenone), stevia (Stevia rebaundiana) leaf powder, vitamin K2 (as menaquinone-7)
Digestive Enzyme & Super Mushroom Complex
154 mg — Astragalus (Astragalus membranaceus) root powder extract (4:1), bromelain (dietary enzyme), burdock root powder (4:1), reishi mushroom powder, shiitake mushroom powder
Daily Free Probiotics 7.2 billion CFU
38 mg — Lactobacillus acidophilus – UALa-01, Bifidobacterium bifidum - UABb-10
AG1 Offers Several Health Benefits, Like Gut Health and Exercise Recovery
Athletic Greens claims its product can help you achieve optimal health by filling in the nutritional gaps of even the healthiest diet.
One serving of AG1 delivers 75 vitamins, minerals, probiotics, and whole food-sourced ingredients. While plenty of studies support the benefits of the many ingredients found in AG1, the supplement itself has not been tested.
Below are the key insights from the studies we analyzed (writing about 75 ingredients found in AG1 would make for a very long read, so we included only the standout ingredients):
May Promote Gut Health
Several ingredients in Athletic Greens may work together to promote gut health. Probiotics can support the growth of beneficial bacteria in the gut. While the prebiotic fiber and digestive enzymes may help improve digestion.
AG1 contains several probiotic strains that promote gut health, including Lactobacillus acidophilus and Bifidobacterium bifidum. (3, 4)
Athletic Greens also contains a high-quality prebiotic fiber called inulin. Inulin is a type of soluble fiber that acts as food for the probiotics in the gut, stimulating their growth. (5)
Finally, AG1 contains a digestive enzyme blend that includes enzymes like bromelain, which breaks down carbohydrates, fats, and proteins. Early research has shown that supplementation with digestive enzymes might benefit those with gastrointestinal diseases. (6)
May Support Immunity
Athletic Greens contains several ingredients, such as vitamin C, zinc, and a blend of mushrooms that support the immune system.
Vitamin C is a well-known immune booster. (7) Zinc is another essential nutrient for immune health. (8)
Reishi and shiitake mushroom powder in AG1 are rich in compounds that support the immune system. (9)
Tip: The immune system is a vast network of cells, tissues, and organs. Therefore, you need different ways to support the immune system, including exercise, getting enough sleep, and eating a healthy diet.
May Support Energy Levels
AG1 contains essential nutrients for energy production, including magnesium and vitamin B12.
Magnesium is needed for energy production, muscle contraction, and nerve function. (10) AG1 contains 26 mg of magnesium, 6% of the Daily Value.
Vitamin B12 also plays a significant role in energy metabolism, as it helps to convert food into ATP, the body's primary energy source. (11) Athletic Greens provides well over 100% of the Daily Value of vitamin B12.
While these nutrients can help improve your energy if you lack them in your diet, they have not been shown to increase energy levels in people who are not deficient.
Tip: Foods such as almonds, salmon, and blueberries can give you a much-needed boost of energy when you're tired.
May Help with Exercise Recovery
Athletic Greens uses ashwagandha and ginger as these ingredients may help reduce inflammation and help the body recover from a tough workout.
Ashwagandha is an adaptogenic herb that may help the body better cope with stress and the effects of high-intensity exercise, specifically improving muscle strength and recovery. (12) A potent antioxidant, Ginger, a potent antioxidant, is another herb that may help reduce inflammation and aid exercise recovery. (13, 14)
Tip: To maximize AG1 in exercise recovery, combine it with proper nutrition and sleep.
May Promote Cognitive Health
Ashwagandha and grapeseed extract in Athletic Greens may help support cognitive health.
Studies show that Ashwagandha can reduce the negative effects of stress on the body, enhance memory, and improve cognition. (15)
Grapeseed extract is a potent antioxidant containing flavonoids that may help to protect the brain from damage and decline by reducing inflammation and maintaining brain cell health. (16)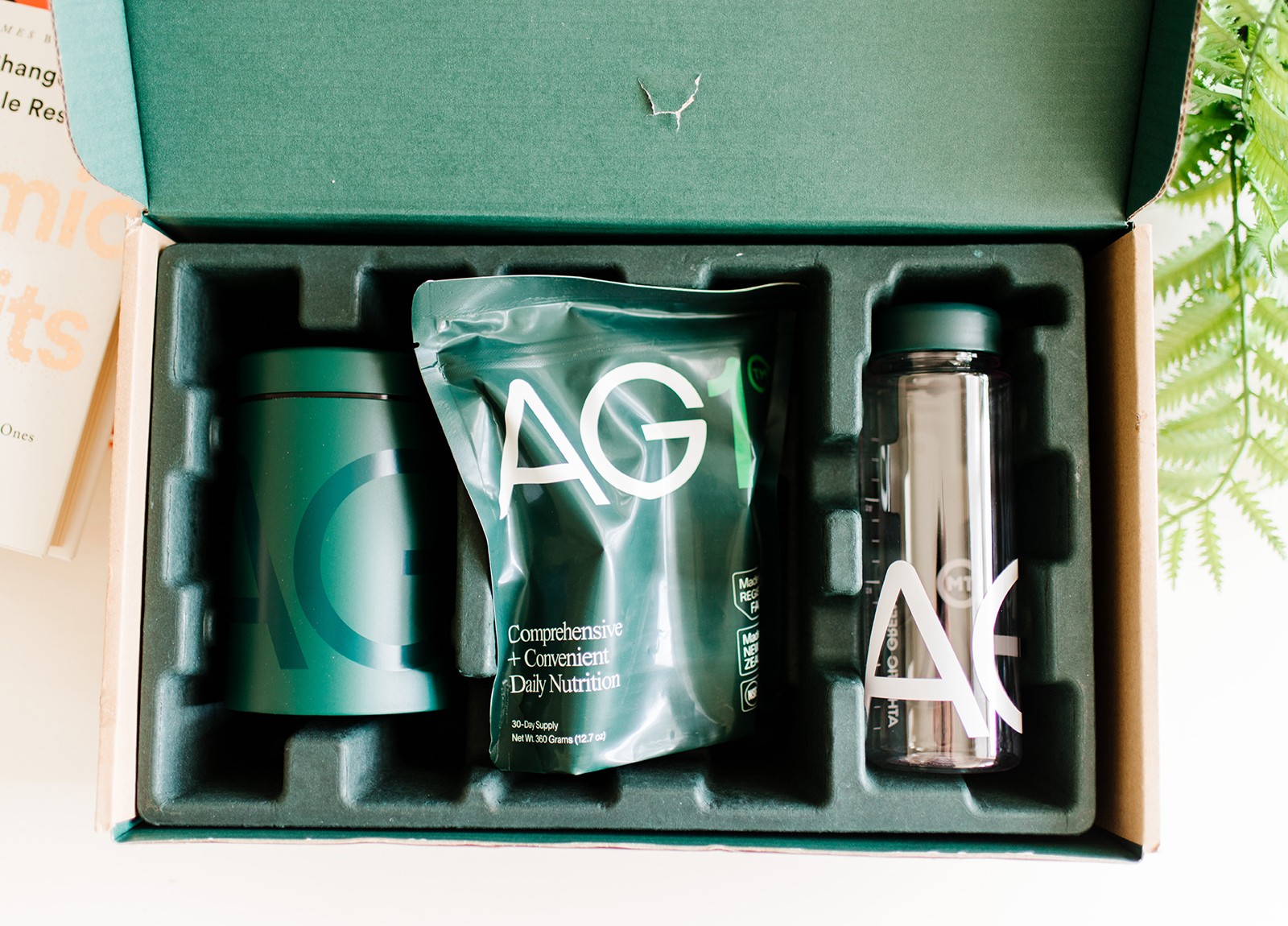 Important Safety Considerations
Athletic Greens is considered safe for most people when taken as directed.
AG1 is intended for adults over 18 and is not recommended if you are pregnant or nursing.
With 75 ingredients in AG1, consumers must read the label carefully to avoid potential allergens, interactions with medication, and other adverse reactions.
Athletic Greens uses proprietary blends, which do not allow consumers to know the exact amount of each ingredient they take. This is a downside for anyone needing to ensure they are not taking too much of a particular ingredient.
The most common side effects experienced from ingredients in AG1 include stomach upset, gas, or bloating. If this occurs, reducing the dosage or discontinuing use is recommended.
Athletic Greens contains ingredients derived from soy, so those with soy allergies should avoid this product.
Backed by third-party testing, Athletic Greens' AG1 is NSF Certified for Sport. This means that the supplement is certified as free of substances banned by major sports organizations and does not contain any unsafe levels of contaminants.
Lastly, some ingredients in the supplement may interact with certain medications or have side effects.
These ingredients include:
If you have a medical condition or are taking medications, consult a healthcare professional before using Athletic Greens.
How AG1 Compares to Its Competitors
AG1 is the most expensive greens powders that we have evaluated. However, its quality of ingredients and the wide range of health benefits might make it worth considering over other competitors.
When we compared popular greens powders of 2023, AG1 earned our recommendation as the top choice for overall health support.
Here's how AG1 compares to popular brands:
AG1
Beyond Greens
Amazing Grass Greens Blend
Organifi Green Juice
Price Per Month
$99
$39.99
$32.99
$69.95
Lowest Possible Price
$79/month (subscription)
$24.99/month (bulk subscription)
$26.39/month (subscription)
$56.30 per canister (with subscription + prepay for 3 months)
Shipping
$9 per order
$5.95 or free with a subscription
$7.99 or free over $59.99
$7.95 or free with a subscription prepaid for 3 months
Return Policy
60-day money-back guarantee
365-day money-back guarantee
No refunds on opened product
60-day money-back guarantee
Key Ingredients

Greens

Fruits & Vegetables, Herbs, Mushrooms, Probiotics, Prebiotics

Greens

Herbs, Mushrooms, Probiotics, Prebiotics

Greens

Herbs, Mushrooms, Probiotics, Prebiotics, Digestive Enzymes

Greens

Fruits & Vegetables, Herbs

Third-Party Tested
Yes
Yes
No
Yes
Purchase Via
Athletic Greens
Live Conscious
Amazon
Organifi
Expand the Brands Below for a Detailed Look
Vs. Beyond Greens
Beyond Greens, from Live Conscious, is a greens powder that contains many of the same ingredients as AG1. However, Beyond Greens contains only 14 active ingredients compared to AG1's 75.
These ingredients include rhodiola, green tea, mushrooms, probiotics, prebiotic fibers, and some other herbs.
Beyond Greens also discloses the exact amounts of each ingredient on their Supplement Facts label.
The regular price is $39.99 for a 30-day supply, but they offer bulk purchase and subscription options that can bring the price as low as $24.99 for a 30-day supply.
They offer a 365-day 100% money-back guarantee.
Beyond Greens may be a good fit if you want to know the exact amount of each ingredient your greens powder contains, or if you need a good budget-friendly option.
Read the full Beyond Greens Review
Vs. Amazing Grass
Like AG1, Amazing Grass is made with mostly organic ingredients, including grasses, fruits and vegetable extracts, fiber, digestive enzymes, prebiotics, and probiotics.
All of its ingredients are part of 4 proprietary blends, so the exact amount of each ingredient isn't disclosed.
Amazing Grass costs $32.99 for a 30-day supply, but you can subscribe to save 20%, bringing the price down to $26.39 for a 30-day supply.
However, they don't offer any returns on opened products.
Amazing Grass is a more budget-friendly choice than AG1. It contains similar ingredients that may help reduce digestive symptoms if you take the product consistently.
Read the full Amazing Grass Review
Vs. Organifi Green Juice
Organifi Green Juice is an organic greens powder featuring a Greens Blend (containing various greens and grass powders) and a Superfoods Blend (featuring fruits, vegetables, and herbs).
The product is also certified Glyphosate Residue Free, which means none of its ingredients were grown using the pesticide glyphosate.
It regularly costs $79.95 for a 30-day supply, but you can make bulk purchases or subscribe to bring the price down to as little as $62.56.
Organifi offers a 60-day money-back guarantee on their products.
Organifi may be a good choice similar to AG1, but it has been certified Glyphosate Residue Free.
Read the full Organifi Green Juice Review
Tip: To get the benefits of greens powders, you will need to take them consistently long-term. That's why we recommend carefully considering the ongoing monthly cost to find the brand that fits your budget.
Additional FAQs
Can people with diabetes drink AG1?
AG1 is likely safe for most people with diabetes to consume. However, as with any supplement, it is always best to speak with a healthcare professional before starting any new supplement regimen. This is especially important if you are taking medication for diabetes.
Does AG1 promote weight loss?
A systematic review of 14 randomized controlled trials involving Lactobacillus, the probiotic in AG1, found that some strains are associated with weight loss. (21)
However, it's not enough to conclude that AG1 promotes weight loss.
Can AG1 replace a multivitamin?
The short answer is maybe. AG1 provides comparable micronutrients to some daily multivitamins. However, it is low in or missing some vitamins and minerals that may be important for some people to get from a supplemental source.
If you're concerned about certain nutrients missing from Athletic Greens, like vitamin D (which many people are deficient in), AG1 may not replace your multivitamin unless you've opted to purchase the vitamin D3+K2 add-on that Athletic Greens offers.
If you take a daily multivitamin, compare it with AG1 to determine the nutritional differences. Not only is it important to ensure you receive the micronutrients you need in a day, but also to make sure you're not getting too much. For instance, while it's low risk to overdose on nutrients from whole food sources, getting too much of the fat-soluble vitamins, like A and E, from supplements can be problematic over time.
Thanks for your feedback!
In a few words, please tell us how this article helped you today.
Please let us know how we can improve this article by selecting your concern below.
Thank You! We appreciate your feedback.
*
Please select at least one topic:
Please Note: We cannot provide medical advice. This feedback will help us continue improving your user experience on WellnessVerge.
Please Note: We cannot provide medical advice. This feedback will help us continue improving your user experience on WellnessVerge.
At WellnessVerge, we only use reputable sources, including peer-reviewed medical journals and well-respected academic institutions.
Healthy diet – World Health Organization

:
https://www.who.int/news-room/fact-sheets/detail/healthy-diet

Disparities in State-Specific Adult Fruit and Vegetable Consumption — United States, 2015 | MMWR

:
https://www.cdc.gov/mmwr/volumes/66/wr/mm6645a1.htm?s_cid=mm6645a1_w

The life history of Lactobacillus acidophilus as a probiotic: a tale of revisionary taxonomy, misidentification and commercial success - PubMed

:
https://pubmed.ncbi.nlm.nih.gov/24152174/

Bifidobacterium bifidum: A Key Member of the Early Human Gut Microbiota - PubMed

:
https://pubmed.ncbi.nlm.nih.gov/31717486/

Functional and therapeutic potential of inulin: A comprehensive review - PubMed

:
https://pubmed.ncbi.nlm.nih.gov/28799777

Digestive Enzyme Supplementation in Gastrointestinal Diseases - PMC

:
https://www.ncbi.nlm.nih.gov/pmc/articles/PMC4923703/

Vitamin C and Immune Function - PMC

:
https://www.ncbi.nlm.nih.gov/pmc/articles/PMC5707683/

Zinc as a Gatekeeper of Immune Function - PMC

:
https://www.ncbi.nlm.nih.gov/pmc/articles/PMC5748737/

Mushroom Polysaccharides: Chemistry and Antiobesity, Antidiabetes, Anticancer, and Antibiotic Properties in Cells, Rodents, and Humans - PMC

:
https://www.ncbi.nlm.nih.gov/pmc/articles/PMC5302426/

Magnesium - Health Professional Fact Sheet

:
https://ods.od.nih.gov/factsheets/Magnesium-HealthProfessional/

Vitamin B12 - Health Professional Fact Sheet

:
https://ods.od.nih.gov/factsheets/VitaminB12-HealthProfessional/#h7

Examining the effect of Withania somnifera supplementation on muscle strength and recovery: a randomized controlled trial - PMC

:
https://www.ncbi.nlm.nih.gov/pmc/articles/PMC4658772/

Acute effects of ginger extract on biochemical and functional symptoms of delayed onset muscle soreness - PMC

:
https://www.ncbi.nlm.nih.gov/pmc/articles/PMC4715415/

Ginger on Human Health: A Comprehensive Systematic Review of 109 Randomized Controlled Trials - PMC

:
https://www.ncbi.nlm.nih.gov/pmc/articles/PMC7019938/

Efficacy and Safety of Ashwagandha (Withania somnifera (L.) Dunal) Root Extract in Improving Memory and Cognitive Functions - PubMed

:
https://pubmed.ncbi.nlm.nih.gov/28471731/

The benefits of grape seed extract in neurological disorders and brain aging - PubMed

:
https://pubmed.ncbi.nlm.nih.gov/35343876/

Antiinflammatory and antihyperalgesic activity of C-phycocyanin - PubMed

:
https://pubmed.ncbi.nlm.nih.gov/19299804/

Review of herbal medications with the potential to cause bleeding: dental implications, and risk prediction and prevention avenues - PMC

:
https://www.ncbi.nlm.nih.gov/pmc/articles/PMC6459456/

Rhodiola – NCCIH

:
https://www.nccih.nih.gov/health/rhodiola

Astragalus – NCCIH

:
https://www.nccih.nih.gov/health/astragalus

Effect of Lactobacillus on body weight and body fat in overweight subjects: a systematic review of randomized controlled clinical trials - PubMed

:
https://pubmed.ncbi.nlm.nih.gov/28792488/