Evidence Based Research
Our editorial team is made up of expert registered dietitians with extensive, real-world clinical experience who are highly trained in evaluating clinical research.
Athletic Greens Review: Is It Worth It? A Dietitian's Perspective
The latest formula from Athletic Greens, AG1, is a green superfood powder that is formulated to support normal energy, immunity, digestive health, and brain function. Though not inexpensive, if you're seeking an all-in-one supplement to add to your healthy eating and exercise regimen, this could be a great option for you.
This page contains links through which we may earn a small commission should you make a purchase from a brand. Learn more about how we make money here.

Pros

Offers 100% of the daily value for many vitamins and minerals, easily replacing a multivitamin.
Support the body's natural well-being.
Formulated with whole food sources.
Third-party tested for quality and safety; free from substances that are banned for athletes.

Cons

Could be a costly investment for many consumers, especially if used as a daily multivitamin supplement long term.
Contains "proprietary blends," which display the names but not the amounts of each ingredient included in the product.
What Is AG1 (Athletic Greens)?
If you're new to the "drinking your greens" trend, AG1 may be a great product for you to try.
Athletic Greens' products are not just for athletes. Athletic Greens formulated AG1 to be a highly effective, convenient, and nutritionally complete supplement for people of any activity level, supporting overall health and body functions at every stage of adult life.
Taken as a powder mixed with water, Athletic Greens claims that AG1 is more easily absorbed, gentler on the stomach, and better utilized by the body than pill-based supplements.
AG1 provides all of the vitamins and minerals of a typical multivitamin. The current formula contains a whopping 75 vitamins, minerals, and other ingredients sourced from whole foods such as fresh fruits and vegetables.
Being entirely plant-based, AG1 is suitable for those following a vegetarian or vegan diet. Other considerations have been made to ensure that AG1 is also suitable for ketogenic, low-carbohydrate, and paleo diets.
What makes AG1 different from many supplements is the addition of raw superfoods and extracts, herbs, mushrooms, antioxidants, digestive enzymes, and two types of probiotics.
Evaluation of Ingredients
AG1 is intended to support optimal nutrition and wellness across five key areas including energy, immunity, gut health, hormonal support, and healthy aging.
One scoop (12 grams) of AG1 powder provides 50 calories, 2 grams of protein, 6 grams of total carbohydrates, 2 grams of fiber, and a long list of vitamins, minerals, and other ingredients.
On the label, the ingredients are divided into four main categories:
Alkaline, Nutrient-Dense Raw Superfood Complex, 7,388 mg: Primarily made of green superfoods that may offer protective effects for the liver, maintaining optimal pH balance in the body, and supporting heart health.

Nutrient-Dense Extracts, Herbs, and Antioxidants, 2,732 mg: Contains high-quality pea protein, omega-3 fats, and herbs that may offer supportive benefits for brain health, blood sugar, energy, and concentration.

Digestive Enzyme and Super Mushroom Complex, 154 mg: Made with medicinal mushrooms and natural digestive enzymes that may help support gut health and normal immune response.

Dairy-Free Probiotics, 7.2 billion CFU, 38 mg: Contains two well-studied probiotics that may help support a healthy gut bacterial balance, promote digestive health, and offer antimicrobial benefits.
As this product contains many components, see below for some standout ingredients from each blend that are well known for their health benefits.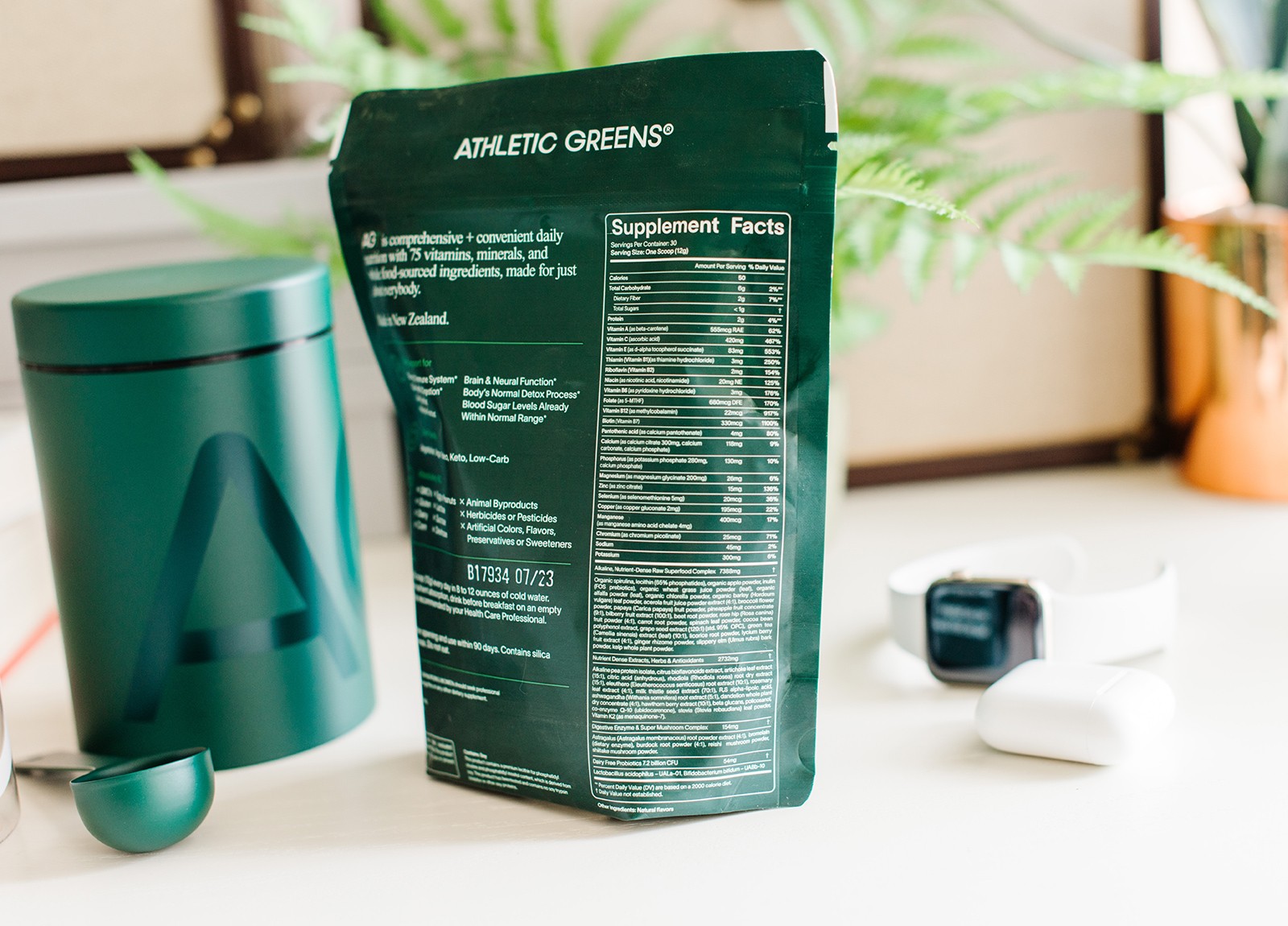 Standout Ingredients
Organic Spirulina
Spirulina is a type of algae, a good source of plant-based protein and omega-3 fatty acids with a long history of use. It is rich in the antioxidant phycocyanin and has been observed to have blood-glucose-lowering effects.
Organic Chlorella Root Powder
Chlorella is another type of algae that provides omega-3 fatty acids, zinc, and provitamin A. It has been shown to have protective effects on the liver, being beneficial in alleviating non-alcoholic fatty liver disease and lowering blood fats.
Pea Protein Isolate
Pea protein isolate is a protein that is extracted from peas through a process that separates the protein from other nutrients.
Pea protein has proven to be an excellent option for those who prefer to consume plant-based protein. In fact, research shows that pea protein is equally satiating when compared to whey protein. It also contains all nine essential amino acids that the body requires to maintain regular functions.
Ashwagandha
Ashwagandha is an herb that is known to be an adaptogen, which means that it may help the body function better under stress. Studies have shown that taking ashwagandha daily can improve resistance to chronic stress, help increase energy and concentration, improve insulin sensitivity, and even improve cognitive function.
Astragalus
Astragalus is an herb that is used in traditional Chinese medicine for many ailments and is considered helpful in promoting longevity.
Antioxidants from dried astragalus root can have a protective effect on the heart, brain, kidney, intestine, liver, and lungs. Astragalus may also be effective for protecting against inflammation-related diseases, especially in the digestive tract.
Bromelain
Bromelain is a compound extracted from pineapple and has anti-inflammatory, anticancer, circulatory- and immune-boosting properties.
Animal studies suggest bromelain may be effective in targeting inflammation in the gut. It also helps the body digest protein.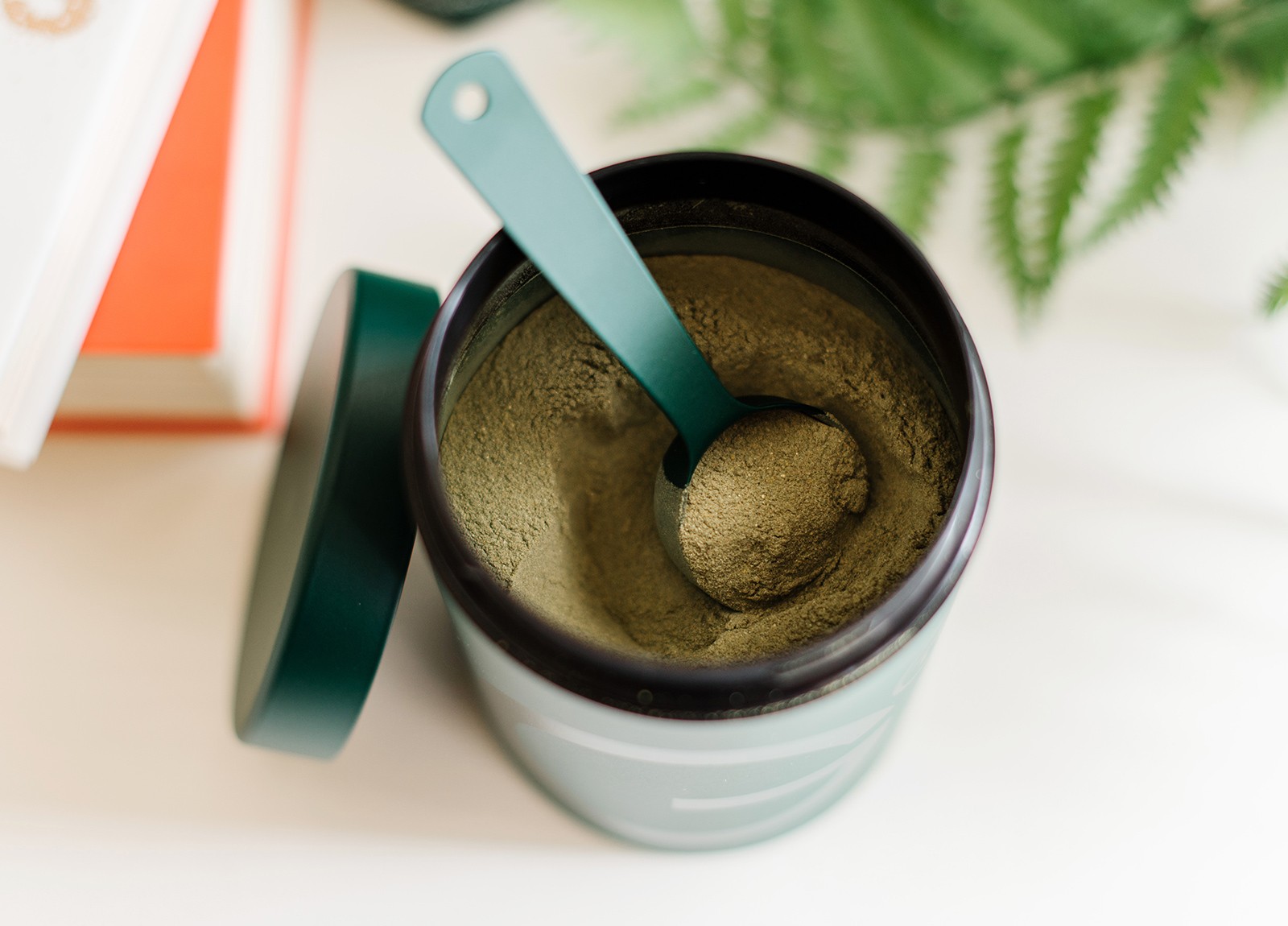 Reishi and Shiitake Mushroom Powders
Medicinal mushrooms have been used throughout history for a variety of health functions. While all mushrooms are full of micronutrients, reishi and shiitake also have immune-boosting and adaptogenic properties.
Reishi supplementation may be helpful in improving fatigue, anxiety, and quality of life among breast cancer patients. Both reishi and shiitake mushrooms have been studied for their immune-modulating abilities in labs and in human research.
Enzymatic Roots
Natural enzymes are often used to help your body better digest and absorb nutrients from foods.
Dairy-Free Probiotics
This is a blend of two extensively studied probiotics, Lactobacillus acidophilus and Bifidobacterium bifidum, derived from non-dairy sources to help minimize any adverse digestive effects.
L. acidophilus is commonly used in probiotics because it's been observed to support gut health, modulate bowel function, and have antimicrobial properties.
Some studies have even found that L. acidophilus can suppress intestinal pathogens, making more room for good bacteria to thrive.
B. bifidum is the most abundant bacteria in the gut microbiota of healthy breastfed infants, suggesting that it plays an enormous role in overall health.
Other studies have confirmed this, finding that B. bifidum is a promising enhancer of microbial diversity in the intestine and has a vital role in health.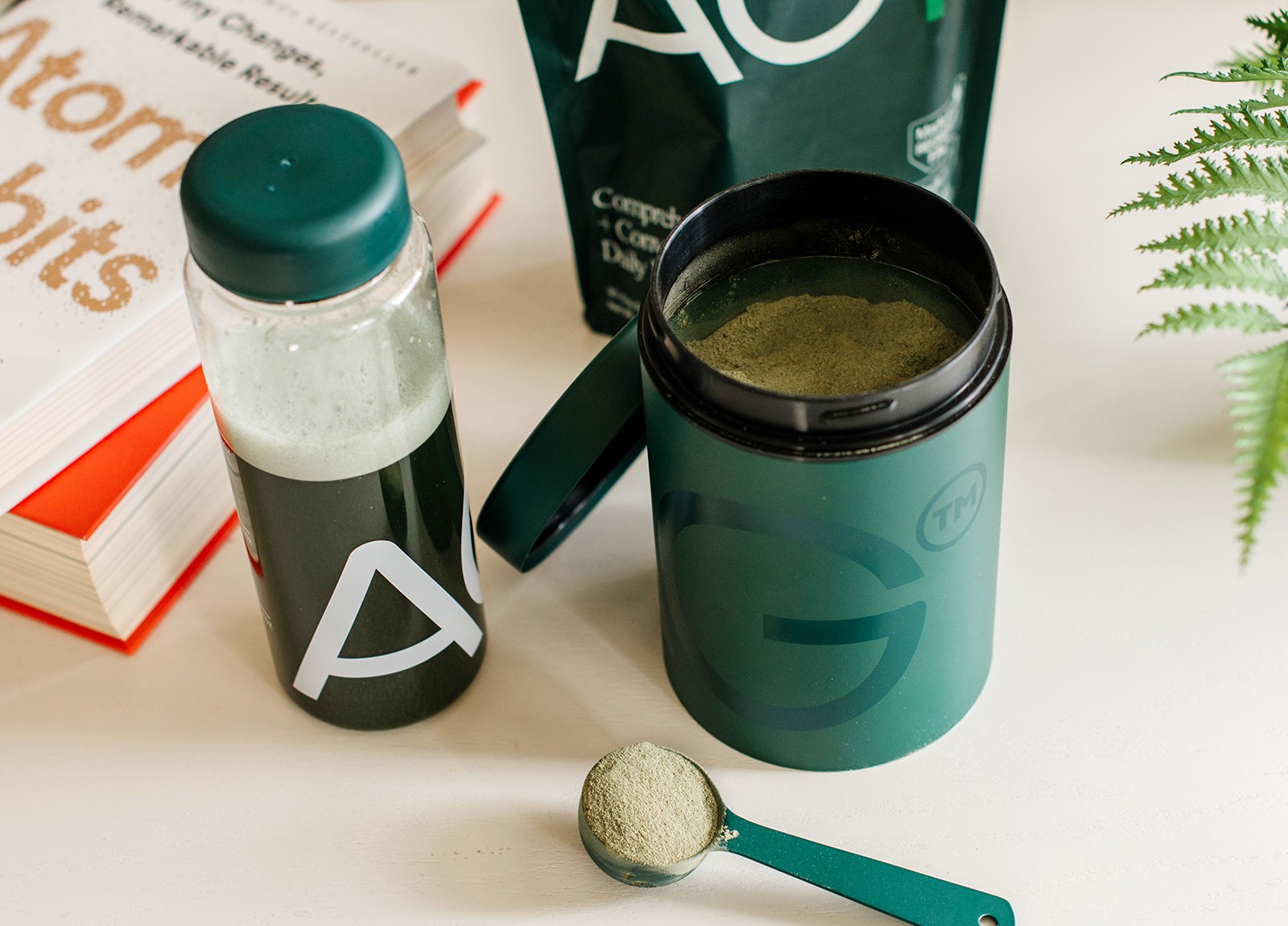 Vitamins and Minerals (Micronutrients)
In addition to the four complexes and ingredients above, AG1 includes a long list of vitamins and minerals (micronutrients), making it an acceptable multivitamin replacement for most people.
One serving (a 12-gram scoop) of AG1 powder provides the following Daily Values (DV) of the micronutrients listed below:
Vitamin A: 62% DV
Vitamin C: 467% DV
Vitamin E: 553% DV
Thiamin: 250% DV
Riboflavin: 154% DV
Niacin: 125% DV
Vitamin B6: 176% DV
Folate: 170% DV
Vitamin B12: 917% DV
Biotin: 1,100% DV
Pantothenic acid: 80% DV
Calcium: 9% DV
Phosphorus: 10% DV
Magnesium: 6% DV
Zinc: 136% DV
Selenium: 36% DV
Copper: 22% DV
Manganese: 17% DV
Chromium: 71% DV
Sodium: 2% DV
Potassium 6% DV
More information about the vitamins and minerals included in AG1 can be found here.
There may be small amounts of iron, iodine, or vitamin D contributed by the ingredients used in the proprietary blends, but it is important to note that these vitamins and minerals are not present on the AG1 label.
This means that if your diet is lacking in these nutrients, you may need to seek other sources.
Athletic Greens Vitamin D3+K2
AG1 is in many ways an all-in-one product, but Athletic Greens sells an add-on product called AG D3+K2, which contains vitamins D3 and K2.
If you're already taking a vitamin D supplement, you should skip this add-on product. Taking more than 100 mcg of vitamin D per day is not recommended. However, for those in need of a vitamin D supplement, this could be a great addition to your AG1 drink mix.
As previously mentioned, AG1 powder lacks vitamin D, which is an essential nutrient that many people are deficient in.
Since many do not get enough vitamin D, getting the right kind of vitamin D can be important, especially if diagnosed as deficient. Research shows that vitamin D3 is better than vitamin D2 at increasing your blood levels of vitamin D.
Vitamin K2 is included in this product because it works with vitamin D to help support your skeletal strength, bone health, muscle function, and normal immune response.
Some people may get enough vitamin K1 from leafy greens. However, the typical western diet is often low in vitamin K2, which is only found in certain animal-derived foods and fermented foods like natto, kimchi, and sauerkraut.
AG D3+K2 is sold as liquid drops with a medium chain triglyceride (MCT) coconut oil base.
Two drops per day provide 25 mcg (125% of your daily value) of vitamin D3 and 200 mcg of vitamin K2. Though it has documented health benefits, dietary guidelines and daily values specific to vitamin K2 have not yet been determined.
Overall, AG D3+K2 is an excellent add-on supplement to be used in combination with the AG1 powder, as it provides nutrients that many are deficient in.
Verdict on Claimed Benefits
Below is a summary of the claimed benefits of AG1, with evaluations of the evidence being based on the most current, available research:
| | |
| --- | --- |
| Supports energy | Strong Evidence |
| Supports immune system | Gold Star Evidence |
| Supports gut health and digestion | Gold Star Evidence |
| Supports liver function | Moderate Evidence |
| Supports hormone function | Limited Evidence |
| Supports brain and neural function | Strong Evidence |
| Supports the body's natural detox process | Strong Evidence |
| Supports blood sugar levels already within normal range | Strong Evidence |
There is relatively strong evidence of the ingredients in AG1 being successful in supporting energy level, immune function, gut health and digestion, brain and neural function, and normal blood sugar levels.
As for claims of supporting the body's natural detoxification processes, supporting hormone function, and supporting liver function, there is a lack of strong evidence in favor of these benefits.
Side Effects, Safety, and Dosage
AG1 is made to be mixed with water as a drinkable morning supplement, taken before breakfast. AG1 is not a meal replacement shake, meaning it is not made to replace meals and should not be used to do so.
The recommended serving size for AG1 is one scoop of powder (12 grams) per day, mixed with 5–10 ounces of cold water. The instructions suggest drinking it in the morning on an empty stomach for optimal absorption.
One single pouch of AG1 provides 30 servings. However, athletes or those with significant life stressors can take up to two servings per day, according to the AG1 label.
Side effects are possible with any supplement and AG1 contains a long list of ingredients.
The most commonly reported side effects with this product include bloating, diarrhea, nausea, and digestive issues that may range in severity.
Additional research on a few individual ingredients found that:
With so many ingredients, it's important for consumers to also scour the label for potential allergens and watch for adverse reactions.
According to Athletic Greens, AG1 is free from wheat, dairy, gluten, corn, eggs, yeast, peanuts, animal products, genetically modified organisms (GMOs), harmful chemicals, artificial colors, preservatives, artificial sweeteners, and added sugar.
AG1 does contain ingredients derived from soy and may not be safe for those with a soy allergy.
Athletic Greens' products are not intended for anyone under the age of 18 without the approval of a medical professional. Athletic Greens also does not recommend their products for those who are pregnant or breastfeeding without first consulting a medical professional.
It is always best to talk to your doctor before adding any new dietary supplement to your routine to make sure it's appropriate for you.
Third-Party Testing
AG1 bears the National Sanitation Foundation (NSF) Certified for Sport independent testing seal, which verifies that the product is free from substances that are banned by major athletic organizations.
This seal also represents other quality components and ultimately shows that Athletic Greens has invested in unbiased third-party testing, verifying the quality of its ingredients and label claims.
Third-party testing allows consumers to have greater confidence in a product's quality and safety.
As a dietitian, I appreciate that Athletic Greens emphasizes their NSF Certified for Sport achievement and explains the value of this to their consumers.
How AG1 Compares to Alternatives
While there are many superfood blends and green drinks, Athletic Greens appears to go above and beyond in terms of its nutritional makeup and ingredient list.
Looking at the biggest competitors to AG1, I have identified a few major similarities and differences.
Comparing this formulation to a common daily multivitamin supplement, Centrum Women's One-A-Day Multivitamin, most of the micronutrients are either comparable or included in higher amounts in AG1.
Another superfood powder, Vibrant Health Green Vibrance, is one competitor that has a long list of similar ingredients, including sea vegetables, antioxidant superfoods, prebiotics, adaptogens, and enzymes. It also has 500% of the DV for vitamin D and contains 20% of the DV for iron.
Other similar green powders include Amazing Grass Greens Blend, Organifi Green Juice, and Live Conscious Beyond Greens. Organifi uses all USDA organic plant-based ingredients, and all three products emphasize superfoods, digestive enzymes, probiotics, and adaptogens as main components in their formulation.
While these products contain some similar ingredients to AG1, their ingredient lists are much shorter. Additionally, while they may be reputable alternative products, none bear a third-party testing seal. This is notable as third-party testing is a selling point in favor of AG1.
Fewer ingredients and a lack of third-party testing may be why these products are priced substantially lower than AG1—some are one-third of the price for 30 servings.
Ultimately, AG1 is a more comprehensive supplement, with a greater number of ingredients and micronutrients as well as superior quality testing, compared to similar alternatives.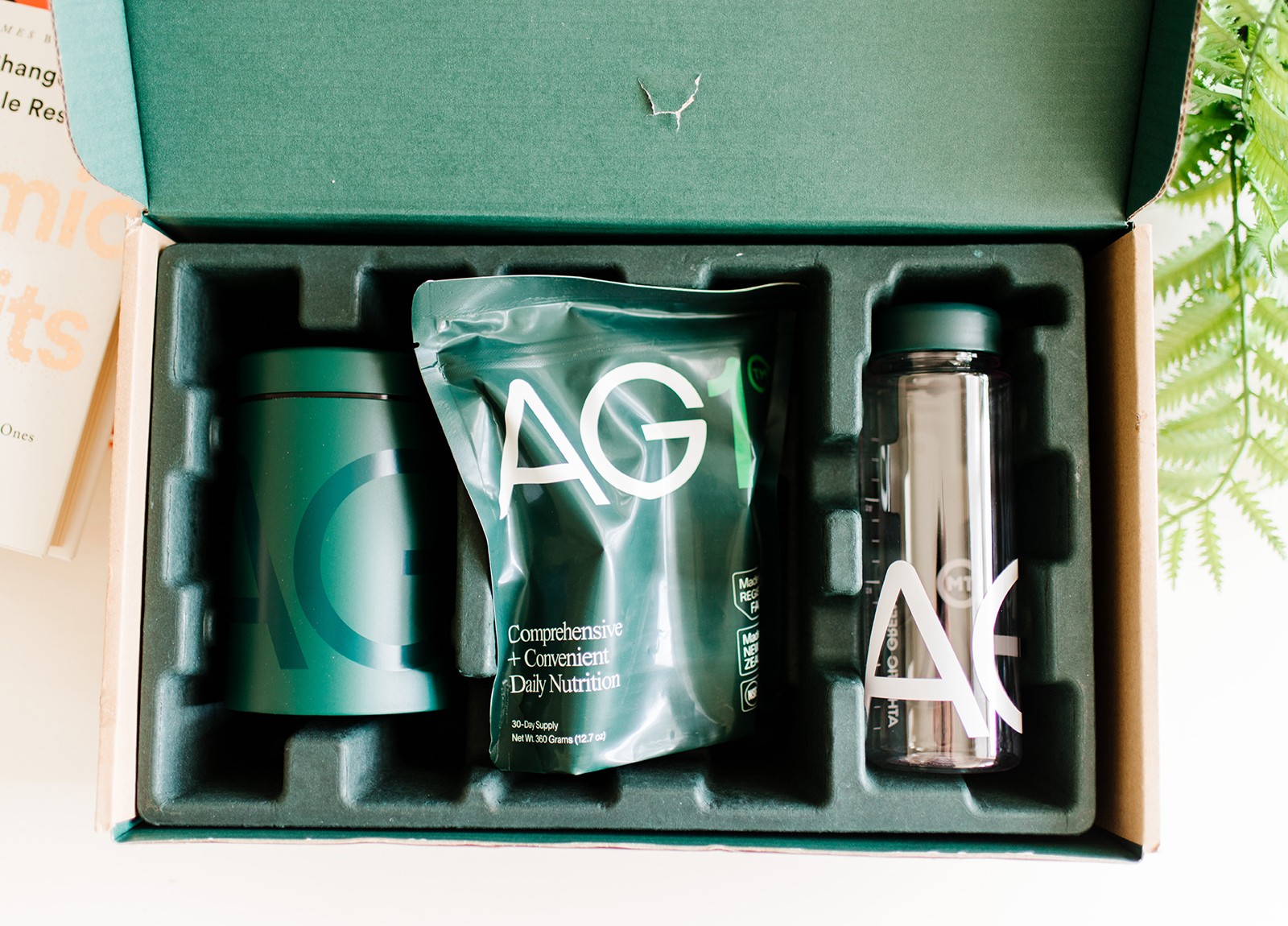 Cost and Where to Buy AG1
A 30-day pouch of AG1 is priced at $99.00, but you can sign up for a monthly subscription to get the product at a discounted price of $79.00.
With a subscription, you receive a free starter kit which includes a premium jar and shaker bottle.
The product can also be purchased in the form of travel packets. A 30-day supply of the travel packets is priced at $109.00 but reduced to $89.00 if you sign up for a monthly subscription.
AG1 can only be purchased directly from Athletic Greens. It is not currently available elsewhere, including Amazon.
Despite the lack of buying options, there is a 60-day money-back guarantee on the Athletic Greens website.
This allows you to initiate a full refund process if you're not satisfied with the product within the first 60 days of purchase.
Frequently Asked Questions About Athletic Greens
Does AG1 (Athletic Greens) replace a multivitamin?
If you're wondering if AG1 can replace your multivitamin, the answer is maybe.
As previously mentioned, AG1 offers comparable macronutrient amounts to some daily multivitamins. However, it is low or absent in a few vitamins and minerals that may be important for some people to get from a supplemental source.
If you currently take a daily multivitamin or other vitamin and mineral supplements, I recommend comparing the labels to the AG1 label to identify any nutritional differences. Not only is it important to make sure you receive the micronutrients you need, but also to make sure you're not getting too much.
If you decide to choose AG1, you should not take it with another daily multivitamin. While there is a low risk of toxicity from the nutrients present in a typical diet, getting too much of certain vitamins or minerals from supplements, like vitamins A and E, can be unhealthy and even toxic over time.
If you're concerned about certain nutrients missing from AG1, like iodine or vitamin D, I wouldn't rely on AG1 in place of your current supplements unless you've also opted to purchase the AG D3+K2 add-on.
What does AG1 taste like?
Many consumer reviews report that AG1 is "the best tasting greens product" that they have tried.
Athletic Greens states that they have spent a lot of time considering taste for the consumer. According to the manufacturer, AG1 tastes like a combination of papaya, broccoli, cherry, carrot, pineapple, and vanilla that comes together in a slightly sweet, fruity flavor.
Some consumers share that it has an earthy, grassy taste that is more typical of a green drink, which takes some time to get used to. However, taking it regularly may help with palatability, as with introducing any new flavor to your diet.
What are the benefits of Athletic Greens?
The main benefit of AG1 is that it offers a comprehensive list of micronutrients and health-promoting plant compounds in one simple scoop of powder. So, for people looking to add more greens to their diet, as well as probiotics, digestive enzymes, adaptogens, and antioxidants, this is a one-stop-shop.
While I would like to see the research behind each ingredient included in AG1, Athletic Greens does use many ingredients that have some scientific research with evidence supporting their inclusion. These particular ingredients may provide benefits including support for normal digestion, immune response, gut health, and overall well-being.
How do you use Athletic Greens?
Just mix one 12-gram scoop of AG1 into a liquid of your choice. It goes well with plain water, but you can also add it to smoothies, juice, or milk.
For optimal mixing, always add liquid to your drinking glass or bottle before adding the power.
Athletic Greens recommends taking the product first thing in the morning on an empty stomach.
The AG1 pouch should be refrigerated after opening to help keep the probiotics alive.
How can you get the most out of Athletic Greens?
The way to get the most out of your AG1 powder is to take it consistently. To remain consistent with the product, find a way to make it taste good to you.
You might like the powder just as it is, but if you want to adjust the flavor, AG1 recommends mixing the powder with 50/50 water and apple juice to add a bit of sweetness. You can also add it to smoothies, which will cover up some of the "green" flavor.
Modifying the taste to your liking will help you to enjoy it and want to keep using it.
As previously mentioned, always take AG1 first thing in the morning, on an empty stomach, and keep the product refrigerated after opening.
The Bottom Line
AG1 is a nutrient-packed, all-in-one supplement with an extensive list of vitamins and minerals and a wide variety of health-promoting ingredients.
As a dietitian, I typically recommend that people prioritize getting their nutrition from a diet based predominantly on whole, plant foods before considering supplementation, unless otherwise advised by a doctor.
However, many busy adults don't eat enough green vegetables or raw superfoods as they should for optimal health. For this reason, it is fine to complement a healthy diet with a comprehensive supplement like AG1.
Backed by research and third-party testing, AG1 seems to be a good quality choice for those seeking a drinkable product that has the potential to replace a daily multivitamin and many superfood supplements.
Ultimately, whether you consider yourself an athlete or you have a more average level of activity, at any stage of adulthood, AG1 may serve to support your overall health and well-being.
Thanks for your feedback!
In a few words, please tell us how this article helped you today.
Please let us know how we can improve this article by selecting your concern below.
Thank You! We appreciate your feedback.
*
Please select at least one topic:
Please Note: We cannot provide medical advice. This feedback will help us continue improving your user experience on WellnessVerge.
Please Note: We cannot provide medical advice. This feedback will help us continue improving your user experience on WellnessVerge.
At WellnessVerge, we only use primary references for our articles, including peer reviewed medical journals or well-respected academic institutions.