WellnessVerge is reader-supported. We may earn a commission when you make a purchase through the links on this page. Learn more about our process here.
Why You Can Trust Us
Every article and review on WellnessVerge is thoroughly researched and fact-checked by licensed health professionals. Our editorial team is made up of registered dietitians and medical doctors.
Every piece of content is also medically reviewed to ensure accuracy and alignment with sound scientific evidence and medical consensus. We only use peer-reviewed journals and reputable medical sources to form our conclusions and recommendations.
We operate with total editorial independence, and our editorial policies ensure that your well-being comes first. Based on our rigorous research, we only recommend products that are worth considering. We always disclose any ads or partnerships with brands featured on our site.
Best Fish Oil Supplements of 2023, According to Dietitians
Fish oil supplements have many benefits related to keeping your heart healthy and managing inflammation. But how do you choose the best one for you?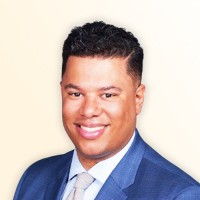 Medically Reviewed by
Anthony Dugarte, MD
Medical Reviewer
Anthony Dugarte, M.D., C.S.C.S. is a health and wellness writer and medical content reviewer. In addition to dedicating the last 8 years to medical research, Dr. Dugarte also has more than a decade of experience in strength and conditioning, nutrition, and rehabilitative exercise, as well as authoring and reviewing health and wellness-related content.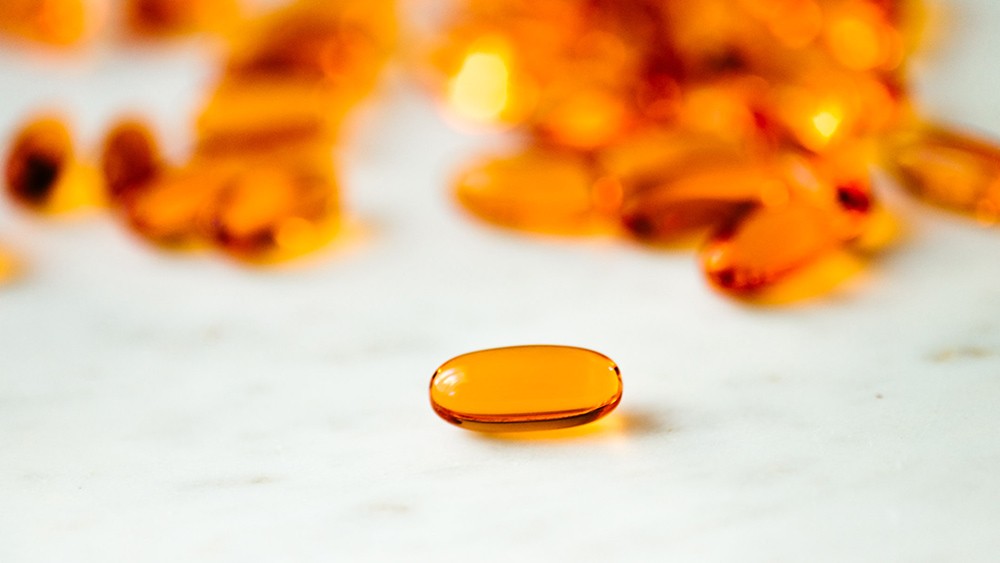 Fish oil, or omega-3 supplements, are some of the most popular dietary supplements many people use to improve health and manage health conditions.
A 2020 survey by Consumer Lab found that omega-3s rank within the top 5 most popular dietary supplements. (1) Data from the 2012 National Health Interview Survey found that 7.8% of U.S. adults use supplements containing fish oil. (2)
Consumers are likely purchasing fish oil supplements for cardiovascular and anti-inflammatory benefits.
If you are interested in purchasing a fish oil supplement for health benefits, you might get overwhelmed. We evaluated some of the fish oil supplements currently on the market and put together a list of our top picks for your consideration.
Summary of Our Picks
How We Chose These Brands
When choosing the best fish oil supplements, we evaluated each brand based on several criteria, which you can use as a frame of reference when looking for a fish oil supplement for yourself:
Type of Omega-3: The product must contain EPA and DHA.
Amount of Omega-3: Not just total fish oil. Products needed to contain at least 250 mg of combined EPA and DHA.
Fish Oil Form: The product uses fish oil as free fatty acids, triglycerides, or re-esterified triglycerides (if noted).
Brand Reputation: Does the brand have a good reputation in the industry? Are the products made in a certified Good Manufacturing Practices facility?
Purity: Is the fish oil tested for purity and heavy metals?
Professional Involvement: Are there healthcare professionals involved with the brand?
Supported by Research: Is the brand committed to research?
Price: Is the price comparable to other similar products?
Best Overall: Nordic Naturals Omega-3
Best Overall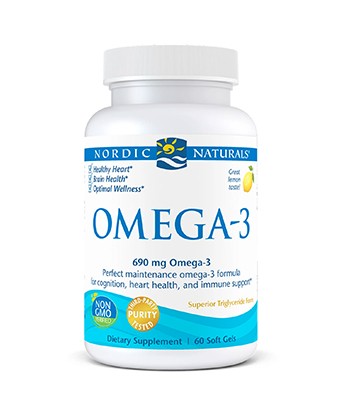 Pros
Reputable brand for omega-3 supplements
Sustainably-sourced
Third-party tested
Cons
Strict return policy
Website has a lot of omega-3 supplements to choose from, it can be challenging to select one
Our Take
While we chose the simplest omega-3 product on the Nordic Naturals site for this review, any of their multiple fish oil products is a good choice. Starting with a lower dose of omega-3s is a great place for those looking to get started with the benefits of these important fats.
Nordic Naturals is an established brand in the fish oil market. While they currently carry multiple products beyond just simple fish oil, their omega-3 product meets all of the criteria for a good supplement.
The fish oil is in the triglyceride form and is third-party tested for purity and freshness. They also provide Certificates of Analysis for every product, so you can be sure you know everything that is in your bottle of fish oil.
Their fish oils are sustainably sourced from wild-caught anchovies and sardines. The omega-3 soft gels have 690 mg of omega-3s, 330 mg of EPA, and 220 mg of DHA.
It has a lemon flavor added to prevent the "fish burps" common when taking a fish oil supplement.
It also comes in liquid form, which is more concentrated, providing 1560 mg omega-3, 745 mg EPA, and 500 mg DHA per teaspoon.
Price: $33.83 for a 180 softgels, 90-serving supply ($0.38 per serving) on Amazon.
Best Budget Pick: Nature Made Burp-Less Fish Oil 1000 mg Softgels
Best Budget Pick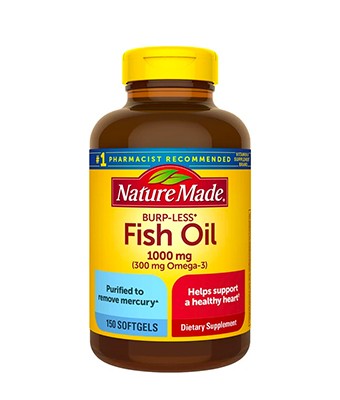 Pros
Reputable brand for dietary supplements
Third-party tested
Cost effective
Cons
The form of fish oil is not clear
Consumers complain that the softgels are large
Return policy depends on where you purchase the product
Our Take
Nature Made's Fish Oil 1,000 mg Softgels is a good choice for those looking for a budget-friendly omega-3 supplement. While it doesn't have a Certificate of Analysis like Nordic Naturals, Nature Made is a reputable company that prides itself on purity and potency. This product can also be easily found at most retailers, so most consumers can access it.
Nature Made is a well-established dietary supplement company that makes a wide variety of quality products. They have several fish oil products that contain different amounts of omega-3s.
Their Burp-Less Fish Oil 1,000 mg Softgels contain 2,000 mg fish oil, 300 mg omega-3s, and 500 mg DHA and EPA combined.
While this product is not flavored, which some brands use to cover up the fishy taste, the burp-less technology is essential when looking for an omega-3 product. No one wants to burp up fish.
Their fish oil is sourced from wild-caught fish from Peru. The fish oil is tested for purity and potency. It is also purified to remove PCBs, dioxins, and mercury.
Price: $13.34 for a 75-serving supply, 150 softgels ($0.18 per serving) on Amazon.
Best Liquid: Barlean's Seriously Delicious Omega-3 Fish Oil
Best Liquid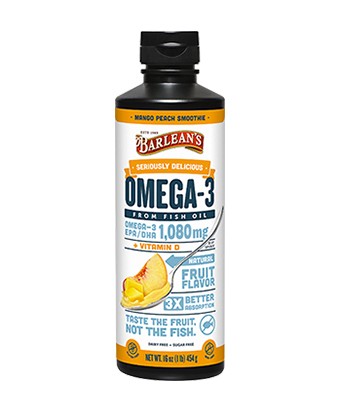 Pros
Delicious flavor makes taking fish oil easy
Third-party tested for purity
Emulsification improves absorption
Cons
Does contain calories and carbs
Some consumers may not enjoy the flavor
Provides 100% of RD of vitamin D, which may be too much if taking other supplements
Our Take
Barlean's Seriously Delicious Omega-3 Fish Oils are a great option for people who don't like to swallow pills. Since it does contain some calories and carbohydrates, those who need to watch their carb intake should be aware of this. It shouldn't raise blood sugar much since the carbs are mostly from sugar alcohols.
While many brands offer liquid fish oil, Barlean's products are high quality and taste absolutely delicious. With flavors like Lemon Crème, Pina Colada, and Mango Peach, who won't want to take their fish oil?
Their Seriously Delicious Omega-3 Fish Oil contains 1,080 mg combined EPA/DHA in a one tablespoon serving. It also has 600 IU of vitamin D to meet your daily needs.
Due to the incredible flavor, it does have 60 calories and 6 grams of carbohydrates, mostly from sugar alcohols.
Barlean's fish oil is emulsified, meaning the fats are broken down into smaller pieces for better absorption and no fish burps. This process enhances absorption by 3x compared to other types of oils.
The oil is sourced from small-bodied fish from Iceland and Alaska. Their products are third-party tested and free of mercury, PCBs, and other heavy metals.
Price: $27.99 for a 29-serving supply ($0.97 per serving) on Amazon.
Best for Vegans and Vegetarians: Vegetology Omega-3 EPA and DHA
Best for Vegans or Vegetarians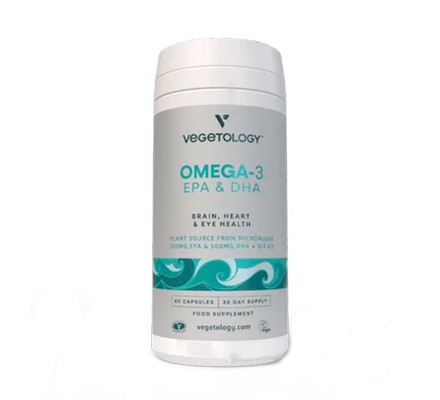 Pros
100% vegan
Appropriate for those with fish allergies
Cons
Provides only a small amount of vitamin D, an important nutrient for vegans
Form of the omega-3 oil is unclear
Our Take
With the popularity of fish oil supplements and plant-based diets, it is great to have a vegan option for omega-3s. It is also a great choice for people allergic to fish, a common allergen. Additionally, omega-3 supplements made from algae may have a high level of carotenoids compared to fish oils, which are antioxidants that are important for reducing inflammation and oxidative stress. (3)
While a vegan supplement won't be made from fish oil, it can still be rich in omega-3s. Omega-3 fats can be sourced from algae oil, which is the food the fish eat, as a source of omega-3s.
Vegetology's Omega-3 EPA and DHA is 100% vegan and registered with the Vegan Society. It is tested for potency and purity. In addition, their products are gluten-free and non-GMO.
The product contains 912 mg of omega-3s, 500 mg DHA, and 300 mg EPA. It also contains 200 IU of vitamin D.
Price: $26.11 for a 30-serving supply, 60 capsules ($0.87 per serving) on Amazon.
Best Subscription: Care/of Fish Oil
Best Subscription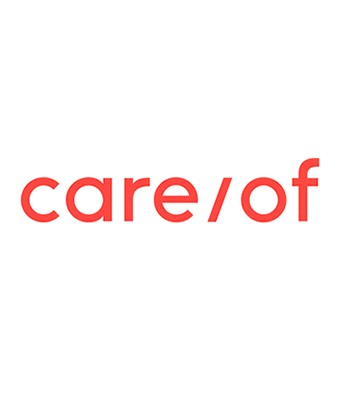 Pros
Convenient to subscribe to a monthly service
Sustainably-sourced fish oil
Cons
No clear involvement of healthcare professionals with the brand
If you don't keep up on taking your products daily, you could end up with more than you need
Our Take
Subscription services, like Care/of, are a great way to be consistent with taking supplements. While most Care/of products are recommended via an online quiz, you can always add fish oil to your order. They also offer vegan fish oil, if preferred.
Subscription vitamin services make it easy to be consistent with taking your supplements. Most will deliver your products monthly, and some even place them into convenient daily "packs."
Of the products we evaluated, Care/of Fish Oil met my criteria. The fish oil is cold-pressed and comes from a sustainable source.
It contains 2,000 mg of Wild Alaskan Salmon Oil and 600 mg of omega-3s. In addition, the product has 220 mg DHA and 180 mg of EPA.
Care/of also offers an extensive research library so you can learn more about the benefits of their products.
Price: $16 for a 30-serving supply with a subscription ($0.53 per serving).
What Is Fish Oil?
Omega-3 Fatty Acids
Fish oil contains a type of essential fat called omega-3 fatty acids. (4) These fats are considered essential because they must come from the diet — the body cannot make them on its own, unlike other types of fat.
There are three primary omega-3 fatty acids:
Alpha-linolenic acid (ALA), from plant oils
Eicosapentaenoic acid (EPA), from fish oil
Docosahexaenoic acid (DHA), from fish oil
While the main source of EPA and DHA comes from eating fish, these essential fats are not made by the fish themselves. They are synthesized by microalgae in the ocean. The microalgae are consumed by phytoplankton, which is, in turn, eaten by fish. (5)
The food the fish eat is the reason why they are rich in omega-3 fats. This is also why farm-raised fish are not as high in omega-3s, as they are often fed a different diet that is not a good source of omega-3s.
Omega-3 supplements can be sourced from:
Coldwater fish
Krill oil
Cod liver oil
Algal oil (vegetarian)
They are found in these forms:
Re-esterified triglycerides
Natural triglycerides
Free fatty acids
Phospholipids
Ethyl esters
There is mixed evidence about which of these forms is best.
There is some indication that ethyl esters may not be as well absorbed, but the data is unclear. (6) Also, krill oil can sometimes be extracted with hexane, which can cause nerve damage. (7)
What Is the Recommended Daily Amount?
The Dietary Reference Intakes (DRIs) by the National Institute of Health provide no recommended daily amount of omega-3 fatty acids. There is currently insufficient data to establish a daily requirement. (8)
The Adequate Intake included in the DRIs is for ALA form of omega-3 only (1.6 g for men and 1.1 g for women). ALA can be converted into DHA and EPA, which is why there is no recommendation for omega-3 intake in general.
However, this conversion can be very inefficient, particularly when the diet is also high in omega-6 fats like the western diet. (9) Omega-6 fats interfere with the conversion and absorption of omega-3s.
So, unless you are focused on getting in enough omega-3-rich foods and reducing your intake of omega-6, it makes it challenging to meet daily omega-3 needs. Therefore, many people choose to take a fish oil supplement.
Besides the US-based National Institute of Health, other health organizations do have recommendations for how much omega-3 is needed.
The European Food Safety Authority and the World Health Organization recommend 250–500 mg/day of EPA and DHA for heart health. Doses of up to 3,000 mg per day are considered safe. (10, 11)
Frequently Asked Questions
What are the benefits of fish oil?
EPA and DHA have been found to: (12)
Help maintain healthy cholesterol and triglyceride levels
Support heart health
Maintain normal blood pressure
Promote joint health
Support eye health
Increase mental focus
Support a healthy weight
Regulate mood
Improve immune function
Note that many of these possible benefits were discovered via observational studies. These types of studies can only determine a link between two variables.
It is also unclear if some of these benefits are from eating fish or from taking omega-3 supplements.
People who consume seafood 1–4 times a week are less likely to die from heart disease, but supplementation of omega-3s has not been shown to reduce the risk of heart disease. (13)
Are there any safety concerns with omega-3s?
While omega-3s in dosages under 3,000 mg is considered safe for most people, there are some safety concerns. (13)
General side effects can include fishy burps, bad breath, bad-smelling sweat, digestive symptoms such as nausea and headaches.
Several studies have found that omega-3 fatty acids might increase the risk of prostate cancer. Omega-3s can also interact with blood clotting medications.
Fish oils should be avoided by people with allergies to fish. Always speak to your doctor before taking any supplements, particularly if you have concerns regarding your heart health.
Do fish oils contain mercury?
High-quality fish oil should not contain mercury or any harmful heavy metals. Be sure to check the label for purity.
What is the best time to take a fish oil supplement?
You can take fish oil any time of the day. But it might go down better with a meal. Taking it on an empty stomach may cause nausea for some people.
Can I take fish oil with other supplements?
Yes, you can take fish oil with other supplements as they do not interact with absorption.
The Bottom Line
Fish oil remains a popular dietary supplement due to its possible benefits. But be aware that no dietary supplement can replace a healthy diet.
It remains unclear if you get the most benefits of omega-3s from fish or supplements.
If you are concerned about your heart health, it is best to start by speaking with your doctor. Trying to self-medicate with supplements can delay important medical needs that could have been addressed earlier.
We always recommend opting for food over supplements. The recommended amount to meet your omega-3 intake is two servings of fatty fish per week.
The best choices for fish high in omega-3s but low in mercury are anchovies, herring, salmon, mackerel, sardines, and trout. You can find a complete list with amounts of omega-3s here. (14)
Also, consider adding plant-based sources of omega-3s such as walnuts, flaxseeds, or chia seeds to your diet.
If you don't like fish or don't regularly have access to seafood, a fish oil supplement can help increase your intake. Always choose a high-quality brand that is tested for purity and potency.
Thanks for your feedback!
In a few words, please tell us how this article helped you today.
Please let us know how we can improve this article by selecting your concern below.
Thank You! We appreciate your feedback.
*
Please select at least one topic:
Please Note: We cannot provide medical advice. This feedback will help us continue improving your user experience on WellnessVerge.
Please Note: We cannot provide medical advice. This feedback will help us continue improving your user experience on WellnessVerge.