WellnessVerge is reader-supported. We may earn a commission when you make a purchase through the links on this page. Learn more about our process here.
Why You Can Trust Us
Every article and review on WellnessVerge is thoroughly researched and fact-checked by licensed health professionals. Our editorial team is made up of registered dietitians and medical doctors.
Every piece of content is also medically reviewed to ensure accuracy and alignment with sound scientific evidence and medical consensus. We only use peer-reviewed journals and reputable medical sources to form our conclusions and recommendations.
We operate with total editorial independence, and our editorial policies ensure that your well-being comes first. Based on our rigorous research, we only recommend products that are worth considering. We always disclose any ads or partnerships with brands featured on our site.
Instaflex Advanced Review: Shown to Work But Expensive
Instaflex Advanced is a comprehensive joint pain relief supplement with research supporting its benefits. It has thousands of positive reviews praising varying degrees of its effectiveness, but it's more expensive than similar products.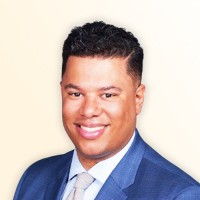 Medically Reviewed by
Anthony Dugarte, MD
Medical Reviewer
Anthony Dugarte, M.D., C.S.C.S. is a health and wellness writer and medical content reviewer. In addition to dedicating the last 8 years to medical research, Dr. Dugarte also has more than a decade of experience in strength and conditioning, nutrition, and rehabilitative exercise, as well as authoring and reviewing health and wellness-related content.

Key Takeaways (TL;DR)
There is plenty of strong scientific evidence to support the effectiveness of Instaflex Advanced as a whole as well as for its main active ingredients.
While this product has good support for its benefits for joint pain and discomfort relief, much of the research is limited to short durations. So at this time, long-term effectiveness has not been studied.
There are thousands of 5-star reviews on Amazon, with users reporting varying degrees of positive results for joint pain and discomfort. However, many reviewers stated the product did not work for them.
Instaflex Advanced is worth considering if you are looking for non-medication joint pain relief. However, Instaflex is more expensive than similar supplements, so it's important to consider its ongoing monthly cost.
The main ingredients of Instaflex do not pose a risk of significant side effects. However, some of them may interact with medication.
What Instaflex Gets Right
The ingredients have plenty of scientific evidence for relieving joint pain and discomfort.
A promising 2013 clinical trial showed that Instaflex effectively alleviated joint pain.
The recommended dosage is one capsule daily, making it easy to take.
Important Considerations
Most of the research on Instaflex only focused on short-term benefits, nor is this supplement meant to cure any underlying issues.
Instaflex is not third-party tested for product quality and purity.
It is priced significantly higher than most other over-the-counter joint supplements.
Some of its ingredients may interact with other anti-inflammatory medications.
Instaflex Advanced in a Snapshot
Instaflex Advanced is a once-a-day glucosamine-free supplement intended to relieve joint pain in as little as 7 days among people who experience mild to moderate pain levels.
Additionally, sustained pain, stiffness relief, and increased mobility are claimed to improve with continued use of the product.
Instaflex was developed in collaboration with David Katz, MD, MPH, FACPM, FACP, a world-renowned physician with an impressive resume. It has a comprehensive formula with promising support behind its ingredients and benefits for joint pain.
Many joint pain supplements are on the market; most are glucosamine and chondroitin based. Instaflex is unique because its formula does not contain these ingredients. So if glucosamine and chondroitin supplements did not work for you, or you want to avoid these ingredients, Instaflex is a good alternative.
How to Take It
The manufacturer recommends taking one capsule of Instaflex per day, with or without food. A 30-capsule bottle will last you one month (30 days).
A capsule is not large (see photo below), and many consumers report that this product is easy to swallow.
Tip: To experience the benefit of Instaflex, you'll need to take it consistently. Taking it at the same time each day (for example, before breakfast) and keeping it on the counter (or somewhere else you'll see it daily) will help you build a good habit.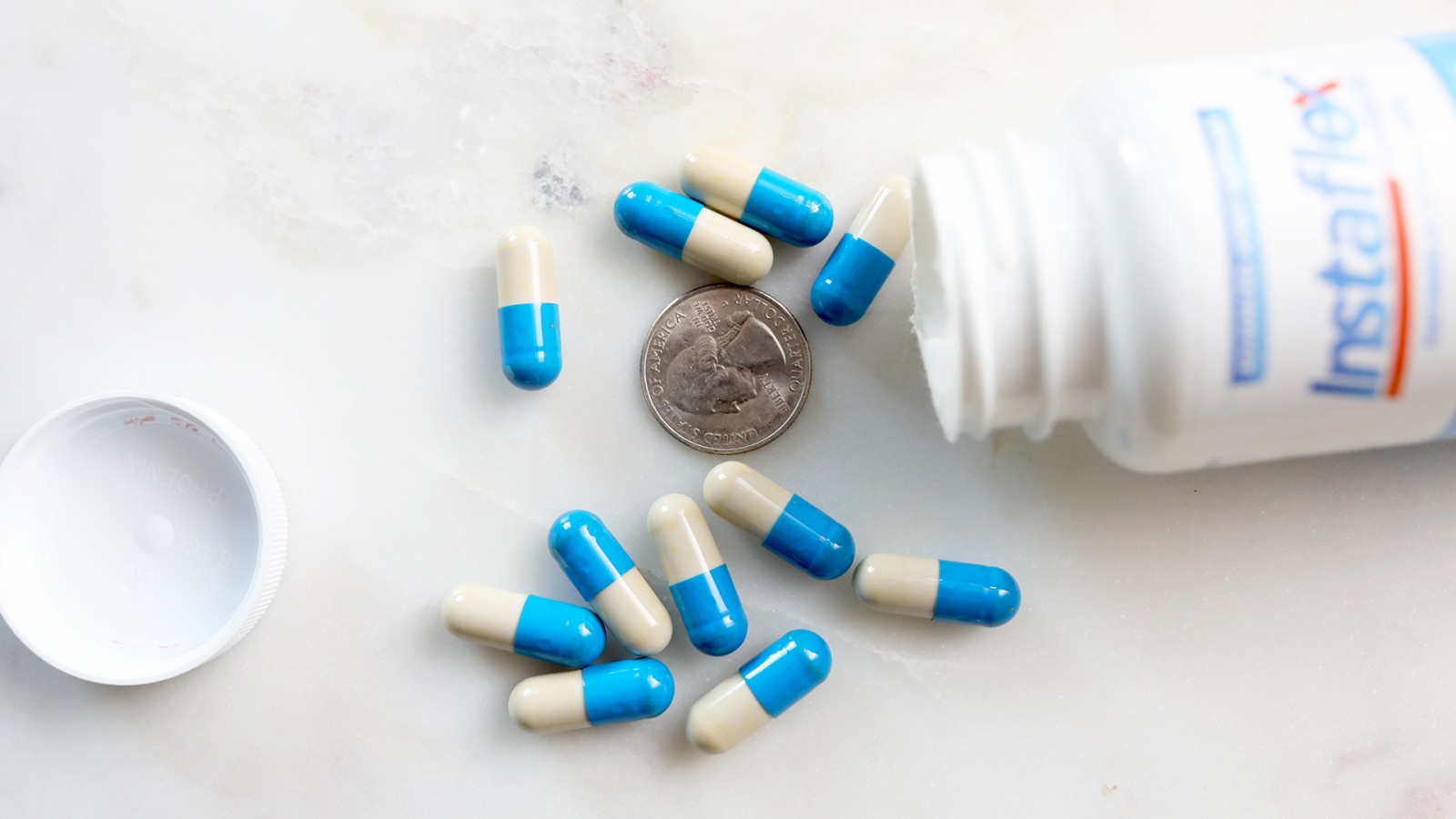 Instaflex Is Expensive, So Consider the Monthly Cost
One 30-day supply bottle of Instaflex Advanced is $69.99 on the brand's website (plus shipping).
Instaflex is available at a lower cost from Amazon (around $55), Rite Aid ($58), and other popular retailers, so we recommend shopping around. With many of these retailers, you'll get free shipping too.
Tip: You can purchase a two-week supply of Instaflex Advanced for $22 on Amazon to try it out before committing to a larger quantity.
Instaflex is more expensive than many other joint products. But the available evidence supporting the effectiveness of its ingredients makes this product worth the price. However, like any joint pain supplement, it requires continual use to experience benefits. We recommend considering the monthly cost to make sure it fits your budget. If it doesn't, there are more affordable supplements that are worth considering.
If buying from the brand's website, the manufacturer offers a 30-day money-back guarantee (including shipping) to reduce the risk of trying the product. To get a refund, there are specific steps you must follow, so make sure to read their refund policy.
The brand also offers a 14-day trial for $4.99. However, you must subscribe to receive a monthly supply of their product after the 14-day trial is up. You will need to cancel within 18 days after placing your order, or you will be billed for a 30-day supply. (14 days may be enough time to try the product for some people, but some of the ingredients may take 90 days to produce an effect.)
The Ingredients in Instaflex Have Strong Evidence Supporting Their Benefits for Joint Pain
Instaflex uses a unique and comprehensive formulation of five active ingredients. A good amount of quality scientific evidence supports the benefits of Instflex as a whole and its individual ingredients for joint pain relief.
For example, one promising trial showed that Instaflex was significantly more effective for reducing knee joint pain in middle-aged and older adults compared to a placebo. (1)
Below, we'll summarize the research and provide key takeaways for each of the main ingredients in Instaflex.
It is also worth noting that the brand claims you may experience relief in as little as 7 days. However, most studies on the ingredients in Instaflex showed benefits after two weeks to 90 days.
Turmeric Extract
Instaflex Advanced uses Turmeric extract, a potent spice known for its anti-inflammatory and antioxidant properties. Its active component is curcumin. The downside of curcumin is that it's poorly absorbed by itself. As a result, Instaflex Advanced also uses piperine, the active component in black pepper, to enhance curcumin absorption. (2)
Studies show that turmeric may help alleviate muscle soreness due to exercising and may have anti-inflammatory effects. (3) Studies also showed that turmeric supplementation may help with knee pain for people with osteoarthritis. (4, 5)
Much of the promising results for turmeric were evaluated at doses of at least 500 mg daily, but Instaflex contains 200mg.
Resveratrol
Resveratrol is another antioxidant compound found in grape and berry skin. Some studies show that resveratrol supplementation helped reduce mild to moderate pain and inflammation. (6)
AprèsFlex-Boswellia Serrata Extract
AprèsFlex is derived from Boswellia serrata gum resin and may be more helpful as an anti-inflammatory, particularly for alleviating joint-related pain. Studies demonstrated that Boswellia serrata extract also helped relieve pain and act as an anti-inflammatory. The studies used 100 mg daily of boswellia serrata extract for patients, which is how much Instaflex Advanced contains. (7, 8, 9)
UC-II
UC-II contains 10 mg of total collagen and 3 mg of undenatured type II collagen. Collagen is the main structural protein in skin, bone, and other connective tissues. Type II collagen is found in elastic cartilage, which cushions the joints, so it makes sense that it's used in this supplement.
A good study showed that UC-II supplementation was safe and helped healthy people move their knees better, reduce joint pain that comes from doing activities that require a lot of effort, and for people to maintain such activities for longer periods of time. Additionally, UC-II supplementation helps improve knee joint symptoms in people with osteoarthritis. (10, 11)
Hyaluronic Acid
Hyaluronic acid is a naturally occurring substance that helps the skin retain moisture. It's often used in joint products. Numerous studies show that hyaluronic acid supplementation is a safe and effective way to relieve inflammation and mild knee pain and improve muscular strength. (12, 13)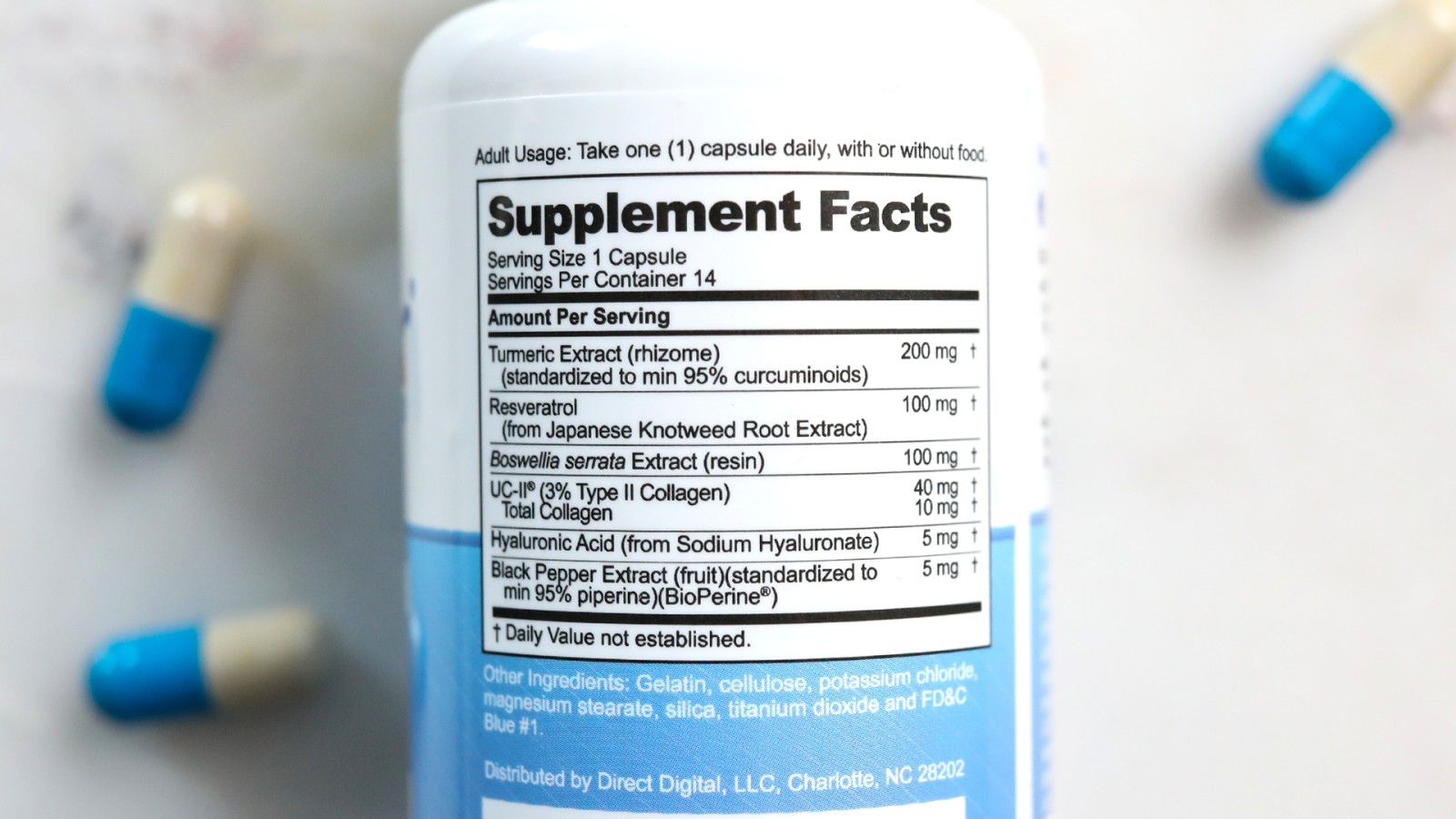 This Supplement Is Generally Safe
The main ingredients of Instaflex do not pose a risk of significant side effects. However, one of its ingredients, Boswellia serrata, may interact with medication.
Boswellia serrata may interact with lipid-lowering drugs, blood-thinning medications, glucosamine and chondroitin, anti-proliferative agents, and asthma medications. (14)
If you have any preexisting condition, it's best to speak with your physician before taking Instaflex to ensure it's safe and appropriate for your unique situation.
Tip: We recommend speaking with a specialist to ensure your joint health concerns are appropriately evaluated, and comprehensive lifestyle approaches are considered.
Thanks for your feedback!
In a few words, please tell us how this article helped you today.
Please let us know how we can improve this article by selecting your concern below.
Thank You! We appreciate your feedback.
*
Please select at least one topic:
Please Note: We cannot provide medical advice. This feedback will help us continue improving your user experience on WellnessVerge.
Please Note: We cannot provide medical advice. This feedback will help us continue improving your user experience on WellnessVerge.
At WellnessVerge, we only use reputable sources, including peer-reviewed medical journals and well-respected academic institutions.