Evidence Based Research
Our editorial team is made up of expert registered dietitians with extensive, real-world clinical experience who are highly trained in evaluating clinical research.
Liquid IV Review: Pros, Cons, and Is It Worth It?
Liquid IV is a line of electrolyte and glucose enhanced powdered packets that are added to water to boost hydration. There is solid science behind the ingredients in this product, but the primary claim of improving hydration by 2–3x is difficult to substantiate.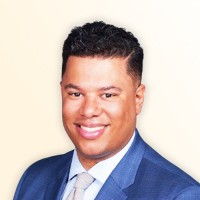 Medically Reviewed by
Anthony Dugarte, MD
Medical Reviewer
Anthony Dugarte, M.D., C.S.C.S. is a health and wellness writer and medical content reviewer. In addition to dedicating the last 7 years to medical research, Dr. Dugarte also has more than a decade of experience in strength and conditioning, nutrition, and rehabilitative exercise, as well as authoring and reviewing health and wellness-related content.
WellnessVerge is reader-supported. When you make a purchase through links on this page, we may earn a commission. Learn More

Pros

May help encourage people to drink more water
Contains no allergens
Company is involved in many humanitarian projects

Cons

Each stick contains 11g of sugar, which may be too much for some
High in sodium with 22% of the Daily Value per stick
Expensive when purchased from the brand's website
What Is Liquid IV?
Liquid IV is a line of electrolyte powders designed to be added to water to enhance hydration and address specific health concerns, such as sleep and energy.
Liquid IV was founded by CEO Brandin Cohen, who, as a former athlete himself, knew how unhealthy many hydration beverages could be.
He began by studying the science of oral hydration therapy and set out to develop something better.
While Brandin Cohen does not have any formal medical training, a Medical Director is involved with Liquid IV – Dr. Brad Thomas, an orthopedic surgeon.
The differentiator of Liquid IV compared to other hydration products or beverages is its Cellular Transport Technology or CTT.
This is a delivery system of nutrients and water designed to enhance the absorption into the bloodstream by changing the osmolarity of water so it moves faster into the blood.
Liquid IV comes in a variety of flavors and types: hydration, sleep, energy, and immunity. Each packet contains the CTT with the addition of ingredients to enhance the product for the specific health benefit.
The company is involved in many social causes and has donated over 500,000 servings of its products to fight dehydration in developing countries and the United States. (1)
Does It Really Work?
Oral rehydration therapy (ORT), originally promoted by the World Health Organization as a way to help children with diarrhea and dehydration, has been extensively researched and used for over 40 years. (2)
Classic ORT beverages contain a combination of sodium chloride, glucose, and potassium to create a liquid that is of a very specific osmolarity, which allows the liquid to move into the body faster. (3)
The goal is to boost hydration and replenish electrolytes without creating any imbalances. This type of therapy has helped many children in developing countries recover from illnesses such as cholera or dysentery. (4)
Liquid IV applied this protocol to their product and rebranded it for a health-focused consumer and athlete.
The claim is that their proprietary CTT in their product enhances the hydration potential of water by 2–3 times.
I was unable to find any research to support the exact claim that ORT boosts hydration by 2–3 times, but there is extensive research on its ability to alleviate dehydration quickly and safely.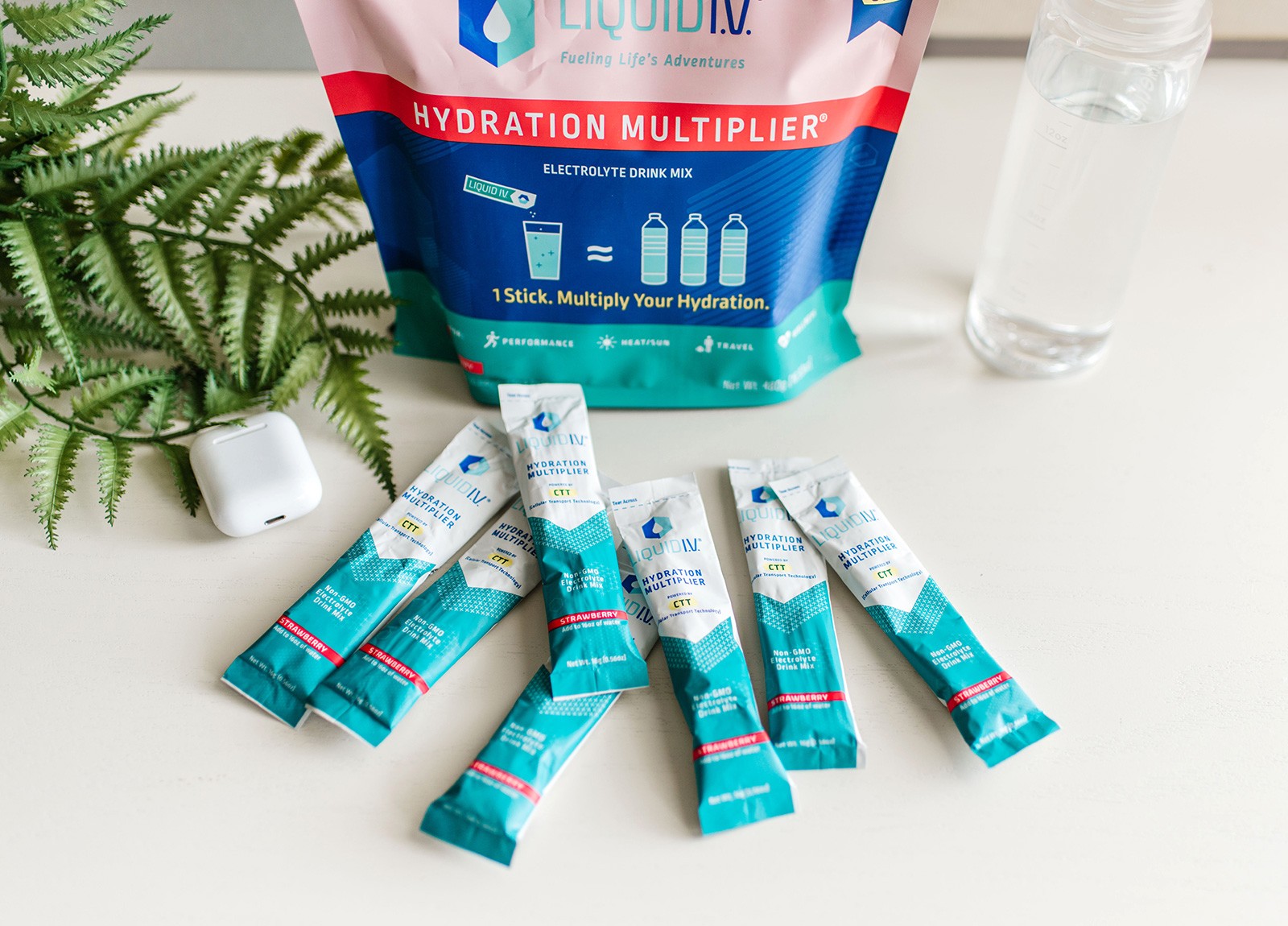 The entire line of Liquid IV consists of quality products with research to support the claimed benefits. While it is a bit high in sodium and sugar for some people, the nutrient composition is what would be expected and required for proper ORT.
While ORT has been extensively researched and used to help treat severe dehydration and malnutrition, there isn't extensive research on the benefits of ORT for a healthy population.
While athletes do need to replace sodium, water, and other electrolytes to prevent dehydration during physical activity, the amount that needs to be replaced is dependent on the sport, the time spent exercising, and intensity. (5)
There is no standard recommendation for an optimal hydration beverage for athletes.
Liquid IV also emphasizes the need for reducing dehydration by replacing electrolytes, but you can easily prevent dehydration with just plain water.
Additionally, most people who exercise for an hour or less do not need to replace electrolytes.
On a day-to-day basis, a rehydration product is likely not necessary. But Liquid IV is a great option for helping you stay hydrated on a hot day or to rehydrate after a few too many cocktails.
Liquid IV Product Line
Liquid IV carries four primary products. Each one is available in different flavors.
Hydration Multiplier
The Hydration Multiplier is Liquid IVs primary product. It is a stick of powder that is added to 16 ounces of water.
It comes in 7 different flavors, such as lemon-lime, guava, strawberry, and apple pie.
Each stick has 45 calories. The ingredients include the CTT (glucose, sodium, potassium), water-soluble B-vitamins, and vitamin C.
The sodium comes from mined salt. The potassium is in the form of potassium citrate. The glucose comes from pure cane sugar that is non-GMO.
Hydration Multiplier is high in sugar and sodium, with 11 g of sugar per serving and 500 mg of sodium.
This is 22% of the Daily Value for sodium. But sugar and salt are two of the three active ingredients in the product and the reason why it enhances hydration.
I personally use the Hydration Multiplier. A few years ago, drinking a packet before and after, helped me emerge minimally scathed from a Las Vegas pool party in 100+ degree weather. I have been using it from time to time ever since.
I find it helpful on hot days or post-celebrations involving alcohol. I find it does make me feel re-hydrated quickly after drinking it.
I don't love the "electrolyte" flavor, which is similar to other electrolyte-enhanced beverages, but it gets the job done.
I have tried the strawberry and lemon-lime flavors, I am not sure there is one I prefer over the other.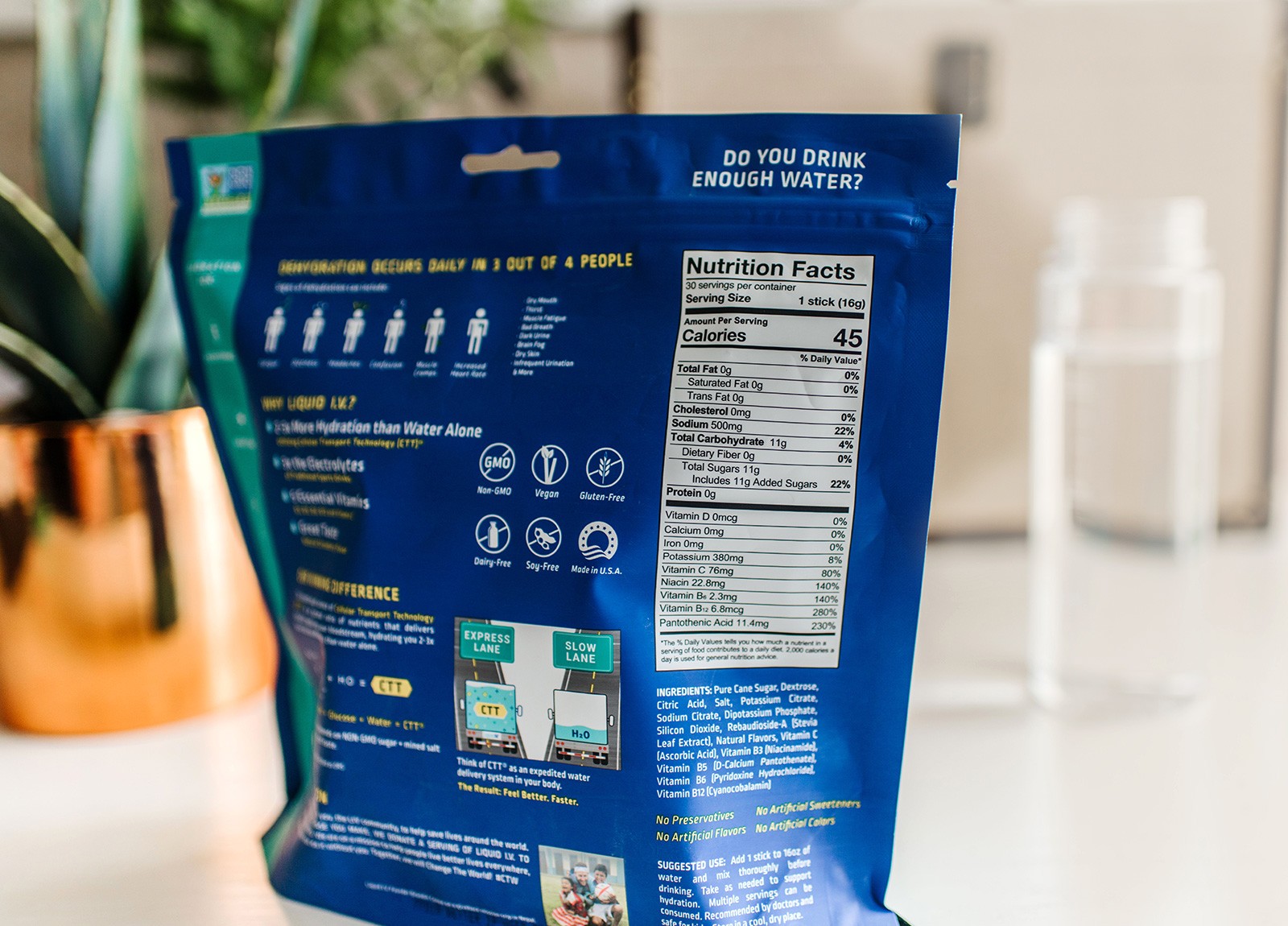 Energy Multiplier
The Liquid IV Energy Multiplier contains the CTT with the addition of matcha, guayusa, and ginger. The exact amount of these ingredients is not listed.
Matcha and guayusa are two types of tea that contain caffeine. These provide approximately 100 mg of caffeine or the equivalent of a cup of coffee.
Matcha, guayusa, and ginger are all sources of antioxidants, which is an added benefit to this product. Antioxidants help neutralize the damage caused by free radicals. (6, 7, 8)
Summary:
Energy Multiplier is a great substitute for coffee, although it does contain some sugar and sodium. But it will help you be more hydrated and give you a caffeine-based energy boost.
Sleep Multiplier
The Liquid IV Sleep Multiplier contains the CTT, as well as L-theanine, melatonin, and valerian root extract.
L-theanine is an amino acid found in tea that helps promote relaxation. There is evidence that L-theanine may help improve sleep quality. (9)
There is no established optimal dosage for L-theanine; the Sleep Multiplier contains 50 mg. Valerian root is an herb that may help reduce anxiety and support quality sleep. (10, 11)
The optimal dosage of valerian root to promote sleep is 300–600 mg. However, the Sleep Multiplier contains 175 mg, less than the ideal dose. (12)
Melatonin, also known as the "sleep hormone," helps us fall asleep. Taking melatonin as a supplement before bed has been found to help with falling and staying asleep. (13)
The optimal dosage of melatonin is anywhere from 0.5–10 mg per day. Sleep Multiplier contains 3 mg, which is a fairly standard dose found in dietary supplements.
Summary:
Sleep Multiplier contains evidence-based ingredients that can help improve sleep, but some are in smaller dosages than are recommended.
Hydration Multiplier + Immune Support
The Immune Support product contains CTT, vitamin C, zinc, and a proprietary ingredient called Wellmune.
Vitamin C is essential for immune function. It plays a role in helping make white blood cells, fight off free radicals, and may even help ward off the common cold. (14)
The Immune Support product contains 504 mg of Vitamin C, which is above the Recommended Dietary Allowance (RDA), but not near the upper limit of this vitamin. (15)
Zinc is an essential mineral that also plays a role in immune function. The Immune Support contains 10.4 mg of zinc, which is 90% of the RDA for men, but above the RDA for women. (16)
Wellmune is a proprietary ingredient that contains beta-glucans, which have been found to support immune health. (17)
It is not clear how much Wellmune is in the product. The ideal dosage for beta-glucans has not been determined.
Summary
Immune Support provides nutrients that are important for immune function.
Verdict on Claimed Benefits
Below is our summary of the available evidence for the claimed benefits of Liquid IV based on the available research:
| | |
| --- | --- |
| 2–3x more hydration than water alone | Moderate Evidence |
| Non-GMO and no artificial ingredients | Gold Star Evidence |
| 3x the electrolytes of sports drinks | Gold Star Evidence |
There is plenty of evidence for the oral rehydration therapy, but I could not find anything to verify "2–3x more hydration."
The product is non-GMO, contains no artificial ingredients, and does have more sodium and potassium than other sports drinks.
Side Effects, Safety, and Dosage
The dosage for all the Liquid IV products is 1 packet mixed into 16 ounces of water. Mix the packet, allow it to dissolve, and drink.
It does tend to separate over time, so it is best to add it to a bottle in which you can shake it as needed.
The main safety concern for the Hydration Multiplier is the sodium and sugar content. Therefore, this product should be used with caution by people with diabetes or high blood pressure.
It provides about 1/4 of the daily sodium needs for most people. Many of us already consume too much sodium; therefore, I would not recommend consuming more than 1 of these packets per day. (18)
The Energy Multiplier contains 100 mg of caffeine. The maximum safe dose is 400 mg/day. Therefore, if you are going to drink this as a source of energy, you have to consider it in light of other caffeine you are consuming. (19)
High doses of caffeine can cause irregular heartbeat, difficulty breathing, and damage to your heart. (20)
For the Sleep Multiplier, there are also some side effects to be considered. Large doses of L-theanine can cause nausea, headaches, and irritability. These side effects are seen in dosages far beyond what is in this product. (21)
There are few adverse effects of valerian root. It can cause headaches, digestive disturbances, dizziness, excessive sleepiness, or restlessness, but generally at high doses above 900 mg. (22)
Melatonin is considered safe but may have similar side effects to valerian root, such as headaches, dizziness, and sleepiness. There is limited data on the long-term use of melatonin. (23)
For the Immune Support product, vitamin C is a water-soluble vitamin and is considered safe. However, dosages above the upper limit of 2000 mg may increase the risk of kidney stones, nausea, and other digestive problems. (24)
While zinc is an essential mineral, taking zinc regularly can interfere with the absorption of other minerals. Because of this, I would not take this product every day but only limit it to when you need a bit of additional immune support. (25)
Beta-glucans are considered relatively safe, but there is limited evidence on their potential side effects at this time. (26)
Before taking any dietary supplement, particularly the Liquid IV packets with specialized ingredients, I would recommend speaking to your doctor.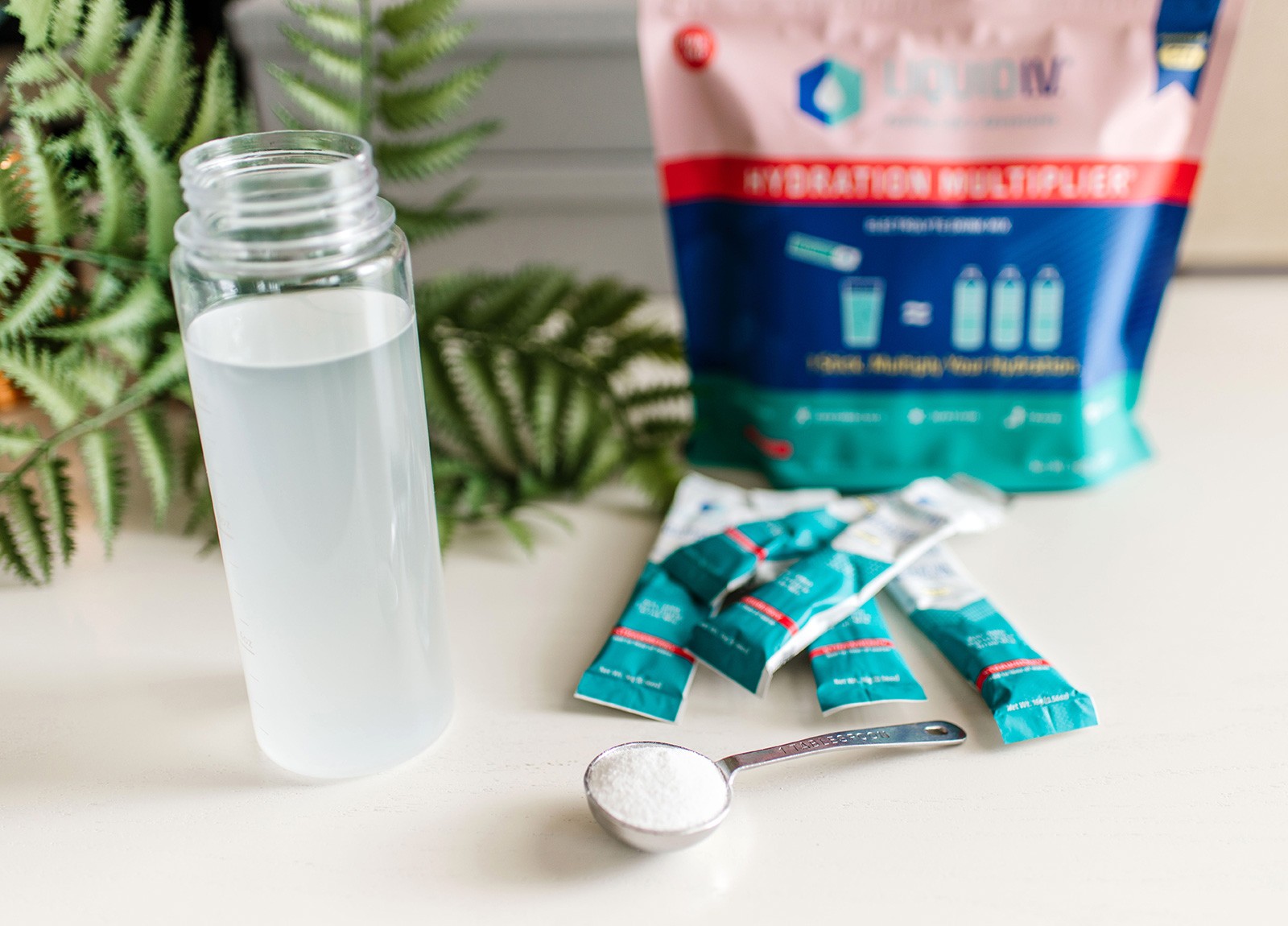 Cost and Where to Buy
The cost of Liquid IV varies depending on where you purchase it and the product itself. It seems it is most expensive to order directly from the brand's website, although they carry the biggest variety of products.
When ordering from the Liquid IV website, there is the option of bundling multiple products together as well as subscribe and save, which can save you money:
For a 16-count of Hydration Multiplier, the cost is $24.47 ($1.53/stick).
The price goes down if you purchase the 96-count pack to $1.25 a stick.
Subscribe and save brings the cost down to $1.25/stick as well.
Both Walmart and Costco have the Hydration Multiplier for cheaper at $.94/stick or $.73/stick, respectively.
Costco is also less expensive for the Energy Multiplier at $29.99 for a 24 pack versus $46.99 for a 28 pack on the Liquid IV website.
The Immune product is also less expensive at Costco at $21.99 for 24 packets.
The Sleep Multiplier is the most expensive of the four products. The cost on the brand's website is $23.99 for 10 sticks or ($2.40/stick). Unfortunately, I was unable to locate the Sleep product at other retailers.
I think the price of Liquid IV is a bit steep for a beverage. Plain water is just as hydrating for most situations. I use the product sparingly for this reason.
How Liquid IV Compares to Alternatives
There are many other electrolyte and hydration products on the market.
Drip Drop is a competitor to Liquid IV that also uses ORT in its products. But their packets are slightly more expensive at over $2 per stick and higher in sugar and sodium.
Drip Drop carries packets you can mix into hot water specifically but does not have health-specific products like Liquid IV.
Nuun has a variety of hydration and electrolyte products designed for athletes. They have a similar packet-based product with electrolytes and vitamins that are slightly more expensive at above $2 per packet.
Nuun also carries a variety of products for energy and immunity, similar to Liquid IV.
You could also compare Liquid IV to other electrolyte beverages, like Gatorade or Powerade. These are generally higher in calories and sugar but lower in sodium.
These types of drinks are significantly less expensive. You can purchase a 12 pack of Gatorade at Walmart for approximately $6.
Based on several hydration products I evaluated, Liquid IV seems to be comparable and slightly less expensive than many others, especially if purchased at Costco or Walmart.
Liquid IV is a great choice if you are looking for a hydration product after an extra sweaty workout or after a night of enjoying a few cocktails.
Frequently Asked Questions About Liquid IV
How does Liquid IV work?
Liquid IV is a powdered supplement you add to water that increases your hydration. It uses Cellular Transport Technology (CTT) based on the oral rehydration therapy formula, an extensively researched way to rehydrate after severe dehydration. It uses a specific ratio of glucose (sugar), sodium, potassium, B-vitamins, and vitamin C to enhance the hydration potential of water.
What is in Liquid IV?
Liquid IV contains a specific ratio of sodium, glucose, and potassium, as well as B-vitamins and vitamin C. It has 3x the electrolytes of traditional sports drinks with less than half the sugar and calories.
How do I use Liquid IV?
Just mix 1 packet into 16 ounces of cold water, shake, and drink.
When is the best time to take Liquid IV?
While you can take Liquid IV any time, it would be an ideal beverage if you are exercising or working outdoors in the heat. It is also great for rehydrating after an evening of enjoying a few adult beverages.
What does Liquid IV taste like?
The taste is rather pleasant and lemonade-like. Since Liquid IV comes in a variety of flavors, the taste notes somewhat resemble the respective advertised flavor. Overall, it's very easy to consume and doesn't require an acquired taste of any kind.
Is Liquid IV high in sodium?
Yes, one packet has 500 mg of sodium or 22% of the Daily Value. But, sodium is one of the essential electrolytes needed for oral rehydration therapy. So, if you are watching your sodium intake, you may want to consider the sodium content of Liquid IV.
Is Liquid IV high in sugar?
Liquid IV does have 11 grams of sugar per packet—this is considered high in sugar. Glucose (sugar) is one of the main components of the Cellular Transport Technology (CTT) formula. This sugar is needed to help the body absorb water and electrolytes into the small intestine as quickly and efficiently as possible. That being said, it can increase your blood sugar if you have diabetes.
Is Liquid IV an energy drink?
No, the original Liquid IV formula does not contain caffeine. However, they do have an Energy version of Liquid IV that contains 100 mg of caffeine, or the equivalent of 1–2 cups of coffee.
How many Liquid IV packets can you have in a day?
While there is no specific limit to how many Liquid IV packets you can have in a day, you should consider the product's sodium content. The daily limit for sodium is 2,300 mg. Most Americans easily eat well over 3,400 mg already, beyond the daily limit. Adding multiple Liquid IV packets to your day can significantly increase your overall sodium consumption and possibly your blood pressure. My recommendation would be to limit Liquid IV to 1–2 packets per day.
Can Liquid IV prevent a hangover?
No, the only way to completely prevent a hangover is to reduce the amount of alcohol you drink. But, consuming a Liquid IV packet if you are dehydrated from drinking alcohol can help you rehydrate, so you feel better faster.
Is Liquid IV safe for everyone?
People with diabetes or high blood pressure should consume Liquid IV cautiously due to the sodium and sugar content. Always speak to your doctor before taking any dietary supplements.
Which is better Liquid IV or Gatorade?
Liquid IV is lower in sugar and calories but higher in electrolytes compared to Gatorade. But it is more expensive than Gatorade. However, I would personally recommend Liquid IV over Gatorade in most situations.
Which is better Liquid IV or Nuun?
Nuun has very similar products to Liquid IV, but the ratio of electrolytes, glucose, and sodium may be slightly different. Nuun products are also slightly more expensive. I have tried both Nuun and Liquid IV and personally prefer the taste of Liquid IV.
Does Liquid IV help you lose weight?
No, Liquid IV cannot help you lose weight. Drinking more water may help you feel fuller, so you eat less, but there is no specific weight loss benefit.
Should I drink Liquid IV if I am sick?
You can drink Liquid IV if you have a stomach bug or need to stay hydrated due to illness. Always speak to your doctor about what is best for you.
The Bottom Line
Liquid IV is a solid choice for hydration based on over 40 years of research on oral rehydration therapy.
While I could not find where the claim of being 2–3x more hydrating than water came from, I still think it will help you re-hydrate or stay hydrated effectively.
The Liquid IV product line is also based on solid evidence to support the claims of helping sleep, energy, and immunity.
Overall, Liquid IV is a safe choice for most people who are looking for a way to stay hydrated or re-hydrate.
The only downside is the sugar and sodium content. If you are concerned, I would recommend speaking to your doctor before taking Liquid IV.
A Word from Our RD
The RDA for water is 15 cups (120 ounces) per day for men and 11 cups (88 ounces) for women. (27)
This goal is met from a combination of beverages and food. Fluid needs can increase based on age, weight, activity level, and temperature.
According to the CDC, most adults only drink about 39 ounces per day. So most of us are not drinking enough water. (28)
If you think you are dehydrated, the first place to start would be to increase your plain water intake and eat more water-rich fruits and vegetables.
Eight 8-ounce cups and 5 servings of fruits and veggies is a great place to start for most people. These two habits would easily meet your hydration needs.
If you feel dehydrated, you can try adding an electrolyte beverage like Liquid IV to your routine. But for most circumstances, plain water is perfectly adequate and more cost-effective.
Thanks for your feedback!
In a few words, please tell us how this article helped you today.
Please let us know how we can improve this article by selecting your concern below.
Thank You! We appreciate your feedback.
*
Please select at least one topic:
Please Note: We cannot provide medical advice. This feedback will help us continue improving your user experience on WellnessVerge.
Please Note: We cannot provide medical advice. This feedback will help us continue improving your user experience on WellnessVerge.