WellnessVerge is reader-supported. We may earn a commission when you make a purchase through the links on this page. Learn more about our process here.
Why You Can Trust Us
Every article and review on WellnessVerge is thoroughly researched and fact-checked by licensed health professionals. Our editorial team is made up of registered dietitians and medical doctors.
Every piece of content is also medically reviewed to ensure accuracy and alignment with sound scientific evidence and medical consensus. We only use peer-reviewed journals and reputable medical sources to form our conclusions and recommendations.
We operate with total editorial independence, and our editorial policies ensure that your well-being comes first. Based on our rigorous research, we only recommend products that are worth considering. We always disclose any ads or partnerships with brands featured on our site.
Liquid IV Review: Nice to Have, But Not Essential
Last Updated on May 17, 2023
If Liquid IV's price fits your budget, it is a fun, convenient, and tasty electrolyte drink mix that will help keep you hydrated, either daily or on an as-needed basis.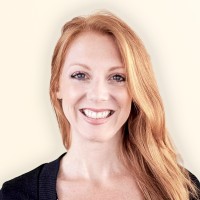 Medically Reviewed by
Natalie Olsen, MS, RDN, LD, ACSM-EP
Registered Dietitian, Certified Exercise Physiologist
Natalie is a registered dietitian, functional medicine practitioner and certified exercise physiologist with over 15 years experience in the health and wellness industry and holds a Master's degree in Human Nutrition and Functional Medicine through a collaborative program provided by the University of Western States and the Institute of Functional Medicine.

Key Takeaways (TL;DR)
Liquid IV is a solid choice for hydration based on a concept called oral rehydration therapy, which has over 40 years of research.
It comes in 10 exciting flavors and several formulations containing ingredients supporting your energy, immunity, and sleep.
While water alone is adequate enough for most people, based on scientific evidence and our experience, Liquid IV is a great addition that will help you rehydrate and stay hydrated effectively.
The one major downside of Liquid IV is the sugar and sodium content, which may be high for some. Still, it is healthier than most popular sports drinks.
Most customer reviews are positive, and folks appear to really enjoy the product. Many say the powder mixes well into water, but some flavors can be too sweet. Many reviewers enjoy the Lemon Lime flavor best.
What Liquid IV Gets Right
Offers hydration benefits
Uses science-backed ingredients
Contains no allergens, artificial sweeteners, flavors, colors, or preservatives
Dissolves and mixes easily
The company is involved in many humanitarian projects
Important Considerations
Each stick contains 11 grams of sugar, which may be too much for some
High in sodium with 22% of the Daily Value per stick
It may be expensive for some, especially when purchased from the brand's website
Liquid IV at a Glance
Liquid IV is a line of electrolyte powders designed to be added to water to enhance hydration and provide targeted support for energy, immunity, sleep, and digestion. It has 3x the electrolytes of traditional sports drinks with less than half the sugar and calories.
The differentiator of Liquid IV compared to other hydration products is its Cellular Transport Technology (CTT). CTT is based on the oral rehydration therapy formula, an extensively researched way to rehydrate after severe dehydration. It uses a specific ratio of glucose (sugar), sodium, potassium, B vitamins, and vitamin C to enhance the hydration potential of water.
While water alone is a good source of hydration, sometimes it is difficult to drink enough of it, especially if you're busy or have certain conditions. Liquid IV may be a good fit for:
Women who are pregnant or breastfeeding
People who struggle with water intake
Athletes and highly active people
People on long-distance rides or hikes
People who are getting over a cold or flu, stomach bug, or food poisoning as they may be more dehydrated
People with higher sweat rates where more electrolytes may be lost
People who work outside or in physical jobs
Elderly people (who often have a declining sense of thirst, along with a higher risk of dehydration) (1)
People that need rehydration after an evening of enjoying a few (or too many) adult beverages
Liquid IV is also great for anyone to stack in your pantry (we will share how we use it later in this review).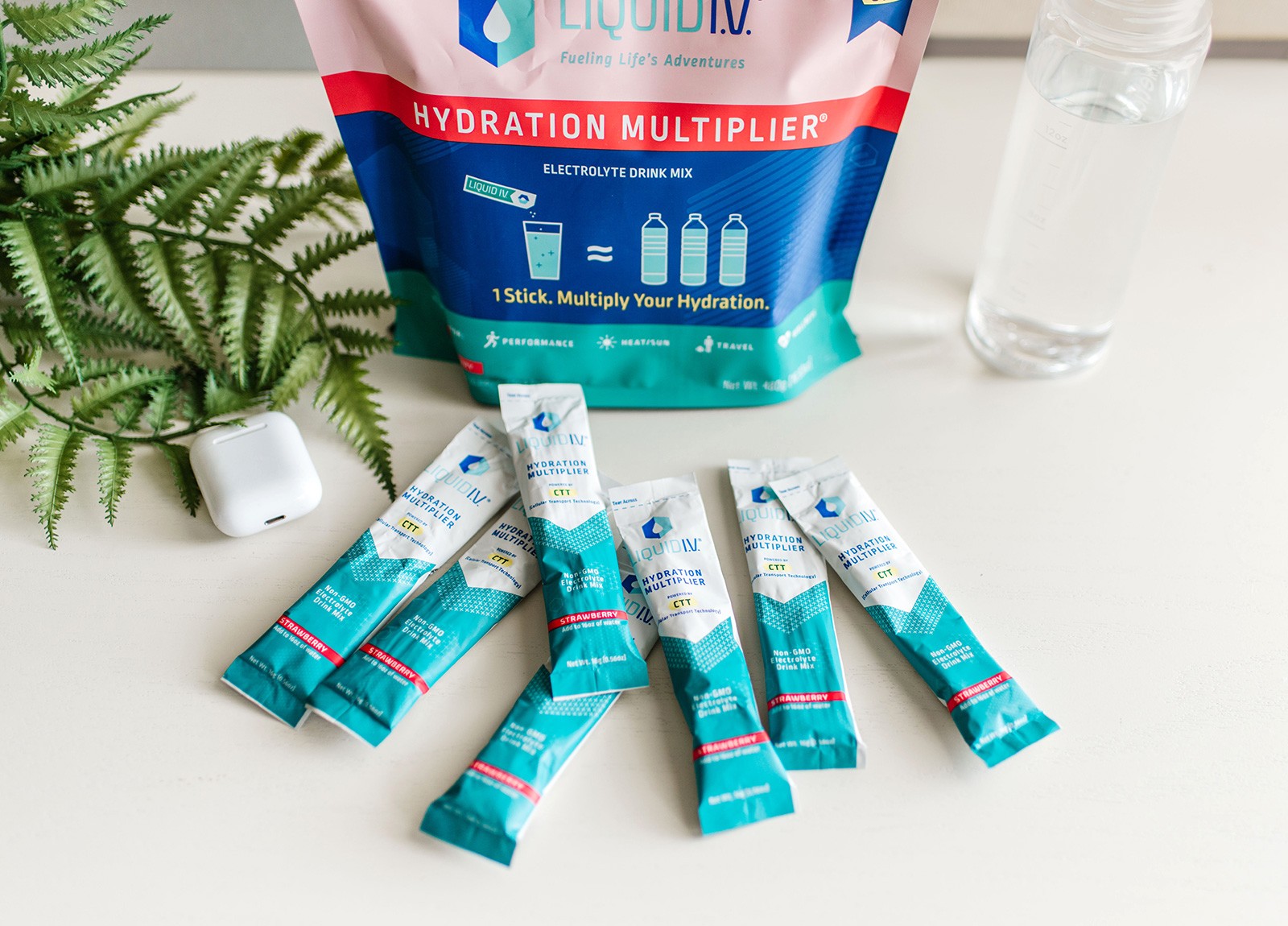 Understanding How Liquid IV Works
Liquid IV applied the oral rehydration therapy (ORT) approach to their product and rebranded it for a health-focused consumer and athlete.
Oral rehydration therapy (ORT), originally promoted by the World Health Organization to help children with diarrhea and dehydration, has been extensively researched and used for over 40 years. (2)
Classic ORT beverages contain a combination of sodium chloride, glucose, and potassium to create a liquid of a very specific osmolarity, allowing the liquid to move into the body faster. (3)
Specifically, Liquid IV uses Cellular Transport Technology (CTT®) and contains a combination of glucose (sugar), sodium, potassium, and water in specific ratios that can be absorbed and utilized by your body more quickly than plain water can. This is due to the differences in the way these components are absorbed.
One study that involved recreationally active, healthy male subjects found that oral rehydration solutions (ORS) similar to Liquid IV improved fluid balance more than water. (4)
Water alone is absorbed into the body via a passive process called osmosis, which occurs gradually throughout the digestive tract.
However, when in the presence of sodium, glucose, and potassium, water is absorbed earlier and more quickly in the digestion process, along with the other components, through a process known as active transport. (5)
The Products Liquid IV Offers
Below we'll talk about the five variations of Liquid IV that support your hydration, energy, sleep, immune system, and digestion.
Hydration Multiplier
The Hydration Multiplier is Liquid IVs primary product. The ingredients include CTT (glucose, sodium, potassium), water-soluble B vitamins, and vitamin C. Each stick has 45 calories.
The sodium comes from mined salt. The potassium is in the form of potassium citrate. The glucose comes from pure cane sugar that is non-GMO.
Hydration Multiplier is high in sugar and sodium, with 11 grams of sugar and 500 mg of sodium per serving (this amounts to 22% of the Daily Value for sodium). Since most of us already consume too much sugar and salt, we would not recommend consuming more than 1 of these packets per day. (6)
Energy Multiplier
The Energy Multiplier provides hydration and added ingredients that may help boost energy. These include coffee fruit extract, which comes from the fruit of the coffee plant, and L-theanine. Caffeine and L-theanine can each improve attention and focus, and the effect may be more potent when combined. (7)
Each serving provides 100 mg of caffeine, which is equivalent to about one cup of coffee (so be mindful if you are getting additional caffeine from other sources throughout the day to stay within a safe range or if you're sensitive).
Sleep Multiplier
Sleep Multiplier contains evidence-based ingredients that can promote relaxation, reduce stress, and help improve sleep. Still, some are in smaller dosages than are recommended. Such ingredients include melatonin, L-theanine, and valerian root. (8, 9, 10)
We recommend not drinking more than one packet at nighttime of this drink because too much valerian root, L-theanine, and melatonin can cause headaches, dizziness, nausea, and excessive sleepiness. However, the amounts of these ingredients in one packet are in safe ranges.
Hydration Multiplier+ Immune Support
The Immune Support product contains CTT, vitamin C, zinc, and a proprietary ingredient called Wellmune, which is important for immune function. Wellmune contains beta-glucans, which have been found to support immune health. (11, 12, 12)
Hydration Multiplier+ Probiotic Kombucha
Liquid IV Hydration Multiplier+ Probiotic Kombucha contains 1 billion colony-forming units (CFU) of the bacterial strain Bacillus coagulans and kombucha (fermented tea) in the powder. Both are sources of probiotics, or living bacteria, that can populate the gut and potentially help improve digestive health. (13)
Our Personal Experience
Editor's Note: At Wellnessverge, we evaluate hundreds of products, some of which become part of our daily routines. Here's how our co-founder, Vlad Rappoport, uses Liquid IV.
For the past two years, we've always been stocked up on Liquid IV in our pantry, which we buy from our local Costco. I don't drink it daily, but I think it has its uses. That's why I consume it occasionally.
Growing up, I really enjoyed Gatorade as I was active during my childhood and teen years, and this was way before Liquid IV emerged. However, today, I would prefer Liquid IV over Gatorade (a no-brainer for me) because Gatorade is just so sweet — nearly double the sugar content than Liquid IV.
I look forward to drinking Liquid IV and enjoy its taste since I always drink plain water. (Don't get me wrong, I love my water!) Liquid IV does come in a variety of flavors, but we tend to have lemon for the original hydration multiplier, pineapple for the energy multiplier, and tangerine for the immunity boost.
Based on the flavor, it tastes and smells like you would imagine and gives off a pleasant aroma. I prefer it with cold water (Liquid IV recommends that too). It is rather sweet but has a hint of zestiness and somewhat of a tarty taste. I also enjoy the original Multiplier's lemon-lime flavor, which tastes like a tarty lemonade drink.
It's super easy to prepare and doesn't require a blender or mixer. I simply pour the powder from the packet into a glass, fill it with cold water, and use a spoon to stir for about 10 seconds. Everything dissolves easily, tastes balanced, and leaves no sediment or powder clunks.
Does Liquid IV actually help me? Sure, I can say I feel more hydrated. I used to play late evening basketball games in local leagues, so I would take the Energy Multiplier beforehand to boost me since it contains as much caffeine as an average cup of coffee does. But who's going to brew coffee late into the evening? Not me. I find the Energy Multiplier great for such needs or when I simply want another caffeine boost during the day and am not in the mood to make coffee or drink something hot. After drinking the Energy Multiplier, I feel the caffeine kicking in rather quickly.
Also, I drink the immunity booster due to its ingredients. I can't say it makes me feel better. Still, I enjoy the tangerine taste and know I am consuming something that can help support my immunity. My wife and I drink this more often during cold and flu season!
Overall, I feel hydrated and don't find myself running to the fridge every half hour for water (like I usually do on hot days here in California) after drinking Liquid IV. I'm not sure how I can quantify getting hydrated 2–3x faster than water, but I appreciate Liquid IV's taste, brand, and social causes. I view it more as a "nice-to-have" type of drink rather than a "need-to-have."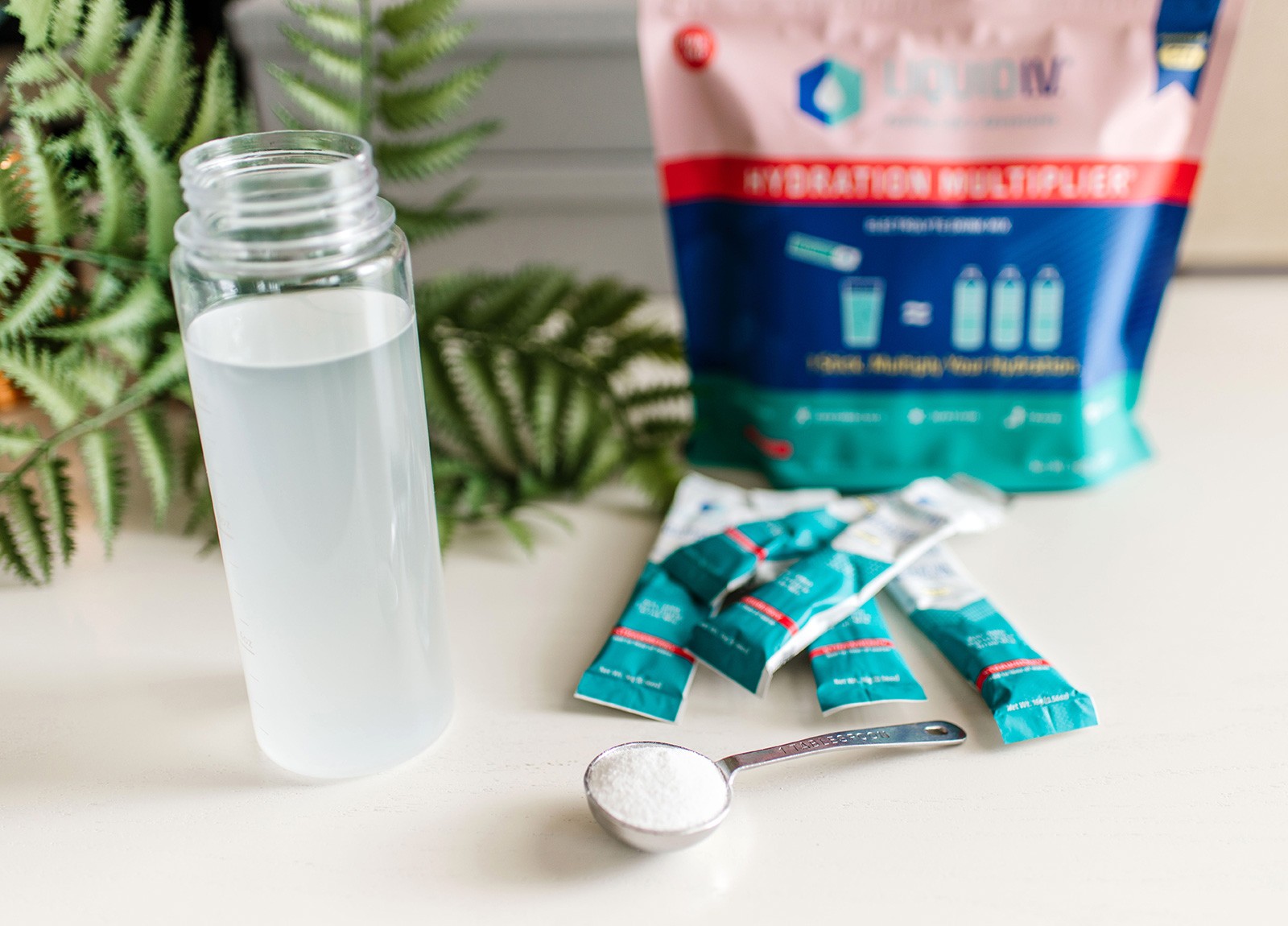 Where to Get the Best Price
The price of Liquid IV varies significantly depending on the retailer. Most retailers carry a limited variety of flavors, so ordering from the brand is the only option if you want a greater variety. In addition, some products, like Sleep Multiplier and Probiotic Kombucha, are only available from the brand's website.
Here is how the prices compare among popular retailers:
| Retailer | Hydration Multiplier | Energy Multiplier |
| --- | --- | --- |
| Liquid IV | 16-pack, $24.99 ($1.56/stick) | 14-pack, $24.99 ($1.78/stick) |
| Amazon | 16-pack, $23.45 ($1.47/stick) | 14-pack, $24.99 ($1.78/stick) |
| Costco | 30-pack, $29.99 ($0.99/stick) | 24-pack, $29.99 ($1.25/stick) |
| GNC | 15-pack, $22.99 ($1.53/stick) | N/A |
| Walmart | 30-pack, $40.84 ($1.36/stick) | 6-pack, $9.98 ($1.66/stick) |
| Target | 10-pack, $15.99 ($1.59/stick) | 10-pack, $17.99 ($1.79/stick) |
You can get additional discounts (5%–20%) by opting into a monthly subscription directly from the brand as well as Amazon and GNC. When buying directly from the brand, you also get free shipping on all orders and a 60-day money-back guarantee.
How Liquid IV Compares to Alternatives
Here's how Liquid IV compares to four popular alternatives.
Nuun
Nuun is similar to Liquid IV, offering dissolvable tablets containing electrolytes. These tablets dissolve easily in water. Nuun also carries a variety of products for energy and immunity, similar to Liquid IV.
Both Nuun and Liquid IV contain stevia leaf extract. However, one key difference between the products is that Nuun does not contain pure cane sugar. So, if you're looking for a product free of cane sugar, Nuun may be a better fit.
Drip Drop
Drip Drop also uses ORT in its products and offers packets of electrolytes that can be easily mixed into a water bottle. However, they offer two sizes — 8-ounce and 16-ounce.
Drip Drop contains the artificial sweetener sucralose in addition to fructose and sugar.
Gatorade
Gatorade is a popular sports drink available in several flavors and varieties. You can purchase it at nearly all grocery, convenience, and big box stores.
Thirst Quencher contains significantly more sugar at 21 grams per bottle and fewer electrolytes than Liquid IV Hydration Multiplier. It also contains food dyes and other artificial ingredients.
Pedialyte Electrolyte Water
Pedialyte is a convenient and sugar-free alternative to Liquid IV that requires no mixing. Pedialyte started by offering oral rehydration solutions for kids, but now they offer several different hydration products for adults as well.
Their electrolyte water can be purchased by the liter. It is sweetened with the artificial sweeteners sucralose and acesulfame potassium.
| | Liquid IV Hydration Multiplier | Nuun Daily | Drip Drop | Gatorade Thirst Quancer | Pedialyte Classic |
| --- | --- | --- | --- | --- | --- |
| Key Ingredients | Sodium, Sugar, Potassium, B vitamins, Vitamin C | Calcium, Magnesium, Chloride, Sodium, Potassium | Sodium, Sugar, Fructose, Potassium, Dextrose, Magnesium, Zinc | Sugar, Dextrose, Sodium, Potassium | Sodium, Potassium, Zinc, Chloride |
| Sweetener | Dextrose, cane sugar, and stevia leaf extract | Stevia leaf extract | Fructose, sugar and sucralose | Sugar and dextrose | Sucralose and acesulfame potassium |
| Sugar | 11 g | 0 g | 7 g | 21 g | 9 g |
| Calories | 45 | 15 | 35 | 80 | 45 |
| Sodium | 500 mg | 100 mg | 330 mg | 160 mg | 370 mg |
| Artificial Ingredients | None | None | Artificial sweetener | Food dyes and artificial ingredients | Artificial sweeteners |
| Form | Powder | Tablet | Powder | Beverage | Beverage |
| General Price Per Serving | $1.56 | $0.69 | $1.18 | $1.12 | $1.83 |
| Shipping | Free | $4.99, free on orders over $45 or subscription | Free | Varies based on the retailer | Varies based on the retailer |
| Returns | 60-day money-back guarantee | 60-day money-back guarantee | 60-day money-back guarantee | Varies based on the retailer | Varies based on the retailer |
Thanks for your feedback!
In a few words, please tell us how this article helped you today.
Please let us know how we can improve this article by selecting your concern below.
Thank You! We appreciate your feedback.
*
Please select at least one topic:
Please Note: We cannot provide medical advice. This feedback will help us continue improving your user experience on WellnessVerge.
Please Note: We cannot provide medical advice. This feedback will help us continue improving your user experience on WellnessVerge.
At WellnessVerge, we only use reputable sources, including peer-reviewed medical journals and well-respected academic institutions.