Why You Can Trust Us
Every article and review on WellnessVerge is thoroughly researched and fact-checked by licensed health professionals. Our editorial team is made up of registered dietitians and medical doctors.
Every piece of content is also medically reviewed to ensure accuracy and alignment with sound scientific evidence and medical consensus. We only use peer-reviewed journals and reputable medical sources to form our conclusions and recommendations.
We operate with total editorial independence, and our editorial policies ensure that your well-being comes first. Based on our rigorous research, we only recommend products that are worth considering. We always disclose any ads or partnerships with brands featured on our site.
The Healthiest Cold Foods to Eat When It's Hot Outside
Choosing foods that are nourishing and hydrating can make eating healthy on hot summer days both simple and delicious.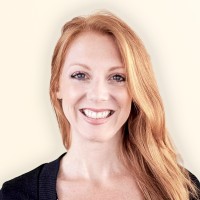 Medically Reviewed by
Natalie Olsen, MS, RDN, LD, ACSM-EP
Registered Dietitian, Certified Exercise Physiologist
Natalie is a registered dietitian, functional medicine practitioner and certified exercise physiologist with over 15 years experience in the health and wellness industry and holds a Master's degree in Human Nutrition and Functional Medicine through a collaborative program provided by the University of Western States and the Institute of Functional Medicine.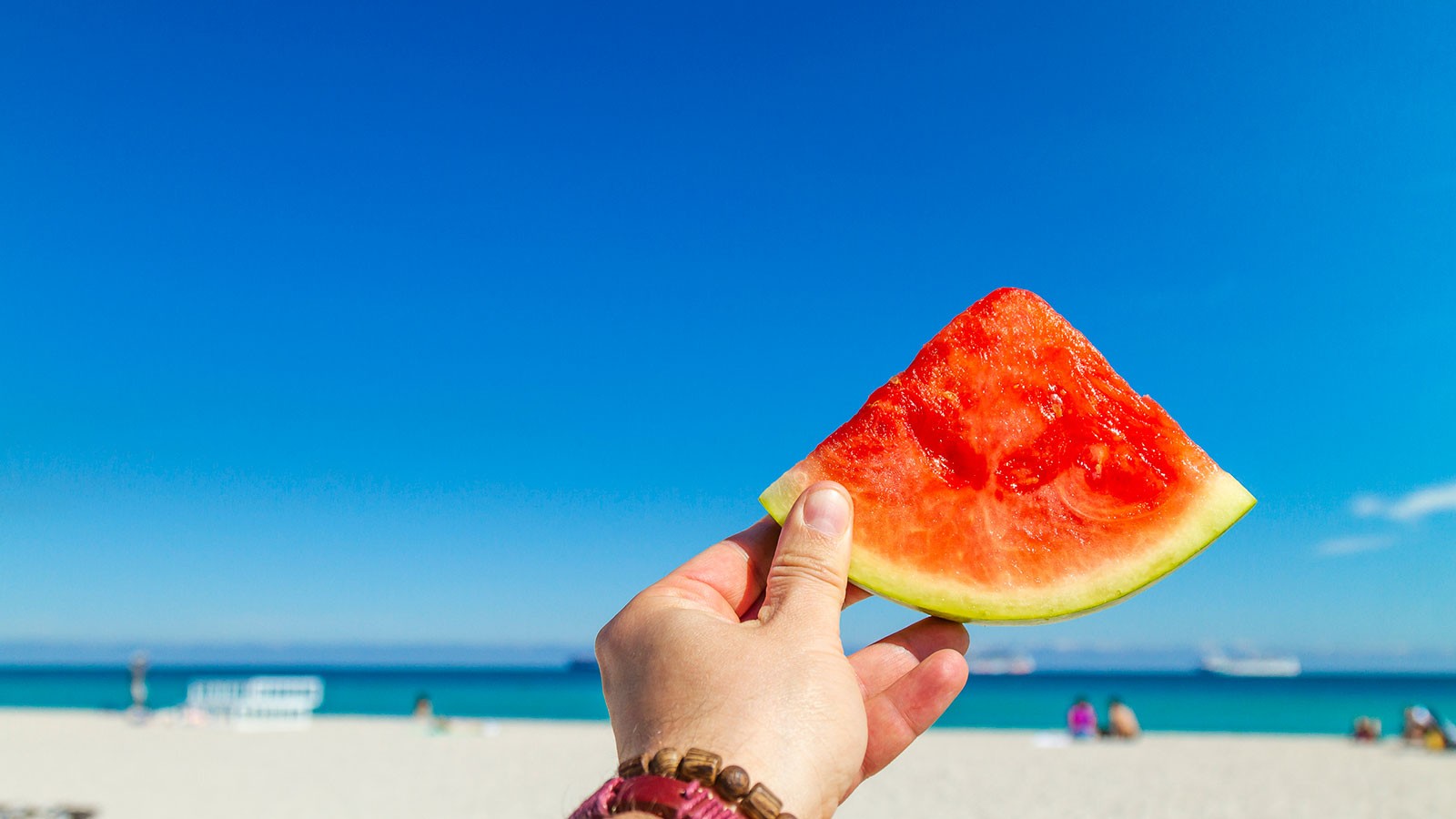 For many people, summertime brings lots of sunshine and hot weather. This can come with a lot of fun activities, but may make choosing what to eat a bit more difficult.
You may be on-the-go more often and attend more social events involving food. Or, maybe you still want to eat healthfully but don't want to heat up your kitchen or fill your body with hot food.
So what are some healthy cold foods you should eat to help beat the summer heat?
This article will give you a list of many healthy cold foods you can enjoy in the summer, as well as simple and healthy meal and recipe ideas to use them in.
Fruits
Fruits are highly nutritious, containing fiber and important vitamins and minerals. They can be especially enjoyed on a hot summer day.
It is recommended to get at least two servings of fruits per day. (1)
A serving size of fruit equals: (2)
1 medium fruit
1/2 cup of fresh, frozen, or canned fruit
1/4 cup of fried fruit
1/4 cup of fruit juice
Aim for a variation of the following fruits to help keep you hydrated and nourished.
Berries
These fruits are one of the highest sources of antioxidants, which can help fight disease. (3, 4)
Berries are usually the ripest in the summertime, giving them the best taste.
Ways to Enjoy
You can add chilled or frozen berries to smoothies, as a yogurt topper, or simply eat them plain.
Melons
Cold melons like watermelon and cantaloupe remind many people of summer. These are particularly helpful for keeping you refreshed and hydrated on a hot summer day.
Watermelons consist of 92% water. (5)
Melons are also a great source of the antioxidant vitamin C. Just one cup of cantaloupe provides about 72% of your daily needs! (6)
Vitamin C supports heart health, can help reduce the duration of a common cold, and much more. (7, 8)
Ways to Enjoy
You can enjoy melons on their own, add them to a fruit salad or smoothie, or even grill them. You can also make your own popsicles by blending frozen melons, adding the mixture to a popsicle mold, then freezing.
Citrus Fruits
Fruits like oranges, grapefruit, lemons, and limes are juicy and refreshing on hot days. They provide a great source of vitamin C.
Ways to Enjoy
Citrus fruits can be used to flavor water or iced tea, or added to a fruit salad. Grapefruit and oranges are great additions to breakfasts or snacks.
Peaches
Peaches are another fruit typically only found in stores during the summertime. Peaches provide a decent amount of vitamins C and A. (9)
Ways to Enjoy
Peaches are delicious in fruit salads, green salads, smoothies, or as a topping for yogurt or oatmeal.
Cucumbers
The phrase "cool as a cucumber" rings true for many. This fruit, often confused as a vegetable, has a natural cooling effect after eating it.
Cucumbers are naturally low in calories, carbohydrates, sodium, and fat. Since they are about 95% water, they're naturally hydrating and perfect for hot weather. (10)
Ways to Enjoy
Cucumbers make a perfect addition to cold salads or paired with dips such as hummus. You can also add sliced cucumber to water to create a flavorful infusion.
Tomatoes
Juicy tomatoes can be a tempting treat on hot days. They are full of essential nutrients like vitamins C, A, and B6, iron, potassium, and fiber. (11)
Tomatoes are also a rich source of the antioxidant lycopene. Lycopene has been found to have many cardiovascular health benefits. (12)
Ways to Enjoy
Enjoy cold tomatoes in salads, with Italian bruschetta, or toss cherry tomatoes with mozzarella balls for a delicious appetizer. You can also enjoy them simply sprinkled with a bit of seasoning.
Vegetables
Leafy Greens
This includes things like lettuce, spinach, kale, and arugula. These have a high water content and are best eaten cold, making them perfect for hot weather.
Leafy greens are a good source of potassium, folate, vitamin K, and other important nutrients. They have been specifically shown to be helpful for heart disease prevention. (13)
Research also shows a cup of dark leafy greens daily may help with slowing mental decline that can happen with aging. (14)
Ways to Enjoy
You can use leafy greens in cold salads, smoothies, wraps, and burgers.
Celery
Like cucumbers, celery is made up of about 95% water, making it a highly hydrating food that can help replenish fluid lost during sweating. (10)
Despite being mostly water, it is still a good source of nutrients.
Celery provides fiber that helps keep you full and may help with weight management. (15)
It is also known for helping lower blood pressure thanks to a phytochemical it contains called phthalides it contains. (16)
Ways to Enjoy
Celery can be delicious topped with nut butter and dried fruit, like raisins. You can also dip it in hummus, yogurt, or ranch dip. And, of course, it can be added to salads or enjoyed in cold soups.
Broccoli
Broccoli is a type of cruciferous vegetable. This class of vegetables is linked to a reduced risk of many types of cancers. (17)
Research also shows that they support the body's natural ability to detoxify and help fight inflammation, both of which help protect from disease and other health ailments. (18, 19)
Ways to Enjoy
You can enjoy raw, cold broccoli in a salad. Or dip it in hummus or another favorite dip.
Corn
Corn is a popular summer vegetable since it's in season during this time of year. (20)
Corn is a great source of fiber, which can help manage constipation and other digestive disorders. (15)
A one-cup serving also provides 5g of protein. The combination of fiber and protein can help with appetite control. (21)
Corn is also a good source of magnesium, phosphorus, folate, and many other vitamins and minerals. (22)
Corn does contain higher calories and carbohydrates than most other vegetables. However, it is a nutritious option for the summer.
Ways to Enjoy
Corn on the cob may be best known for grilling, but it can also be eaten off the cob as a cold or warm side dish, tossed into salads, used in Mexican tacos, and much more.
Zucchini
Zucchini is an excellent vegetable for summer grilling. It's low in calories, fat, and carbs but high in water and contains many antioxidants such as vitamin C. (23)
Ways to Enjoy
Grill zucchini on skewers, use shredded zucchini in baked goods, make zucchini noodles, or sauté zucchini and pair it with a lean protein source. Each of these makes a great summertime meal or snack.
Animal Proteins
Fish
Fish is a lean source of high-quality protein.
Many types of fatty fish, such as salmon, tuna, mackerel, and herring contain omega-3 fatty acids. These fish have powerful anti-inflammatory properties that are important for good health.
Fish is also rich in calcium, phosphorus, iron, zinc, iodine, magnesium, and potassium. It also provides one of the few food source of natural vitamin D. (24)
The American Heart Association recommends eating fish at least two times per week as part of a healthy diet. (25)
Ways to Enjoy
Canned and chilled fish like tuna and salmon make a great choice for cold sandwiches, wraps, or salads like tuna salad. Fish can also be grilled on hot summer days and paired with any of the other healthy summer foods.
Eggs
One egg provides about: (26)
Calories: 70
Carbs: 0 grams
Protein: 6 grams
Fat: 5 grams
Egg yolks also provide the antioxidants lutein and zeaxanthin which specifically support eye health. They also contain the antioxidant selenium and many B vitamins. (27)
Ways to Enjoy
Many egg dishes can be enjoyed either cold or warm. You can add chilled hard-boiled eggs to a lunch box for a snack, enjoy them in egg salad, or make an egg and vegetable frittata.
Dry Goods
Beans and Lentils
Beans and lentils have so many health benefits.
They are a great source of plant-based protein, as well as fiber. Fiber helps control blood sugar levels, amongst many other health benefits. (28)
Beans and lentils are also great for heart health. Their consumption has been associated with an 11% reduced risk of cardiovascular disease and a 22% reduced risk of coronary heart disease. (29)
Ways to Enjoy
Beans and lentils can be enjoyed at any temperature and made a great addition to chilled soups, salads, or made into a dip.
You can also make your own Mediterranean hummus by blending a can of drained chickpeas with some olive oil, tahini, and seasonings. This can make a great appetizer or be enjoyed as a snack with your favorite vegetables.
Oats
Oats provide a lot of important nutrients. A one-half cup serving of rolled oats contains: (30)
Plant-Based Protein: 5 grams
Fiber: 4 grams
Fat: 2.5 grams (only)
Sugar: 1 gram (only)
Oats are a good source of iron and provide small amounts of B vitamins and other nutrients.
Research has found oats to be beneficial for managing and preventing a variety of chronic conditions like heart disease, diabetes, obesity, and digestive disorders. (31)
Ways to Enjoy
Enjoying cold overnight oatmeal or adding dry oats straight to your blender with your smoothie ingredients are a great ways to get the benefits of oats in hot weather. Look for certified gluten-free oats if you follow a gluten-free diet.
Related: Top Health Benefits of Oats and Oatmeal, Plus Best Ways to Enjoy It
Whole-Grain Tortillas, Pita, or Flatbreads
All types of whole grains have health benefits, including helping to reduce the risk of certain chronic diseases, helping with weight management, and more. (32)
Ways to Enjoy
Whole grain tortillas and flatbreads are versatile ingredients on hot days and make an excellent base for chilled sandwich wraps, such as chicken salad made with shredded rotisserie chicken. Or use them for soft tacos made with cilantro, red pepper, and black beans.
Dairy
Greek or Icelandic Yogurt
These are thick and creamy yogurts that are higher in protein compared to traditional yogurts. Since yogurt is naturally kept cold, it makes a refreshing meal or snack.
Yogurt provides a good source of the minerals calcium and phosphorus. (33, 34)
It is also well-known for its natural probiotics, thanks to the fermentation process it goes through.
Look for the term "live active cultures" on the label or in the ingredients list, regulated by the International Dairy Foods Association. (35)
In addition, watch out for the added sugar content. It may be best to choose a plain variety and flavor it yourself with some fruit.
Ways to Enjoy
Try topping yogurt with fresh berries or other fruit to enjoy multiple healthy cold foods at once. You can also add yogurt to smoothies or use it as a dip for fresh veggies, like sliced bell peppers.
Healthy Summer Recipe Ideas for Hot Weather
With the above foods in mind, below are some healthy meal and recipe ideas to keep you nourished and cool. Many of them work great for meal prep and can be eaten on-the-go.
Cold Breakfast Ideas
Smoothies and Smoothie Bowls
Smoothies are the ultimate hot-weather meal or snack. They are a great way to pack in fruits and vegetables.
Recipe Idea
Blend together:
Your favorite frozen fruit
Liquid of choice (such as almond milk)
Veggies (like zucchini or spinach)
Protein (like whey protein powder or Greek yogurt)
Healthy fats (like nut butter, avocado, or seeds)
Enjoy the delicious flavor and cooling effect in your body immediately.
Yogurt Parfaits
A cold yogurt parfait can be made in minutes and keep you cool and nourished.
Recipe Idea
Top plain Greek or Icelandic yogurt with one or all of these toppings ideas:
Your favorite fruit
Seeds
Unsweetened coconut flakes
Low-sugar granola
Overnight Oats
Oatmeal can be just as good chilled compared to hot.
Recipe Idea
In a sealable jar (such as a mason jar), simply add:
Oats
Milk of choice (such as unsweetened almond milk)
Nuts (like pecans) or nut butter (like almond butter)
Fruit of choice
Optional add-ins (like flax or chia seeds)
Place sealed jar in the fridge overnight, and enjoy the next morning. Keep in the fridge until ready to eat.
Cold Lunch Ideas
Entre Salads
Salads can become a filling, produce-packed meal perfect for cooling you off in hot weather.
Recipe Idea
A basic salad recipe may include:
Whatever combination of fruit and vegetables you have available
Optional add-ins like feta, blue cheese, and cooked quinoa
Your favorite salad dressing, like a vinaigrette
Toss together and serve.
You can also add salad ingredients to a large mason jar to enjoy on-the-go.
Chilled Soup
Soups can be enjoyed in the summer, too. Most soups are equally delicious hot or cold and can be prepped ahead of time in a slow cooker or large stockpot/Dutch oven.
Recipe Idea
Gazpacho is a traditional cold soup typically made with cucumber, whole tomatoes, bell peppers, and a few other ingredients.
Wraps
Wraps make excellent simple and cold lunch recipes. They are also a great addition to any potluck.
Recipe Idea
Enjoy your favorite sandwich ingredients (like tomatoes, cucumber, and avocado) in a wrap for a healthy and delicious cool meal.
For the wrap, you can use either:
Lettuce leaves (for a low-carb option)
Whole grain tortillas
Pita
Cold Dinner Ideas
Anything Grilled
Grill any protein source, fruit, or vegetable for a perfect healthy summer meal idea.
Pasta Salad
Pasta is another meal that can be enjoyed hot or cold.
Recipe Idea
There are plenty of nourishing cold pasta recipes that are simple and can be enjoyed by the whole family.
To your pasta, you can add:
Beans or fish
Sauces like pesto, marinara, or simply olive oil with some seasonings
Cold Dessert Ideas
Frozen Banana Ice Cream
When blended, frozen bananas turn into a delicious and naturally sweet treat that is similar to soft-serve ice cream.
Recipe Idea
You can make your own flavor combinations by adding endless ingredients, like:
Peanut butter
Cocoa powder
Berries
Chia Seed Pudding
Chia seeds are packed with nutrients and naturally create a pudding-like consistency when soaked in liquid. It's a perfect cold treat for hot days that can be enjoyed guilt-free.
Fruit and Yogurt Popsicles
These are a treat the whole family will love.
Recipe Idea
It's simple to make your own popsicles by blending together:
Fresh or frozen fruit
Unsweetened yogurt
A little bit of honey or maple syrup
Then, freeze the mixture into popsicle molds.
The Bottom Line
There are many healthy foods that make an excellent fit for summertime and hot days.
When looking for the healthiest summer foods, there are a few things to consider. These include:
The temperature they are eaten at
What cooking method (if any) is needed to prepare them
Their nutritional benefits
Their taste (of course)
The healthiest foods to eat when it's hot outside include options from fruits, vegetables, whole grains, proteins, and dairy. Examples include:
Cucumbers
Melons
Corn
Zucchini
Oats
Lentils
Eggs
Greek yogurt
There are endless ways to incorporate those foods into cool summertime meals that are delicious, including making smoothies, salads, grilled vegetables, and banana ice cream, to name a few.
Thanks for your feedback!
In a few words, please tell us how this article helped you today.
Please let us know how we can improve this article by selecting your concern below.
Thank You! We appreciate your feedback.
*
Please select at least one topic:
Please Note: We cannot provide medical advice. This feedback will help us continue improving your user experience on WellnessVerge.
Please Note: We cannot provide medical advice. This feedback will help us continue improving your user experience on WellnessVerge.
At WellnessVerge, we only use reputable sources, including peer-reviewed medical journals and well-respected academic institutions.
Eating 2 fruits and 3 vegetables per day | News | Harvard T.H. Chan School of Public Health

:
https://www.hsph.harvard.edu/news/hsph-in-the-news/the-right-5-a-day-mix-of-fruits-and-vegetables-can-boost-longevity/

Fruits and Vegetables Serving Sizes Infographic | American Heart Association

:
https://www.heart.org/en/healthy-living/healthy-eating/add-color/fruits-and-vegetables-serving-sizes

Berry Phenolic Antioxidants – Implications for Human Health? - PMC

:
https://www.ncbi.nlm.nih.gov/pmc/articles/PMC5890122/

Slide show: Add antioxidants to your diet - Mayo Clinic

:
https://www.mayoclinic.org/healthy-lifestyle/nutrition-and-healthy-eating/multimedia/antioxidants/sls-20076428#:~:text=Antioxidants%20are%20substances%20that%20may,to%20tobacco%20smoke%20or%20radiation.

The wonders of watermelon - Mayo Clinic Health System

:
https://www.mayoclinichealthsystem.org/hometown-health/speaking-of-health/the-wonders-of-watermelon

Nutrition Facts for Cantaloupe Melons

:
https://tools.myfooddata.com/nutrition-facts/169092/wt1/1

Vitamin C - Health Professional Fact Sheet

:
https://ods.od.nih.gov/factsheets/VitaminC-HealthProfessional/#h13

Vitamin C and Heart Health: A Review Based on Findings from Epidemiologic Studies - PMC

:
https://www.ncbi.nlm.nih.gov/pmc/articles/PMC5000725/

Nutrition Facts for Yellow Peaches

:
https://tools.myfooddata.com/nutrition-facts/169928/wt3/1

17 Vegetables Highest in Water

:
https://www.myfooddata.com/articles/vegetables-high-in-water.php

Health Benefits of Tomatoes – PennState Extension

:
https://extension.psu.edu/health-benefits-of-tomatoes

Cardiovascular benefits of lycopene: fantasy or reality? - PubMed

:
https://pubmed.ncbi.nlm.nih.gov/27609297/

Cardiovascular Health Benefits of Specific Vegetable Types: A Narrative Review - PMC

:
https://www.ncbi.nlm.nih.gov/pmc/articles/PMC5986475/

Nutrients and bioactives in green leafy vegetables and cognitive decline: Prospective study - PubMed

:
https://pubmed.ncbi.nlm.nih.gov/29263222/

Fiber | The Nutrition Source | Harvard T.H. Chan School of Public Health

:
https://www.hsph.harvard.edu/nutritionsource/carbohydrates/fiber/

Celery May Help Bring Your High Blood Pressure Down – Cleveland Clinic

:
https://health.clevelandclinic.org/celery-may-help-bring-your-high-blood-pressure-down/#:~:text=Celery%20contains%20a%20phytochemical%20called,flow%20and%20reduce%20blood%20pressure.

Cruciferous Vegetables and Cancer Prevention - NCI

:
https://www.cancer.gov/about-cancer/causes-prevention/risk/diet/cruciferous-vegetables-fact-sheet

Modulation of Metabolic Detoxification Pathways Using Foods and Food-Derived Components: A Scientific Review with Clinical Application - PMC

:
https://www.ncbi.nlm.nih.gov/pmc/articles/PMC4488002/

Cruciferous Vegetable Intake Is Inversely Correlated with Circulating Levels of Proinflammatory Markers in Women - PMC

:
https://www.ncbi.nlm.nih.gov/pmc/articles/PMC4063312/

Seasonal Produce Guide | SNAP-Ed

:
https://snaped.fns.usda.gov/seasonal-produce-guide

Revisiting the role of protein-induced satiation and satiety – ScienceDirect

:
https://www.sciencedirect.com/science/article/abs/pii/S0268005X1630340X#:~:text=Energy%20from%20protein%2C%20in%20a,way%20to%20deliver%20enhanced%20satiety.

Nutrition Facts for Sweet White Corn

:
https://tools.myfooddata.com/nutrition-facts/168538/wt4/1

Nutrition Facts for Zucchini

:
https://tools.myfooddata.com/nutrition-facts/169291/wt4/1

Health Benefits of Fish | Washington State Department of Health

:
https://doh.wa.gov/community-and-environment/food/fish/health-benefits#:~:text=Fish%20is%20filled%20with%20omega,part%20of%20a%20healthy%20diet.

Fish and Omega-3 Fatty Acids | American Heart Association

:
https://www.heart.org/en/healthy-living/healthy-eating/eat-smart/fats/fish-and-omega-3-fatty-acids

Nutrition Facts for Eggs (Raw)

:
https://tools.myfooddata.com/nutrition-facts/171287/wt1/1

Zeaxanthin: Metabolism, Properties, and Antioxidant Protection of Eyes, Heart, Liver, and Skin - PMC

:
https://www.ncbi.nlm.nih.gov/labs/pmc/articles/PMC6770730/

How Does Fiber Affect Glucose Levels? – Joslin Diabetes

:
https://www.joslin.org/patient-care/diabetes-education/diabetes-learning-center/how-does-fiber-affect-glucose-levels#:~:text=The%20short%20answer%20is%20no,calories%20nor%20glucose%20for%20energy.

Do Common Beans ( Phaseolus vulgaris L.) Promote Good Health in Humans? A Systematic Review and Meta-Analysis of Clinical and Randomized Controlled Trials - PubMed

:
https://pubmed.ncbi.nlm.nih.gov/34835959/

Nutrition Facts for Whole Foods Market Inc. - Old-Fashioned Rolled Oats

:
https://tools.myfooddata.com/nutrition-facts/557209/wt1/1

Different Oat Ingredients Stimulate Specific Microbial Metabolites in the Gut Microbiome of Three Human Individuals in Vitro - PMC

:
https://www.ncbi.nlm.nih.gov/pmc/articles/PMC6217528/

What are the Health Benefits? | The Whole Grains Council

:
https://wholegrainscouncil.org/whole-grains-101/health-studies-health-benefits/what-are-health-benefits#:~:text=The%20main%20bene%EF%AC%81ts%20of%20whole%20grains&text=reduced%20risk%20of%20stroke,better%20weight%20maintenance

Yogurt | The Nutrition Source | Harvard T.H. Chan School of Public Health

:
https://www.hsph.harvard.edu/nutritionsource/food-features/yogurt/

Nutrition Facts for Siggi's - Vanilla Icelandic Cream-Skyr Strained Lowfat Yogurt

:
https://tools.myfooddata.com/nutrition-facts/730780/wt1/1

Live & Active Cultures Seal - IDFA

:
https://www.idfa.org/live-active-cultures-seal