WellnessVerge is reader-supported. We may earn a commission when you make a purchase through the links on this page. Learn more about our process here.
Why You Can Trust Us
Every article and review on WellnessVerge is thoroughly researched and fact-checked by licensed health professionals. Our editorial team is made up of registered dietitians and medical doctors.
Every piece of content is also medically reviewed to ensure accuracy and alignment with sound scientific evidence and medical consensus. We only use peer-reviewed journals and reputable medical sources to form our conclusions and recommendations.
We operate with total editorial independence, and our editorial policies ensure that your well-being comes first. Based on our rigorous research, we only recommend products that are worth considering. We always disclose any ads or partnerships with brands featured on our site.
Morning Complete Review: Supports Digestive Health, Enhances Your Diet
Last Updated on July 26, 2023
Morning Complete offers a convenient way to add fruits, vegetables, and other nutrients to your diet. Although it may benefit your health, especially digestion, these benefits are likely modest.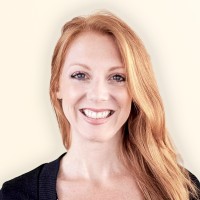 Medically Reviewed by
Natalie Olsen, MS, RDN, LD, ACSM-EP
Registered Dietitian, Certified Exercise Physiologist
Natalie is a registered dietitian, functional medicine practitioner and certified exercise physiologist with over 15 years experience in the health and wellness industry and holds a Master's degree in Human Nutrition and Functional Medicine through a collaborative program provided by the University of Western States and the Institute of Functional Medicine.

Key Insights (TL;DR)
Morning Complete is a greens powder that contains a unique combination of fruits, vegetables, antioxidants, prebiotics, probiotics, and other nutrients.
Even though it contains 35 ingredients, based on its serving size, it will only contribute about one-fifth of your recommended daily servings of fruits and vegetables at best.
The key benefits of Morning Complete will likely be to your digestive health due to its prebiotics and nine strains of probiotics.
With the exception of aloe vera, the ingredients in Morning Complete are considered safe, with a low risk of severe side effects for most people.
Morning Complete will not replace eating whole fruits and vegetables (nor is it meant to), but it can modestly enhance your diet. If you are concerned that you don't consume enough fruits and vegetables and have digestive symptoms, the product is worth considering if it fits your budget. (See more in our comparison section below.)
According to Trustpilot and Amazon, customer reviews of Morning Complete are relatively mixed. Some reviewers like the product a great deal and say that it has made a definite difference in their digestive health, while others say it didn't make a noticeable difference.
What to Like About Morning Complete
Contains prebiotics and nine strains of research-backed probiotics.
Contains added fiber to contribute to your daily fiber intake.
Contains other ingredients that may help reduce sugar intake.
The company offers a 90-day money-back guarantee for opened or unopened containers.
Important Considerations
The amount of individual ingredients is not listed on the label, making it difficult to know if (and to what capacity) the supplement will deliver on the product's claims.
The amount of vitamins and minerals is not disclosed. This could be a concern for those taking medications because taking some vitamins in excess may cause interactions.
The product is meant to be taken consistently long-term, so the ongoing monthly cost needs to fit into your budget, and you should also like (or at least tolerate) the taste.
The product contains a lot of ingredients, including aloe vera. Carefully evaluate the label to rule out allergies and potential interactions with medication.
Morning Complete in a Snapshot
Morning Complete is a greens powder that provides a variety of ingredients to support your overall health. It is meant to be taken once a day and can be conveniently mixed into water, a smoothie, or tea.
Morning Complete is manufactured by ActivatedYou. The company was founded by actress and health activist Maggie Q and Dr. Frank Lipman, a renowned proponent of functional medicine.
Greens powders are a fairly recent product category that has exploded in popularity over recent years. Typically, they contain a variety of powdered vegetables and fruits, along with additional ingredients like prebiotics, probiotics, antioxidants, and digestive enzymes.
There are countless studies showing that regularly eating whole fruits and vegetables is strongly linked to good health and reduced risk of serious diseases. However, many people don't consume the daily recommended amounts of fruits and vegetables, which is the problem that the makers of greens powders are trying to solve.
In theory, this sounds pretty appealing, but in practice, even the best greens powders only contribute about a quarter of your daily fruits and vegetable needs. Also, they are missing a lot of fiber that is naturally found in whole fruits and vegetables.
Greens powders are not meant to replace eating whole fruits and vegetables but can offer a convenient, albeit pricey, way to support your overall health. Furthermore, some medical professionals agree that greens powder could be a way to enhance your diet and boost your vitamin intake.
Below, we'll take a deep dive into everything you need to know about Morning Complete to help you understand if it's the right product for you, starting with its taste.
How to Take and Its Taste
Morning Complete comes in powdered form and is available in apple cinnamon or citrus flavors.
A serving of Morning Complete is one scoop mixed into 8 ounces of liquid. ActivatedYou recommends mixing it into cold water or green tea, but not anything warm or hot, as that can decrease the strength of some of the ingredients. It is meant to be taken without food and at least 30 minutes before you eat (if taken around mealtime). Once opened, the supplement should be kept in the refrigerator.
We tried the apple cinnamon Morning Complete. It is not sweet or "grassy" but tastes like an apple-flavored, unsweetened powdered iced tea. The apple cinnamon flavor was strong enough to block out the grassy taste of powdered vegetables and herbs.
The drink did not have as much texture or boldness and felt more watery. It dissolved easily in room-temperature water, but we had to stir or shake it for at least 30 seconds.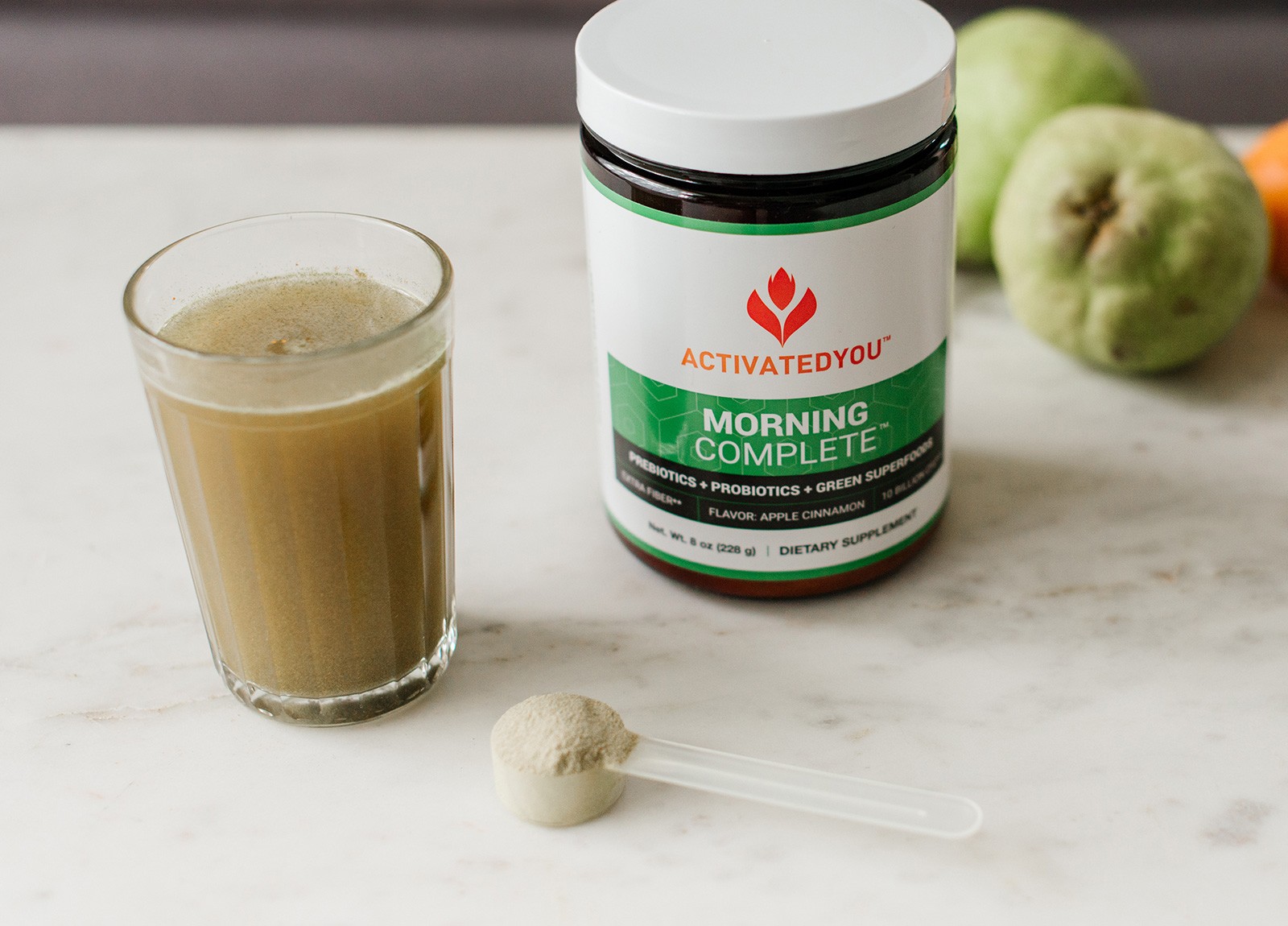 The Research Into the Benefits of Morning Complete
Most of the ingredients in Morning Complete have some research that shows promising results, and the product is uniquely formulated. However, it's important to remember that this supplement does not disclose the exact amount of each ingredient, making it challenging to determine how much effect it will have on you.
Below we review the research behind the ingredients more specifically:
Digestive Wellness
Morning Complete contains 4 grams of fiber per serving — from tapioca fiber and cinnamon bark. Fiber is an indigestible material shown to help improve digestive problems like constipation and diarrhea. (1)
Tapioca fiber, in particular, is a soluble fiber that turns into a gel in water. Soluble fiber can help soften and form the stool and make it easier to pass through the digestive system. This can be helpful for those with either constipation or diarrhea. (2)
Additionally, Morning Complete provides 10 billion colony-forming units (CFU) of probiotics — or live strains of "good bacteria" that can colonize in your large intestine. These live probiotic strains may help to rebalance your gut bacteria composition, promoting improved digestion. (3)
To help with this process, the supplement also includes prebiotic fiber — a food source for the probiotic strains. (4)
Here is a breakdown of the probiotic strains present in Morning Complete:
L. plantarum: One study showed that this strain may relieve bloating and abdominal pain in those with IBS. (5)
B. coagulans & B. longum: Studies showed that these probiotic supplements helped decrease bloating and constipation in people with lactose intolerance and digestive problems. (6)
L. gasseri: A type of good bacteria that helps suppress the bad bacteria. Although mixed, one study showed that this probiotic strain may help reduce abdominal fat. However, the study underscores that participants regained the fat one month after they stopped taking it. (7)
B. bifidum: Studies show that this probiotic strain effectively relieved symptoms associated with IBS (abdominal pain, diarrhea, bloat, constipation). (8)
B. longum: A type of good bacteria that live in our intestines. Studies show that B. Longum may effectively treat inflammatory bowel disease symptoms, including gas, bloating, and diarrhea. (9)
L. acidophilus: Another bacteria type found in our intestines. Studies show that supplementation with L. acidophilus may help treat acute diarrhea and relieve abdominal pains that come with IBS. (10, 11)
L. caseri: The research on this strain is limited at this point, and while there are studies to show that it may help treat diarrhea and constipation, the results showed improvement through people consuming fermented milk containing L. Caseri, and not supplements. (12)
S. thermophilis: Another popular probiotic strain but most commonly used in fermented milk products, primarily in yogurt. There is no research available on this strain as a probiotic supplement at this time.
Support Metabolism
Morning Complete's metabolic-enhancing blend contains green tea leaf, ginger root, white tea leaf, turmeric root extract, bitter melon, and black pepper.
Green Tea Leaf Extract: It's well-researched for its metabolism and weight loss effects. Researchers have found that drinking green tea before exercise increases the fat burned during exercise. Other studies have noted that green tea may decrease appetite, so it may be a good choice if you're trying to lose weight to reach a healthy body weight. (13)
White Tea Leaf: The same plant as Green tea, but it's harvested earlier when the leaves are still very young and tender. It may offer similar effects because it contains similar compounds.
Ginger Root: A 2012 study found that consumption of ginger helped increase calorie burn and reduce appetite in a group of overweight men. (14)
Bitter Melon: Has been found to improve blood sugar and may help with weight management. (15)
Turmeric: Turmeric root contains curcumin, which is responsible for its antioxidant properties. One 2018 study showed that turmeric might act similarly to a prebiotic to improve gut bacteria diversity. (16) Another study showed that curcumin may help reduce body mass index, waist circumference, and weight. (17)
Black Pepper: It's included to enhance the absorption of the other ingredients.
Energy Support
Morning Complete contains B-vitamin-rich green vegetable powders — which may help your body effectively transform food into energy. Specifically, The Green Superfoods Blend found in the supplement contains powdered kale, broccoli, spinach, alfalfa leaf, barley grass, and more.
Green vegetables and herbs are rich in B vitamins, which the body needs to transform food into a usable energy form. However, the amount of B vitamins provided through this Green Superfoods Blend is not detailed on the supplement's label. (18)
The supplement also includes berberine, a plant compound that may help manage high blood sugar levels (alongside lifestyle changes). (19)
Liver Health and Cellular Function
Morning Complete contains aloe vera leaf and milk thistle extract as its Cellular Function and Liver Support blend. Although there is not a lot of solid research to support using aloe vera for liver or cellular health, milk thistle is fairly well-researched.
Specifically, milk thistle contains a compound called silymarin — a powerful antioxidant that may help promote optimal cell health and provide protection to liver cells in particular. (20)
Although there isn't any research proving silymarin to have significant benefits for people with liver disease, it may still offer some health benefits for people without it. (21, 22)
Provides Antioxidants
Morning Complete is rich in antioxidants, not only from its antioxidant blend but also from the many other plant-based extracts — such as medicinal herbs and greens. This blend contains lycium berry, pomegranate fruit extract, and Polygonum cuspidatum root extract.
These extracts contain antioxidants that may have a protective effect as we age. (23) Pomegranates may also help reduce inflammation, supporting our overall health. (24)
One older study found that lycium berry (better known as Goji berry) significantly improved the blood antioxidant profile of older adults in only 30 days. (25)
Mood and Stress (Adaptogen Blend)
This supplement contains several extracts, including astragalus root extract, Rhodiola rosea root extract, and diindolylmethane (DIM), as part of its Adaptogen Blend. These particular extracts are considered adaptogens because they help the body to better adapt to stress and may promote relaxation.
Specifically, one study found that astragalus root could help reduce inflammation and promote immune balance in overtrained athletes. (26)
Studies have noted that the herb R. rosea provides mood-lifting benefits and may be useful for depression and anxiety. (27, 28)
Finally, no research shows that taking diindolylmethane improves mood or focus.
Regulates Blood Sugar
Morning Complete contains Gymnema sylvestre leaf, fennel seed, and pine bark extract in its Sugar Balancing Support Blend. These ingredients may help regulate your blood sugar levels.
Specifically, Gymnema sylvestre has been shown to reduce sugar intake due to its ability to suppress sweet tastes and desirability for sweets without affecting your other taste palettes. (29) Additionally, studies have shown that Gymnema sylvestre may lower blood sugar levels by reducing sugar absorption. (30, 31)
Next, according to animal studies, fennel seeds may help lower blood sugar levels, but more research is needed to see how well it benefits humans. (32) However, vitamin C, much of which is present in fennel seeds, has been shown to help reduce blood sugar levels. (33)
Finally, another study found that pine bark extract offered a number of positive changes for people with type 2 diabetes, including improved average blood sugar levels, cholesterol, and waist circumference. (34)
Is Morning Complete Safe?
Overall, Morning Complete should be generally safe with a low risk of side effects for most people. However, because this supplement contains a variety of probiotics, some may experience mild side effects such as gas, bloating, or diarrhea, especially in the first few days of taking them. (35)
Additionally, Morning Complete contains ingredients that could affect your blood sugar levels. Therefore, if you have diabetes or just monitoring your blood sugar levels, it's important to speak to your doctor before starting this supplement (especially if you're taking medications).
There have been reports of rare adverse side effects from aloe vera, which this supplement has, but it was for amounts far more significant than what's in Morning Complete. Also, if you have frequent digestive issues or other medical conditions, aloe vera may worsen them.
Be sure to speak to your doctor before taking this product, especially if you're pregnant or nursing or are taking other supplements and medications.
Pricing & Buying Options
Morning Complete is available on the brand's website at the following prices:
| Quantity | Original Price | *Current Promotional Price |
| --- | --- | --- |
| 1 jar (30-day supply) | $79 | $49 |
| 3 jars (90-day supply) | $213 (10% savings) | $134 |
| 6 jars (180-day supply) | $403 (15% savings) | $249 |
ActivatedYou offers free shipping on all orders over $50 and a 90-day money-back guarantee, including for opened products.
If you decide to continue using Morning Complete and make recurring purchases, you will likely see higher prices on its main website after the promotion (as shown in the chart above). However, you can continue getting promotional prices by creating a free account with ActivatedYou.
How Morning Complete Compares to Alternatives
There are quite a few greens powders on the market, and each brand has a unique combination and amounts of nutrients, serving sizes, and other factors. Greens powders usually contain many ingredients, making them fairly complicated products to evaluate for consumers and health professionals alike.
To figure out how Morning Complete stacks up to the competition, we compared the following key attributes:
How much will it actually contribute to the daily fruit and vegetable intake? Most brands tout the benefits of getting adequate amounts of whole fruits and veggies, but not all brands contribute a meaningful amount. The brands we chose contribute anywhere from 15% to 24% to your recommended daily intake. None will replace eating a well-balanced, whole-food diet.
Are the amounts of individual ingredients listed on the label? All brands promise many benefits from taking their product. But, unless we know the exact amount of each ingredient, these claims are virtually impossible to verify. All but one brand in our comparison has a transparent label.
Are the amount of vitamins and minerals listed on the label? Morning Complete is the only brand in our comparison that does not disclose this information. This is important to know because taking some vitamins in excess can lead to health issues or may interact with certain medications. If you are taking medications or other supplements, Morning Complete may not be the best option.
Is the product third-party tested? Third-party testing ensures that products do not contain contaminants and heavy metals, which could lead to health issues in high amounts. All the brands in our comparison have undergone third-party testing; some have seals from recognized groups.
What is the price per gram? Greens powders vary in price and serving size, making it confusing to determine the best value. Calculating the price per gram levels things out and provides much-needed clarity.
| | Morning Complete | AG1 | Garden of Life Raw Organic Perfect Food | Amazing Grass | Vibrant Health Green Vibrance |
| --- | --- | --- | --- | --- | --- |
| Ingredients | 35 | 75 | 40 | 25 | 60 |
| Serving Size | 7.6 g | 12 g | 6.9 g | 8 g | 11 g |
| Approx. % of Daily Recommendation of Fruits & Veggies* | 15.2% | 24% | 13.8% | 16% | 22% |
| Standout Features | Probiotics | Added vitamins and minerals, fruits and vegetable content | Fruits and vegetable content | Fruits and vegetable content | Added vitamins and minerals, fruits and vegetable content, probiotics |
| Amount of Each Ingredient Listed? | No | No | No | No | Yes |
| Amount of Vitamins & Minerals Listed? | No | Yes | Yes | Yes | Yes |
| Fiber | 4 g / 14% DV | 2 g / 7% DV | 1 g / 4% DV | 3 g / 11% DV | 3 g / 11% DV |
| Prebiotics | Yes | Yes | Yes | Yes | Yes |
| Probiotics | 9 strains, 10 billion CFs | 2 strains, 7.2 billion CFU | 3 strains, 1.5 billion CFU | 1 strain, CFU not listed | 12 strains, 25 billion CFU |
| Digestive Enzymes | No | Yes | Yes | Yes | Yes |
| Added Sweetener | No | No | No | No | Yes |
| Allergen and Special Diet Considerations | Dairy-free, vegan | Gluten-free, soy-free, dairy-free, vegan | Organic, gluten-free, soy-free, dairy-free, vegan | Organic, ​​gluten-free, soy-free, dairy-free, vegan | Gluten-free, soy-free, dairy-free, vegan |
| Third-Party Testing | Yes | Yes, NSF-Certified for Sports | Yes, USDA Organic, Non-GMO Project, NSF-Cerfied Gluten Free | Yes, Certified Organic by CCOF | Yes |
| Subscription Price | $43.95 / 30 servings | $79 / 30 servings | $32.24 / 30 servings** | $31.99 / 30 servings | $43.40 / 30 servings |
| Price per Serving | $1.47 (7.6 g) | $2.63 (12 g) | $1.07 (6.9 g) | $1.07 (8 g) | $1.45 (11 g) |
| Price per 1 gram | $0.19 | $0.22 | $0.16 | $0.13 | $0.13 |
| Return Policy | 90 days | 60 days | 60 days | 30 days | 90 days |
| Purchase | Buy from the Brand | Shop on Athletic Greens | Shop on Amazon | Shop from Amazing Grass | Shop on Amazon |
*Adults need 500 grams of fresh fruits and vegetables per day. This would equal to about 50 grams in powdered form. The serving size of each brand above ranged from 6.9 grams to 12 grams, which we used to calculate the percentage of daily recommended intake.
**Subscription price taken from Amazon. The brand's website does not offer a subscription at this time.
How Do You Pick the Right One?
Each greens powder brand has a unique combination of ingredients and other factors that we outlined in the table above, making each brand better suited for specific health goals. Taking everything we discussed into consideration, here's how Morning Complete measures up to specific goals:
Best for digestive support: If you have digestive symptoms or just want to support your digestive health, Morning Complete and Vibrant Health Green Vibrance are the best options due to their superior prebiotic and probiotic content. If we had to pick between the two, we would go with Vibrant Health because it excels in transparent labeling, whereas Morning Complete falls short. Vibrant Health also offers a better price per gram.
Best for boosting fruit and vegetable intake: If your main concern is not eating enough fruits and vegetables, AG1 and Vibrant Health will contribute the most significant amount of recommended daily intake. Vibrant Health is more budget-friendly, but we recommend trying both to pick the one that tastes better for you. On the other hand, Morning Complete contributes significantly smaller amounts of fruits and vegetables than these two brands.
Best for reaching daily vitamins and minerals requirements: AG1 and Vibrant Health are the only two brands on our list with added vitamins and minerals. AG1 has a slightly larger variety of essential vitamins and minerals. Both brands may be used as a multivitamin. One thing to note is that AG is missing vitamin D, a common deficiency among many people. Vibrant Health does contain vitamin D (as well as vitamin K, which is recommended to be taken together with vitamin D). Morning Complete does not list its vitamins and mineral content and, hence, is not a good choice for this goal.
Best if you want organic ingredients: Organic products are less likely to have pesticides, and some studies have shown that they may have moderately more nutrients. Garden of Life Raw Organic Perfect Food and Amazing Grass are the two organic brands on our list. They are very similar products in many aspects, including the price. You can't go wrong with either one. However, Amazing Grass has a slight edge due to a large dose and a bit more fiber. Unfortunately, Morning Complete is not organic and would not work for this goal.
Tip: Each product tastes very differently. If adding to a smoothie or juice, taste is not as important. But if you plan to drink your greens powder with water, it may take some experimentation to find the brand you like. Our favorite product for taste is AG1.
Thanks for your feedback!
In a few words, please tell us how this article helped you today.
Please let us know how we can improve this article by selecting your concern below.
Thank You! We appreciate your feedback.
*
Please select at least one topic:
Please Note: We cannot provide medical advice. This feedback will help us continue improving your user experience on WellnessVerge.
Please Note: We cannot provide medical advice. This feedback will help us continue improving your user experience on WellnessVerge.
At WellnessVerge, we only use reputable sources, including peer-reviewed medical journals and well-respected academic institutions.