Evidence Based Research
Our editorial team is made up of expert registered dietitians with extensive, real-world clinical experience who are highly trained in evaluating clinical research.
Morning Complete Review: How Effective Is This Drink For Your Health?
Morning Complete is a daily drink mix that contains a wide variety of healthy ingredients that may provide a number of health benefits. Although there are some mixed customer reviews, this supplement seems to be the best fit for people who want a wellness product that can simplify their daily routine.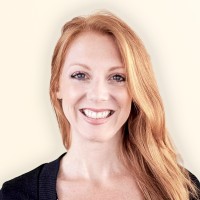 Medically Reviewed by
Natalie Olsen, MS, RDN, LD, ACSM-EP
Registered Dietitian, Certified Exercise Physiologist
Natalie is a registered dietitian, functional medicine practitioner and certified exercise physiologist with over 15 years experience in the health and wellness industry and holds a Master's degree in Human Nutrition and Functional Medicine through a collaborative program provided by the University of Western States and the Institute of Functional Medicine.
WellnessVerge is reader-supported. When you make a purchase through links on this page, we may earn a commission. Learn More

Pros

Contains several health promoting ingredients like antioxidants, fiber, and probiotics.
May help improve digestive health, brain function, metabolism, and energy levels.
Can replace several individual supplement products.
Has a 90-day money-back guarantee for opened or unopened containers.

Cons

Amounts of individual ingredients aren't shared on the label.
May be more expensive than similar brands when not bought in bulk.
Third-party testing results not shared on the website
If you've ever felt totally overwhelmed trying to choose the right supplements to take, or grown tired of taking several different supplements each day, you might have wondered if there was an all-in-one solution.
Morning Complete may offer what you're looking for. This supplement contains a variety of wellness-promoting ingredients, like probiotics, fiber, antioxidants, vegetable powders, and more.
The daily drink mix is claimed to help with overall wellness, energy, digestion, focus, mood, cellular health, liver function, and more. But does it live up to all of these claims?
In this review, we'll discuss the research behind the Morning Complete supplement to help you decide if it's the right choice.
What Is Morning Complete?
Morning Complete is a dietary supplement marketed as a "daily wellness drink" and designed to support overall wellness.
Specifically, this supplement may help improve your digestive health, brain function, cellular function, energy levels, and nutrient status.
It contains various ingredients boasting several potential health benefits — including fiber, greens, herbal and botanical extracts, antioxidants, and probiotics.
Morning Complete was created by ActivatedYou, a supplement company founded by actress Maggie Q that offers several other wellness products designed to promote overall well-being — including probiotics, digestive enzymes, algae supplements, fiber supplements, and more.
Morning Complete comes in a powder form, and based on our experience, it dissolves easily in liquid — like water or tea. You can purchase it in apple cinnamon or citrus flavor.
Does Morning Complete Work? We Evaluate Its Ingredients
The ActivatedYou website claims that Morning Complete can offer several benefits — including improving digestion, increasing energy, regulating metabolism, boosting liver function, optimizing cellular function, managing blood sugar, improving brain function, and providing antioxidant activity.
Many studies support single ingredients in Morning Complete in their role in the company's claimed benefits for the product.
However, it's not possible to know if Morning Complete contains effective doses of these ingredients since the brand does not disclose specific amounts on the label.
You may be getting a less effective dose of certain ingredients than the research shows helpful.
Let's dive into each of these claims to see if there is research to support them.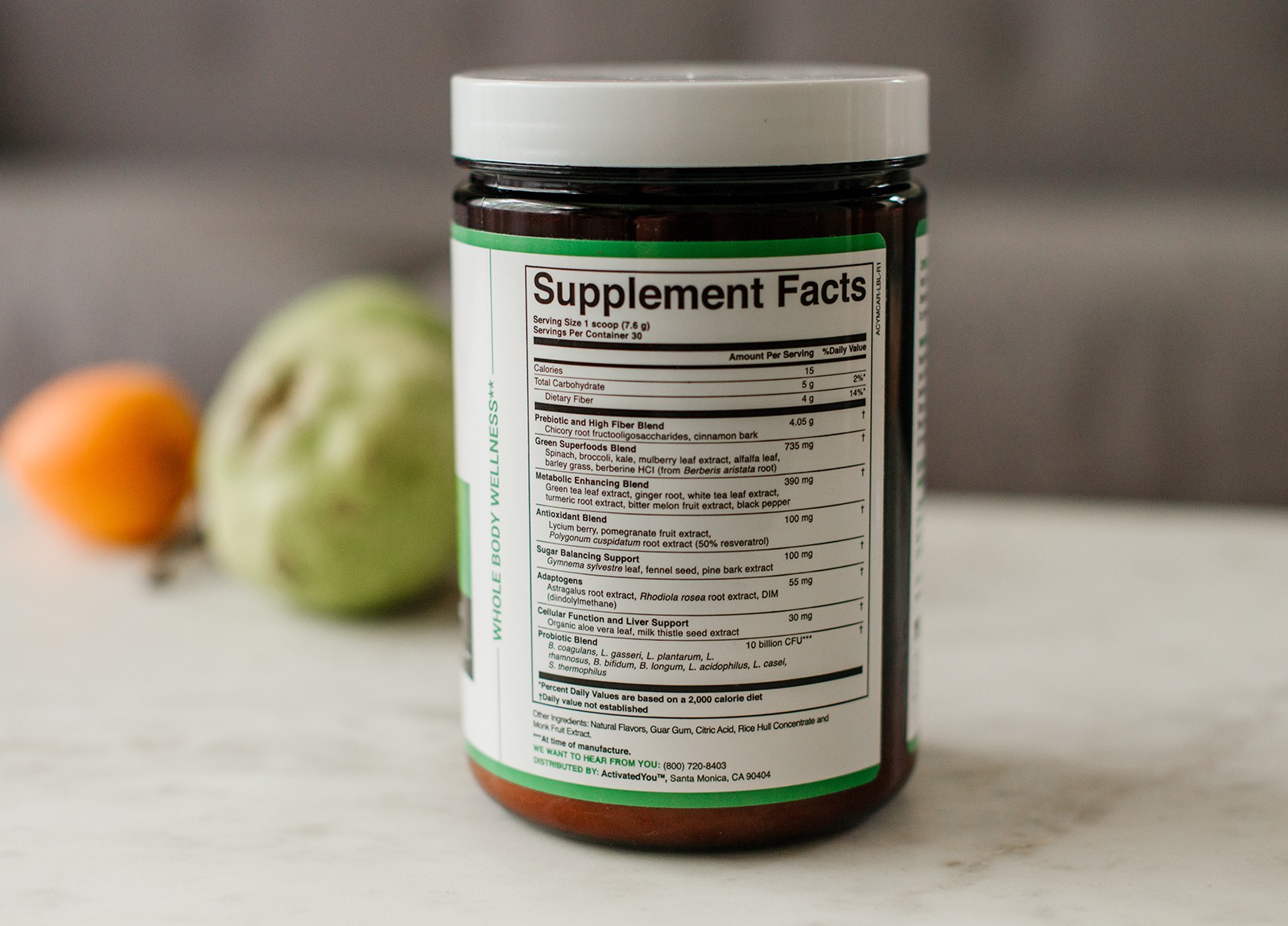 Improves Digestion
Morning Complete contains 4 grams of fiber per serving — from tapioca fiber and cinnamon bark.
Fiber is indigestible material that has been shown to help improve digestive problems like constipation and diarrhea.
Tapioca fiber, in particular, is a soluble fiber that turns into a gel in water.
Soluble fiber can help soften and form the stool and make it easier to pass through the digestive system. This can be helpful for those with either constipation or diarrhea. (1)
Additionally, fiber is a prebiotic — or a food source for the bacteria that reside in your large intestine. These bacteria play a key role in digestion. (2)
Additionally, the supplement provides 10 billion colony-forming units (CFU) of probiotics — or live strains of "good bacteria" that can colonize in your large intestine.
These live probiotic strains may help to rebalance your gut bacteria composition, which can promote improved digestion. (3)
One study on the strains L. rhamnosus and B. longum — which are both in Morning Complete — noted that these probiotic supplements helped to decrease bloating and constipation in people with lactose intolerance and digestive problems. (4)
Summary
Morning Complete contains prebiotic fiber and probiotics — both of which may help improve digestion by regulating intestinal bacteria and reducing constipation and diarrhea.
Increases Energy
Morning Complete boasts that it provides "energy nutrients" from the greens it contains.
The Green Superfoods Blend found in the supplement contains powdered kale, broccoli, spinach, alfalfa leaf, barley grass, and more.
Green vegetables and herbs are rich in B-vitamins, which the body needs in order to transform food into a usable energy form. However, the amount of B vitamins provided through this Green Superfoods Blend is not detailed on the label. (5)
Summary
Morning Complete contains B-vitamin-rich green vegetable powders — which may help your body effectively transform food into energy it can use.
Boosts Metabolism
Morning Complete's Metabolic Enhancing Blend — which is claimed to "rev up your metabolism" — contains green tea, ginger, white tea, turmeric, bitter melon, and black pepper.
Green tea, in particular, is well-researched for its metabolism and weight loss effects.
Researchers have found that drinking green tea prior to exercise increases the amount of fat burned during exercise.
Other studies have noted that green tea may decrease appetite, so it may be a good choice if you're trying to lose weight to reach a healthy body weight. (6, 7)
White tea — which is simply the same plant but harvested earlier when the leaves are still very young and tender — may offer similar effects because it contains similar compounds.
Summary
Some evidence suggests that green tea can help you burn more fat and reduce your appetite — so Morning Complete may offer some metabolism-boosting benefits.
Supports Liver Health and Cellular Function
Morning Complete contains aloe vera leaf and milk thistle extract as its Cellular Function and Liver Support blend.
These ingredients reportedly help improve cellular health and support the liver's primary function of helping to rid your body of potentially harmful byproducts from food, drinks, or medications.
Although there's not a lot of strong research to support the use of aloe vera for liver or cellular health, milk thistle is fairly well-researched.
It contains a compound called silymarin — a powerful antioxidant that may help promote optimal cell health and provide protection to liver cells in particular. (8)
However, high-quality human trials haven't found significant benefits from silymarin for people with liver disease. Regardless, it may still offer some benefits for people without liver disease. (9, 10)
Summary
Milk thistle may help support liver health and cellular function, but human trials have not shown strong results yet.
Regulates Blood Sugar
For "Sugar Balancing Support," Morning Complete contains Gymnema sylvestre leaf, fennel seed, and pine bark extract. These ingredients may help regulate your blood sugar levels.
One study found that — while the medicinal plant G. sylvestre had positive effects on body weight and lipid (blood fat) levels in people with diabetes — it actually didn't affect their blood sugar levels. (11)
However, another study found that pine bark extract offered a number of positive changes for people with type 2 diabetes, including improved average blood sugar levels, cholesterol, and waist circumference. (12)
Summary
The pine bark extract in Morning Complete may improve blood sugar levels, and the Sugar Balancing Support Blend ingredients may provide other positive effects for people with diabetes.
Supports Brain Function, Stress, and Mood
To support aspects of brain function — such as focus, concentration, and mood — Morning Complete contains an adaptogen blend including astragalus root and Rhodiola rosea.
These herbs are called adaptogens because they help the body to better adapt to stress and may promote relaxation or improved focus.
For example, one study found that astragalus root could help reduce inflammation and promote immune balance in athletes who had overtrained. (13)
High-quality studies have noted that the herb R. rosea provides mood-lifting benefits and may be useful for depression and anxiety.
However, although some weaker studies have noted R. rosea may help improve focus and concentration, this hasn't been seen in high quality trials. (14, 15)
Summary
Morning Complete may help improve the body's stress response and lift your mood, but there's not strong evidence that it will improve your focus.
Provides Antioxidant Activity
Morning Complete is rich in antioxidants, not only from the Antioxidant Blend it contains, but also from the many other plant-based extracts — such as medicinal herbs and greens.
Antioxidants get their name from their ability to reduce oxidative stress, which is caused by unstable free radical compounds that can build up inside of your cells and damage them. (16)
Oxidative damage is thought to contribute to a number of diseases and chronic conditions, like type 2 diabetes and heart disease. (17)
However, antioxidants are able to neutralize these unstable compounds.
One older study found that lycium berry (better known as Goji berry) — an ingredient in Morning Complete — significantly improved the blood antioxidant profile of older adults in only 30 days when compared to a placebo. (18)
Summary
Many of the ingredients in Morning Complete contain antioxidants, which may help to reduce oxidative damage from free radicals.
Support for Claimed Benefits
Below we rate each claimed benefit of Morning Complete against current scientific research behind the ingredients:
Improves Digestion

4

/5
Increases Energy

3

/5
Boosts Metabolism

3

/5
Supports Liver Health and Cellular Function

2

/5
Regulates Blood Sugar

3

/5
Supports brain function, stress, and mood

3

/5
Provides antioxidant activity

4

/5
Morning Complete Side Effects and Safety
ActivatedYou claims that Morning Complete is third-party tested, but there's no further information available about the testing laboratory or the results of the testing on their website.
Some users have reported side effects from taking Morning Complete — like diarrhea or an upset stomach. This may be caused by the aloe vera in the supplement.
Aloe vera has also been linked to kidney failure and cancer in animal studies, and it is currently classified as a "possible human carcinogen" — or cancer-causing agent — by the World Health Organization's International Agency for Research on Cancer. (19)
However, there are also potential benefits provided by aloe vera — like reducing cellular inflammation — and the amount in Morning Complete doesn't appear to be significant enough to cause harm beyond mild digestive side effects in some people. (20)
Additionally, since Morning Complete contains ingredients that could affect your blood sugar level, people with diabetes should be cautious when starting it.
For these reasons, it's best to speak with your healthcare provider before using Morning Complete.
Likewise, you should consult your doctor before taking Morning Complete if you are pregnant or breastfeeding.
However, with the exception of aloe vera, the other ingredients in Morning Complete appear to be safe with a low risk of side effects for most people.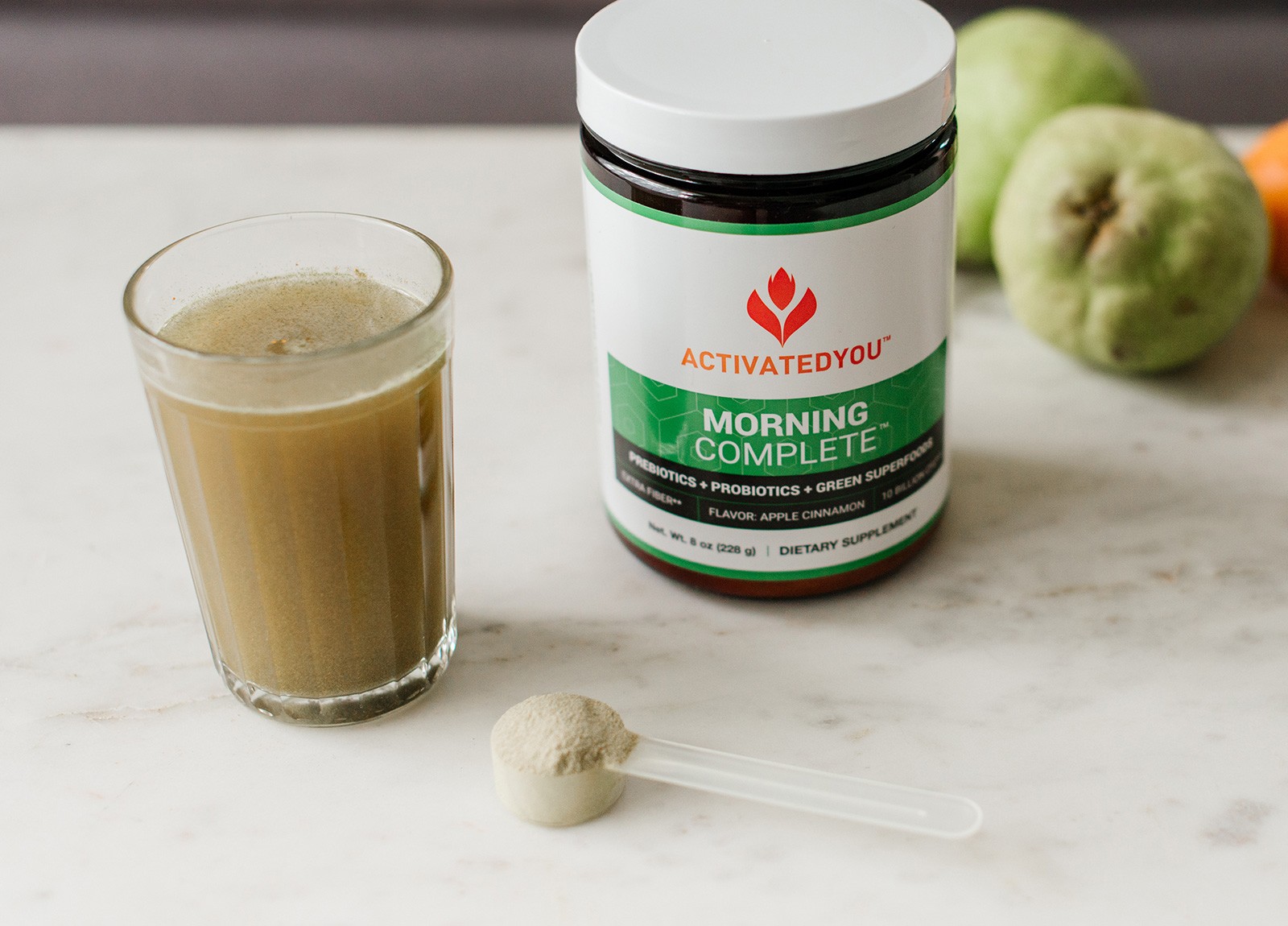 Supplement Facts, Dosage, and How to Make
A serving of Morning Complete is one scoop.
You take the supplement by mixing it into 8 ounces of liquid and drinking it. ActivatedYou recommends mixing it into water or green tea.
Morning completed should be refrigerated once it's opened.
One serving contains:
Calories: 15
Carbohydrates: 5 grams
Fiber: 4 grams
Prebiotic and High Fiber Blend: 4.05 grams (tapioca fiber, cinnamon bark)
Green Superfoods Blend: 735 mg (spinach, broccoli, kale, mulberry leaf extract, alfalfa leaf, barley grass, berberine HCl)
Metabolic Enhancing Blend: 390 mg (green tea leaf extract, ginger root, white tea leaf extract, turmeric root extract, bitter melon fruit extract, black pepper)
Antioxidant Blend: 100 mg (lycium berry, pomegranate fruit extract, Polygonum cuspidatum root extract)
Sugar Balancing Support: 100 mg (Gymnema sylvestre leaf, fennel seed, pine bark extract)
Adaptogens: 55 mg (Astragalus root extract, Rhodiola rosea root extract, diindolylmethane)
Cellular Function and Liver Support: 30 mg (aloe vera leaf, milk thistle seed extract)
Probiotic Blend: 10 billion CFU (B. coagulans, L. gasseri, L. plantarum, L. rhamnosus, B. bifidum, B. longum, L. acidophilus, L. casei, S. thermophilus)
Although we can assume that Morning Complete contains a number of vitamins and minerals from all of the powdered greens it contains, the Supplement Facts label doesn't provide details about the nutrient content.
How Much Does Morning Complete Cost?
One jar of Morning Complete is a 30-day supply. You can save some money by purchasing in bulk. You can purchase the summer from the brand's official website.
Here are the following prices:
One jar: $79
Three jars: $213 (you save 10%)
Six jars: $403 (you save 15%)
ActivatedYou offers free shipping for all orders over $50. However, they don't currently offer any subscription options.
To get the benefits of using Morning Complete, you'll need to use the product consistently for at least a few consecutive weeks.
So if you like it after trying a container, it may be worth buying in bulk to save the most money.
It's important to consider how the product will affect your budget on an ongoing basis, since it won't be a one-time purchase.
ActivatedYou also has a generous 90-day money-back guarantee. According to their website, you can get a full refund on your order for up to 90 days after your purchase if you're unsatisfied, whether or not the product has been opened.
However, you are required to pay for the return shipping.
For this reason, if you're curious about Morning Complete, you can try the product risk-free.
How Morning Complete Compares to Alternatives
There are several Morning Complete comparable wellness drink mixes available. Here's how it compares to three popular alternatives.
Athletic Greens AG1
Athletic Greens AG1 is a comprehensive wellness drink mix that contains vitamins, minerals, organic plant extracts (including fruits, vegetables, and herbs), antioxidants, mushrooms, and probiotics.
It's marketed as a supplement for people with active lifestyles, but anyone can use it.
The key difference between AG1 and Morning Complete is that AG1 is made with several organic ingredients and contains added vitamins, minerals, and mushrooms.
AG1 is $99 for 30 servings, but you can get a monthly supply for $79.99 with a subscription. They offer a 60-day money-back guarantee.
Athletic Greens may be a better choice for you if you prefer organic ingredients, or if you're looking to use a greens supplement that can replace your multivitamin.
LiveConscious Beyond Greens
Beyond Greens from LiveConscious is a budget-friendly option that is less than half the price of Morning Complete.
It has fewer ingredients, but still contains R. rosea, green tea, milk thistle, and probiotics. In addition, it contains several medicinal mushrooms.
It also shares the exact amount of each ingredient it contains, rather than the total amount of each "blend" as Morning Complete does.
Beyond Greens costs $31.99 for a 30-day supply, but you can get the price as low as $24.99 if you purchase in bulk. Beyond Greens offers a one-year money-back guarantee, but will deduct a 15% return fee from your refund.
Beyond Greens may be a good choice if you're looking for a less expensive probiotic greens drink.
Amazing Grass Greens Blend
Amazing Grass offers a large selection of greens products.
Their original product — the Greens Blend — contains greens powders, antioxidants from fruits and vegetables, fiber, prebiotics and probiotics, and digestive enzymes, which may help you digest the supplement easier.
Like Beyond Greens, it is a more budget-friendly option. A 30-day supply costs $32.99, or $26.39 if you subscribe.
Amazing Grass offers a 30-day money-back guarantee for unused or damaged products, but does not offer refunds on opened products.
Amazing Grass might be ideal for you if you are looking for a supplement that may help improve your digestive health — since it contains probiotics, prebiotic fiber, and digestive enzymes.
Comparison Table
Morning Complete
AG1
Beyond Greens
Amazing Grass
Price
$79.99 for 30-day supply
$99.99 for 30-day supply
$31.99 for 30-day supply
$32.99 for 30-day supply
Lowest Possible Price
$67.16 with bulk purchase (6 jars)
$79.99 with subscription
$24.99 with bulk subscription (4 jars)
$26.39 with subscription
Shipping
Free over $50
Free
Free
$7.99 or free over $59.99
Returns
90-days money-back
60-days money-back
One year money-back, minus 15% return fee
30-days money-back on unopened or damaged product only
Ingredient Types

Fiber

Greens

Herbs

Antioxidants

Adaptogens

Probiotics

Vitamins

Minerals

Greens

Herbs

Antioxidants

Adaptogens

Mushrooms

Digestive enzymes

Probiotics

Greens

Herbs

Antioxidants

Adaptogens

Mushrooms

Probiotics

Greens

Herbs

Antioxidants

Probiotics

Prebiotics

Fiber

Digestive enzymes

Third-Party Tested
✔
✔
✔
Form
Powder
Powder
Powder
Powder
Summary
There are many different wellness powders available that contain probiotics, greens, fiber, and herbs. If you're interested in trying them, Morning Complete may be the best option because of its generous 90-day money-back guarantee.
Frequently Asked Questions
What does Morning Complete taste like?
Morning Complete's citrus flavor tastes like powdered lemonade. It's not bad, but not exactly like lemonade either.
Likely, the flavor will take time to get used to. However, it's important to understand that the taste will naturally be affected by the various herbal ingredients in Morning Complete.
What is Morning Complete made out of?
Morning Complete contains several ingredients, including fiber from tapioca and cinnamon bark, greens, herbs and antioxidants, adaptogens, and probiotics. It's sweetened with zero-calorie monk fruit extract.
Who created Morning Complete?
Morning Complete was created by ActivatedYou, a wellness supplement company. The company was founded by actress Maggie Q and integrative medicine doctor Dr. Frank Lipman.
How often do you take Morning Complete?
Morning Complete can be taken once daily every day.
How long does it take Morning Complete to start working?
This can vary depending on a number of factors, like your current health, how consistently you take the product, and more. Some reviewers say they felt benefits immediately, while others say the product never seemed to make a difference for them.
What are the side effects of Morning Complete?
Some Morning Complete reviews say that the supplement caused them to have diarrhea or stomach pain. This may be due to the aloe vera in the drink.
Does Morning Complete give you diarrhea?
Diarrhea is a possible side effect of Morning Complete. If you are sensitive to aloe vera or already have digestive issues, the aloe vera in the supplement may make it worse.
The Bottom Line
ActivatedYou's Morning Complete is a daily supplement that contains several different types of health-boosting ingredients — like probiotics, fiber, adaptogens, herbs, and antioxidants.
With all these different ingredients in one product, it may make your supplement routine much simpler — or provide an easy and convenient way to start taking supplements.
There's a good deal of evidence to support several of the ingredients in Morning Complete — like fiber and probiotics for improved digestion and the various antioxidant herbs and extracts for their free radical-neutralizing potential.
There is less solid evidence to support other claims — like increasing energy, boosting metabolism, or improving liver function and cellular health — but the product may still work for you in these ways.
However, reviews of the product are fairly mixed.
Some reviewers like the product a great deal and say that it has made a definite difference in their health and energy, but others say it didn't make a noticeable difference. Some reviewers also say the supplement tastes bad and doesn't mix well.
Should you try it? Trying it yourself is the only way to know for sure if the product will work for you.
To know for sure how your body would respond to the supplement, you'd likely need to take it consistently for a few weeks.
Although it's on the expensive side, ActivatedYou offers a 90-day money-back guarantee, so you can try Morning Complete with no risk – especially when you take advantage of the discounts when buying in bulk.
If the product does work for you, it's a good way to make your supplement routine simple and efficient. You can also use bulk buying options or discounts to reduce the cost.
Thanks for your feedback!
In a few words, please tell us how this article helped you today.
Please let us know how we can improve this article by selecting your concern below.
Thank You! We appreciate your feedback.
*
Please select at least one topic:
Please Note: We cannot provide medical advice. This feedback will help us continue improving your user experience on WellnessVerge.
Please Note: We cannot provide medical advice. This feedback will help us continue improving your user experience on WellnessVerge.
At WellnessVerge, we only use primary references for our articles, including peer reviewed medical journals or well-respected academic institutions.