Evidence Based Research
Our editorial team is made up of expert registered dietitians with extensive, real-world clinical experience who are highly trained in evaluating clinical research.
Multi-GI 5 Review: A Promising Probiotic Blend for Your Gut Health
Multi-GI 5 is a gut health supplement from Unify Health Labs designed to promote digestive health, support weight loss, and improve energy. This high-quality probiotic may improve digestive health for individuals needing the extra support.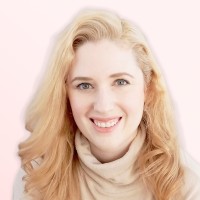 Medically Reviewed by
Anastasia Climan, RDN, CD-N
Registered Dietitian Nutritionist
Anastasia Climan is a registered dietitian whose career progressed into public health, corporate wellness, and private practice roles. She earned a Bachelor of Science from the University of Connecticut's Coordinated Undergraduate Dietetics Program in 2011. She's led wellness initiatives on HIV/AIDS, children's health, and diabetes.
WellnessVerge is reader-supported. When you make a purchase through links on this page, we may earn a commission. Learn More

Pros

Contains both prebiotics and probiotics
Contains clinically studied ingredients
Helps support a healthy gut and digestion
Has a 90-day money-back guarantee
Includes additional vitamins and minerals to support gut health
Gluten-free and vegetarian

Cons

May be expensive to some
Not clear on how many probiotic CFU per serving
It contains proprietary blends, making it difficult to know the amounts of each ingredient
Current research tells us that there is a significant connection between our digestive health and our general wellness. (1)
In fact, many scientists refer to the gut as the "second brain" — a healthy gut plays a role in protecting against mental health conditions, immune conditions, and metabolic conditions such as type 2 diabetes and obesity. (2, 3, 4)
With this in mind, ensuring optimal gut health is an essential step for anyone wanting to improve their overall health.
Multi-GI 5 is a supplement designed to improve gut health and general wellness.
This article will review Multi-GI 5 to help you understand how it works, its potential benefits, safety concerns, and cost.
What Is Multi-GI 5?
Multi-GI 5 is a product of Unify Health Labs and has been widely supported by music icon Randy Jackson.
The supplement supports gut health and eases digestive discomfort by providing a blend of probiotics, prebiotics, and minerals — such as iron and zinc.
Probiotics are essential bacteria in the digestive tract that have been shown to improve digestive health and support a healthy immune function. (1)
Prebiotics act as fuel for probiotics — helping the essential bacteria grow.
Multi-GI 5 offers a comprehensive product to support the integrity of your gut.
Does Multi-GI 5 Work? The Science Behind the Claims
Multi-GI 5 is a 5-in-1 targeted approach for improving gut health and general wellness.
When taken daily, Multi-GI 5 claims to address the following:
Improve digestion
Support weight management
Increase energy levels
Improve GI lining
Balance the body's bacteria
The formula contains five strains of probiotics in their probiotic blend — however — they do not provide information on how many CFUs are available per serving.
This information would be helpful for better determining how much live bacteria you are ingesting and deciding the effectiveness of the product.
Below we will review each of the product's claimed benefits, their respective ingredients, and scientific research to help you decide if this product is right for you.
Improved Digestion
Multi-GI 5 contains a probiotic and prebiotic blend that may improve digestive health.
Probiotics are living microorganisms that may offer multiple health benefits.
Research has found that the gut microbiota's primary functions — including probiotics — are digestion, vitamin production, and metabolism. (1)
Additionally, clinical studies have shown that probiotics may increase energy production from food. (1)
If you struggle to eat a diet rich in probiotics, including a probiotic supplement in your daily routine may be a helpful way to increase your intake.
Probiotic supplementation in healthy adults may improve the concentration of beneficial gut bacteria — leading to improved digestion, better bowel movements, and enhanced immune system function. (5)
Ideally, taking 10 to 20 billion CFUs daily is recommended. CFU refers to the number of live cells in each serving. (6)
Finally, Multi-GI 5 contains inulin — an important prebiotic fiber harvested from chicory root.
Inulin is not digested by the body and therefore adds bulk to your stool — increasing the frequency of your bowel movements for individuals with constipation. (7)
Regular bowel movements are a critical aspect of healthy digestion.
Together with a healthy diet and lifestyle, Multi-GI 5 contains probiotics and a prebiotic that offer digestive support.
Summary
Both probiotics and prebiotics play an important role in ensuring a healthy digestive system. While a healthy diet is a critical step in ensuring a healthy gut, Multi-GI 5 may be a helpful option for extra support for your digestion.
Supports Weight Management
Multi-GI 5 includes probiotic strains and a prebiotic that have been clinically shown to improve weight loss and support weight management. (8)
The product includes Lactobacillus gasseri in its formulation. Clinical research has found that L. gasseri significantly improves weight loss. (8)
One study found that participants receiving L. gasseri supplementation for 12 weeks showed a more significant reduction in body fat percentage and weight loss than those not supplemented.
Some participants experienced weight loss in as little as 6–8 weeks. (8)
Further studies looked at the effects of Lactobacillus rhamnosus and Lactobacillus plantarum — two probiotics in Multi-GI 5's probiotic blend.
The research revealed that when combined with a prebiotic fiber, there were apparent beneficial effects on weight loss, waist circumference, and appetite regulation. (8)
Multi-GI 5 contains inulin — an important prebiotic for gut health and weight management.
Research supports that when combined with prebiotics, the intake of inulin plays a role in regulating appetite and aids in weight loss. (8)
Clinical studies have determined that microbial diversity has a preventive effect on long-term weight gain regardless of calorie intake. (1)
Summary
Multi-GI 5's combination of probiotics and prebiotics may help support weight management by promoting a healthy gut flora.
Dig Deeper: Can Probiotics Help You Lose Weight?
Increased Energy Levels with Good Gut Health
Multi-GI 5 may support optimal energy levels by improving overall gut health.
With its undeniable connection to our brain and nervous system, many scientists refer to the gut as the "second brain."
Small but impressive clinical studies have discovered that probiotic supplementation produced "small but significant" anti-depressant and anxiety effects. (9)
Maintaining good overall health and avoiding depression is essential for optimal energy levels.
Additionally, probiotic intake lends to diverse gut bacteria. Studies have shown that greater diversity leads to better absorption and bioavailability of nutrients, decreased inflammation, and increased energy production from food. (1)
This is an excellent reason to ensure optimal intake of probiotic-rich foods and consider supplementation when extra support is needed.
Summary
With its blend of probiotics and prebiotic fiber to promote better gut health, Multi-GI 5 intake can be a beneficial supplement for improving energy levels.
Improved GI Lining for a Healthy Gut
Nutrients in Multi-GI 5's GI Health Blend play an essential role in the health of our GI lining.
The lining of our GI system plays a vital role in absorbing nutrients such as:
Vitamins
Minerals
Water
Protein
Fat
Carbohydrates
Ensuring a healthy gut lining is critical for optimal health.
Glutamine — an amino acid present in Multi-GI 5 — is vital in ensuring optimal lining in our gut, which is especially important during stress and illness. (10)
Additionally, combined supplementation with zinc carnosine complex found in Multi-GI 5 may help repair lining conditions associated with a "leaky gut." (11)
Having a leaky gut means the intestinal lining is compromised — potentially letting toxins into the bloodstream. While leaky gut isn't fully understood, symptoms may include: (12, 13)
Chronic diarrhea, constipation, or bloating
Nutritional deficiencies
Fatigue
Headaches
Difficulty concentrating
Joint pain
Furthermore, the GI Health Blend includes berberine hydrochloride — which may promote a healthy mucosal lining. (14)
A healthy mucosal lining is essential for your wellness and gastrointestinal health because it helps the nutrients get in and keeps the unwanted substances out.
If you are busy and lack time to prepare foods, a dietary supplement like Multi-GI 5 offers a good option for critical nutrients that support a healthy GI lining.
Summary
Combined with a healthy diet, Multi-GI 5 contains vital nutrients necessary to support a healthy GI lining.
Balanced Gut Bacteria
Multi-GI 5 provides a comprehensive blend of probiotics and a prebiotic to support balanced gut bacteria and human health.
In the medical world, an imbalance of gut bacteria is called gut dysbiosis. Signs of gut dysbiosis include: (15)
Diarrhea
Bloating
Abdominal pain
While diet changes can play a significant role in correcting an imbalance of gut bacteria, treatment with probiotics and prebiotics can be helpful.
Research has shown that individuals supplemented with probiotics showed a greater diversity of good bacteria in the gut. (1)
Additionally, in a study reviewing the effects of COVID-19 on gut health, researchers found probiotics to play a role in maintaining a healthy balance of bacteria. (16)
Having a balanced gut may protect against conditions such as obesity, diabetes, anxiety, depression, and disease — such as colorectal cancer. (17)
While a healthy lifestyle should always be the first line of defense, supplementation can be helpful — especially during busy or stressful seasons of life.
Summary
When combined with a healthy lifestyle, Multi-GI 5 contains a comprehensive blend of probiotics and a prebiotic to support balanced gut bacteria.
Support for Claimed Benefits
Improves digestion

4.5

/5
Supports weight management

4.5

/5
Increases energy

3.5

/5
Improves GI Lining

4.5

/5
Balances gut bacteria

3.5

/5
How to Take Multi-GI 5
Multi-GI 5 powder dissolves easily with water and tastes like sweet strawberry lemonade.
To enjoy Multi-GI 5, mix one serving (5.9 g) with water or tea.
It can be taken anytime, but for overall body health and improved gut health, it is recommended to take this product daily.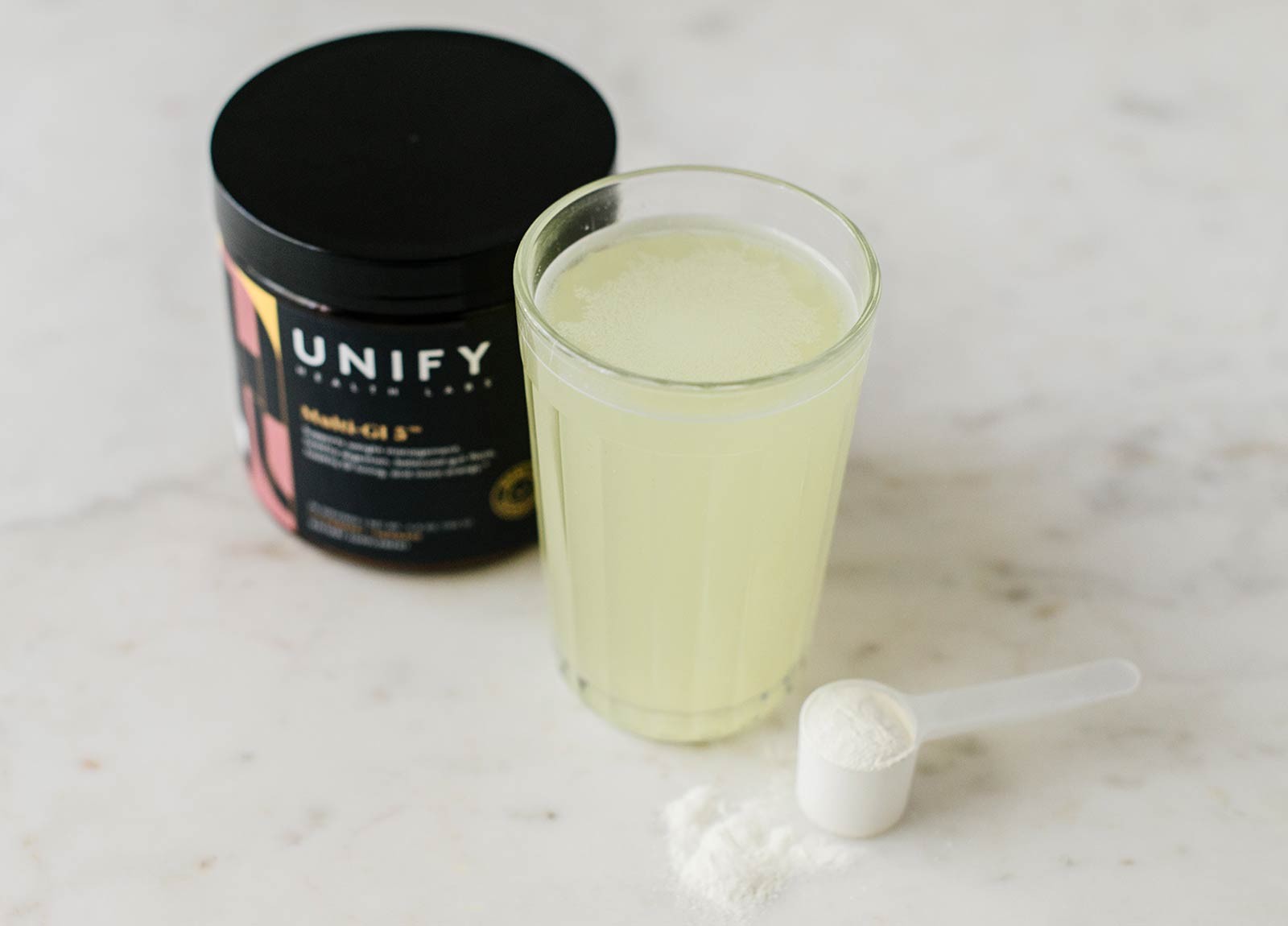 Multi-GI 5 Supplement Facts
One serving of Multi-GI 5 contains:
Calories: 15
Total Carbohydrates: 5 g
Dietary Fiber: 4 g
Sodium: 15 mg
Iron: 1 mg
Zinc (Zinc Carnosine): 1 mg
Prebiotic Blend: 4 g — Oligosaccharide (Inulin from chicory root)
GI Health Blend: 433 mg — Fermented L-Glutamine, Zinc Carnosine Complex, Magnesium Beta-Hydroxybutyrate, Deglycyrrhizinated Licorice Root Extract (<1% Glycyrrhizic Acids), Black Pepper Extract (fruit) (BioPerine®), Berberine Hydrochloride
Probiotic Blend: 37.64 mg — Lactobacillus gasseri, Bacillus coagulans (as ProDURA®), Lactobacillus rhamnosus, Lactobacillus casei, Lactobacillus plantarum
Other Ingredients: Citric Acid, Natural Flavor, Natural Sweetener Blend (Erythritol, Oligosaccharides, Natural Flavor), Enzymatically Modified Stevia, Silica, Monk Fruit Extract
Safety and Side Effects
While probiotics are generally safe for healthy adults, they are not recommended for immunocompromised individuals. (18)
If you suffer from GI conditions, review with your physician before beginning supplementation, as some probiotics may worsen your condition.
Additionally, Multi-GI 5 is not intended for pregnant or nursing individuals.
Multi-GI 5 is gluten-free, vegetarian, and free of added sugars. It has also been third-party tested to ensure purity and potency.
While side effects are not widely reported, potential side effects of probiotics include bloating, gas, abdominal discomfort, and gas — if taken at high doses.
Cost and Where to Buy
You can buy Multi-GI 5 online at their official website. You can bundle and save on costs.
Each jar provides a 30-day supply.
Shipping is free on all orders over $50.
| | First-Time Customer Price | Regular Price |
| --- | --- | --- |
| One Jar | $49.95 | $69.95 |
| Three Jars | $134.85 | $188.85 |
| Six Jars | $253.70 | $353.70 |
You can earn 10% off your purchase with convenient monthly delivery if you subscribe.
Multi-GI 5 offers a 90-day money-back guarantee on all orders — if you are not fully satisfied with your purchase, you will be issued a full refund.
How Multi-GI 5 Compares to Other Brands
Unify Health Labs Multi-GI 5 is a great product and is unique from others with its combination of prebiotics, probiotics, and GI support blend for gut health.
The GI support blend not only promotes the improvement of glut flora but may also provide additional anti-inflammatory support — this adds value to the product.
Comparable products include Seed Daily Synbiotic and Garden of Life Dr. Formulated Fitbiotic.
Seed Daily Synbiotic
Seed contains a blend of 24 clinically studied probiotic strains and a prebiotic.
According to the manufacturers, the strains of probiotics in Seed have been clinically shown to support:
Digestive health
Skin health
Nutrient synthesis
Heart health
A unique feature of Seed is the extensive testing the product undergoes before becoming available to customers.
The product undergoes testing to determine if it is free of major allergens, heavy metals, and contaminants. Additionally, the testing confirms the bioavailability of the probiotics through the digestive tract.
Seed includes 53.6 billion AFU — AFU refers to living and viable bacteria in a probiotic.
The product is also shelf stable.
Seed has undergone more thorough testing and includes a broader range of probiotics. However, it does not include the additional vitamins and minerals to support gut health found in Multi-GI 5.
Seed costs $49.99 for a month's supply — including shipping and a free travel vial.
Summary
If you are looking for a comprehensive probiotic supplement, Seed is a great choice. If you need the additional support of ingredients such as zinc, glutamine, and magnesium, Multi-GI 5 may be a better fit.
Garden of Life Dr. Formulated Fitbiotic
Garden of Life's Fitbiotic product contains 14 probiotic strains with 4 g of prebiotic fiber and 50 billion CFUs.
Fitbiotic contains the same strains of probiotics included in Multi-GI 5 plus more.
Fitbiotic claim to support:
Healthy digestion and elimination
Weight management
Digestive and immune support
The product is USDA organic, non-GMO, shelf-stable, gluten-free, soy-free, vegetarian, and raw.
You can take Fitbiotic any time of day by mixing one packet with 8 oz of water.
For a 20-packet supply, the cost is $38.39 directly on the brand's website and $31.94 on Amazon.
Summary
If you are looking for a probiotic supplement targeting weight loss with a lower price point, Garden of Life's Fitbiotic would be a good alternative.
Comparison Chart
Multi-GI 5
Seed Daily Synbiotic
Garden of Life Fitbiotic
Regular Price
$69.95 for 30-day supply
$49.99/month
$38.39 for 20-day supply but may be available for less at health food stores
Discounted/Subscription Price
$49.95 for 30-day supply for first-time customers
$49.99/month
No subscription available
Shipping
$4.95 or free on orders over $50
Free shipping
Free shipping for most locations
Returns
90-day money back
30-day money back
30-day money back
Key Ingredients

Lactobacillus gasseri,

Lactobacillus rahmnosus,

Chicory root

Bifidobacterium longum,

Bifidobacterium breve,

Organic rice fiber

Acacia fiber,

Lactobacillus gasseri,

Lactobacillus rahmnosus

Third-Party Tested
✔
✔
✔
Clinical Studies
✔
Gluten-Free
✔
✔
✔
Vegan
✔
✔
✔
Form
Powder
Pill
Powder
Frequently Asked Questions
How should I use Multi-GI 5?
To use Multi-GI 5, mix a scoop of the powder with the liquid of your choice. For optimal results, combine with a healthy and balanced diet.
Is Multi-GI 5 safe?
Multi-GI 5 has undergone third-party testing to ensure quality, purity, and potency.
The ingredients used in this supplement are generally safe with no adverse side effects.
It is important to note that when first beginning any probiotic supplementation, some people experience bloating, gas, abdominal pain, or diarrhea.
If the symptoms persist, be sure to stop consuming this product and speak to your doctor.
What if I don't see results?
If you are not 100% satisfied with the products, you may return for a full refund with Unify Health Labs' 90-day money-back guarantee.
The Bottom Line
Multi-GI 5 may be an excellent option to include in your daily regimen if you need extra support.
This supplement is ideal for individuals who are on-the-go and are looking for a comprehensive gut health formula with probiotics, prebiotics, and gut-supporting ingredients.
It is important to note that — while the product is highly reviewed online by many consumers, well priced, and made with clinically researched ingredients — the proprietary blends make it difficult to say how effective it may be on an individual basis.
A positive is that Multi-GI 5 offers a 90-day risk-free trial — if for any reason you do not feel the intended results, you can return it for a full refund.
It is always best to combine supplementation with a well-balanced diet and healthy lifestyle for ultimate benefits.
Additional Things to Consider for Your Gut Health
A good first step is ensuring a well-rounded diet that includes fiber-rich foods such as whole grains, fruits, and vegetables.
A diet rich in probiotics and prebiotics can be helpful for maintaining good gut health.
Food sources of probiotics include:
Yogurt
Kefir
Sauerkraut
Sourdough bread
Some cheeses
Miso
Food sources of prebiotics include:
Dandelion greens
Artichoke
Garlic
Onions
Leeks
Bananas
Finally, if you want to support your gut health and lose weight, working alongside a Dietitian can be a helpful start.
Thanks for your feedback!
In a few words, please tell us how this article helped you today.
Please let us know how we can improve this article by selecting your concern below.
Thank You! We appreciate your feedback.
*
Please select at least one topic:
Please Note: We cannot provide medical advice. This feedback will help us continue improving your user experience on WellnessVerge.
Please Note: We cannot provide medical advice. This feedback will help us continue improving your user experience on WellnessVerge.
At WellnessVerge, we only use primary references for our articles, including peer reviewed medical journals or well-respected academic institutions.