Evidence Based Research
Our editorial team is made up of expert registered dietitians with extensive, real-world clinical experience who are highly trained in evaluating clinical research.
Multi-GI 5 Review: An Analysis of Its Effectiveness and Safety
Multi-GI 5 is a dietary supplement from Unify Health Labs that is claimed to improve digestive health, combat food cravings, and boost feelings of energy and focus. This is a high-quality probiotic that may improve digestive health, but it is quite expensive compared to similar products.
This page contains links through which we may earn a small commission should you make a purchase from a brand. Learn more about how we make money here.

Pros

Contains both prebiotics and probiotics
Ingredients are evidence-based for supporting gut health

Cons

The product is expensive
Some ingredients are not in sufficient doses for claims made
What Is Multi-GI 5?
Multi-GI 5 is a comprehensive gut health supplement that combines a unique "GI Health" blend, prebiotics, and probiotics.
Overall, it is designed to help with soothing the digestive tract and supporting its integrity, as well as help with other GI issues, including "leaky gut."
The proprietary GI Health blend is claimed to help with nutrient bioavailability, reduce GI discomfort, and support the lining of your gut.
The prebiotic blend also supports nutrient absorption and aids digestion.
The probiotic strains in this supplement are reported to help with digestion optimization, weight management, and gas and bloating reduction.
Altogether, this supplement has 16 main ingredients to support gut health, which in turn, the creators at Unify Health Labs believe will help with overall body health.
To take Multi-GI 5, use 1 scoop of powder (6.4g) to be mixed with water or tea and taken daily.
It is an easy-dissolve powder that creates a strawberry-lemonade flavored drink that can be taken at any time of the day.
About Unify Health Labs
When you think about supplements to promote gut health, it's not too often that you also think about the music industry. However, these two things have more in common than you would think.
Unify Health Labs was founded by Randy Jackson, who is largely known for his eclectic music career – some of his roles include singer, record producer, bassist for the rock band Journey, and judge on American Idol.
Randy Jackson was inspired to start Unify Health Labs after a trip to the ER, where he learned of his diagnosis of Type 2 diabetes.
After a long and arduous journey to improve his physical health, Randy Jackson found a passion for creating a simpler way to help others meet their health goals.
He founded Unify Health Labs, which consists of a diverse team of health experts and has advisors, including Dr. Melina Jampolis, a board-certified physician nutrition specialist, to guide the process of creating their supplements.
Evaluation of Ingredients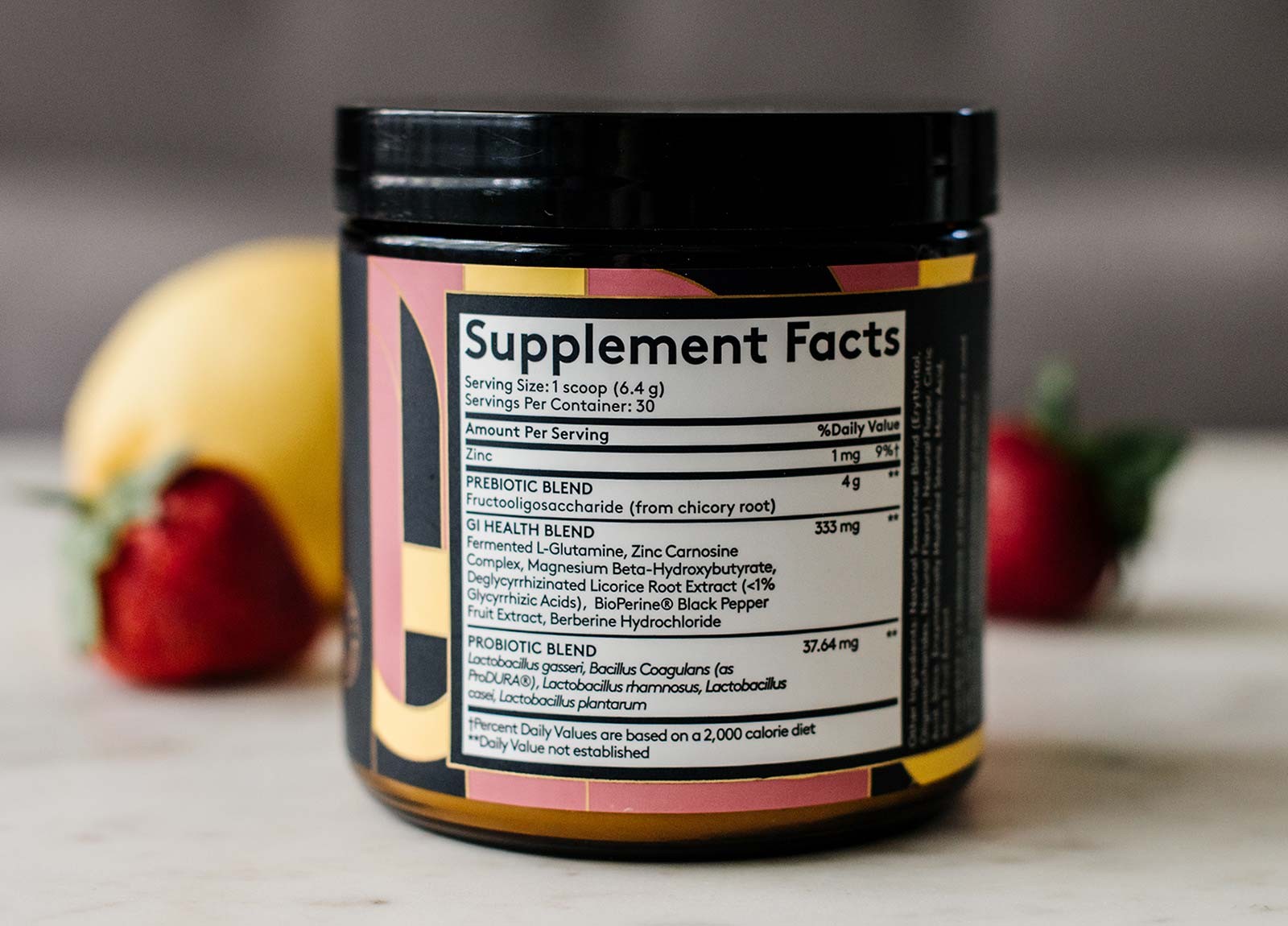 Multi-GI 5 contains a GI blend, prebiotic blend, and probiotic blend to support gut health.
Here's what the research has to say about the ingredients in this supplement and how they support gut health:
GI Blend
Fermented L-Glutamine, 200 mg
L-glutamine is an amino acid that is important in metabolism and immune function.
A randomized trial found that supplementation with 5 g of L-glutamine three times a day for 8 weeks was effective in reducing intestinal permeability and IBS symptoms in patients who developed IBS-D following enteric infection.
Magnesium Beta-Hydroxybutyrate (BHB), 70 mg
Magnesium BHB is a ketone body that is produced by the body in its fasting state, which, when taken exogenously, may be beneficial in enhancing healthspan in humans.
One study investigating the impact of BHB infusion on cognitive performance in individuals with type-2 diabetes found that the ketone solution improved working memory, but did not have an effect on any other cognitive measure.
Deglycyrrhizinated Licorice Root Extract, 50 mg
Licorice root extract is used for its anti-inflammatory and anti-ulcer effects and may have additional benefits due to its flavonoids.
Many of the studies on licorice for gastric ulcer treatment are from the 60s and 70s and would benefit from updated studies to strengthen the body of research.
BioPerine Piper Nigrum Extract, 10 mg
This extract from the black pepper plant can aid with digestion and absorption of nutrients from foods and has anti-diarrheal properties.
In one study analyzing the effects of black pepper and other spices, black pepper was found to act as a prebiotic and positively impact the growth of certain types of bacteria in the gut.
Berberine Hydrochloride, 3 mg
Berberine hydrochloride is a plant-based compound that can be found in several plants.
In an animal study, rats with induced ulcerative colitis had decreases in inflammatory cytokines after supplementation with berberine hydrochloride.
More human clinical trials need to be done on the effectiveness of this compound on gut health.
Zinc (from Zinc Carnosine Complex), 1 mg
Zinc carnosine has a role in immune function and wound healing through its anti-inflammatory and antioxidant functions.
A review of studies finds that zinc carnosine helps with gastric ulcer healing, prevents gut permeability, and helps with other gut mucosal repairs.
No adverse effects have been reported with the use of zinc carnosine.
Prebiotic Blend
Fructooligosaccharides (Inulin) from Chicory Root, 4 g
Inulin is a type of fermentable fiber that is found in many plants but often comes from chicory root when used in supplements.
A review of the therapeutic potential of inulin finds that inulin improves gut microbiota, stimulates immune function, reduces the risk of irritable bowel diseases, lowers the risk of colorectal cancer, decreases constipation, and increases mineral absorption.
While fructooligosaccharides like inulin can help increase satiety, the current research supports the intake of over 16 g/day for at least 12–16 weeks in order to make a difference in appetite and energy intake.
Intake of less than 10 g of fructooligosaccharides generally does not affect appetite.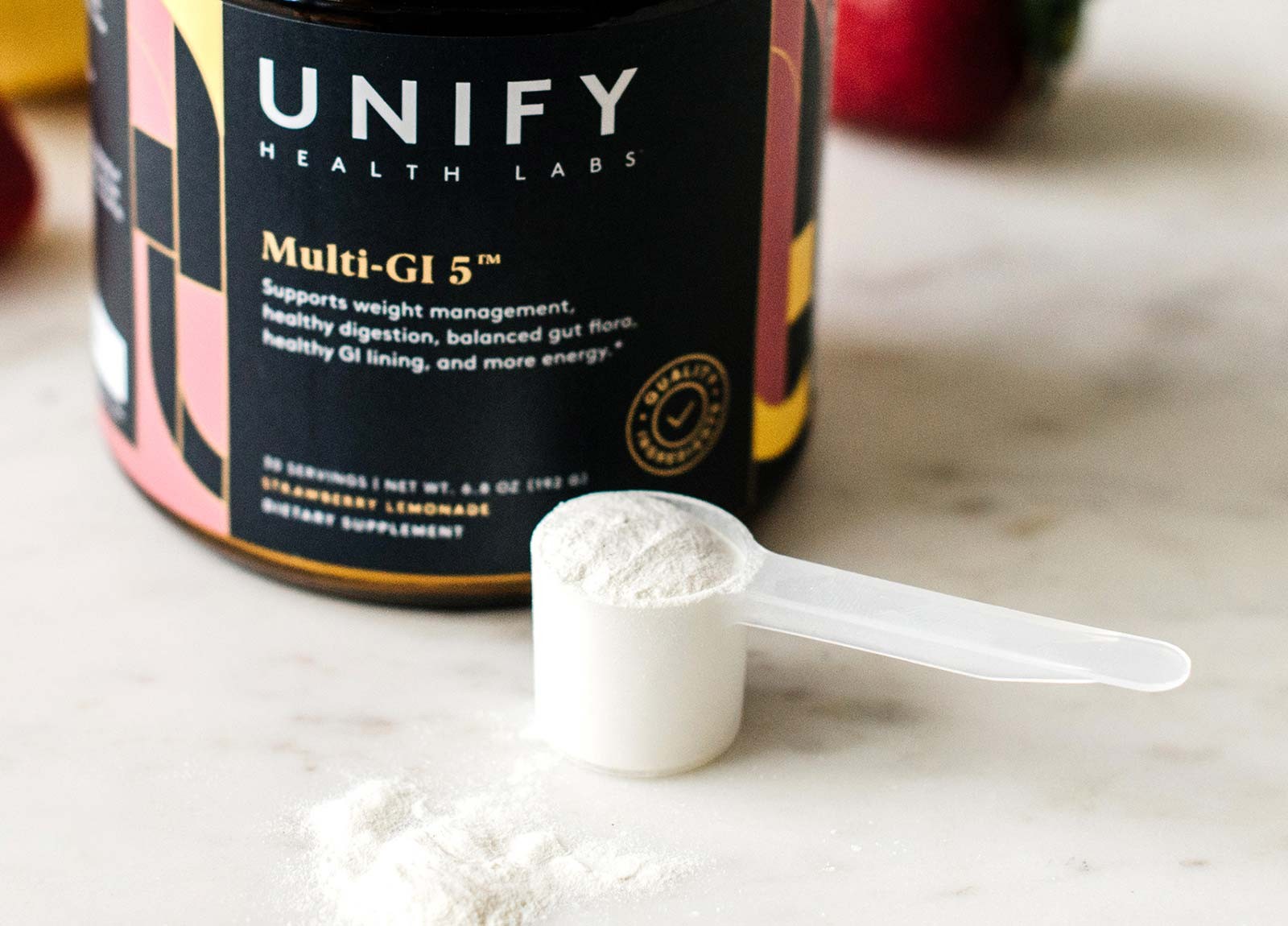 Probiotic Blend
Lactobacillus Gasseri, 100 billion cfu/g, 7.13 mg
Lactobacillus gasseri is a probiotic isolated from human breast milk. One study found that 12 weeks of L. gasseri supplementation in overweight individuals resulted in increased weight loss, reduced waist circumference, and reduced fat accumulation.
Another small trial found that L. gasseri supplementation in adults with irritable bowel symptoms had improvements in the severity of symptoms after 4 weeks compared to a placebo.
Bacillus Coagulans (as ProDura), 150 billion cfu/g, 7.26 mg
A review of clinical trials finds that B. coagulans has a number of benefits for gastrointestinal health.
This probiotic is found to help restore microbiota balance, decrease inflammation, reduce clinical symptoms in IBS and other gastrointestinal diseases, and improve diarrhea caused by various factors.
Lactobacillus Rhamnosus, 350 billion cfu/g, 7.13 mg
L. rhamnosus is an effective probiotic in aiding the integrity of the intestinal walls and can be effective for the prevention and treatment of several digestive ailments.
A meta-analysis of studies finds that L. rhamnosus is effective in treating diarrhea in children and adults, but the quality of studies is moderate to low.
Lactobacillus Casei, 300 billion cfu/g, 7.13 mg
This bacterium is found naturally within the human microbiome and fermented dairy products.
L. casei shows promise in disease prevention, weight loss and obesity management, brain function, immunity support, and more.
The L. casei Shirota strain has been found in multiple studies to reduce constipation.
Lactobacillus Plantarum, 400 billion cfu/g, 3 mg

Lpb. plantarum is a probiotic often found in fermented and functional foods such as kimchi and pickled products.
A review of studies finds that Lpb. plantarum is effective for inhibiting pathogenic bacteria, reducing inflammation, immune health, and reducing symptoms of gastrointestinal infections.
Animal studies suggest this bacteria may also be important in brain development and function through the gut-brain axis.
Verdict on Claimed Benefits
Below is our summary of the available evidence for the claimed benefits of Multi-GI 5 based on the available research:
| | |
| --- | --- |
| Healthy digestion | Gold Star Evidence |
| Balanced gut flora | Gold Star Evidence |
| Healthy GI lining | Gold Star Evidence |
| Improved weight management | Moderate Evidence |
| Increased energy | No Evidence |
Multi-GI Safety and Side Effects
Probiotics are generally considered safe in healthy adults, but there may be a risk for individuals who are immune-compromised or have existing gastrointestinal issues.
When starting a new probiotic, you may experience temporary increases in bloating or gas as the balance of bacteria shifts.
Some ingredients in Multi GI 5 may cause side effects if taken at high doses, including inulin and licorice root.
Inulin, and similar fibers, may cause abdominal discomfort, gas, and diarrhea at high doses.
Side effects from high doses of licorice root include high blood pressure, hypokalemia (low potassium), and fluid retention.
Among the inactive ingredients, Multi-GI 5 contains some natural sweeteners including erythritol, stevia, and monk fruit extract.
The research is inconclusive on the potential effects of natural and nonnutritive sweeteners on the gastrointestinal tract.
Ask your doctor before taking any dietary supplements to prevent possible negative health effects.
Related: How and When to Take Probiotic Supplements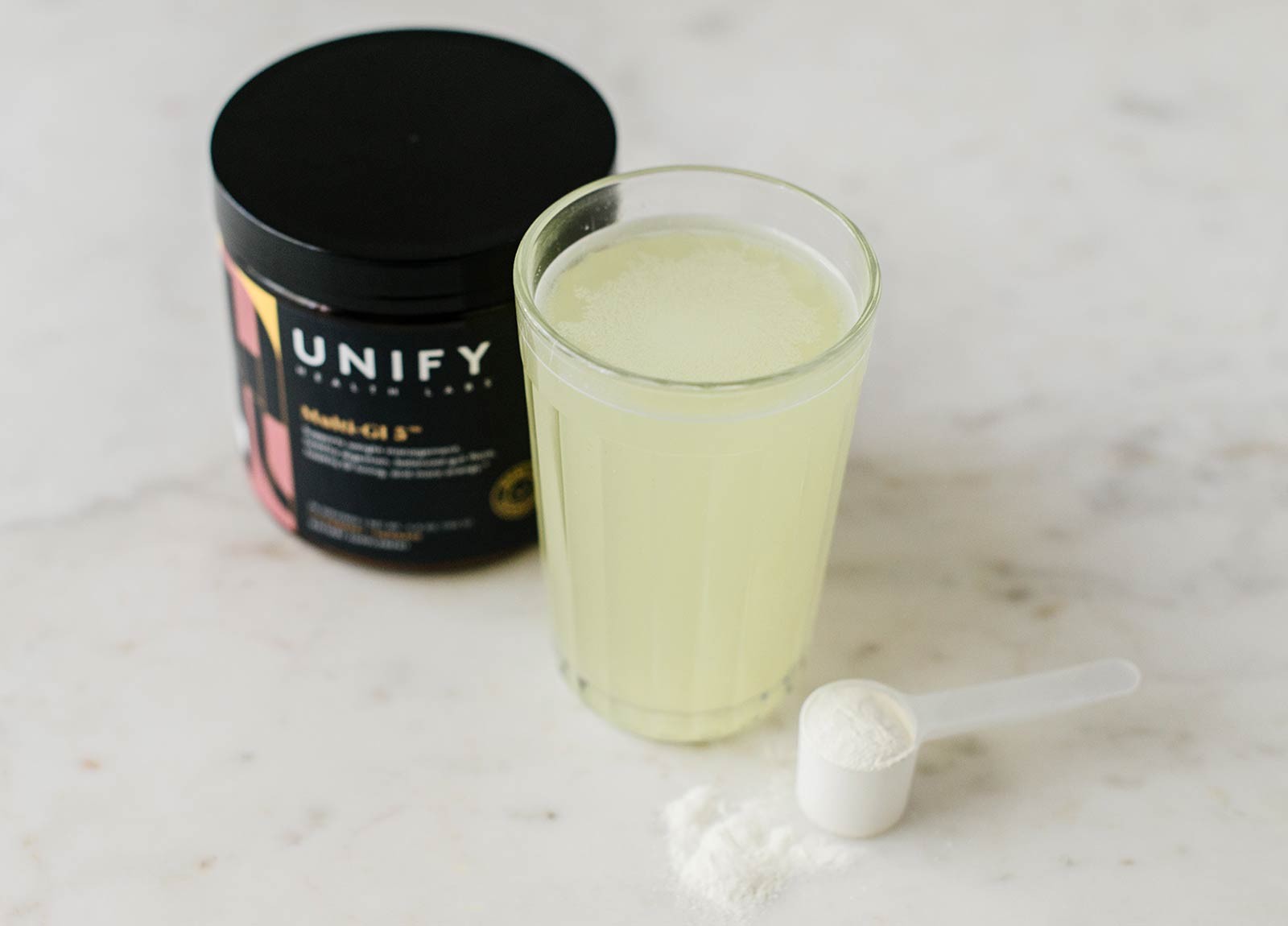 Cost and Where to Buy
Multi-GI 5 can be purchased directly from the Unify Health Labs website.
For a 30-day supply, this supplement costs $69.95.
Small discounts are available if purchasing Multi-GI 5 in bulk:
If you buy a 3-month supply, the cost is $188.85 ($21 savings)
If you purchase a 6-month supply, the cost is $353.70 ($66 savings)
Unity Health Labs offers a 90-day money-back guarantee on their website if you are not satisfied with your purchase and use of Multi-GI 5.
This product is also available on Amazon at a lower price, but buyers should take caution.
While the product is shipped from Amazon, it is sold by a third party, making it difficult to guarantee the quality of the product.
Comparison to Alternatives
Unify Health Labs claims that Multi-GI 5 is unique from other digestive health supplements due to its particular blend of the 16 ingredients noted above.
In looking at other popular probiotic-prebiotic blends from companies like Seed or Hum, Multi-GI 5 has the advantage of having a GI-support blend in addition to their prebiotic and probiotic mix.
I think this adds value for anyone looking for additional anti-inflammatory support and benefits to their probiotic of choice.
Some alternatives are clearer about the dosing of their probiotics, which gives more information about whether probiotics are included in amounts that are clinically relevant.
Multi-GI 5 notes the cfu/g of their probiotics on the website, but the product only contains milligrams of each probiotic in their proprietary blend (so without some extra math, you don't know how much you're receiving).
The Supplement Facts labels of some other brands specifically indicate exactly how many CFUs of bacteria are present per serving.
The cost of Multi-GI 5 is higher than many other probiotic/prebiotic blends available. A quick search online offers alternatives largely ranging between $25–$55 for a month's supply.
Related: How to Choose the Best Probiotic Supplement
The Bottom Line
The Multi-GI 5 supplement appears to be formulated based on credible science and may be beneficial for gut and body health based on its ingredients.
However, this supplement is quite pricey, and you may be able to find other prebiotic/probiotic blends at a better price.
A Word from Our RD
As a registered dietitian, I believe that supporting your gut health should not only rely on a supplement, no matter how effective it may be.
To best support your gut health, eating a varied diet with high-fiber foods like fruits, vegetables, and whole grains, as well as healthy fats and lean or plant-based proteins, can help.
If you have more complex digestive concerns and needs, speak with a health professional like a registered dietitian or doctor specializing in GI health to assist with an individualized approach to your health needs.
Thanks for your feedback!
In a few words, please tell us how this article helped you today.
Please let us know how we can improve this article by selecting your concern below.
Thank You! We appreciate your feedback.
*
Please select at least one topic:
Please Note: We cannot provide medical advice. This feedback will help us continue improving your user experience on WellnessVerge.
Please Note: We cannot provide medical advice. This feedback will help us continue improving your user experience on WellnessVerge.
At WellnessVerge, we only use primary references for our articles, including peer reviewed medical journals or well-respected academic institutions.