WellnessVerge is reader-supported. We may earn a commission when you make a purchase through the links on this page. Learn more about our process here.
Why You Can Trust Us
Every article and review on WellnessVerge is thoroughly researched and fact-checked by licensed health professionals. Our editorial team is made up of registered dietitians and medical doctors.
Every piece of content is also medically reviewed to ensure accuracy and alignment with sound scientific evidence and medical consensus. We only use peer-reviewed journals and reputable medical sources to form our conclusions and recommendations.
We operate with total editorial independence, and our editorial policies ensure that your well-being comes first. Based on our rigorous research, we only recommend products that are worth considering. We always disclose any ads or partnerships with brands featured on our site.
Youtheory Turmeric Review: Is It Safe and Effective?
Youtheory Turmeric is a clinically studied turmeric extract supplement designed to provide potent antioxidants and compounds to support a healthy inflammation response. This product contains active ingredients with extensive research behind them that may prove to be beneficial for some consumers.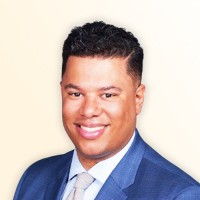 Medically Reviewed by
Anthony Dugarte, MD
Medical Reviewer
Anthony Dugarte, M.D., C.S.C.S. is a health and wellness writer and medical content reviewer. In addition to dedicating the last 8 years to medical research, Dr. Dugarte also has more than a decade of experience in strength and conditioning, nutrition, and rehabilitative exercise, as well as authoring and reviewing health and wellness-related content.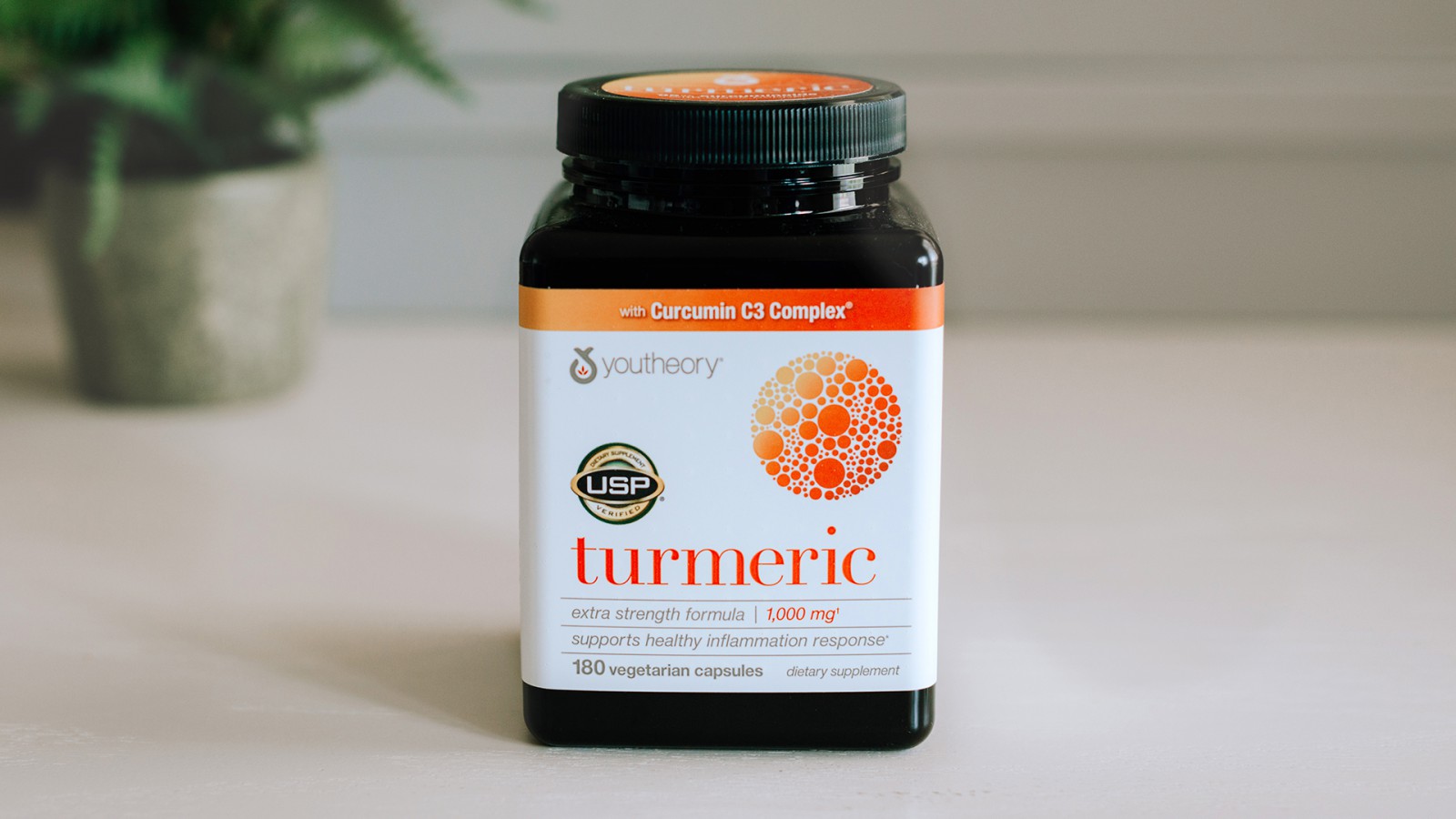 Pros

Contains highly researched active ingredients
Reasonably priced compared to alternative products

Cons

Regular strength version does not bear a third-party testing seal
Variability in price among retailers selling this product
What Is Youtheory Turmeric?
Youtheory Turmeric is a supplement formulated to support a healthy inflammatory response.
Turmeric (Curcuma longa) is an Indian spice related to ginger, known for its bright yellow-orange pigment.
It's often used in Middle Eastern cuisine to provide an earthy, slightly sweet flavor. Its medicinal and culinary uses have been practiced for thousands of years in Asian countries. (1)
In more modern history, Turmeric has also become a popular supplement used for its antioxidant, anti-inflammatory, antimicrobial, anti-cancer, and antimutagenic properties. (1)
The active component in turmeric is curcumin, which belongs to a family of bioactive compounds called curcuminoids that are responsible for the majority of turmeric's health benefits.
In addition to curcumin, Youtheory Turmeric contains piperine and olive leaf extract to offer further antioxidant and anti-inflammatory benefits.
This supplement is free from gluten, soy, and dairy ingredients.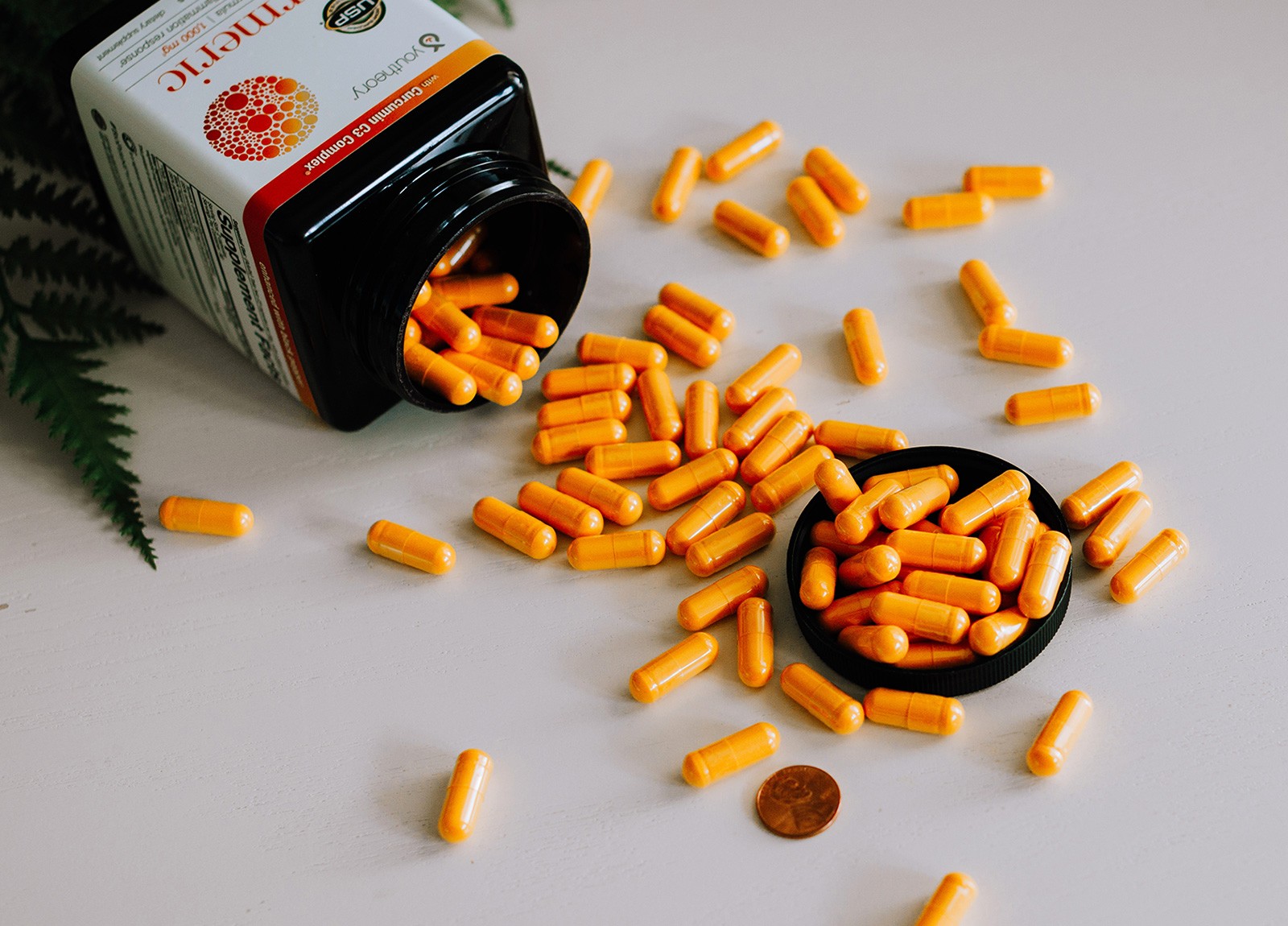 Evaluation of Ingredients
Youtheory Turmeric contains two active ingredients – turmeric and piperine. It also includes olive leaf extract intended to enhance its absorption and effectiveness.
Curcumin C3 Complex Turmeric, 450 mg
The spotlight ingredient in this supplement is turmeric, which is highlighted for its anti-inflammatory properties.
This supplement contains Curcumin C3 Complex brand turmeric, which is extensively studied.
Its potency has been amplified to contain 95% curcuminoids, compared to 4% in regular turmeric powder.
Additionally, Curcumin C3 Complex contains three curcuminoids: curcumin, demethoxycurcumin, and bisdemethoxycurcumin.
These three curcuminoids have been widely implicated for their therapeutic benefits on inflammation and oxidative stress, especially in conditions like heart disease and diabetes. (2, 3)
The most well-known curcuminoid is curcumin, which appears to be the most active in the body and beneficial to health. (4)
Curcumin has strong antioxidant capabilities and can scavenge free radicals. It can also increase serum concentrations of antioxidants like superoxide dismutase in the body. (1)
Because of these effects, curcumin has been studied for its potential therapeutic role in numerous health conditions. (5)
Inflammation is a known contributor to the pathogenesis of many chronic conditions, such as Alzheimer's dementia, heart disease, diabetes, multiple sclerosis, inflammatory bowel disease, asthma, cancer, skin diseases, chronic kidney disease, arthritis, obesity, fatigue, endometriosis, and metabolic syndrome. (6, 7, 8, 9)
The properties of curcumin make it not only a potential preventive compound but also therapeutic.
For example, though more research is needed, several randomized controlled trials have shown evidence that around 1,000 mg/day of curcumin could be effective in treating symptoms of arthritis. (10)
And a 2021 review found that curcumin could even be used in conjunction with drugs in the treatment of COVID-19 infection, without any significant side effects. (11)
A 2015 review published in Molecules discusses how over the last 20 years, over 100 clinical trials have been conducted on the antioxidant and anti-inflammatory role of curcumin in numerous chronic diseases. (7)
While the exact mechanisms are still being researched, both lab and human studies have observed the ability of curcumin to suppress pro-inflammatory pathways.
However, a 2019 meta-analysis of 19 randomized controlled trials found that oral curcumin and turmeric supplementation had no significant effect on several inflammatory markers among people with chronic inflammatory diseases, such as rheumatic diseases, heart disease, metabolic syndrome, and advanced chronic kidney disease with hemodialysis, compared to controls. (12)
Summary:
Curcumin has a long history of use for anti-inflammatory and antioxidant health benefits that may be helpful for several conditions. While continued research will help uncover exact dosages and applications for curcumin in disease, existing clinical evidence shows that this is an ingredient worth trying for people seeking natural inflammation therapies.
BioPerine Piperine, 15 mg
On its own, curcumin has a low bioavailability in humans, which means that when ingested, only a small amount actually enters the bloodstream to have an active effect. (7)
However, black pepper contains a compound called piperine, which has been demonstrated to boost the bioavailability of curcumin by up to 2,000% when the two are taken together. (1, 13)
In a 2015 randomized controlled trial, a combination of 1 gram curcuminoids with 10 mg piperine supplemented daily for eight weeks was found to significantly improve oxidative and inflammatory status among people with metabolic syndrome.
Summary:
Piperine has been clinically proven to enhance the bioavailability of curcumin. Including it in Youtheory Turmeric further highlights the product's goal of improving inflammation.
Olive Leaf Extract, 300 mg
Olive leaf extract is often added to supplements to contribute additional polyphenols, or antioxidant compounds.
Specifically, olive leaf extract contains oleuropein and hydroxytyrosol. These polyphenols are known to have antibacterial, antiviral, antifungal, and anti-inflammatory properties. (14, 15, 16)
In a 2019 study published in Nutrients, 20 grams of olive leaf extract supplementation containing 100 mg of oleuropein taken daily for nine weeks was found to reduce sick days and duration of upper respiratory illnesses among high school athletes, compared to placebo. (16)
In a 2019 randomized controlled trial among 60 hypertensive patients, 30–60 years old, researchers found that 12 weeks of daily olive leaf extract supplementation effectively reduced inflammatory markers related to hypertension, compared to placebo. (17)
Additionally, the polyphenols in olive leaf extract may improve platelet function. It has been observed to protect human red blood cells against oxidative damage in lab studies. (18, 19)
Summary:
Olive leaf extract offers additional antioxidant support in Youtheory Turmeric that complements the antioxidant and anti-inflammatory properties of curcumin.
Youtheory Extra Strength Turmeric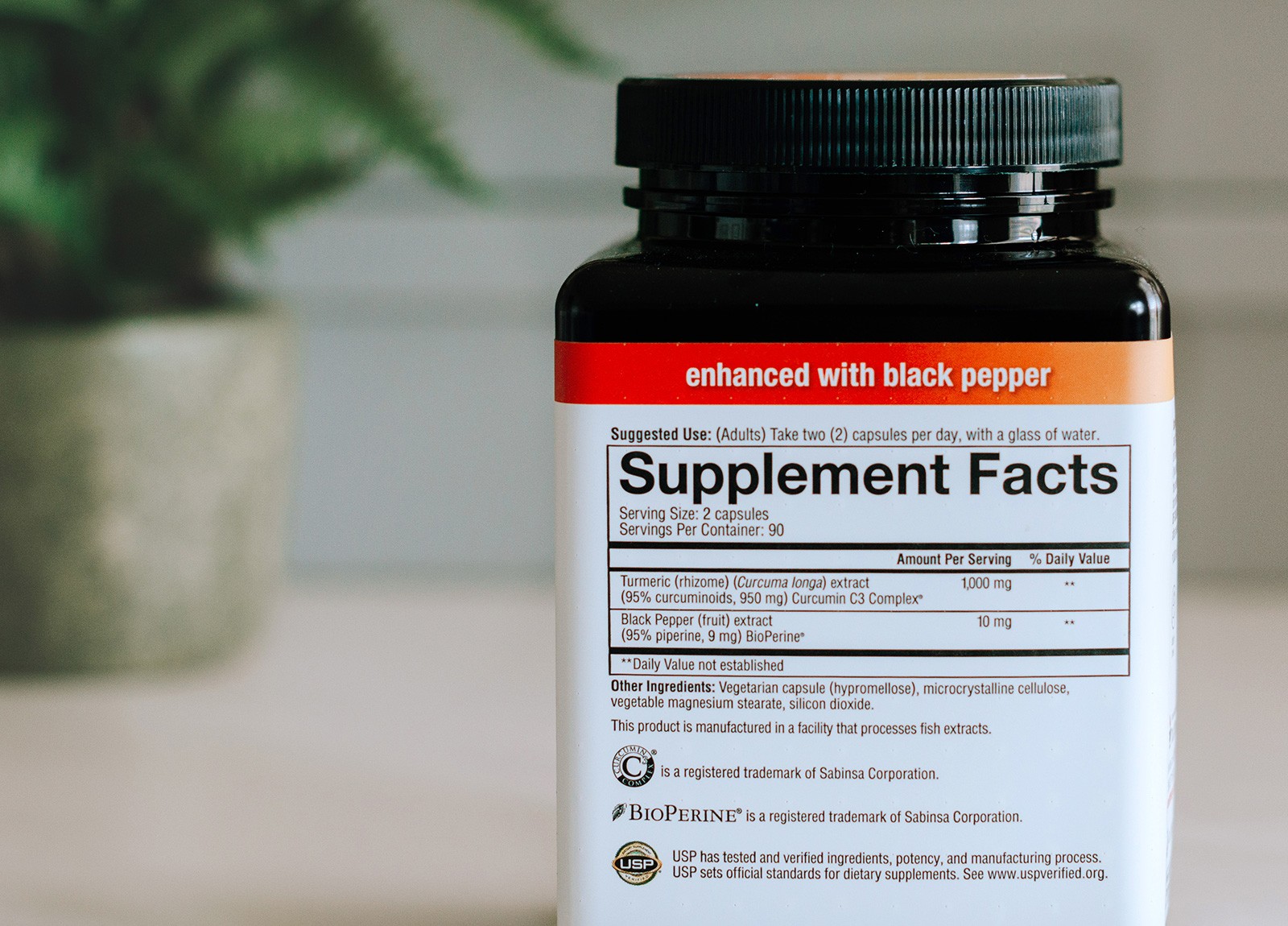 Youtheory also offers an extra strength version of their turmeric product.
The major difference is that it contains 1,000 mg of turmeric (with 95% curcuminoids), which is over twice the amount in the regular strength version.
The extra strength version also contains 10 mg of BioPerine Piperine instead of 15 mg and does not contain the olive leaf extract.
The extra strength product also bears a third-party testing mark from USP.
This seal indicates that the product has been independently tested to verify it contains the ingredients listed on the label, doesn't contain harmful levels of contaminants, will break down and release into your body within a specified period, and has been manufactured according to FDA's Good Manufacturing Practices.
Extra Strength Turmeric from Youtheory is a more potent dose of turmeric. This dose is likely designed for people looking for a high dose of curcumin for use with certain inflammatory conditions, such as arthritis or joint pain.
However, my opinion is that it's always better to start with a low dose to minimize unwanted side effects, especially if you plan to take it long-term.
Support for Claimed Benefits
Below is our summary of the available evidence for the claimed benefits of Youtheory Turmeric based on the available research:
Supports healthy inflammation response

5

/5
Has powerful antioxidant properties

5

/5
There is plenty of solid evidence to support the ability of curcumin to help alleviate inflammation and oxidative stress in the body.
This is especially true when curcumin is paired with piperine to boost its bioavailability.
While olive leaf extract isn't the highlighted ingredient, there's enough evidence to suggest that it helps enhance the antioxidant and anti-inflammatory goals of Youtheory Turmeric.
Side Effects, Safety, and Dosage
The recommended dose of Youtheory Turmeric (regular strength) is 3 tablets per day, taken all at once or in divided doses throughout the day. A bottle contains 120 tablets or 40 servings.
The recommended dose of Youtheory Turmeric Extra Strength is 2 tablets per day. A bottle contains 60 tablets or 30 servings.
Curcumin has a long record of established safety and efficacy.
However, some side effects have been reported, including diarrhea, yellow stool, skin rash, headaches, and nausea, occurring in studies that include supplemental doses between 500 mg and 3.6 grams per day. (20, 21)
According to the JECFA (The Joint United Nations and World Health Organization Expert Committee on Food Additives) and EFSA (European Food Safety Authority), the Allowable Daily Intake (ADI) value of curcumin is 0–3 mg/kg body weight. (1, 22)
This comes out to around 240 mg of curcumin per day for a 175-pound adult on the high end.
Youtheory Turmeric contains 95% curcuminoids, which amounts to approximately 427 mg per dose of 450 mg turmeric.
This 427 mg contains all three curcuminoids, so it's impossible to tell what proportion of this is curcumin versus demethoxycurcumin and bisdemethoxycurcumin. This matters because curcumin is the most active of the three. (4)
Piperine is also widely used and generally considered safe. However, it may have an anti-platelet effect and may interact with certain medications. (23, 24, 25, 26)
Piperine has been used to treat certain gastrointestinal conditions as a laxative, so it carries the potential of causing unwanted digestive effects when used in larger than recommended doses. (27)
Toxicity studies indicate that olive leaf extract is also generally considered safe even in high doses. (28)
In animal studies, no toxicity was observed after a single dose of 2,000 mg/kg, 28-day doses of 100, 200, and 400 mg/kg, or 90-day doses of 360, 600, and 1,000 mg/kg.
One study reported microscopic changes in the liver and kidneys of rats, but there's not enough evidence to suggest at which high dose it may become toxic among humans. (28)
Youtheory Turmeric contains 300 mg of olive leaf extract to be taken per day, which is well below the high doses studied above.
The manufacturers also state that Youtheory Turmeric is not intended for use by children under age 18.
As with any supplement, it's best to speak with your doctor before adding it to your health routine to make sure it's safe and appropriate for you.
Cost and Where to Buy
One bottle of 120-tablet (40-day supply) Youtheory Turmeric is priced at $29.99 ($0.75 per day) on the brand's website.
On Youtheory's Amazon storefront, you can get it for around $22 as a one-time purchase or $21 as an ongoing subscription. This comes out to $0.52–$0.55 per day.
On the Youtheory website, over 20 retailers are listed as places to find their products. Some of them include CVS, Wallgreens, Rite Aid, Walmart, GNC, and Target.
From my perusal of various storefronts, I noticed that the pricing for a 120-count bottle varies from anywhere between $22.94 and $25.99.
While the difference isn't huge, the most cost-effective place to buy Youtheory Turmeric appears to be Amazon with a subscription.
How Youtheory Turmeric Compares to Alternatives
While many standard turmeric supplements appear to contain around 3–22% curcuminoids, Youtheory Turmeric contains over 95% total curcuminoids in both its regular and extra strength versions.
I also noticed that not all turmeric supplements contain piperine or contain only 5 mg per serving.
While some products also contain turmeric with 95% curcuminoids and BioPerine Piperine, many also contain a smaller amount of turmeric extract than Youtheory.
Alternative products also contain a larger amount of turmeric root powder, which is not included in the Youtheory formulation.
This suggests that other products, though they have some similarities to Youtheory, are unlikely to be as well-absorbed. (1)
Summary:
Overall, I think Youtheory Turmeric is one of the best options on the market for a similar price point as other turmeric products that may not be as concentrated.
The Bottom Line
Turmeric is a widely used spice with extensive research behind its antioxidant and anti-inflammatory properties, including its potential to help prevent and manage a long list of inflammatory chronic diseases.
Youtheory Turmeric appears to be a good option that's been consciously formulated to contain a highly concentrated and bioavailable amount of curcumin for the best effects.
Still, despite turmeric's potential benefits to health, this product should not be used in place of practicing an overall healthy lifestyle and dietary habits or as a quick fix to reduce systemic inflammation.
Turmeric supplementation appears to be low-risk for side effects and may offer numerous benefits.
However, benefits may vary greatly between individuals. Youtheory Turmeric may prove to be a good option for many people, while others may not experience desired effects.
Always be sure to speak to your healthcare provider before adding this or any new supplement to your health routine, and be aware that side effects are always possible.
A Word from Our RD
As a dietitian, I emphasize practicing healthy lifestyle habits like stress management, regular physical activity, and a healthy diet rich in whole foods high in fiber, antioxidants, omega-3 fatty acids, vitamins, and minerals to help keep inflammation at a minimum.
Turmeric has been extensively studied for its natural antioxidant and anti-inflammatory properties as a spice and in supplemental form. Therefore, this product could very well prove beneficial to some people.
I would remind any consumer interested in taking this supplement that it's not a cure-all and should not be used to replace other healthy lifestyle habits for inflammation.
Thanks for your feedback!
In a few words, please tell us how this article helped you today.
Please let us know how we can improve this article by selecting your concern below.
Thank You! We appreciate your feedback.
*
Please select at least one topic:
Please Note: We cannot provide medical advice. This feedback will help us continue improving your user experience on WellnessVerge.
Please Note: We cannot provide medical advice. This feedback will help us continue improving your user experience on WellnessVerge.
At WellnessVerge, we only use reputable sources, including peer-reviewed medical journals and well-respected academic institutions.