WellnessVerge is reader-supported. We may earn a commission when you make a purchase through the links on this page. Learn more about our process here.
Why You Can Trust Us
Every article and review on WellnessVerge is thoroughly researched and fact-checked by licensed health professionals. Our editorial team is made up of registered dietitians and medical doctors.
Every piece of content is also medically reviewed to ensure accuracy and alignment with sound scientific evidence and medical consensus. We only use peer-reviewed journals and reputable medical sources to form our conclusions and recommendations.
We operate with total editorial independence, and our editorial policies ensure that your well-being comes first. Based on our rigorous research, we only recommend products that are worth considering. We always disclose any ads or partnerships with brands featured on our site.
Balance of Nature Review: Provides Nutrients but Not Your Best Option
Balance of Nature will likely increase your nutrient intake, which may help improve your digestion and overall wellness. However, customer reviews are mixed, and there are better options on the market. We'll unpack everything in this review.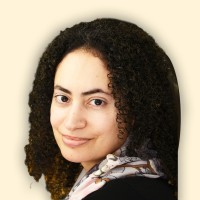 Medically Reviewed by
Yasmine S. Ali, MD, MSCI, FACC, FACP
Board-certified Cardiologist, Medical Board Member
Yasmine S. Ali, MD, MSCI, is a board-certified cardiologist, clinical lipidologist, and internist with nearly 30 years of experience in direct patient care and 25 years of experience in medical writing, editing, and reviewing.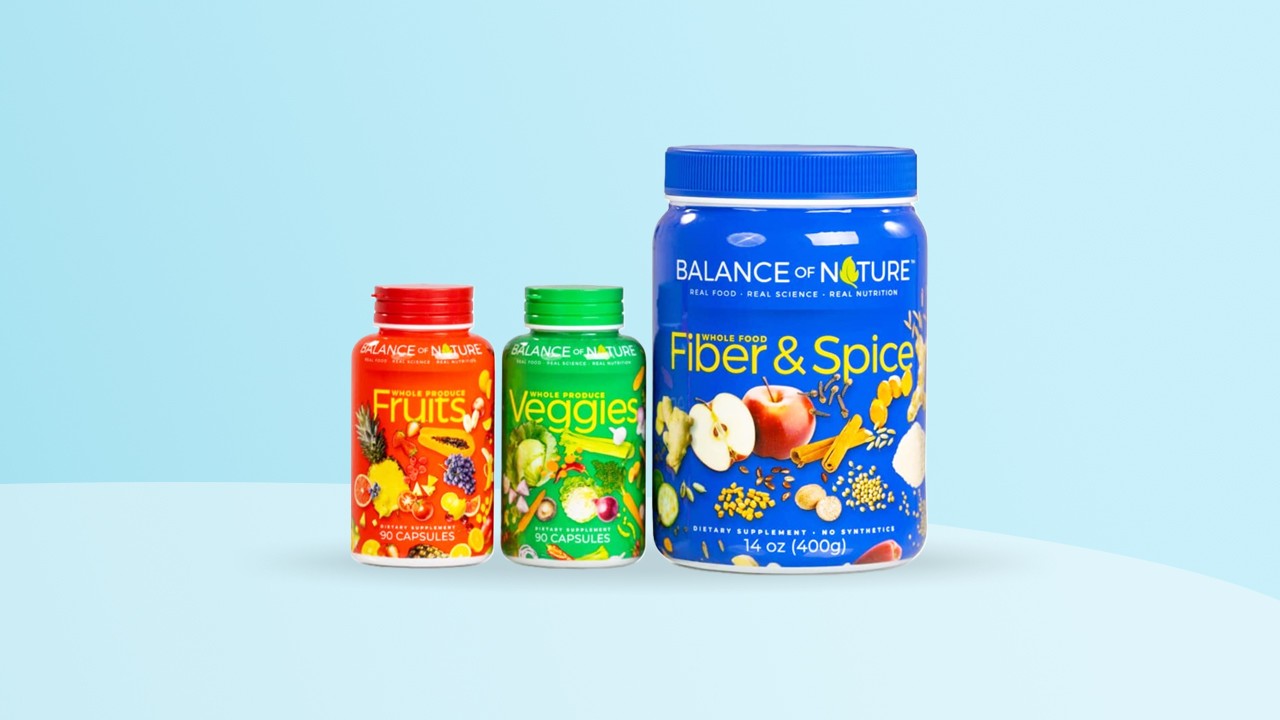 Key Takeaways (TL;DR)
Balance of Nature's Fruits & Veggies and Fiber & Spice supplements may boost your nutrient intake, improving your overall wellness.
Balance of Nature may be a good addition for people who don't consume enough fruits and vegetables regularly and want to improve their health by getting an extra nutrient boost.
However, Balance of Nature does not disclose nutrient content and amounts of individual ingredients as other brands do, so it is difficult to know exactly how much nutrients you are getting.
In addition, powdered supplements like this typically provide small amounts of fruits and vegetables. They shouldn't be considered a substitute for a well-balanced diet with plenty of whole fruits and vegetables.
Customer reviews are mixed, according to TrustPilot and Google reviews. While some reviewers are satisfied, others say the supplements didn't seem to make a difference. Additionally, many reviews stated that customer service was not helpful and challenging to deal with.
Whole Health System is expensive compared to similar products. Considering the high price and other factors described above, we believe that there are better brands worth considering.
What Balance of Nature Gets Right
Provides essential nutrients and other healthy plant compounds.
Products don't contain fillers or artificial ingredients.
Access to a health coach is included for subscribers to maximize the full potential of Balance of Nature supplements and accountability.
Cost-saving subscription is available.
Important Considerations and Potential Deal Breakers
A fair share of poor customer service reviews.
The nutritional content of essential vitamins and minerals is not listed on the label.
One-time membership fee in addition to the cost of the supplement.
Returns are only available for members.
The brand has a history of FDA controversy, although resolved.
The brand claims that the products are third-party tested for purity but does not provide proof of the test results or a quality seal.
A daily serving is six capsules, which may be inconvenient to some. A lot of reviewers also mentioned that capsules are large. However, the brand provides alternative ways to take the supplement.
Balance of Nature at a Glance
Founded and formulated in 1997 by American physician Dr. Douglas Howard, Balance of Nature is a dietary supplement company that offers three products – Fruits, Veggies, and Fiber & Spice.
These supplements contain whole food powders and extracts from fruits, vegetables, seeds, grains, herbs, and spices. They are free of added sugars, fillers, and other synthetic ingredients.
Whole fruits and vegetables contain essential vitamins, minerals, and other healthy components like fiber and antioxidants. However, many people don't consume the daily recommended amounts of fruits and vegetables needed to support their health.
Products like Balance of Nature are designed to conveniently provide extra nutrients and help improve your overall health, especially for people who don't eat enough whole fruits and vegetables consistently.
How Do I Take These Supplements?
The Balance of Nature Whole Health System is made up of Fruits & Veggies capsules and Fiber & Spice powdered drink.
A daily serving of Fruits & Veggies is three capsules each (six total capsules.)
You can swallow them with water, or the powder can be sprinkled over your food or stirred in water. The brand states that you can take them at any time of day, either all at once or at different times.
Many reviewers have said the capsules are large and difficult to swallow. If this is your experience, it may be worth trying one of the alternative methods listed on the website, such as chewing the Fruits capsules or sprinkling the contents of the Veggies capsules over your food.
A daily serving of Fiber & Spice is two heaping scoops, one in the morning and one in the evening.
It should be mixed into a beverage such as water or apple juice.
Click to View the Supplement Facts
The ingredients in Fruits capsules are:
Maintain Blend: 731 mg (tomato, papaya, banana, apple, grape, wild blueberry, strawberry, aloe vera)
Protect Blend: 719 mg (orange, tart cherry, cranberry, wild blueberry, grape, apple, grapefruit, aloe vera)
Repair Blend: 561 mg (raspberry, pineapple, mango, sweet cherry, lemon, aloe vera)
The ingredients in Veggies are:
Maintain Blend: 720 mg (broccoli, spinach, soybean, green cabbage, wheatgrass, kale, cauliflower, celery, white onion, zucchini)
Protect Blend: 713 mg (garlic, red cabbage, red onion, soybean, carrot, kale, cayenne pepper, shiitake mushroom, wheatgrass, sweet potato)
Repair Blend: 576 mg (carrot, kale, green onion, soybean, spinach, cauliflower, celery, zucchini)
The ingredients Fiber & Spice are:
Balanced Whole Fiber Blend: 10 grams (psyllium husk, apple, flax seed, monk fruit)
Protect & Repair Whole Spice Blend: 3 grams (cinnamon, ginger, turmeric, fennel, cardamom, cumin, fenugreek, coriander, clove, allspice, mustard, nutmeg)
A single serving provides 8 grams of fiber
The Cost, Buying Options, and Fine Print
Remember that products like Balance of Nature are designed to be taken consistently to experience benefits, and each container is a 30-day supply. So regular monthly cost is important to consider when buying this product.
Balance of Nature offers two products: Fruits & Veggies and Fiber & Spice. (Together, these products make up the Whole Health System.) Buying Whole Health System may be more beneficial because each product has different functions (more on that in the next section).
| | One-Time Purchase | Preferred Customer Membership |
| --- | --- | --- |
| Fruits and Veggies | $89.95 | $69.95 |
| Fiber and Spice | $69.95 | $49.95 |
| Whole Health System | $159.95 | $109.95 |
Balance of Nature's "Preferred Customer" membership is their subscription model that costs $24.95 as a one-time non-refundable fee. Through the subscription model, you get the following:
Products shipped every 28 days
Free shipping
A 30-day money-back guarantee on your first order
Access to health coaches via phone consultations
Preferred customer discounts
Unless your product is received damaged, you do not get a 30-day money-back guarantee or free shipping as a one-time purchase without their subscription model. Additionally, the cost of shipping will be subtracted from your refund.
We found the mandatory subscription fee and very limited return policy odd because this isn't something that most reputable supplement companies we've reviewed engage in.
Pro Tip: You can also purchase Balance of Nature's products on Amazon to take advantage of Amazon's shipping and return policies and not have to deal with any membership.
What Health Benefits Does Balance of Nature Provide?
Overall, Balance of Nature Fruits & Veggies will likely provide some extra nutrients and antioxidants from the fruits and vegetables they contain, which may help to support your overall wellness. Additionally, Balance of Nature Fiber & Spice may help improve digestive health from its fiber content.
Fruits & Veggies
The major health benefits of Fruits & Veggies come from the phytonutrients that they provide. Phytonutrients, also known as phytochemicals, are natural compounds found in plant foods that support the function of our bodies and help protect against diseases. (1)
Fruit and vegetable concentrated powders provide phytonutrients that can reduce inflammation and oxidative stress within the body. (2) Additionally, phytonutrients may be beneficial for supporting a healthy immune system. (3)
However, a significant drawback of this product is that the amount of nutrients is not disclosed on the Supplement Facts label, so it's hard to know which ones you are getting and in what amounts.
The brand lists three studies on its website, claiming they demonstrate the health benefits of its product. However, these studies are old, appear poorly designed, and utilize animal models. Perhaps that's why these studies were never peer-reviewed and published in respectable medical journals, two important factors that would validate the quality of the research.
Still, the supplement will provide at least a slight nutrient boost, especially for people who don't get enough fruits and vegetables from their diets.
Fiber & Spice
Balance of Nature Fiber & Spice contains various types of fiber that support your digestive health.
Dietary fiber is an indigestible material that your body can't break down. As fiber moves through your digestive tract, it draws in water which helps to soften the stool if you are constipated. (4)
Additionally, fiber can serve as a food source for the healthy bacteria that live in your large intestine. (5) These bacteria help your body digest food and play a significant role in blood sugar management, brain function, and immune health. (6)
Overall, the Fiber & Spice supplement will likely help improve your digestive health.
Safety You Should Consider
Balance of Nature contains small amounts of various fruits, vegetables, and herbs. For the most part, these ingredients are safe.
However, you should carefully check the label for foods you may be allergic to.
Some people may also experience mild side effects like diarrhea or abdominal cramping from aloe vera. Still, the small amount in Balance of Nature Fruits is unlikely to have a significant impact. (7)
Likewise, the Fruits capsules contain grapefruit, which is known to interact with numerous medications, including many commonly-prescribed cholesterol, blood pressure, heart, and allergy medications. (8)
Starting a new fiber supplement may have some temporary side effects within the first week. These effects are local to the gastrointestinal tract and may include gas, diarrhea, and abdominal discomfort. (9)
If you are pregnant or nursing, have an underlying medical condition, or are taking any prescription medications, you should speak to your physician before taking Balance of Nature products.
Previous Legal Issues
Balance of Nature has a history of making exaggerated product claims, but the company has addressed the issues since.
In 2019, Balance of Nature was issued a warning letter from the Food & Drug Administration (FDA) related to the disease-related claims they made on their website, product packaging, and video testimonials on YouTube.
At that time, Balance of Nature was heavily promoting its products as being able to help treat or prevent certain medical conditions. However, it's illegal to market dietary supplements in this way.
Balance of Nature has since taken steps to correct this. There are no more claims on their website or YouTube page that Balance of Nature can cure, treat, prevent, or help manage certain diseases.
Still, this history of exaggerated claims is something consumers should consider when choosing a brand. Along with some of Balance of Nature's other practices, like a membership fee and limited return policy, it suggests that they may not be the most transparent brand to do business with.
How Balance of Nature Compares to Its Competitors
Balance of Nature Fruits & Veggies is a powdered fruits and vegetable supplement that will likely boost your nutrient intake. However, as we discussed, Balance of Nature does not list the nutrients and their amounts, requires you to take 6 capsules per day, does not provide proof of third-party testing, and has a membership fee and a strict return policy.
An alternative fruits and vegetables supplement with similar benefits that you may consider is Juice Plus+. Unlike Balance of Nature, it lists the nutrient amounts, has better scientific research supporting product benefits, provides proof of third-party test, offers a more convenient dose (2 capsules or 4 gummies), and has a more friendly return policy.
Additionally, you may consider powdered fruits and vegetable supplements, like Athletic Greens and Amazing Grass, designed to offer similar benefits to Balance of Nature. These two brands list their nutrient content, provide proof of third-party testing, may be more convenient to take to some, and have a record of good customer service.
Here's a quick summary chart of how Balance of Nature compares:
Balance of Nature Fruits & Veggies
Juice Plus+
Athletic Greens
Amazing Grass
Our Rating

3.1

4.3 (Read Review)
4.0 (Read Review)
4.0 (Read Review)
Price

$89.95 for 30 days

$159.95 for Whole Health System, which also contains Fiber & Spice

$80 for 30 days
$99 for a 30-day supply
$39.99 for 30 servings
Price with Subscription

$69.95 for Fruits & Veggies, $109.95 for Whole Health System

N/A
$79 per month
$31.99 for 30 servings
Shipping
Free
Free
$9
$7.99 or free shipping for subscribers or orders above $59.99
Return Policy
30-day money-back guarantee, only on first order for Preferred Customers
6-month money-back guarantee, only on first order
90-day money-back guarantee from the initial purchase.
30-day return policy for unused or damaged products
Claimed Benefits

Provides nutrients, Improves digestive health, Provides phytochemicals

Supports heart health, Improves immune health, Promotes lung health, Supports healthy skin and gums

Promotes gut health, Supports immunity, Energy support, Exercise recovery aid

Support for digestive health, immunity, and energy

Ingredients

Fruits, Vegetables, Herbs (Fiber also available in Fiber & Spice product)

Fruits, Vegetables, Herbs

Greens Fruits & Vegetables, Herbs, Mushrooms, Probiotics, Prebiotics, Adaptogens, Vitamins and minerals

Essential vitamins & minerals, macronutrients, Antixodent blend, Fiber blend, Pre/Probiotic blend, Greens blend

Supplement Form
Capsules
Capsules and Gummies
Powder
Powder
Third-Party Tested
Yes
Yes
Yes
Purchase Via
Brand's website
Brand's website
Brand's website
Amazon
Finally, Balance of Nature Fiber & Spice contains fiber that may improve your digestive health. However, it is significantly more expensive than some of the best fiber supplements that made our list.
Additional Tips
Current daily recommendations from the Dietary Guidelines for Americans are 3 cups of vegetables and 2 cups of fruits. However, many people don't consume the recommended amounts.
Fruits and vegetables supplements may help to cover the gaps in your diet. Still, they shouldn't be considered an alternative to eating whole fruits and vegetables.
If you are struggling to eat enough fruits and vegetables but still want the benefits for your health that they provide, you may want to try:
Making smoothies
Adding pureed vegetables to sauces
Experimenting with different cooking methods
Remember, making tiny changes that you can keep over time can improve your health in a significant way.
Thanks for your feedback!
In a few words, please tell us how this article helped you today.
Please let us know how we can improve this article by selecting your concern below.
Thank You! We appreciate your feedback.
*
Please select at least one topic:
Please Note: We cannot provide medical advice. This feedback will help us continue improving your user experience on WellnessVerge.
Please Note: We cannot provide medical advice. This feedback will help us continue improving your user experience on WellnessVerge.
At WellnessVerge, we only use reputable sources, including peer-reviewed medical journals and well-respected academic institutions.