Why You Can Trust Us
Every article and review on WellnessVerge is thoroughly researched and fact-checked by licensed health professionals. Our editorial team is made up of registered dietitians and medical doctors.
Every piece of content is also medically reviewed to ensure accuracy and alignment with sound scientific evidence and medical consensus. We only use peer-reviewed journals and reputable medical sources to form our conclusions and recommendations.
We operate with total editorial independence, and our editorial policies ensure that your well-being comes first. Based on our rigorous research, we only recommend products that are worth considering. We always disclose any ads or partnerships with brands featured on our site.
Juice Plus+ Review: Is It Worth It? A Dietitian Explains
Juice Plus+ is a brand of dietary supplements that contain powdered fruits and vegetables to improve the overall quality of your diet. While some of the marketing claims are difficult to verify, I recommend this supplement, especially for children, based on the available research and personal experience.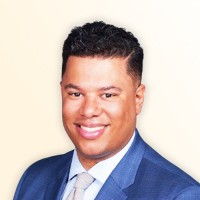 Medically Reviewed by
Anthony Dugarte, MD
Medical Reviewer
Anthony Dugarte, M.D., C.S.C.S. is a health and wellness writer and medical content reviewer. In addition to dedicating the last 8 years to medical research, Dr. Dugarte also has more than a decade of experience in strength and conditioning, nutrition, and rehabilitative exercise, as well as authoring and reviewing health and wellness-related content.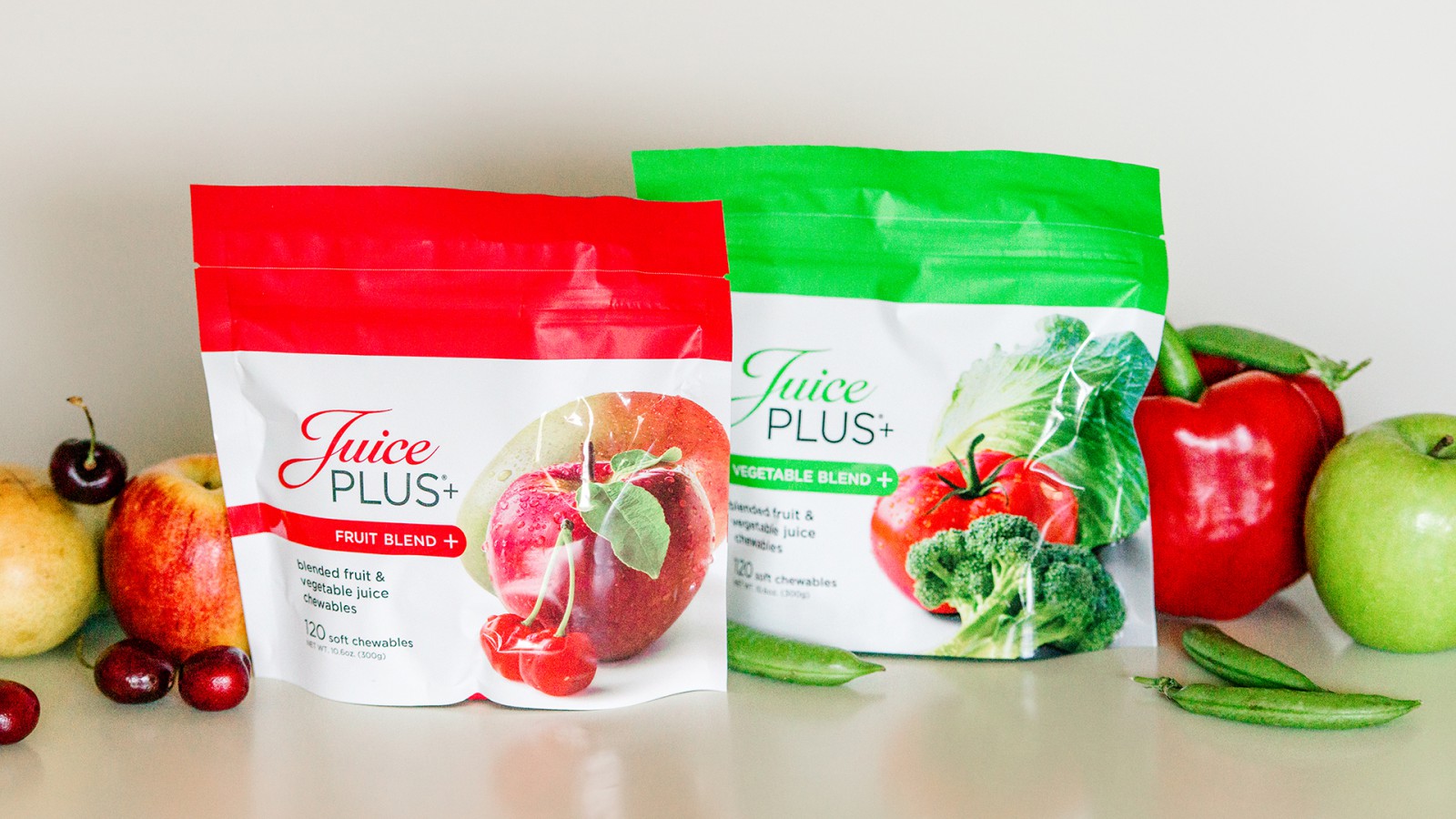 Pros

Easy way to add more nutrients to your diet
Lots of company-backed research to support product benefits
Gummies are a great way to increase nutrient density of children's diets

Cons

Exact quantity of nutrients in product not listed
Claims that the product is as good as eating fruits and vegetables are unfounded
No educational requirement for consultants who sell the product
What Is Juice Plus+?
Juice Plus+ is a dietary supplement brand with a multi-level marketing component that sells a line of fruit and vegetable-based supplements for general wellness.
Their capsules, chewables, protein powders, and bars all contain a blend of powdered juices of 30 fruits and vegetables.
They offer 4 primary blends in their Juice Plus+ capsules and chewables:
Vegetable Blend: Includes broccoli, tomato, parsley, carrot, garlic, beet, spinach, cabbage, and kale.
Fruit Blend: Includes peach, cranberry, orange, apple, mango, acerola cherry, pineapple, date, and prune.
Berry Blend: Includes raspberry, bilberry, blueberry, cranberry, pomegranate, concord grape, black currant, blackberry, elderberry, artichoke, and cocoa.
Omega Blend: Omega-3s made from algae and other plant-based sources
In addition to the fruits and vegetable powders, the products also contain additional ingredients such as soluble fiber, enzymes, and probiotics.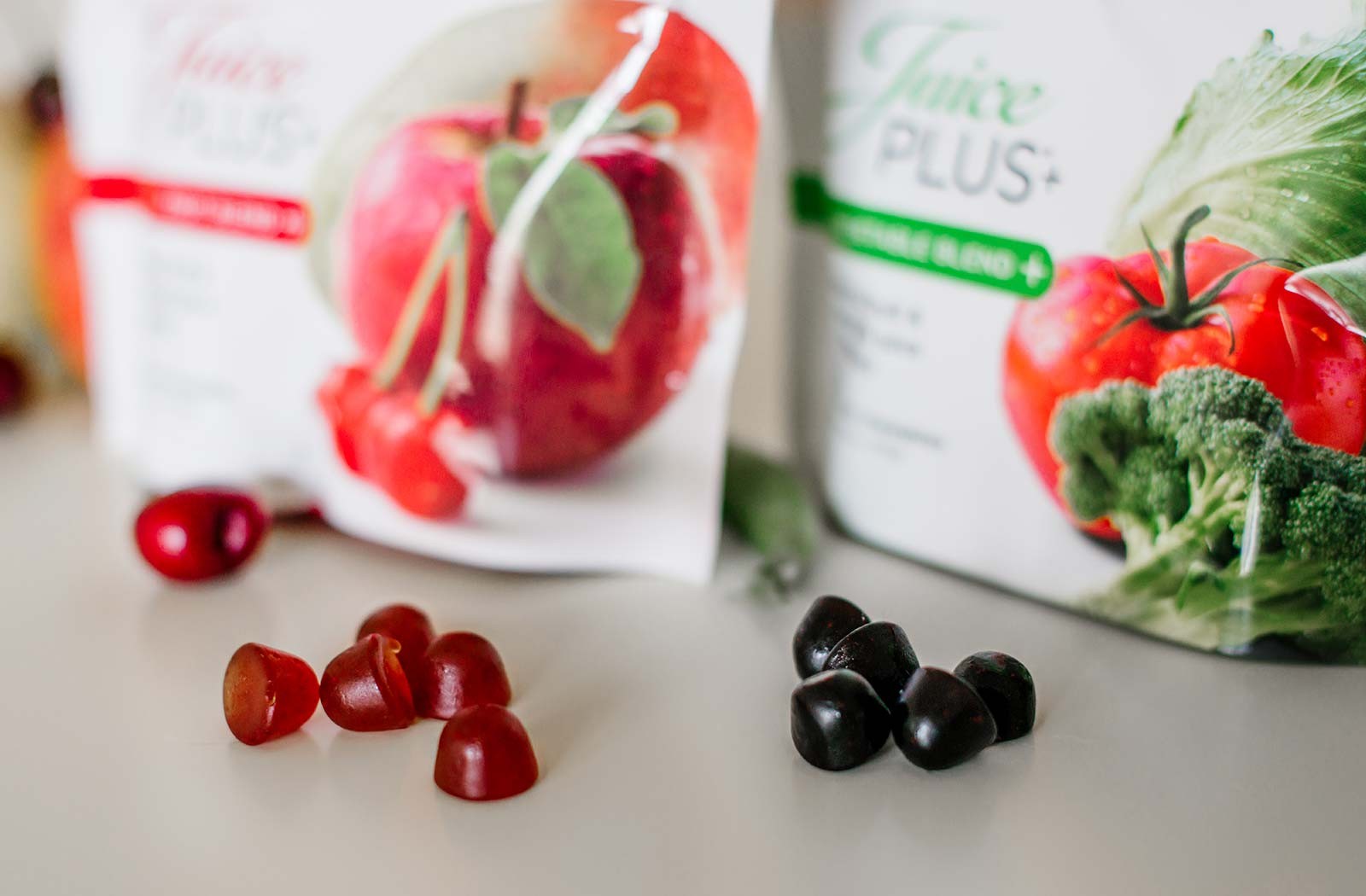 Juice Plus+ also carries a line of vegan protein shakes and bars containing the fruit and vegetable powders and other ingredients called Complete.
The main protein in the shakes and bars is soy, but it also contains chickpea, pea, and rice protein.
The Juice Plus+ Complete is offered in several flavors:
Complete shakes: Dutch chocolate and vanilla
Protein bars: Dark chocolate + fig, tart cherry + honey
There is also a multi-level marketing component of the company, where you can sign up to be a distributor of the products. For transparency, I was a distributor of Juice Plus+ for 2 years.
It is different than other MLMs as it only costs $52 per year to become a distributor with no minimum purchase required.
This was appealing to me as it allowed me to use the products and make money sharing them at no real significant cost.
Evaluation of Potential Benefits
What I liked about the company and one of the reasons I signed up as a distributor is that they are very invested in research about the benefits of their products.
Company-sponsored research is not always trustworthy, but they have so much of it on the benefits of their products that I was impressed. They partner with many reputable universities to conduct this research.
The fruit and vegetable powders in the products have been found to have many potential benefits.
They may improve nutritional status, reduce inflammation, and support a healthy immune system.
The company has several studies on its website to support these claims. Here are a few of the research highlights.
Increases Blood Levels of Antioxidants and Reduces Oxidative Stress
Fruits and vegetables contain antioxidants that help protect from damage caused by molecules called free radicals.
If this damage is allowed to get out of control, it leads to oxidative stress. Oxidative stress is the underlying cause of aging and chronic illnesses.
One of the main benefits of eating a diet high in fruits and vegetables is to provide antioxidants that help control oxidative stress.
Antioxidants neutralize the free radicals so they are not allowed to cause damage. When oxidative stress is controlled, it leads to a reduction in heart disease, cancer, and overall mortality. (1)
It is well documented that fresh fruits and vegetables help boost antioxidant levels, but what about powdered versions?
The research by Juice Plus+ has found that the fruit and vegetable powders in their product may have a similar benefit to eating fresh fruits and vegetables.
A 2011 systemic review of 22 studies found that Juice Plus+ capsules significantly increased blood levels of several important antioxidants in the blood. (2)
Some of these antioxidants include vitamin C, beta-carotene, lycopene, coenzyme Q10, vitamin E, and folate.
A 2013 study found that Juice Plus+ decreased inflammation and oxidative stress in obese women after 8 weeks of taking the product. (3)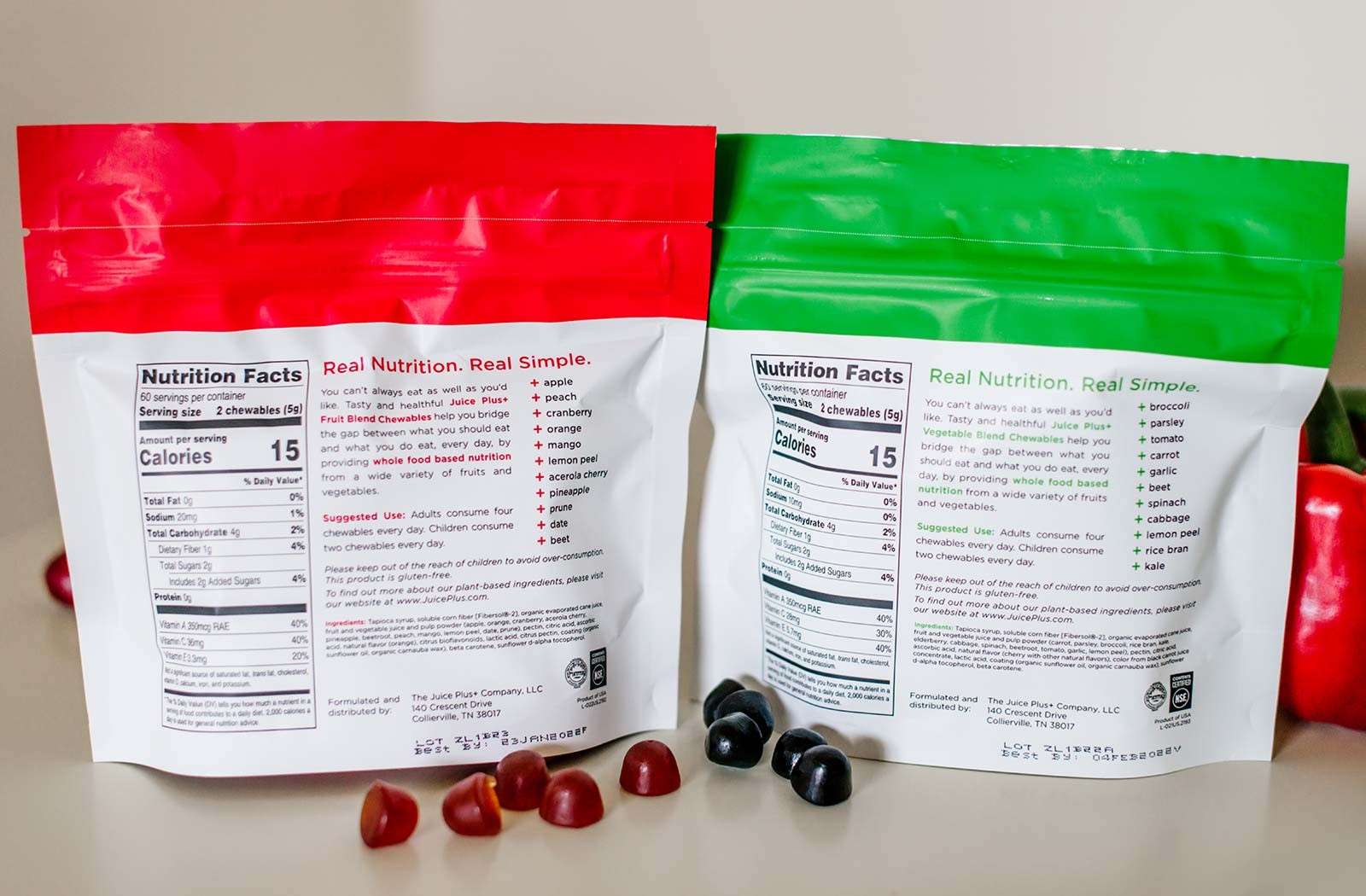 Based on these findings, for a while, Juice Plus+ was claiming that their product was "just as good" as eating fruits and vegetables.
The FDA didn't like that claim, so Juice Plus+ got their hand slapped for saying this and was required to change their marketing.
For me, while nothing will ever replace the need to eat fruits and vegetables, this research offers a pretty solid benefit to Juice Plus+ helping boost antioxidant levels and control oxidative stress.
I think adding a product like this to a healthy lifestyle can only be beneficial, especially when eating enough fruits and vegetables can sometimes be a challenge.
Summary
The fruit and vegetable powders in Juice Plus+ may help boost antioxidant levels in the body, helping lower oxidative stress and inflammation.
Supports Immune Health
Fruits and vegetables contain many nutrients, like vitamin C and antioxidants, that help support immune health.
Juice Plus+ evaluated if the powders in their products might have the same benefit for helping reduce sick days and prevent respiratory illness.
One study found that healthcare workers taking Juice Plus+ reported 20% fewer sick days compared to a placebo. (4)
Other studies have found similar results on the ability of Juice Plus+ to reduce sick days. Compared to the placebo group, it also lowered levels of oxidative stress. (5)
Summary
Juice Plus+ products may offer your immune system additional support to fight off viral illnesses.
Heart Health
Lowering inflammation and oxidative stress can help decrease your risk of cardiovascular disease.
A 2013 study evaluated the impact of Juice Plus+ on pulmonary function and heart disease markers in smokers, who are generally at greater risk for heart problems. (6)
Three months of supplementation with Juice Plus+ significantly improved lung function and heart disease markers when compared when a placebo group.
An older study found that fruit and vegetable powders were able to lower blood pressure and improve other markers of cardiovascular disease. (7)
The benefit of Juice Plus+ for heart health is likely related to its ability to lower oxidative stress and inflammation, an underlying cause of heart disease.
Summary
Several studies have demonstrated that the fruit and vegetable powders in Juice Plus+ may benefit heart health and lower the overall risk of heart disease.
Additional Health Benefits
Juice Plus+ has also been evaluated for several other health concerns. These include:
While all of these studies are company-sponsored, the amount of research pointing to the potential benefits of the fruit and vegetable powders in Juice Plus+ is undeniable.
Summary
Juice Plus+ has many benefits for overall health and wellness, including skin, teeth, lungs, and weight management.
Support for Claimed Benefits
Below is our summary of the available evidence for the claimed benefits of Juice Plus+ based on the available research:
Supports cardiovascular wellness

5

/5
Supports function of immune system

5

/5
Supports healthy lung function

5

/5
Supports healthy skin and gums

5

/5
Although much of this research is company-sponsored, the company has been around for so long that there are over 41 studies that fruit and vegetable powders may help support heart health, immunity, lung function, and healthy skin and gums.
Dosage
The dosage of Juice Plus+ depends on the product.
Capsules: 2 capsules of each blend per day for adults
Chewables: 4 chewables per day for adults and 2 for children
Omega blend: 2 capsules once a day, which provides 925 mg of omegas, including 375 mg of omega-3s (this is above the minimum recommended dosage of 250 mg of omega-3s per day)
Protein powders: Can be used as needed, 1 scoop has 140 calories and 14 grams of protein
Protein bars: Can be used as needed, each bar is 170 calories and 10 grams of protein
Side Effects and Safety
Juice Plus+ is simply a fruit and vegetable powder, so its safety profile is relatively high.
There have been some reports of people breaking out in hives after taking the product and one report of liver toxicity in a person with cancer. (13, 14)
The hives are likely due to having an allergy to the ingredient in the product. While Juice Plus+ ensures none of the 8 major allergens are in the product, read the label carefully if you do have allergies.
With omega-3s, there is some research indicating they might increase the risk of prostate cancer or interfere with blood clotting medications. (15)
Most omega-3s are made from fish, but since the Juice Plus+ version is vegan and made from algae, you may still be able to use it if you have a fish allergy. Always speak to your doctor first.
The main complaint of many of my colleagues and other healthcare professionals about this product is regarding its claim that it is the "next best thing to fruits and vegetables," and that the vast majority of the studies are company-sponsored.
The company has been involved in litigation over various claims and was required to stop saying that taking the product is equivalent to eating fruits and vegetables. They no longer use this claim. (16)
There has also been some concern that the products may not contain as much of certain nutrients as stated on the label, which was discovered in an independent evaluation by Consumer Lab. (17)
It is always best to speak to your doctor before trying any dietary supplements.
Cost
The products must be purchased together in bundles. You must purchase a 4-month supply at a time; however, you can pay in monthly installments.
Here is how the price breaks down:
Capsules of all three blends (vegetable, fruit, berry): $75 per month
Capsules of two blends (vegetable, fruit): $50 per month
Chewables of all three blends: $76.50 per month
Chewables of two blends: $25.50 per month
Capsules of Omega blend: $30 per month
Complete+ protein powder: $140 for 4 pouches (15 servings each) or $35 per month
Complete+ protein bars: $140 for 60 bars or $35 per month
These products are a bit expensive, and similar products can be found at a lower price.
For adults, $75 per month for capsules when you can eat fruits and vegetables is a bit excessive. I personally don't take the berry blend as it adds quite a significant amount to the monthly cost.
The $25.50 a month for just the Vegetable and Fruit blend chewables does seem like a worthwhile cost. I use this product for my children and believe Juice Plus+ helps me save money and time not having to take them to the doctor's office that often.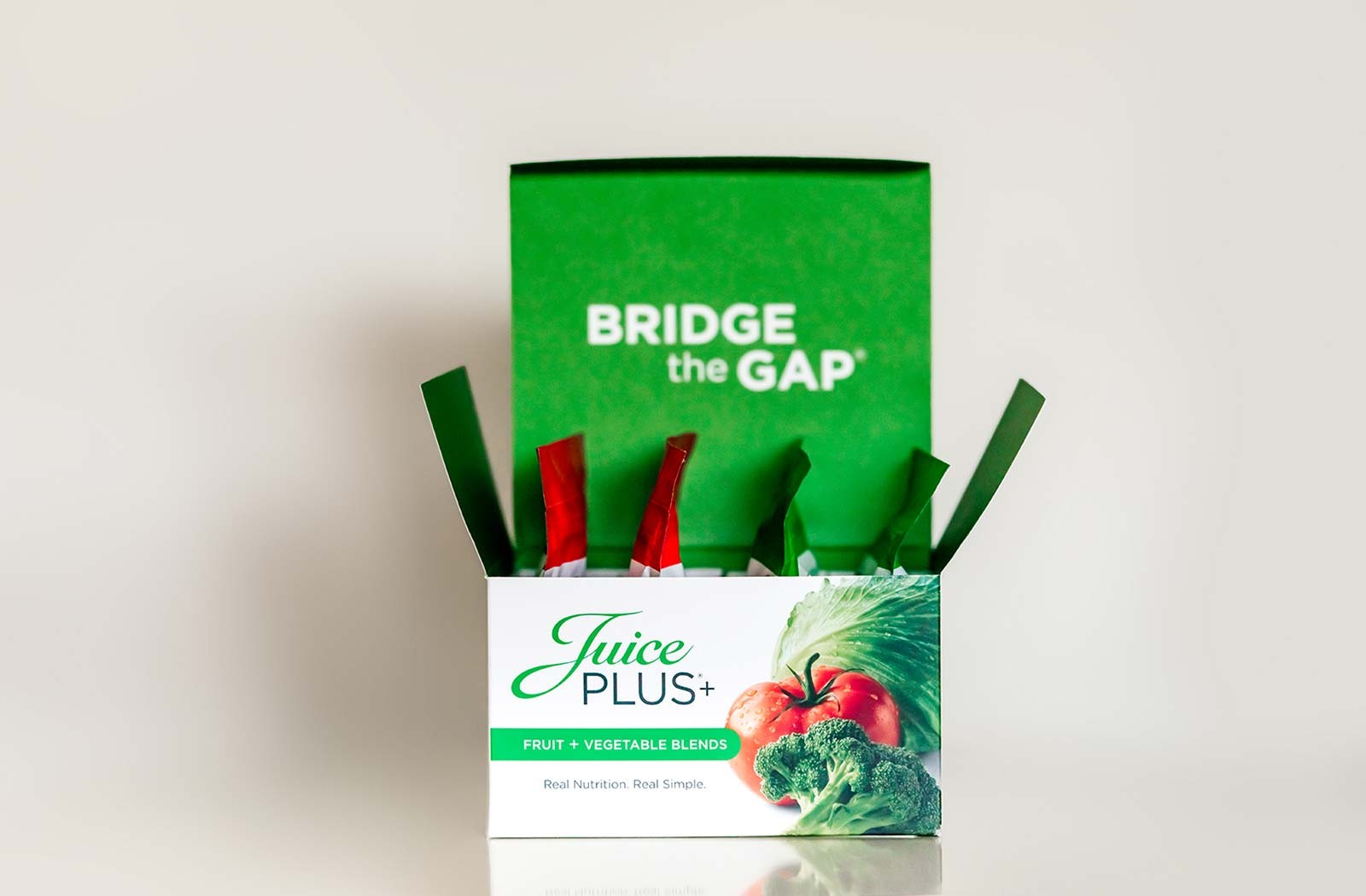 How Juice Plus+ Compares to Alternatives
There are many fruit and vegetable powder supplements available on the market.
Most come in powdered form that you drink mixed into water or add to a smoothie. I like Juice Plus+ for kids because they come in gummy form, which is easier to take than a powder.
Fruit and veggie powder products vary significantly in price and ingredients. Some are just as expensive as Juice Plus+.
A few brands like Texas Super Foods or Balance of Nature Fruits & Veggies are similar to Juice Plus+ in ingredients and formulation. But they are not significantly cheaper.
I am not sure any of these brands are better than others on the market. When choosing a fruit and veggie powder, I would recommend selecting a product from a reputable brand.
The best natural alternative to Juice Plus+ is eating fresh fruits and vegetables.
While they do take time and effort to prepare, there is no comparison to their nutrient density, and they will cost you significantly less than any supplement on the market.
The Bottom Line
All that being said, while I don't sell the product anymore, I give my children Juice Plus+ daily and have so for many years.
While the company does sponsor much of the research on the products and it should be cautiously evaluated through that lens, I have been impressed with many of their studies and results.
But more than research, I have seen the results of taking this product first hand.
My oldest son was sick all the time when he first started daycare. I tried everything to keep him well. A friend convinced me to try Juice Plus+. My son has never been sick again and is 5 years old now.
That result is enough for me to keep giving my children a product that I believe keeps them healthy.
Their pediatrician said she has experienced the same thing in kids that regularly take Juice Plus+. The kids who use the product are the ones she only sees once a year for well-checks.
I have taken the product myself on and off. During cold and flu season, I sometimes pop a few Juice Plus+ gummies in the morning to support my immune system.
All that being said, I think the price is a bit high for me to take it monthly. I would rather get my nutrients from real food, and as an adult, I can make better decisions around the quality of my diet to keep myself healthy.
My children, on the other hand, would gladly subsist on crackers and goldfish alone. Juice Plus+ gives me some peace of mind around their nutrient intake, even when their diets are not perfect.
Do I believe it is as good as fruits and vegetables? Nope. I still try to get them to eat their veggies.
Do I believe they will never get sick again because of Juice Plus+? Not at all. But anything I can do to keep them well is worth it to me.
Overall, I think Juice Plus+ is a safe product that could help improve the overall nutrient status of your diet with few downsides other than the price.
How to Get the Most Out of Juice Plus+
Juice Plus+ should be seen for what it is – a supplement to a healthy diet.
For the most benefit, take your Juice Plus+ capsules or chewables daily. They can be taken any time with or without food.
For an additional benefit or a nutritious source of protein, the bars or shakes can be added as a healthy snack.
Realize that being healthier doesn't start with popping a pill. Sleep, stress management, regular exercise, and a balanced diet are the foundations of health.
If you truly want to support your immunity, improve your nutritional status, and reduce inflammation, you have to eat a well-balanced diet full of fruits and vegetables.
And you have to get enough rest and be physically active regularly.
Supporting your health is more than just a pill; it is a complete lifestyle. Juice Plus+ is just one way to help improve your overall nutrition when used in combination with other healthy habits.
Thanks for your feedback!
In a few words, please tell us how this article helped you today.
Please let us know how we can improve this article by selecting your concern below.
Thank You! We appreciate your feedback.
*
Please select at least one topic:
Please Note: We cannot provide medical advice. This feedback will help us continue improving your user experience on WellnessVerge.
Please Note: We cannot provide medical advice. This feedback will help us continue improving your user experience on WellnessVerge.
At WellnessVerge, we only use reputable sources, including peer-reviewed medical journals and well-respected academic institutions.
Fruit and vegetable intake and the risk of cardiovascular disease, total cancer and all-cause mortality—a systematic review and dose-response meta-analysis of prospective studies

:
https://academic.oup.com/ije/article/46/3/1029/3039477

Health effects of mixed fruit and vegetable concentrates: a systematic review of the clinical interventions

:
https://pubmed.ncbi.nlm.nih.gov/22081614/

Supplementation with a juice powder concentrate and exercise decrease oxidation and inflammation, and improve the microcirculation in obese women: randomised controlled trial data

:
https://pubmed.ncbi.nlm.nih.gov/23591157/

Reduction of common cold symptoms by encapsulated juice powder concentrate of fruits and vegetables: a randomised, double-blind, placebo-controlled trial

:
https://pubmed.ncbi.nlm.nih.gov/20727236/

Several indicators of oxidative stress, immunity, and illness improved in trained men consuming an encapsulated juice powder concentrate for 28 weeks

:
https://pubmed.ncbi.nlm.nih.gov/18029492/

An Encapsulated Juice Powder Concentrate Improves Markers of Pulmonary Function and Cardiovascular Risk Factors in Heavy Smokers

:
https://www.tandfonline.com/doi/full/10.1080/07315724.2013.767652

Juice Powder Concentrate and Systemic Blood Pressure, Progression of Coronary Artery Calcium and Antioxidant Status in Hypertensive Subjects: A Pilot Study

:
https://www.ncbi.nlm.nih.gov/pmc/articles/PMC2176151/pdf/nel108.pdf

An Encapsulated Fruit and Vegetable Juice Concentrate Increases Skin Microcirculation in Healthy Women

:
https://www.karger.com/Article/Abstract/330521

A randomized parallel-group dietary study for stages II-IV ovarian cancer survivors

:
https://pubmed.ncbi.nlm.nih.gov/22119991/

Supplementation with a juice powder concentrate and exercise decrease oxidation and inflammation, and improve the microcirculation in obese women: randomised controlled trial data

:
https://www.cambridge.org/core/journals/british-journal-of-nutrition/article/supplementation-with-a-juice-powder-concentrate-and-exercise-decrease-oxidation-and-inflammation-and-improve-the-microcirculation-in-obese-women-randomised-controlled-trial-data/451DF71104D867B79B1AB87E6326943A

Perioperative supplementation with a fruit and vegetable juice powder concentrate and postsurgical morbidity: A double-blind, randomised, placebo-controlled clinical trial

:
https://www.clinicalnutritionjournal.com/article/S0261-5614(17)30272-8/fulltext

Adjunctive daily supplementation with encapsulated fruit, vegetable and berry juice powder concentrates and clinical periodontal outcomes: a double-blind RCT

:
https://onlinelibrary.wiley.com/doi/pdf/10.1111/j.1600-051X.2011.01793.x

Immune Function in Elderly Smokers and Nonsmokers Improves During Supplementation with Fruit and Vegetable Extracts

:
https://www.sciencedirect.com/science/article/abs/pii/S1096219099000104?via%3Dihub

Juice Plus or Toxicity Plus

:
https://www.amjmed.com/article/S0002-9343(09)00712-8/fulltext

Omega-3 Supplements: In Depth

:
https://www.nccih.nih.gov/health/omega3-supplements-in-depth

Warning Regarding Health and Earnings Claims Related to Coronavirus Disease 2019 (COVID-19)

:
https://www.ftc.gov/system/files/warning-letters/covid-19-letter_to_juice_plus.pdf

Multivitamin and Multimineral Supplements Review

:
https://www.consumerlab.com/reviews/multivitamin-review-comparisons/multivitamins/