Evidence Based Research
Our editorial team is made up of expert registered dietitians with extensive, real-world clinical experience who are highly trained in evaluating clinical research.
Dermal Repair Complex Review: Benefits, Ingredients, Safety, and More
Dermal Repair Complex is an anti-aging dietary supplement formulated to prevent the breakdown of both collagen and elastin leaving the skin free from concerns that come with age. Although it contains some ingredients that may support skin health, many lack evidence to support its claims.
This page contains links through which we may earn a small commission should you make a purchase from a brand. Learn more about how we make money here.

Pros

Safe ingredients
Has a money-back guarantee

Cons

Steep price point
Not all ingredients are evidence-based
What Is Dermal Repair Complex?
Dermal Repair Complex is a dietary supplement that contains a combination of ingredients that promises to help fight the signs of aging skin.
The company claims that this blend of nutrients will reduce the signs of aging by increasing moisture and collagen production to help reduce sagging, wrinkles, and skin dullness.
Beverly Hills MD is the manufacturer of Dermal Repair Complex.
Dr. John Layke and Dr. Payman Danielpour are the two cosmetic surgeons who created Beverly Hill MD's line of anti-aging skincare products.
In addition to developing this skincare line, both are practicing physicians who perform a wide range of cosmetic procedures.
Evaluation of Ingredients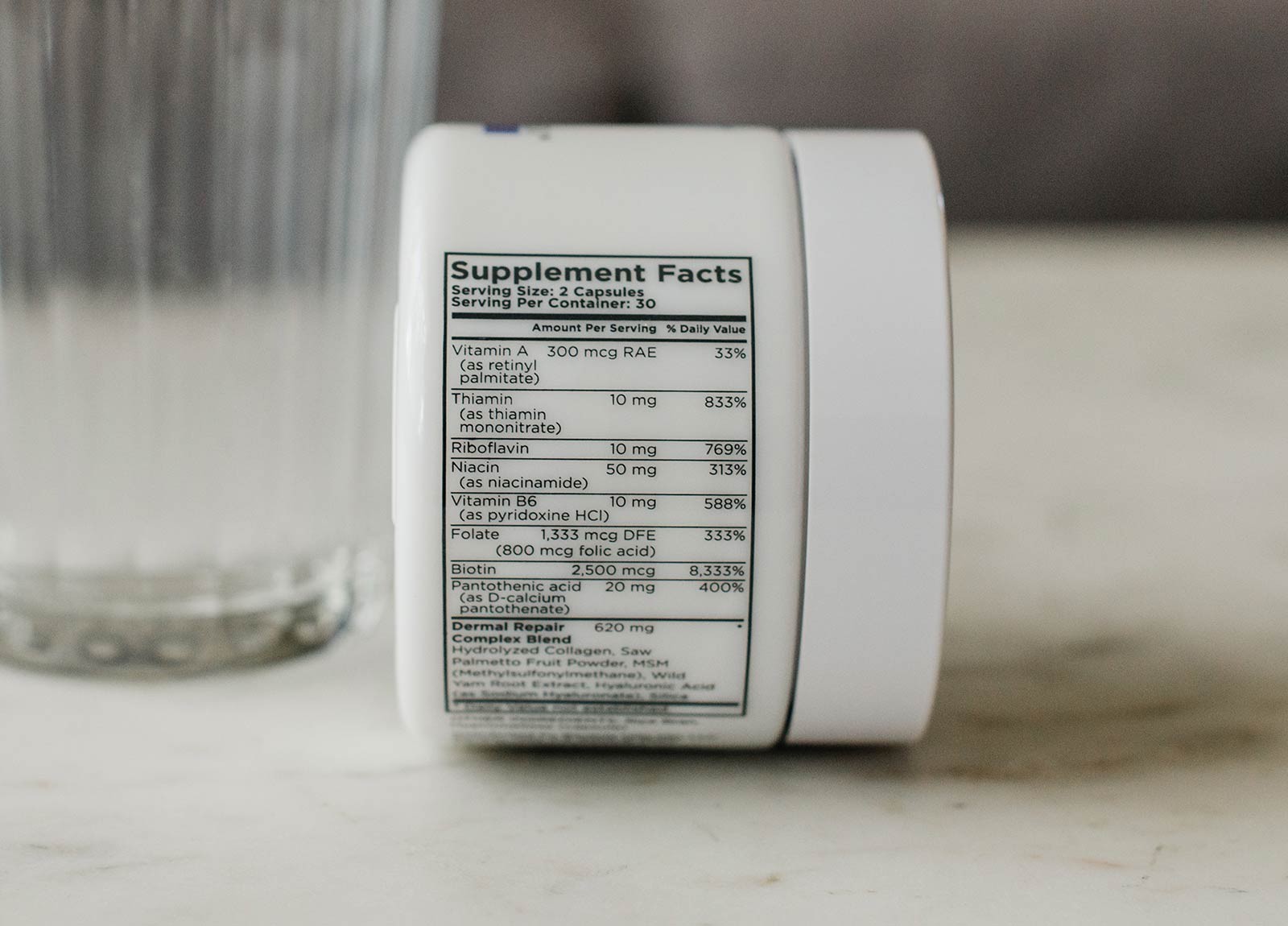 Dermal Repair Complex contains a variety of natural ingredients claiming to combat the signs of aging, energize skin cells, all while helping to support a healthy skin structure.
But does science support these claims?
Saw Palmetto
Saw palmetto is a palm tree native to eastern regions of the United States.
This supplement has been used to treat alopecia (hair loss), hirsutism (excessive female body hair), and acne with mixed results.
Saw palmetto is said to suppress the hormone dihydrotestosterone (DHT), which can lead to hair loss and skin breakdown.
However, according to this review, there is very little evidence to support saw palmetto's use in helping to reduce the signs of aging skin.
Methylsulfonylmethane (MSM)
MSM is a naturally occurring compound that is produced by the body and can also be made in a lab for use in supplements.
MSM can be found in skincare products as it plays a role in the body's ability to produce collagen.
One study assessed the effectiveness of MSM as an oral supplement on skin health.
In the study, researchers found that MSM supplementation appeared to benefit skin health, mainly by reducing fine lines and wrinkles.
Hydrolyzed Collagen
Collagen is the most plentiful protein in the human body. It is found in the skin, bones, joints, muscles, hair, and nails.
This structural protein is responsible for maintaining skin elasticity and that coveted youthful glow.
As people age, normal collagen production decreases, leading to common signs of skin aging, including wrinkles, dullness, and sagging.
Collagen supplementation has been widely studied for its anti-aging benefits. According to a recent review, the use of collagen supplementation for skin aging is promising.
In the study, oral collagen supplements showed an increase in skin elasticity, hydration, and dermal collagen density among the participants.
Another recent study showed that taking collagen supplements daily for 12 weeks reduced wrinkle depth by 27% and increased skin hydration by 28%
Hyaluronic Acid
Hyaluronic acid is a compound found naturally in the body. In the skin, hyaluronic acid helps to bind water to collagen so that skin can appear plumper and more hydrated.
As people age, they lose both collagen and hyaluronic acid, which can lead to drier, duller-looking skin. The use of hyaluronic acid has shown promising results in preventing skin aging.
This study found that using products with hyaluronic acid showed promising results for skin tightness, skin elasticity, and wrinkle reduction.
Another study suggested that oral hyaluronic acid can prevent wrinkles and help to improve skin luster and suppleness.
B Vitamins
B vitamins are necessary for almost every activity within the body. They help convert food into energy and play an important role in the nervous system, muscle functioning, skin, and hair.
B Vitamins may benefit the skin by encouraging cell renewal which could lead to softer and smoother skin.
A small study showed that women who took a supplement blend containing biotin (a B vitamin) along with other vitamins, minerals, and extracts improved skin elasticity over 12-weeks.
Another more recent study showed that Vitamin B might help the body produce healthier, new skin cells to promote wound healing.
Vitamin A
Vitamin A is an antioxidant that supports skin and eye health along with immune function. Retinoids, including retinol, are manufactured forms of vitamin A and can be found in many skincare lines.
Retinol is a popular ingredient used in skincare products because it can accelerate skin renewal and reduce the appearance of wrinkles, fine lines, and age spots.
When used topically, vitamin A can be effective at stimulating collagen production and reducing wrinkles. A 2015 study found that retinol and retinoic acid increased skin thickness over 4 weeks leading to a visible reduction in wrinkles.
Unfortunately, there is a lack of research surrounding the use of oral vitamins to help reduce the signs of skin aging.
Verdict on Claimed Benefits
Below is our summary of the available evidence for the claimed benefits of Dermal Repair Complex based on the available research:
| | |
| --- | --- |
| Diminishes the appearance of wrinkles and dullness | Strong Evidence |
| Protects and enhances skin elasticity | Strong Evidence |
| Reduces the appearance of sagging and drooping | Moderate Evidence |
| Improves strength and quality of hair and nails | Moderate Evidence |
| Targets internal problems that cause visible aging | Limited Evidence |
Side Effects, Safety, and Dosage
The ingredients found in Dermal Repair Complex are generally safe.
However, some reported side effects of saw palmetto may include stomach pain and headache.
Before taking any supplement, it is best to speak with your healthcare provider.
The recommended dosage for Dermal Repair Complex is 2 capsules daily with a meal.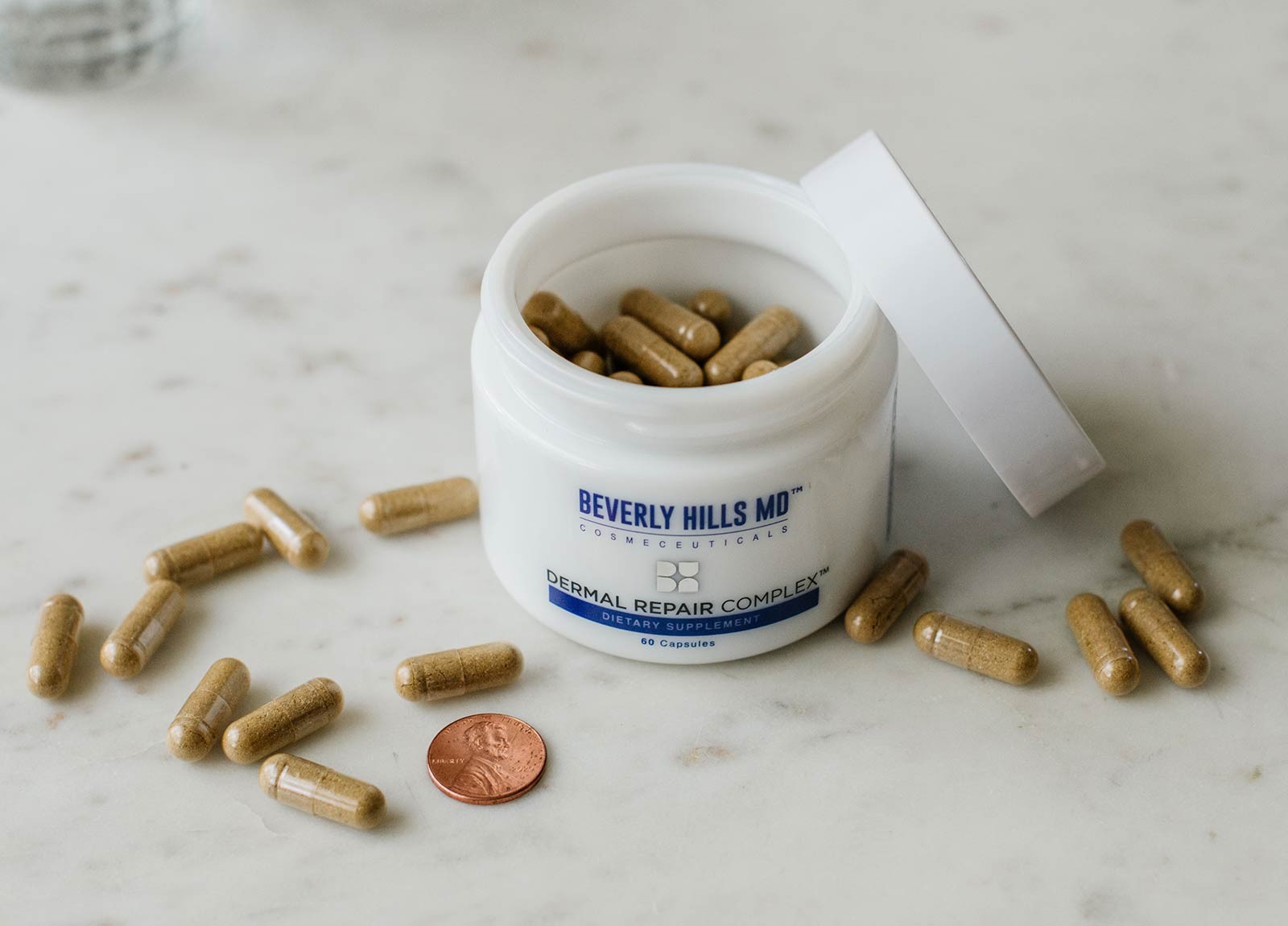 Cost and Where to Buy
Dermal Repair Complex is sold through its website in the following quantities:
1 Bottle: $58
2 Bottles: $108 ($54 per bottle)
3 Bottles: $150 ($50 per bottle)
Every order comes with free shipping, in addition to a 90-day satisfaction guarantee.
Comparison to Alternatives
If you are interested in skin health, I would probably recommend other products at a lower price.
For example, there is strong evidence to support the use of hydrolyzed collagen to help reduce the signs of skin aging.
Puritan's Pride manufactures hydrolyzed collagen with hyaluronic acid at a much lower price point.
Topical products may work as a cheaper substitute as well. For example, Neutrogena's Hydro Boost Hyaluronic Serum is an effective choice and can be found in most pharmacies for less than $20.
The Bottom Line
There are a wide variety of anti-aging supplements available on the market to choose from.
The research surrounding both collagen and hyaluronic acid for skin health is compelling.
Unfortunately, Dermal Repair Complex includes additional ingredients that don't have enough research to support their effectiveness in an anti-aging skin product.
There are other products with similar ingredients that are much less expensive.
However, because of their money-back guarantee policy, Dermal Repair Complex may be an enticing option for people looking to reduce the signs of skin aging.
Thanks for your feedback!
In a few words, please tell us how this article helped you today.
Please let us know how we can improve this article by selecting your concern below.
Thank You! We appreciate your feedback.
*
Please select at least one topic:
Please Note: We cannot provide medical advice. This feedback will help us continue improving your user experience on WellnessVerge.
Please Note: We cannot provide medical advice. This feedback will help us continue improving your user experience on WellnessVerge.
At WellnessVerge, we only use primary references for our articles, including peer reviewed medical journals or well-respected academic institutions.