WellnessVerge is reader-supported. We may earn a commission when you make a purchase through the links on this page. Learn more about our process here.
Why You Can Trust Us
Every article and review on WellnessVerge is thoroughly researched and fact-checked by licensed health professionals. Our editorial team is made up of registered dietitians and medical doctors.
Every piece of content is also medically reviewed to ensure accuracy and alignment with sound scientific evidence and medical consensus. We only use peer-reviewed journals and reputable medical sources to form our conclusions and recommendations.
We operate with total editorial independence, and our editorial policies ensure that your well-being comes first. Based on our rigorous research, we only recommend products that are worth considering. We always disclose any ads or partnerships with brands featured on our site.
Goli Superfruits Gummies Review: Pros, Cons, and Is It Worth It?
Goli Superfruits Gummies are a mixed fruit concentrate containing many ingredients that are beneficial for the skin. However, if you are already eating a healthy diet, you may not get additional benefits from taking these gummies.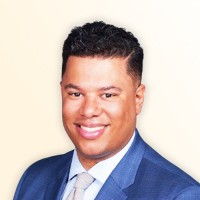 Medically Reviewed by
Anthony Dugarte, MD
Medical Reviewer
Anthony Dugarte, M.D., C.S.C.S. is a health and wellness writer and medical content reviewer. In addition to dedicating the last 8 years to medical research, Dr. Dugarte also has more than a decade of experience in strength and conditioning, nutrition, and rehabilitative exercise, as well as authoring and reviewing health and wellness-related content.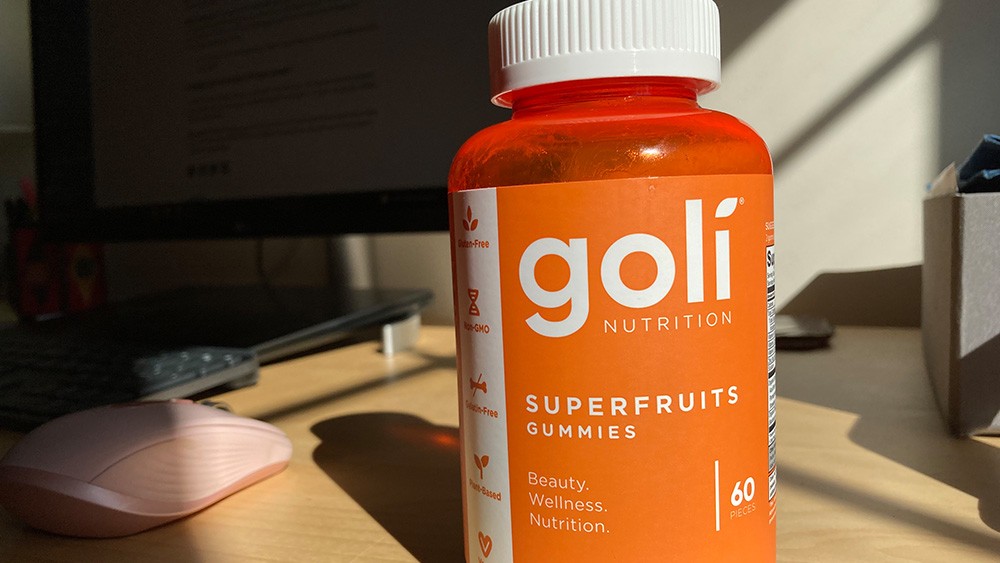 Pros

Tasty and easy to take
Reputable brand
Provides antioxidants and essential vitamins
Evidence-based ingredients for skin health

Cons

High in sugar with 8 grams for the full dosage
No additional benefit beyond what fruits and vegetables can provide
Several vitamins and minerals surpass the RDA
What Are Goli Superfruits Gummies?
Goli Superfruits gummies are the latest in the line of gummy supplements by Goli, who is best known for innovative products delivered in a tasty gummy format like their apple cider vinegar gummies.
Their gummies are vegan, free of preservatives, gelatin, chemicals, corn syrup, allergens, dairy, wheat, and soy. In addition, they do not use artificial sweeteners, flavors, or colors.
The company was founded in 2017 by Michael Bitensky. The brand works with a Nutritional Advisory Board of experts who help develop its products.
These experts include registered dietitians, nutrition professors, and physicians. This advisory board of health professionals helps give the brand credibility.
The Superfruits Gummies are a blend of nutrient-dense fruits such as goji berries and acai.
One gummy contains:
12.5 calories
3 g of carbs
2 g of sugar
A variety of vitamins and minerals
11 mg of silica
100 mg of an organic fruit blend
The recommended dosage is 2 gummies, twice daily.
I tried the gummies, and they are more jelly-like and softer than I had anticipated. They have a fruity sweet taste, like a gummy candy.
Evaluation of Ingredients
One gummy contains a variety of vitamins, minerals, silica, and an organic fruit blend.
Note that on the label, the amounts listed are for 2 gummies. Therefore, to get the amount in a daily dose, you would be getting 2 times as much as what is on the label.
Goli Superfruits has several vitamins that are beneficial for the skin and have antioxidant properties.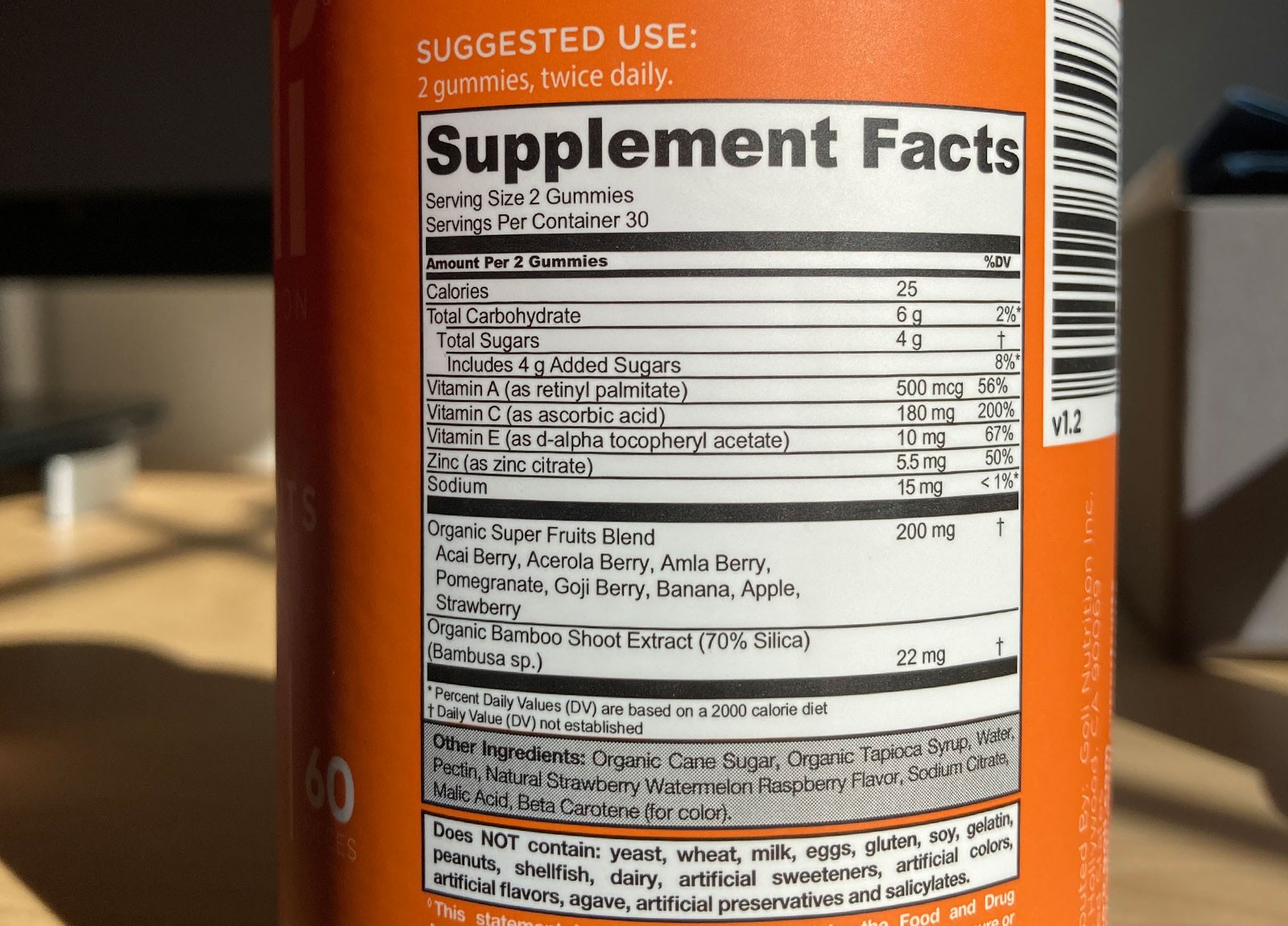 Vitamin A
(250 mcg per gummy or 1,000 mcg per day)
Vitamin A is an essential fat-soluble vitamin needed for vision and reproduction. It also has antioxidant properties. (1)
The RDA for vitamin A is 900 mcg for men, 700 mcg for women. So this product provides more than the RDA, which is a bit concerning for a fat-soluble vitamin.
The upper limit for vitamin A is 3,000 mcg. However, this only applies to the type of vitamin A, called retinyl palmitate and similar forms, that is found in this product.
While the gummies don't reach the upper limit, fat-soluble vitamins can be stored in the body, leading to potential toxicity.
While vitamin A is an essential vitamin, it is widely available in many foods. Therefore taking such a high daily dose in a supplement is not necessary.
Vitamin C
(90 mg per gummy or 360 mg per day)
Vitamin C is a water-soluble vitamin that plays a role in skin health, collagen production, and immunity. (2)
The RDA for vitamin C for men is 90 mg per day and 75 mg for women. These gummies provide more than the RDA, but since vitamin C is water-soluble, this is likely not a concern for most people.
Most of the claims the product makes about skin health are likely due to the vitamin C content. (3)
Vitamin C is well documented to help support collagen formation and protect the skin from UV damage that can speed up aging.
Vitamin C is an essential nutrient that is necessary for skin health, but it can be easily found in fruits and vegetables.
Vitamin E
(5 mg per gummy or 20 mg per day)
Vitamin E is a collection of fat-soluble compounds with antioxidant properties.
The RDA for vitamin E is 15 mg per day; this product provides slightly more. The upper limit is 1,000 mg; therefore, the amount in the product is not excessively high.
Vitamin E has many potential benefits for the skin due to its well-documented antioxidant, photogenic, and anti-tumor properties. (4)
Zinc
(2.75 mg per gummy or 11 mg per day)
Zinc is a mineral that is essential for immunity, skin health, and protein synthesis. (5)
Goli Superfruits provides 100% of the RDA for men in the 4 gummies and over 100% of the RDA for women, which is 8 mg.
A zinc deficiency, which is fairly uncommon, can lead to poor wound healing, alopecia, and other skin concerns. (6)
Taking supplemental zinc regularly can interfere with the absorption of other minerals, like copper, and therefore should be avoided. (7)
While correcting a zinc deficiency can improve skin, there is no evidence that additional zinc helps improve skin health and may cause harm.
Silica from Bamboo Shoot Extract
(11 mg per gummy or 44 mg per day)
Silica is a trace mineral that may play a role in maintaining bone strength and keeping skin healthy. There is no established ideal dose for silica.
This trace mineral may help support collagen production and keep skin healthy. It also plays a role in preventing hair loss and keeping hair healthy. (8)
More research is needed on the optimal dosage for silica and its benefits for skin health.
Organic Fruit Blend
(100 mg per gummy or 400 mg per day)
The organic fruit blend contains 8 different "superfruits." It is unclear how much of each fruit is provided in this product.
The fruits in the blend are known for their nutrition and antioxidant content.
For example, alma berry is rich in antioxidants that may protect against oxidative stress. (9)
Acai berries are a rich source of antioxidants called anthocyanins, which have many health benefits. (10)
Many of these fruits are a good source of nutrition, but there is no established dosage for this type of blend.
While research has found that concentrated fruit blends may have health benefits, they will never replace eating whole plants. (11)
Support for Claimed Benefits
Below is our summary of the available evidence for the claimed benefits of Goli Superfruits Gummies based on the available research:
Improves collagen formation

5

/5
Improves skin health and appearance

5

/5
Supports skin structure

5

/5
Supports the immune system

5

/5
Powerful antioxidant

5

/5
Provides essential nutrients

5

/5
Helps restore radiance

1

/5
Enhances skin youthfulness

5

/5
Side Effects, Safety, and Dosage
The dosage is 2 gummies twice a day. The website recommends 1 gummy per day for children.
Several of the vitamins provided in this dosage are above the RDA but not high enough to cause toxicity. (12)
My main concern for this product would be the sugar content. Taking the recommended dosage would result in 8 grams of added sugar per day.
While the sugar in the product comes from organic cane sugar, it is still sugar. Therefore, people with diabetes or other blood sugar concerns should avoid this product.
The dosage of zinc in the product is too high to be taken regularly for more than a few weeks. Too much supplemental zinc can interfere with the absorption of other minerals, like copper. (7)
High doses of vitamin A can cause nausea, dizziness, blurred vision, vomiting, and skin changes. But these are only seen in dosages well beyond what it is in this product. (7)
High doses of vitamin E were associated with increased all-cause mortality in one meta-analysis. But again, this is in dosages well beyond what is in this product. (13)
Overall, other than the sugar content, this product is likely safe for most people. However, it is always best to speak to your doctor before taking any dietary supplements.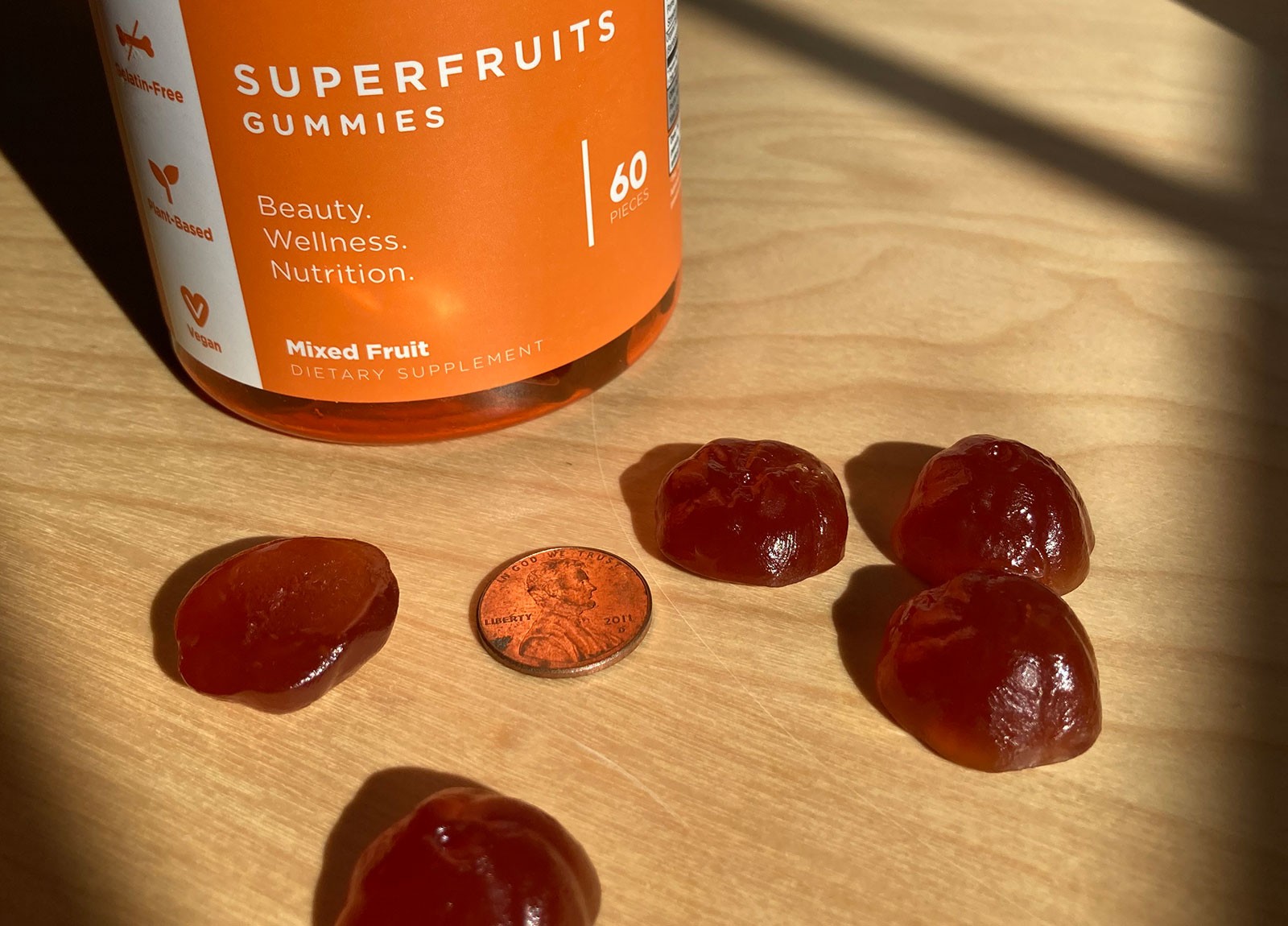 Cost and Where to Buy
A 60-count bottle costs $19 if you purchase just one. The price can decrease to $16.50 per bottle if you order 6 or more on the Goli website. The price is comparable on Amazon.
If you took 4 gummies per day as directed, the bottle would only last about 2 weeks.
Almost $40 per month seems a bit steep for a gummy that mainly provides antioxidants that are easily found in whole fruit.
You could exceed the nutrients in this product for much less money and less sugar by purchasing a bag of oranges and eating one daily.
A large orange has around 100 mg of vitamin C and much more nutrition. The cost of 3 pounds of oranges is around $4 or 1/10 the cost of this product.
How Goli Superfruits Compare to Alternatives
There are many fruit concentrate and powder-based supplements on the market that are similar to Goli Superfruits.
Juice Plus+ has a fruit-based gummy that contains similar varieties of fruits compared to Goli.
You can purchase Juice Plus+, including both the fruit and vegetable blend, for $51 per month. This is a better deal than Goli, as it includes the nutrition from more fruits and vegetables.
Other brands, like Organifi, IVL, and Gundry MD, all carry superfruit powders with a similar nutritional profile.
These are powdered products designed to be mixed into water. In general, these are more expensive than the Goli gummies and not as simple to take.
The Bottom Line
Research supports the potential skin-health benefits of many of the vitamins and ingredients in Goli Superfruits.
The product does contain many nutrients that are important for helping the body make collagen and maintain healthy skin.
Goli Superfruits might be appropriate to be used alongside supplemental collagen to boost its effects.
In addition, it could be utilized by those who follow a vegan diet and cannot take supplemental collagen to help support collagen production.
However, while I trust the quality of the Goli brand and its products, the Superfruits Gummies will not provide many benefits beyond what you can get from a healthy diet.
Next Steps
If you are concerned about skin health, a diet high in plant foods is the best way to have beautiful skin.
As an RD, I always recommend eating 5–9 servings of fruits and vegetables per day.
There are many nutrients in real food that cannot be replicated in a supplement.
Plants are not only a rich source of antioxidants, vitamins, and minerals but are also high in fiber, which is essential for health.
Other things you can do for skin health are protecting your skin from the sun, avoiding smoking, limiting alcohol, getting enough sleep, and drinking at least 8 cups of water daily.
Thanks for your feedback!
In a few words, please tell us how this article helped you today.
Please let us know how we can improve this article by selecting your concern below.
Thank You! We appreciate your feedback.
*
Please select at least one topic:
Please Note: We cannot provide medical advice. This feedback will help us continue improving your user experience on WellnessVerge.
Please Note: We cannot provide medical advice. This feedback will help us continue improving your user experience on WellnessVerge.