WellnessVerge is reader-supported. We may earn a commission when you make a purchase through the links on this page. Learn more about our process here.
Why You Can Trust Us
Every article and review on WellnessVerge is thoroughly researched and fact-checked by licensed health professionals. Our editorial team is made up of registered dietitians and medical doctors.
Every piece of content is also medically reviewed to ensure accuracy and alignment with sound scientific evidence and medical consensus. We only use peer-reviewed journals and reputable medical sources to form our conclusions and recommendations.
We operate with total editorial independence, and our editorial policies ensure that your well-being comes first. Based on our rigorous research, we only recommend products that are worth considering. We always disclose any ads or partnerships with brands featured on our site.
Vital Reds Review: A Detailed Look at Benefits, Ingredients, and Safety
Vital Reds from Gundry MD is a powdered polyphenol blend enhanced with probiotics and herbal extracts. Although it does contain healthful ingredients that could benefit your health, it cannot substitute eating real fruits and veggies.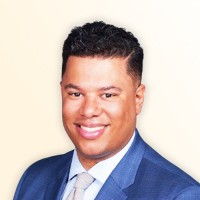 Medically Reviewed by
Anthony Dugarte, MD
Medical Reviewer
Anthony Dugarte, M.D., C.S.C.S. is a health and wellness writer and medical content reviewer. In addition to dedicating the last 8 years to medical research, Dr. Dugarte also has more than a decade of experience in strength and conditioning, nutrition, and rehabilitative exercise, as well as authoring and reviewing health and wellness-related content.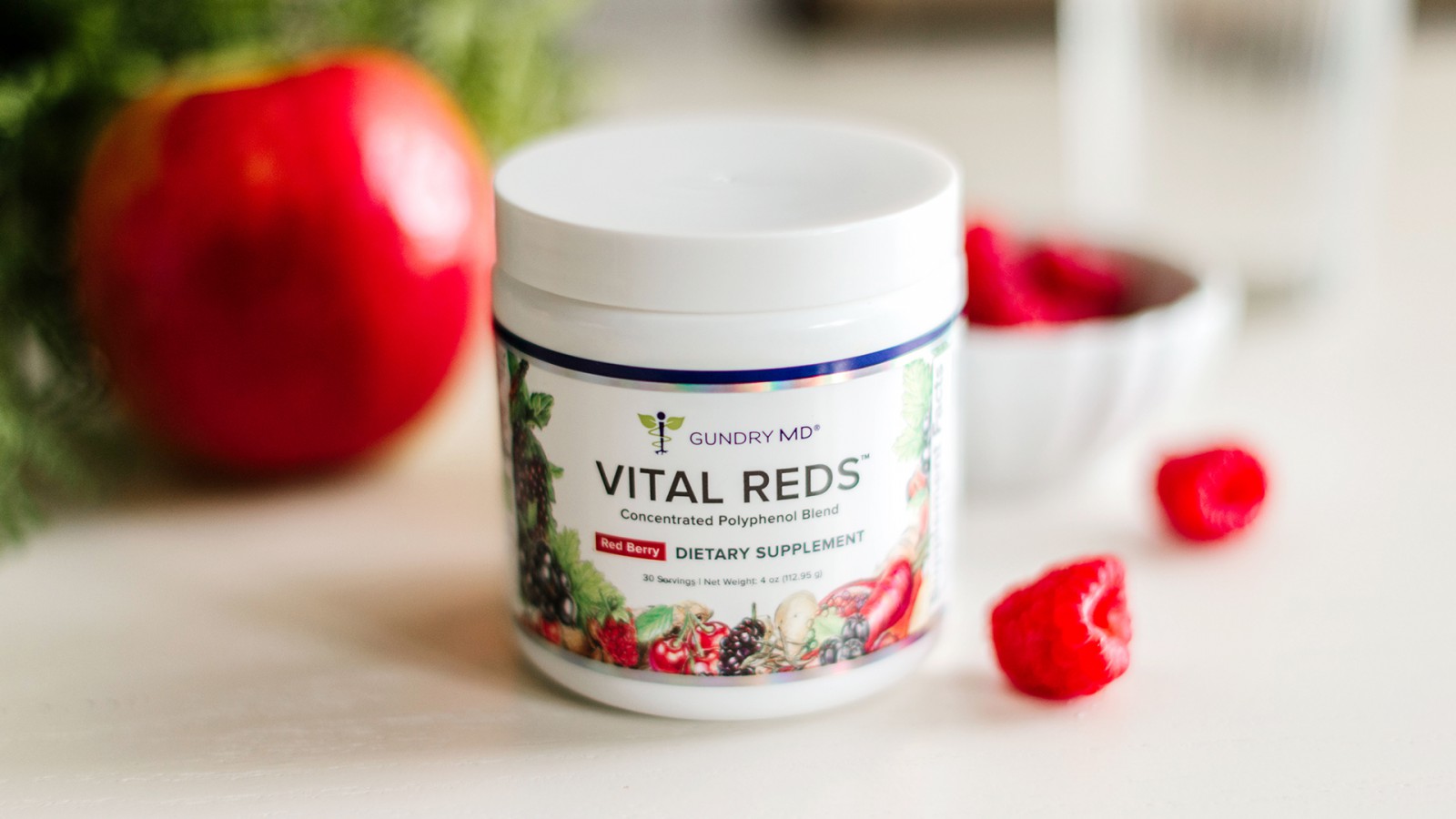 Pros

Uses evidenced-based ingredients
Contains antioxidant-rich ingredients
May support gut health with probiotics
Easy way to increase nutrients in your diet
Soy-free with no added sugars
90-Day money-back guarantee

Cons

Might encourage some people to skip eating real fruits and veggies
While the ingredients are evidence based, their exact doses are undisclosed in Vital Reds' proprietary blends
May be expensive for some
What Is Vital Reds?
Vital Reds from Gundry MD is a powdered fruit and vegetable supplement intended to increase energy levels, improve digestion, and support skin health.
It combines 34 polyphenol-rich "superfruits," probiotics, plant extracts, fat-burning ingredients, and vitamins and minerals into just one scoop.
The reasoning is that by increasing your diet's nutrient and antioxidant content by supplementing with these ingredients, the brand claims that you will experience the benefits of improved energy, glowing skin, and better digestion.
To use Vital Reds, mix one scoop with a cold drink daily. It would help if you didn't mix it with warm or hot liquids because that may kill the probiotic content of the supplement that is responsible for providing the necessary effects to aid digestion.
This review will discuss Vital Reds' background, the effectiveness of its ingredients, and its safety to help you decide whether this supplement is the best option for you.
About Dr. Steven Gundry
To understand more about Vital Reds, it is important to learn about Dr. Steven Gundry, a cardiologist, and a "celebrity" self-proclaimed nutrition expert.
He is also the author of the best-selling book "The Plant Paradox" and has an extensive dietary supplement line that supports his nutrition theories.
The primary focus of his methodology is improving gut health by avoiding foods that contain lectins.
Lectins are carbohydrate-binding proteins found in many plant foods, legumes, and whole grains. (1)
Dr. Gundry believes that lectins are harmful to the gut and the microbiome. Therefore, he recommends avoiding many healthful foods to reduce the lectin content of the diet and repair the gut.
According to Dr. Gundry, once the gut is healed, through a combination of a low lectin diet and supplements to improve gut health, all other health issues will, in theory, resolve.
Since Dr. Gundry recommends eliminating many nutrient-rich foods, it makes sense that he would then offer a line of supplements to replace what has been lost with his dietary prescription. This is where Vital Reds comes in.
While those following Gundry's protocols might benefit from using this product, Vital Reds isn't just for those following a low lectin diet.
According to the Centers for Disease Control and Prevention, only 1 in 10 adults eats enough fruits and vegetables. (2)
Although this product will never substitute a healthy diet, fruit and vegetable powders like Vital Reds have been found to increase antioxidant content in the body and may help improve overall nutrient density in the diet.
This, in turn, could translate to a lower risk of many chronic diseases. (3)
Does Vital Reds Work? Evaluation of Its Ingredients
Vital Reds contains over 50 ingredients most of which have been studied on their own and may help provide the claimed benefits to some people.
However, it's important to note that the manufacturer does not disclose the exact dosage amounts of these ingredients since they are part of this supplement's proprietary blend, thus making it difficult to evaluate if they are provided in the optimal dosage.
The main categories of ingredients include a:
Polyphenol Blend (Fruit And Vegetable Powders)
Metabolic Enhancing Blend
Digestive Support Blend (Probiotic Blend)
While many vitamins and minerals are listed on the nutrition facts panel, they likely come from the fruits and vegetable powders and would not be considered primary active ingredients.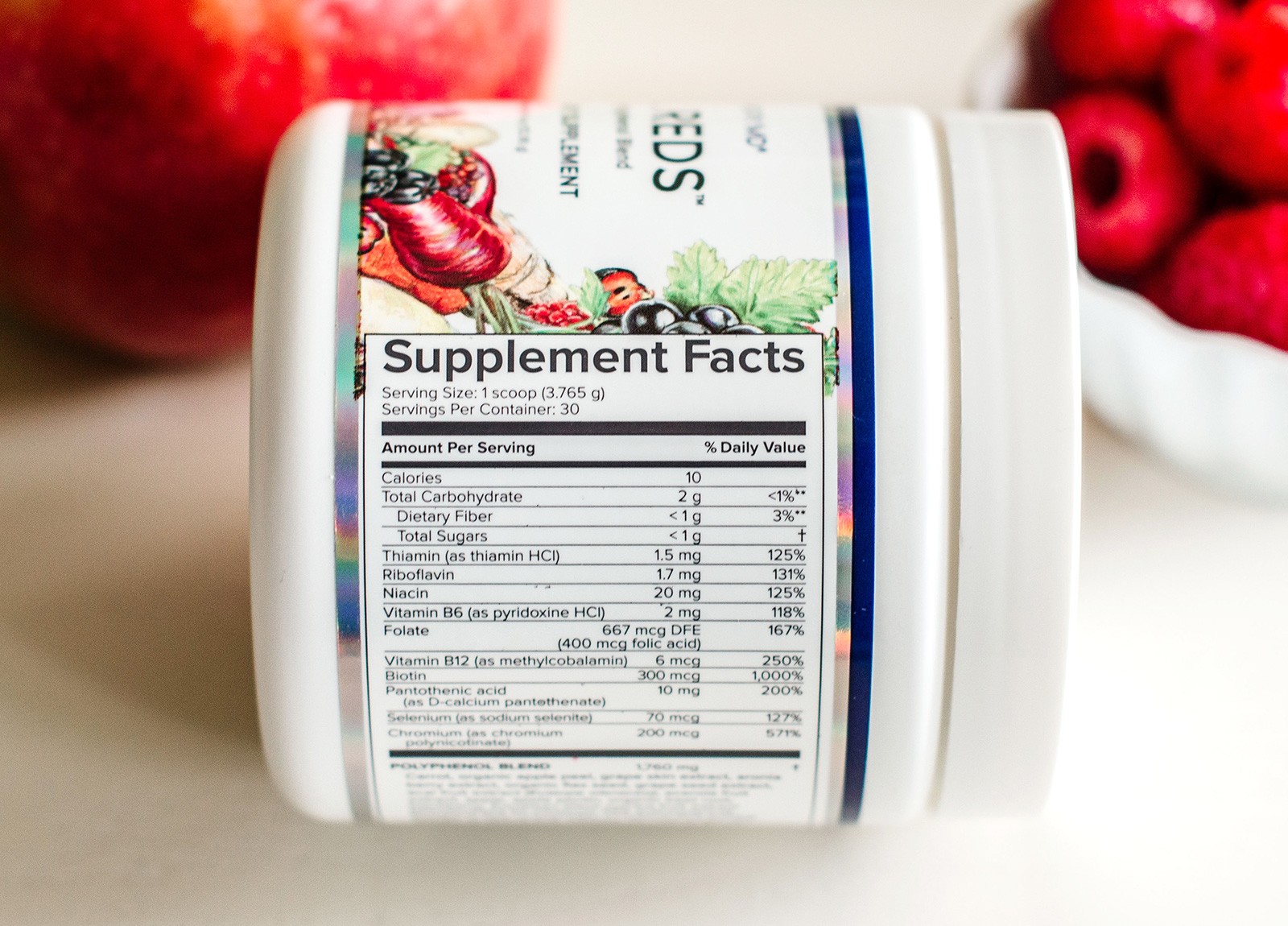 Polyphenol Blend, 1760 mg
The Polyphenol Blend in Vital Reds contains 34 powdered fruits, vegetables, and seeds. It is well documented that a diet full of fruits and vegetables helps reduce the risk of chronic disease. (4)
Research has found that even fruit and vegetable powders may have health benefits.
Some studies have evaluated the impact of fruit and vegetable powder on oxidative stress, a trigger of chronic disease.
A 2011 study of 75 smokers found that fruit and vegetable powders were able to reduce some of the oxidative damage caused by smoking, a known trigger for free radical damage. (5)
A 2013 study found that fruit powder, similar to Vital Reds, was able to decrease inflammation and oxidative stress in middle-aged women when compared to a placebo. (6)
Fruit and vegetable powders have also been found to strengthen immunity and improve skin health. (7, 8)
Summary
While it is unknown if fruit and vegetable powders are as beneficial as eating fruits and vegetables, they may still have benefits. Research supports the potential benefits of using fruit and vegetable powders, such as those in Vital Reds, for reducing free radical damage and inflammation and improving immunity and skin health. The optimal dosage remains unclear, however.
Metabolic-Enhancing Blend, 365 mg
The Metabolic Enhancing Blend in Vital Reds contains 7 thermogenic ingredients designed to help with fat burning and support a healthy metabolism.
The blend includes bitter melon, green tea, white tea, cinnamon, ginger, black pepper fruit, and turmeric. Many of these extracts have anti-inflammatory and anti-diabetic properties.
Bitter melon has been found to improve blood sugar and may help with weight management. (9)
But, at this time, most of the research on its benefits is either on animals or has a small sample size.
There is some evidence that the tea extract EGCG may help with weight loss. Both white tea and green tea contain EGCG. (10)
A 2010 review found that consuming tea rich in EGCG may increase metabolism by 4–5% and fat burning by 10–16%. (11)
Cinnamon may have benefits for metabolic health. A 2017 study found that taking 3 grams of cinnamon daily for 16 weeks helped improve blood sugar and reduce waist circumference. (12)
A 2012 study found that consumption of ginger helped increase calorie burn and reduce appetite in a group of overweight men. (13)
A 2019 systematic review of studies found that regular consumption of turmeric helped improve body mass index, decrease body fat, reduce waist circumference, and regulate hormones related to fat metabolism. (14)
Black pepper fruit is likely added to this product for its ability to improve absorption of other nutrients in the blend. (15)
Summary
While the ingredients present in Vital Reds' Metabolic Blend may help support a healthy metabolism and fat loss, it is unclear if the dosages in the blend are the clinically studied amounts since the brand doesn't disclose the amounts of individual ingredients. Therefore, we cannot assume that the blend will help you lose weight or speed up your metabolism.
Digestive Support Blend, 3 Billion CFUs
The digestive support blend present in Vital Reds is a fairly standard mix of probiotics that includes strains from the Bifidobacterium and Lactobacillus genera, which have been found to be most beneficial to gut health. (16)
These two bacterial genera are the most common in the human digestive tract. They have also been extensively studied for their health benefits as probiotics.
Bifidobacterium helps maintain gut integrity and regulate the inflammatory response. It may also help protect against digestive diseases, such as cancer or inflammatory bowel disease. (17)
Lactobacillus has similar benefits for reducing inflammation and protecting against digestive illness. (18)
Vital Reds also contains prebiotics called fructooligosaccharides. These are carbohydrates that serve as food for the probiotics, helping keep beneficial bacteria healthy in the digestive tract.
Summary
The specific types of probiotics found in Vital Reds may help improve overall digestive health and lower gut inflammation. The ideal dosage of probiotics is 1 billion CFUs and above, which is present in Vital Reds.
Vitamins and Minerals
Vital Reds contains a wide variety of vitamins and minerals such as thiamin, riboflavin, niacin, vitamin B6, folate, vitamin B12, biotin, pantothenic acid, selenium, and chromium.
B-vitamins (thiamin, riboflavin, niacin, B6, folate, B12, biotin, and pantothenic acid) play a role in energy production but are widely available in many foods. (19)
Selenium and chromium may help with blood sugar regulation and protect against oxidative stress. (20, 21)
Summary
The vitamins and minerals in Vital Reds may help support the overall goals of reducing oxidative stress and optimizing energy production.
Support for Claimed Benefits
Below is our summary of the available evidence for the claimed benefits of Vital Reds based on the available research:
Supports digestive health

5

/5
Boosts energy levels

3

/5
Promotes fat burning

3

/5
Supports skin health and appearance

4

/5
Is Vital Reds Safe?
Research on the individual ingredients present in Vital Reds do not pose any significant safety concerns.
EGCG doses of 800 mg or higher may result in liver damage, but there is not enough in just one scoop of Vital Reds for that to occur. (22)
Probiotics in the product may sometimes cause symptoms like bloating and gas. Additionally, you should speak to your doctor before beginning to take probiotics if you are immunocompromised. (23)
Vital Reds is soy-free with no added sugars.
The manufacturer's website states that all its products, including Vital Reds undergo third-party testing.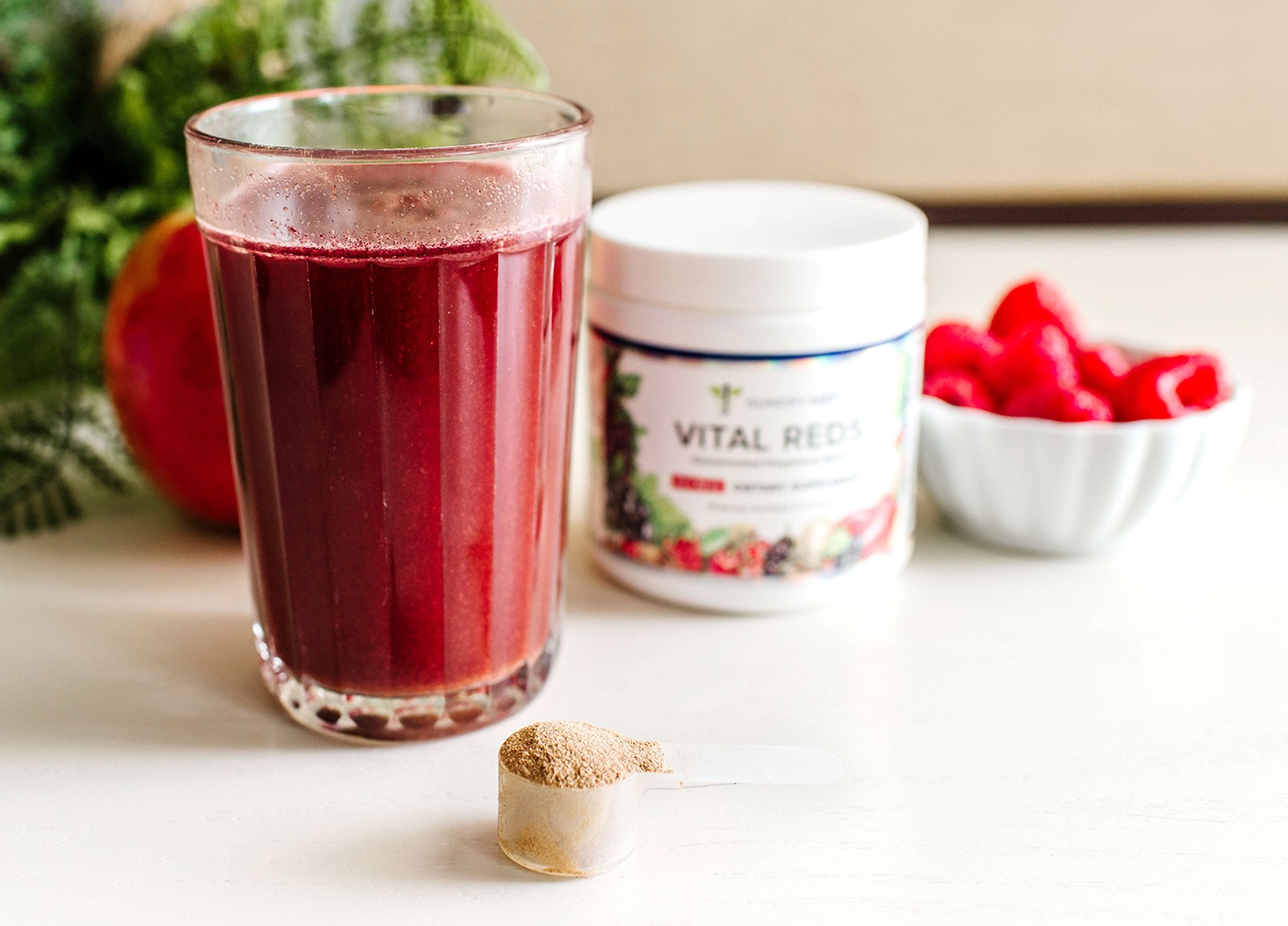 Cost and Where to Buy
The best place to purchase Vital Reds is from Dr. Gundry's website at the following price:
One jar (30-day supply): $69.95 ($49.95 as a new customer)
Three jars (90-day supply): $199.36 ($134.85 as a new customer)
Six jars (180-day supply): $377.73 ($254.70 as a new customer)
You can receive an additional 10% discount if you subscribe for auto-refill. Shipping is free on orders over $60 within the U.S.
Gundry MD does offer a money-back guarantee within 90-days, even if you use all of the products. However, this does not cover shipping and handling to return the product.
The money-back-guarantee is only available on Dr. Gundry's website.
How Vital Reds Compares to Alternatives
Like many of Dr. Gundry's other supplements, Vital Reds is expensive compared to some of its competitors.
There are many fruit and vegetable powders on the market. These products contain a variety of ingredients, but most have some type of fruit and vegetable blend, fiber, and probiotics.
Most of the similar alternatives are less expensive than Vital Reds but have a similar ingredients list.
Below are several alternatives coming from reputable brands containing well-studied ingredients that also deliver on many of the same benefits as Vital Reds that we've reviewed:
Frequently Asked Questions
What is Vital Reds good for?
Vital Reds is a powdered fruit and vegetable blend that also contains probiotics, plant extracts, vitamins, and minerals. It is meant to help increase energy, improve digestion, and support skin health.
How do you take Vital Reds?
Just mix one scoop of Vital Reds into 8 ounces of water or your favorite cold beverage. While you can take Vital Reds as often as you want, exceeding the recommended dose may cause digestive discomfort.
How long does Vital Reds last?
One jar of Vital Reds lasts 30 days if you take one scoop per day.
Is there caffeine in Vital Reds?
No, there is no caffeine in this product.
Who should avoid Vital Reds?
Since Vital Reds is mostly just fruits and vegetables, it is likely safe for most people. However, always speak to your doctor before taking any supplements.
Will Vital Reds help me lose weight?
Vital Reds does contain research-backed metabolism-boosting ingredients that may support weight loss when paired with a healthy diet and exercise. However, don't expect any miracles from this product if you don't change your diet or other lifestyle routines.
Is Vital Reds good for your heart?
The polyphenols in Vital Reds may help reduce oxidative stress and inflammation, which can, in turn, improve heart health.
The Bottom Line
Vital Reds contains studied ingredients that may help with your digestion, boost energy levels, and aid with your metabolism and weight loss.
However, the manufacturer doesn't disclose all of these ingredients' dosage amounts since they are part of the blend.
Therefore, this supplement may not consistently deliver its claimed benefits for everyone.
However, thousands of positive reviews from around the web may indicate that people are happy with it.
Because adding more nutrients to your diet is always a good idea, Vital Reds may be an option if you are a busy person on the go, do not eat enough fruits and vegetables, and want to boost your nutrient intake.
If you're okay with Vital Reds' pricing point, this product is worth trying to see how well it may work for you, as there are no significant safety concerns.
If you aren't satisfied, you can take advantage of their 90-day money-back guarantee.
If Vital Reds' pricing seems a bit higher for you, consider some of the alternatives we've included in this article.
Always speak to your doctor before starting any new supplement.
Consider This For Increasing Your Nutrients Intake
Remember that the nutrients in Vital Reds could be obtained by eating whole fruits and vegetables.
Additionally, drinking fruits and vegetable powder won't help you feel satisfied like you would if you ate real food.
If you want to increase the nutrients in your diet, I recommend eating 7–9 servings of multi-colored fruits and vegetables daily.
Whole fruits and vegetables provide nutrients, fiber, and satisfaction that cannot be achieved by taking a powdered supplement. The greater variety of plants you can get into your daily diet, the healthier you will be.
In addition, fermented foods, like yogurt or kombucha, provide probiotics and should also be included regularly in your diet.
If you want the metabolism benefits, add some cinnamon to your coffee, turmeric to your food, or sip on tea daily.
Thanks for your feedback!
In a few words, please tell us how this article helped you today.
Please let us know how we can improve this article by selecting your concern below.
Thank You! We appreciate your feedback.
*
Please select at least one topic:
Please Note: We cannot provide medical advice. This feedback will help us continue improving your user experience on WellnessVerge.
Please Note: We cannot provide medical advice. This feedback will help us continue improving your user experience on WellnessVerge.
At WellnessVerge, we only use reputable sources, including peer-reviewed medical journals and well-respected academic institutions.